Your Two Week Tour of North Iberia
This 14-day Northern Portugal and Spain tour is more than just a holiday; it's a journey through time, an exploration of cultures, and a celebration of the rich heritage that weaves together the captivating tapestry of this enchanting region.
Let the magic of Northern Portugal and Spain etch unforgettable memories in the storybook of your life.
Day 1: Porto to Viana do Castelo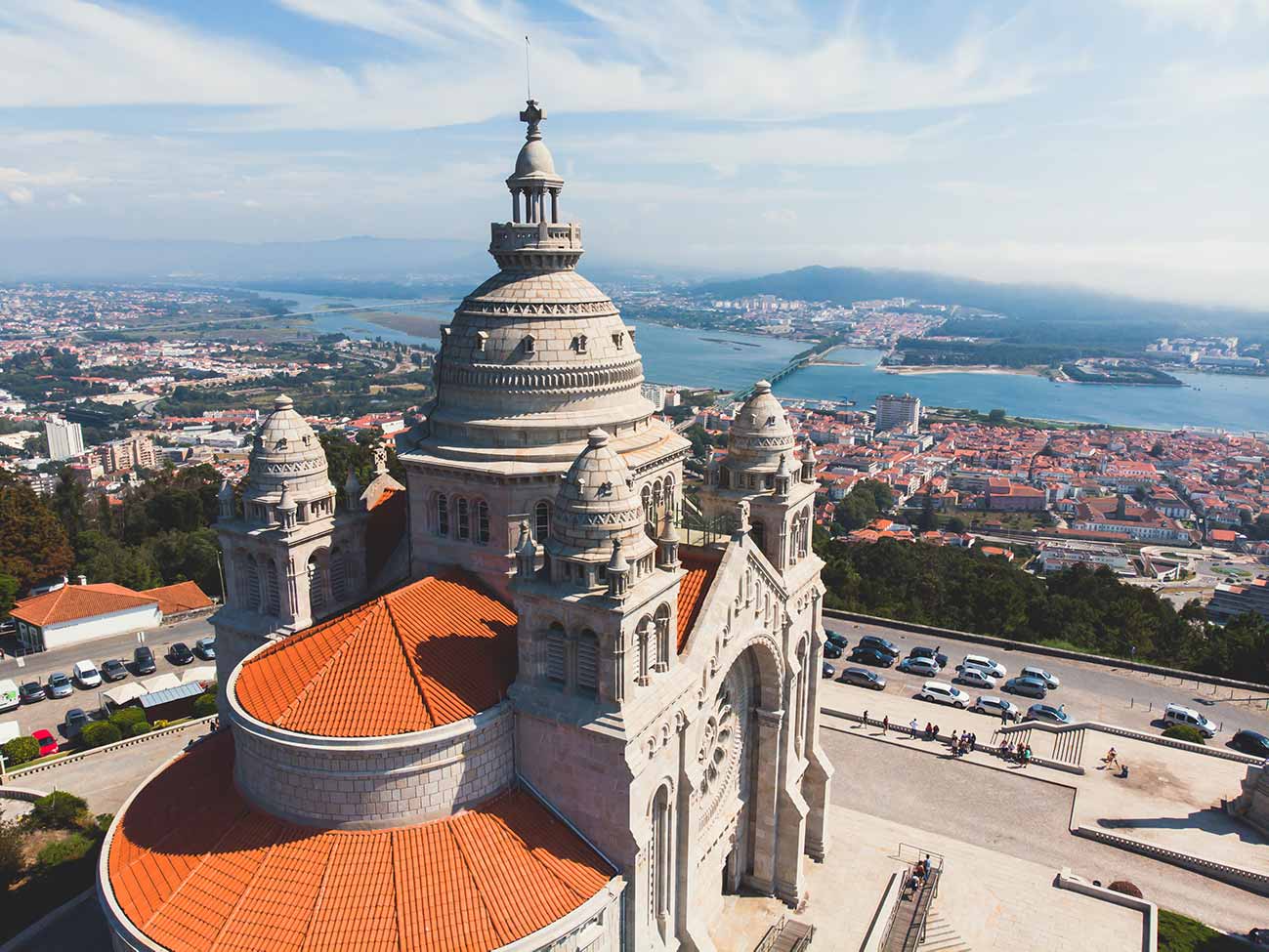 Your exploration of Northern Portugal and Spain commences upon your arrival at Porto Airport. Here, you'll pick up your rental car, embarking on your self-driven adventure straight to your hotel.
Upon arrival and check-in at your hotel, you'll rendezvous with your guide, who will lead you to the vibrant town of Viana do Castelo. A picturesque locale that boasts an intriguing mix of rich history and coastal beauty. The town's charming streets are adorned with a plethora of architectural marvels, including opulent palaces, serene convents, striking churches, and ornate fountains, all tastefully decorated with intricately designed tiles.
An exciting funicular ride will take you up to the vantage point of Mount Santa Luzia. Here, you'll be treated to sweeping vistas of the Atlantic Ocean and the meandering Lima River Delta. At the top, explore the iconic Sacred Heart Church, a beacon of tranquillity against the panoramic backdrop.
The day's journey continues with a walk down to the bustling port, where you'll step aboard the historical Gil Eanes ship. This proud vessel, constructed in Viana do Castelo, offers a unique insight into the town's naval past.
As the day concludes, return to your hotel to relax and refresh, reminiscing about the day's adventures in the coastal charm of Viana do Castelo.
Day 2: Journey into the Wild - Exploration of Peneda-Gerês National Park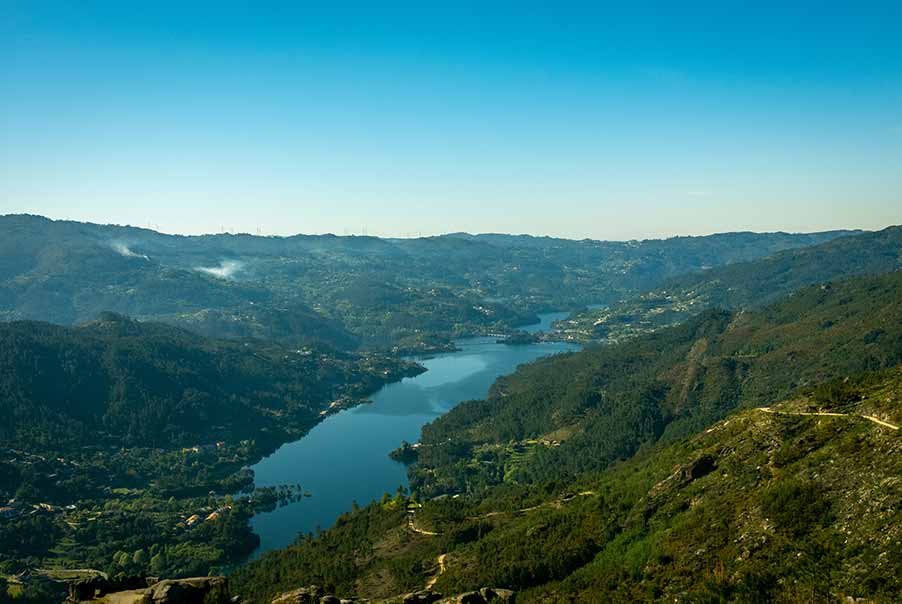 Greet the day as you rendezvous with your guide and small group at your hotel. The day's adventure unfolds as you ride in your guide's rugged 4×4 vehicle, leaving the urban landscape behind and heading into the lush, rolling hills of Geres.
You will be hiking along historical trails, paths worn down over centuries, etched amidst the thriving woods. These routes lead to the most breathtaking viewpoints in the park, where panoramic vistas of the expansive wilderness stretch out before your eyes. The paths are marked with remnants of the Via XVII Roman highway, a vestige of a bygone era that once linked Braga and Astorga in Spain.
The day's journey leads to the park's famed hot springs, a soothing natural oasis where you can relax and rejuvenate amidst nature. Keep your eyes peeled for the majestic wild horses that call this park their home, embodying the untamed spirit of the region. The park's natural beauty is a sight to behold, with a rich palette of colors painted by nature, creating a vibrant landscape of greens, browns, and blues.
As lunchtime approaches, find a comfortable spot amidst this natural sanctuary for a delightful picnic lunch. Savor your meal, surrounded by the gentle rustling of leaves and the serene chirping of birds, the perfect way to conclude your day of exploration in the Peneda-Gerês National Park.
Day 3: Echoes of the Past - Discovering Braga and Guimaraes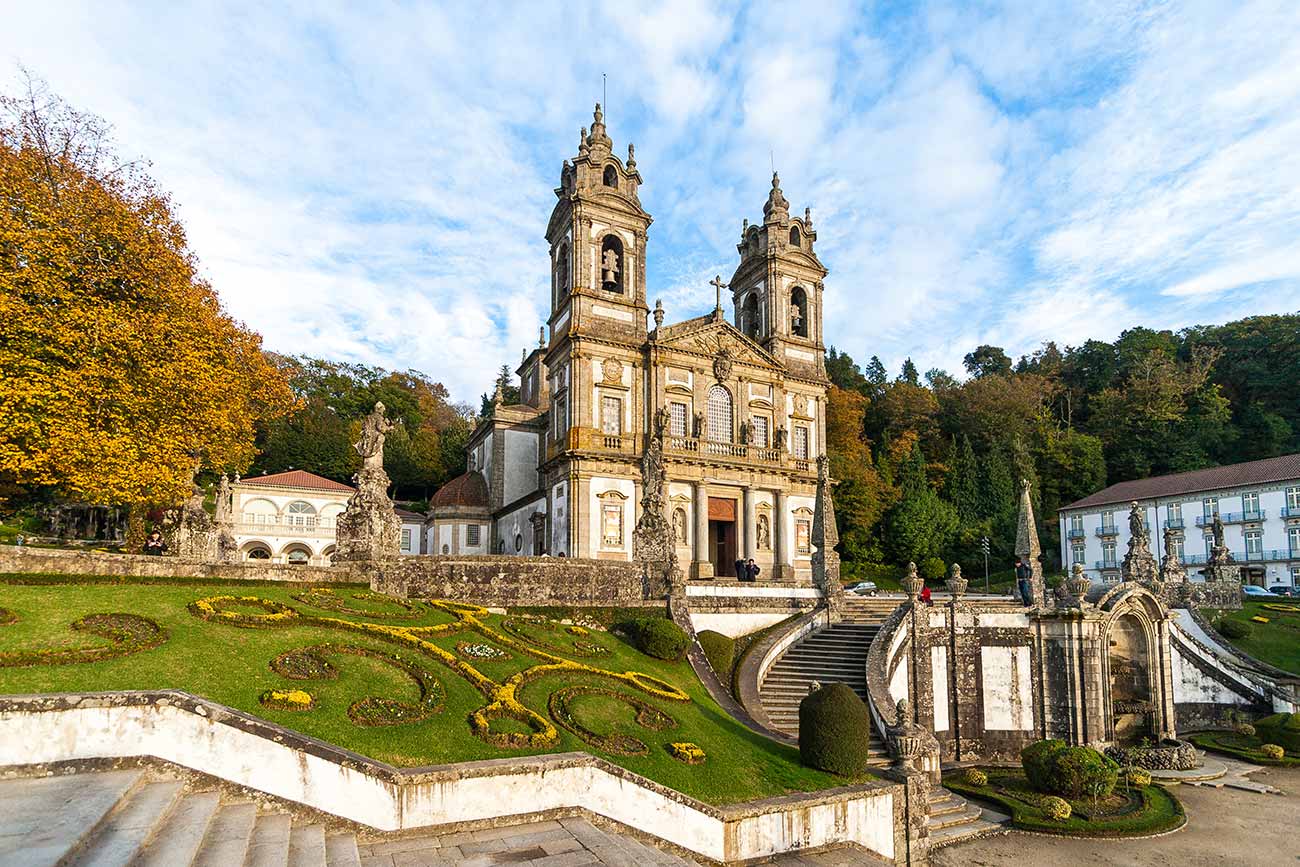 The day commences with an engaging rendezvous with your knowledgeable guide. Begin the day's journey with a visit to the renowned Santuario do Bom Jesús do Monte, an architectural marvel that stands as a testament to Portugal's rich religious history. Discover the University, a beacon of education and knowledge, offering an insightful glimpse into the academic life of the city.
Leave the urban landscapes of Braga behind as you venture to Citania de Briteiros, a site rich with remnants of the past. Embark on a captivating tour of the ancient Celtic ruins that lay sprawled across the landscape. Marvel at the clustered homes erected on elevated 'blocks,' providing a breathtaking panoramic view of the sprawling plains below.
The journey continues to the historic city of Guimaraes. There, you'll be guided through the imposing fortress castle, a site teeming with tales of bygone eras. Visit the Palace of the Dukes of Braganza, an architectural masterpiece with intricate detailing that speaks volumes of the opulence of the past.
In Guimaraes, your history tour is fused with a culinary exploration. Visit a variety of local taverns scattered throughout the town, each offering a unique flavor of the local cuisine. Savour traditional dishes like arroz de carbide (rice cooked in chicken blood), crispy breaded cod, rodeos (pork loin cubes seasoned and fried), and the delightful dessert toucinho-do-ceu (a sweet almond cake).
Return to your hotel as the evening hues paint the sky, carrying the day's experiences as cherished memories.
Day 4: Pilgrimage and Pleasure - A Taste of Santiago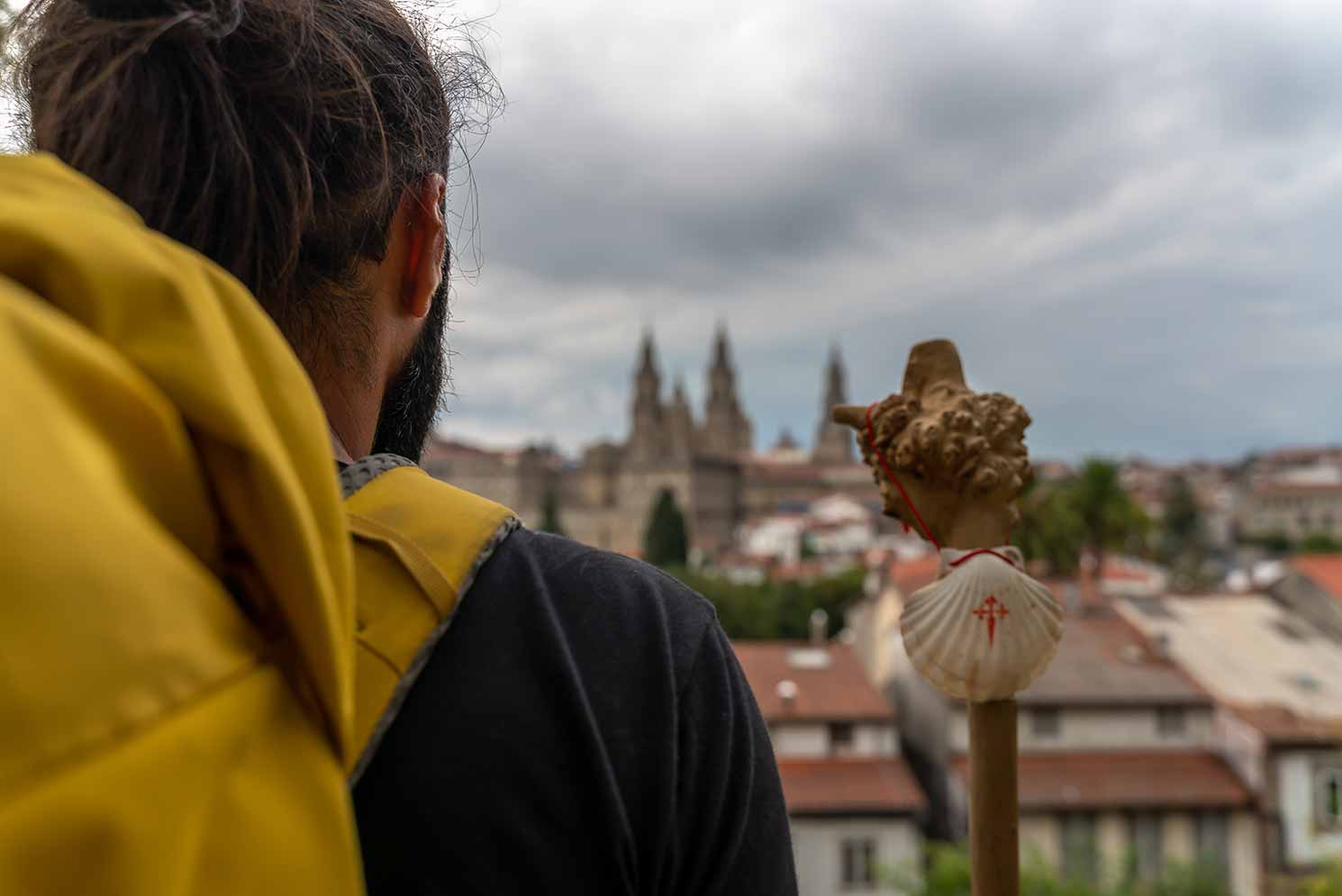 Begin your day with a scenic drive to the iconic Santiago de Compostela, the final destination of the legendary Camino de Santiago pilgrimage route. As you arrive in the city, renowned for its rich historical and spiritual heritage, meet your local guide, who will lead you on a memorable tapas tour.
Meander through the age-old cobblestoned streets, with the symbols of the pilgrimage subtly guiding your path. Gain a deep understanding of pilgrims' traditions as they conclude their spiritual journey in the city. Feel the pulsating energy of the place as countless pilgrims celebrate the end of their journey at the majestic Santiago de Compostela Cathedral, the purported burial site of the Biblical apostle Saint James.
Immerse yourself in the city's vibrant culinary scene during your tour. Stop off at quaint local taverns, bustling cafés, and authentic tapas bars that adorn the streets of Santiago. Sample a delightful array of dishes, from traditional Galician cuisine to innovative modern tapas, paired with the crisp, refreshing Albariño wine, a regional specialty.
The day is a perfect blend of cultural enlightenment and culinary indulgence as you explore the spirit of Santiago de Compostela while satisfying your palate with the city's gastronomic delights.
Best Tours from Emily! Words can't express how grateful it was to be able to call on Emily for help with some excursions in Spain. Emily, thanks soo much. You're the BEST!!!
Day 5: Prehistoric Wonders and Medieval Charm - Tito Bustillo and Oviedo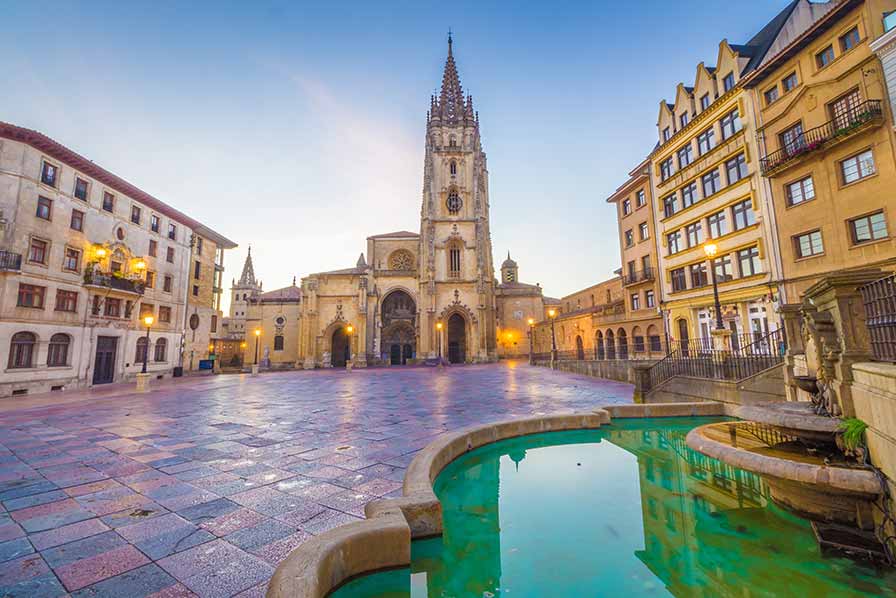 Start your day with a scenic drive through the picturesque Rías and along the breathtaking Asturian coast. Your destination is the charming town of Ribadesella, nestled in the heart of Asturias. Here, you'll discover the magnificent Tito Bustillo Cave, one of the world's most important Paleolithic art sites.
On arrival, immerse yourself in prehistoric times at the Prehistoric Painting Museum. Gain insights into the techniques used by our ancient ancestors and the significance of the cave paintings. Follow this with a fascinating walk through the cavernous depths of the Tito Bustillo Cave itself, where you'll marvel at the ancient artistry adorning the cave walls.
Continue your journey to the historical city of Oviedo, with its blend of Romanesque, Gothic, and Renaissance architecture. Before venturing into the city, visit Sta. María del Naranco Chapel and San Miguel del Lillo are two 9th-century chapels that are exquisite examples of pre-Romanesque architecture.
After lunch, meet your guide for a captivating walking tour of Oviedo's old town, navigating its winding streets and exploring the remnants of its historic Jewish Quarters. Step into the awe-inspiring 14th-century cathedral, known for its unique blend of Gothic, Renaissance, and Baroque styles. Discover the cathedral's Holy Chamber, a significant site built to safeguard Christian treasures from the Moorish invasion.
As the day comes to a close, unwind in your accommodations nestled in the serene countryside just outside of Oviedo, offering you a peaceful retreat after a day filled with exploration and discovery.
Day 6: Coastal Wonders and Charming Villages - Santander and Asturias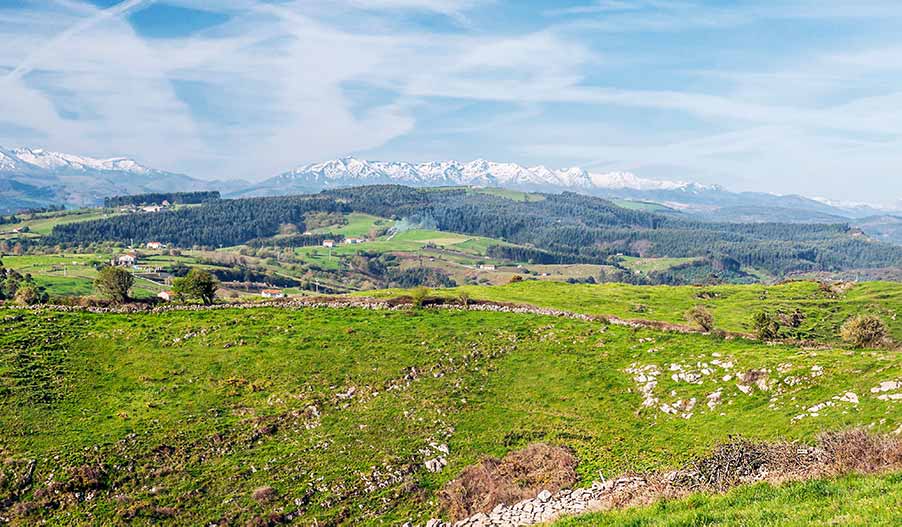 Begin your day by driving along Spain's stunning northern coastline towards the vibrant city of Santander. Enjoy the freedom of this day of your northern Portugal and Spain trip with a leisurely exploration of the region.
Make sure to take in the charm of three quaint villages that are essential stops on your route: San Vicente de la Barquera, Comillas, and Santillana del Mar. Each offers a unique experience, with its narrow cobblestone streets, rustic architecture, and friendly locals. Taste the simple but delicious small-town fare, savoring the local flavors and traditional dishes.
Wrap up the day at your comfortable hotel in Santander, where you can rest and rejuvenate after a day filled with coastal beauty and cultural immersion.
Day 7: Urban Exploration and Culinary Delights - Santander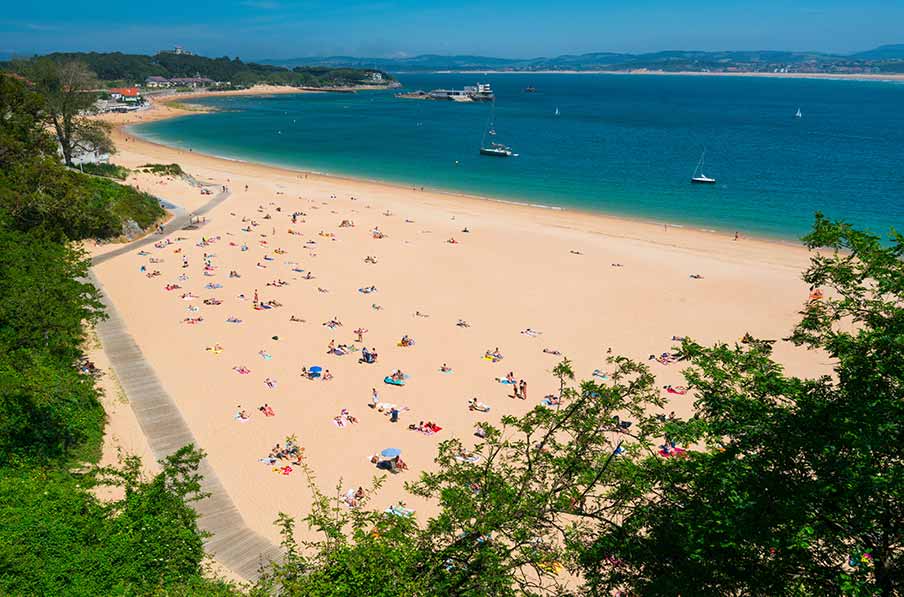 Embark on a walking tour of Santander, a coastal city that seamlessly combines urban vibrancy with natural beauty. Begin with a stroll through the historic quarter, where grand 17th and 18th-century buildings offer a contrast against the stunning backdrop of sea and mountains.
Continue your exploration along the wide bay leading to El Sardinero Beach, a popular spot for both locals and tourists. Enjoy the stunning views as you wander towards La Magdalena Peninsula, renowned for its royal palace and park.
Make sure to stop at the local taverns that dot your path. Indulge in a selection of mouth-watering tapas and pintxos, traditional small dishes that showcase the region's culinary richness. Pair your meals with local vintages, savoring the distinct flavors of Santander's wine offerings. This combination of cultural exploration and gastronomic delight offers a comprehensive experience of Santander's unique allure.
Day 8: Cultural Immersion and Artistic Revelations - Bilbao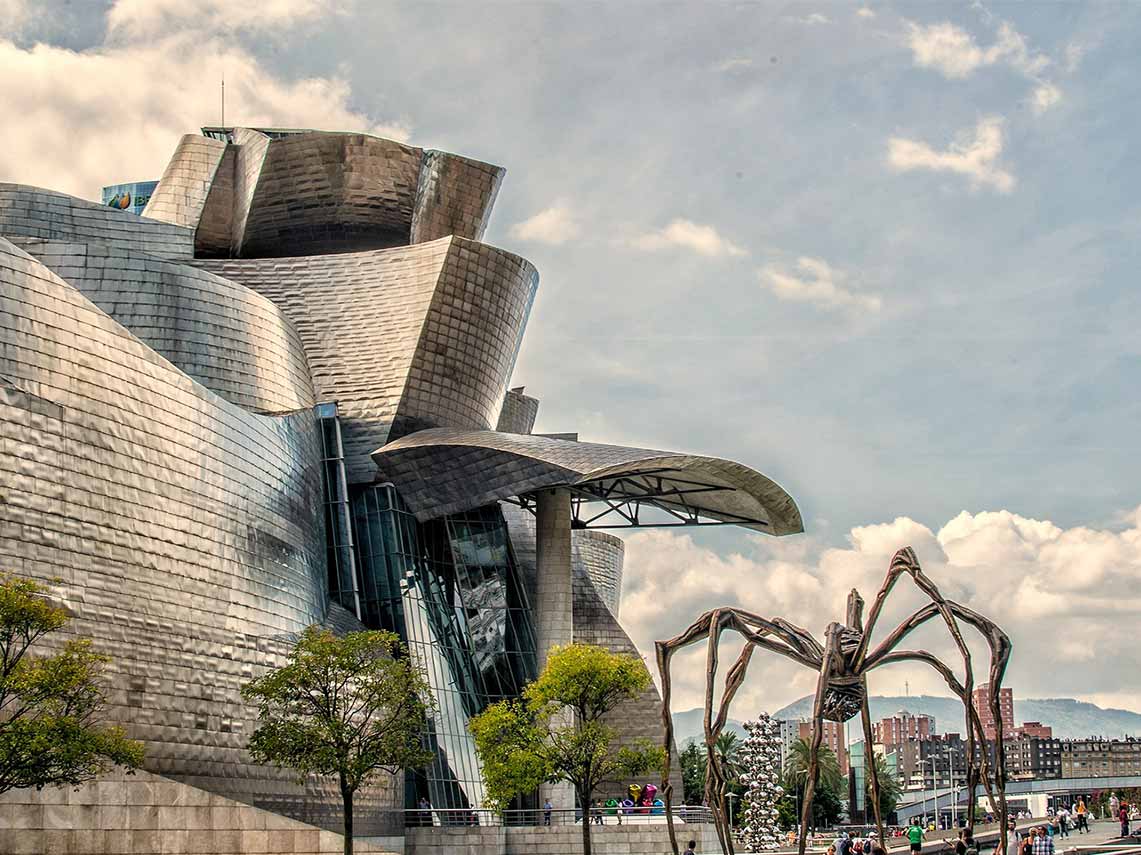 Embark on a journey to the Basque Country as you leave Cantabria. Immerse yourself in a unique culture characterized by distinct language and customs, setting it apart from Galicia and Asturias you have experienced so far.
Begin your cultural exploration with a guided tour of the Guggenheim Museum, an icon of 21st-century art. Meet your guide at the entrance, ready to navigate you through an awe-inspiring collection of contemporary masterpieces housed within this stunning architectural marvel.
Afterward, follow your guide along the river into the historic heart of Bilbao – the Old Town. Wander through the original seven streets, "Las Siete Calles," absorbing the city's historic charm and rich heritage.
Cap off the day by treating your palate to a gourmet Basque meal at a Michelin-starred restaurant, savoring the culinary creativity and flavors of the region. Afterward, drive to your hotel in San Sebastián, ready for the next phase of your journey.
Day 9: Historic Wonders and Gastronomic Treasures - San Sebastián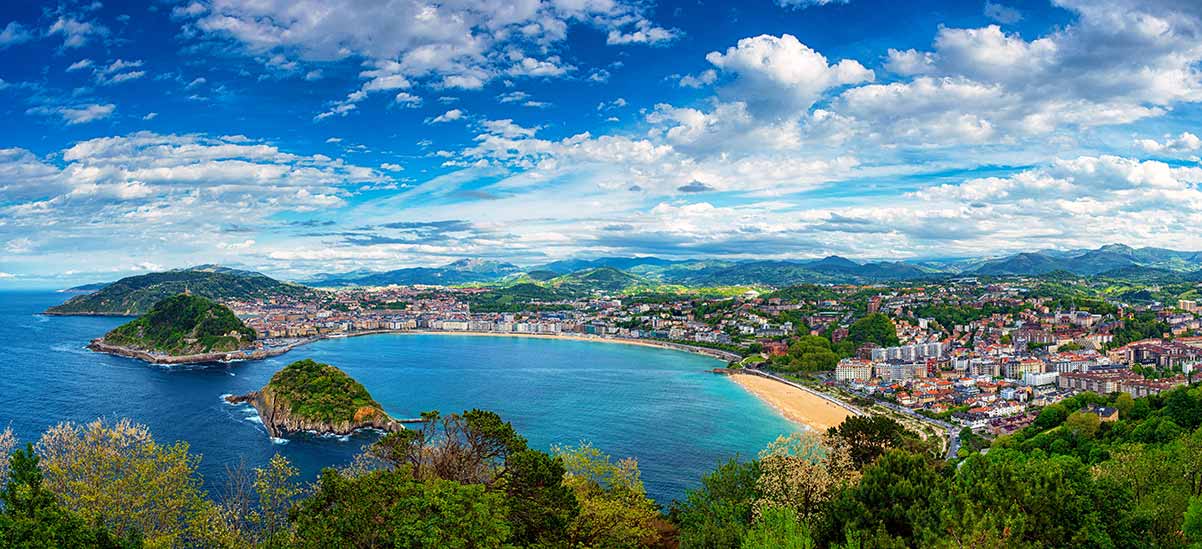 Meet your guide in the hotel lobby around midday for a captivating walking tour of San Sebastián. Delve into the city's history as you explore the Old Town and the Romantic Quarter, each offering a different facet of San Sebastián's enchanting heritage.
Amidst historic landmarks, stop at several renowned pintxo bars to truly immerse in the city's vibrant pintxo culture. Enjoy the unique culinary tradition of small, delectable bites paired with local wines. As you sample these Basque culinary delights, you'll get an authentic taste of San Sebastián's celebrated gastronomy, making your cultural exploration truly holistic.
Amazing experience! My husband Douglas and I just came back from a 10 days customized guided tour to Morocco organized by Emily from Guided Spain. It was an amazing trip. Our driver Youssef met us at the Casablanca Airport and he quickly became our guide, security guard and guardian angel! When I got sick he got me medicine and he always found the best toilets when we were on the road. Also, ice cream! We feel that we got the authentic Morocco experience with the riads (hotels) that Emily chose for us and the guides in the different cities we visited. The Merzouga Luxury Desert Camp was totally amazing as well as the visit with the Nomads,and the medinas. This is our second trip with Emily and as the first one, it was excellent. Our next one will be Portugal!
Day 10: Journey to French Basque Country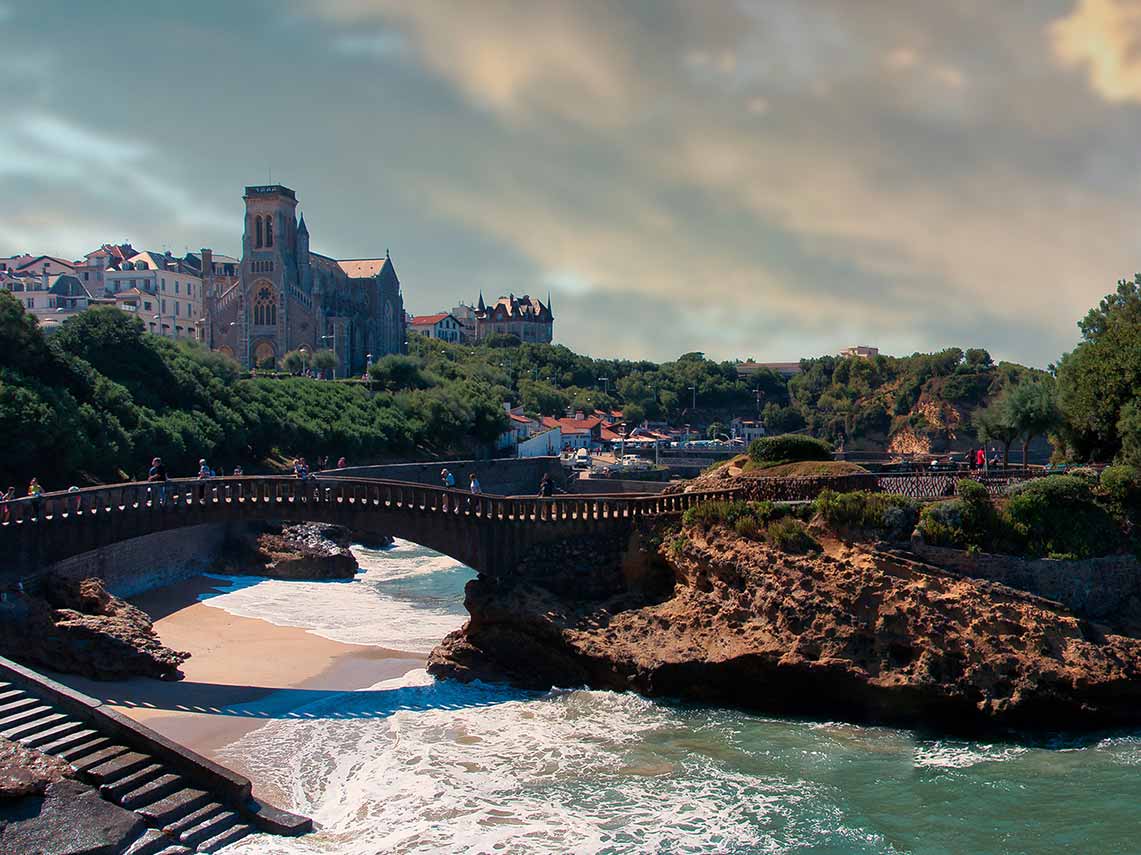 Travel northward into the mystic and alluring French Basque Country for the day, a region rich in folklore and home to one of the oldest cultural groups globally – the Basques.
Your expedition begins in Biarritz, an opulent seaside resort town along the stunning Basque Coast, noted for its vibrant surfing culture. Your guide will delve into fascinating tales of the town's historical pirate and whaling activities that have left an indelible mark on Biarritz's identity.
Continue your exploration by heading to St. Jean de Luz, a charming and picturesque hamlet. Key landmarks here include the House of Infante, which was once the residence of King Louis XIV, and the iconic St. Jean Baptiste Church. You'll have an opportunity to immerse yourself in the local culture, perhaps by sampling traditional Basque cuisine during your free time at lunch.
Your day concludes with a walking tour through the medieval town of Bayonne, a designated UNESCO World Heritage Site, and an important stop on the French route of the Camino de Santiago (St. James' Way). Revel in the town's ancient charm and unravel its historical tapestry under the guidance of your knowledgeable guide.
As the evening rolls in, you will return to San Sebastián, carrying with you a treasure trove of memories from your immersive journey through the French Basque Country.
Day 11: Vineyards and Vistas - Rioja Lake District and Wines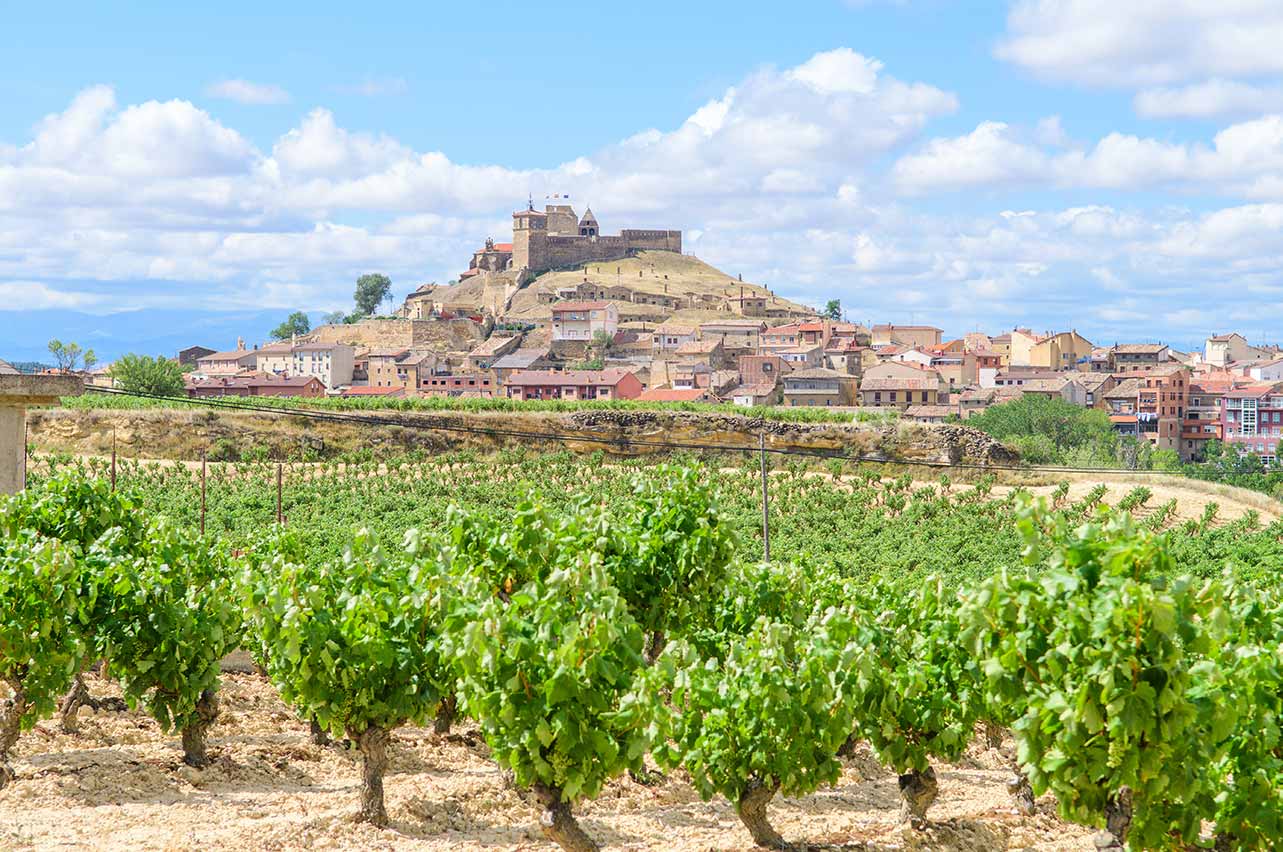 Begin your day by heading south through the iconic Rioja wine country towards the picturesque town of Laguardia. With its beautiful landscapes and rich viticulture, Rioja provides an intoxicating backdrop to your journey.
Upon arrival in Laguardia, you'll be greeted by your knowledgeable guide, ready to lead you on an idyllic walk through the lush countryside. Embark on a unique birdwatching route in the serene lake district of Lagunar Laguardia. This tranquil setting is home to a diverse range of avian species, providing an opportunity to immerse yourself in nature and perhaps spot some unique birdlife.
Midday, pause your exploration for a delectable picnic amidst the beautiful surroundings. Taste locally-sourced produce as you unwind in the great outdoors, taking in the panoramic views.
Following lunch, venture to Balcón del Ebro, where a captivating experience awaits. Depending on the season, you'll either assist in the grape harvesting process or partake in wine-making at a charming, family-run winery. It's a hands-on opportunity to delve into the region's prized viticulture.
Conclude your tour of the winery with a grand finale: a wine-tasting dinner. Sample a range of the winery's finest offerings, paired with a specially curated menu that accentuates the characteristics of each wine. It's the perfect end to your day, savoring the exquisite flavors of Rioja while reflecting on your memorable experiences.
Day 12: The Historic Wonders of Burgos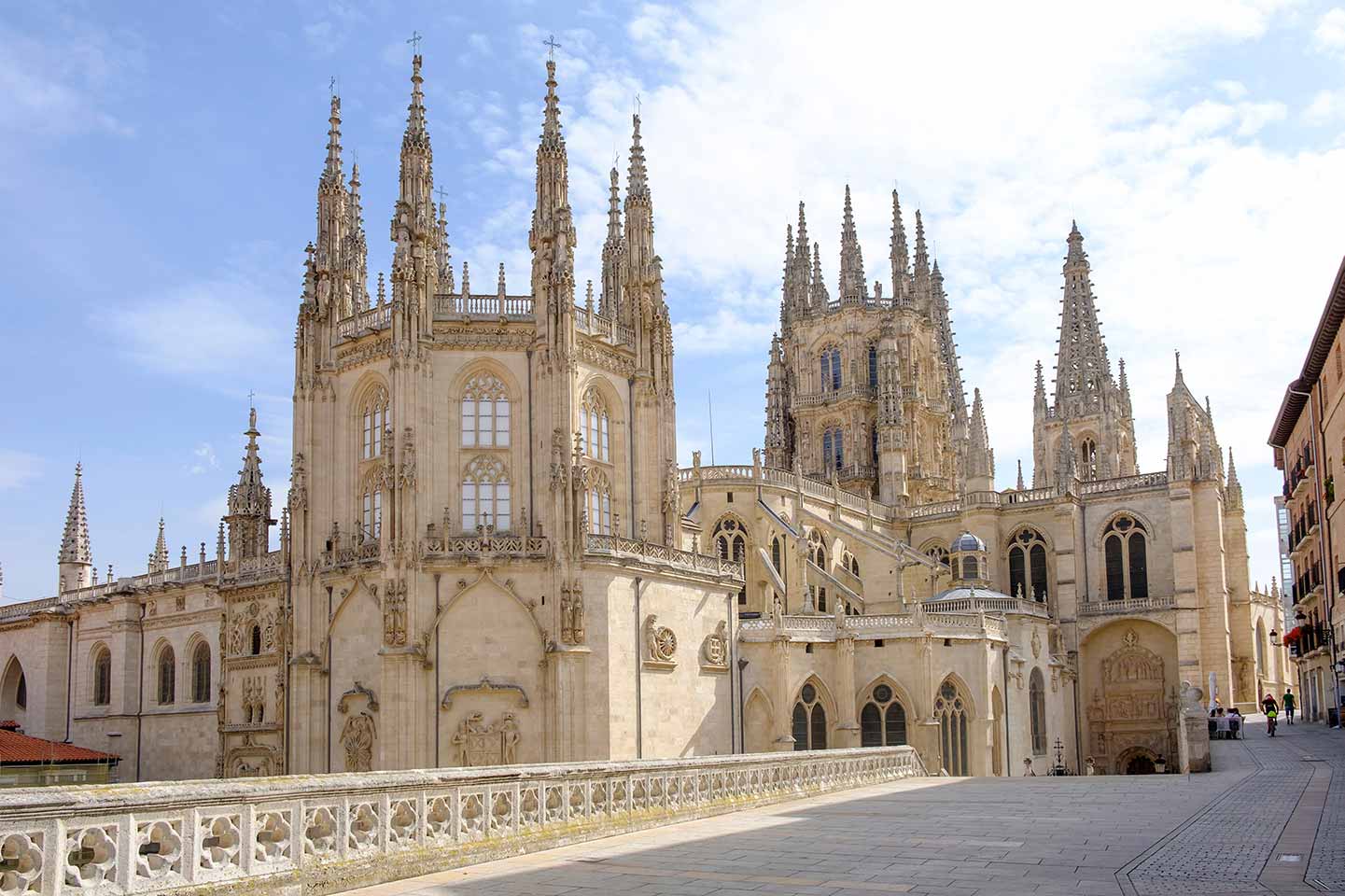 Embark on a journey through the Valle del Duero towards Zamora, meandering through the captivating landscapes of northern Spain and Portugal. Your first stop of the day is the historic city of Burgos, a place renowned for its rich cultural heritage.
Upon your mid-morning arrival in Burgos, you'll be greeted by your local guide, who will take you on a comprehensive walking tour. Explore the evocative Jewish Quarters, a network of narrow streets that hark back to the Middle Ages, where you can almost sense the stories seeping from the ancient stone walls.
Next, marvel at the Gothic grandeur of the Burgos Cathedral, a UNESCO World Heritage site, with its breathtaking architecture and intricate detailing. The final stop on your city tour is the tranquil Cartuja de Miraflores Monastery, an oasis of serenity just outside the city center.
Burgos has a rich tradition of sword-making, and you'll find a host of replicas available for purchase in the city center – a unique memento of your visit. After exploring the city, take some time to savor lunch in one of the local eateries, tasting traditional cuisine before proceeding to your accommodation in Zamora.
Day 13: Homeward Bound – Return to Porto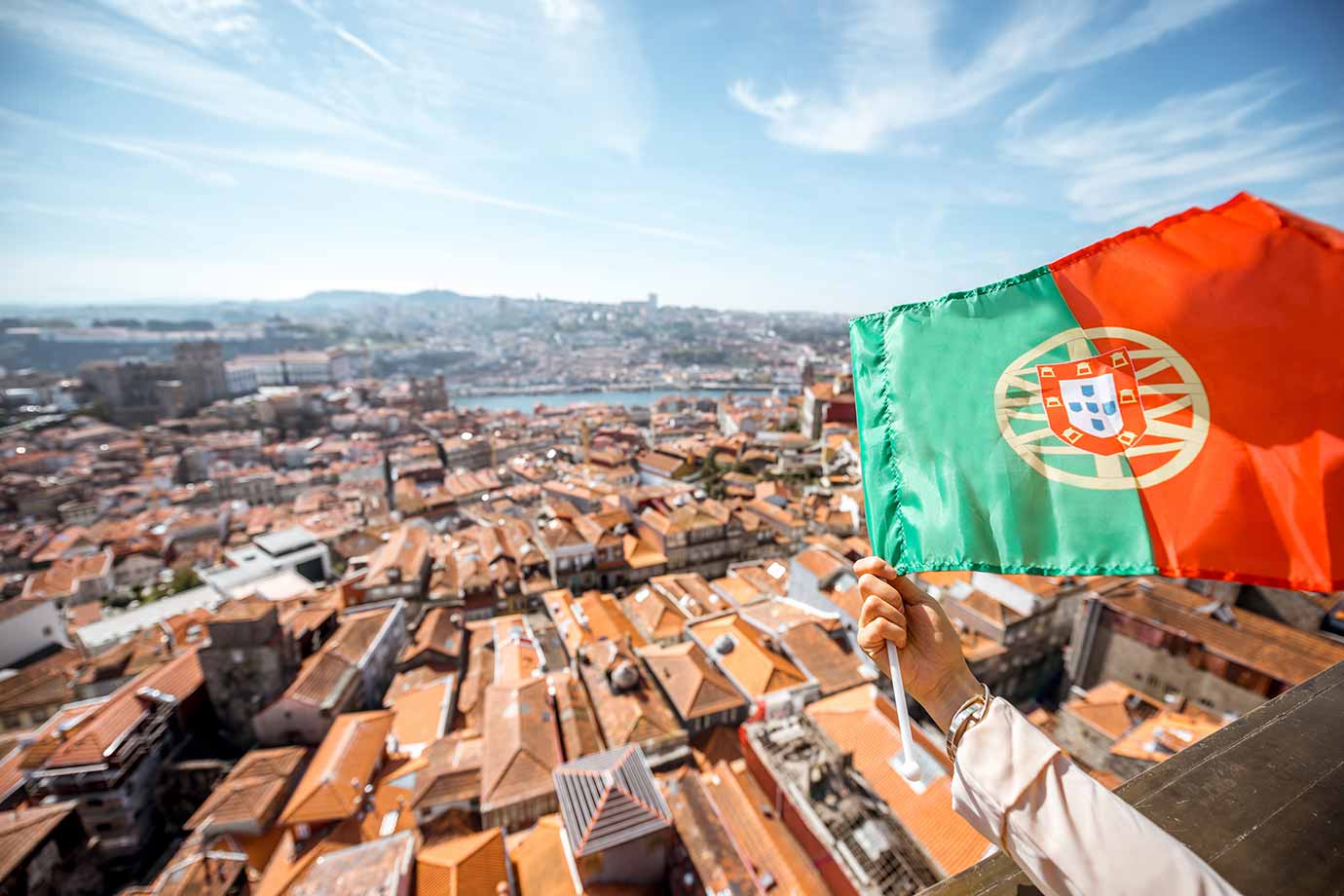 Bid farewell to Spain as you cross the border back into Portugal, heading towards the vibrant city of Porto. Spend your last night soaking up the city's atmosphere, reminiscing over your journey, and perhaps enjoying a glass of the city's famous port wine. While the tour is designed to end in Porto, it can also conclude at another location of your choice.
Excellent Individualized Tour Company for People who do not want to go on Package Tours. I used Emily to arrange a tour of Southern Spain in January, 2020 for 4 people. It turned out to be great. What I do not like is being shepherded around to cheesy tourist sites and waiting in lines of tourists. Emily arranged for very competent and efficient drivers, fantastic guides, very good hotels and even recommended restaurants for each location. The best thing about using Emily is that when she arranged for (at my request) wine tastings, olive oil tastings, a flamenco show is that all of them were authentic and interesting and none of them were contrived or cheesy. While on the trip, she checked in and made sure everything went smoothly. When we went to the Alhambra or other ticketed sites, we always got to skip the line due to Emily. There was one overall price per person (depends on double/single room) that I felt was very fair for the level of service provided.
Day 14: Farewell to Northern Portugal and Spain
It's time to bid adieu to the beautiful landscapes and rich history of northern Portugal and Spain. Meet your driver for a comfortable ride to the airport, marking the end of your unforgettable journey. Reflect on the myriad of experiences and memories you've collected as you prepare for your onward journey.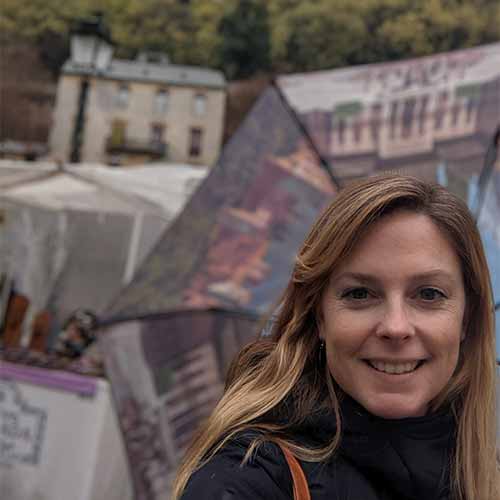 Say Ola to Emily, your personal tour planner at Guided Spain Tours. Get in touch by filling in the form below and requesting your complimentary itinerary!
Contact Us For A Custom North Iberia Itinerary
The harmony of traditional cultures, historical narratives, gastronomic delights, and stunning landscapes we've discovered together is the essence of the beautiful North Iberia.
We welcome you to get in touch with us for your future travel endeavors, where we can further tailor the journey to your tastes, ensuring each adventure you undertake is as unique as the last.
Highly recommend Emily! Emily created a personalized itinerary for us in southern Spain. She was very knowledgeable about the region, attentive, and personable. She returned emails properly, and was a pleasure to work with. Emily was flexible and did not make mind making changes in the itinerary-- Her goal is to please her customers!
Emily is GOOD! Emily arranged a 14 day tour for us in Spain at short notice of a week or so. The whole tour was beautifully organized, amazingly flexible and the rare glitches were attended to and addressed, literally instantly. For sure we will be back for further tours with her. Thanks, Emily.
Best Tours from Emily! Words can't express how grateful it was to be able to call on Emily for help with some excursions in Spain. Emily, thanks soo much. You're the BEST!!!
Spain and Portugal trip: Emily did an amazing job Of setting up our trip through Spain and Portugal. All of our tours were outstanding and personalized. We had a wonderful time!
Private Tour: Emily is a pleasure to work with. She arranged hotels, activities, tour guides and transportation in Barcelona, Madrid, Segovia, Toledo, Cordoba, Avila, Seville, Malaga, Gibraltar. She was extremely responsive when we had questions and made sure that everything flowed smoothly.