15 Days Touring Spain & Portugal
Our meticulously designed 15-Day Iberia Itinerary takes you from the vibrant city streets of Madrid and Barcelona through the rolling vineyards of the Douro Valley in Portugal and much more besides.
Along the way, you'll immerse yourself in the rich and diverse cultures of two countries, enjoy mouthwatering cuisines, and marvel at architectural masterpieces from different epochs.
Prepare yourself for an unforgettable adventure that harmoniously combines leisure, exploration, and a deep dive into the enchanting world of the Iberian Peninsula.
Day 1: Barcelona – Barri Gòtic: A Stroll Through History and Legends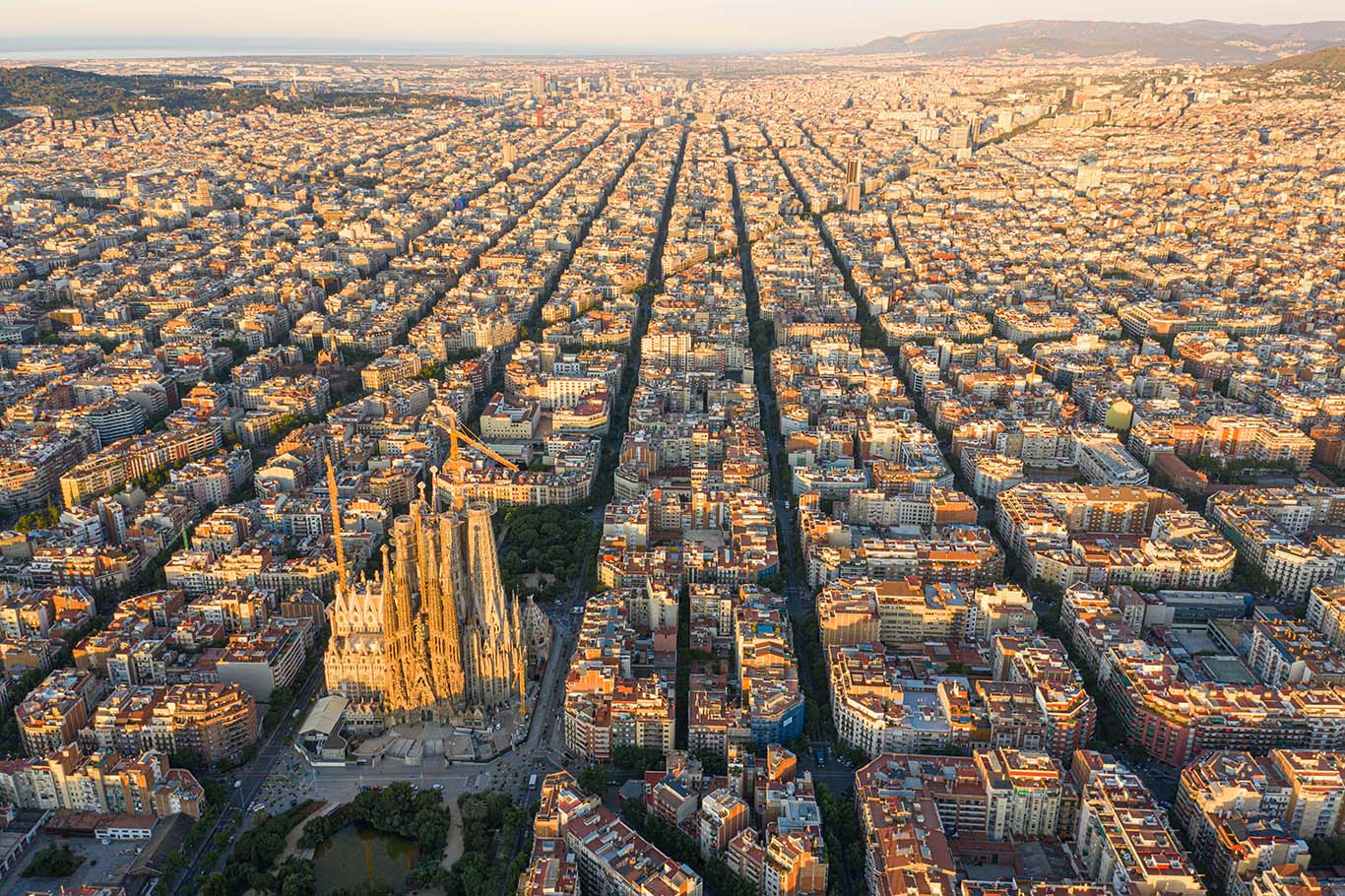 Welcome to the start of your incredible Iberian tour itinerary! Upon landing at El Prat airport, you'll be greeted by your driver right after you clear customs. They'll smoothly whisk you away to your hotel, where you'll have a few hours to relax, freshen up, and adjust to the new surroundings.
As the afternoon melds into the evening, meet your knowledgeable guide in the hotel lobby. Prepare to embark on a fascinating walking tour through the ancient, cobblestoned streets of Barcelona's oldest district, Barri Gòtic. This historical treasure trove brims with enigmatic symbols and hidden signs that most casual tourists often overlook.
Through the enchanting maze of narrow medieval lanes, your guide will share some of Barcelona's most intriguing legends and folklore that breathe life into the stone walls and ancient towers around you.
Halfway through your walk, you'll stop at some of the district's quintessential tapas bars, and taverns. Here, you'll have the chance to enjoy a casual, light dinner comprising 'pintxos' – bite-sized, delicious treats that are a highlight of the local cuisine – and the region's exquisite wines. This is your first day in the Iberian Peninsula – savor its rich history, tantalizing gastronomy, and the prospect of the journey ahead.
Day 2: Barcelona – An Enthralling Bike Tour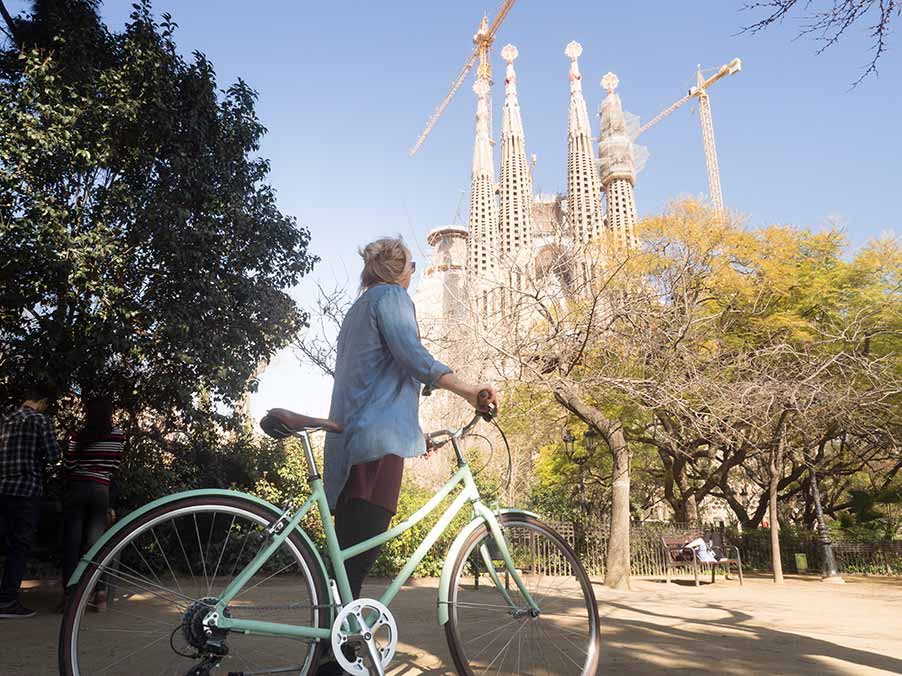 Ready to dive deeper into Barcelona's charm? Day two of your tour begins with an extensive, guided bicycle expedition through the captivating city. The adventure on two wheels allows you to weave through the city's bustling streets and boulevards, absorbing the rhythm of local life while appreciating its diverse architectural beauty.
The biking journey starts with a scenic ride down the famed Passeig de Gracia Boulevard, a majestic stretch lined with high-end shops and stunning modernist buildings. Keep an eye out for the two iconic Gaudí houses that grace this street: Casa Batlló and Casa Milà, both famed for their undulating facades and innovative designs.
As the bike tour continues, you'll be treated to a panorama of the verdant Parc Güell, another of Gaudí's masterpieces and a UNESCO World Heritage site. The park's vibrant mosaic tiles and architectural elements offer a glimpse into Gaudí's fantastical vision.
Weave your way down the bustling tree-lined Las Ramblas, a vibrant artery running through the heart of the city, brimming with flower stalls, performers, and cafés. Along this iconic boulevard, you'll encounter the Boquería Market, a feast for the senses where locals and tourists alike revel in the freshest produce, seafood, and traditional Catalan specialties.
The finale of your cycling exploration is an awe-inspiring visit to La Sagrada Familia. This iconic basilica, Gaudí's magnum opus, is a testament to his unique architectural language, which marries nature and spirituality. Stand in awe of its intricate façade and towering spires, a fitting end to your day exploring Barcelona on a bike.
Day 3: Journey to Girona and Besalú – Exploring Braavos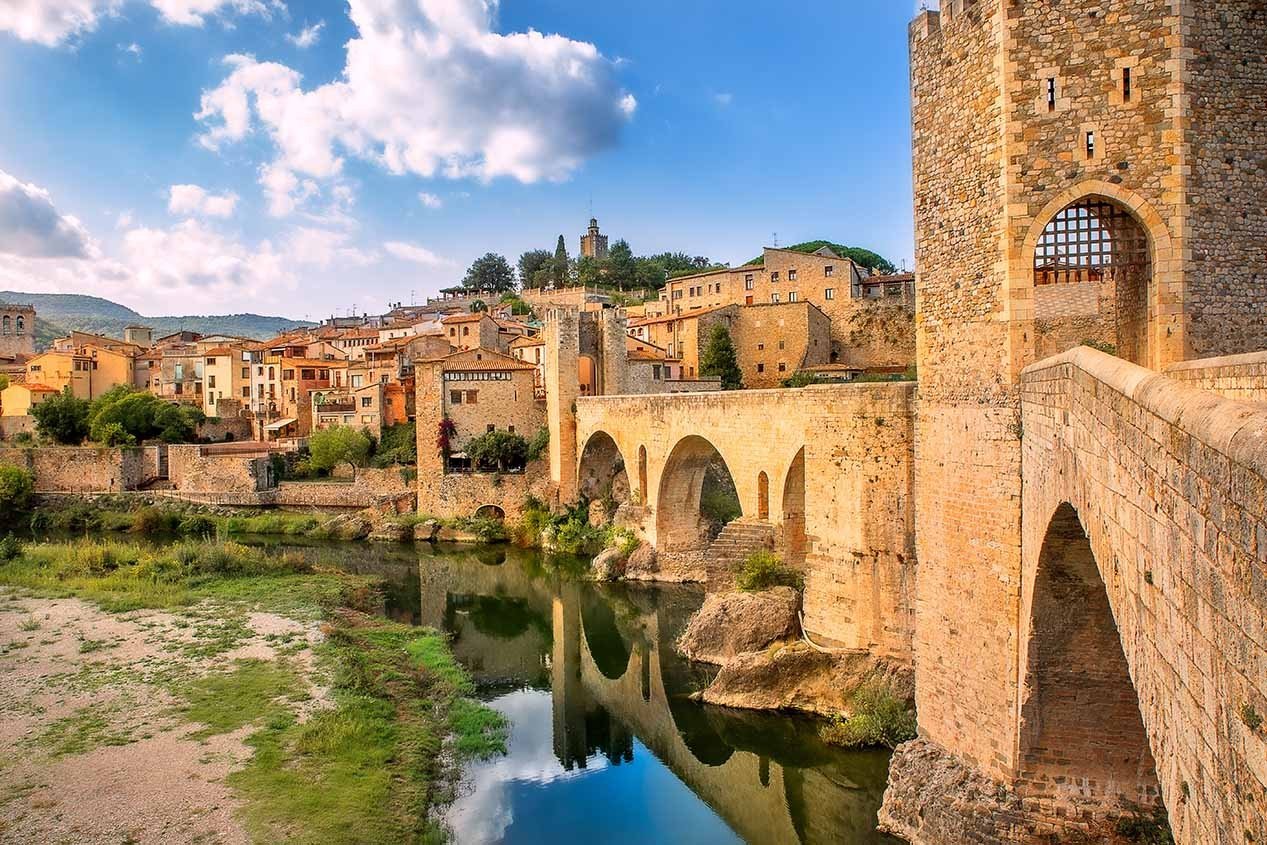 Your driver will escort you on a journey up the stunning coast to the heart of Catalonia. Your first stop is the enchanting medieval village of Besalú, complete with its iconic drawbridge. This town is a time capsule, preserving the architectural wonders of the past and whispering tales of its rich history.
Upon arrival in Besalú, a knowledgeable local guide will lead you to one of the town's most remarkable landmarks: the 12th-century mikvah, a traditional Jewish ritual bath. Recognized as one of only three preserved mikvahs from the same period in Europe, this site provides an intimate glimpse into the region's Jewish heritage. Stroll the cobblestone streets to discover the location of a long-lost synagogue, marking the Jewish community's historical presence in this scenic town.
After absorbing Besalú's history, your journey continues to Girona, a city renowned for its well-preserved medieval Jewish quarter. Wandering through its narrow alleyways and beneath arched passages is like stepping back in time, particularly for fans of Game of Thrones. Girona's cobbled streets were transformed into the Free City of Braavos in the series. Relive Arya Stark's blind wanderings through the marketplace, following her servitude to The Many-Faced God at the House of Black and White.
Your Girona tour culminates at the city's majestic Cathedral, which doubles as the Great Sept of Baelor in the series. Its imposing staircase and baroque façade will be instantly recognizable to fans, harking back to the dramatic scene of Cersei Lannister's destructive wildfire explosion in Season Six. With the echoes of the show still in your ears, you'll return to Barcelona in the late afternoon, enriched by a day filled with historical insights and cinematic memories.
Day 4: Culinary Adventure in San Sebastian - The Pintxos Experience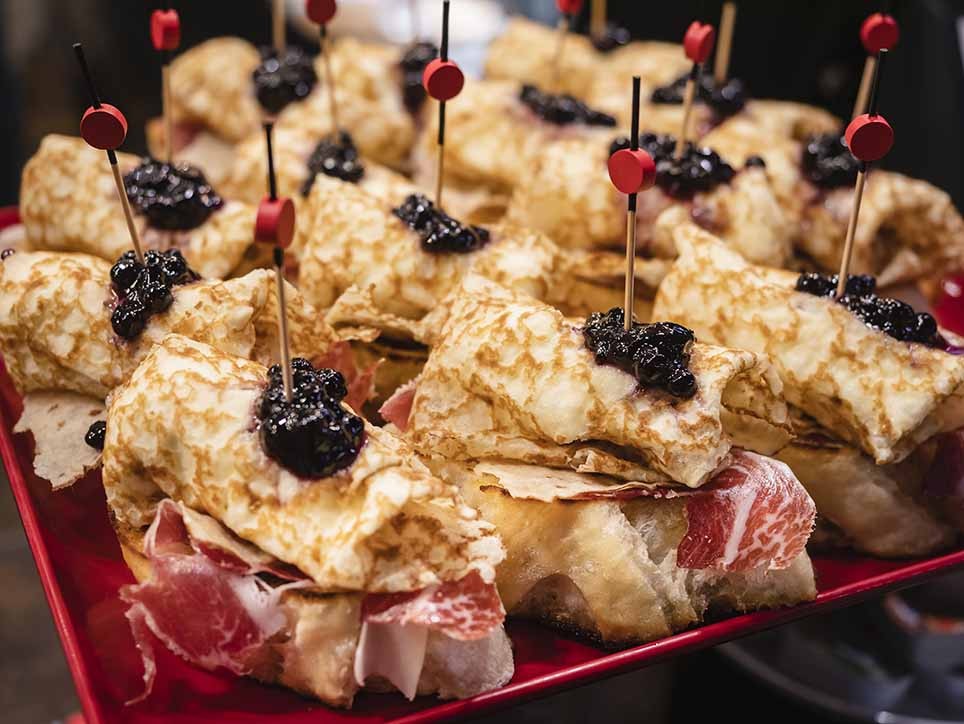 Day 4 commences with a morning transfer to Sants, where you'll board a train whisking you across the scenic landscapes of northern Spain. As you alight in the alluring city of San Sebastian, a sense of romantic allure fills the air. Following a smooth check-in at your hotel, take a moment to settle in and absorb the coastal charm of this Basque gem.
As the evening unfolds, you will rendezvous with your local guide in the hotel lobby for an immersive walking tour of this enchanting city, also known as Donostia. Your guide will lead you on an exploration of the Romantic Quarters, each corner steeped in history and brimming with architectural wonders. Stroll along the shoreline of La Concha Bay, reveling in the breathtaking vista of its crescent-shaped beach and vibrant blue waters.
Your tour continues to the Port, home to a bevy of fishing boats that mirror the city's rich maritime heritage. Next, marvel at the ultramodern Kursaal Palace, a symbol of San Sebastian's contemporary dynamism. And no visit would be complete without a stop at the city's monumental Cathedral, a grand testament to the region's profound religious history.
The climax of your tour will be an authentic culinary journey. As you venture into several renowned pintxo bars, your guide will introduce you to the art of pintxos, the Basque version of tapas. Here, you will savor a variety of these bite-sized culinary creations, each bursting with flavors that define San Sebastian's vibrant food culture. This gastronomic adventure doubles as your dinner, providing a delicious ending to your day in this enchanting city.
Best Tours from Emily! Words can't express how grateful it was to be able to call on Emily for help with some excursions in Spain. Emily, thanks soo much. You're the BEST!!!
Day 5: Seaside Escape in San Sebastian - Leisurely Beach Day
Relax and enjoy a free day soaking up the sun on San Sebastian's iconic beaches. We propose exploring Ondarreta Beach, La Concha, or Zurriola, each renowned for their sparkling sands and alluring coastlines. If you're a seasoned swimmer, challenge yourself with a rejuvenating swim to the island nestled in the bay's heart, a unique experience that offers a fresh perspective on this coastal city.
In the afternoon, prepare for a fun-filled journey up to Monte Igueldo. We've arranged tickets for a scenic ride on the funicular, an old-fashioned cable car that provides panoramic views of the city and the Bay of Biscay. At the summit, children can enjoy a nostalgic journey into the past with various historical park rides.
Day 6: Coastal Journey to Bilbao - Zumaia, Itzurun Beach, & San Juan de Gaztelugatxe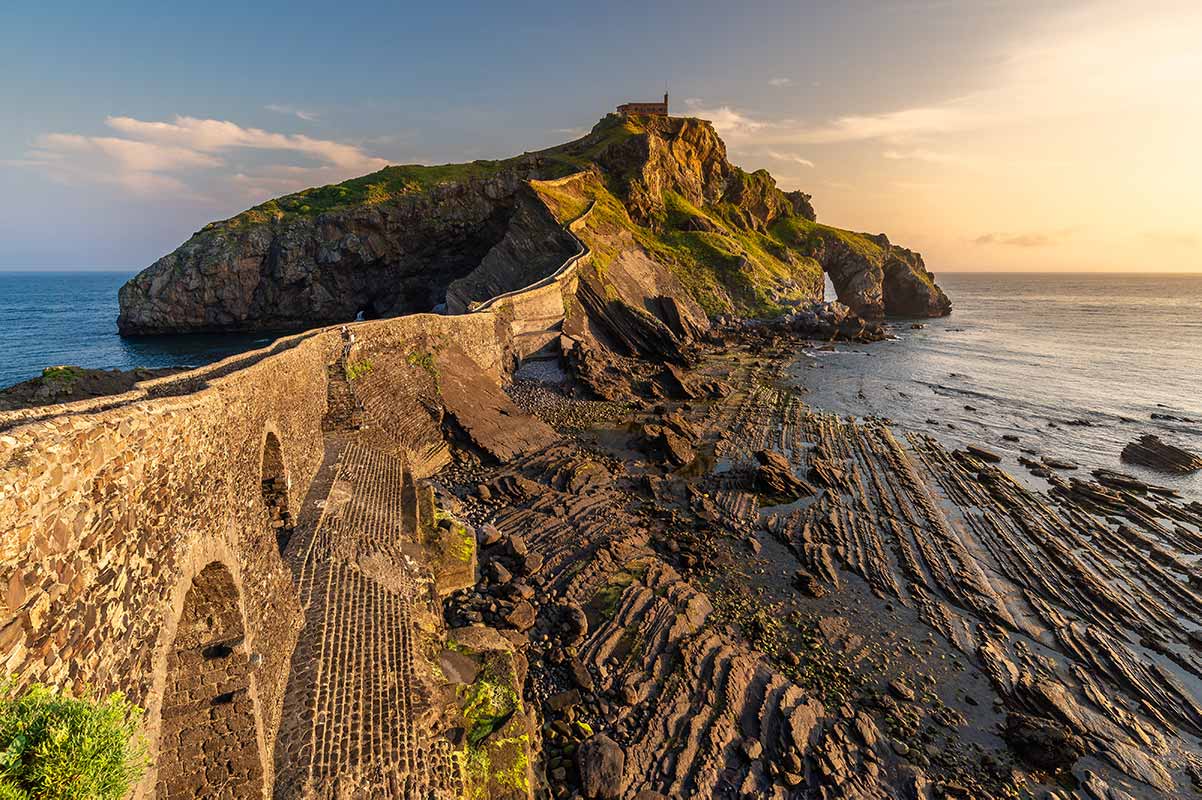 Join your private driver on a scenic coastal drive to Bilbao. As part of this journey, we've included stops at captivating film locations from the renowned Game of Thrones series.
Your first stop is the coastal town of Zumaia. Here, you'll walk along the famed Itzurun Beach, where Khaleesi, one of the series' memorable characters, made her first steps into the world of Westeros.
Next, you'll navigate towards the enchanting San Juan de Gaztelugatxe, home to a historical 9th-century hermitage perched on a rocky isthmus. This visually arresting site was transformed into Dragonstone in the series, providing a thrilling backdrop for fans of the show.
Upon arriving in Bilbao, you'll rendezvous with your guide at the striking Guggenheim Museum. Delve into the fascinating world of contemporary art as you tour this world-renowned institution. Following the museum visit, hop aboard the funicular up Monte Artxanda, which offers sweeping vistas of Bilbao.
Your Bilbao exploration continues with a guided tour of the city's Old Town. Discover the history and culture of the region as you meander through the labyrinthine Seven Streets. To top off a day of exploration and immersion, enjoy an exquisite gourmet Basque meal at a Michelin-starred restaurant, where you'll savor the region's culinary delights.
In the afternoon, journey back to the tranquility of San Sebastian, reflecting on the unique experiences of your day.
Day 7: Immersive Exploration in La Rioja - Off-road Adventure and Wine Discovery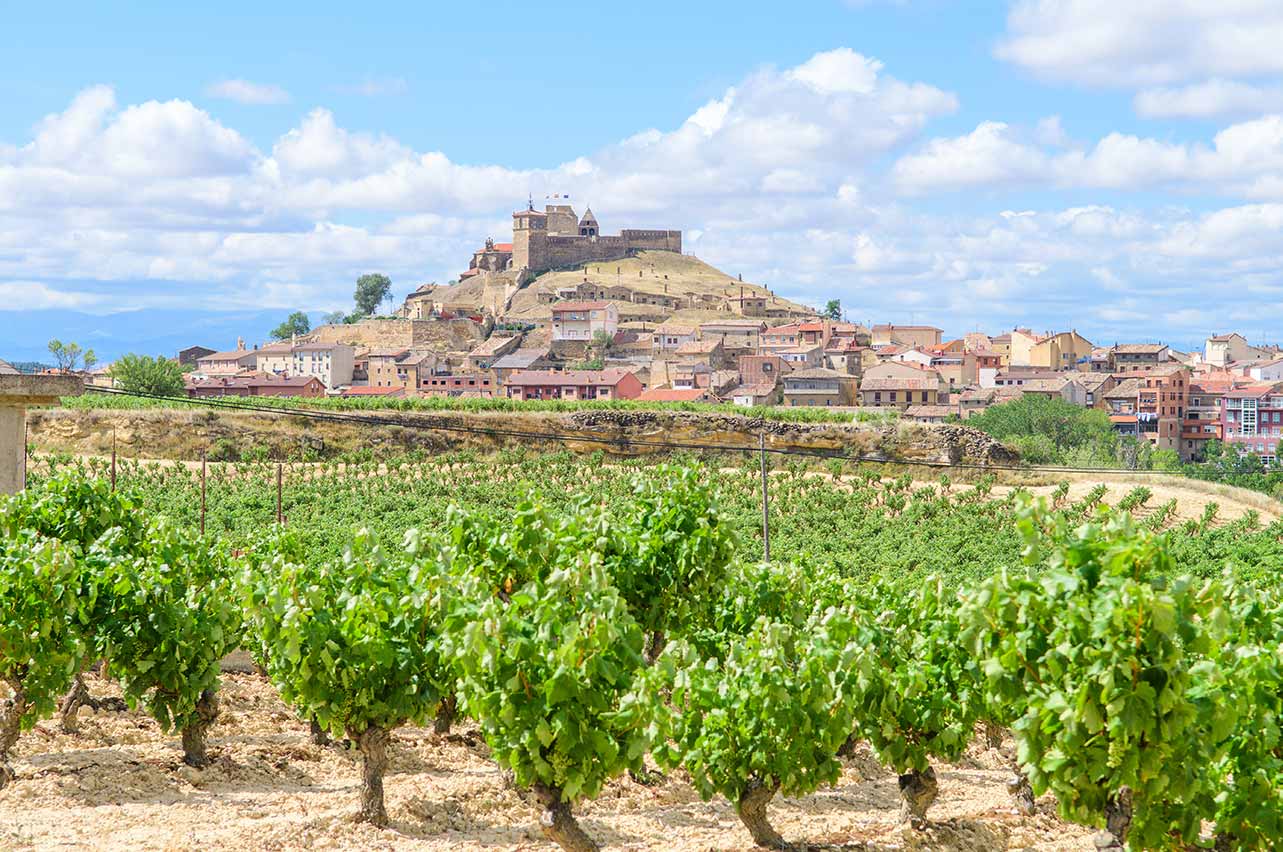 Make your way south towards the wine haven of La Rioja. As you leave behind the coastal views of San Sebastian, the lush vineyards and rolling landscapes of La Rioja become your picturesque backdrop.
Upon arrival in La Rioja, you'll rendezvous with your guide in the quaint town of Laguardia. Your first stop will be at the Bodegas Ostatu, a family-operated winery nestled in the heart of Samaniego. Here, you will embark on an immersive journey through the process of winemaking, learning about the vineyard's history, its unique winemaking traditions, and the love that goes into every bottle. This tour will culminate with a wine-tasting session, allowing you to savor a range of wines accompanied by a selection of delectable appetizers.
Post the winery visit, take a stroll to Laguardia, a charming medieval town known for its enchanting streets and captivating history. Discover the town's well-preserved ancient history as you weave through its narrow, winding lanes. Along the way, immerse yourself in the local culture as you join the locals in their customary pintxos and tapas crawl, sampling the region's gastronomic delights at some of the town's best bars.
After lunch, a thrilling 4×4 off-road adventure awaits. You will journey through the verdant vineyards of La Rioja, feeling the pulse of this region's viticultural heart. This exciting exploration will offer you unparalleled views of the vine-clad landscapes and an unforgettable experience of the region's natural beauty.
As the day concludes, sit back and relax in your comfortable vehicle, reminiscing about the day's unique experiences as you return to San Sebastian in the evening. This day in La Rioja promises an intoxicating blend of cultural history, local gastronomy, and natural beauty.
Day 8: The Magic of Seville - Discovering Dorne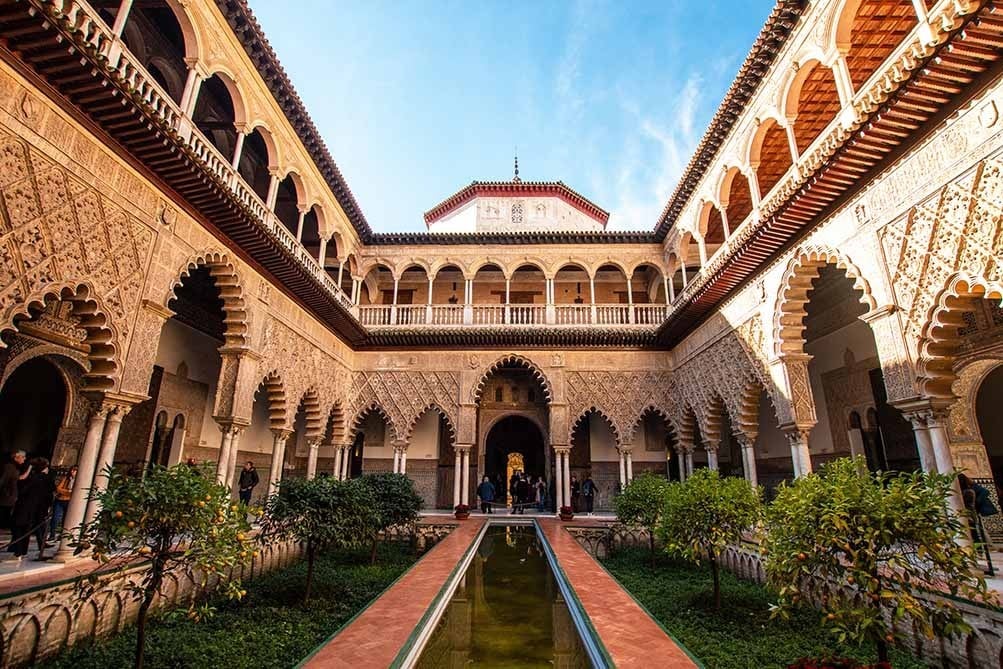 Begin Day 8 with a seamless transition to Seville, a city that played a captivating role in Game of Thrones as Dorne. A pre-arranged driver will escort you to Bilbao Airport for a brief flight, transporting you to the enchanting southern part of Spain.
Once in Seville, you will be transported to your hotel, where you can refresh and recharge before embarking on your afternoon exploration. The city's mesmerizing charm is underpinned by its depiction as Dorne in Season Six of the famous series, featuring the exceptional Alcazar as its crowning glory. The Alcazar, one of Spain's few remaining royal palaces, stands as an enduring testament to the city's rich history and grandeur.
In the afternoon, rendezvous with your knowledgeable guide to start your bicycle tour. Your expedition begins at the formidable city walls, a boundary that has safeguarded Seville's heritage for centuries. As you ride along, pass through the lush Murillo Gardens, a beautiful amalgamation of verdant foliage and serene walkways that capture the city's love for nature.
From there, steer your way into the heart of Barrio Santa Cruz, a charming neighborhood characterized by its narrow, winding lanes and quaint atmosphere. This intimate network of streets forms a labyrinth-like setting, inviting exploration and promising delightful surprises around every corner.
The journey continues to the towering Cathedral and Giralda. The majestic Cathedral, an iconic symbol of Seville, is complemented by the Giralda, a towering minaret-turned-bell-tower that narrates tales of the city's vibrant past.
The grand finale of your tour will be an extensive exploration of the Alcazar palaces and gardens. This Royal Palace, a perfect blend of Christian and Mudéjar architecture, offers a glimpse into royal life while its verdant gardens transport you to a tranquil, fairy-tale-like setting. As the day comes to a close, you'll have discovered the charm and essence of Seville, immersing yourself in the real-life manifestation of the mythical city of Dorne.
Day 9: Journey through History - From Itálica to Córdoba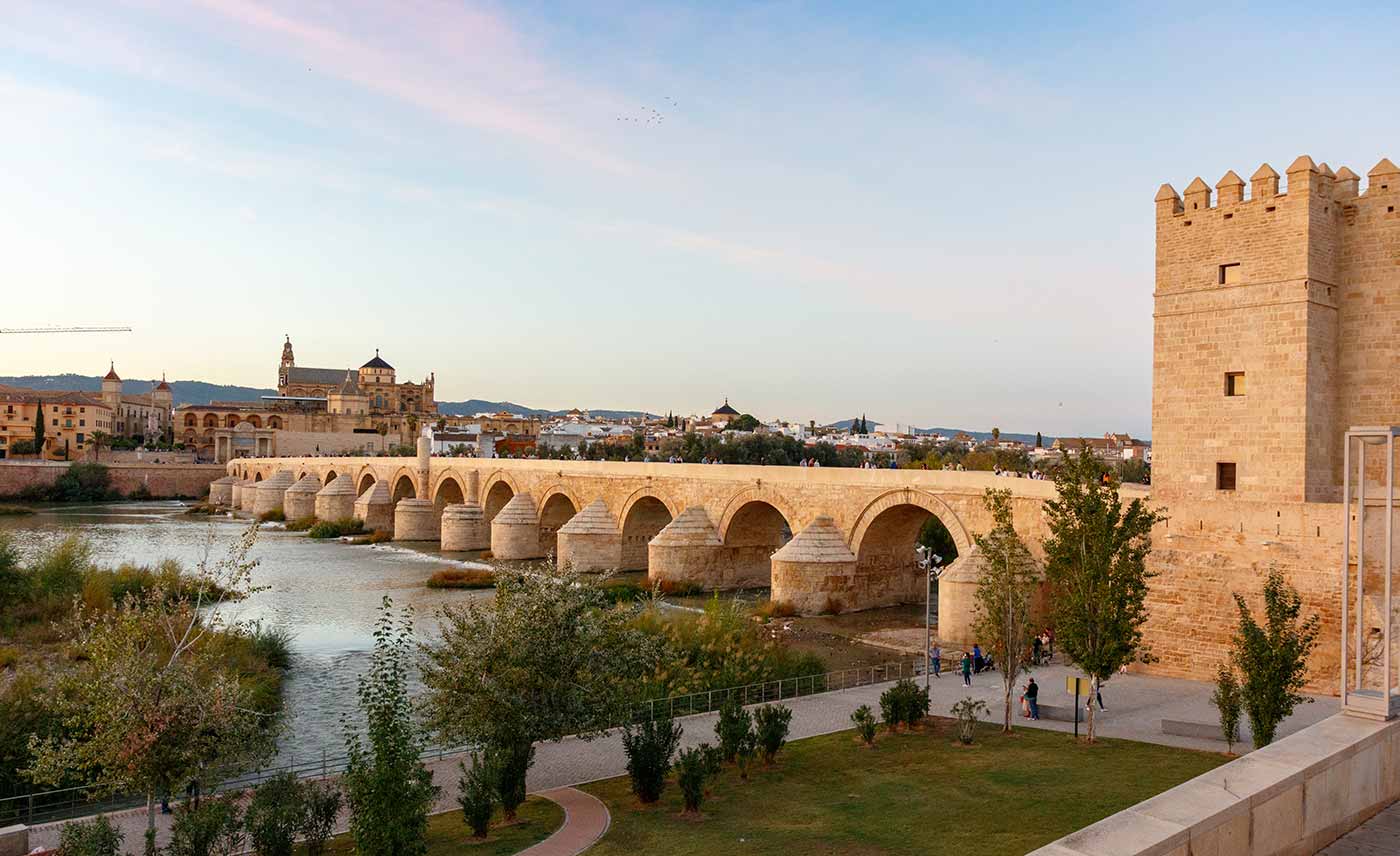 Today promises a thrilling exploration, merging the worlds of Game of Thrones with real-world history. The adventure begins with a comfortable drive to the city of Córdoba, a place known for its fascinating blend of cultures and stunning architectural marvels.
Upon arrival, you will be greeted by your guide at the iconic first-century Roman Bridge, a magnificent structure featured in the acclaimed series. This is where your exploration of one of Europe's most culturally vibrant cities in ancient times begins.
Your tour continues with a visit to the stunning Mosque-Cathedral of Córdoba, a place where the echoes of the past are palpable. This remarkable structure, originally a mosque, was transformed into a cathedral after the Reconquest in 1236. Your guide will weave fascinating narratives about the sultans and commoners who contributed to its creation, painting a vivid picture of the city's remarkable past.
Next, meander through the Arabic Quarters, an area often overshadowed by the fame of the Jewish Quarters but equally stunning. Immerse yourself in its timeless charm as you stroll past whitewashed houses adorned with red gardenias, a sight that personifies the quintessential Andalusian charm.
Enjoy a leisurely lunch at your own pace, soaking up the local ambiance and sampling local cuisine.
The afternoon's journey takes you back towards Seville, leading you to the Itálica Roman Ruins. Steeped in antiquity and retaining the vestiges of a glorious past, Itálica will enchant you with its remarkable amphitheater, a prominent location in Game of Thrones where Cersei first discovers the undead in the Dragon Pit. The day's expedition weaves together the intrigue of the series with Spain's rich historical tapestry, promising a unique and unforgettable experience.
Amazing experience! My husband Douglas and I just came back from a 10 days customized guided tour to Morocco organized by Emily from Guided Spain. It was an amazing trip. Our driver Youssef met us at the Casablanca Airport and he quickly became our guide, security guard and guardian angel! When I got sick he got me medicine and he always found the best toilets when we were on the road. Also, ice cream! We feel that we got the authentic Morocco experience with the riads (hotels) that Emily chose for us and the guides in the different cities we visited. The Merzouga Luxury Desert Camp was totally amazing as well as the visit with the Nomads,and the medinas. This is our second trip with Emily and as the first one, it was excellent. Our next one will be Portugal!
Day 10: A Nature-Infused Journey - From Doñana to Algarve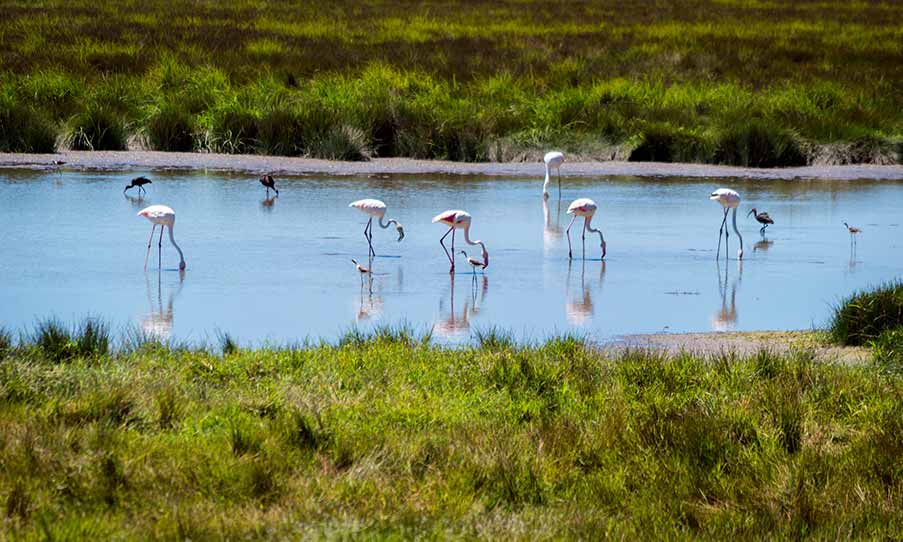 Prepare yourself for a spectacular day immersed in the beauty of nature as you transition from Spain to Portugal. The day begins with a ride to the Doñana Natural Park, a place brimming with breathtaking landscapes and diverse wildlife.
Upon arrival at Doñana, you'll embark on a leisurely horseback ride through the stunning marshlands. Whether you're an experienced equestrian or a complete novice, the experience is designed to cater to all skill levels. As you navigate the terrain, feel the rhythm of your horse in tune with the peaceful surroundings, making for a truly unforgettable experience.
While riding, you'll partake in a charming picnic amid the park's natural splendor. Bask in the tranquility and enjoy the array of mouthwatering local delicacies as you absorb the serene vistas around you.
Keep your eyes peeled for the rare and majestic Iberian lynx, a unique feline species native to this area. You may also get a glimpse of the flamboyant pink flamingos, a sight to behold as they strut about in their vibrant plumage.
As the afternoon wanes, you'll continue your journey towards Albufeira in the stunning Algarve region of Portugal. Upon arrival, you'll be ushered to your hotel, marking the end of another exciting day of exploration. The transition from the rustic charm of Doñana to the coastal allure of Algarve promises a day filled with picturesque landscapes and unforgettable experiences.
Day 11: Coastal Bliss - A Free Day in Algarve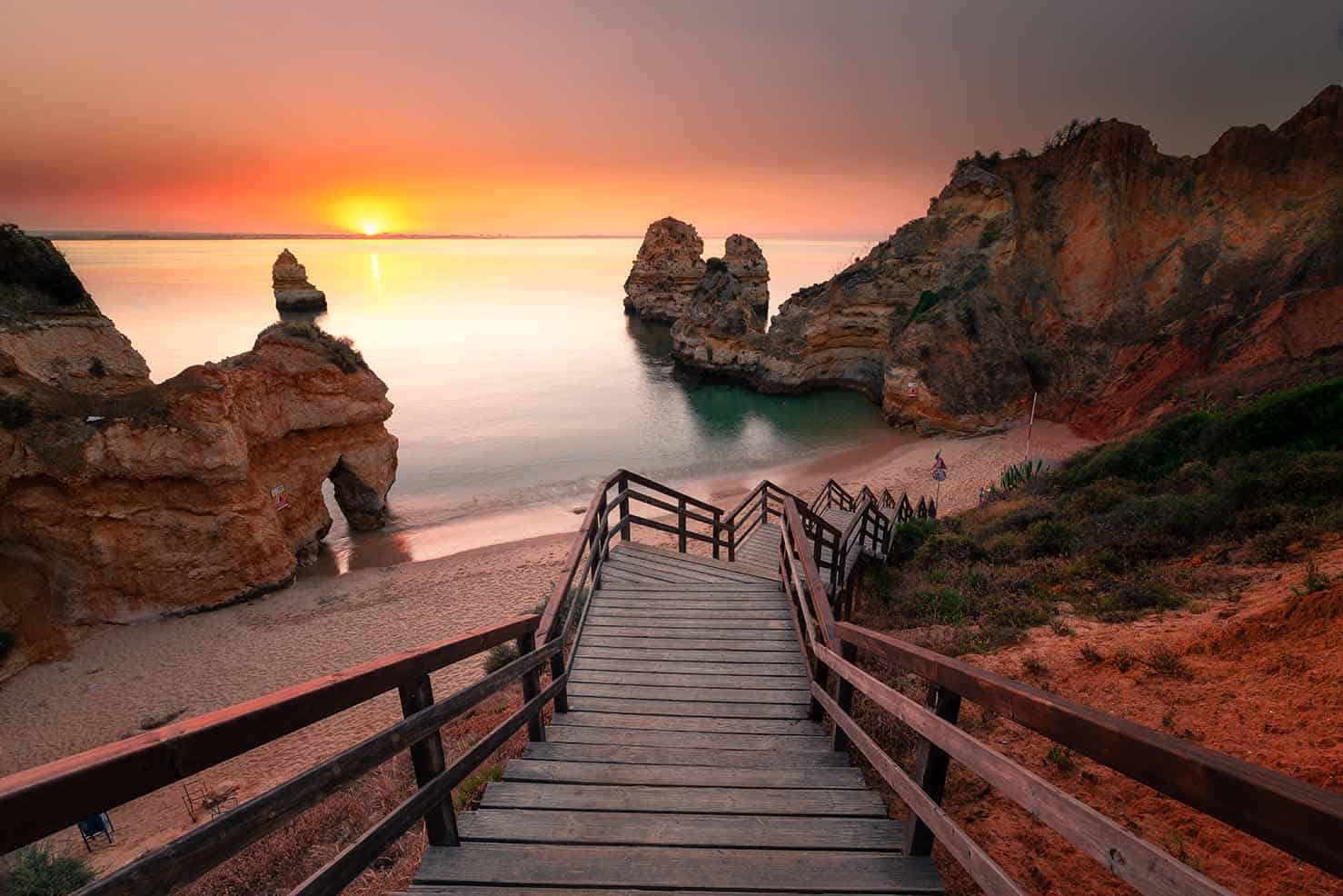 Experience a day of pure leisure and relaxation in the stunning coastal region of the Algarve. The day is yours to spend as you wish, so feel free to embrace the rhythm of the Portuguese coastal lifestyle.
Head to the pristine sandy beaches and spend your day unwinding under the warmth of the Iberian sun. Indulge in a leisurely stroll along the shoreline, where you can admire the impressive natural arches and imposing rock formations carved over time by the unrelenting Atlantic waves. The gentle hum of the sea and the soft sand beneath your feet will make for an utterly calming and rejuvenating experience.
Day 12: Seaside Adventure - A Boat Tour in Algarve
Set sail on a captivating boat excursion from the vibrant Albufeira port. Your journey will see you tracing the alluring Algarve coastline, offering mesmerizing views of the azure ocean waters meeting the golden shores.
Your guide will navigate you towards the region's captivating sea caves. Marvel at these natural wonders and get an up-close view of the stunning geological formations. The boat will then steer you towards a secluded beach, a hidden gem accessible only by water. Here, you can dip your toes in the crystal-clear waters or lounge on the untouched sand.
The highlight of your day could very well be an encounter with the region's playful dolphins. If you're fortunate, you'll have the chance to witness these magnificent creatures in their natural habitat, adding a touch of magic to an already unforgettable day on the Algarve waters.
Day 13: A Taste of Lisbon - Culinary Exploration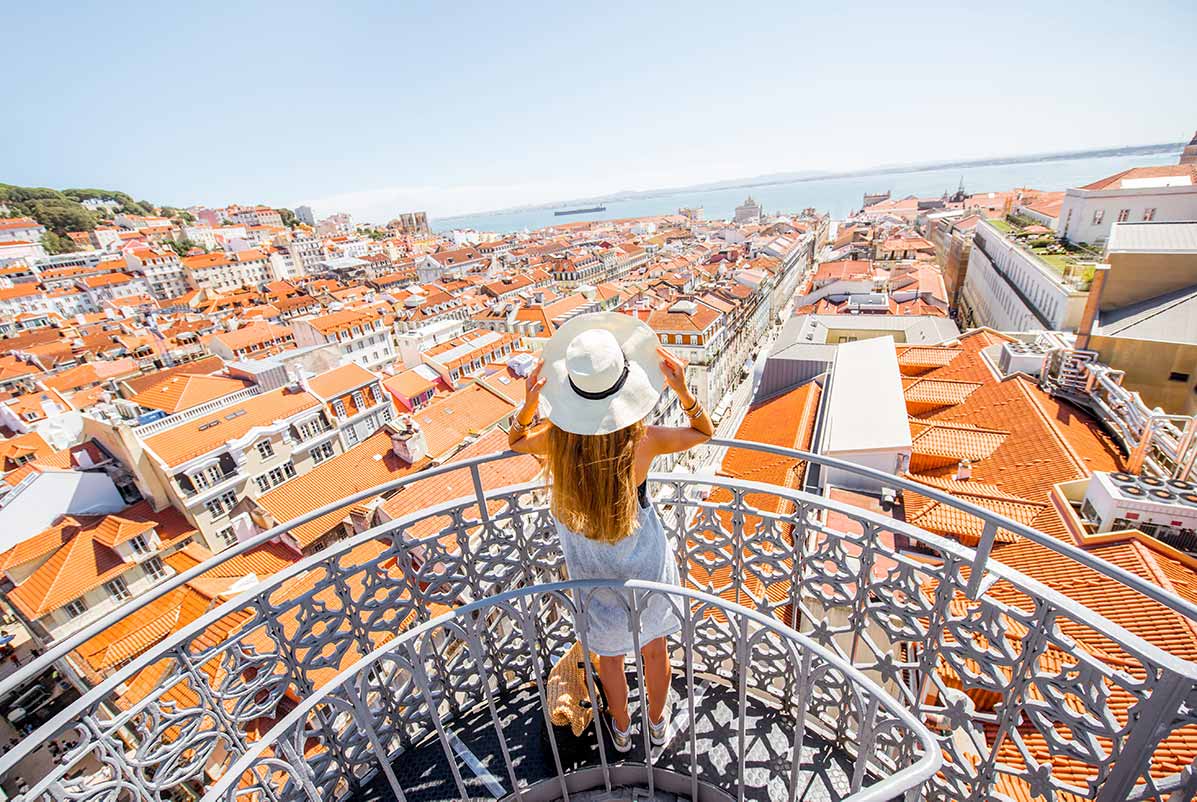 Start your day with a scenic drive to the vibrant city of Lisbon. Check-in at your hotel and take a little time to unwind before embarking on an epicurean adventure through the city's culinary landscape.
In the afternoon, you'll meet your guide for a food-focused walking tour. Begin your exploration near Rossio Plaza, the heart of Lisbon's bustling café culture. Sample traditional Portuguese codfish cakes, a beloved local delicacy, to tickle your taste buds.
The tour then leads you to the spirited district of Bairro Alto, where you'll stop at a charming wine bar to savor local white wine. From here, your guide will usher you up to Castle Hill, offering the most breathtaking panoramic views of the city. Here, delve into a tasting of Portugal's finest sausages and cheeses, perfectly paired with a glass of sumptuous port wine.
Day 14: Unveiling Portugal's Hidden Gems - Obidos, Tomar, and Nazaré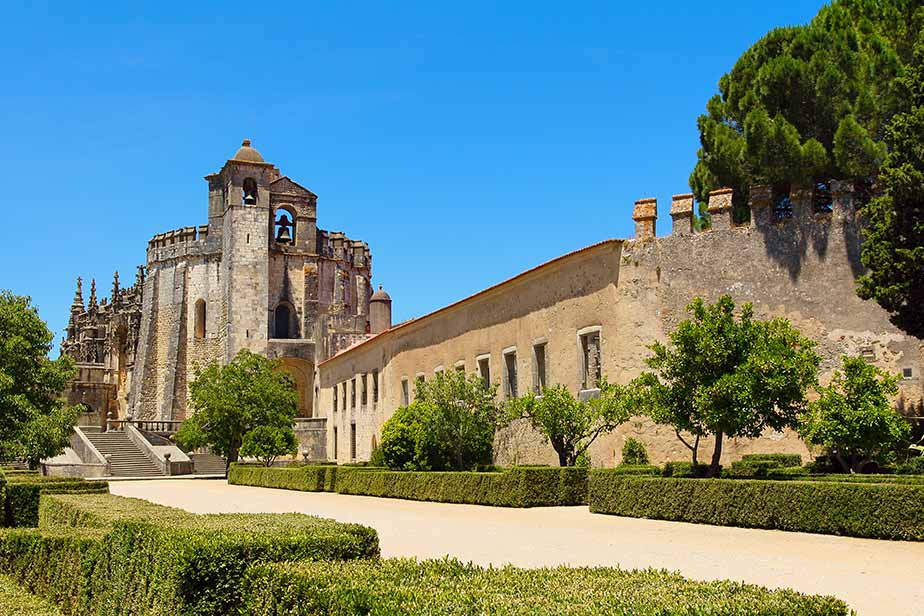 Your day begins with a ride north, filled with visits to some of Portugal's most charming and significant towns. Your first destination is Obidos, a quaint Moorish village situated on the outskirts of Lisbon. Stroll through the old town, steeped in history and charm, and marvel at the imposing castle that stands sentinel over the village.
Next, your journey takes you to Tomar, the home of the awe-inspiring Convent of Christ. Perched high above the small town, this grandiose Templar Castle is a sight to behold.
The final leg of your tour leads you to Nazaré, a seaside town famed for its traditional fisherwomen in 7-layered skirts and gigantic waves – a surfer's paradise. Absorb the unique cultural ambiance before heading back to Lisbon in the evening.
Excellent Individualized Tour Company for People who do not want to go on Package Tours. I used Emily to arrange a tour of Southern Spain in January, 2020 for 4 people. It turned out to be great. What I do not like is being shepherded around to cheesy tourist sites and waiting in lines of tourists. Emily arranged for very competent and efficient drivers, fantastic guides, very good hotels and even recommended restaurants for each location. The best thing about using Emily is that when she arranged for (at my request) wine tastings, olive oil tastings, a flamenco show is that all of them were authentic and interesting and none of them were contrived or cheesy. While on the trip, she checked in and made sure everything went smoothly. When we went to the Alhambra or other ticketed sites, we always got to skip the line due to Emily. There was one overall price per person (depends on double/single room) that I felt was very fair for the level of service provided.
Day 15: Farewell Lisbon - Departure Day
As your extraordinary tour of Iberia comes to a close, meet your driver for your final ride to Lisbon Airport. Reflect on the memories made, friendships forged, and experiences lived on this unforgettable journey through Spain and Portugal.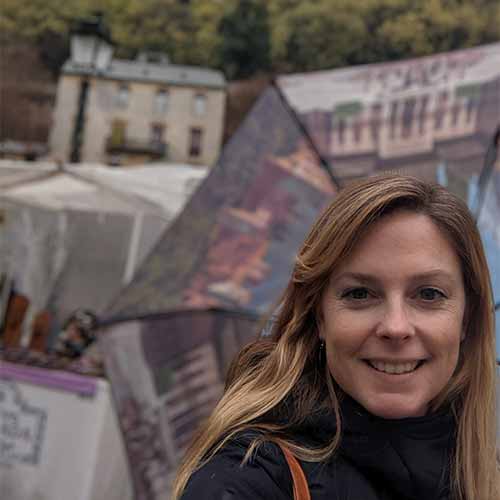 Say Ola to Emily, your personal tour planner at Guided Spain Tours. Get in touch by filling in the form below and requesting your complimentary itinerary!
Contact Us For A Bespoke Iberia Itinerary
This tour is just a glimpse of what the Iberian Peninsula has to offer.
If you've been charmed by the wonders of Spain and Portugal and yearn for more, don't hesitate to reach out to us for another bespoke journey, tailored perfectly to your tastes and preferences. Here's to future adventures in this enchanting corner of the world!
Highly recommend Emily! Emily created a personalized itinerary for us in southern Spain. She was very knowledgeable about the region, attentive, and personable. She returned emails properly, and was a pleasure to work with. Emily was flexible and did not make mind making changes in the itinerary-- Her goal is to please her customers!
Emily is GOOD! Emily arranged a 14 day tour for us in Spain at short notice of a week or so. The whole tour was beautifully organized, amazingly flexible and the rare glitches were attended to and addressed, literally instantly. For sure we will be back for further tours with her. Thanks, Emily.
Best Tours from Emily! Words can't express how grateful it was to be able to call on Emily for help with some excursions in Spain. Emily, thanks soo much. You're the BEST!!!
Spain and Portugal trip: Emily did an amazing job Of setting up our trip through Spain and Portugal. All of our tours were outstanding and personalized. We had a wonderful time!
Private Tour: Emily is a pleasure to work with. She arranged hotels, activities, tour guides and transportation in Barcelona, Madrid, Segovia, Toledo, Cordoba, Avila, Seville, Malaga, Gibraltar. She was extremely responsive when we had questions and made sure that everything flowed smoothly.