White Villages of Southern Spain Itinerary
A 10 Day Tour of Spain's White Villages
Welcome to our white villages of Southern Spain itinerary, a journey that promises to take you through picturesque landscapes, ancient history, and rich local traditions.
Over ten enriching days, you will traverse from Málaga to Sevilla, exploring the spectacular towns and villages tucked amidst the heart of Andalusia. From the awe-inspiring Alhambra in Granada to the iconic bullfighting ring in Ronda, every day presents a new adventure. Experience traditional village life in Aracena, savor local delicacies in Úbeda and Baeza, and witness breathtaking views along the Costa De La Luz.
Get ready for an unforgettable exploration of Spain's heritage, culture, and natural beauty.
Day 1: Málaga to Granada: Embracing the Villages of Southern Spain & the Alpujarra Mountains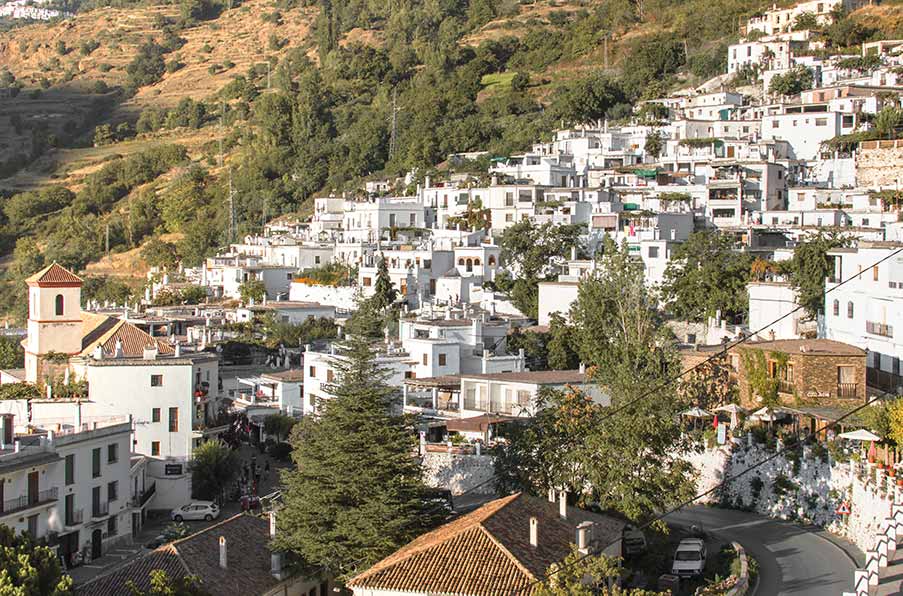 Your tour commences with your arrival at the bustling Málaga International Airport. Here, a warm welcome awaits from your dedicated driver as you step through customs. From the airport, we'll venture towards the captivating Alpujarra mountains that immediately transport you to a different world steeped in rich history and natural beauty.
Our first stop is Lanjarón, renowned for its mineral-rich mountain springs and rejuvenating spa. Immerse yourself in this tranquil town and indulge in the healing waters, a staple of the local culture and a balm for the weary traveler.
From Lanjarón, we'll continue our ascent, with the journey taking us through a series of enchanting villages – Pampaneira, Bubión, Capileira, and finally Trevélez. Standing proudly as the highest village in Spain, Trevélez bears the unique distinction of its history and Iberian ham. These villages stand as a testament to the Moorish culture, which thrived here until their expulsion in the mid-1500s.
In Trevélez, we'll stop by a local ham shop, where you'll have the opportunity to taste the region's renowned Iberian ham, renowned for its exquisite flavor nurtured by the cold, dry climate. Enjoy the unique flavor profile of this celebrated Spanish delicacy, a must-try experience for any food lover.
The Alpujarra Mountains are a paradise for nature lovers, with stunning walking trails that invite exploration. We'll allocate some free time for you to soak in the mountain air and discover the natural wonders at your own pace.
As the day draws to a close, we'll proceed to your hotel in Granada, arriving in time for an early dinner. This marks the end of the first day of your Spanish journey, giving you a tantalizing taste of the extraordinary experiences that lie ahead.
Day 2: Mystical Granada & the Enchanting Alhambra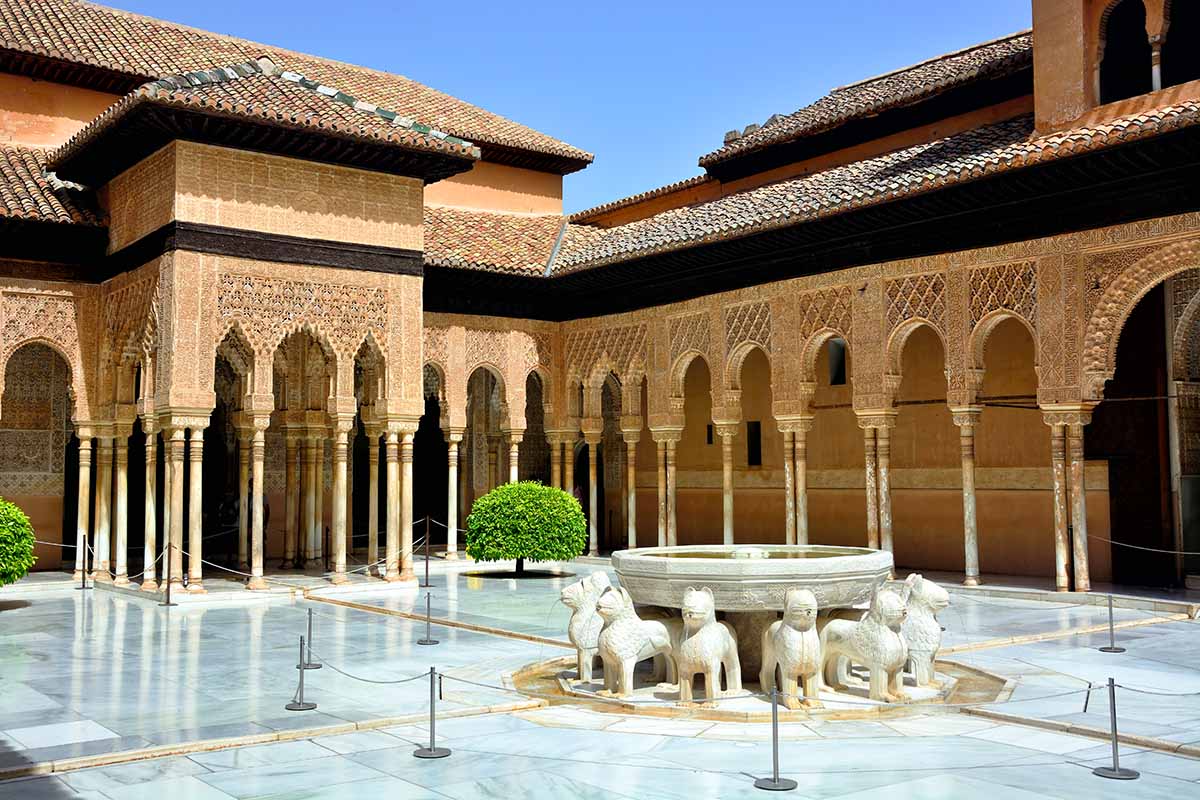 On your second day, prepare to step back in time as we delve into the heart of Granada and explore the renowned Alhambra. Your dedicated guide will greet you at the entrance, and your journey to the 11th wonder of the world commences, a voyage that takes us back an astonishing 900 years.
Your exploration of the Alhambra Forbidden City starts with the illustrious Gardens of Paradise, where you will witness an array of botanical wonders within beautifully manicured landscapes. As you amble along, you'll move towards the formidable Alcazar Fortress – an imposing monument steeped in history. As a vital part of the Alhambra, it has stood as a silent witness to countless narratives over the centuries.
From there, the journey leads you to the globally-acclaimed Nasrid Palaces, an architectural marvel that stands as a testament to the grandeur of yesteryears. Each room and courtyard of these palaces carries its distinctive character and story.
As the tour of the palaces concludes, indulge in a delightful medieval Nasrid lunch at the distinguished Parador San Francisco restaurant located within the Alhambra's walls. Savor authentic dishes that represent the rich culinary heritage of the region.
Later in the day, your driver will rendezvous with you near your hotel for the next leg of your tour. We'll head towards the Gypsy caves in Sacromonte, just on the outskirts of Granada city. Here, experience an enchanting evening with a performance of authentic Flamenco guitar and dancing, a vibrant display that embodies the spirit and passion of the region.
To end your day on a high note, partake in a tranquil moonlit walk through the cobblestone paths of Albaicín. This walk will lead you to some of the most stunning views of the Alhambra, further enhanced by the soft glow of the moonlight. This magical day ends here, as the Alhambra's silhouette fades into the night, etching itself into your memories.
Day 3: Renaissance Gems: Úbeda & Baeza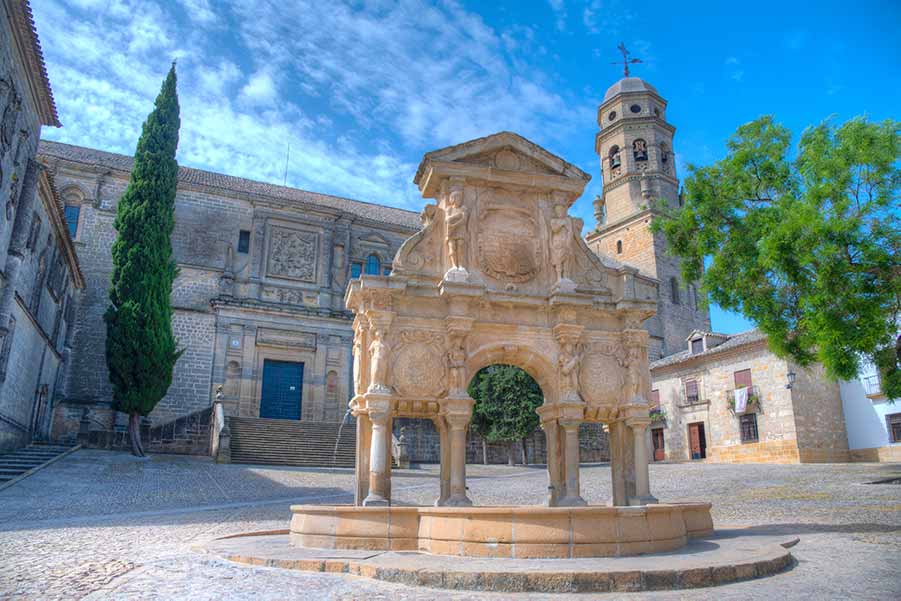 Today we set out from Granada to uncover two of Andalucía's most treasured Renaissance jewels: the captivating towns of Úbeda and Baeza. This day trip will offer you an enchanting experience, weaving through the tapestry of Spanish history and architecture.
Our day begins at Úbeda, a charming town elegantly perched on a hill overlooking the sweeping valley of the High Guadalquivir River. This town is renowned for its historical importance and stunning architectural wonders. As we stroll through the old town, we'll pass a myriad of aristocratic houses, grandiose palaces, and exquisite churches, each with its own tale. A notable stop will be the El Salvador Chapel, a prominent example of Spanish Renaissance architecture and a testament to the city's rich cultural past.
Our exploration continues towards Baeza, the capital of Olive Tree cultivation. Baeza captures the essence of the region with its vibrant streets, where intricately carved stones create a striking contrast against the backdrop of whitewashed houses. Our journey through Baeza leads us to the majestic Cathedral, a beautifully preserved piece of history that leaves a lasting impression with its monumental architecture.
After the tour of the Cathedral, take some leisure time to immerse yourself in the local culture. Treat your taste buds to the local cuisine, where the flavors of traditional dishes will offer you a deeper understanding of this region's gastronomic heritage. After a day filled with new experiences and discoveries, we return to Granada, carrying the memorable impressions of Úbeda and Baeza with us.
Day 4: Córdoba - Unraveling the Threads of History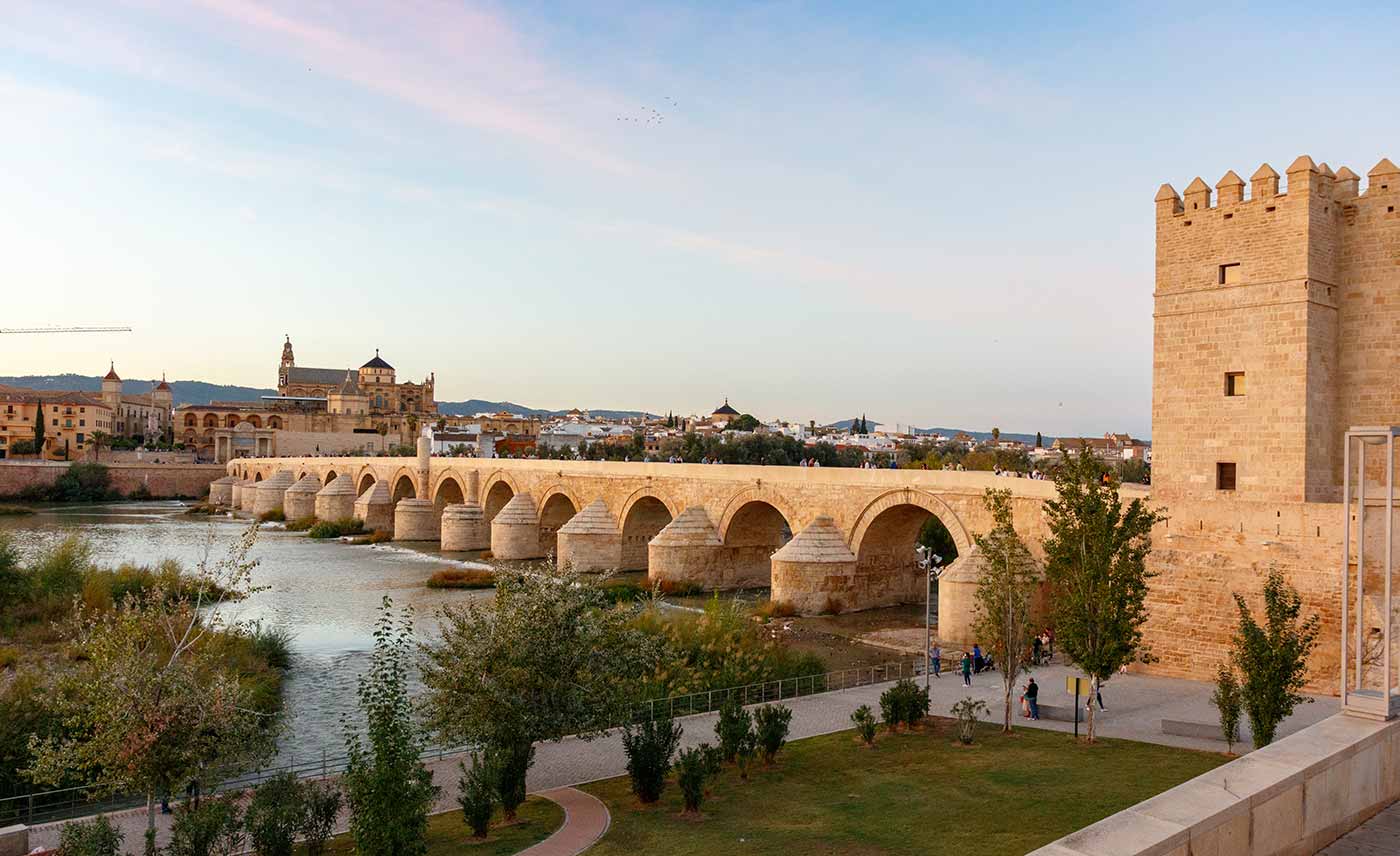 Venture westwards from Granada to the city of Córdoba, a destination steeped in history, culture, and exceptional architectural splendor. Once recognized as the most culturally advanced city in Europe, today, Córdoba serves as a living monument to its captivating past.
Your day commences with a pleasant meet-up with your guide in the hotel lobby, followed by a smooth drive to Córdoba. The guide will lead you on a fascinating tour, offering a vivid narration of the city's intriguing historical tapestry.
The cornerstone of our tour is a visit to the magnificent mosque, which, following the Reconquest in 1236, was transformed into a cathedral. As you step inside this awe-inspiring architectural marvel, you'll be entranced by stories of sultans and commoners who joined hands to build this symbol of their shared heritage.
The tour proceeds to the Jewish Quarters, a district distinguished by its tight-knit neighborhoods, whitewashed houses, and vibrant red gardenias. These quarters have a historical significance as the home of jewelers, adding to the city's diverse cultural fabric. Your guide will explain the reasoning behind the Jews' compact living conditions and elaborate on their unique customs.
To conclude our insightful tour of Córdoba, we'll step inside one of the few surviving synagogues in Spain, offering you a glimpse into the country's Jewish heritage. Following the tour, take some time to explore Córdoba at your own pace, uncovering its hidden gems and charming streets.
As the day descends into the evening, prepare yourself for a mesmerizing experience at the Alcazar Gardens. Nestled on the shores of the Guadalquivir River, the gardens come alive with an enchanting spectacle of lights and water, providing a grand finale to an unforgettable day in Córdoba.
Best Tours from Emily! Words can't express how grateful it was to be able to call on Emily for help with some excursions in Spain. Emily, thanks soo much. You're the BEST!!!
Day 5: Antequera - A Journey Through Time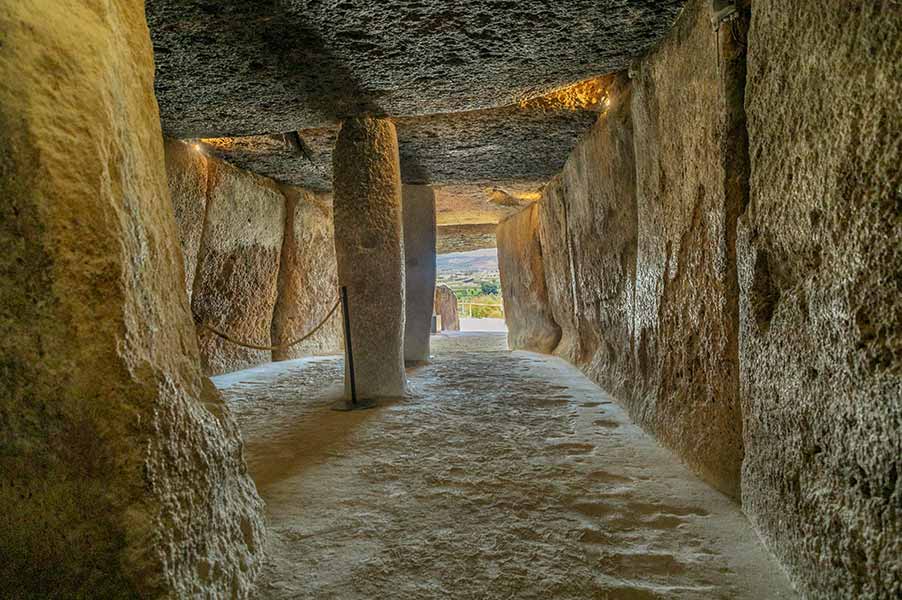 Discover the charming town of Antequera, located in the heart of the southern Spanish villages. This day will offer an amalgam of natural beauty and cultural heritage as we delve into the wonders of Spain's lesser-known but impressively rich region.
Your day starts with your driver picking you up from the hotel, initiating your journey towards the heartland of Spain's rural landscape. Your first destination is El Torcal Natural Park, located just outside Antequera. Here, you'll join your guide for an invigorating hike through a stunning geological landscape characterized by bizarre and magnificent rock formations, remnants of the Mediterranean Sea's influence over the ages.
After exploring the natural wonders of El Torcal, you will return to Antequera to check into your hotel and enjoy a leisurely lunch. Use this time to taste the local flavors and enjoy the quaint charm of this Andalusian town.
In the afternoon, your cultural exploration of Antequera begins. Meet your guide in the hotel lobby and embark on a tour that takes you through the layers of time. You'll visit prehistoric Dolmen burial sites, a testament to the area's ancient inhabitants. These Neolithic wonders are closely followed by Roman ruins, remnants of a grand empire's extensive reach.
As we delve deeper into history, we'll explore a Moorish fortress, a striking symbol of Islamic Spain, highlighting the region's cultural diversity over centuries. Further, we'll admire the grandeur of Renaissance-era convents and neoclassical churches, reflecting the religious and architectural evolution of the area. Each monument on the tour provides a unique window into a different era, making Antequera a veritable time capsule of Spanish history.
Day 6: Sevilla - The Gateway to the New World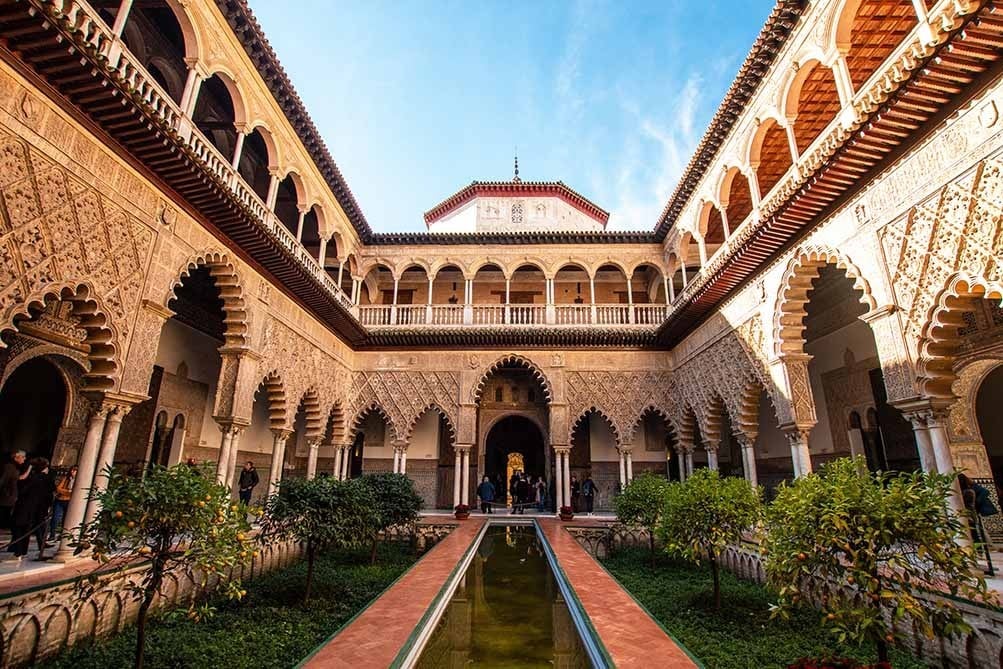 On the sixth day of our tour, we arrive in Sevilla, the city known as the grand portal to the New World. As we drive through the expansive countryside, you'll be surrounded by endless olive groves, presenting a classic Andalusian landscape. With its unique fusion of cultures, rich history, and stunning architecture, Sevilla promises a day filled with exploration and enchantment.
Arriving in Sevilla, you'll check into your hotel, where you'll meet your knowledgeable guide, who will accompany you on a captivating walking tour of this beautiful city. The tour commences at the ancient city walls, the first line of defense during the city's storied past.
As you stroll past the serene Murillo Gardens, the tour leads you into the labyrinthine Barrio Santa Cruz, Sevilla's old Jewish quarter. This district is famed for its winding streets, picturesque plazas, and vibrant Sevillano atmosphere. Several stops will be made in this neighborhood, allowing you to soak in its unique charm and history.
Next, we visit the magnificent Alcázar fortress, a stunning example of Mudéjar architecture, reflecting the Moorish influence on the city. Following the Alcázar, our path leads us to the awe-inspiring Sevilla Cathedral, the third-largest Cathedral in the world, and the Giralda prayer tower, a testament to the city's multicultural heritage with its blend of Moorish and Renaissance architectural elements.
The tour concludes at the iconic Torre del Oro (Tower of Gold) by the Guadalquivir River. This 13th-century watchtower offers splendid views of the river and the city. Here, you'll embark on a leisurely river cruise up and down the Guadalquivir, providing a unique perspective of Sevilla. As the city's landmarks pass by, you'll genuinely appreciate why Sevilla is often hailed as the heart and soul of Southern Spain.
Day 7: Voyage through the White Villages & Ronda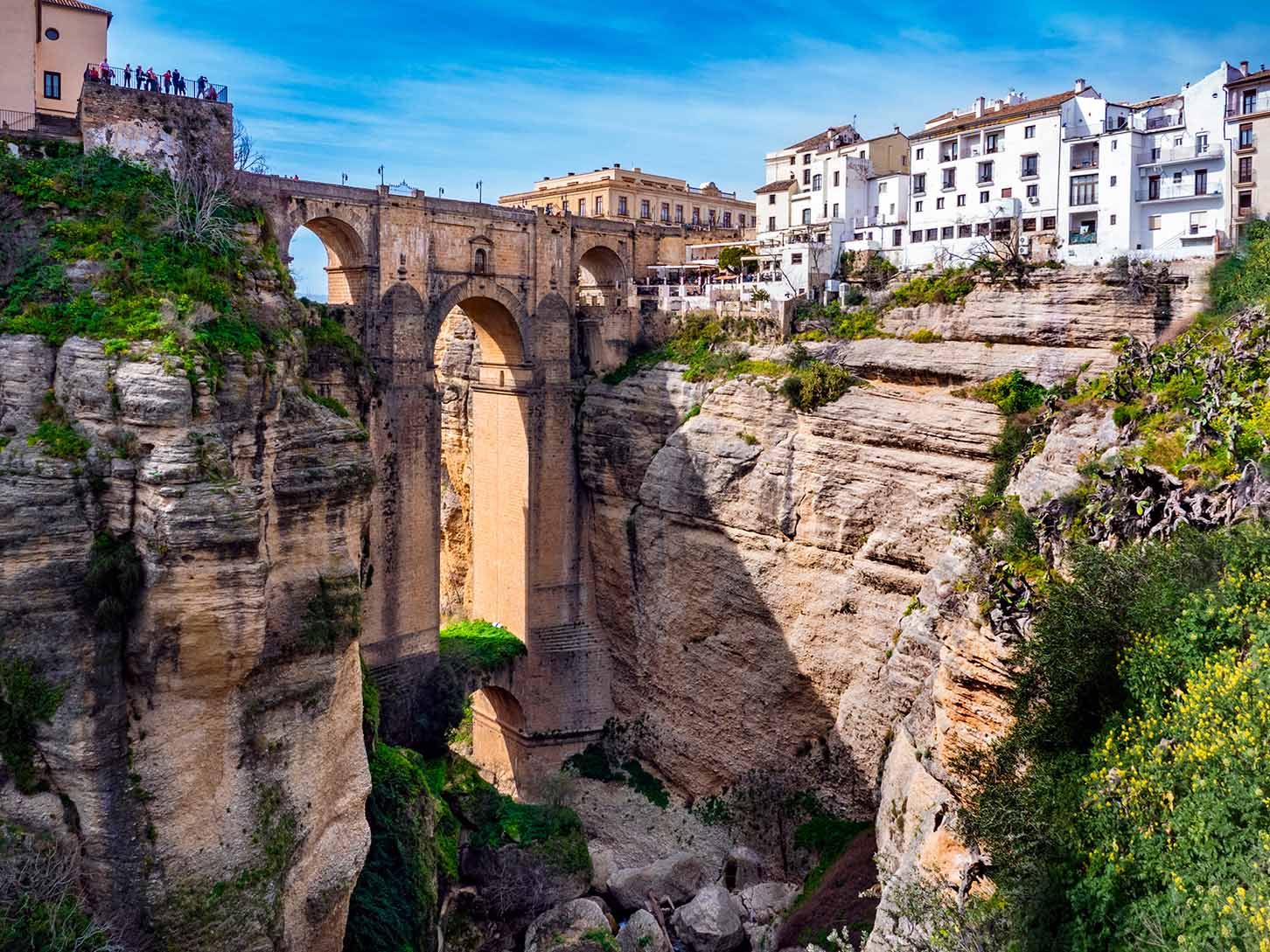 Day seven whisks us away from the bustling streets of Sevilla and into the tranquil heart of Andalusia's stunning countryside. Your driver will meet you in the hotel lobby and escort you through the rolling mountainous landscapes south of Sevilla, where timeless villages dot the hillsides and centuries-old traditions endure.
Our journey begins in Arcos de la Frontera, a charming village perched atop a limestone cliff, which has been a strategic frontier between Moorish and Christian forces during the Middle Ages. The village's fascinating history, combined with panoramic views of the Guadalete River below, makes for a captivating first stop.
Next, we journey to Zahara de la Sierra, a village known for its illustrious past and striking natural beauty. As the birthplace of Arab nobles, Spanish conquistadors, and notorious bandits, Zahara boasts a rich history waiting to be discovered. Walk through the aromatic botanical gardens and along the steep, narrow streets that meander through the village. A highlight of Zahara is the tour and tasting at a local olive mill, where you'll gain insights into the traditional methods of olive oil production.
Our adventure continues to Grazalema, a charming village in a natural park. Surrounded by pristine landscapes and abundant wildlife, Grazalema is the perfect place for a gentle hike along a tranquil stream. Following your exploration, take some time to unwind and enjoy a hearty lunch in this quaint setting.
Post-lunch, our journey carries us to Ronda, the birthplace of modern bullfighting. Here, you will step inside the hallowed grounds of the bullring, immersing yourself in the drama and tradition that embodies this deeply-rooted Spanish custom. Ronda is also famous for its iconic Puente Nuevo (New Bridge), a stunning architectural marvel that spans a deep gorge, providing a dramatic link between the city's old and new quarters.
Once across the bridge, we continue our exploration of Ronda, venturing down cobblestone streets and into the impressive Collegiate Church and Don Bosco's Medieval Palace. As the sun begins to set, you will return to Sevilla, carrying with you a wealth of memories from a day spent discovering the authentic soul of Andalusia.
Day 8: Aracena – Gourmet Heritage and Natural Splendors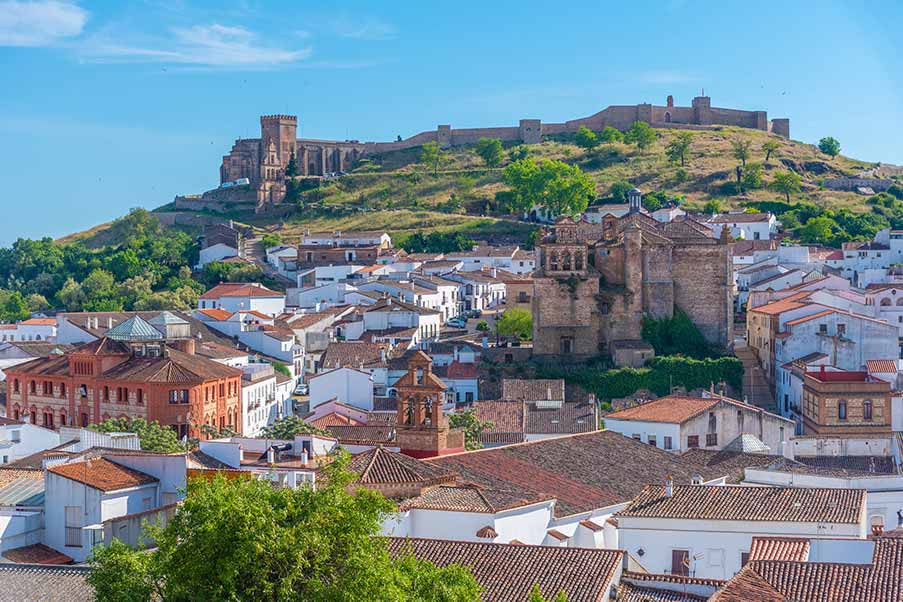 Embrace a fresh morning as you prepare for a day's excursion to Aracena, a picturesque white village nestled amid verdant fields. This serene enclave is the traditional breeding ground for the prized Iberian pig, renowned for its role in creating Spain's top gourmet delicacy – the Iberian Ham. Your driver will meet you near your hotel and whisk you off on a culinary adventure set against the backdrop of breathtaking landscapes.
Embark on a fascinating journey that takes you into the heart of Aracena Natural Park, a haven of natural beauty and biodiversity. Here, you will uncover the artisanal secrets behind the making of a good Iberian Ham. A guided tour of the traditional smokehouse will give you an insider's perspective into the intricate processes of producing this esteemed Spanish delicacy. As you ascend the scenic Jabugo mountains, indulge in a tasting experience that allows you to savor the flavors of the meticulously crafted ham.
Following this gastronomic treat, you can explore the captivating village of Aracena on your own. Known for its distinctive architecture and delicious local cuisine, Aracena is a delightful destination that invites unhurried exploration. Its crown jewel, the Cave of Wonders (Gruta de las Maravillas), lies beneath the imposing local castle. This underground wonderland boasts stunning geological formations and crystal-clear lakes, offering a magical conclusion to your day in Aracena.
Day 9: Costa De La Luz White Villages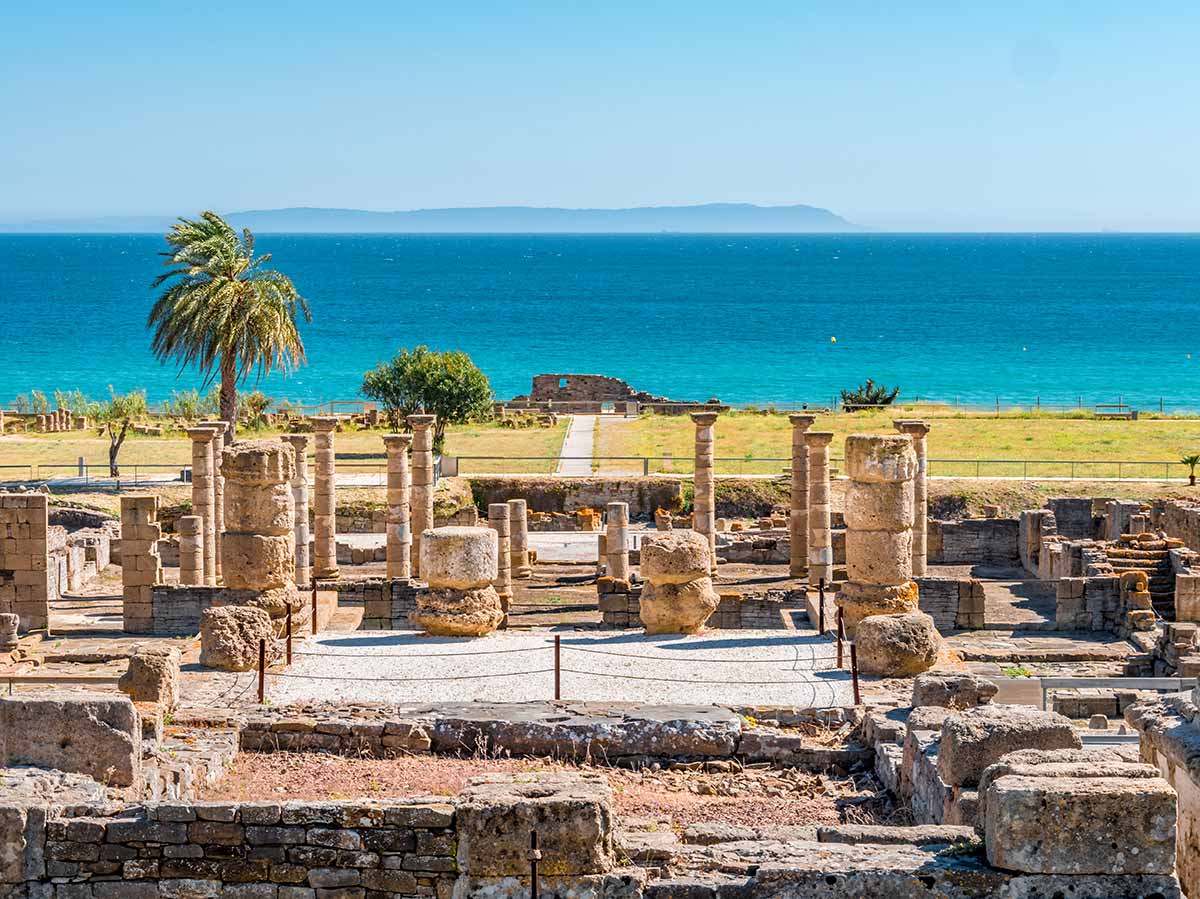 Start your day bright and early as your driver awaits in your hotel lobby, ready to guide you along the charming coast of Cadiz to the mesmerizing town of Vejer de la Frontera. This iconic Arabic town, perched atop white cliffs, offers stunning panoramic views of the surrounding landscape. Immerse yourself in the history and culture of this town as you wander through its narrow cobbled streets adorned with whitewashed houses and flower-filled balconies.
Your historical exploration continues as you visit Cape Trafalgar, a site of significant historical importance. It was here that Lord Nelson famously led the Battle of Trafalgar, a naval conflict that resulted in Spain's liberation from France and culminated in his death. Take a moment to stroll along the dunes, soaking up the beautiful views stretching over the Atlantic Ocean's vast expanse.
From there, venture to the serene town of Bolonia, home to the ruins of Baelo Claudia, a Roman fishing village. Step back in time as you explore these ancient ruins, a testament to the region's rich past. Amid this captivating exploration, be sure to savor the local cuisine, particularly the delectable tuna steaks, a specialty of the area. Return to Sevilla, carrying with you memories of a day filled with historical insights and stunning landscapes.
Amazing experience! My husband Douglas and I just came back from a 10 days customized guided tour to Morocco organized by Emily from Guided Spain. It was an amazing trip. Our driver Youssef met us at the Casablanca Airport and he quickly became our guide, security guard and guardian angel! When I got sick he got me medicine and he always found the best toilets when we were on the road. Also, ice cream! We feel that we got the authentic Morocco experience with the riads (hotels) that Emily chose for us and the guides in the different cities we visited. The Merzouga Luxury Desert Camp was totally amazing as well as the visit with the Nomads,and the medinas. This is our second trip with Emily and as the first one, it was excellent. Our next one will be Portugal!
As your immersive journey in Spain draws to a close, meet your driver for a comfortable ride to Sevilla airport.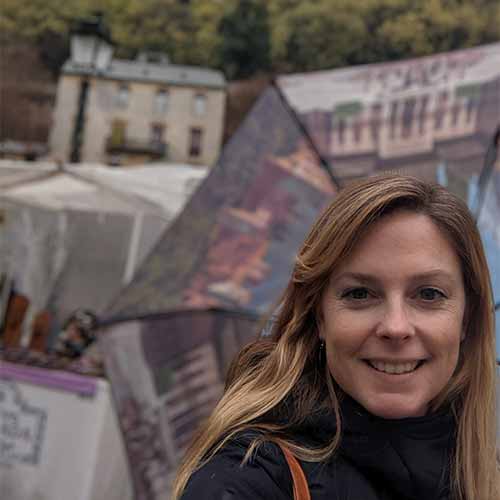 Say Ola to Emily, your personal tour planner at Guided Spain Tours. Get in touch by filling in the form below and requesting your complimentary itinerary!
Get A Custom White Villages Itinerary
This comprehensive journey through the white villages of Southern Spain offers just a glimpse of the rich culture, stunning landscapes, and historical landmarks that this region holds.
Should you wish to explore further or customize this itinerary to suit your unique interests and pace, please do not hesitate to reach out to us, and we'd be delighted to create your bespoke tour of this captivating corner of Spain.
Highly recommend Emily! Emily created a personalized itinerary for us in southern Spain. She was very knowledgeable about the region, attentive, and personable. She returned emails properly, and was a pleasure to work with. Emily was flexible and did not make mind making changes in the itinerary-- Her goal is to please her customers!
Emily is GOOD! Emily arranged a 14 day tour for us in Spain at short notice of a week or so. The whole tour was beautifully organized, amazingly flexible and the rare glitches were attended to and addressed, literally instantly. For sure we will be back for further tours with her. Thanks, Emily.
Best Tours from Emily! Words can't express how grateful it was to be able to call on Emily for help with some excursions in Spain. Emily, thanks soo much. You're the BEST!!!
Spain and Portugal trip: Emily did an amazing job Of setting up our trip through Spain and Portugal. All of our tours were outstanding and personalized. We had a wonderful time!
Private Tour: Emily is a pleasure to work with. She arranged hotels, activities, tour guides and transportation in Barcelona, Madrid, Segovia, Toledo, Cordoba, Avila, Seville, Malaga, Gibraltar. She was extremely responsive when we had questions and made sure that everything flowed smoothly.