Best of Spain Ten-Day Itinerary
Your 10 Day Tour of Spain
Our best of Spain 10-day itinerary has been designed to introduce you to highlights and most iconic sights of Spain, along with some authentic and off-the-beaten-track experiences to provide a full taste of what makes Spain so endlessly fascinating. 
Continue reading for our tour planning team's suggestions on how to see the best of Barcelona, Madrid, Seville, Granada, and more!
Our tour planning team would love to discuss tailoring this itinerary to be even more reflective of the types of activities and events you desire from your Spanish vacation. Get your complimentary customized itinerary by making an online inquiry. 
Highlights Best of Spain Private 10-Day Luxury Tour:
What's Included In This Tour Itinerary?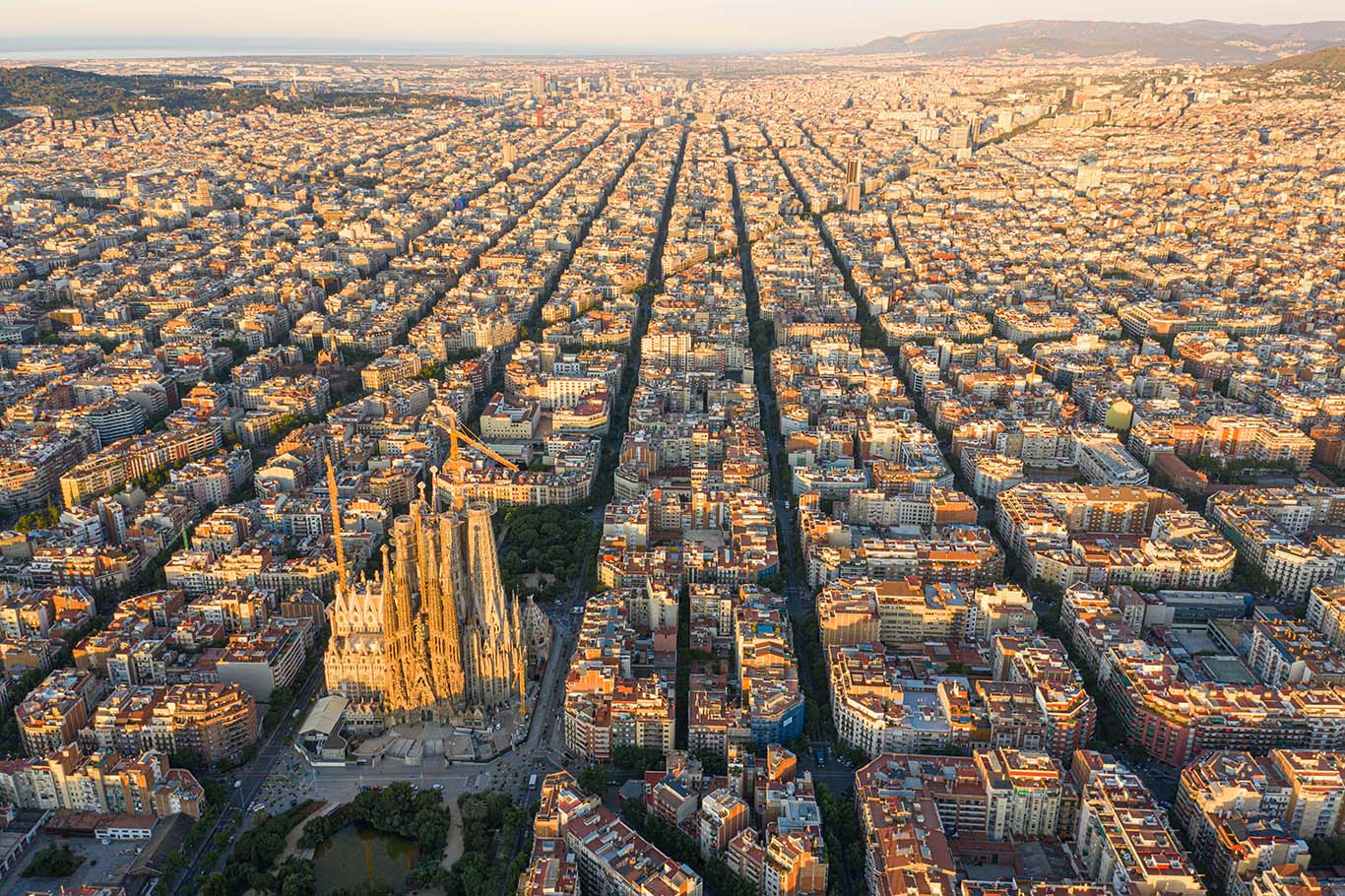 Say Hola to Spain as you begin your 10-day itinerary in the Capital of the Catalan region, Barcelona! Your guide and driver will collect you from either the airport or your accommodation as you prepare to spend 2 days discovering why Barcelona is Spain's most visited destination.
We like to design trips to Barcelona that bring out the city's unique and distinctive character. In doing so we shine a spotlight on Barca's cultural and artistic hotspots that have made it a favorite city of luminaries such as Picasso and Salvador Dali. 
What trip to Barcelona would be complete without visiting The Sagrada Família and other architectural wonders by Antoni Gaudi, perhaps Barcelona's favorite son, and certainly its most famous architect who was responsible for 7 of the city's 9 UNESCO World Heritage sites?
Finally, while strolling along La Ramblas and other main boulevards of Barcelona your guide will introduce you to Barca's culinary delights ranging from produce caught fresh from the sea in local markets, bustling Tapas bodegas and the best of the city's more than 20 Michelin star restaurants.
Highlights to see in your 2 days in Barcelona include:
La Sagrada Familia and Gaudi Architecture Tour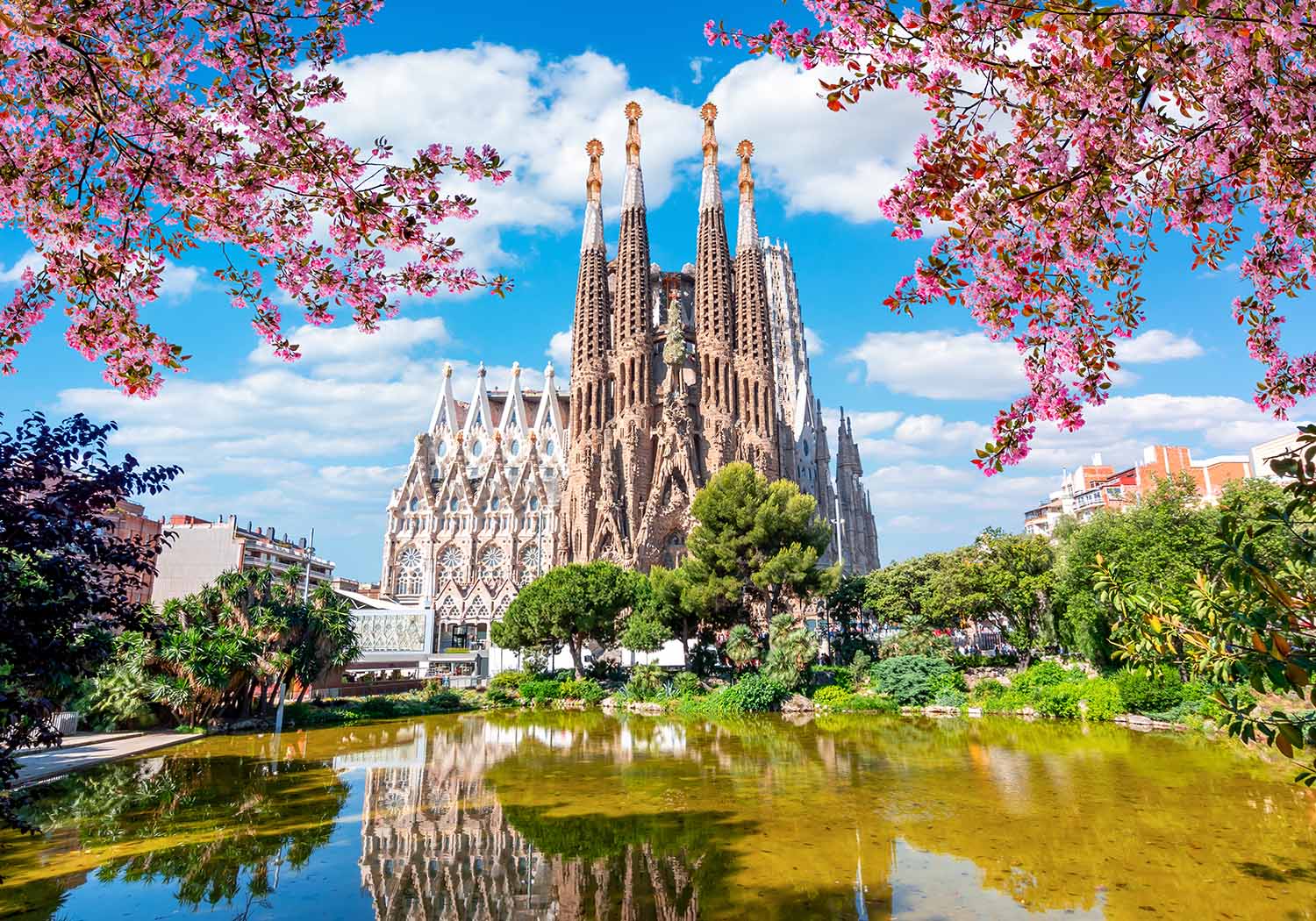 Interestingly, although Gaudi began the project in 1882, and it is the structure most commonly associated with "God's architect" when the great man passed away in 1926, only a quarter of La Sagrada Familia had been completed! Indeed, the prediction today is that it is likely to be finished in 2026 – meaning that it will officially have taken longer to build than The Great Wall of China!
Along with your private guide, explore the 3 facades of the Basilica – with the first, and most famous, the Nativity Facade completed by Gaudi, allow them to reveal the rich symbolism and historical tales behind each of the 18 magical spires before stepping inside the structure and visiting the tomb of Gaudi.
Gaudi's Catalan Modernism is influential in defining Barcelona as a city, other important locations to visit with your private guide include Casa Batllo & Casa Milla, and the numerous Gaudi designs found in Park Guell.
Montjuic Hill, Palau Nacional & MNAC
The Montjuic Hill overlooks the Barcelona Harbour and provides guests the opportunity to take a cable car to the summit and enjoy some of the most stunning views across the city. The hill has long been of huge significance to the city where it was used to defend against sieges (the remains of a 17th-century fortress can be found here) through to its gruesome history as an execution spot during the Spanish Civil War, while the name itself means "Jewish Mountain" and is derived from the belief that there was previously a large Jewish settlement and cemetery here.
While visiting Montjuic your guide will take you to: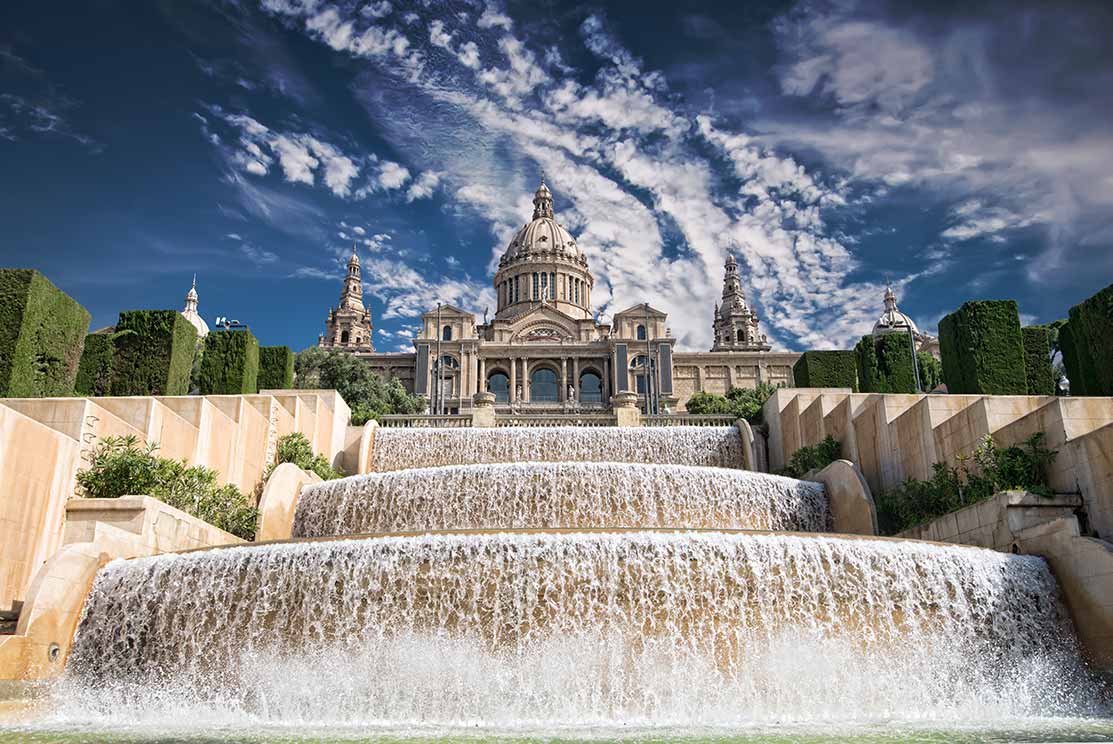 This spectacular Palace was constructed in the Spanish Renaissance style and features a series of cascading waterfalls on the approach to the entrance. This stunning structure was built to be a showpiece in the 1929 International Exhibition
Inside the Palau, your guide will show you the highlights from the National Museum of Catalan Art, or NMCA as it is sometimes referred to. The collections here include notable Renaissance, Baroque and Modernist artworks from Masters such as Francisco de Zurbarán, El Greco, Diego Velázquez, Antoni Gaudí, Salvador Dalí, Pablo Picasso, Antoni Tàpies, and many other well-known artists.
At the foot of Montjuic mountain, you can gather around the Font Magica (Magic Fountain), to enjoy a glorious festival of lights, color, music, and synchronized waterworks to cap off your first day in Barcelona.
Your guide will deliver you to your central Barcelona accommodation in the evening.
Day 2: Gothic Quarter & La Rambla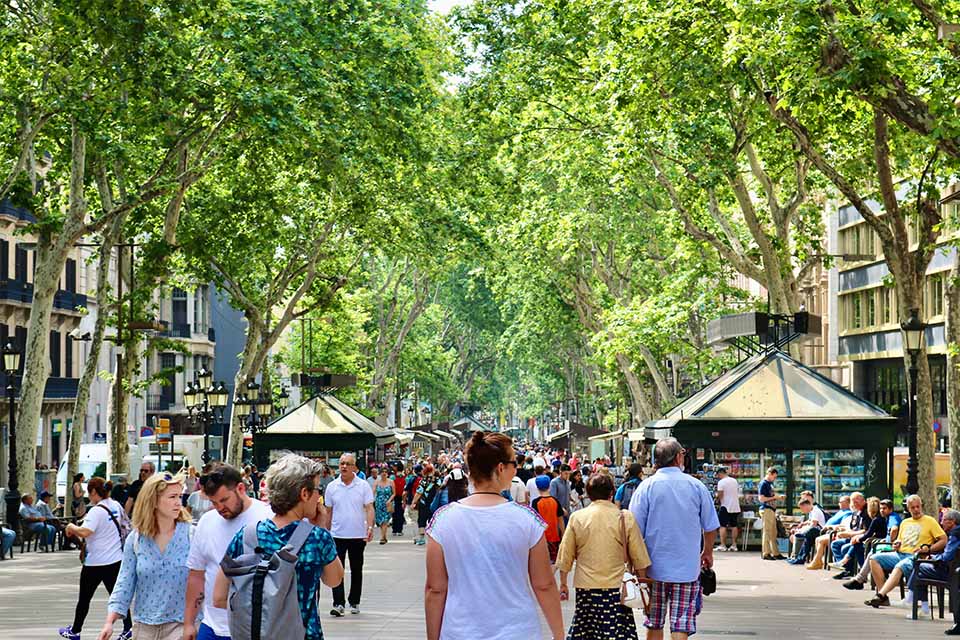 On day two of our 10 day best of Spain Itinerary, your private guide will take you to the most fascinating, interesting, and historically significant sites to be found in Barca's Berri Gotic, or Gothic Quarter to understand the city's deep and fractious history as you walk amongst the very structures and monuments that contributed to this story.
Highlights include:
Private Tour of Saint Mary of the Sea Cathedral
The Basilica of Santa Maria del Mar (Saint Mary of the Sea) is a remarkable example of Gothic Art, constructed between 1329 and 1383 under the guidance of the esteemed Catalan architect, Berenguer de Montagut. Notably, the exterior of the basilica is characterized by its solidity and sturdiness, creating a stark contrast with the impressive interior.
The central nave of the basilica stands out as a masterpiece of refined elegance, displaying an impeccable level of sobriety in its architectural design. Its construction and elaborate features have made it a cherished cultural heritage site, attracting visitors from all over the world to marvel at its beauty.
Placa del Rei Medieval Buildings
This is a medieval square surrounded by ancient structures that will enable your guide to reveal the story of the city to you as you make your way through buildings that made such an impact throughout history such as the Salón del Tinell, Mirador del Rei Martí, Capilla de Santa Ágata, Casa Padellas and more.
Although somewhat congruously, the museum dedicated to the life and works of famed 20th Century Cubist Pablo Picasso is housed in several Catalan Gothic-style palaces in the Gothic Quarter. Across the structures, you can take in over 4000 pieces by Picasso and feature several masterpieces including The First Communion, Science and Charity, Harlequin, and The Wait amongst many, many more.
In the evening discover the flavors of Barcelona as your guide takes you down La Rambla boulevard, beginning with the Monument of Christopher Columbus, as you enjoy Barcelona's famed culinary and Tapas delights.
Amazing experience! My husband Douglas and I just came back from a 10 days customized guided tour to Morocco organized by Emily from Guided Spain. It was an amazing trip. Our driver Youssef met us at the Casablanca Airport and he quickly became our guide, security guard and guardian angel! When I got sick he got me medicine and he always found the best toilets when we were on the road. Also, ice cream! We feel that we got the authentic Morocco experience with the riads (hotels) that Emily chose for us and the guides in the different cities we visited. The Merzouga Luxury Desert Camp was totally amazing as well as the visit with the Nomads,and the medinas. This is our second trip with Emily and as the first one, it was excellent. Our next one will be Portugal!
Day 3: Barcelona - Zaragoza - San Sebastian
Today you will leave Barcelona behind as you make your way toward the resort town of San Sebastian in the Basque Country. In order to break up this long drive we will take the opportunity to explore one of the lesser visited sites in Spain by enjoying the afternoon in Zaragoza, an underappreciated gem with historic pilgrimage sites and Mudéjar landmarks from the era when Spain was ruled by the Moors.
After the 3-hour drive from Barca to Zaragoza with your private driver in the comfort of our luxury air-conditioned vehicle, we will first enjoy lunch in classic Aragon style that consists of hearty stews, roasts, and other satisfying fare.
Before you rejoin your driver, your guide will take you to discover some of the best sights of Zaragoza including:
The Cathedral-Basilica of Our Lady of the Pillar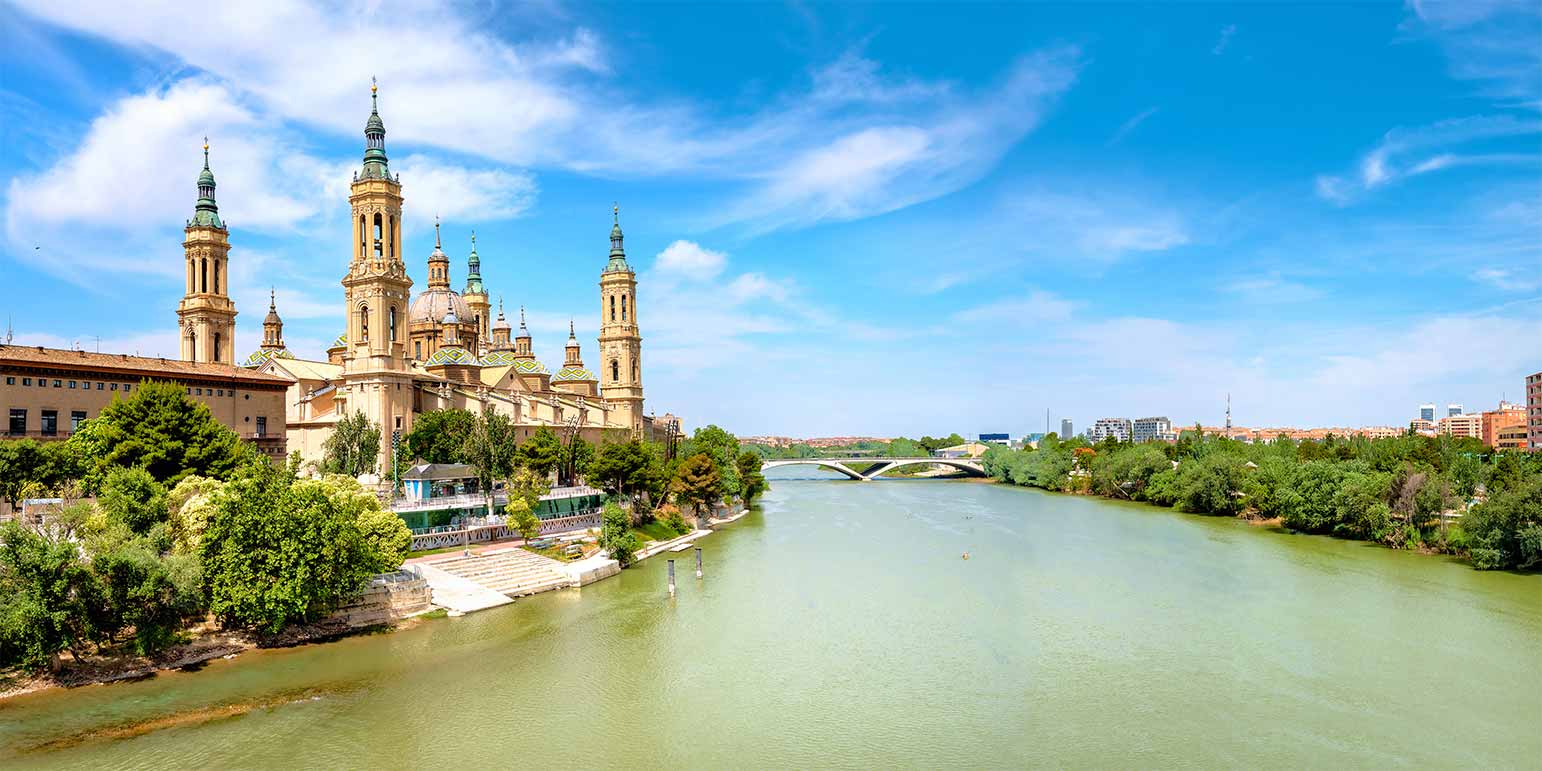 Which is believed to be the first Church dedicated to Mary. Walk in the footsteps of the many Spanish rulers who have attended this Cathedral to pay their devotion before the Statue of the Blessed Mary here. Make sure to ascend to the top of the tower for the incredible panoramic views across the city.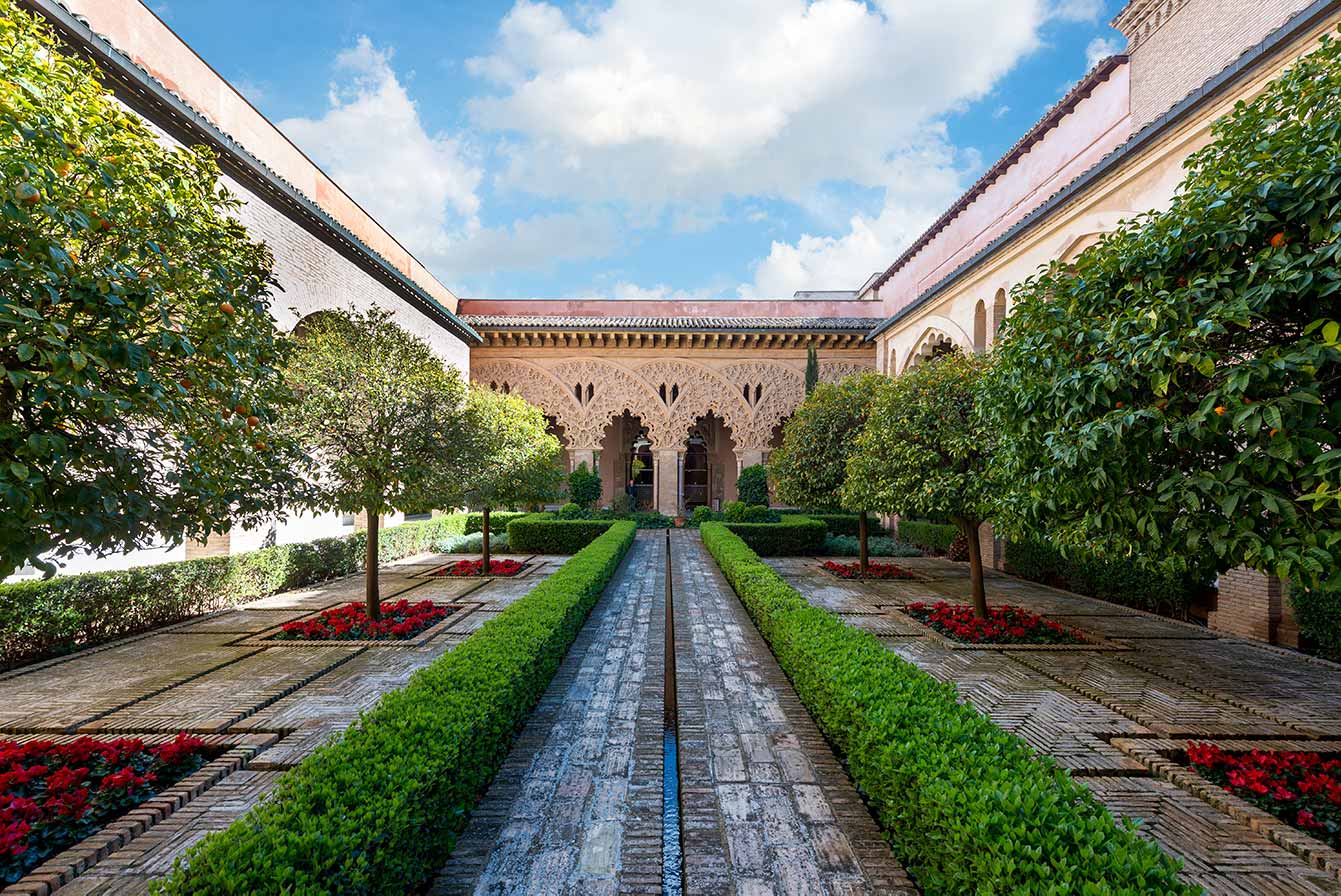 This 11th Century structure is a fortified palace and former residence of Banu Hud dynasty and provides a fascinating insight into how Islamic influence and architecture once dominated the region here.
After you rejoin your driver you will set off on the picturesque 2-and-a-half-hour drive to San Sebastian.
Alongside being known as a naturally beautiful resort town that combines taste and glamor in such a casual way, San Sebastian is noted for its outstanding culinary scene, with the second highest Michelin star restaurants per Capita in the globe.
For your first evening in San Sebastian, we will recommend experiencing the fine dining options available to you whatever your tastes, whether that's walking around the shoreside pintxo bars, or dining out in a prestigious restaurant.
San Sebastian is in the Northern Basque region of Spain, surrounded by crystal blue seas and lush green mountains. The city came to prominence as a favorite vacation destination for the Spanish Royal Family in the 19th century, and that tradition continues to this day as A-List celebrities such as Hugh Grant, Julia Roberts, Monica Bellucci, Oliver Stone, and many more have been publicly evangelical spreading the word about this Northern treasure.
Your day in San Sebastian should be about relaxing and enjoying the leisurely, luxurious ambiance that emanates from every pore of the city. If you wish we can arrange for a guide to discuss the highlights and history of the region with you, but we feel you would be perfectly capable of exploring these sites yourself:
The City's Historical Center
Discover the cozy yet sophisticated ranges on display here where the modern-day square was built on top of a former bullring.
Boating or Kayaking Experience
It would be a pity to come to San Sebastian and not enjoy some relaxing time on the ocean. Depending on your preferred level of exertion or luxury we can arrange active kayaking or rowboat experiences, or climb aboard a luxury yacht with your private captain for the afternoon.
La Concha Promenade & Cable Car
Stroll along the beaches here and take a cable car ride up to Mount Igueldo for the best views across the city.
What could be better than laying on the golden sand beaches of San Sebastian with the crystal blue waters facing you and the picturesque green mountains rising behind you?
Best Tours from Emily! Words can't express how grateful it was to be able to call on Emily for help with some excursions in Spain. Emily, thanks soo much. You're the BEST!!!
Day 5: San Sebastián - Burgos - Madrid
On day 5 of our best of Spain 10-day itinerary, we make our way toward the Capital, the largest, and most populated city in Spain, Madrid. On this driver-guided excursion we will stop for lunch and to see the sights of Burgos in the Castile and León region.
A key location on the Camino De Santiago or Way of St James pilgrimage route, Burgos is Just a two-hour drive from San Sebastian and provides guests with the opportunity to get a glimpse of authentic Spain away from the hustle and bustle of towns more well-known to attract tourists. 
On your stopover you can explore: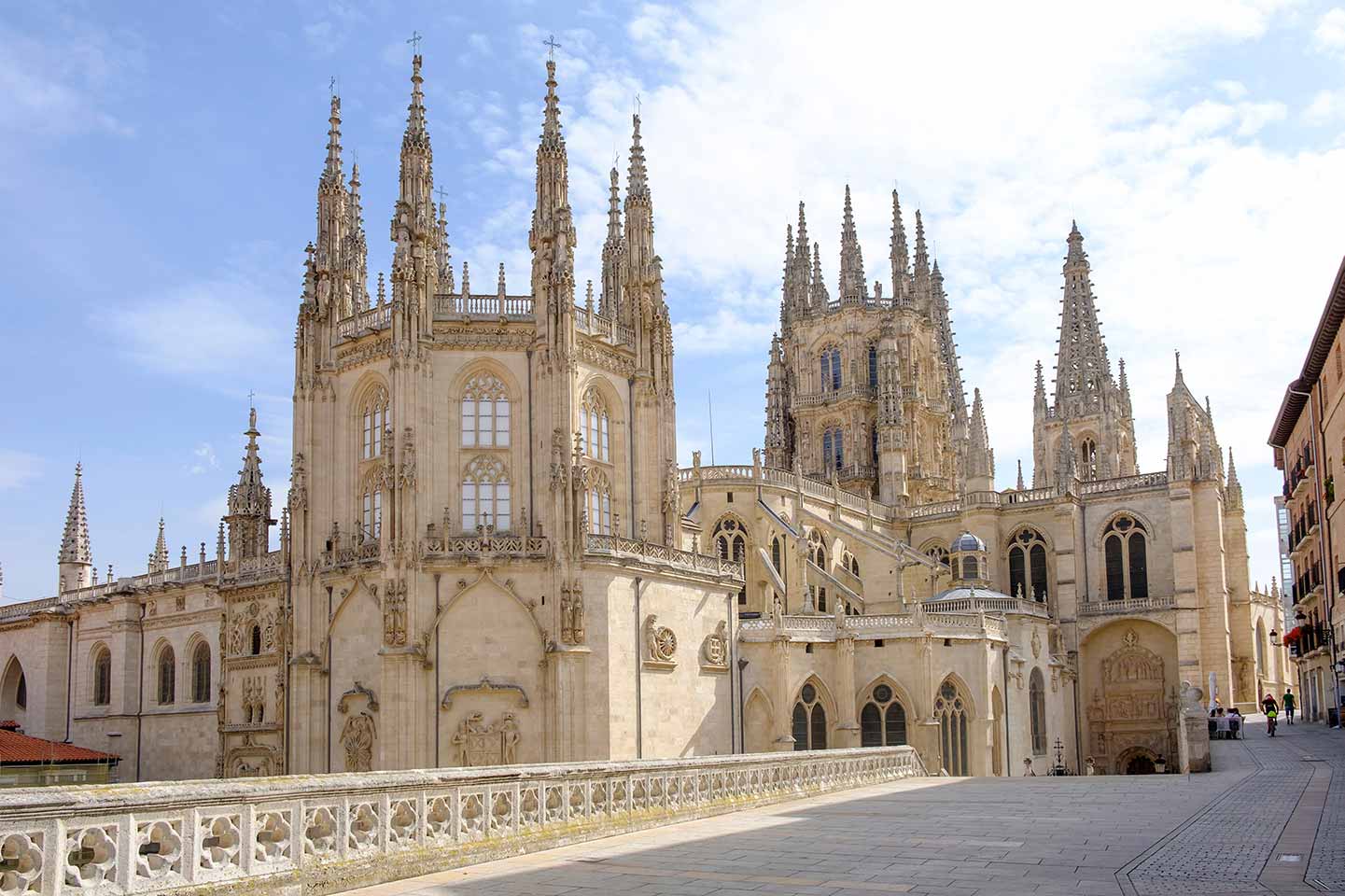 Discover why UNESCO has added this 13th-century Gothic site to their World Heritage list for outstanding universal value and why it is one of the most visually striking and impressive stops on the way of the St James trail.
Visiting the Arco de Santa Maria provides a great photo opportunity at this medieval gate to the city.
A wonderful and bright city square from which you have multiple options to select a restaurant to enjoy a Spanish lunch before rejoining your driver.
Just over 2 hour's drive from Burgos, your driver will drop you off at your accommodation in the center of Madrid for the evening.
Spend your first evening in Madrid familiarizing yourself with the city by joining your guide for a walking tour of some of the most significant sites in the city such as the main square, Plaza Mayor with the statue of King Phillip the third in the center, the Monarch who made Madrid the capital again after the honor had been with Toledo for a period. Stroll past the Almudena Cathedral in its Neo-Gothic glory, and get a feel for the city by walking along the main boulevard the Gran Via, stopping to sample some of the classy Tapas and wine bars found lining the avenue.
Today you wake up in the royal city of Madrid! Your guide will collect you from your centrally located accommodation as you prepare to squeeze in some of the most iconic sights and get a taste of what life is like for the locals, or madrileños as they are known here.
Our itinerary for day six will see you walking in the footsteps of Kings and Queens when you visit the Royal Palace with exclusive skip-the-line access. Take your time to explore the Prado museum on a private guided experience that will reveal the secrets, symbolism, and legend represented in the innumerable masterpieces included in the collections there. Then find out why Madrid's food culture is held in such high esteem even amongst their compatriots with a curated food market tour.
Highlights on your guided tour of Madrid include:
Private Guided Tour of Prado Museum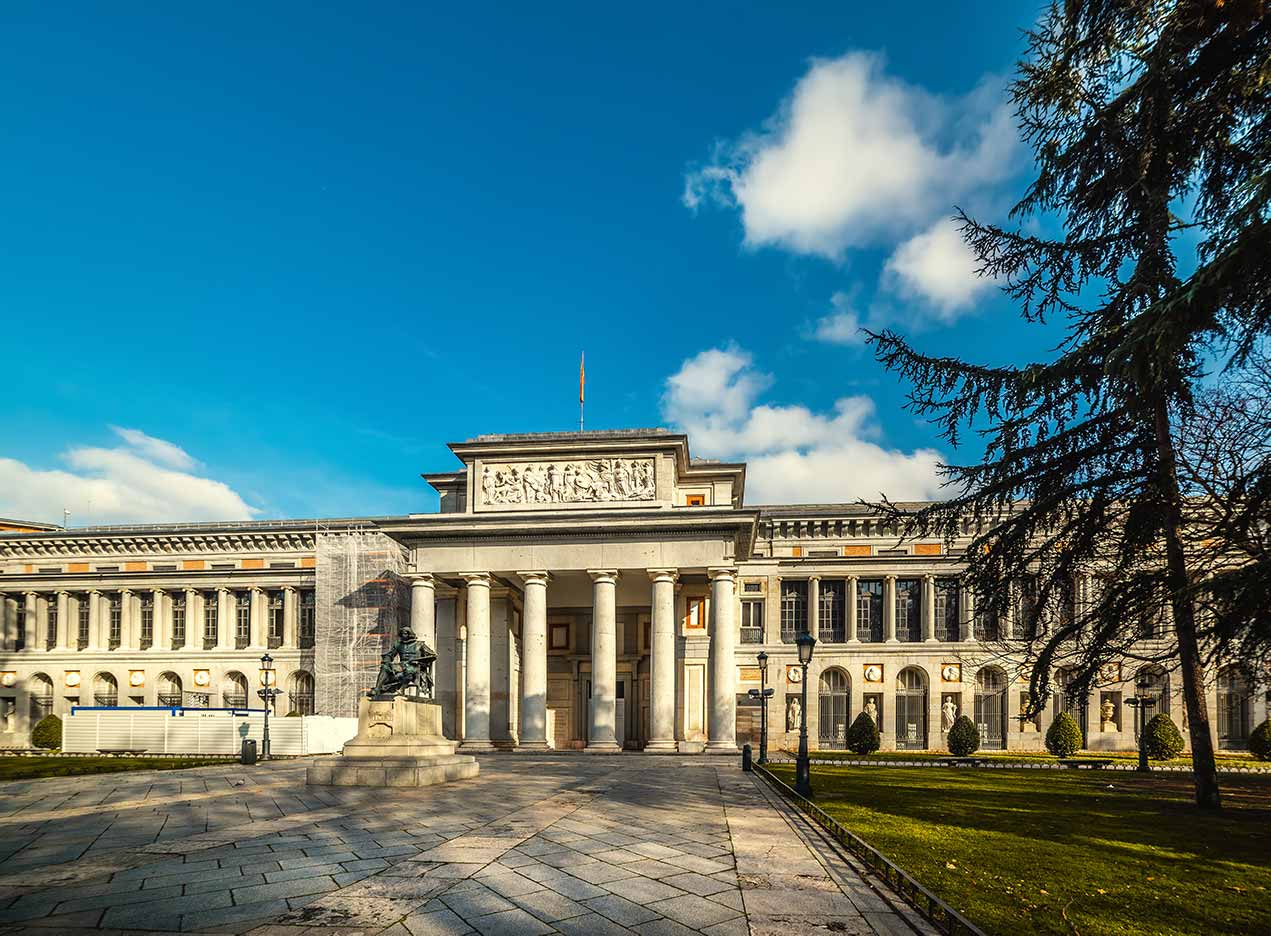 Art and culture are at the forefront of what makes Madrid such a forward-thinking city, and the Prado is arguably the standard bearer when it comes to elite collections, even in a city that contains the other two points on the Triangle of Art, the Reina Sofia, and the Thyssen-Bornemisza.
Just some of the Masterpieces on display include David and Goliath by Caravaggio, The Garden of Earthly Delights by Hieronymus Bosch, Saturn Devouring His Son by Francisco Goya, The Garden of Love by Peter Paul Rubens, and many, many more.
Royal Palace Private Tour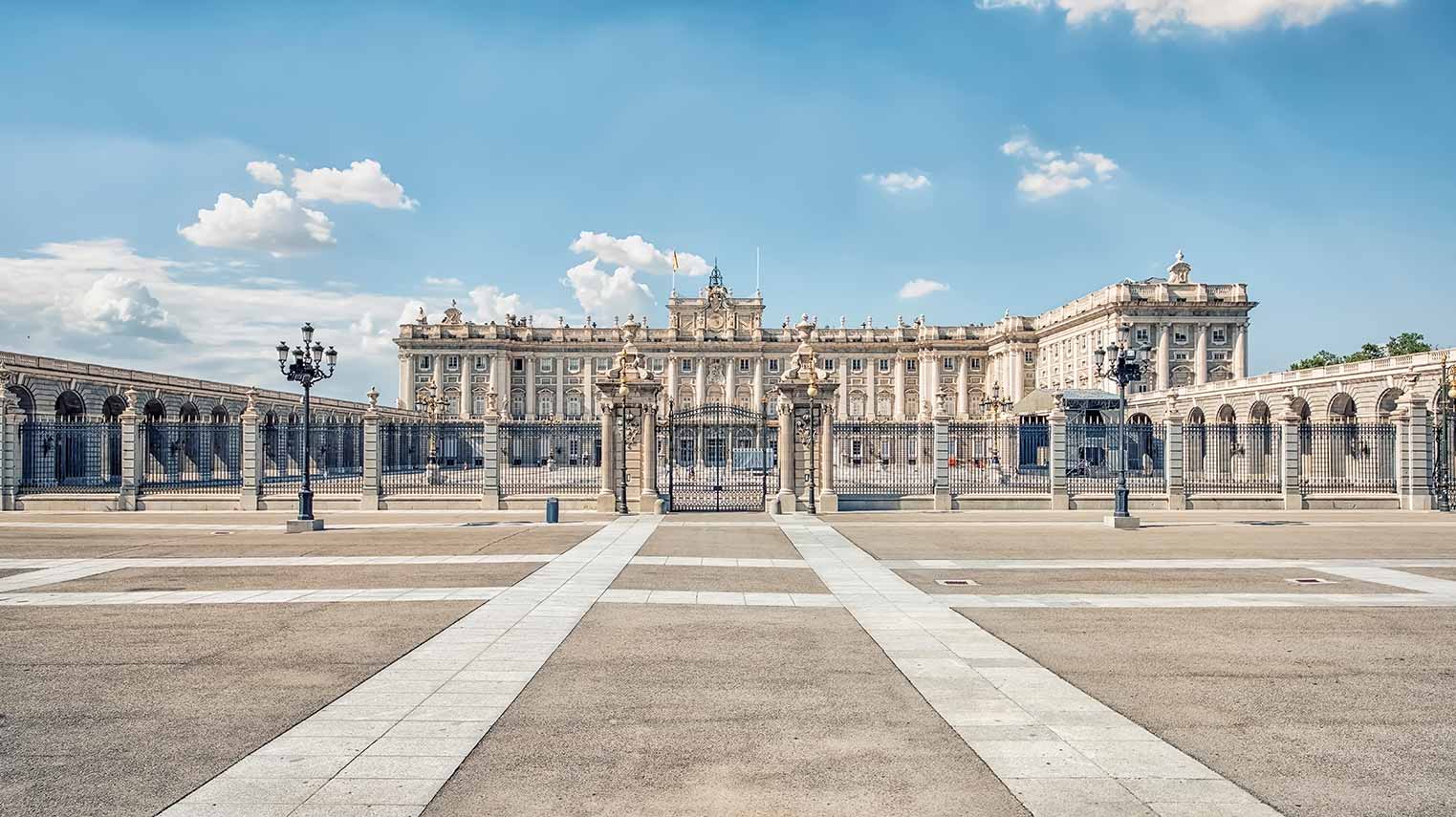 The opulence and class on display here are everything you would expect from the official residence of the Spanish Royal Family. With exclusive skip-the-line access, your guide will discuss the history and heritage of highlights from the palace including:
The main staircase designed by Francesco Sabatini
Hall of Columns
State dining room, 
Royal chapel
The Throne Room
Royal Armory
Tapas, Food, & Wine in Madrid
You will certainly need to refuel after such a momentous tour in the morning, thankfully you are in Madrid, one of the centers of world gastronomy!
Before embarking on your tour, your planner will discuss lunch options with you to tailor the experience to your exact tastes. We offer Michelin-star dining experiences, or you may wish to eat as the locals do and visit the San Miguel Food Market with your guide.
Day 7: Driver Guided Tour to Toledo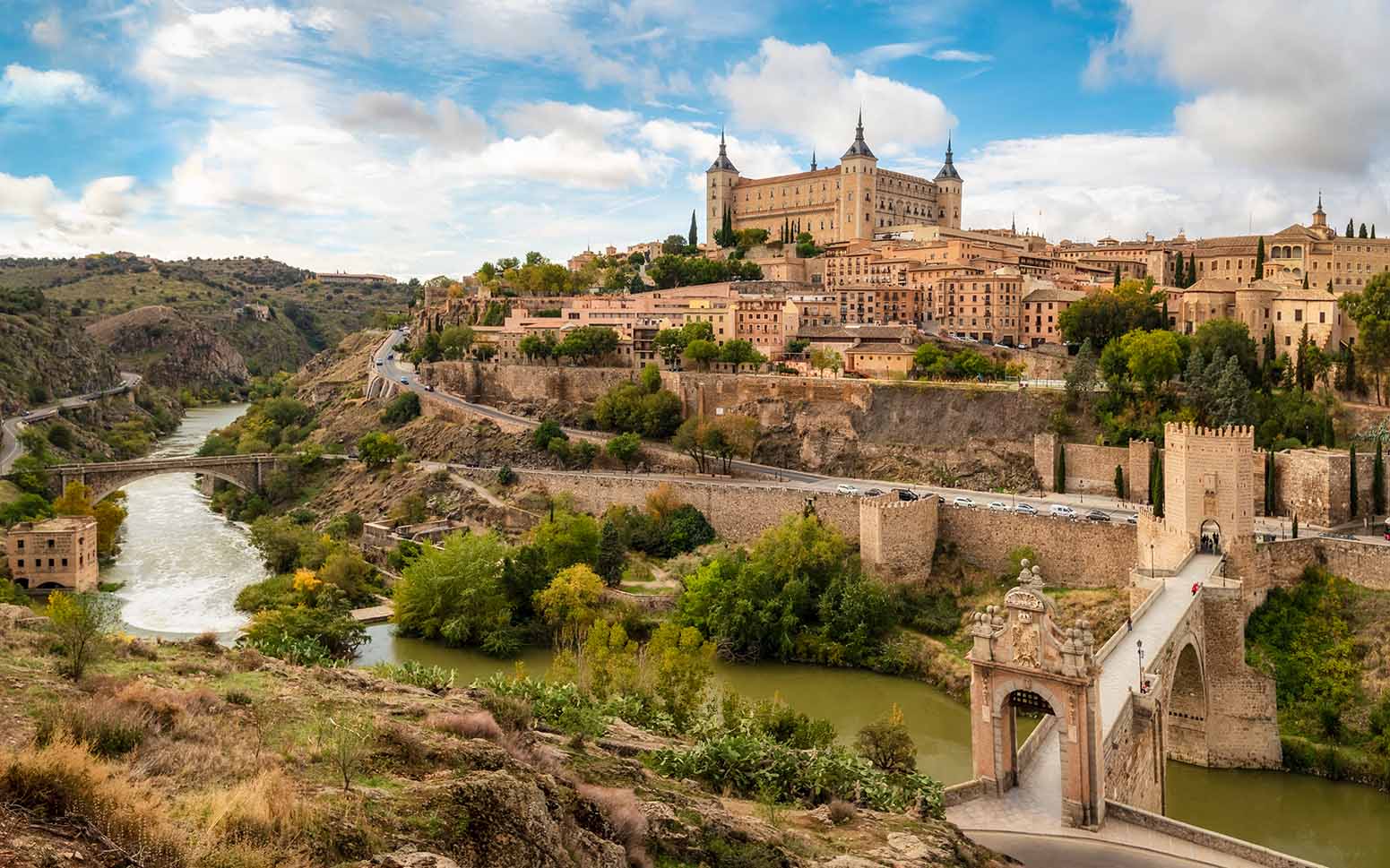 Just 70 kilometers from Madrid lies Toledo – the city of three cultures. Your transfer will be on the high-speed train with a journey time of only 30 mins.
Toledo was formerly the capital of Spain and earned its nickname as the city of three cultures due to the influence of its successive Moorish, Jewish and Christian occupants.
Its historic quarter –a UNESCO World Heritage Site– still preserves its original medieval layout, making it a fascinating place to visit. On a tour through its narrow, winding streets you will discover a series of incredible buildings, still very much alive both inside and out.
Highlights from your tour of Toledo include:
Toledo Cathedral (Catedral Primada Santa María)
Toledo Alcázar.
Mezquita del Cristo de la Luz.
Puerta de Bisagra.
El Tránsito Synagogue & Museum.
In the evening your driver's guide will return you to your central Madrid accommodation.
Day eight begins with the 2-and-a-half-hour high-speed train from Madrid to Seville.
Known as the Capital of Andalucia, and located along the Guadalquivir river, Seville has the largest historic center in all of Europe which offers many attractions, such as the Real Alcázar de Sevilla, the Seville Cathedral and Giralda Tower and, given that the city can lay claim to being the birthplace of Flamenco dancing, it naturally follows that alongside visiting the Flamenco Dance Museum, you will likely wish to reserve tickets for an evening performance of the passionate artform.
Highlights of Seville include: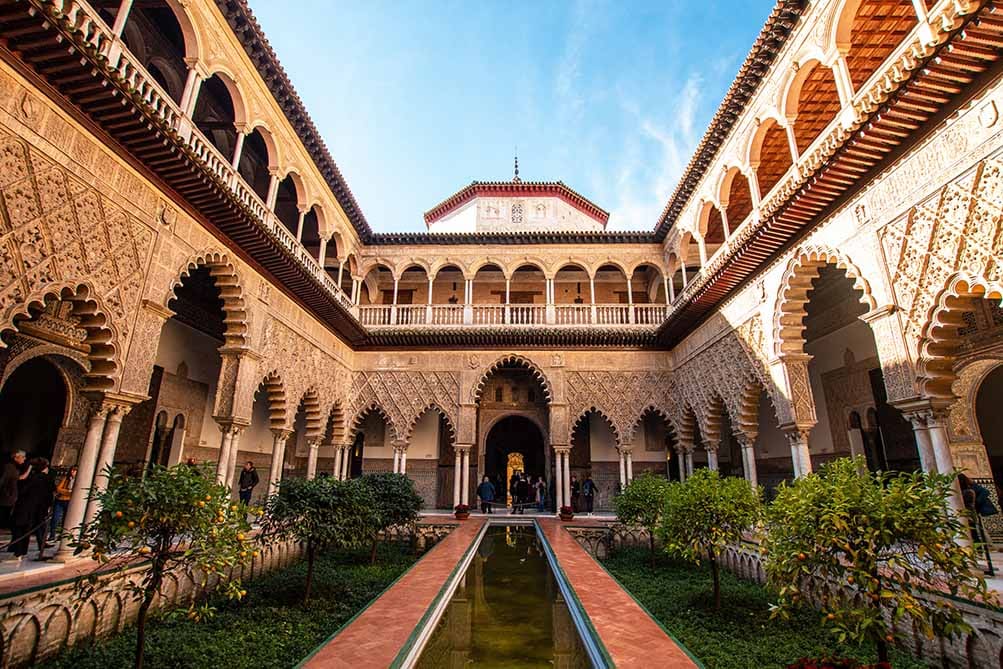 The oldest Royal Palace in Europe, it was constructed on the site of the former Abbadid Muslim Fortress in honor of the Christian King Peter of Castille. Architecturally the structure has been recognized by UNESCO World Heritage Committee as an outstanding example of Mudejar architecture gracefully combining elements of Christian and Islamic art.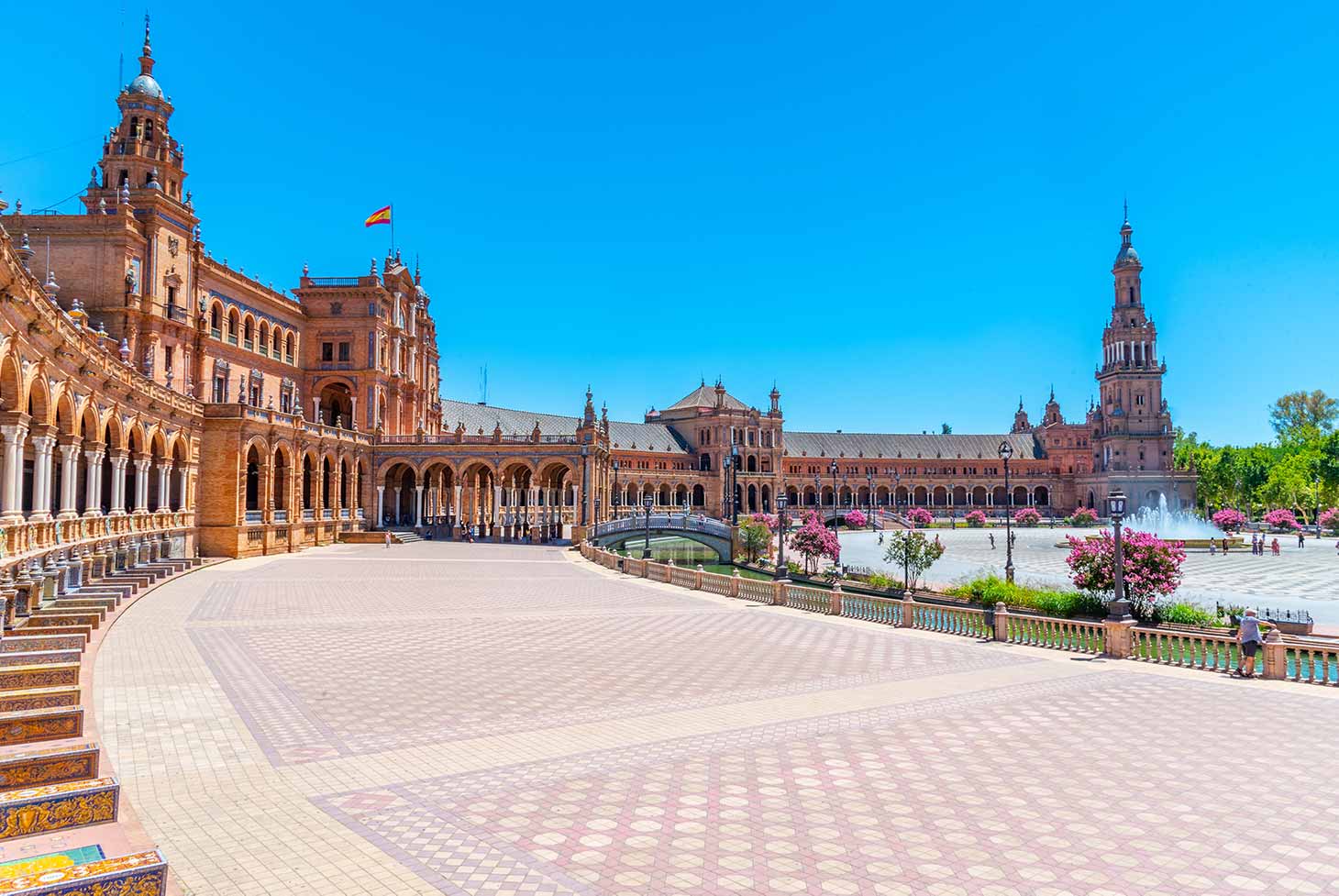 This famous square was built in Spanish Renaissance style for the Ibero-American exhibition, and is rich with symbolism to reflect a peace between Spain and its former American colonies. You may recognize the structure from Holywood productions such as Lawrence of Arabia and Star Wars.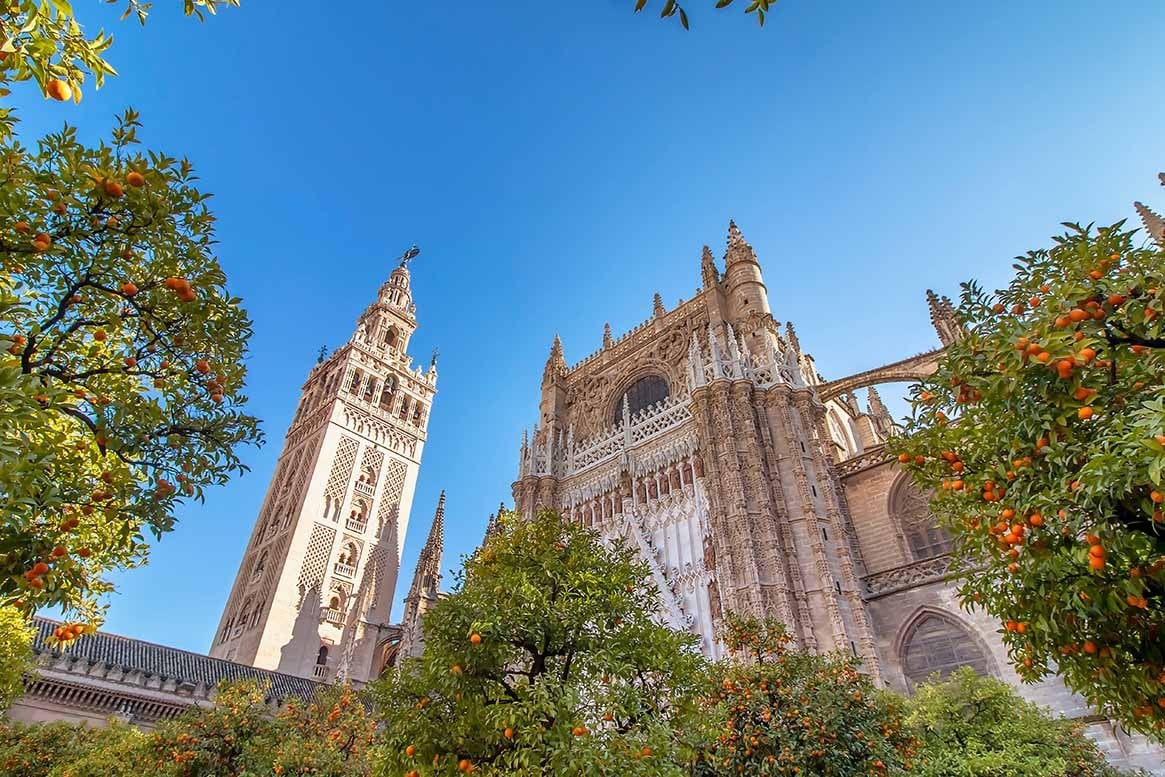 The largest Gothic Cathedral in Spain, it also contains The Tomb of Christopher Columbus.
Enjoy views across the city from the top of the tower.
Learn about the history of Flamenco in this gorgeous 18th Century palace. founded by the famous flamenco dancer and choreographer Cristina Hoyos the museum features fascinating history, tales, and interactive exhibitions over its four floors.
Excellent Individualized Tour Company for People who do not want to go on Package Tours. I used Emily to arrange a tour of Southern Spain in January, 2020 for 4 people. It turned out to be great. What I do not like is being shepherded around to cheesy tourist sites and waiting in lines of tourists. Emily arranged for very competent and efficient drivers, fantastic guides, very good hotels and even recommended restaurants for each location. The best thing about using Emily is that when she arranged for (at my request) wine tastings, olive oil tastings, a flamenco show is that all of them were authentic and interesting and none of them were contrived or cheesy. While on the trip, she checked in and made sure everything went smoothly. When we went to the Alhambra or other ticketed sites, we always got to skip the line due to Emily. There was one overall price per person (depends on double/single room) that I felt was very fair for the level of service provided.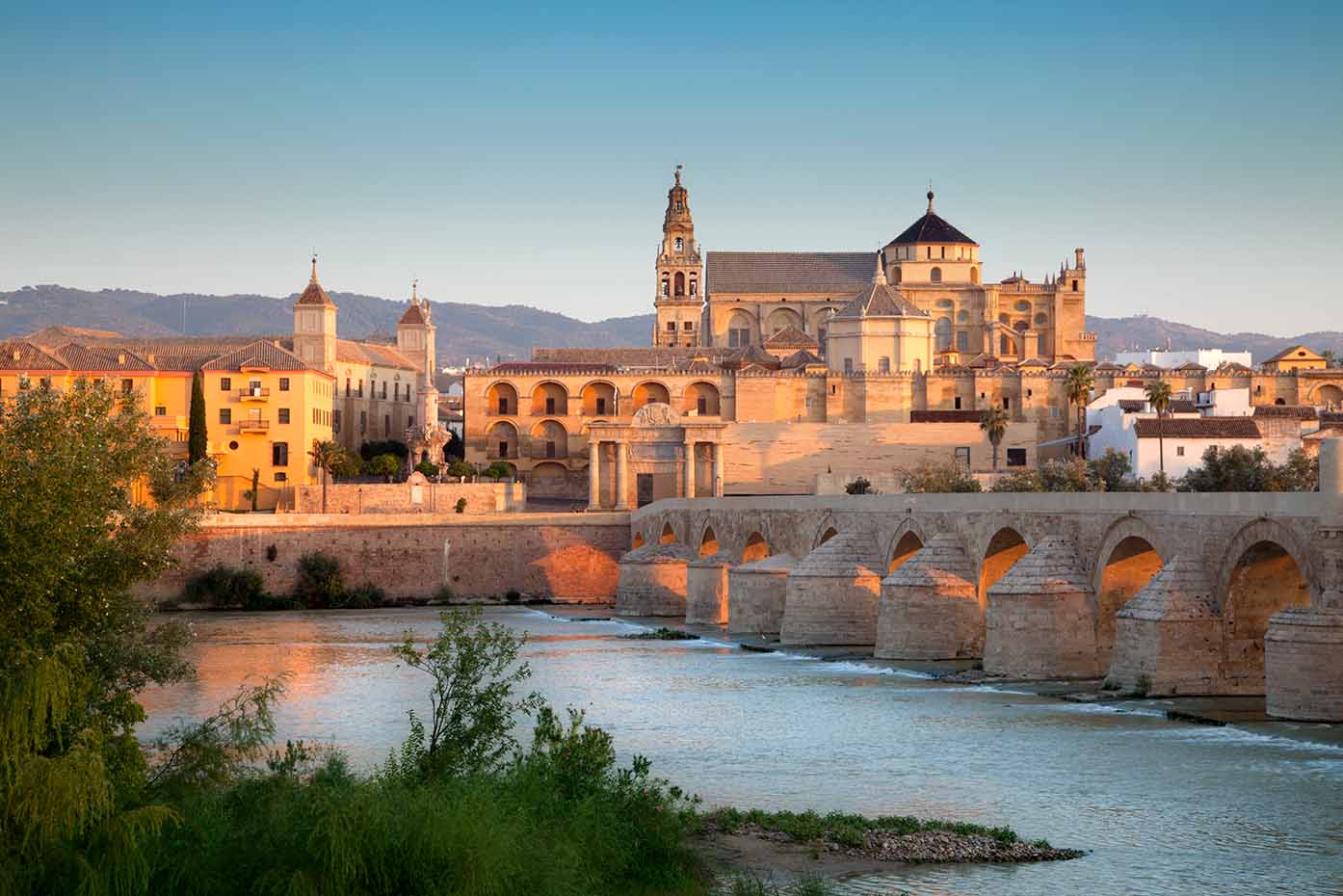 Did you know that the only city in the world to feature four UNESCO World Heritage sites is just an hour and a half by car away from Seville? The city of Cordoba is somewhat off the beaten path when it comes to destinations in Spain, but many of our guests reflect on it as being a highlight of our ten-day itinerary.
Highlights from Cordoba include: 
UNESCO World Heritage-listed historic quarter of ancient Córdoba
Private guided visit to the incredible Mezquita, the world's only Cathedral-Mosque.
Walk the ancient Roman bridge and the tiny cobblestoned lanes.
 Enjoy ancient whitewashed buildings of the former Jewish Quarter.
Medina Azahara: an archeological site where there was once a major Ancient Roman city and subsequently a Moorish settlement in the Middle Ages.
Your private driver will deliver you back to your Seville accommodation for the night.
Day 10: Granada & The Alhambra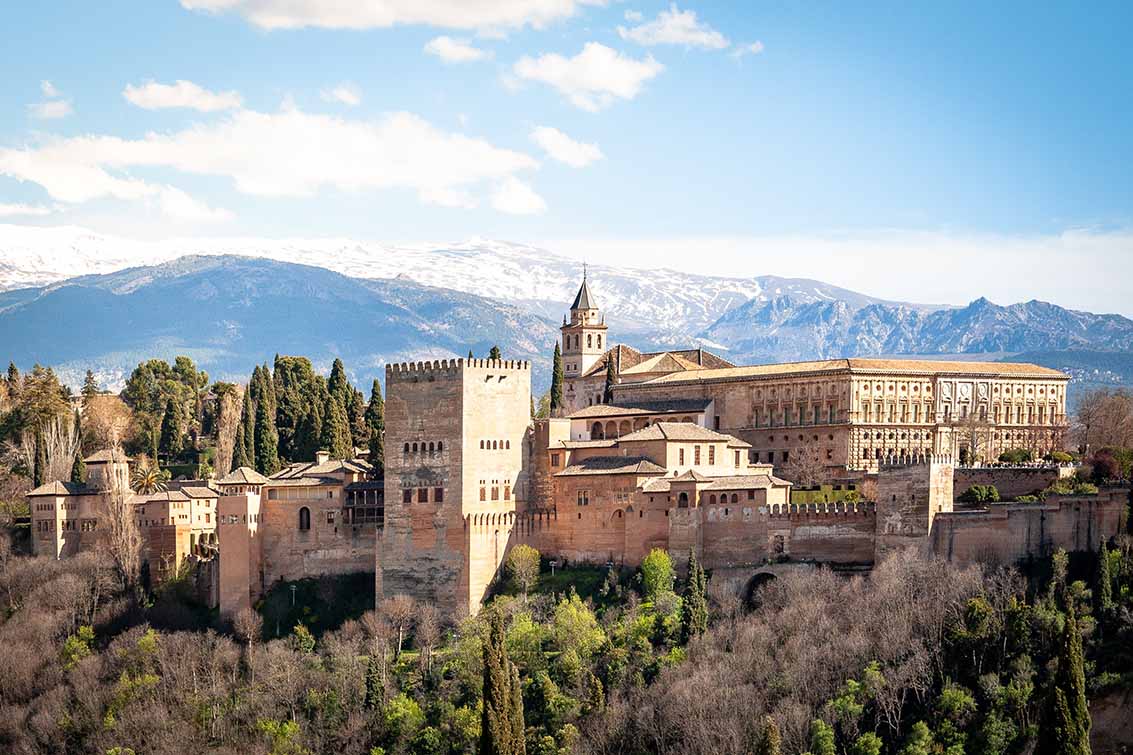 On your final day of our 10-day best of Spain itinerary, you will join your driver guide for the 2 hours and 15-minute ride to the jewel in the crown of Andalucia, The Alhambra in Granada. 
This majestic royal palace and fortress is widely considered to be the best-preserved palace of the historic Moorish era and is of particular historical significance for being the last remaining Islamic outpost before the Catholic Monarchs reunited the Kingdom. 
Alongside your private tour of the Alhambra, your guide will take you to explore the best of Granada before returning you to your Seville accommodation in the evening.
Allow your guide to bring to life centuries of history, wars, and famous historic characters as you explore the complex together. Your guide will deliver you to:
The Alcazaba fortress
The Nasrid Palaces – the best of the Mexuar, Comares Palace, & Palace of the Lions
Generalife Gardens
Alongside the glorious Alhambra, your guide will take you to: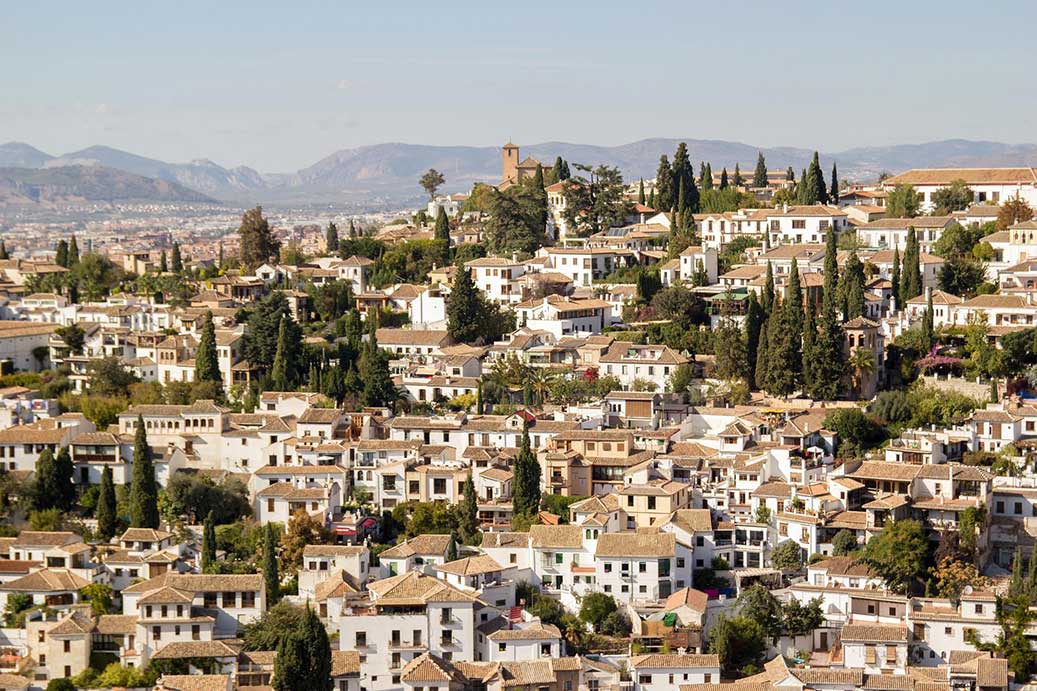 Granada's Old Town there are many relics from the Moorish era and glorious sweeping views of the Alhambra Palace. Walk with your guide as they bring the history of the district to life while you walk along the very streets that have seen Moorish domination, Christian reclamation, homes where the Jewish community defiantly continued to practice their faith after expulsion, The Christian chapels and churches and much more.
Museum of Fine Arts of Granada
Contained within the Palace of Charles V, the stunning architecture is just as exhilarating to gaze upon as the collections which feature work by Juan Sanchez Cotan, Alonso Cano, Mariano Fortuny, and many more.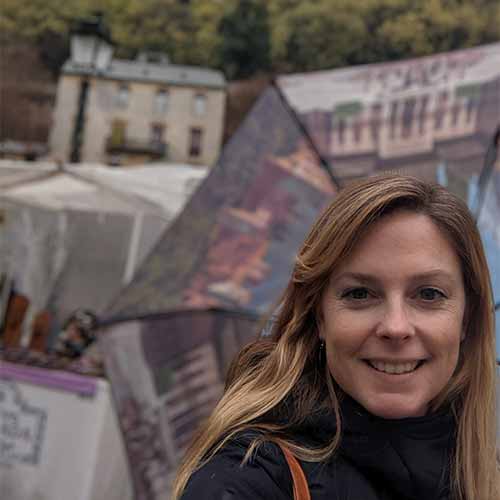 Say Ola to Emily, your personal tour planner at Guided Spain Tours. Get in touch by filling in the form below and requesting your complimentary itinerary!
Contact Our Complimentary Custom Itinerary Team
With so much to see and do in Spain, it's very easy to feel that you cannot even scratch the surface in 10 days. Whilst we think the ten-day plan above is a terrific introduction to Spain we understand that it won't suit everyone, that's why our passion lies in providing the best possible experience for our clients by creating tour itineraries completely tailored to their tastes and needs.
For your complimentary itinerary simply let us know how many days you will be here and what type of activities, sights, locations, events or exclusive experiences interest you, and let our experienced team do the rest. With over 20 years of planning and delivering exquisite luxury tours of Spain, we are certain that your bespoke itinerary will be full of Spanish delights that you will adore.
Highly recommend Emily! Emily created a personalized itinerary for us in southern Spain. She was very knowledgeable about the region, attentive, and personable. She returned emails properly, and was a pleasure to work with. Emily was flexible and did not make mind making changes in the itinerary-- Her goal is to please her customers!
Emily is GOOD! Emily arranged a 14 day tour for us in Spain at short notice of a week or so. The whole tour was beautifully organized, amazingly flexible and the rare glitches were attended to and addressed, literally instantly. For sure we will be back for further tours with her. Thanks, Emily.
Best Tours from Emily! Words can't express how grateful it was to be able to call on Emily for help with some excursions in Spain. Emily, thanks soo much. You're the BEST!!!
Spain and Portugal trip: Emily did an amazing job Of setting up our trip through Spain and Portugal. All of our tours were outstanding and personalized. We had a wonderful time!
Private Tour: Emily is a pleasure to work with. She arranged hotels, activities, tour guides and transportation in Barcelona, Madrid, Segovia, Toledo, Cordoba, Avila, Seville, Malaga, Gibraltar. She was extremely responsive when we had questions and made sure that everything flowed smoothly.