Reviews Of Our Tours Of Spain
Emily is GOOD! Emily arranged a 14 day tour for us in Spain at short notice of a week or so. The whole tour was beautifully organized, amazingly flexible and the rare glitches were attended to and addressed, literally instantly. For sure we will be back for further tours with her. Thanks, Emily.
Emily put together an incredible trip! Emily put together an amazing trip for me through the Andalusia area of Spain. From the minute I touched down in Malaga, Emily and her team made sure I met up with all of my drivers and private tour guides in each city. Every tour was incredible and each guide was extremely knowledgable on the city's history, culture, food scene and architecture. I highly recommend Emily Matthews and her team and would use her again the next time I go to Spain, Portugal or Morocco.
Highly recommend Emily! Emily created a personalized itinerary for us in southern Spain. She was very knowledgeable about the region, attentive, and personable. She returned emails properly, and was a pleasure to work with. Emily was flexible and did not make mind making changes in the itinerary-- Her goal is to please her customers!
Excellent Individualized Tour Company for People who do not want to go on Package Tours. I used Emily to arrange a tour of Southern Spain in January, 2020 for 4 people. It turned out to be great. What I do not like is being shepherded around to cheesy tourist sites and waiting in lines of tourists. Emily arranged for very competent and efficient drivers, fantastic guides, very good hotels and even recommended restaurants for each location. The best thing about using Emily is that when she arranged for (at my request) wine tastings, olive oil tastings, a flamenco show is that all of them were authentic and interesting and none of them were contrived or cheesy. While on the trip, she checked in and made sure everything went smoothly. When we went to the Alhambra or other ticketed sites, we always got to skip the line due to Emily. There was one overall price per person (depends on double/single room) that I felt was very fair for the level of service provided.
Fabulous excursions: We used Guided Spain and Emily to plan several excursions for our group of 9 friends across Spain and Portugal. All of the guides were knowledgeable, personable, and flexible. We loved every tour, and we learned a lot about each of the places we visited. Rather than just seeing things, we also had hands on experiences, like baking bread in one of the white villages. The drivers and guides were always punctual. I highly recommend Guided Spain if you are visiting Spain or Portugal.
Spain and Portugal trip: Emily did an amazing job Of setting up our trip through Spain and Portugal. All of our tours were outstanding and personalized. We had a wonderful time!
Graduation Present for Teenager: I can't be more excited to write this review. I promised my niece and nephew a trip up graduation. While I travel quite a bit, traveling with teenagers who have never been out of the country or on a plane is another experience, especially when you don't have children of your own. Guided Spain, specifically Emily, was a blessing in making this trip possible. It far exceeded any expectations. The hotels, guides, transportation, and hotels were far better than expected. The experiences planned were diverse enough to satisfy my needs and my nephews. My nephew (17 years old) fulfilled a wish list item - scuba diving certification, and I got to dive along site. The dive company was amazing. Unlike some foreign diving experiences, safety and his education were the of the upmost importance. Because we visited at the right time, we were able to attend the 'Running of the Bulls'. The balcony and experience were fantastic.T The guides in both Rupit and Barcelona were some of the best I have ever experience. I cannot thank Teresa Dell and Gerad Guia enough; they were magnificent.
Spain-Morocco-Portugal: Our family just returned from a memorable trip to Spain, Morocco and Portugal - organized by Emily at Guided Spain Tours. I must say that I asked Emily to fill our days with enough activities to keep my active husband, daughter and her boyfriend busy but I wanted no stress or family fighting in traveling from place to place. Emily totally delivered! She arranged drivers to and from airports, trains and even a ferry plus had daily activities or day trips for us from cooking classes, wine tastings, food tours, sailing excursions, Fado concert, Flamenco show to full day tours visiting castles, cathedrals, and beautiful cities. She even coordinated an extended trip to Morocco for us. Everything went smoothly, we had wonderful drivers and guides, and we all had a great time! I appreciated that Emily stayed in daily contact to ensure everything was going smoothly. I highly recommend Emily and Guided Spain Tours!
Southern Spain, Andalusia: We just returned from a private tour designed by Emily of Guided Spain Tours. Private tours have the advantage of less time spent waiting for accommodations, tours, and travel. Her professionalism is top notch, both in preplanning and during the trip. All our tour guides were extremely knowledgeable of the events occurring at the locations and they knew how to maximize our visit. Emily kept us informed along the trip as to guide and drivers names and times. All went smoothly. The country, the people we came into contact with, the historical sites of Spain's diverse cultures were above expectation. It is always a leap of faith to plan a trip to an unknown destination and hope it all works. Pre-planning, promptness and patience on the travelers part always helps enhance the travel experience. It was a great trip! Thanks Emily
10 Day Private Tour: It was such a pleasure to work with Emily. Everything went off without a hitch! There were some changes either in drivers or guides but this was communicated in advance via whats app. Drivers were always on time and very professional. Our 2 favorite guides were Daniel Guia in Madrid and Luis Salas in Seville. They gave great recommendations for shopping, restaurants or sights to visit when you were on your own. We had so many wonderful experiences on our trip from the private horse show outside of Cordoba with a live Spanish guitarist to the white villages , tapas bars, walking tours of Seville, Madrid and the Alhambra. Emily was in contact all the time if needed . Sorry Emily it took so long to write this, life gets so busy and that 's why you have Guided Spain plan your trip!
Spain and Morrocco trips with Guided Spain: My Spain trip review was long overdue, I am sorry I didn't write sooner. One of the best trip, thanks to Emily. She always replies my email or whatsapp right away. The highlight of our Spain trip was sunset dinner with Alhambra view before flamenco show in the old neighborhood of Granada. I wish I had more time in Granada, but there is a reason to go back next time, for sure I will look for Emily again. We were very happy with our Spain trip, that's why we contact Emily for Morroco trip. Eventhough 2 years ago Emily didn't have service for Morroco trip, we were glad to wait, it was the best trip we can ask for especially the camel trekking at Merzuga desert. Our driver Mustafa was knowledgeable and he speaks 5 different languages fluently. Our guides in different cities was awesome. Once again, we would like to thank you to make our trip so memorable. Honestly, I will not think that the Morrocan trip will happen so soon, it is one of our bucket lists. Hopefully I will be back soon to other part of Spain or Portugal, I will contact you again.
Private Tour: Emily is a pleasure to work with. She arranged hotels, activities, tour guides and transportation in Barcelona, Madrid, Segovia, Toledo, Cordoba, Avila, Seville, Malaga, Gibraltar. She was extremely responsive when we had questions and made sure that everything flowed smoothly.
Spanish class bonds over Camino walk: From the central hotel she booked on Madrid to the paradores and auberges she got us on the Camino, Emily made out trip stressless and tons of fun. We spent a few days in Madrid, then went to walk the last 100k of the Camino. Every day we walked about 10 miles, then the fantastic guides took us to some amazing local spots (castle, a bee farm etc.) and our inn, where the owners made us unforgettable meals. Thanks, Emily!
Our 15-day Southern Spain tour - Amazing! It's so hard to come back to reality after experiencing a Guided Spain Tour! Emily arranged a tour for my husband and myself for cities in Southern Spain (Madrid, Toledo, Cordoba, Seville, Jerez de la Frontera, the White Villages and Ronda, Malaga, hiking the Caminito del Rey, and Granada). In addition, we traveled one day to Tangiers, Morocco and Gibraltar, then spending our last 4 days in Barcelona and visiting surrounding cities. It was an amazing trip, which provided professional, private drivers and fantastic, well-informed guides for all of the cities and activities. In addition, Emily was constantly in touch with us during the entire trip to make sure everything was going well. We could go on and on about all of the very special experiences we had, and will definitely use Guided Spain Tours for other trips in Spain, Portugal and Morocco. Our only wish is that Emily would also do tours worldwide!
Alhambra: My wife and I were looking to do a day trip to the Alhambra from Marbella and after doing some research it appeared to be a little complicated. Tickets to the Alhambra need to be purchased in advance and there are different types of tickets with access to different areas, specific times, fast lanes, etc. It was confusing and I read enough personal accounts of trips gone wrong that when we came across Guided Spain I arranged a private tour. It did seem a bit pricey but it was worth every penny. The day was seamless. A driver picked us up on time and drove us straight to the Alhambra where a guide was waiting. I had previously considered driving and I'm very happy I didn't. It would have been stressful. The driver was professional and courteous and the tour guide was wonderful. Spent no time in lines and got some great history with exceptional attention to detail. We toured the palaces and Generalife, and had a great time. I hadn't even realized that lunch was already arranged and paid (delicious too!). Afterwards we had enough time to have nice walk in Granada and see the Cathedral. We were back in Marbella by 8. Absolutely perfect and stress free day. I would highly recommend!
Best Tours from Emily! Words can't express how grateful it was to be able to call on Emily for help with some excursions in Spain. Emily, thanks soo much. You're the BEST!!!
Amazing experience! My husband Douglas and I just came back from a 10 days customized guided tour to Morocco organized by Emily from Guided Spain. It was an amazing trip. Our driver Youssef met us at the Casablanca Airport and he quickly became our guide, security guard and guardian angel! When I got sick he got me medicine and he always found the best toilets when we were on the road. Also, ice cream! We feel that we got the authentic Morocco experience with the riads (hotels) that Emily chose for us and the guides in the different cities we visited. The Merzouga Luxury Desert Camp was totally amazing as well as the visit with the Nomads,and the medinas. This is our second trip with Emily and as the first one, it was excellent. Our next one will be Portugal!
South Spain Tour I used Emily and her team to help plan and organize a 20-day long trip through South Spain. We visited Granada, Malaga, Frigiliana, Arcos De la Frontera, Jerez, Seville, Ronda, Madrid, Toledo, the Alpujarras, Cordoba... omg each stop was amazing and the tour guides and drivers were world-class. I can't rave about her team enough- such an incredible company to work with, the customer service was amazing. We had drivers, tour guides and assistance with Train Bookings. I credit the success of the trip directly to Emily and her team. My father is older and can't walk a lot, Emily took that into consideration with planning and it made such a difference with my father enjoying the trip more. I am definitely using Emily and her team again for our next trip to Spain.
Fabulous Spain/Portugal trip through Emily! We booked with Emily solely after reading these reviews for a 2 week trip to Portugal and southern Spain. Never met her prior. She and her team exceeded our expectations. Every detail of the trip went smoothly and her planning was perfect for our group. Lots of guided tours intermingled with just the right amount of free time. We challenged Emily and her team with 3 generations of travelers from 18 months to upper 60's and she handled our group perfectly, such as baby seats in cars and cribs in hotel rooms. Our trip included Lisbon, Porto, Sevilla, and Madrid with day trips to Cordoba, Rhonda and and a small "white city." All in, we would highly recommend Guided Spain Tours, Emily and her team for any travel in Spain and Portugal. She also does Morocco but we didn't have time for that.
Professional and expert service before, during and after our visit to Alhambra Two hours from the town of Marbella, a collection of stunning Arabic ruins called Alhambra provided a day of wandering through thousands of years of Spanish history. Emily, from Guided Spain Tours, coordinated our trip – she was very responsive and flexible with our plans. We were picked-up from our hotel by driver, Fran, and met-up in Granada with our amazing tour guide, Miriam. She spoke excellent English and was able to make the tour interesting for two teenagers and their parents. Throughout the tour, we learned many facts about the Nasrid dynasty, including details about Islamic architecture with the facades and arches, the red walls (al-Hamra in Arabic, means red), green pools and the intricate interior designs using multi-colored tiles. There were three different palaces that the tour guide named public, political, and private. Each of them brought a different style of design which went with these names. From the top of the tower, we could see for miles which was a huge highlight of the day. The Alhambra is a must see on your visit to Spain. Guided Spain Tours, especially Emily, Fran and Miriam, enhanced our experience with professional and expert service before, during and after our visit to Alhambra.
Great First Time Visit to Spain: Just back from a 10-day trip to Southern Spain put together by Emily Matthews of Guided Spain. My husband and I and children aged 15 and 18 had never been to Spain. From the beginning Emily did a great job, putting together a fabulous initial itinerary. She then worked with us to customize the trip for our particular preferences, incorporating activities like a kayak trip to Donana, electric bike tours and cooking lessons. At our request, she added some unscheduled days for us to be able to relax. The guides who toured us around the many spots we visited in Granada, Gibraltar, the White Hill Towns, Ronda, Seville, and Jerez were friendly and knowledgeable. They all spoke English, and would speak Spanish with our kids, which was great for them. Having people drive us to the many places we visited was great. At the end of a long day of sightseeing, having the option to just fall asleep on the ride home was a real bonus, especially during the first few days of jet lag. Every driver was professional, punctual and friendly. Having a pre-planned itinerary meant that we were all on the same page as to what we were going to do. To have put together the same itinerary ourselves would have been completely overwhelming. Emily knew which tickets had to be booked in advance, how long visiting a site would take, etc. She has spent a lot of time developing relationships with the people she works with, and we benefitted from this at every turn. We are so happy we used Southern Ole Tours.
Portugal Tour: Emily organized a fantastic week-long Portugal tour for us. We had specific ideas about what we wanted to do, and we spent a lot of time with Emily planning the tour. She asked great questions about our interests, need for structure/free time, etc. and she built a perfect tour based on all of this information. Every day was perfectly arranged; we never felt rushed from one activity to the next, but we weren't left wandering either (our request). She arranged for top-notch local guides for our stays in the Algarve, Lisbon and Porto. The guides also transported us between cities, so we had lots of time to learn about the country in between stops. Emily was very communicative throughout our stay; she checked in frequently and always gave us a reminder at day's end about the agenda for the next day. I can't say enough about the trip, and highly recommend Emily and Guided Spain.
Emily's The Best! My husband and I recently returned from a fabulous, 3-week trip to southern Spain, made fabulous, for the most part, because of Emily from Guided Spain. We are of retirement age, and have previously used preset tours from large companies for our travels. However, none of these visited all the places we wanted to see, and/or had the dates we needed. I was lucky enough to go to Trip Advisor and find Emily. The rave reviews made me want to know more. I e-mailed Emily, and she responded immediately. In a nutshell, Emily customized a tour for the two of us, including the places we wanted to visit, during the time we had available, and adding in a few extras we would never have found on our own, e.g., an olive oil tasting at a family-owned production company, a wine tasting and lunch at a local winery, and a tour and lunch at a ham-curing plant. During the planning stages of the trip I changed my choice of cities, times and durations of visits a few times. Emily always responded to my wishes promptly and graciously. I had told her we'd like to take the speed trains in Spain. She proceeded to purchase all the tickets, and even managed to reserve seats close to where we would be storing our luggage on the train. We discussed hotels, initially starting with 4-star establishments, but then, to decrease the tour price, agreed to go to 3-stars. Emily found perfect hotels for us, all clean and with delicious breakfasts included, right in the centers of the historic parts of the cities we visited. All 7 hotels were clean, attractive, and comfortable. Emily also contracted with outstanding, knowledgeable guides for us in each city we visited, as well as excellent drivers with large, roomy sedans to drive us to and from the airport, and to various sights on our itinerary. In addition to the above, and much more, all the entry fees to museums, monuments, etc.– and being moved by our guides to the front of every waiting line! – were included in the price of our tour. On top of all this, Emily e-mailed me from time to time to find out how we were doing, to remind us of the following day's meeting place, to give us the names of our guides and drivers, etc. In short, our experience with Guided Spain was great! And the price of our tour was not much different from what a tour with one of the large companies would have been. I cannot recommend Guided Spain highly enough, and am looking forward to having them arrange a trip for us to one of their other venues.
Great day in Gibraltar! We booked Guided Spain tours for a day excursion to Gibraltar. I am a history buff, so I love the history of this rock, and I knew my kids would love the monkeys. The tour overall was great. The lunch was amazing (one of our favorite meals of the trip!) with a great view. Our tour guide was nice enough. He gave some great facts on the history of gibraltar and the rock. My only suggestion for future tours would be to have the tour guide go over the itinerary at the beginning with suggested time at each location. Time got really crunched at the end, so he told us to only go in part way to the siege tunnels (one of the things I was looking the most forward to) to save time. We pretty much ran through it to get to the end and back in the allotted time (he told us to only go in for 5-10 min). I am one who loves to read the signs and stories associated with these great sights, so that was a little bit disappointing. Then on the way town he pointed out that there was a whole different tunnel system specific for WWII (I didn't know this, I thought it was the same at the siege tunnels). If I had known this, I would have requested this tunnel instead (I LOVE WWII history). I should have probably done better research on my part to distinguish between the two, but it also would be nice to be told this from the onset and perhaps be able to choose between these two tunnels (or take less time in Michaels tunnel and get both). Those would be my only suggestions. We have 7 kids, so it was a lot for the tour guide to make work, and he did a great job, only getting frustrated with the kids a couple of times 😉 . All in all it was a great day, and nice to have it all worked out once we crossed the border so we didn't have to try to figure it out on our own. Thanks Guided Spain Tours!
Outstanding Tours and Coordination! Emily helped me plan private tours for our family of 12 throughout Spain. Emily made excellent suggestions on areas to visit in each major city and also suggested day trips. Every van driver and tour guide was on time and very knowledgeable. She selected expert guides in each city so we were sure to learn as much as possible. One of the highlights of our touring was a visit to a horse ranch in Cordoba. Without Emily's suggestions we would have missed this once in a life time experience to interact with Andalusian and Spanish horses while visiting with the most welcoming family. Emily coordinated our train trips and transfers. Everything went so smoothly. Words cannot express how grateful I am for Emily's planning.
Morocco in 1 day!! With less than 24 hours notice, Emily and her staff at Guided Spain, put together a world class day trip to Tangiers, Morocco for 16 of us coming from Tarifa, Spain. Our tour guide, Aziz St. Laurent gave us a birds eye view of the incredible sights of Tangiers including off the beaten path neighborhoods, restaurants, towns, and vistas that we never would have seen without him or on any other tour. Emily came to our rescue when our flight home was suddenly cancelled and we had no where to stay. 15 minutes after we called her in a panic, she had all 16 of us in a luxury ocean front resort right down the road and we were able to spend our extra 24 hours in Marbella in high style! We have never before experienced such professional and personal service like Guided Spain.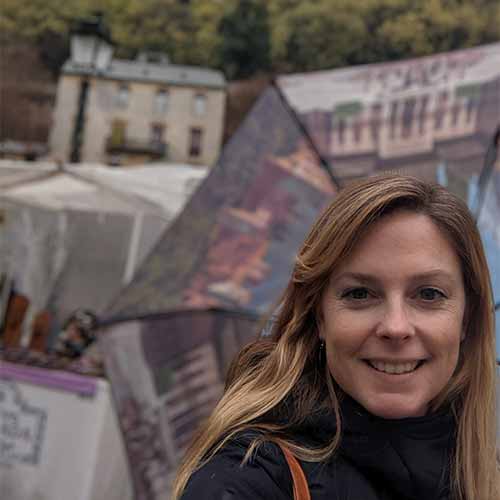 Hola from Spain! I'm Emily Matthews, tour director at Guided Spain Tours.
After working as a guide for several years, the arrival of my wonderful children has seen me build our agency, where I now channel my energy into crafting personalized custom tours across Spain's diverse regions.
Our team of tour planners and officially licensed guides are delighted to offer their local insight and knowledge to deliver bespoke itineraries and seamless experiences for your Spanish Vacation. We look forward to getting to know you and creating memories you will cherish for a lifetime.
Contact Your Spain Private Tour Specialist
With over 15 years of experience providing private tours of Spain, we have mastered the art of hand-crafting exquisite private tours filled with iconic sights and exclusive experiences that others simply cannot match. 
Contact our team for your complimentary itinerary and get ready to say Ola to Espania!