5 Days in Andalucia Itinerary
Your 5 Day Tour of Andalucia
Our 5 days in Andalucia itinerary has been designed to deliver the best of Southern Spain for you in 5 compact days. Combining the best private guided tours of Seville, Ronda, Malaga, and Granada while limiting the amount of travel required during the vacation.
Andalucia means enjoying the warm Mediterranean climate, fascinating history, and unique culture that has been forged by centuries of Islamic, Christian, and Jewish influences in the region. Explore the most iconic sites such as The Alhambra, Seville Cathedral, and Alcazars while enjoying classic Andalucian culinary fare and get introduced to famous artworks and artists from the region with our 5-day itinerary.
Highlights Best of Spain Private 5-Day Luxury Tour:
What's Included In Our 5 Day Tour?
Start in Seville, The Capital of Andalucia
Where better to begin our 5-day Andalucia tour Itinerary than in Seville, the capital, largest, and most populated city of the region? Seville is famous for blending Moorish, Renaissance, and uniquely Andalucian cultures, design, and architecture throughout the centuries, so we have designed an itinerary to deliver the best of this along with Seville's classic Tapas and food culture and evening activities.
Among the highlights of our Seville private tour itinerary, you will visit Seville Cathedral, one of the largest Gothic Cathedrals in Europe. You'll also see the Alcazar, a palace built during the Moorish period, and the Patio de la Reina Victoria (Queen Victoria's Patio), where you can relax in the shade of palm trees. You'll also get to experience the flavors of Andalusia, including tapas, paella, and sangria.
Day 1: Seville Sights and Activities
We begin our best of Andalucia itinerary with your guide collecting you from the train station, airport, or your Seville accommodation. With 2 days to spend exploring the city with your guide, our itinerary has been designed so that they can deliver you between the major sites on foot, meaning that you will not need a driver for the Seville portion of your vacation.
Seville Cathedral & Giralda Tower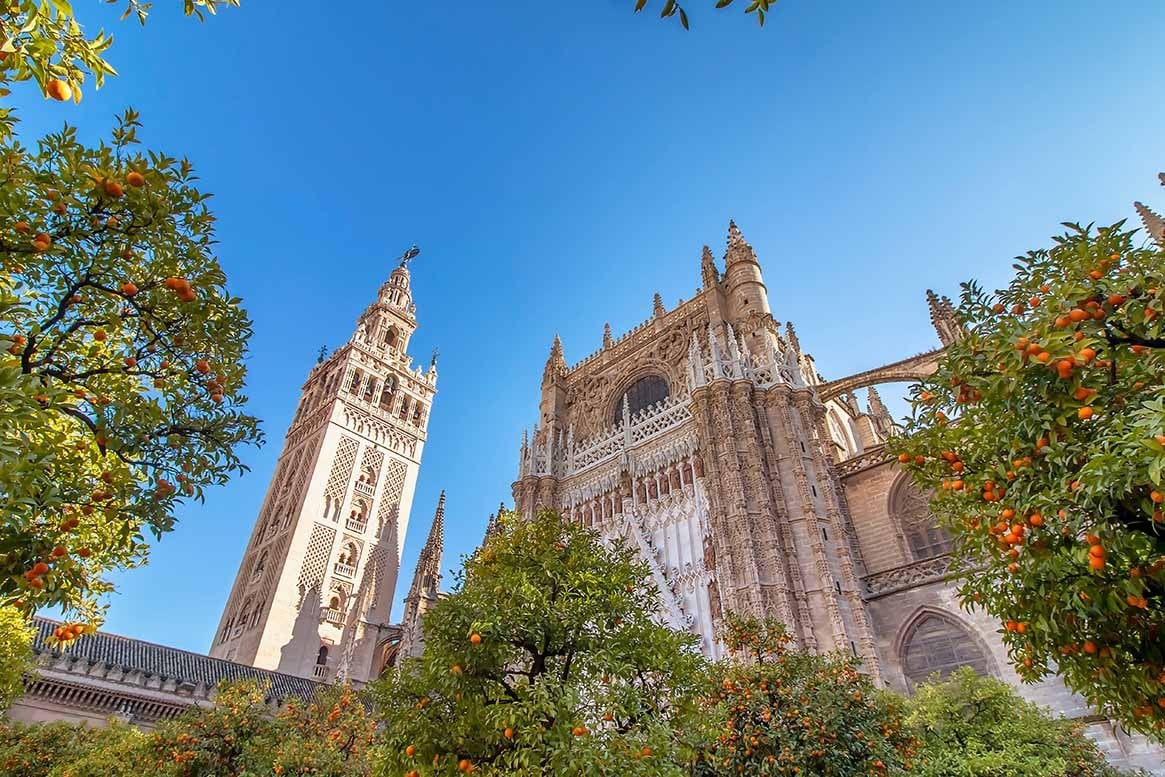 Built in the 13th Century on top of the ruins of an Islamic Mosque to symbolize that Christianity was once again the ruling force in the region, Seville Cathedral is truly a statement piece in every sense, to this day it is the third largest church in the world, and was awarded the status of UNESCO World Heritage site status in 1987. From the original Moorish structure there only remains the Patio de Los Naranjos (the court of Oranges), and the Giralda tower.
On your guided tour of Seville Cathedral, you will visit:
The Tomb of the great explorer Christopher Columbus. Legend has it that Columbus' great voyages continued posthumously as his remains were delivered to the Dominican Republic, then to Cuba, before being returned to Seville in 1895.
The Royal Chapel (Capilla Real), contains the tombs of Ferdinand III who conquered the Moor's last outpost in Spain, and other Monarchs.
The Treasury contains an exhibit of a thorn from the Crown of Thorns placed on Jesus Christ's head
The treasure room and many artworks and paintings by Murillo, Goya, Pedro de Campaña, and more
Exiting the Cathedral you will walk across the Court of Oranges to ascend The Giralda tower, preserved from the original Mosque, the tower was previously one of four minarets and you can climb to the top using the sloping corridor (there are no stairs) to enjoy some wonderful views across the city.
Walking Tour in Barrio Santa Cruz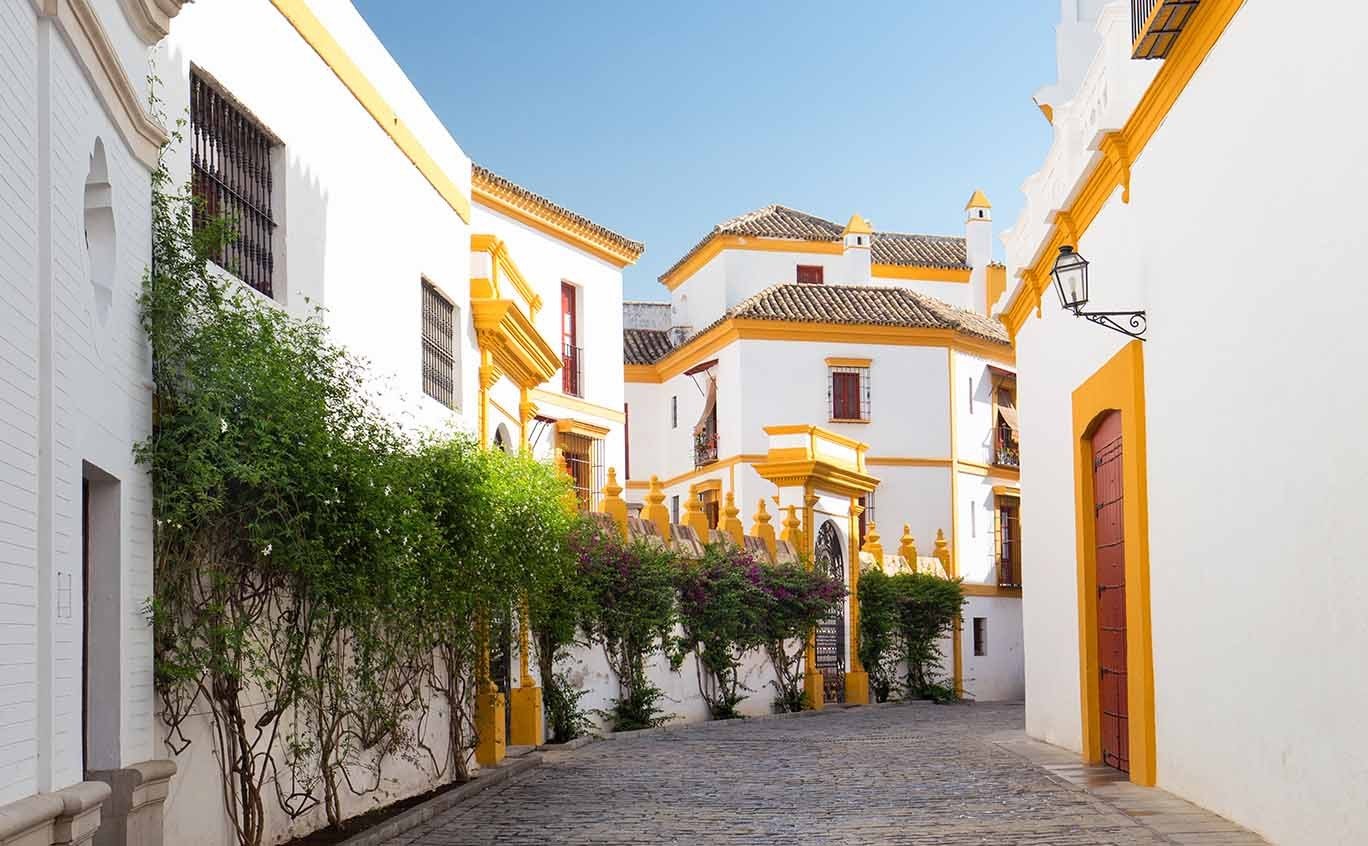 Discover the engrossing history and medieval tales of Seville's historic Jewish neighborhood with your guided tour of the Santa Cruz district. 
Your guide will reveal how Moorish, Jewish and Christian cultures and traditions blend and intertwine throughout the area and discuss their fractious past. Walk with your guide amongst narrow cobbled lanes, ancient streets, and orange tree-lined boulevards as they bring to life centuries of stories and lore from the city's most popular sector.
Highlights in the Barrio Santa Cruz include:
Royal Citadels 
The General Archive of the Indies (another UNESCO World Heritage site)
The City Hall – The Casa consistorial de Sevilla.
Hospital of the Venerables
Real Alcazar Private Tour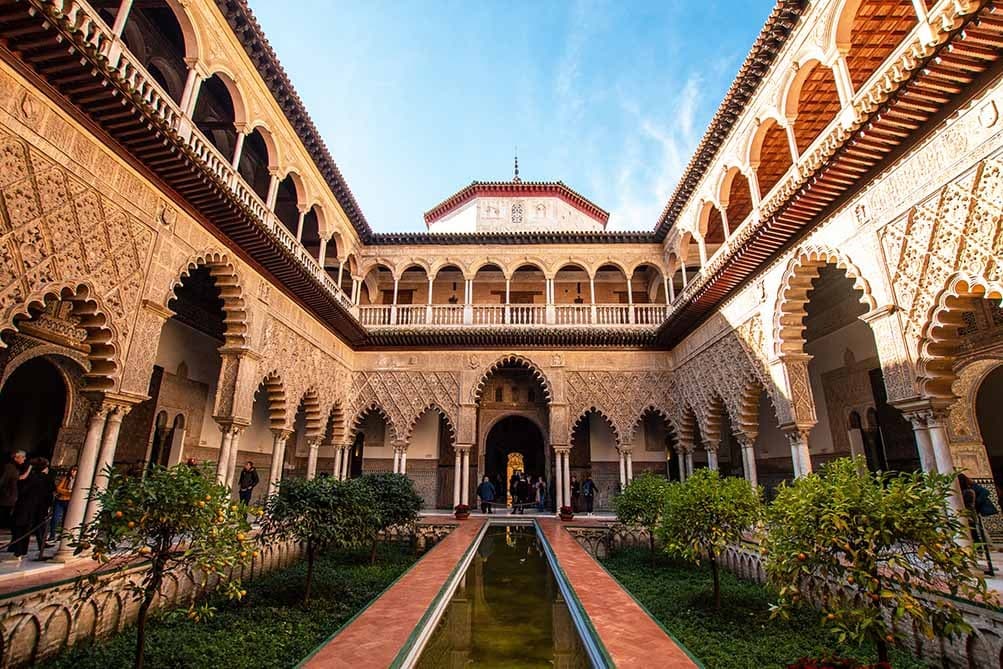 The Alcazar is the third UNESCO World Heritage site we have included in your first of 5 days in Andalucia itinerary.
This Royal Palace or Reales Alcázares can trace its history back to the Middle Ages when the Moorish Palace al-Qasr al-Muriq was destroyed and a new structure was built in its place for Christian king Peter of Castile in 1248. To this day it is still an official residence of the Spanish Royal Family, making it the oldest running active royal residence in Europe.
On your Alcazar of Seville private tour you will visit:
The Hall of Ambassadors: Formerly the Throne Room, this awe-inspiring gold-domed structure is said to symbolize Heaven and Earth.
Baths of Maria de Padilla: Recognizable from the series Game of Thrones, the arches that hang over the baths give the space a deeply atmospheric and almost haunting ambiance.
Alcazar Gardens: Walk in the footsteps of generations of Royalty who took time out to enjoy the lush green flora, fountains, and ponds.
The Royal Apartments: a collection of 11 historic rooms, still in use today by the Spanish Royalty.
Amazing experience! My husband Douglas and I just came back from a 10 days customized guided tour to Morocco organized by Emily from Guided Spain. It was an amazing trip. Our driver Youssef met us at the Casablanca Airport and he quickly became our guide, security guard and guardian angel! When I got sick he got me medicine and he always found the best toilets when we were on the road. Also, ice cream! We feel that we got the authentic Morocco experience with the riads (hotels) that Emily chose for us and the guides in the different cities we visited. The Merzouga Luxury Desert Camp was totally amazing as well as the visit with the Nomads,and the medinas. This is our second trip with Emily and as the first one, it was excellent. Our next one will be Portugal!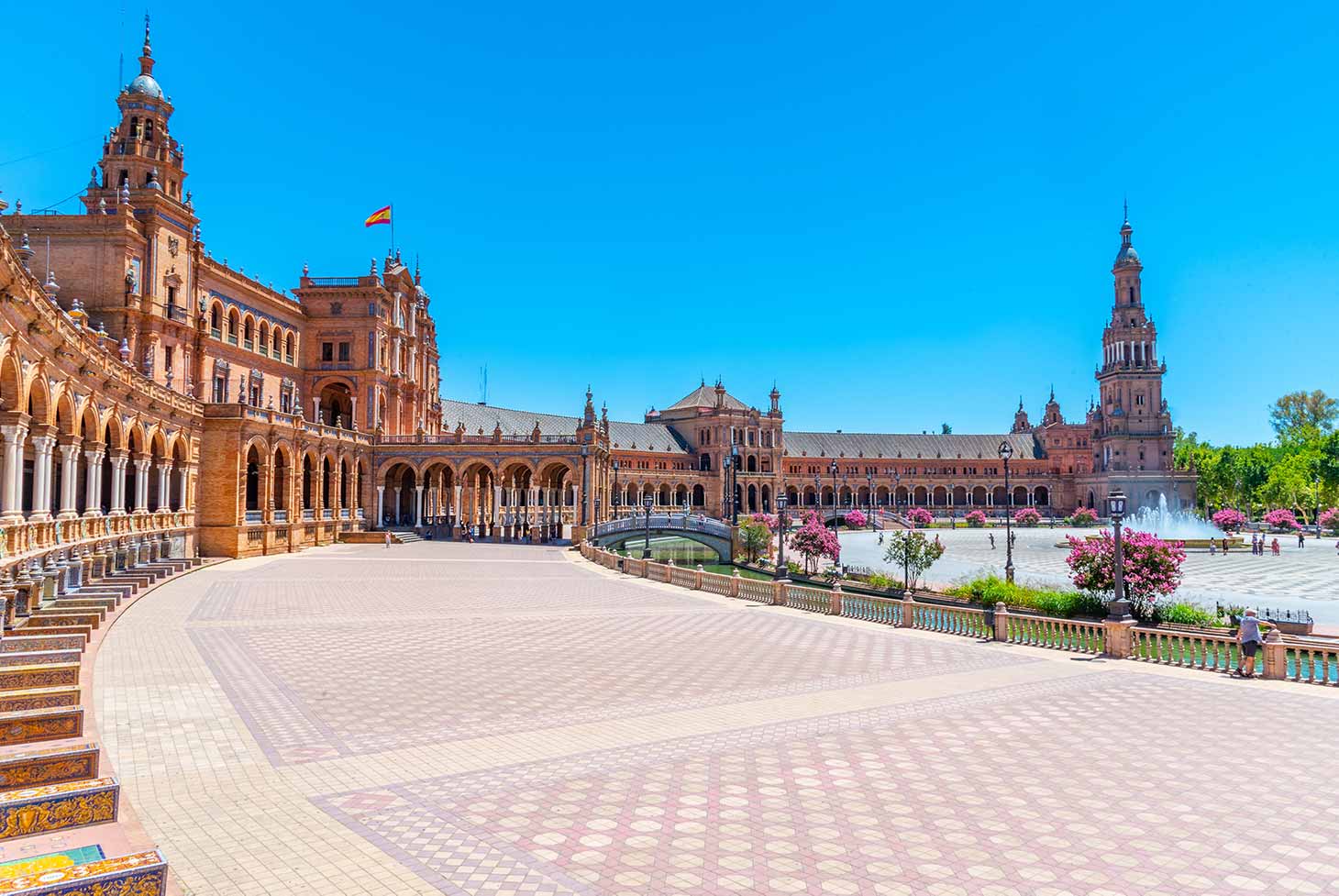 Similarly to our first day in Seville, we have prepared your second day so that all of the sights and sounds of the city can be visited on a walking tour with your guide.
On the second day of our best of Andalucia in 5 days itinerary we recommend you visit:
Constructed to display Spanish Renaissance and Moorish revival style architecture for the Ibero-American exhibition. The tile mosaics, looping arches, and towers on display have led to the Plaza de Espana gaining a reputation as one of the most attractive squares in Spain.
The Plaza de Espana is located just outside the grounds of Seville's most famous park, the Parque de María Luisa. Enjoy a relaxing stroll amongst the greenery and along the banks of the Guadalquivir River.
Known as The Museo de Bellas Artes de Sevilla in Spanish, this is the premier Art gallery in Andalucia. Here your guide will take you to explore artistic works spanning from the Middle Ages, through the Spanish Renaissance, all the way up to the 20th century. Some of the masterpieces to spend time with your guide admiring include works by Francisco de Herrera, El Greco, Velásquez, José García Ramos, and many more.
The Plaza de Toros de Sevilla, constructed in the 18th Century with a gorgeous Baroque facade, is one of the most historic bullrings in all of Spain, and hosts the largest bullring event in the calendar during the festival week, Feria de Abril. To learn more about the history and pageantry of the sport you can go inside to experience the "Museum of Bullfighting".
Guadalquivir Boat Trip with Tapas
We end our two days in Seville with a relaxing private boat trip along the Guadalquivir river. During the journey, you will be supplied with a selection of Spanish Tapas and Wine.
Excellent Individualized Tour Company for People who do not want to go on Package Tours. I used Emily to arrange a tour of Southern Spain in January, 2020 for 4 people. It turned out to be great. What I do not like is being shepherded around to cheesy tourist sites and waiting in lines of tourists. Emily arranged for very competent and efficient drivers, fantastic guides, very good hotels and even recommended restaurants for each location. The best thing about using Emily is that when she arranged for (at my request) wine tastings, olive oil tastings, a flamenco show is that all of them were authentic and interesting and none of them were contrived or cheesy. While on the trip, she checked in and made sure everything went smoothly. When we went to the Alhambra or other ticketed sites, we always got to skip the line due to Emily. There was one overall price per person (depends on double/single room) that I felt was very fair for the level of service provided.
Day 3: Driver-Guided Trip to Ronda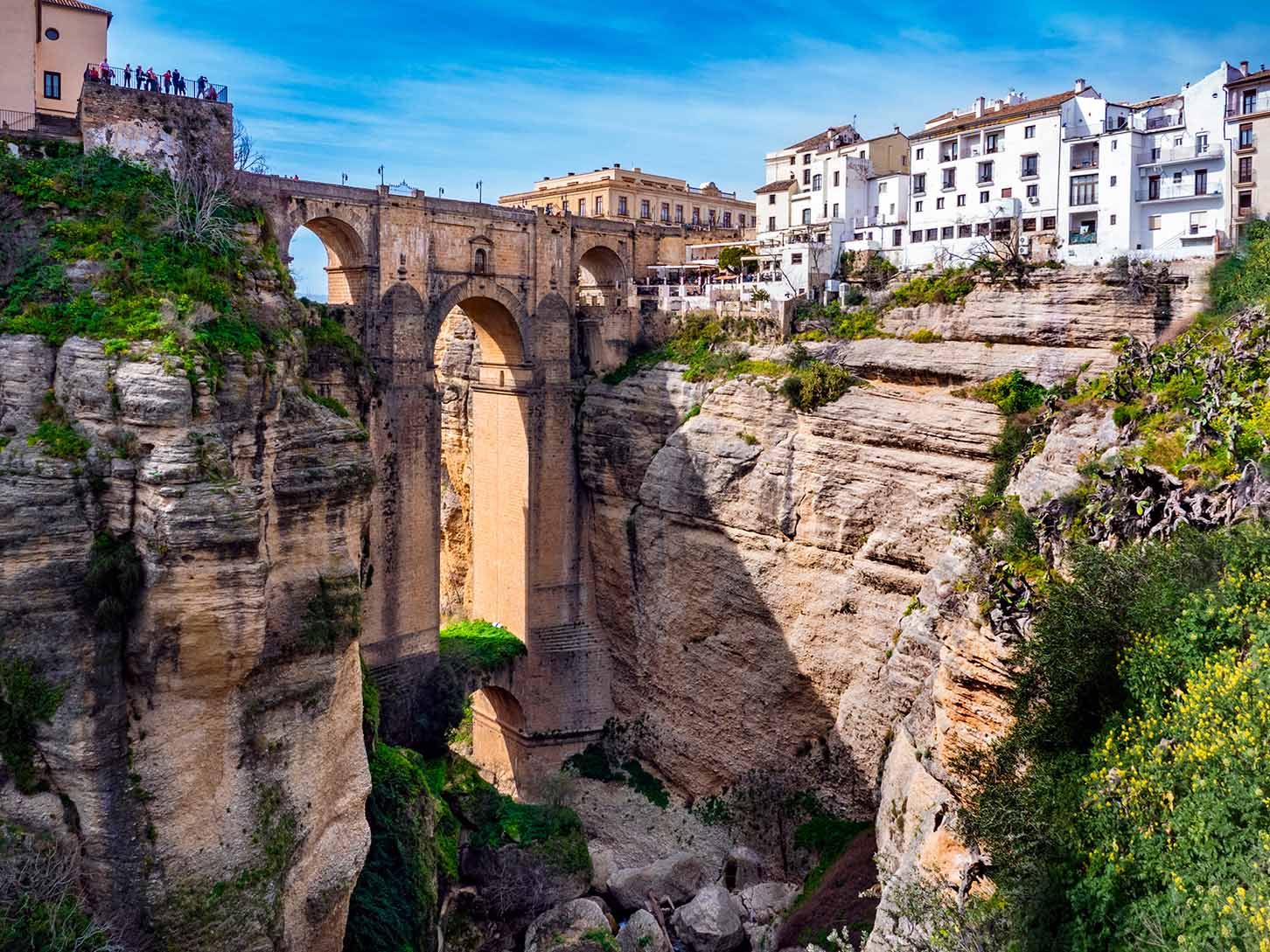 In the morning you will join your private driver guide as you make the 1hr 45 scenic journey from Seville to the picturesque town of Ronda in the comfort and luxury of our executive class vehicle.
The gorgeous mountaintop city of Ronda stands atop the deep River Guadalevín gorge and is surrounded by breathtaking scenery.
Ronda is widely regarded as one of the most stunning "white villages" or Pueblos Blancos in Andalucia, and one look at the whitewashed buildings cascading down the mountains will make it immediately clear why this city is held in such high regard.
Ronda is a bustling town with a rich history dotted with outlaws and Bandoleros from the ancient Roman era through to the 20th Century, and can even lay claim to being the birthplace of Spanish Bullfighting as we know it today. Join your guide and discover why legends such as Ernest Hemingway and Orson Welles (who were buried here) fell in love with Ronda.
Sites around Ronda's historic old town include:
This Royal palace, dating back to 1314, was used as a residence for King Ferdinand and  Queen Isabella when in the city.
Duchess of Parcent Square
This beautiful little square contains the St Mary Major Church, resplendent in its combination of Renaissance and Gothic style architecture and design.
Ronda is proud of its bandit history which has seen many Robin Hood-style 'steals from the rich to give to the poor' style stories featuring bullfighters, flamenco singers, and of course smugglers. Learn about this side of the city by visiting the Bandit Museum to see if you can sort facts from legend!
Ronda Bridge, The Puente Nuevo
Many of our guest's rate Ronda as a must-see on their Andalucia tour for the views of the Puente Nuevo bridge. Towering over the El Tajo gorge at a height of 322 feet and constructed in 1751, your guide will take you to the best locations to appreciate the stunning views provided both below and overlooking the bridge.
A favored destination of Ernest Hemingway when on his travels here, the Ronda Bullring is an 18th-century structure where the Rondeño style of bullfighting was invented. Moreover, going back in history even further than that, the Real Maestranza de Caballería de Ronda (Spain's oldest horsemanship society) was founded in the city in the same year that King Ferdinand and Queen Isabella restored Christian rule to the region.
Discover what life was like in the 13th -16th century when the region was under Moorish rule when you visit the ancient Arab Baths, said to be the best preserved in all of Spain.
After enjoying a classically Andalucian-style meal in Ronda's old town, your driver will return you to your Seville-based accommodation in the evening.
On the morning of day 4, you have the option of joining your private driver for a 2-hour trip to Malaga, or you can take the high-speed train which will get you there in just under 2 hours.
The city of Malaga has beautiful beaches, great food, and friendly locals. There are also plenty of things to do such as visiting the famous Roman relics and Moorish Alcazaba, going hiking, or exploring the old town. If you want to relax after visiting the beach, then head to one of the many bars where you can sip on sangria while listening to live music.
Naturally, given its harbor location, Malaga is famous for its excellent fresh fish and seafood. Your private guide can take you on a food market, tapas, and wine experience to ensure you are sampling the finest and freshest available produce. 
Between meals, you can enjoy a Roman amphitheater and above it up the steep hill, is Málaga's Alcazaba, a palatial Arab fortress built in the 11th century by the Moors.
Furthermore, although perhaps more synonymous with Barcelona, did you know that Picasso was actually born in Malaga? Discover more about one of Malaga's most famous sons, and indeed, one of the world's most renowned artists on a guided tour of the grand Picasso museum just a short walk from the bay.
Malaga's food scene is well renowned, and our tour planning specialists will consult with you ahead of time to recommend the best option for your evening meal and entertainment. Whether your preference is for 5-star Michelin dining or more rustic traditional fare, we will suggest just the right place to suit your needs!
On your penultimate night in Spain, you will stay in centrally located Malaga accommodation.
Best Tours from Emily! Words can't express how grateful it was to be able to call on Emily for help with some excursions in Spain. Emily, thanks soo much. You're the BEST!!!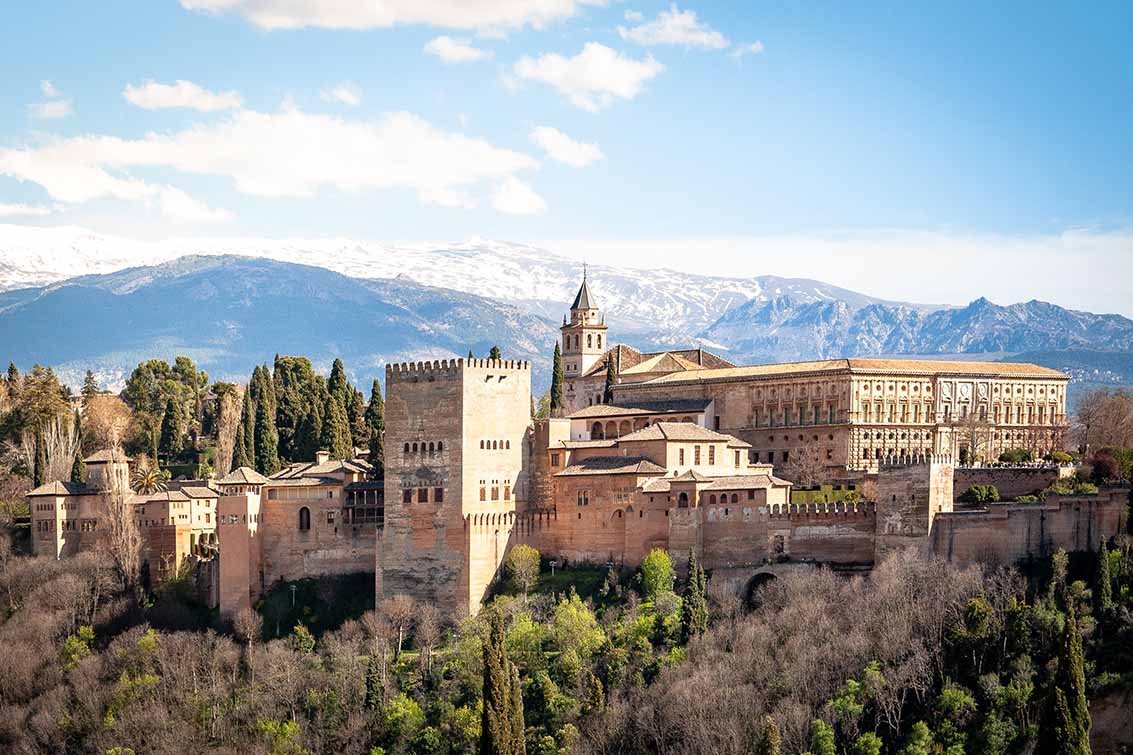 Granada is an enchanting city that lies just an hour and a half North of Malaga.
With almost 3000 years of history packed into this impressive and charming town that lies at the foot of the Sierra Nevada, your guide will make the tales of famous battles, Royalty, historic figures, and unique culture that emerges from the confluence of  Christian, Jewish and Moorish influences and traditions sparkle into life and brought into focus for you as you walk the cobbled lanes, mountainside villages, and grand Moorish palaces where history was made.
Whilst Granada has many sights of interest and fascinating cultural enclaves to visit with your private guide, the undoubted highlight is the UNESCO World Heritage site that is the Alhambra. The spectacularly well-preserved last Moorish outpost in Spain before the kingdom was united under Christian rule which then underwent further alterations to blend with Catholic traditions. 
Must see Granada Locations:
This magnificent palace originally constructed between 1238 – 1358 and resultantly updated after the war of Granada, combines its Moorish origins with Spanish Renaissance Architecture. Allow your guide to bring to life the centuries of history, wars, and famous historic characters as you explore the complex together. On your private tour, you will visit the Nasrid Palaces, Medina (the remains of the residential district), The Alcazaba, and Generalife Garden.
The Royal Monastery Of Saint Jerome
The first Christian holy building to be constructed after the Christians took control of the city in 1492. Step inside with your private guide to explore the intricacies of the Gothic-style architecture and design.
The Museu de Arte e Cultura (Museum of Fine Arts)
This gallery and museum are located in the Palace of Charles V and feature works by artists including Juan Sanchez Cotan, Alonzo Cano, and Mariano Fortuny.
A classic bullring venue in neo-Mudejár architecture, which has been used to hold concerts.
This concludes your best of Andalucia in 5 days itinerary. You have the option of either joining your private driver to take your luggage to the airport, or you may choose to spend a final night in Granada before your driver collects you the following morning to transfer to the airport.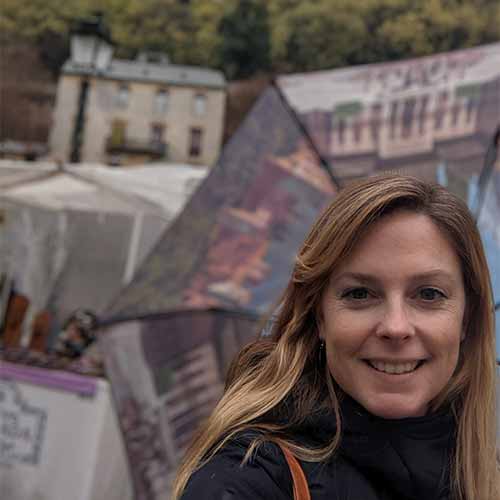 Say Ola to Emily, your personal tour planner at Guided Spain Tours. Get in touch by filling in the form below and requesting your complimentary itinerary!
Contact Us For Your Free Itinerary For Andalucia, Spain, & Beyond!
The above is an excellent introduction to Andalucia if you only have 5 days to spend on vacation. Our passion, however, is to create custom tours tailored to each and every individual guest's tastes and requirements.
To receive a complimentary tour itinerary for your Andalucia adventure, simply contact our specialist tour planners using the form below. We can alter any detail of the above tour for you free of charge, add or remove exclusive experiences and even build in additional days to include remarkable destinations like Toledo, Cordoba, El Caminito del Rey, and much more besides!
Highly recommend Emily! Emily created a personalized itinerary for us in southern Spain. She was very knowledgeable about the region, attentive, and personable. She returned emails properly, and was a pleasure to work with. Emily was flexible and did not make mind making changes in the itinerary-- Her goal is to please her customers!
Emily is GOOD! Emily arranged a 14 day tour for us in Spain at short notice of a week or so. The whole tour was beautifully organized, amazingly flexible and the rare glitches were attended to and addressed, literally instantly. For sure we will be back for further tours with her. Thanks, Emily.
Best Tours from Emily! Words can't express how grateful it was to be able to call on Emily for help with some excursions in Spain. Emily, thanks soo much. You're the BEST!!!
Spain and Portugal trip: Emily did an amazing job Of setting up our trip through Spain and Portugal. All of our tours were outstanding and personalized. We had a wonderful time!
Private Tour: Emily is a pleasure to work with. She arranged hotels, activities, tour guides and transportation in Barcelona, Madrid, Segovia, Toledo, Cordoba, Avila, Seville, Malaga, Gibraltar. She was extremely responsive when we had questions and made sure that everything flowed smoothly.