16 Day Spain & Portugal Tour
Your 16-Day Tour of Spain & Portugal
Want to combine the best of Spain and Portugal in one seamless 16-day private tour? Here at Guided Spain and Portugal, we have enlisted the help of our tour planning specialists to put together the best of these two Iberian jewels into one succinct tour.
Of course, no tour can suit the needs of all our clients, which is why we will always work with you to customize every aspect possible to ensure the greatest tour experience possible for you on your 16 days in Spain and Portugal vacation.
Day 1 & 2: Guided Tours of Madrid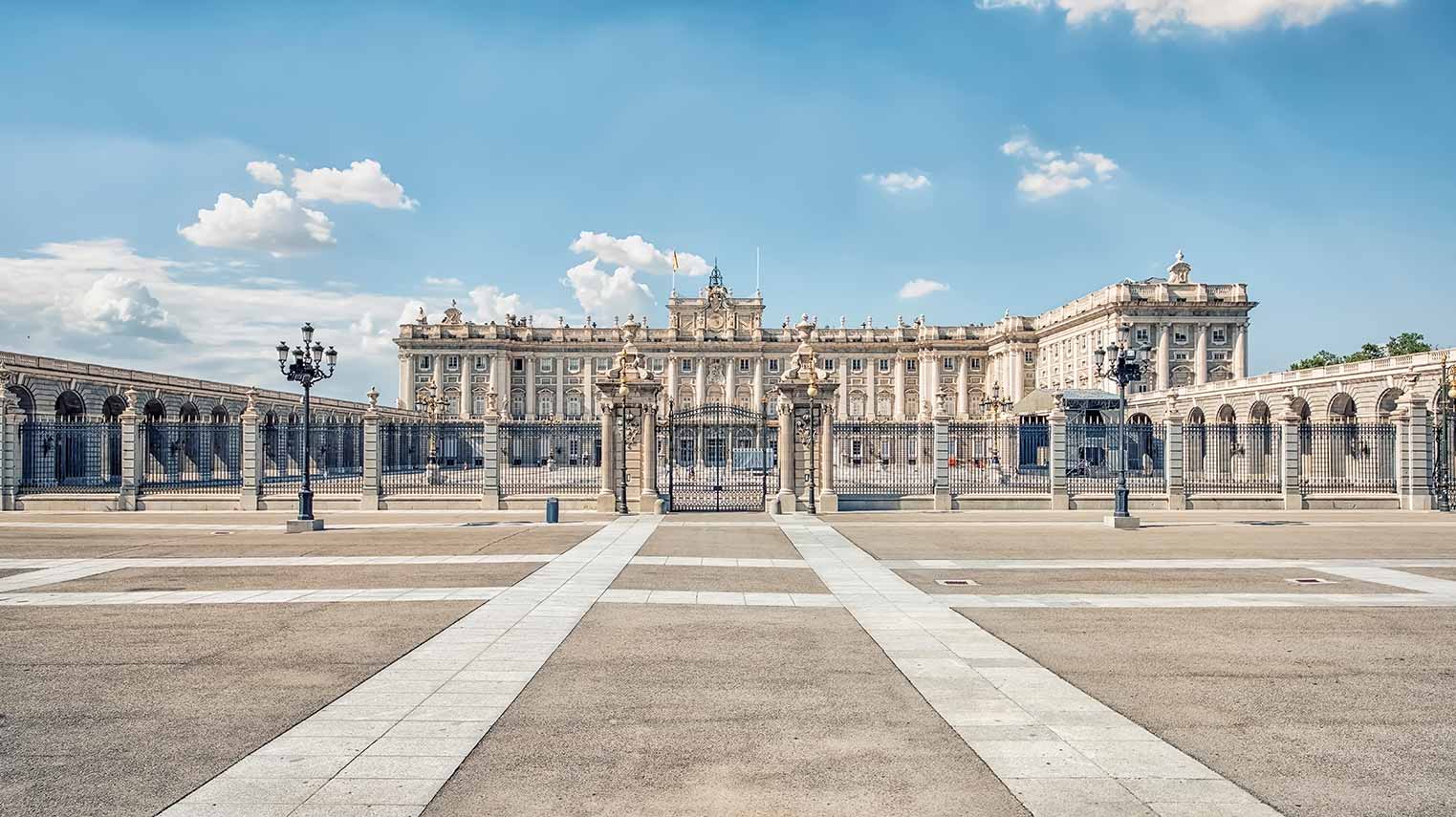 Where better to begin this comprehensive itinerary of Spain and Portugal than in the Capital and royal city of Spain, Madrid.
Your guide will take you on a journey from the medieval and imperial glory all the way up to modern life in Madrid as you visit some iconic sites & discover timeless traditions in between.
Sites Included On Your Madrid Guided Tours:
Royal Palace
Neptune Fountain
Plaza Mayor
San Miguel Market


In the evening of your second night, you can take a stroll around the La Latina neighborhood and enjoy a drink in a rooftop bar watching the sunset before you are transported back to your central Madrid hotel for the evening.
Day 3: Madrid - Toledo - Bailén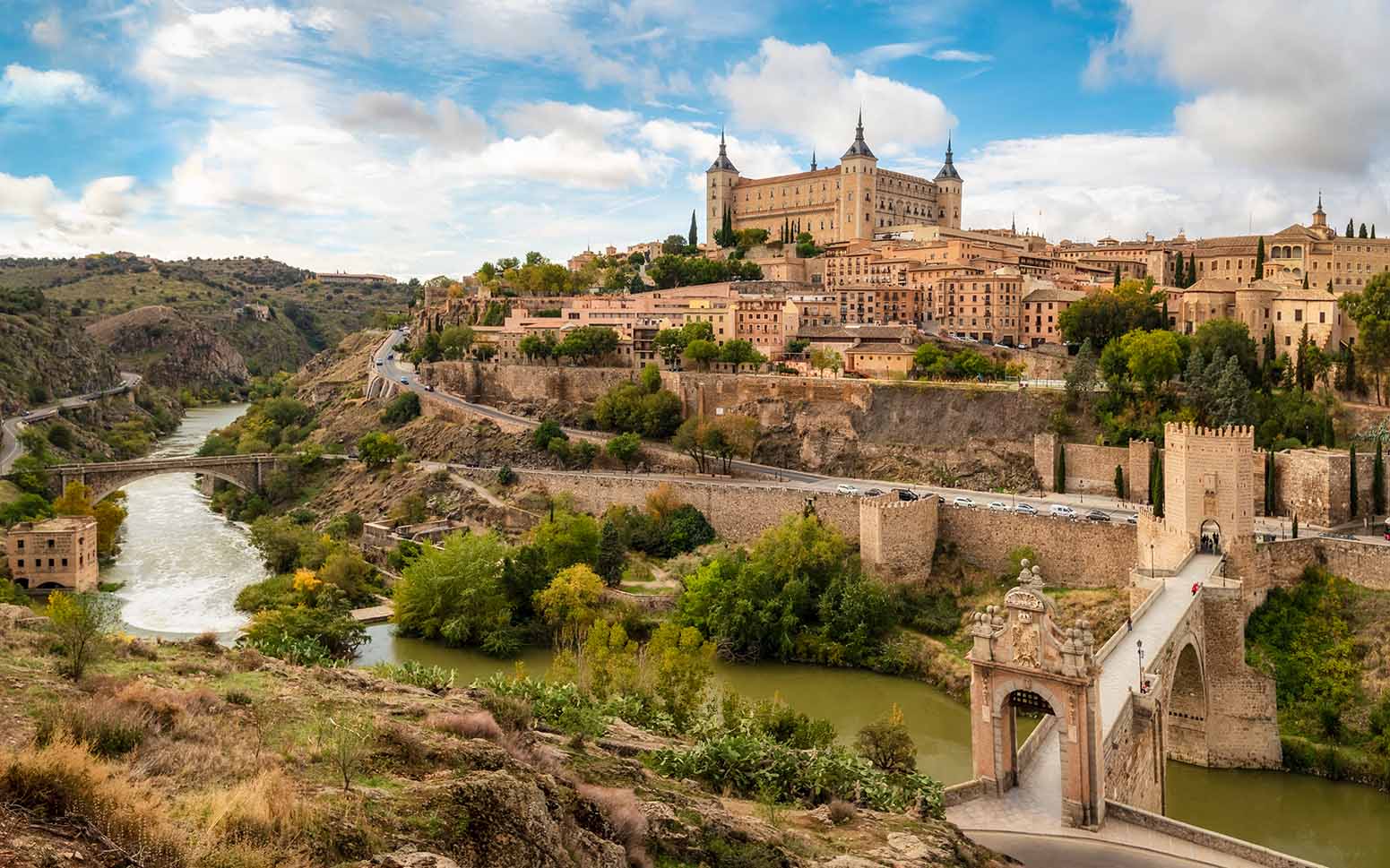 Your driver-guide will arrive promptly in the morning to pack your luggage into our luxury vehicle as you make the short one-hour drive to Toledo.
Toledo was previously the Capital of Spain and now with your private guide, you can discover Medieval heritage, and UNESCO-listed sites, and have those historic legends brought to life as your guide reveals the secrets held within the sacred walls of the monuments you will visit here.
Enjoy skip-the-line access for a private tour of the famous 13th Century medieval Cathedral, resplendent in ornate high Gothic style.
Alongside the Christian presence, the Jewish influence is strong in Toledo with two synagogues: Synagogue El Tránsito and the Synagogue of Santa Maria La Blanca.  The former houses a small Sephardic museum and the latter has some of Spain's most beautiful Mudéjar arches. 
In the early evening, your driver-guide will deliver you to the town of Bailen. An important site that served as a turning point during the Battle of the Peninsular War in 1808 when the Spanish defeated the Napoleonic Army.
Enjoy a walking tour of the city at night before retiring to your central Bailen hotel for the night.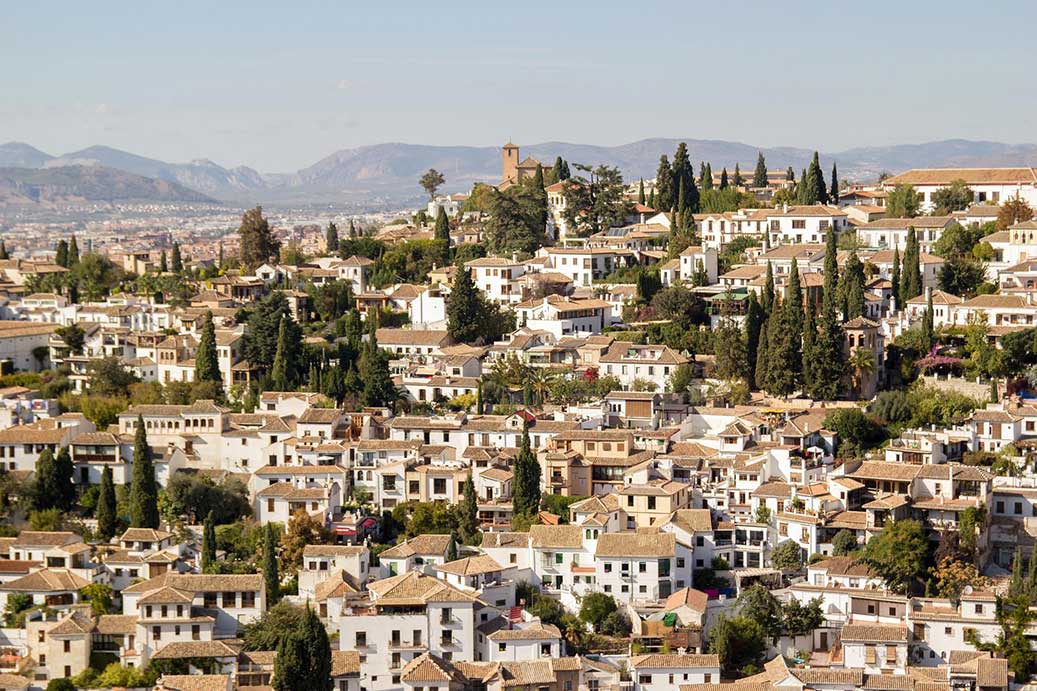 After collection from your chauffeur and driver-guide in the morning, you will be in Granada in just one and a half hours, reveling in one of the most gorgeous and historically rich cities in all of Spain.
Set against the stunning backdrop of the Sierra Nevada Mountains, Granada retains an old-world charm that is disappearing from a lot of Spain. Indeed, here the tradition of free Tapas in local bars and restaurants is alive and well, whereas this pastime died out in the rest of Spain long ago.
Granada is home to incredible Moorish architecture and your first evening will be spent on a private walking tour with your guide around the old Arab quarter of the Albaicin.
Best Tours from Emily! Words can't express how grateful it was to be able to call on Emily for help with some excursions in Spain. Emily, thanks soo much. You're the BEST!!!
Day 5: Granada - Alhambra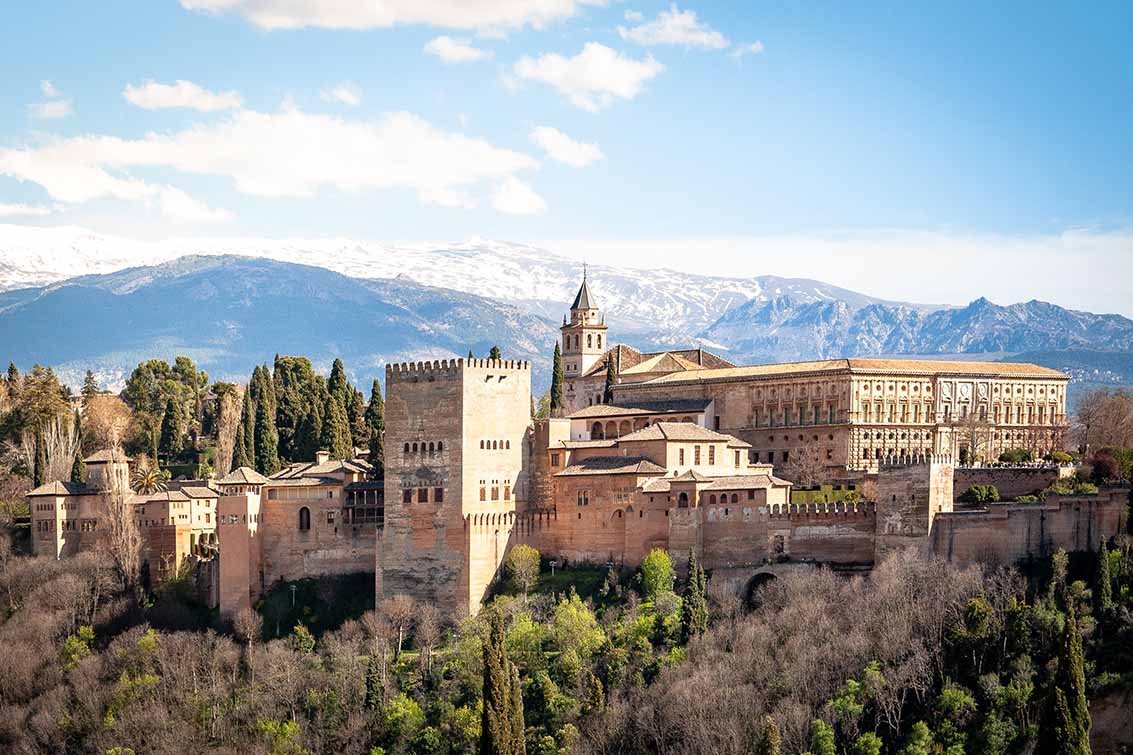 The crown jewel of Granada, and perhaps of Andalucia entirely is the Alhambra, and today you will enjoy a skip-the-line access tour to this absolutely majestic Moorish palace.
The original construction began over 1,000 years ago, and the Alhambra palace is one of the most spectacular sites to visit for ancient art and architecture. Moorish poets described it as "a pearl set in emeralds". Simply a must-see when visiting Granada Spain.
Granada is also the birthplace of the Flamenco dance, and your evening will be spent enjoying the art form in one of the traditional Flamenco caves – not the name of a club, the venue is actually set in a mountain cave!
Just a brisk one-and-a-half-hour drive from Granada, your driver will arrive at the birthplace of Picasso, Malaga!
Naturally, we will want to pay homage to the city's most famous son, so our first stop will be a private guided tour of the Picasso Museum, where you will find some of his most famous work, including Olga Kokhlova with Mantilla, Mother and Child, and Portrait of Paulo with white hat.
Perhaps Malaga's most famous monument, however, is the 11th Century fortress built by the Moors, The Alcazaba. Alongside exploring the courtyards, patios, fountains, and sumptuous gardens, The Alcazaba offers some of the most stunning sea views to be found in Malaga.
In the evening we would suggest sampling some of the fresh seafood on offer in the local bars before retiring to your Malaga Hotel for the night.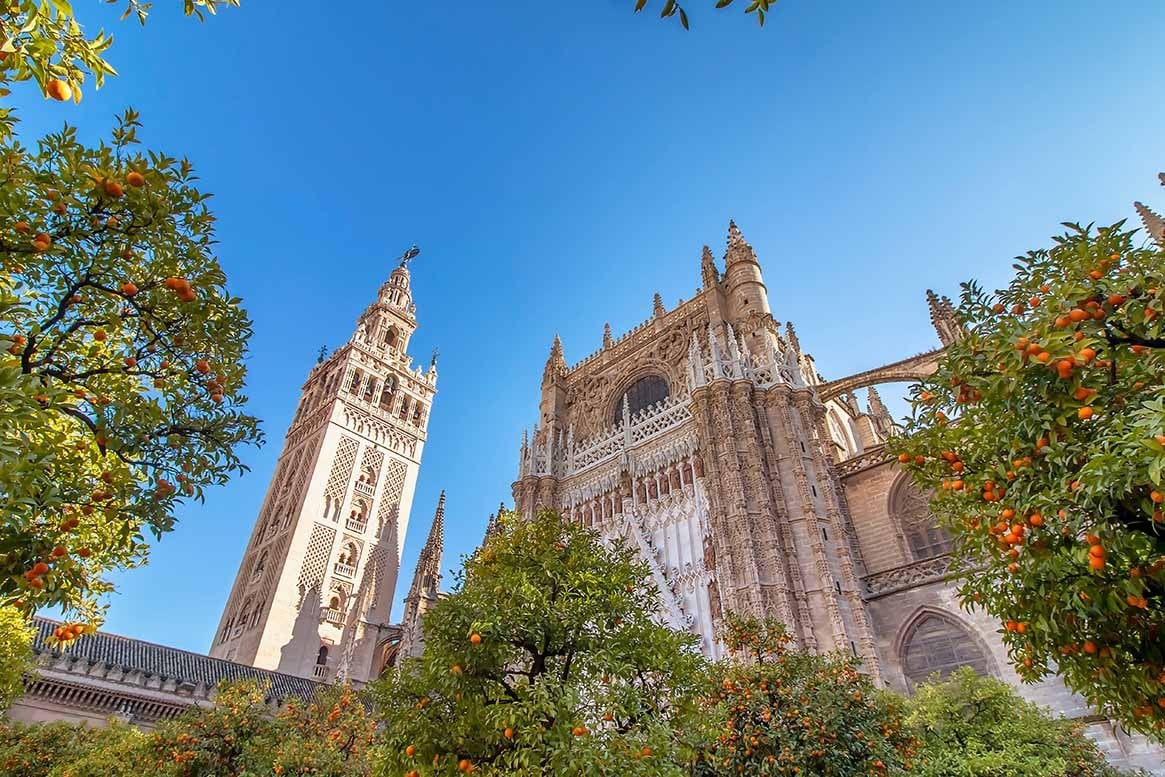 Before setting off with your driver-guide again, we will enjoy the sunrise in Malaga while we savor a simple Spanish breakfast to get us prepared for the two-and-a-half-hour drive to sunny Seville!
Seville is a beautiful, historic river city and the capital of southern Andalucia.  Enjoy an eclectic mix of Moorish, medieval, renaissance, and gothic architecture.
On your guided tour of Seville you can explore:
The Royal Alcazar
Seville Cathedral
Plaza de Espana
La Giralda
Torre del Oro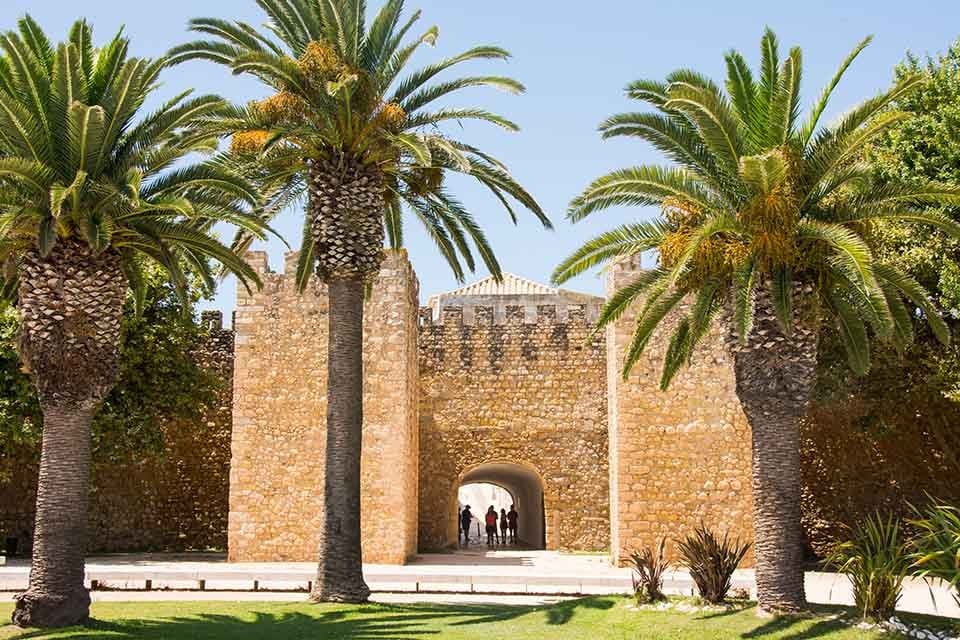 This morning you and your driver-guide will cross the border into Portugal and the sunny Algarve coast. While we may be crossing into a different country, Seville is just a 2hrs 50-minute drive from your destination in beautiful Lagos.
The Algarve is known for the rugged natural beauty of its coastal cliffs, coves, and beaches. It is awash in the sunshine for nearly 3,000 hours each year. And with cool Atlantic waters lapping at the region's shores and an eastern mountain border blocking out hot, dry winds from the north, growing conditions for fresh, flavorful fruits, vegetables, and herbs are excellent.
The Algarve is all about relaxation so our suggested activities are at a nice leisurely pace!
Discover murals in the historic city center
Boat trip to the caves
A long beach walk on Meia Praia
Sunset at Porto de Mós
Eat fresh fish in one of the many restaurants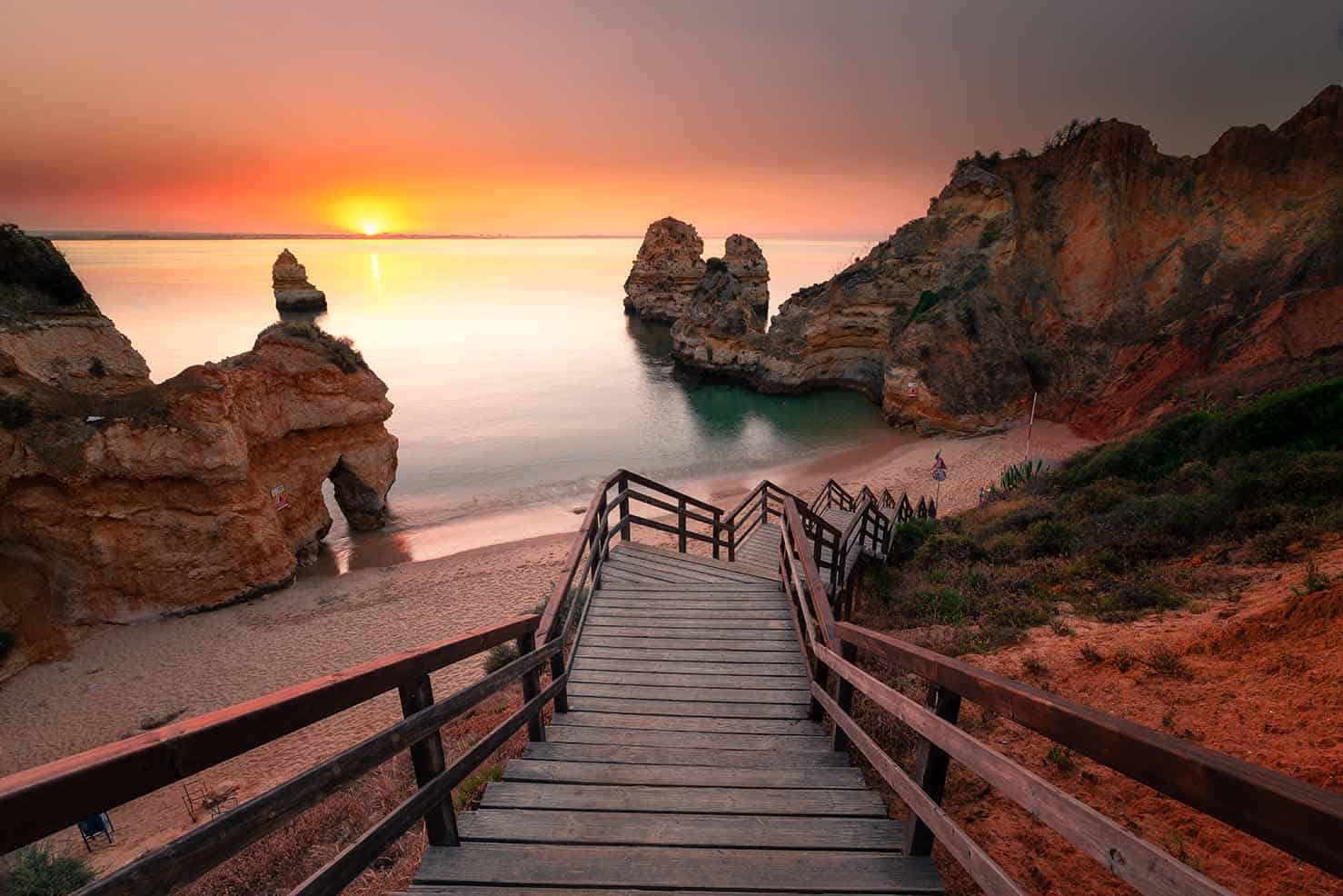 We have designed day 7 of our 16 days combined Spain and Portugal itinerary to be free to allow you the maximum rejuvenation time and to freely enjoy the warm waters of the Med lapping up to your feet as you bliss out on Lagos' white sandy beaches. For activities, you may wish to purchase ice cream!
In all seriousness, should you wish to go scuba diving or explore caves, scuttling across the rocks at the waterfront, simply let us know in advance and we will ensure everything is arranged and booked for you.
Amazing experience! My husband Douglas and I just came back from a 10 days customized guided tour to Morocco organized by Emily from Guided Spain. It was an amazing trip. Our driver Youssef met us at the Casablanca Airport and he quickly became our guide, security guard and guardian angel! When I got sick he got me medicine and he always found the best toilets when we were on the road. Also, ice cream! We feel that we got the authentic Morocco experience with the riads (hotels) that Emily chose for us and the guides in the different cities we visited. The Merzouga Luxury Desert Camp was totally amazing as well as the visit with the Nomads,and the medinas. This is our second trip with Emily and as the first one, it was excellent. Our next one will be Portugal!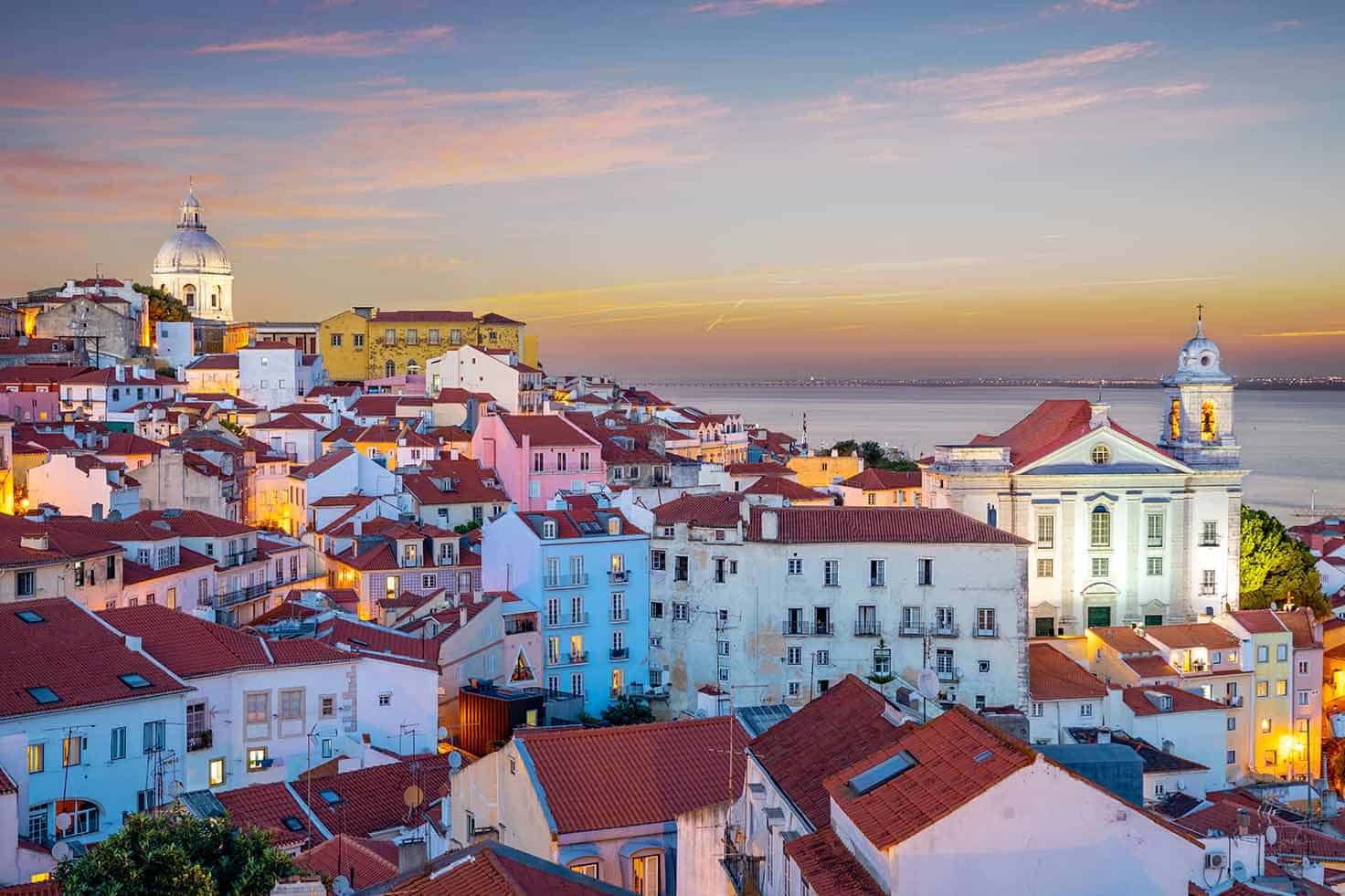 Lovely Lisbon is a scenic 3-hour journey from Lagos. Brimming with historic charms and an alluring combo of glorious architecture, deep-rooted traditions, kind locals, and thoroughly modern flair, Lisbon has gained a reputation as one of our guests' favorite destinations in Iberia
Famously built on seven hills, Lisbon's terra-cotta-roofed homes, turreted castles, cathedrals, and gleaming white basilicas appear to tumble down the cobbled slopes towards the glimmering River Tagus. Besides walking, you can explore Lisbon on antique, rattling streetcars, modern tuk-tuks, and Segways.
We have planned 2 days for you in Lisbon with your private guide to enable you to visit:
Jerónimos Monastery
Monument to the Discoveries
Belém Tower
Rossio Square
Santa Justa Lift
Rua Augusta
Commerce Square
The Alfama District
Castle of St. George


Day 12: Lisbon to Coimbra to Porto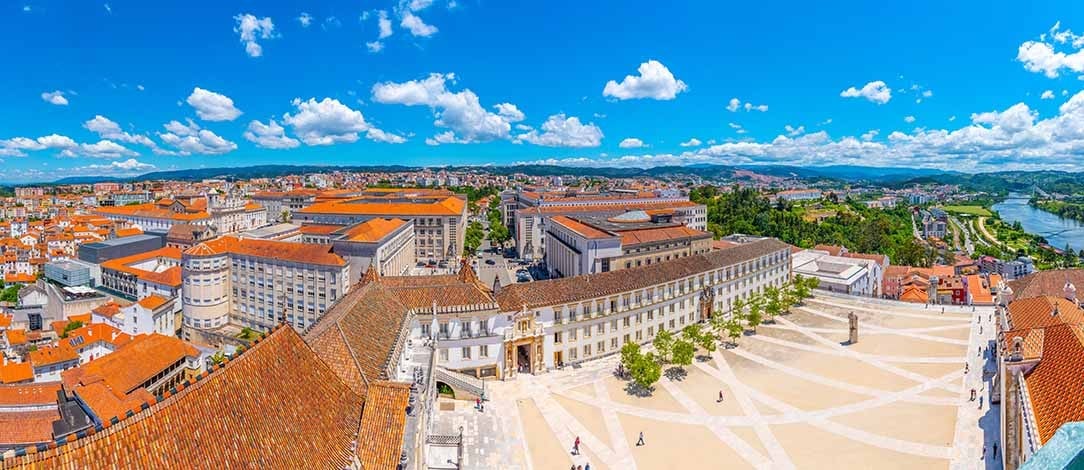 Your private driver-guide will collect you in the morning to make your way to Porto – the country's second-largest city. This is a long drive, so we will stop for lunch in the fascinating town of Coimbra, the medieval capital. 
In Coimbra, you can:
Visit the Old Cathedral and Almedina Arch
Explore The Centuries-Old University of Coimbra
View the Joanina Library
Enjoy a classic Coimbra lunch of Lamb Stew


We will arrive in Porto in the early evening and your guide will take you to your luxury accommodation before dropping you off for a well-earned 5-star dining experience in the city center to round off the day.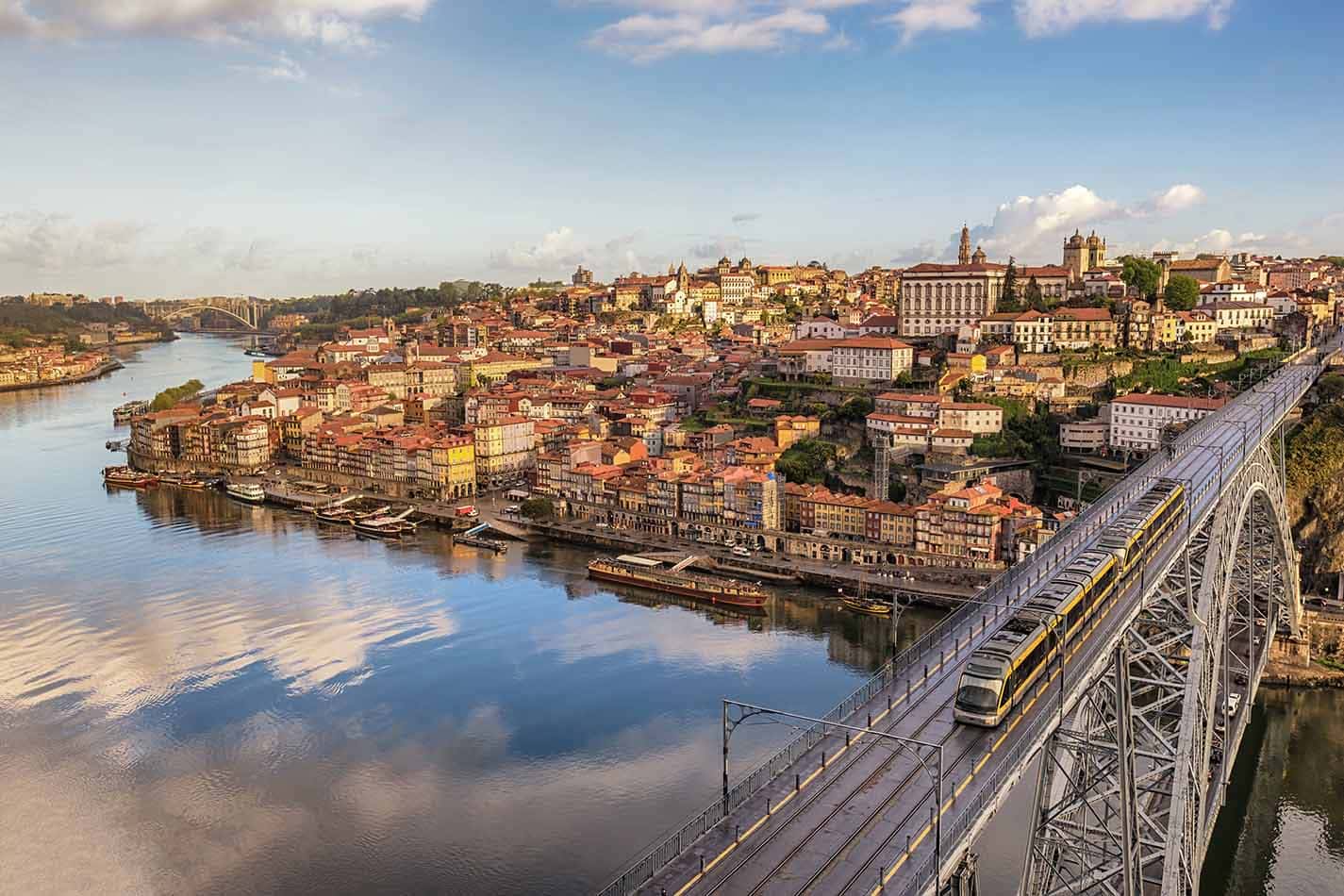 Porto sits on the Atlantic and the Douro River. It is relatively unspoiled, retaining a jumble of historic architecture in its undulating old town. But it is also a city of parks and gardens and the occasional flash of ultra-modern architecture. Porto is synonymous with the port wine trade, which has been dominated by the British. Hence an architectural peculiarity of Porto.
Truly exploring Porto in one day is a tough task, but all things permitting, your private guide will endeavor to take you to visit:
Cais da Ribeira
Livraria Lello
Carmo and Carmelitas Churches
The Azulejos
Dom Luis Bridge
Palácio da Bolsa
Praça da Liberdade
Casa da Musica
Foz do Duro
Porto Cathedral
Clerigos Tower
Sao Bento Train Station
Church of Sao Francisco


Day 14: Evora day trip from Porto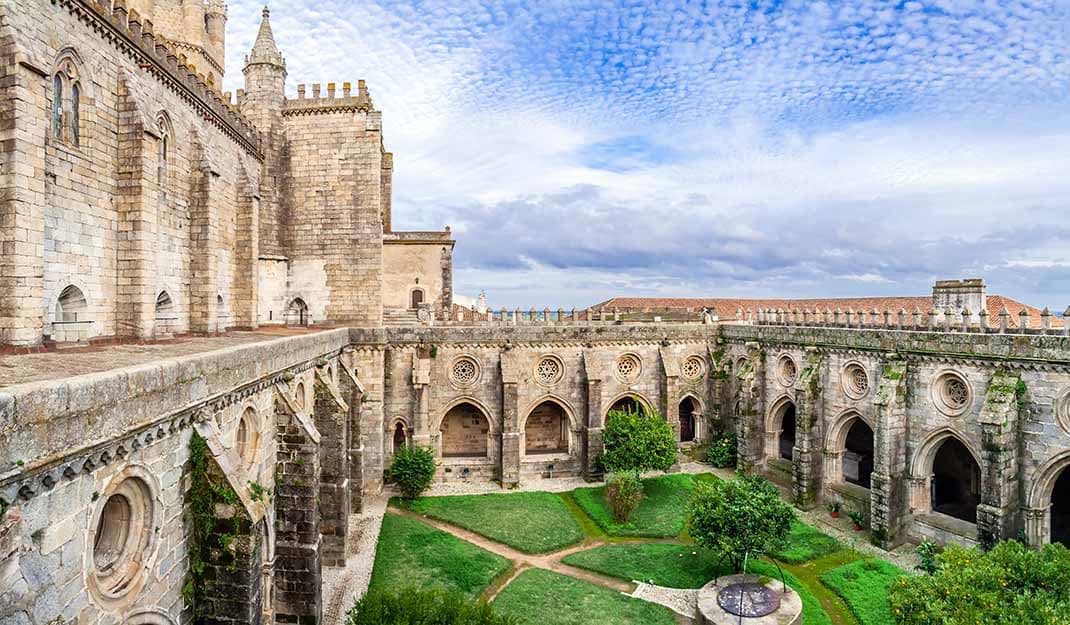 Overlooking the Altenejan plains, the city of Evora was once the home of ancient Portuguese kings. The whitewashed façades of its old houses, the marble fountain in the centric Giraldo square, its cobbled narrow streets, the vestiges of the old wall, the Cathedral or Diana's Temple, the remains of its old Jewish quarter or São Francisco church are examples of the wonderful historic heritage of the city. In addition, in Évora we can also taste Alentejan traditional convent sweets. 
Throughout our exploration of this marvelous town, we can also see in its streets, churches, and corners, the traditional Portuguese tile. In many cases, the processes of this recognizable and delicate craft haven't changed since the 16th century.
After walking across the most significant sites of beautiful Évora, we will end the experience in the best possible way: by visiting a local bodega that produces splendid Alentejan wines (a winner of an important blind tasting contest among them), paired with local petiscos. The perfect ending to a unique morning in this Portuguese setting: captivating, charming, and delicious.
Excellent Individualized Tour Company for People who do not want to go on Package Tours. I used Emily to arrange a tour of Southern Spain in January, 2020 for 4 people. It turned out to be great. What I do not like is being shepherded around to cheesy tourist sites and waiting in lines of tourists. Emily arranged for very competent and efficient drivers, fantastic guides, very good hotels and even recommended restaurants for each location. The best thing about using Emily is that when she arranged for (at my request) wine tastings, olive oil tastings, a flamenco show is that all of them were authentic and interesting and none of them were contrived or cheesy. While on the trip, she checked in and made sure everything went smoothly. When we went to the Alhambra or other ticketed sites, we always got to skip the line due to Emily. There was one overall price per person (depends on double/single room) that I felt was very fair for the level of service provided.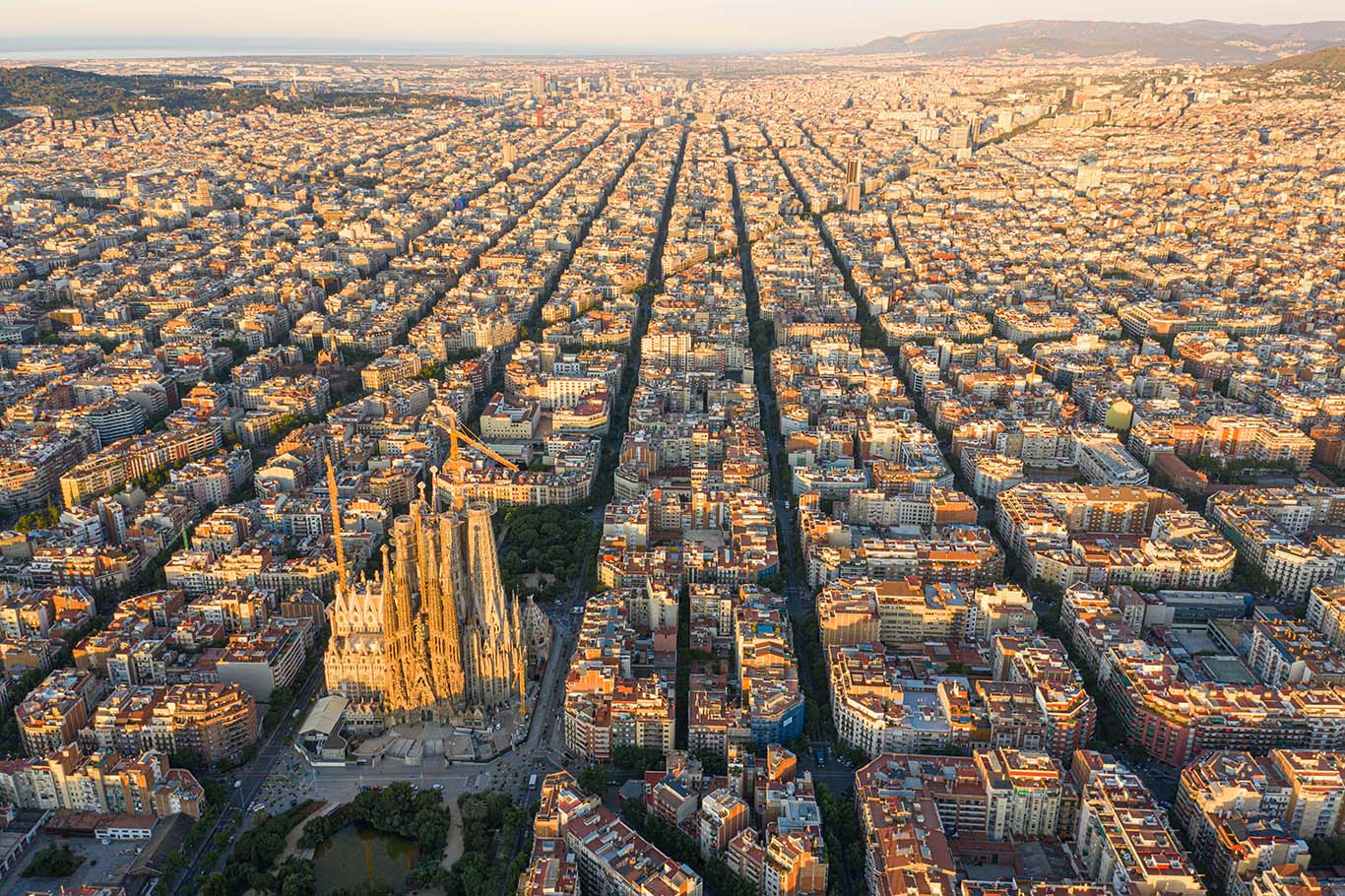 This morning we will say farewell both to Portugal and to your driver-guide, as we are taking a short two-hour flight from Porto to the cultural heart of Spain – Barcelona!
Upon landing we will arrange for a guide to collect you as you commence a tour of old Barcelona, to truly get a feel for the history and origins of this flamboyant, proud, and storied city. Choose to explore:
The Roman City Wall from the time Barcelona was named Barcino
The Jewish quarter – home to one of Europe's oldest Synagogues
Basilica of Santa Maria del Mar – A remarkable example of Catalan Gothic architecture
The Royal Palace – The Palau Reial de Pedralbes former residence for the Spanish Royal Family
Your second day in Barcelona will be spent understanding how Gaudi's unique, flowing and distinctly Catalan Modernism encapsulates the spirit of Barcelona through his architecture.
Sites visited on your final day in Barcelona include: 
Sagrada Familia
UNESCO World Heritage Site Casa Batllo
El Drac de Gaudi: The Dragon Gate at The Guell Pavilions
Casa Mila – The last completed work of Gaudi before devoting himself to the Sagrada Cathedral
the Monumento al Calvario, originally designed to be a chapel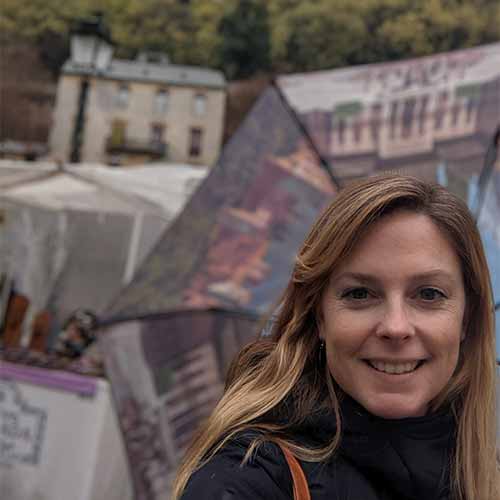 Say Ola to Emily, your personal tour planner at Guided Spain Tours. Get in touch by filling in the form below and requesting your complimentary itinerary!
Contact Us About Your 16-Day Tour of Spain & Portugal
All our tours are completely customizable and tailor-made to suit you and your group's needs.
Even if you don't know where you want to start and would like some inspiration, fill in your contact details below and your personal tour expert will be in touch to help you plan your perfect vacation in Spain & Portugal.
Highly recommend Emily! Emily created a personalized itinerary for us in southern Spain. She was very knowledgeable about the region, attentive, and personable. She returned emails properly, and was a pleasure to work with. Emily was flexible and did not make mind making changes in the itinerary-- Her goal is to please her customers!
Emily is GOOD! Emily arranged a 14 day tour for us in Spain at short notice of a week or so. The whole tour was beautifully organized, amazingly flexible and the rare glitches were attended to and addressed, literally instantly. For sure we will be back for further tours with her. Thanks, Emily.
Best Tours from Emily! Words can't express how grateful it was to be able to call on Emily for help with some excursions in Spain. Emily, thanks soo much. You're the BEST!!!
Spain and Portugal trip: Emily did an amazing job Of setting up our trip through Spain and Portugal. All of our tours were outstanding and personalized. We had a wonderful time!
Private Tour: Emily is a pleasure to work with. She arranged hotels, activities, tour guides and transportation in Barcelona, Madrid, Segovia, Toledo, Cordoba, Avila, Seville, Malaga, Gibraltar. She was extremely responsive when we had questions and made sure that everything flowed smoothly.