8 Days Camino de Santiago Itinerary
Walking The St. James Way: 8 Day Trip
Embark on an enchanting 8-day journey where history, culture, and spirituality intertwine seamlessly, weaving a tapestry of unforgettable experiences. This Camino de Santiago itinerary takes you through charming hamlets, lush forests, rolling hills, and rich historical landmarks, bringing to life tales of pilgrims from ages past.
Each step taken on this well-trodden path is a leap back into history, and each destination adds a unique chapter to your personal narrative. Join us on this soul-stirring adventure as we guide you along the famed pilgrimage route from the city of Astorga to the sacred city of Santiago de Compostela.
Day 1: The Beginning - Astorga, Cruz de Ferro, O'Cebreiro, and Arrival in Sarria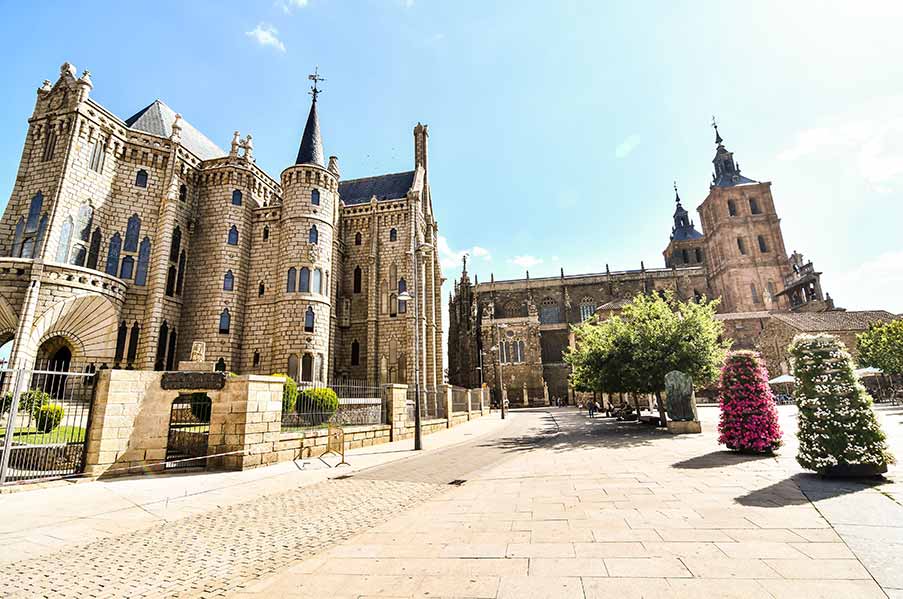 Our journey begins in the vibrant city of Madrid. We'll assemble in the lobby of your accommodation at 8:30 am, from where we'll embark on our adventure.
Our first stop is the historic city of Astorga, nestled within the province of León. Astorga, a city replete with heritage, brims with medieval architectural wonders that provide a glance into Spain's rich history. Here, we'll have the opportunity to immerse ourselves in the city's history, amble through its ancient streets, marvel at its centuries-old edifices, and relish a delectable welcome lunch featuring local culinary delights.
Our journey then continues towards the revered Cruz de Ferro or Iron Cross. It's a significant landmark steeped in tradition along the Camino de Santiago. As per an age-old tradition, pilgrims bring a stone or pebble from their homeland and place it at the foot of the cross, symbolizing their journey's burden that they are leaving behind. This ritual affords us a moment of reflection and connection with the countless pilgrims who have embarked on this spiritual journey over the centuries.
The day culminates with a visit to the quaint town of O'Cebreiro, marking the beginning of the Camino de Santiago in the region of Galicia. Perched on a hill, O'Cebreiro offers picturesque views of the surrounding valleys, setting the tone for the natural beauty we'll encounter on our trek.
We'll end our day in Sarria, our base for the night and the starting point for our Camino de Santiago adventure. Here, we'll rest, prepare, and eagerly anticipate the beginning of our trek the following day.
Day 2: Sarria to Portomarin (18.7 KM)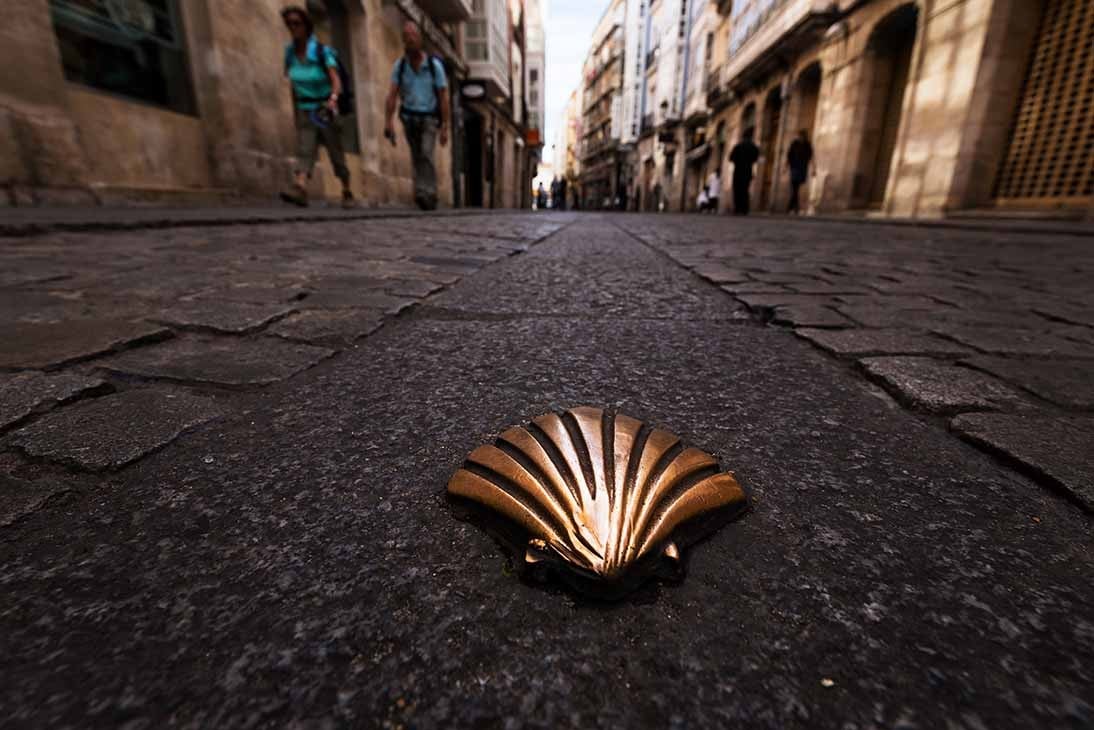 Our second day commences as we lace up our boots in Sarria and set out towards the charming town of Portomarín, traversing approximately 18.7 kilometers through the tranquil Galician countryside.
Our route takes us through several enchanting villages, each more idyllic than the last. The first is Barbadelo, nestled amidst lush greenery. Here, we will visit the famed "Santiago de Barbadelo" Church, an architectural marvel celebrated for its intricate designs and deep spiritual resonance.
Continuing our journey, we'll meander through the peaceful village of Ferreiros, where we will be captivated by the striking Romanesque entrance at the local church, a relic of Spain's rich historical past. Take a moment to appreciate the craftsmanship and artistic mastery evident in the ancient stonework.
As we make our way along the Camino, we'll reach a significant milestone – the legendary 100 km marker. This monument serves as a symbol of the distance we've covered and the journey we still have ahead – a moment for reflection and commemoration.
Further along, the town of Vilachá greets us with breathtaking views of the Miño River Valley. This serene and picturesque sight offers an opportunity to pause and soak in the natural beauty that surrounds us.
Finally, we arrive in Portomarín, a town brimming with historical allure. One of the town's most notable monuments is the fortified Church of St. Nicholas, a stunning example of medieval architecture. Explore the town's cobbled streets, and let the day's journey sink in as the sun sets over this picturesque riverside town.
Amazing experience! My husband Douglas and I just came back from a 10 days customized guided tour to Morocco organized by Emily from Guided Spain. It was an amazing trip. Our driver Youssef met us at the Casablanca Airport and he quickly became our guide, security guard and guardian angel! When I got sick he got me medicine and he always found the best toilets when we were on the road. Also, ice cream! We feel that we got the authentic Morocco experience with the riads (hotels) that Emily chose for us and the guides in the different cities we visited. The Merzouga Luxury Desert Camp was totally amazing as well as the visit with the Nomads,and the medinas. This is our second trip with Emily and as the first one, it was excellent. Our next one will be Portugal!
Day 3: Portomarin to A Brea (22.5KM)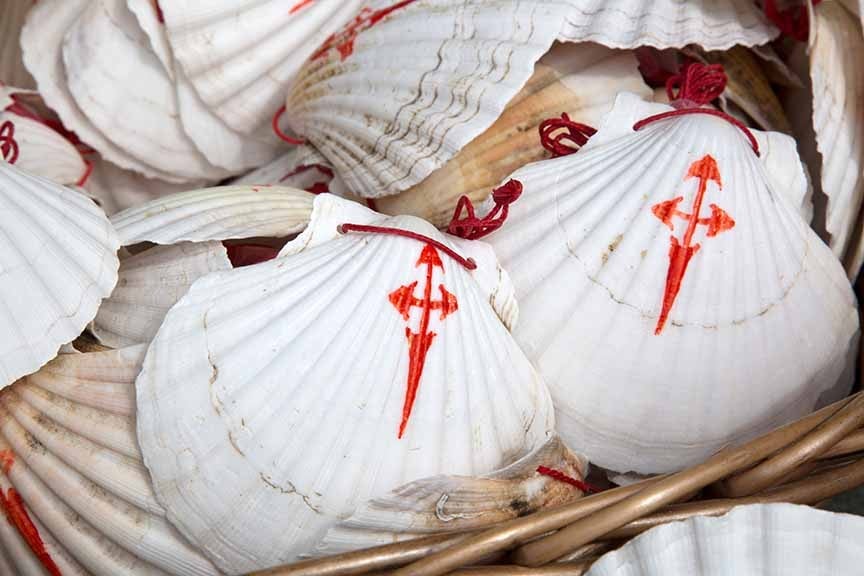 Embrace the serene rhythm of nature on our third day as we set forth on a journey through the captivating beauty of oak and eucalyptus forests. The whispering leaves and chirping birds provide a soundtrack to our trek, as the verdant canopy offers a gentle shade from the Spanish sun.
Our route today leads us through several quaint villages, each providing its own unique character and charm. Our first stop is Gonzar, a small hamlet in the lush Spanish countryside. Take a moment to appreciate the simplicity of rural life away from the bustle of the urban centers.
Further along, we arrive at Ventas de Narón. It's a place steeped in history and tradition, where ancient buildings whisper tales of the past. Here, the friendly locals offer a warm welcome to passing pilgrims.
Continuing our journey, we trek to Ligonde, another picturesque hamlet that is a historical waypoint on the Camino de Santiago. Its traditional stone houses and serene surroundings provide a soothing ambiance for a brief rest.
Our next stop, Airexe, is an enchanting village offering sweeping views of the Galician countryside. The air here carries the distinct freshness that's signature to this region, making it a delight for the senses.
The day's journey concludes as we arrive in A Brea. This peaceful town is a perfect place to rest our weary feet, reflect on our journey so far, and anticipate the exciting adventures yet to come. As the day's light fades, enjoy a tranquil evening taking in the local scenery and prepare for the journey ahead.
Day 4: A Brea to Boente (23.3KM)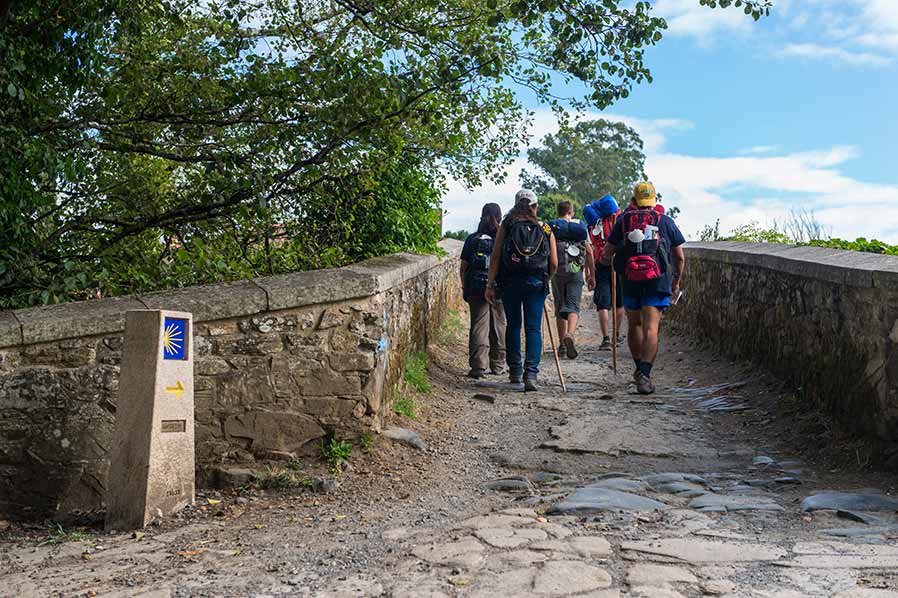 On our fourth day, we embark on a tranquil journey along serene forest paths, immersing ourselves in the verdant beauty of Spain's natural landscapes. The soft rustle of the leaves overhead and the calming atmosphere create the perfect backdrop for a day full of historic discoveries and rich cultural experiences.
Our day begins with a stroll through the charming town of Palas de Rei. Here, take a moment to appreciate the Romanesque portico of San Tirso's church, a beautifully preserved testament to Spain's medieval past, imbued with centuries of religious significance.
We then traverse the ancient Roman Road, a tangible piece of history that has borne witness to countless pilgrims over centuries. This route leads us across the border dividing the provinces of Lugo and A Coruña, marking our entry into the latter.
Once in A Coruña, we encounter some of the Camino's true treasures. Take a moment to marvel at the elegant church of the "Virgen de las Nieves." Its stunning architecture serves as a powerful reminder of the area's rich religious history.
Our journey continues to Furelos, home to an ancient Roman bridge. This well-preserved structure is a testament to the engineering prowess of the Romans and offers a picturesque spot for capturing unforgettable photos.
Our final destination of the day is Melide, renowned for its divine octopus delicacies. Here, we'll have the opportunity to visit the churches of Sancti Spiritus and Santa María de Melide, both exemplifying the architectural beauty of the region. To conclude our day, we'll indulge in the local gastronomic culture at one of Melide's famed "Pulperías." These eateries specialize in preparing octopus in traditional Galician style – a culinary experience not to be missed! Enjoy the flavors of this local delicacy, thus rounding off an unforgettable day of exploring and indulging in the Iberian way of life.
Best Tours from Emily! Words can't express how grateful it was to be able to call on Emily for help with some excursions in Spain. Emily, thanks soo much. You're the BEST!!!
Day 5: Boente to Salceda (19.5 KM)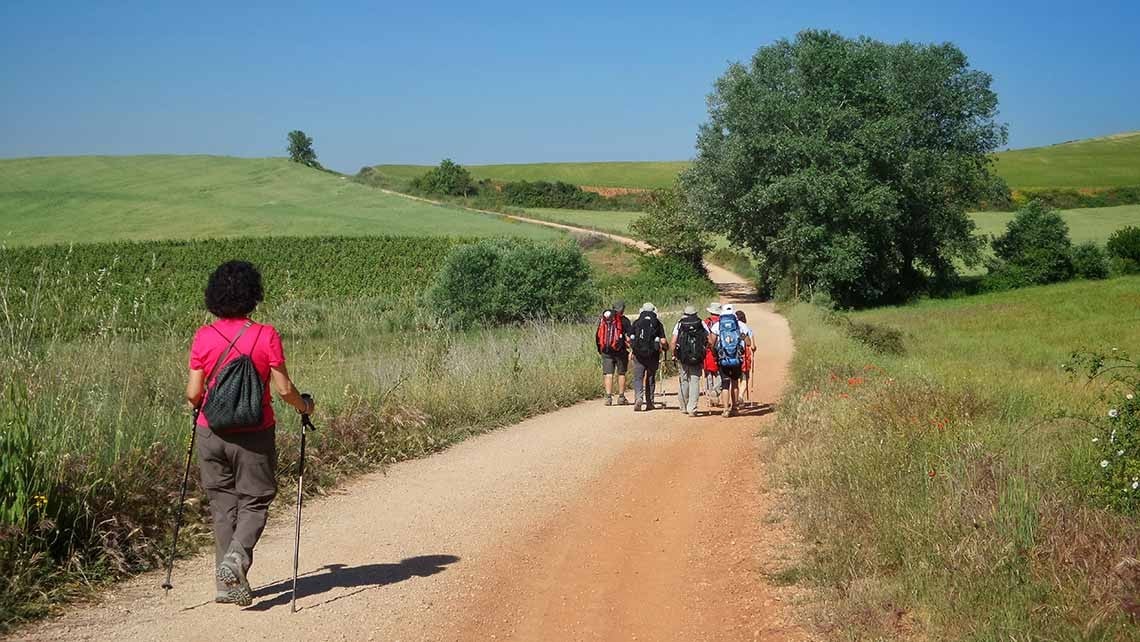 Commence the day's adventures from the quaint town of Boente, the proud home of the spectacular church of Santiago. This spiritual beacon has stood tall for centuries, with each brick narrating tales of the countless pilgrims who have sought solace within its walls.
As our journey progresses, we stroll into the delightful towns of Arzúa, Ribadiso, and Castañeda. Each of these places carries profound connections to the historical fabric of the Camino, their stories intertwined with the legendary pilgrimage route.
Our first major stop is Arzúa, a gem of cultural significance. The crown jewel of this town is the awe-inspiring chapel of "La Magdalena." This magnificent structure, adorned with the intricate aesthetics of Gothic architecture, was erected in the 14th century. Take a moment to absorb the sublime atmosphere within its sacred premises, feeling the pulse of history that resonates through the stone walls.
Arzúa is also a culinary paradise for cheese connoisseurs. Don't miss out on sampling their delectable local cheese, an epicurean delight with its own denomination of origin. Every bite of this creamy delicacy serves as a tribute to the rich gastronomic traditions of the region.
Continuing the journey, we trek past the town of Calzada, moving towards our final destination for the day, Salceda. As the sun sets, immerse yourself in the tranquility of this peaceful town, cherishing the experiences gained through the day's explorations.
Our resting point for the night will be Arzúa, where we will retire, filled with memories of the historic landmarks, mesmerizing townscapes, and culinary adventures experienced throughout the day.
Day 6: Salceda to Monte Do Gozo (22.9 KM)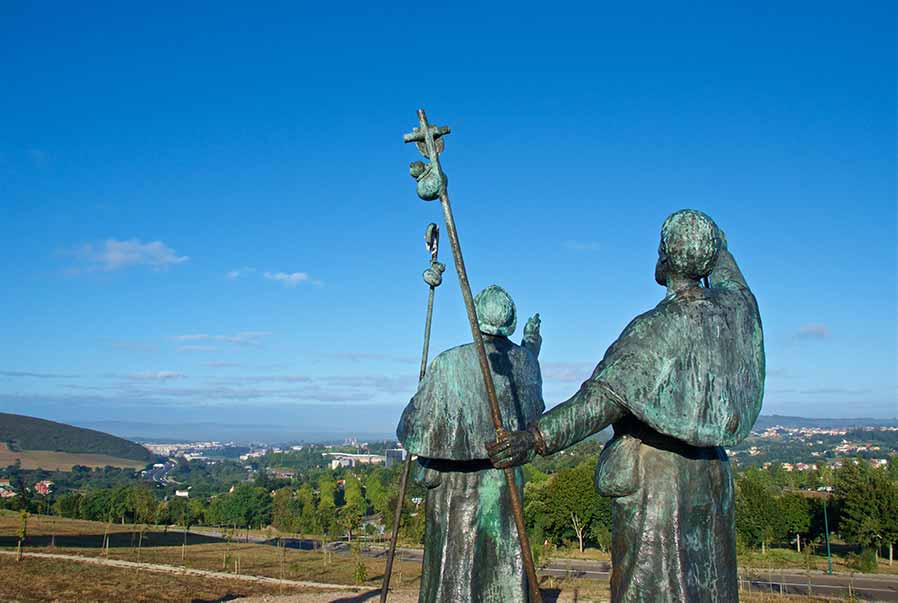 Explore the splendid rural landscapes of Spain as we trace the legendary Camino de Santiago through the picturesque villages of A Brea, Santa Irene, A Rua, and O Empalme. Each hamlet has its unique allure, lending more depth to our enriching excursion.
A highlight of the day is the enchanting hermitage of Sta. Irene, which stands as a testament to the area's religious and architectural heritage.
Nearby, the Baroque fountain unfolds its magic. This is no ordinary water source but a renowned spot believed to possess healing properties. Feel the cool water on your skin and take a moment to soak in the tranquility.
Our exploration continues to the historically significant town of Lavacolla. Here, ancient pilgrims performed the purification ritual, an essential step towards reaching Santiago. Walking through Lavacolla, feel the echoes of these age-old traditions resonate around you.
Our journey culminates at one of the Camino's most iconic landmarks: Monte do Gozo, also known as the Mount of Joy. Standing atop the hill, we're treated to a breathtaking panoramic view of Santiago. In the distance, the silhouette of Santiago de Compostela's Cathedral emerges, hinting at the adventures that lie ahead.
As the twilight hues paint the sky, we retreat to the comforts of our accommodation in Arzúa, the perfect setting to reflect on the day's experiences, rest, and replenish our energy for the exciting final leg of our journey.
Excellent Individualized Tour Company for People who do not want to go on Package Tours. I used Emily to arrange a tour of Southern Spain in January, 2020 for 4 people. It turned out to be great. What I do not like is being shepherded around to cheesy tourist sites and waiting in lines of tourists. Emily arranged for very competent and efficient drivers, fantastic guides, very good hotels and even recommended restaurants for each location. The best thing about using Emily is that when she arranged for (at my request) wine tastings, olive oil tastings, a flamenco show is that all of them were authentic and interesting and none of them were contrived or cheesy. While on the trip, she checked in and made sure everything went smoothly. When we went to the Alhambra or other ticketed sites, we always got to skip the line due to Emily. There was one overall price per person (depends on double/single room) that I felt was very fair for the level of service provided.
Day 7: Monte Do Gozo to Santiago (4.8 KM)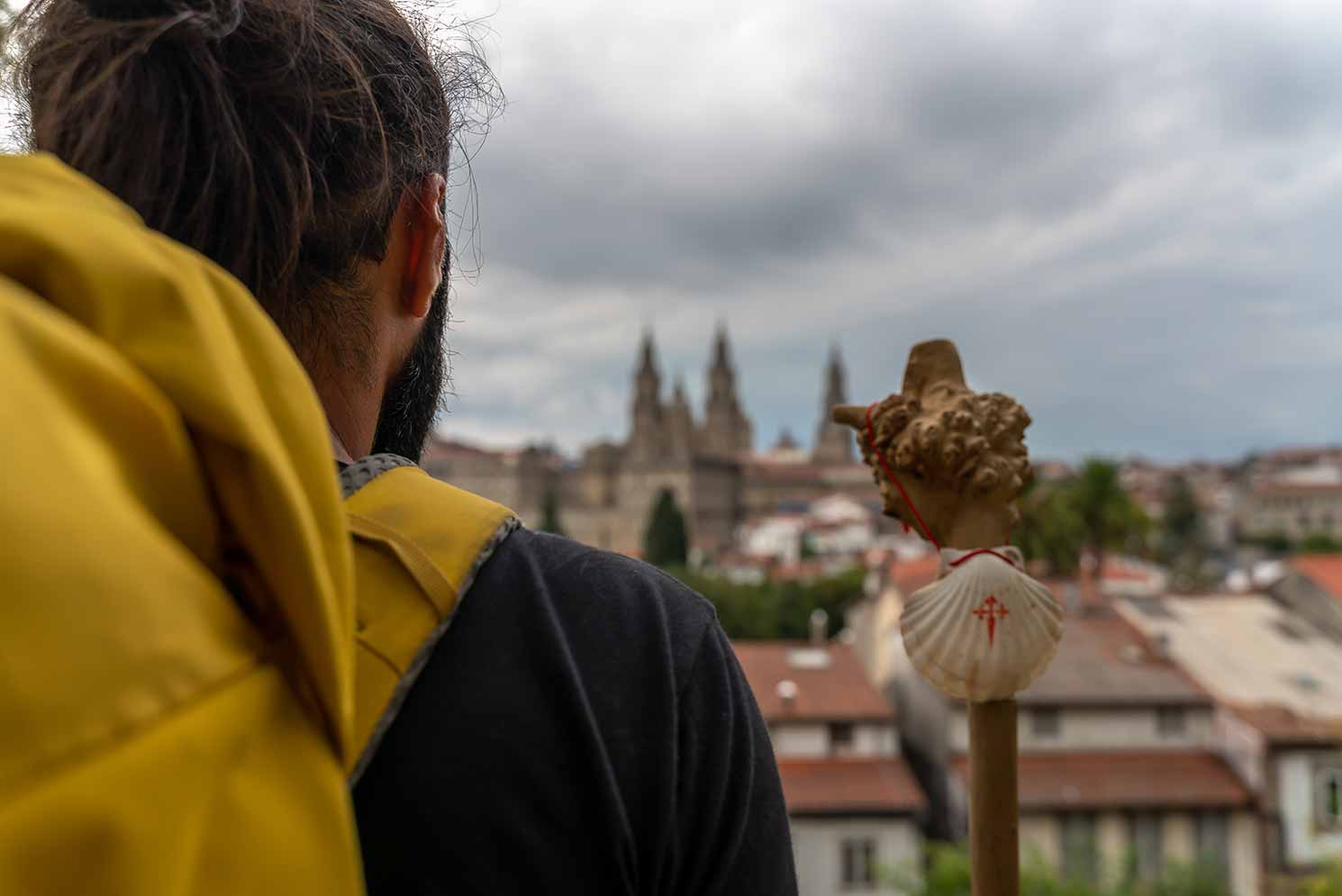 The one-week juncture of our itinerary is the pinnacle of your journey. As dawn breaks, we embark on the most anticipated leg of our pilgrimage: the triumphant entry to the magnificent Santiago Cathedral.
We will meticulously time our progress to ensure our arrival in Santiago before the clock strikes twelve. Our early arrival affords those among us the precious opportunity to partake in the spiritually uplifting pilgrim's mass. This centuries-old tradition is a poignant moment for many as it signifies the culmination of our arduous but rewarding journey.
The Cathedral is not just an endpoint but a sanctuary filled with rituals and traditions. One of the most cherished practices is the act of embracing the statue of Apostle James, a symbol of reaching the end of our journey and acknowledging the spiritual significance of our Camino. Feel the centuries-old stone against your chest, a tangible link to countless pilgrims who have made this journey before.
As daylight fades into a canvas of stars, we come together for a heartwarming farewell surprise. A sumptuous dinner marks our grand celebration as we toast to our shared experiences, newfound friendships, and personal achievements. We commemorate our unforgettable journey amid laughter, stories, and reflections.
The night finds us tucked into the comfort of our accommodations in the enchanting city of Santiago de Compostela, the perfect place to reminisce about our journey's experiences and dreams of future adventures.
Day 8: Santiago De Compostela Guided City Tour and Local Market Experience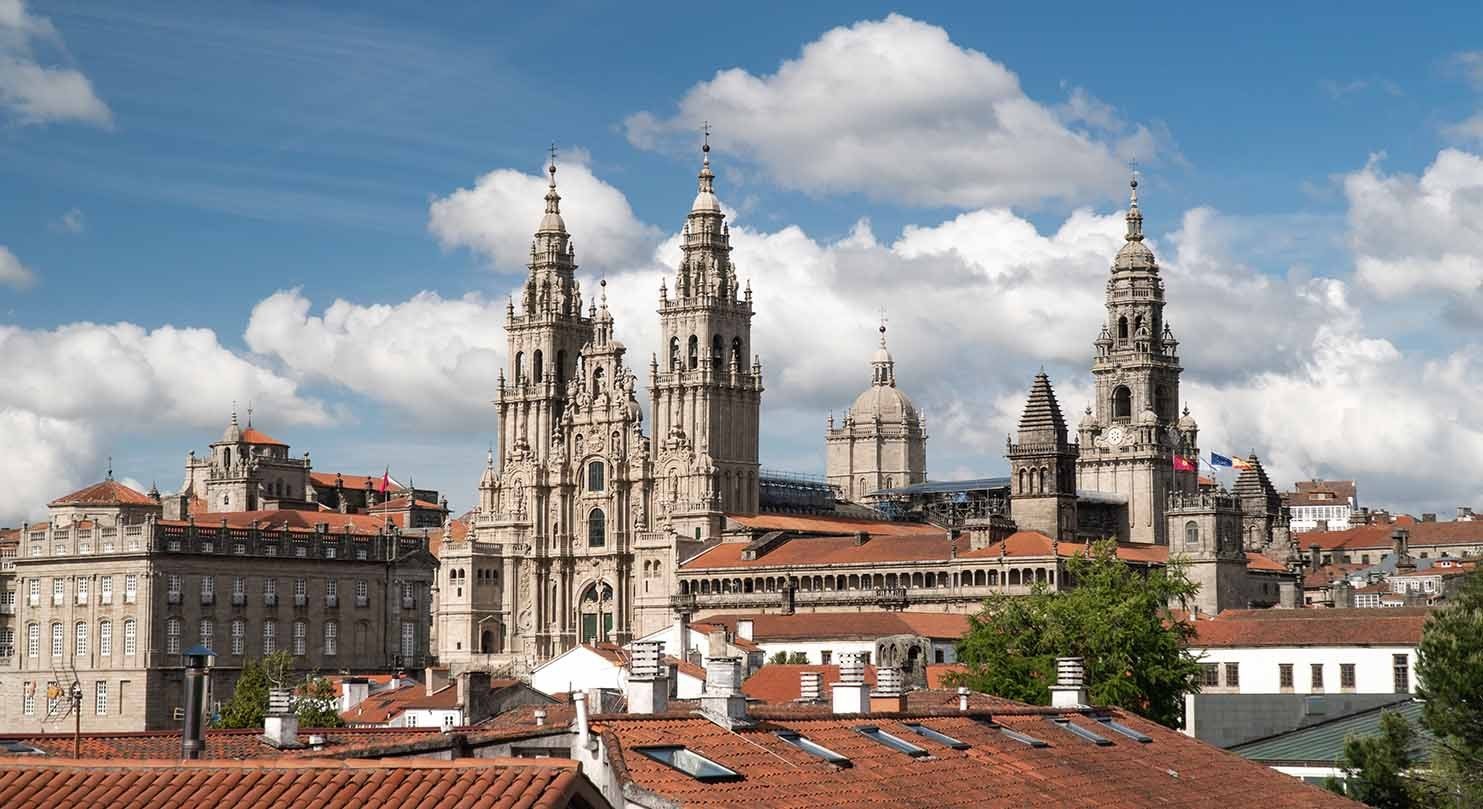 The final day of our itinerary is dedicated to an enriching exploration of Santiago's historic heart. We start our morning with a guided tour that delves into the captivating narratives of Santiago's antiquity and its profound connection with the pilgrimage tradition. This tour is an excellent chance to truly understand the city's historical and cultural fabric woven over centuries.
Our path traverses some of the most illustrious squares, streets, and monuments. Each corner of this ancient city reveals a new tale, a unique architectural marvel, or a historical event that has shaped Santiago's identity. The highlight of our city tour is a visit to the esteemed Cathedral. As we enter its grand interiors, our guide elaborates on its fascinating evolution and the time-honored traditions associated with this sacred edifice.
Our cultural journey continues as we delve into the vibrant local life at Santiago's bustling 'Mercado de Abastos.' This famous market is a feast for the senses, overflowing with an abundance of Galician gourmet products – from fresh fish and succulent seafood to tender veal.
In a thrilling hands-on experience, the group will have the opportunity to select from a cornucopia of the region's finest produce. These fresh ingredients will later transform into an unforgettable meal prepared at a local restaurant in the market vicinity. This unique gastronomic experience, where we partake in the journey of our meal from the market to our plate, marks a befitting close to our epic Camino de Santiago.
As the clock strikes one, our incredible journey together concludes. The myriad experiences, vivid landscapes, fascinating history, and the camaraderie of our group have weaved together an unforgettable tapestry of memories that we'll carry with us forever.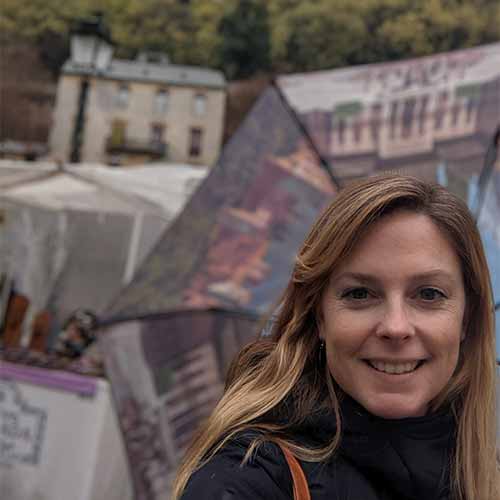 Say Ola to Emily, your personal tour planner at Guided Spain Tours. Get in touch by filling in the form below and requesting your complimentary itinerary!
Get A Custom Camino de Santiago Experience
After spending eight unforgettable days traversing picturesque landscapes, immersing in the rich local culture, engaging with the timeless history, and experiencing the spiritual aura of the Camino de Santiago, we conclude our journey with a heart full of memories. We hope that this pilgrimage has not just been a physical journey across towns and cities but also a journey inward, sparking introspection and enlightenment.
Our team of specialist local tour planners would love to tailor this itinerary to your exact tastes; for a complimentary bespoke version of this tour, simply contact us today.
Highly recommend Emily! Emily created a personalized itinerary for us in southern Spain. She was very knowledgeable about the region, attentive, and personable. She returned emails properly, and was a pleasure to work with. Emily was flexible and did not make mind making changes in the itinerary-- Her goal is to please her customers!
Emily is GOOD! Emily arranged a 14 day tour for us in Spain at short notice of a week or so. The whole tour was beautifully organized, amazingly flexible and the rare glitches were attended to and addressed, literally instantly. For sure we will be back for further tours with her. Thanks, Emily.
Best Tours from Emily! Words can't express how grateful it was to be able to call on Emily for help with some excursions in Spain. Emily, thanks soo much. You're the BEST!!!
Spain and Portugal trip: Emily did an amazing job Of setting up our trip through Spain and Portugal. All of our tours were outstanding and personalized. We had a wonderful time!
Private Tour: Emily is a pleasure to work with. She arranged hotels, activities, tour guides and transportation in Barcelona, Madrid, Segovia, Toledo, Cordoba, Avila, Seville, Malaga, Gibraltar. She was extremely responsive when we had questions and made sure that everything flowed smoothly.