7 Day 'Running With The Bulls' Itinerary Across Spain
Welcome to an adrenaline-fueled adventure unlike any other – our one-week "Running with the Bulls" tour across the vibrant landscapes of Spain.
This tour is designed for thrill-seekers, culture enthusiasts, and those unafraid of embracing the unexpected. Over seven days, we'll journey through Spain's most iconic cities, from Madrid's splendor to Seville's historic charm, all while immersing ourselves in the electric atmosphere of the world-famous "Fiesta de San Fermín" in Pamplona.
Day 1: Experiencing Málaga & Ronda – A Blend of Natural Splendor, History, and Culture
Welcome to Spain! Upon your arrival at Pablo Picasso Airport, you'll be greeted by our professional driver right after customs. Relish the scenic journey as we drive upwards into the breathtaking terrain of the Sierra de la Nieves Natural Park en route to our first destination, the historical city of Ronda.
The initial highlight of our tour is an immersive visit to Reservatauro, a ranch that serves as the natural habitat for wild bulls and Andalusian horses. Here, you'll get an insider's perspective on how bulls are chosen and the attributes that are most sought after.
As we tour the ranch, you'll have the unique chance to wander into the verdant fields amongst freely wandering calves and colts—an experience that truly brings you closer to nature's raw charm. To conclude our visit, we'll step into a compact bullring where you can try your hand at handling the cape and familiarize yourself with the basic bullfighting moves.
As lunchtime rolls around, we'll head to a local family-owned winery for a delectable mountain paella—savor the hearty dish complemented by regional wines that will undoubtedly delight your palate. Afterward, our driver will escort you to your chosen hotel in Ronda, offering you some downtime to rest and freshen up for the exciting afternoon tour.
In the afternoon, meet your knowledgeable guide in the hotel lobby, ready to delve into the rich history and culture of Ronda. Your adventure starts at the oldest bullring in Spain, where you'll gain a matador's perspective of this esteemed sport.
From there, marvel at the architectural wonder of the New Bridge, an imposing structure that spans a deep gorge, linking Ronda's New and Old Quarters. Once you've crossed this breathtaking structure, your guide will lead you on a journey through the cobbled lanes, revealing centuries of history within the Collegiate Church and the medieval grandeur of Don Bosco's Palace. The first day of our tour promises an exquisite blend of nature, history, and regional culture, setting the stage for an unforgettable Spanish adventure.
Day 2: Exploring Medina Sidonia – A Rendezvous with Bulls, Horses, & the Spectacle of Spanish Rodeo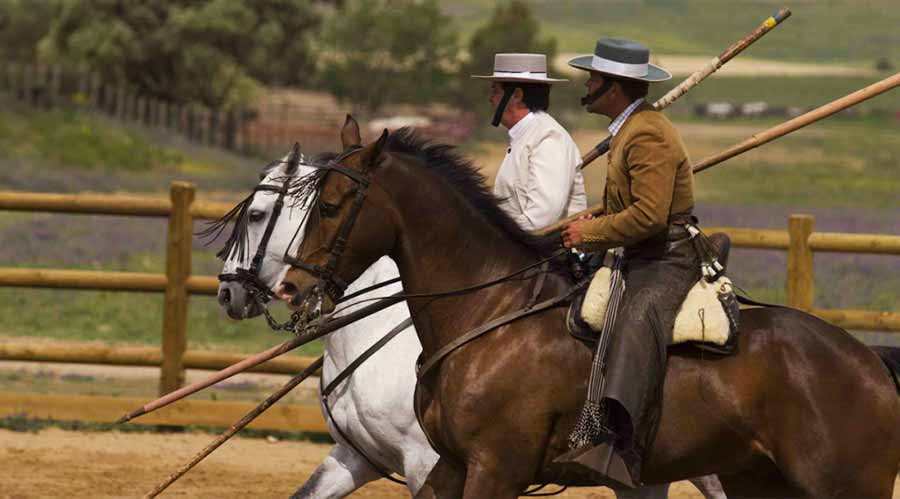 Join your private driver as you depart from your hotel lobby to the picturesque white village of Medina-Sidonia. Nestled amongst rolling green hills, this location is renowned for its thriving horse and bull ranches, offering a taste of rural Spanish life.
Our highlight for the day is a visit to the renowned Alvaro Domecq ranch, where you will be treated to an authentic Spanish rodeo exhibition. This experience brings you right into the heart of Spain's rich equestrian culture.
As you start your tour, you will wander through the sprawling open fields of the ranch, leading you to the bustling rodeo ring. This exhibition is designed to showcase the various facets of Spanish ranching, from bulls and cows to calves, mares, and colts, coupled with a splendid display of equestrian art. It's an opportunity to appreciate the skill, tradition, and artistry involved in this quintessentially Spanish spectacle.
Once the exhilaration of the rodeo dies down, it's time to head to the coastal city of Cádiz, a place known for its historical significance and alluring beaches.
Spend your afternoon leisurely exploring the sandy shores of Cádiz, allowing the cool ocean breeze and panoramic vistas to refresh you after the day's energetic activities. Day two of our itinerary promises a blend of rural charm, cultural immersion, and relaxation on the sun-drenched shores of one of Spain's most enchanting coastal cities.
Amazing experience! My husband Douglas and I just came back from a 10 days customized guided tour to Morocco organized by Emily from Guided Spain. It was an amazing trip. Our driver Youssef met us at the Casablanca Airport and he quickly became our guide, security guard and guardian angel! When I got sick he got me medicine and he always found the best toilets when we were on the road. Also, ice cream! We feel that we got the authentic Morocco experience with the riads (hotels) that Emily chose for us and the guides in the different cities we visited. The Merzouga Luxury Desert Camp was totally amazing as well as the visit with the Nomads,and the medinas. This is our second trip with Emily and as the first one, it was excellent. Our next one will be Portugal!
Day 3: Sevilla – A Journey into Spain's Bullfighting Heritage & Architectural Marvels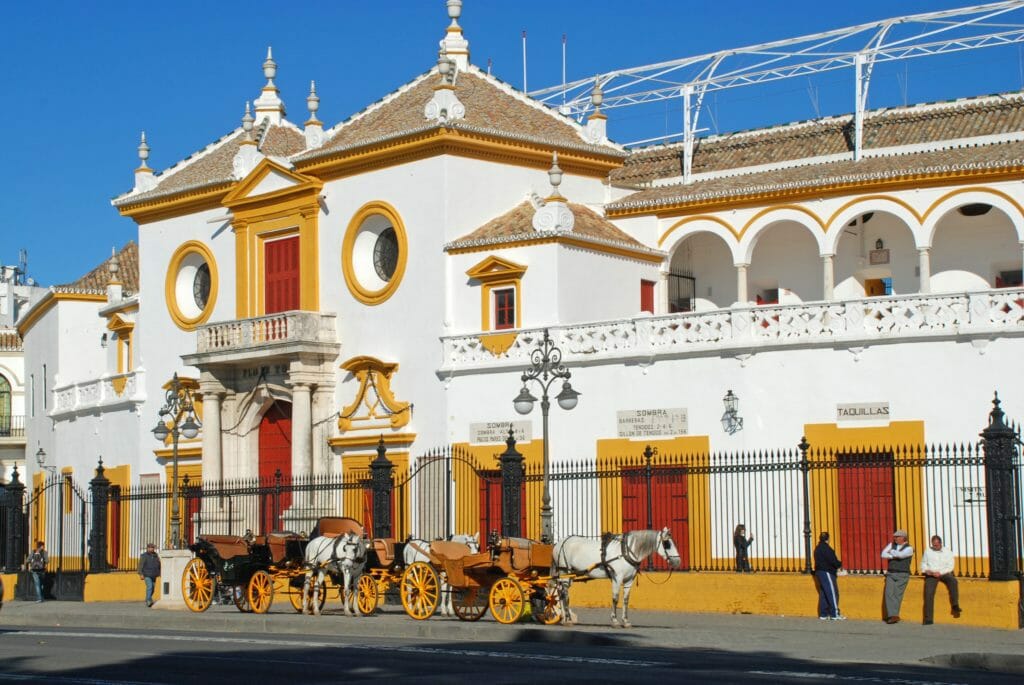 Your journey on day three starts with a short scenic drive along the picturesque Guadalquivir River to the radiant city of Sevilla. After checking into your accommodation, you'll be greeted by your local guide, who will escort you on an enlightening walking tour of this culturally-rich city.
The adventure begins at the city's distinguished bullring museum, housing one of Spain's most comprehensive collections dedicated to Tauromachia (the art of bullfighting). This immersive experience provides a deep dive into bullfighting's history, significance, and evolution, offering a unique perspective on this integral part of Spanish tradition.
From the bullring, your tour continues towards the historic city walls, leading you past the beautifully landscaped Murillo Gardens, a lush oasis in the heart of the city. You'll then meander through the narrow, winding streets of Barrio Santa Cruz, formerly the city's Jewish Quarters, where you can appreciate the charm and history embedded in every nook and corner.
Next, marvel at the architectural magnificence of the Alcázar fortress, a royal palace intricately designed with Mudéjar and Christian influences, followed by a visit to the awe-inspiring Cathedral of Sevilla. This UNESCO World Heritage Site is one of the largest cathedrals in the world, crowned by the Giralda, an iconic prayer tower offering stunning city panoramas.
The day's journey concludes at the Tower of Gold (Torre del Oro), situated along the river. Here, embark on a leisurely electric boat cruise along the Guadalquivir River, soaking up the city's captivating skyline and tranquil waterways. Day three is an immersive exploration of Sevilla's cultural heritage, architectural splendors, and tranquil riverside charm.
Day 4: Toledo - The Fascinating Blend of Cultures & Wine Adventure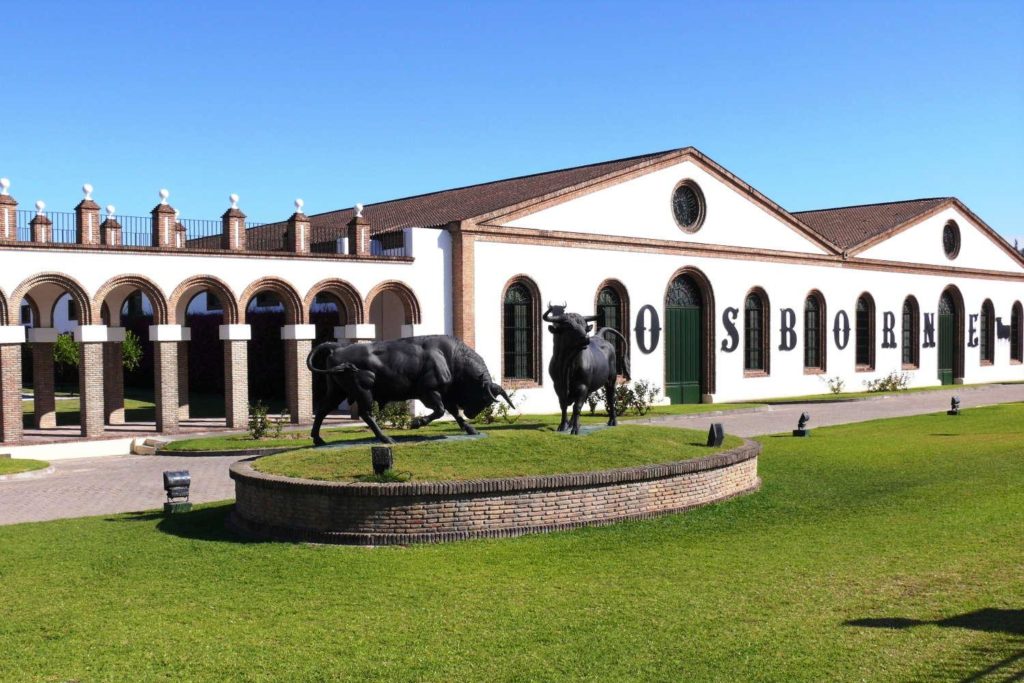 A thrilling high-speed AVE train ride north awaits you, tracing the historical cattle herding routes and leaving the sun-drenched landscapes of Andalucía behind.
Your journey halts at Atocha station, where a designated driver will be waiting to escort you to the enchanting city of Toledo. En route, enjoy a stopover at the renowned Osborne winery, instantly recognizable by its iconic bull logo. Hop on a mini-train for a guided tour of the vineyards, immersing in the spectacular vistas and the aroma of ripening grapes. Venture into the cellars where the magical transformation from grape to wine occurs, culminating the visit with a tasting session. Savor a diverse array of Osborne's finest wines for a delightful mid-day feast, complemented by an assortment of local tapas.
As the day progresses, rendezvous with your local guide at Toledo's city gates. Embark on an enlightening tour of the Old Town, starting with a visit to the stunning Gothic cathedral and the nearby historic San Juan de los Reyes Convent. Behold the masterpiece by El Greco, "The Burial of Count Orgaz," a true testament to the city's rich artistic heritage.
As you stroll through the ancient cobblestone streets, your guide will narrate the fascinating story of Toledo's unique blend of three religions and cultures that co-existed harmoniously, even when the rest of the country was strife-ridden. The tour culminates at Sta. María la Blanca Synagogue, an emblem of Toledo's diverse cultural mosaic.
Return to Madrid and check into your hotel as the evening sets in. This day offers an enchanting blend of cultural exploration and a gustatory wine experience, making your visit to Toledo a truly memorable part of your journey.
Best Tours from Emily! Words can't express how grateful it was to be able to call on Emily for help with some excursions in Spain. Emily, thanks soo much. You're the BEST!!!
Day 5: Madrid - Journey Through The Time of Hapsburgs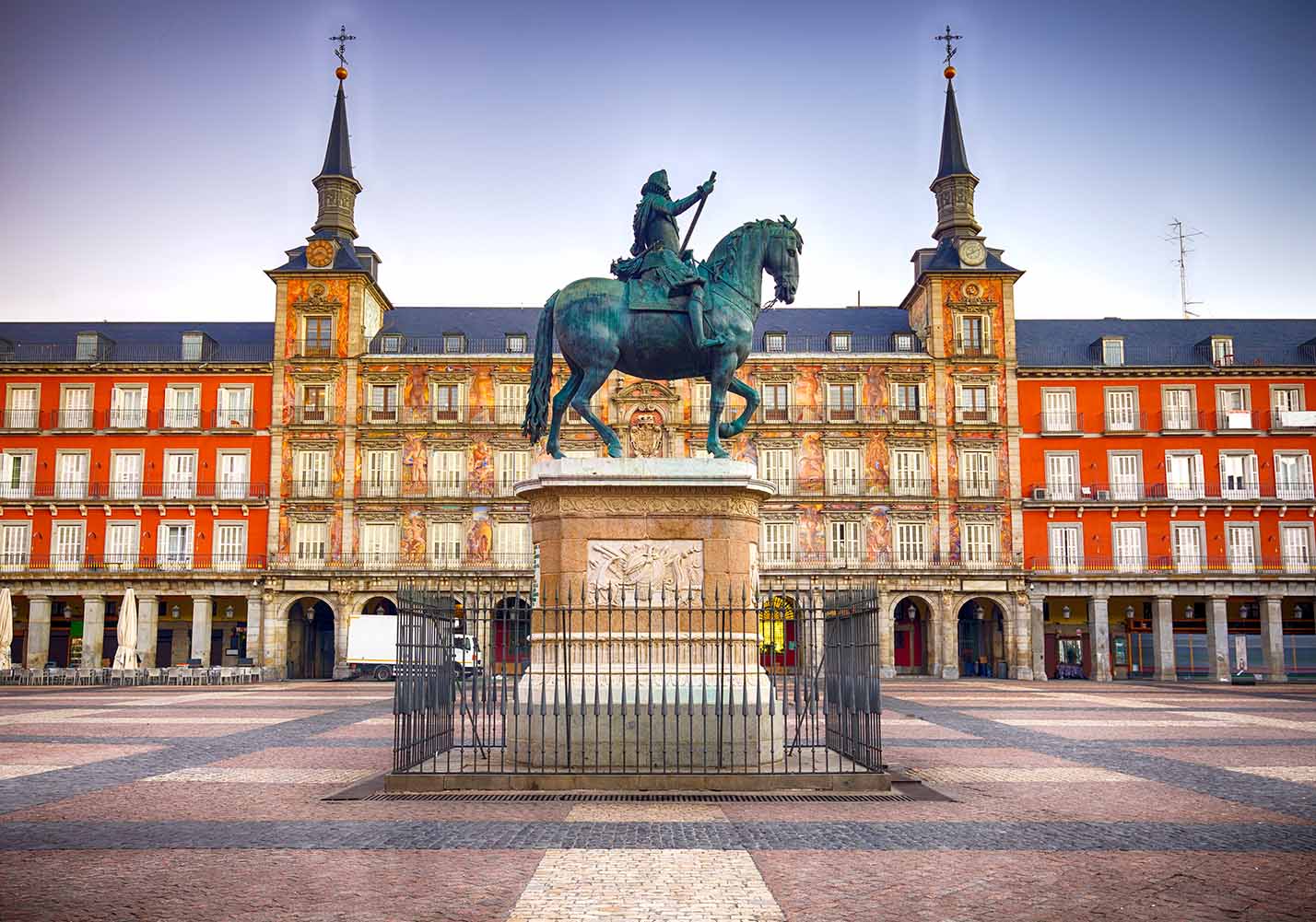 The fifth day of your thrilling tour begins at the heart of 15th-century Madrid. Meet your guide at Plaza de Oriente, right at the grand steps of the Royal Theater, a magnificent monument that stands as a testimony to Madrid's artistic grandeur. Prepare to embark on a fascinating walking tour that weaves through the historic streets and squares, each echoing the times of the Hapsburgs.
Venture past the majestic Royal Palace, a symbol of royalty and architectural excellence, and marvel at the Royal Theater and Opera, where some of the most glorious performances have graced the stage. As you journey through these historic sites, your guide will paint a vivid picture of Madrid during the Spanish Renaissance, unraveling tales of commoners, nobility, and the legends that have shaped the city's unique identity.
Next, experience a sense of intrigue as you stop by the Tower of Lujan, a medieval structure that has witnessed the ebbs and flows of Madrid's history. The tour will then lead you to the bustling San Miguel Market. Breathe in the vibrant atmosphere, sample local produce, and immerse yourself in the lively banter unique to Spanish markets.
Continue your exploration to Plaza Mayor once the stage for riveting bullfights. Imagine the adrenaline-filled air, the deafening cheers, and the spectacle that this square once hosted as you walk the same ground where the matadors once stood.
As you complete your day in Madrid, you'll have witnessed the historic heart of the city, brimming with a mix of regal splendor and everyday life from centuries past, narrated through its architecture and shared stories. This day is not just a tour but a voyage back in time, revealing the evolution of Madrid from a Hapsburg stronghold to the bustling modern metropolis it is today.
Day 6: Pamplona - A Hemingway-Inspired Exploration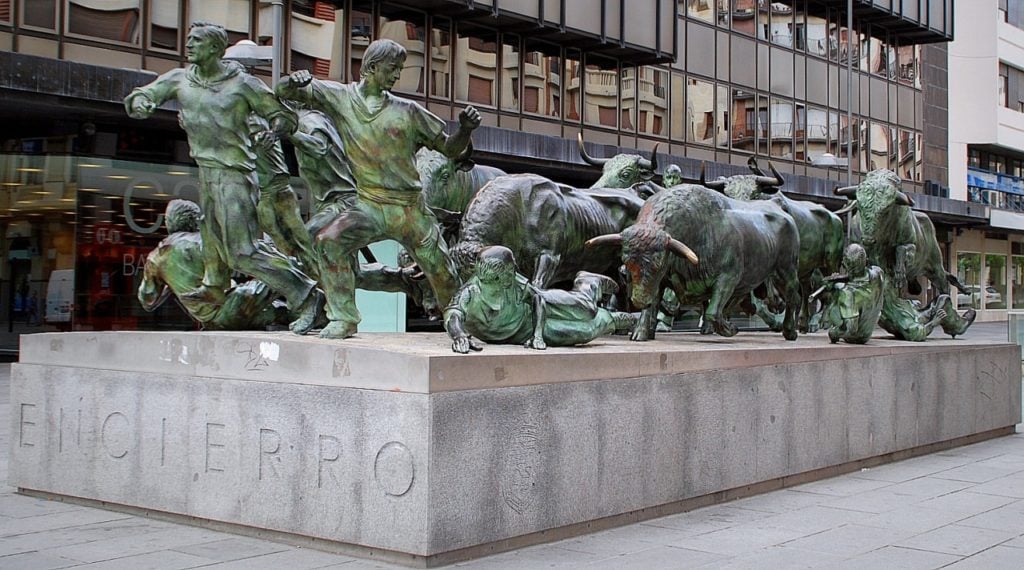 Today we arrive in Pamplona, a city bursting with vibrant history and culture, nestled in the verdant landscapes of Northern Spain. Our driver will ensure a smooth journey, escorting you through the wide-open Spanish plains to this remarkable destination. Upon arrival, check into your hotel and prepare for an afternoon dedicated entirely to your leisure.
Take advantage of this free time to truly immerse yourself in the local atmosphere, and perhaps embark on a self-guided tour to explore some of Ernest Hemingway's favorite haunts. Hemingway, one of the 20th century's literary giants, was captivated by the city's charm and the exhilaration of its world-famous San Fermin festival, which he attended whenever possible. Today, Pamplona still proudly carries traces of the writer's significant influence.
Wander through the city's picturesque streets, tracing Hemingway's footsteps. Pop into the local bars that the renowned author used to frequent, where you can savor delectable pintxos (Basque tapas) and a glass of robust Navarra wine, immersing yourself in the true spirit of Pamplona.
This day offers the perfect opportunity to make personal discoveries, create unforgettable memories, and absorb the unique blend of modernity and history that defines Pamplona. As the evening draws in, you may even find yourself captivated by the same enchantment that kept drawing Hemingway back to this extraordinary city.
Excellent Individualized Tour Company for People who do not want to go on Package Tours. I used Emily to arrange a tour of Southern Spain in January, 2020 for 4 people. It turned out to be great. What I do not like is being shepherded around to cheesy tourist sites and waiting in lines of tourists. Emily arranged for very competent and efficient drivers, fantastic guides, very good hotels and even recommended restaurants for each location. The best thing about using Emily is that when she arranged for (at my request) wine tastings, olive oil tastings, a flamenco show is that all of them were authentic and interesting and none of them were contrived or cheesy. While on the trip, she checked in and made sure everything went smoothly. When we went to the Alhambra or other ticketed sites, we always got to skip the line due to Emily. There was one overall price per person (depends on double/single room) that I felt was very fair for the level of service provided.
Day 7: Pamplona - Immersion in the San Fermin Festival & City Exploration
Enjoy a thrilling immersion into Pamplona's most iconic event, the San Fermin Festival, should your visit coincide with this exuberant spectacle. Begin your day with a delectable breakfast on a balcony, which offers a prime vantage point to witness the renowned Running of the Bulls, a heart-pounding spectacle that has attracted global attention for centuries.
Your knowledgeable guide will be at hand to unpack the rich history and significance of the bull run, detailing the cultural symbolism woven into the attire of the runners, the distinct breed of the charging bulls, and the pulsating atmosphere that envelopes the city during this event.
On other dates, a comprehensive tour of Pamplona awaits. You'll meet your guide and driver in the hotel lobby, initiating your exploration with a scenic drive encircling the city. Admire the lush expanse of Taconera Park, the imposing Citadel, and the serene Yamaguchi Park, all of which paint Pamplona's diverse urban landscape.
The journey continues to the historic quarter of Pamplona, a place where history and tradition coalesce. Your guide will recount captivating stories of Pamplona's past, shedding light on its vital role as a significant stop on the renowned Camino de Santiago pilgrimage route.
The tour further enriches your cultural knowledge with an insider look at the San Fermin Chapel, devoted to the patron saint of the celebrated bull run. A remarkable end to the day unfolds as you trace the path of the mighty bulls, walking along the very streets where they charge during the yearly festival. This hands-on exploration provides an unparalleled insight into the cultural fabric of Pamplona, rounding off a day steeped in rich traditions and riveting narratives.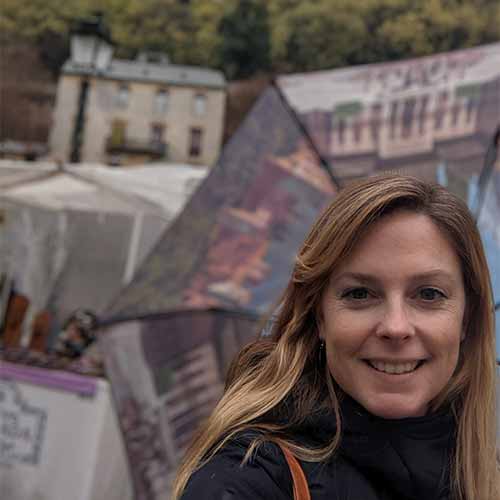 Say Ola to Emily, your personal tour planner at Guided Spain Tours. Get in touch by filling in the form below and requesting your complimentary itinerary!
Get A Custom Running With the Bulls Itinerary
Over the course of this enthralling one-week adventure, we've journeyed from the sun-drenched coast of Málaga, through the cultural tapestry of Sevilla and Toledo, to the vibrant energy of Madrid and the rich traditions of Pamplona.
Whether you wish to delve deeper into the cultural heritage of Spain's historic cities, explore the untamed natural beauty of its national parks, or experience first-hand the exhilaration of the country's iconic festivals, our dedicated team is ready to help you craft your perfect journey. With us, your dream Spanish vacation can truly come to life.
Please don't hesitate to contact us so we can start creating your personalized itinerary today.
Highly recommend Emily! Emily created a personalized itinerary for us in southern Spain. She was very knowledgeable about the region, attentive, and personable. She returned emails properly, and was a pleasure to work with. Emily was flexible and did not make mind making changes in the itinerary-- Her goal is to please her customers!
Emily is GOOD! Emily arranged a 14 day tour for us in Spain at short notice of a week or so. The whole tour was beautifully organized, amazingly flexible and the rare glitches were attended to and addressed, literally instantly. For sure we will be back for further tours with her. Thanks, Emily.
Best Tours from Emily! Words can't express how grateful it was to be able to call on Emily for help with some excursions in Spain. Emily, thanks soo much. You're the BEST!!!
Spain and Portugal trip: Emily did an amazing job Of setting up our trip through Spain and Portugal. All of our tours were outstanding and personalized. We had a wonderful time!
Private Tour: Emily is a pleasure to work with. She arranged hotels, activities, tour guides and transportation in Barcelona, Madrid, Segovia, Toledo, Cordoba, Avila, Seville, Malaga, Gibraltar. She was extremely responsive when we had questions and made sure that everything flowed smoothly.