Food & Wine Tour: Madrid to San Sebastian
Your 10 Day Food Tour in Spain
Spain is a country with a rich and varied culinary tradition, and a food and wine tour is the perfect way to experience it. This itinerary will take you from the vibrant capital city of Madrid to the picturesque coastal town of San Sebastian, with stops in the famous wine regions of Ribera del Duero and La Rioja along the way.
In Madrid, you'll have the opportunity to try traditional Spanish dishes like tapas, paella, and churros con chocolate. In Ribera del Duero and La Rioja, you'll tour some of the country's best wineries and taste some of their finest wines. You'll also have the opportunity to try local specialties like jamón ibérico (cured ham) and tortilla española (potato omelet).
Finally, in San Sebastian, you'll have the chance to try some of the world's best seafood and enjoy stunning views of the Atlantic Ocean.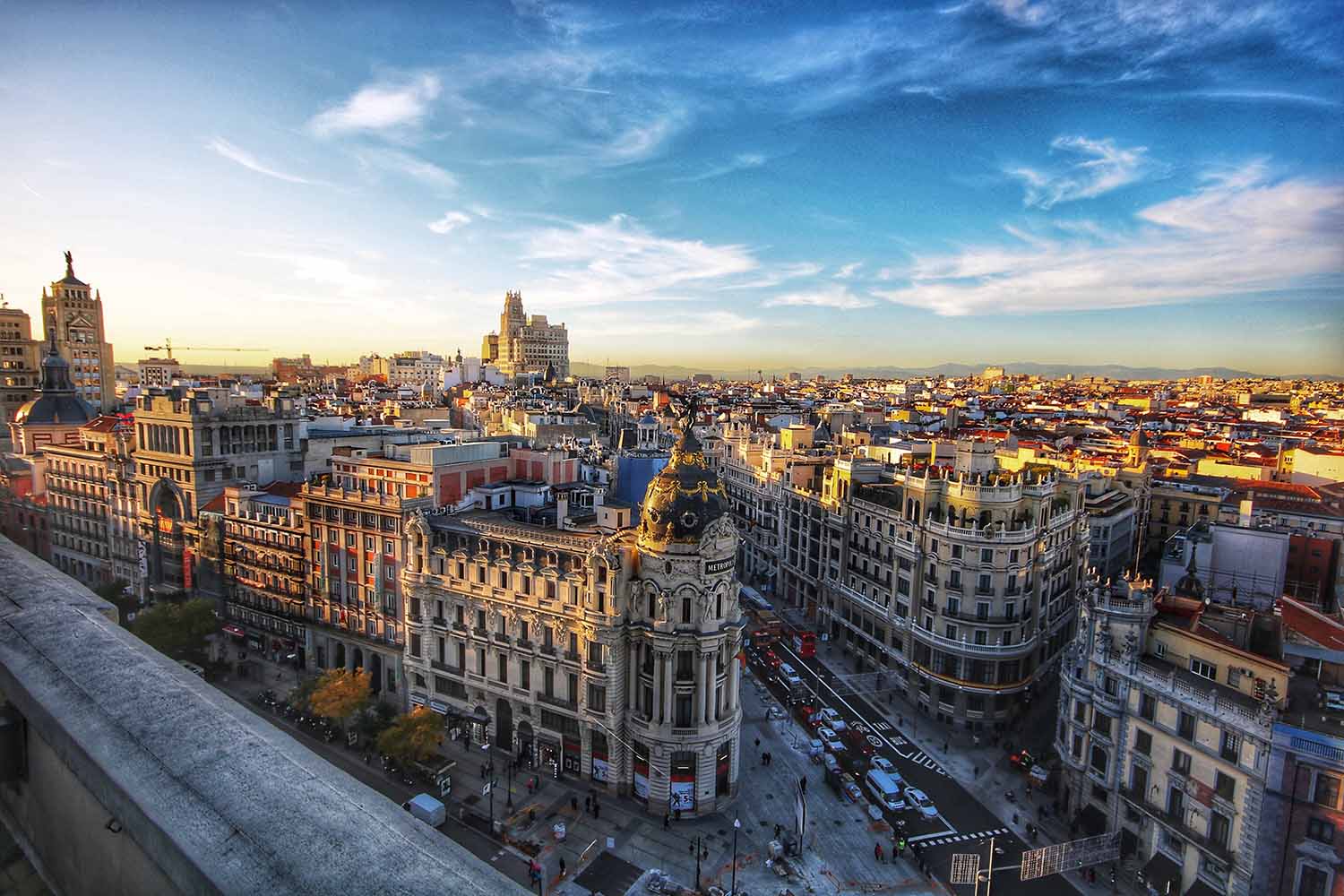 We begin our culinary tour of Spain with a visit to The Mercado de San Miguel, Madrid's last remaining iron market.
The Mercado de San Miguel is located in the heart of Madrid, and is a very popular destination for locals and tourists alike, offering a wide variety of stalls selling fresh produce, prepared foods, and drinks.
The market is known for its selection of Spanish delicacies such as jamón ibérico (cured ham), Manchego cheese, and olives. It is also a great place to try other local specialties, such as fresh seafood, churros (deep-fried doughnuts), and a range of Spanish wines and beers.
Guided La Latina Tavernas Experience
After spending some time exploring the Mercado de San Miguel and sampling the local delicacies on offer, the next stop on the tour is the La Latina neighborhood. This vibrant and lively area of Madrid is known for its lively atmosphere and traditional Spanish taverns, or tavernas.
At a taverna, guests can enjoy a delicious lunch of classic Spanish dishes such as tortilla española (potato and onion omelet) and paella. These dishes are a staple of Spanish cuisine and are sure to be a hit with anyone looking to experience the flavors of the country.
In addition to the food, the tavernas in La Latina are also a great place to experience the local culture. With their lively atmosphere and traditional decor, they provide a glimpse into the heart of Madrid and offer a unique and enjoyable dining experience.
Wine & Sherry Tasting in Madrid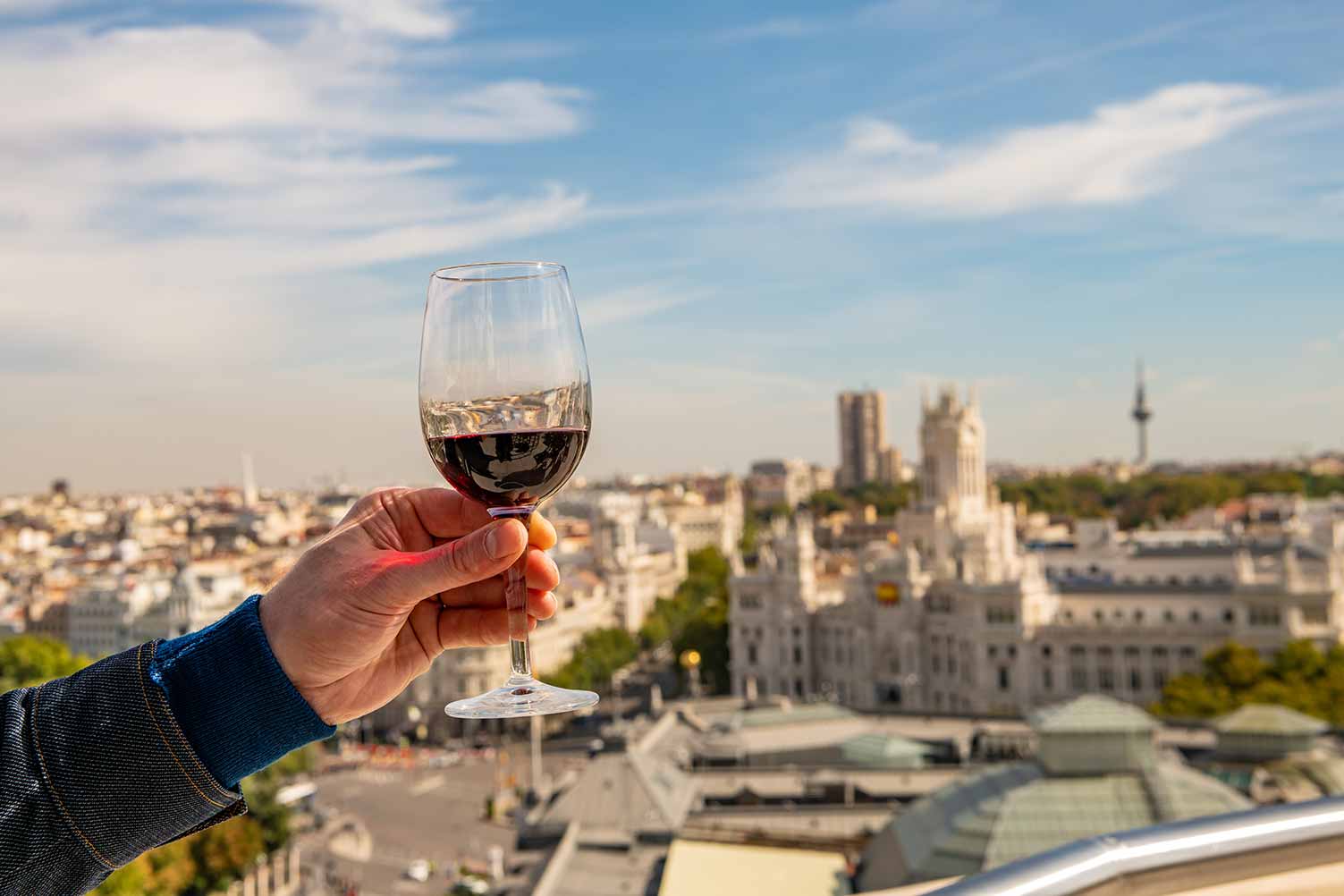 To end the first day of your culinary tour in Madrid, we will visit one of the city's finest wine shops, almost 200 years old. Here, we will have the opportunity to taste sherry in high style and learn about its history and unique flavors.
Sherry is a fortified wine that has been produced in the region of Andalusia, Spain for centuries, and is renowned for its complex flavors and aromas. At the wine shop, our expert guide will introduce you to the different styles of sherry and help you understand what makes this wine so beloved around the world.
With its rich history and exceptional quality, a visit to this wine shop is a must for anyone looking to truly understand and appreciate sherry. All in all, it will be a complete and immersive experience that will give you a deep understanding of this incredible wine.
Day 2: Discovering Madrid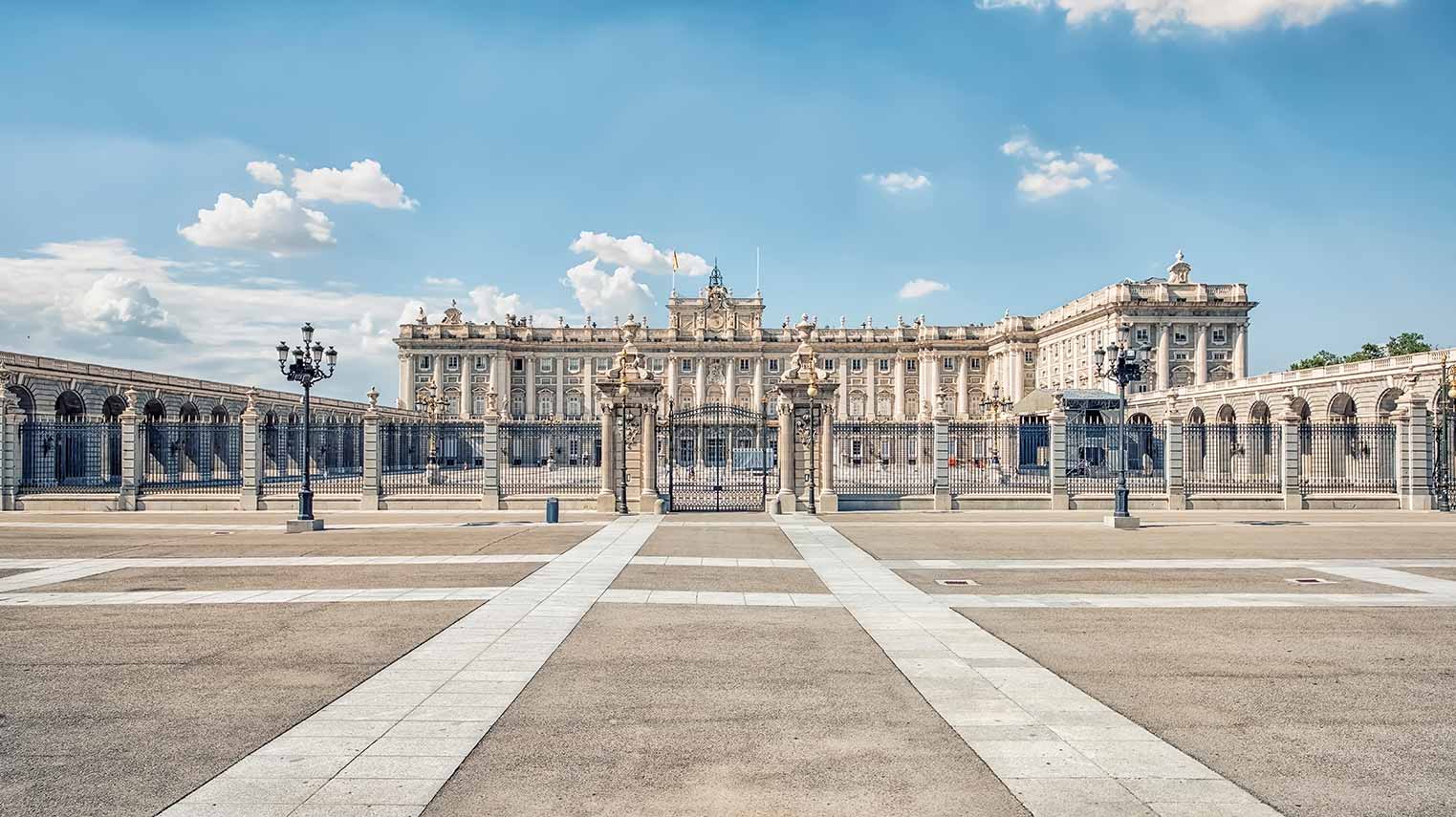 Spend today appreciating the rich history and culture of the city by enjoying a guided tour of the most iconic sites in Madrid.
As you explore the city with your expert guide, you will discover the most important buildings, avenues, and squares of Madrid, from the old Habsburg to the Bourbons quarters to the present day. Your guide will provide you with fascinating insights into the history of these landmarks and explain their significance.
Some of the highlights of the tour include the Plaza Mayor, a unique porticoed square located at the heart of old Madrid; Puerta del Sol where the spectacular former Royal Post Office is situated; the Cibeles and Neptuno neoclassical monumental fountains; Gran Vía avenue, full of original buildings with richly ornamented façades; and the Retiro, once a recreational area for the Royal Family and now a popular park.
After exploring the city, you will have the opportunity to tour the Royal Palace in more detail by stepping inside with you for a private tour of the Palace. Your guide will explain the stories and secrets of the palace and you will be able to admire the opulent interior decoration, including the official Reception rooms, the Museum area, the Royal Chapel, the Throne Room, and the private rooms of King Carlos III and Queen Isabel II.
In the evening our team will ensure that you have a reservation in one of Spain's 22 Michelin-star restaurants.
Amazing experience! My husband Douglas and I just came back from a 10 days customized guided tour to Morocco organized by Emily from Guided Spain. It was an amazing trip. Our driver Youssef met us at the Casablanca Airport and he quickly became our guide, security guard and guardian angel! When I got sick he got me medicine and he always found the best toilets when we were on the road. Also, ice cream! We feel that we got the authentic Morocco experience with the riads (hotels) that Emily chose for us and the guides in the different cities we visited. The Merzouga Luxury Desert Camp was totally amazing as well as the visit with the Nomads,and the medinas. This is our second trip with Emily and as the first one, it was excellent. Our next one will be Portugal!
Day 3: Rueda Wine Region & Peñafiel Wine Museum
Your trip will start departing from Madrid and heading towards a winery in the Rueda region, to discover the Rueda D.O. In this area, they produce the Verdejo wine, a light white wine full-bodied and aromatic.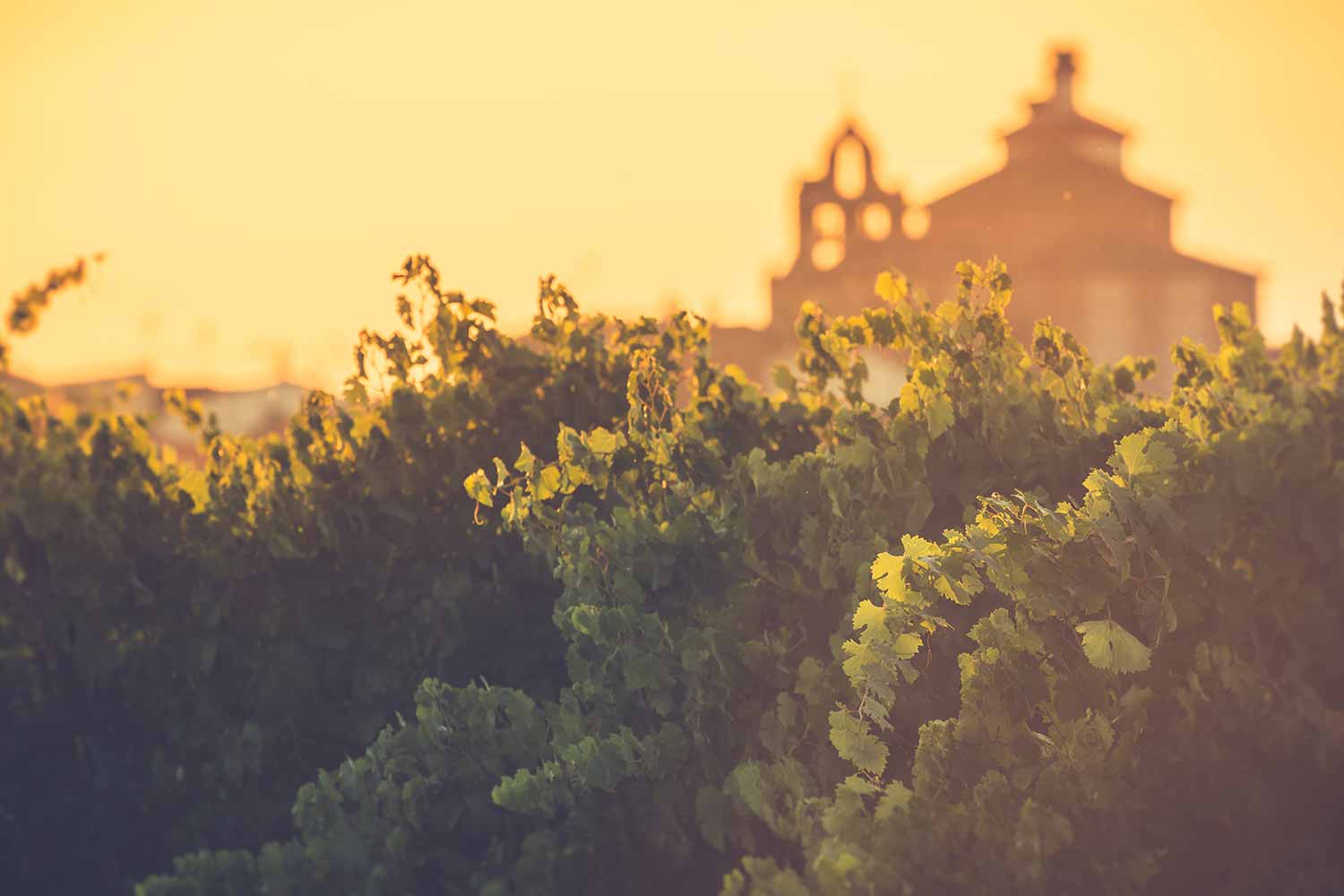 As you explore the vineyards, you will have the opportunity to sample local delicacies paired with a refreshing glass of Verdejo wine. This will be a great way to experience the flavors of the region and get a taste of the wine that the area is known for.
Next, you will visit the winery itself, where you will learn about the process behind wine-making and have the opportunity to taste two different varieties of Ribera Del Duero wine. This will be a fascinating insight into the world of winemaking and will allow you to discover the unique characteristics of these wines.
After the visit to the winery, you will have lunch at a Michelin-starred restaurant. This will be a truly luxurious and memorable dining experience, allowing you to enjoy the very best of Spanish cuisine in an elegant and refined setting.
Peñafiel Castle & Wine Museum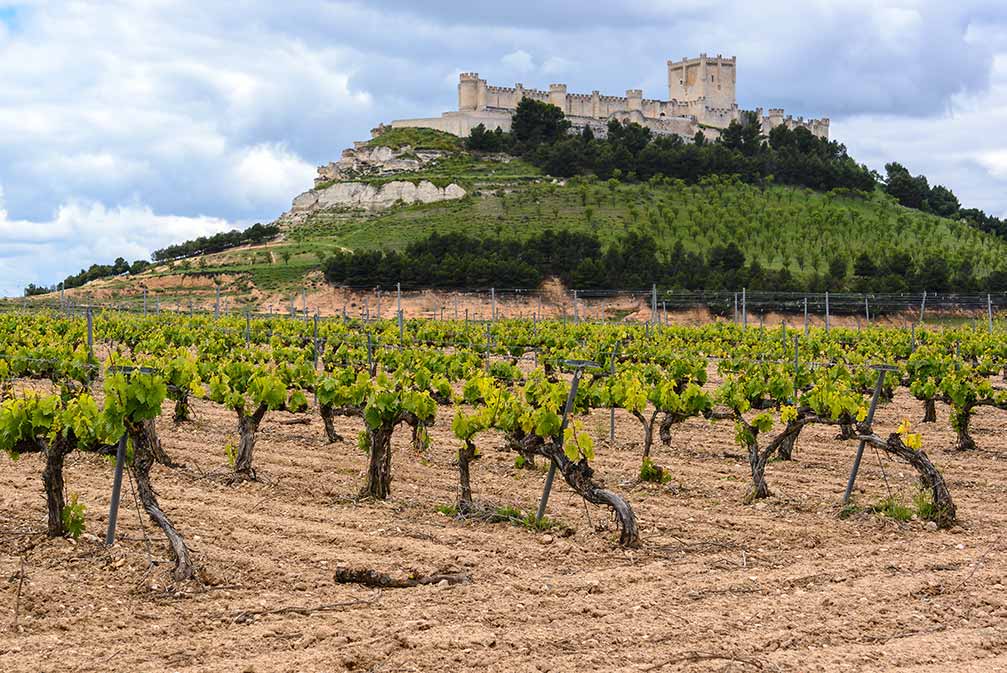 In the afternoon, you will head to Peñafiel, once a commercial and historic center of the first order. Its famous castle declared to be a National Monument in 1917, sits on a hill overlooking the valley. At the moment, the castle houses the Provincial Wine Museum, making it a "place of pilgrimage" for lovers of cultural and wine tourism.
Finally, you will head to the Abadia Retuerta LeDomaine Hotel, located at a 12th-century abbey. This luxurious hotel offers a unique and historic setting, with stunning views and a range of excellent amenities. It is the perfect place to relax and unwind after a day of exploring the Rueda region and learning about its famous wines.
Day 4: Abadia Retuerta Le Domaine Hotel Restaurant & Spain
At this luxurious hotel and winery, you can spend the day exploring the beautiful vineyards and learning about the art of winemaking. There are plenty of options to choose from, whether you want to deepen your knowledge with a wine sommelier, take a 4×4 jeep tour of the vineyards, or go horseback riding and taste local delicacies.
For those looking to relax and unwind, the hotel also offers a spa that combines Traditional Chinese Medicine's Five Elements Theory with the powerful healing properties of Aromatherapy. This is the perfect way to unwind and recharge after a day of exploring the outdoors.
Overall, Abadia Retuerta le Domaine offers a unique and memorable experience for anyone looking to connect with nature and discover the beauty of the Rueda region.
Best Tours from Emily! Words can't express how grateful it was to be able to call on Emily for help with some excursions in Spain. Emily, thanks soo much. You're the BEST!!!
Day 5: Medieval Burgos & Marques de Riscal Winery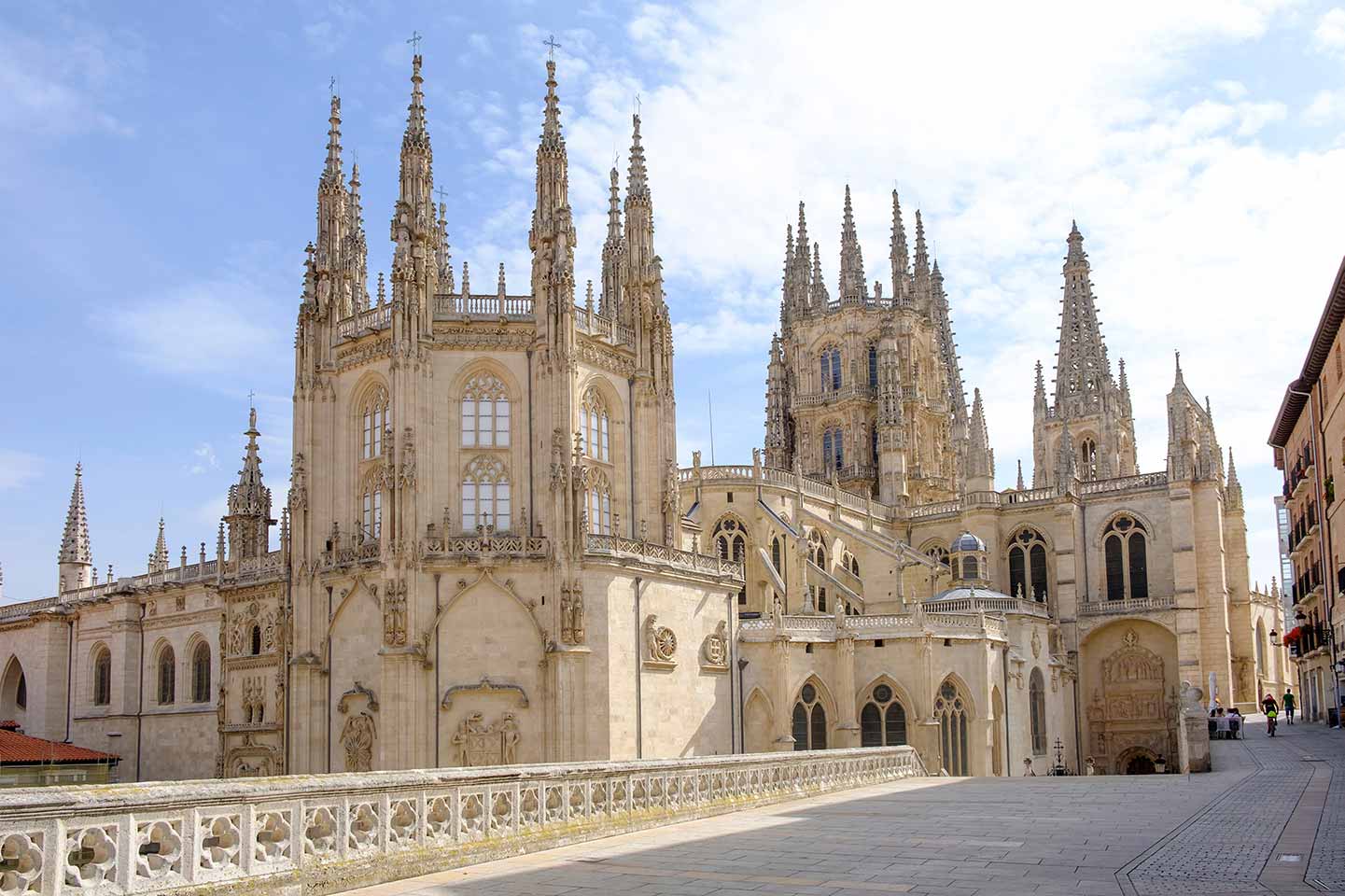 On our way to Marques de Riscal, we will stop in the city of Burgos. This city is situated along the Pilgrim's Road to Santiago de Compostela and is known for its rich history and cultural heritage.
Burgos was the capital of the unified kingdom of Castilla-Leon for five centuries and is home to many important historical and cultural sites. One of the most significant attractions in the city is the cathedral of Burgos, a masterpiece of Spanish Gothic architecture that has been declared a World Heritage site by UNESCO.
The cathedral of Burgos is a truly impressive building, with its soaring spires, intricate stonework, and beautiful stained-glass windows. Visitors to the city can take a guided tour of the cathedral, learning about its history and admiring its stunning architecture.
In the afternoon, we will visit the Marques de Riscal winery, located in the same complex as the hotel. This winery is known for its exceptional wines and is also home to a unique architectural masterpiece designed by the world-famous architect Frank Gehry.
At the winery, you will have the opportunity to learn about the process of winemaking and taste a selection of the finest wines produced at Marques de Riscal. This will be a fascinating and enjoyable experience, allowing you to discover the unique flavors and aromas of these exceptional wines.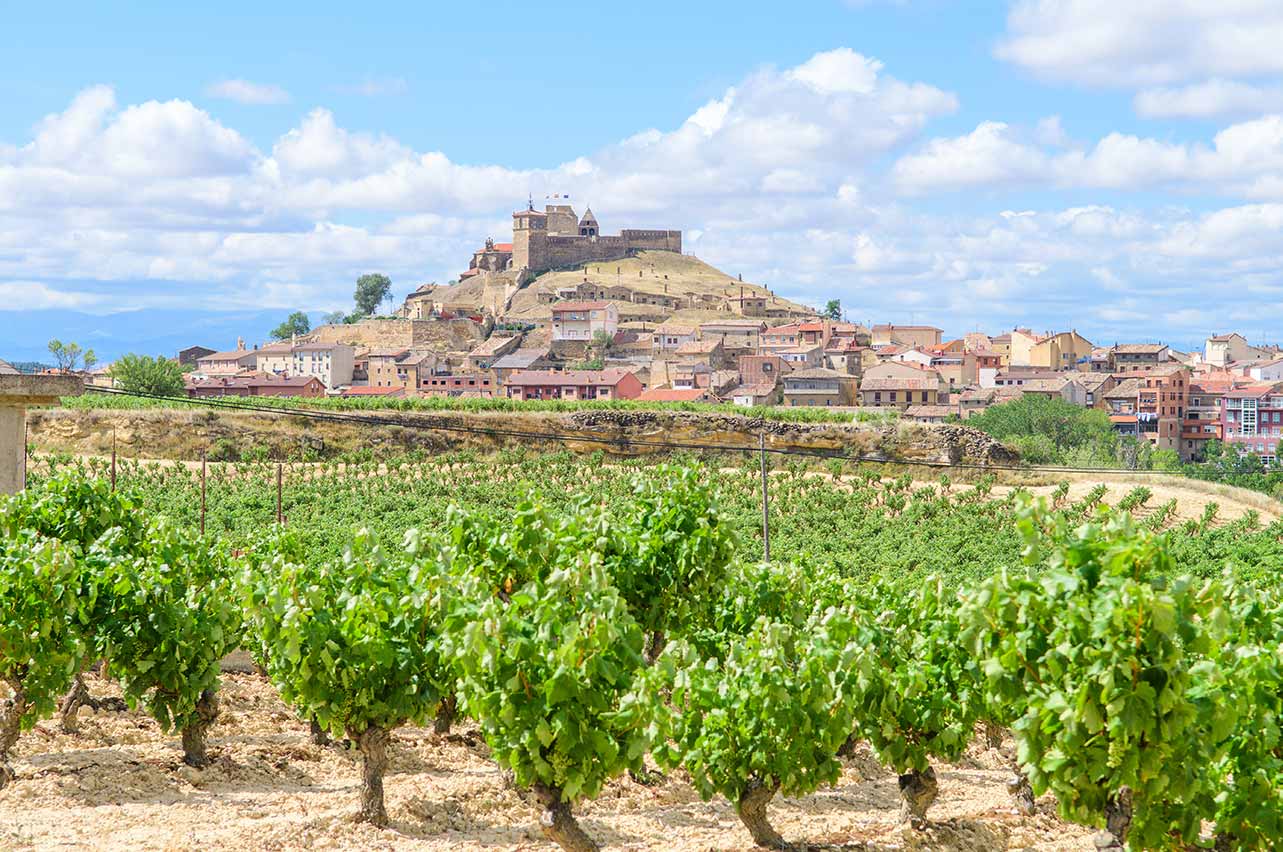 La Rioja is a region in Spain known for its outstanding food and wine. The day begins with a visit to the medieval village of Laguardia, where you will be able to admire the preserved city walls and the stunning cathedral. Afterward, you will visit one of the oldest wineries in the area, which is still run by the same family that founded it.
During your time in La Rioja, you will have the opportunity to visit two different wineries and taste some of the region's finest wines. Your private driver will take you on a tour of the region's 12,000 hectares of vineyards, where you can learn about the process of winemaking and admire the beautiful scenery. You will also have the chance to try some of La Rioja's specialties, such as its famous red wines and delicious local dishes.
After a day of exploring the region's rich wine culture, you will be driven to the city of San Sebastian in the evening. Here, you can continue to enjoy the culinary delights of the region, with its many Michelin-starred restaurants and vibrant food markets. Overall, a trip to La Rioja is a must for anyone interested in food and wine.
In the evening, you will be driven to San Sebastian.
Day 7: Visiting San Sebastian
Join a private guide for a half-day tour of the beautiful city of San Sebastian. You will explore the city's many highlights, such as the old Casino, now the City Hall, and the famous La Concha beach. You will also visit the Victoria Eugenia Theatre, located on the banks of the River Urumea, and admire the elegant Maria Cristina Hotel and the María Cristina Bridge.
San Sebastian is known for its stunning natural beauty, with its white sandy bay surrounded by hills and lush green scenery. The old town is situated between the sea, the river, and the marina, and is filled with charming houses and buildings from the early 20th century.
During your tour, you will discover the city's rich history and vibrant cultural scene, with its world-renowned film and jazz festivals. You will see how tradition and modernity coexist in San Sebastian, creating a unique and enchanting atmosphere.
End your evening by getting acquainted with the flourishing food scene in the city.
Day 8: A Gourmet & Cultural Day in Bilbao From San Sebastian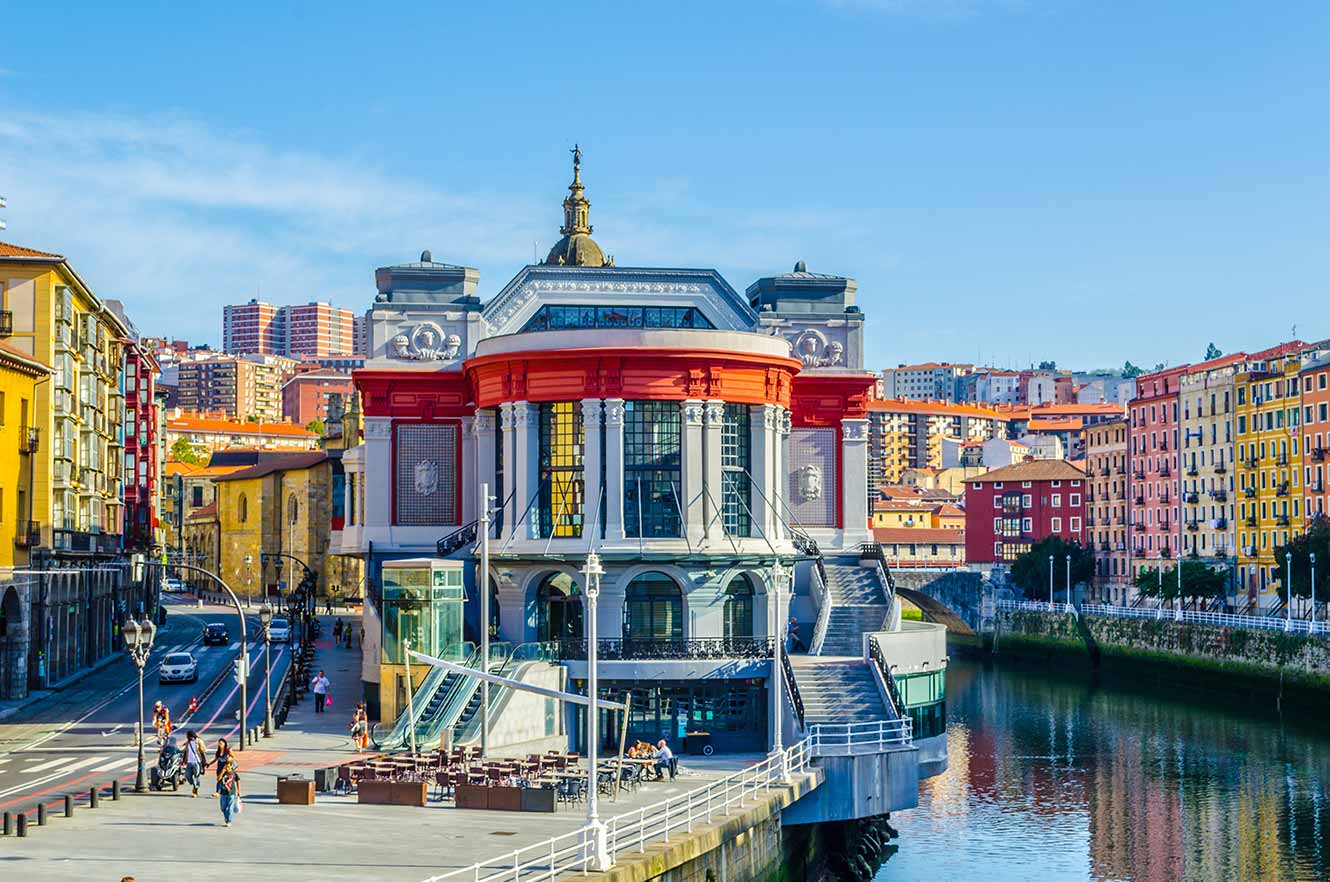 After breakfast, your private driver will take you to Bilbao, located about an hour away from San Sebastián. Upon arrival, you will meet your private guide and start exploring the old quarter of Bilbao. You will stroll through its cobbled streets, admiring its walls, the Gothic cathedral of Santiago, Plaza Nueva, San Anton's church, and the bustling Ribera market.
At midday, you will have the opportunity to experience the popular custom of "txikiteo" and "pintxos" (tapas) on a gastronomic adventure. The old quarter is the best place to try out the local cuisine, served in numerous bars and restaurants, and enjoyed with a glass of "txakolí", a white wine from the region.
In the afternoon, you will visit the Guggenheim Museum, designed by Frank Gehry and located alongside the Nervion River. The museum houses a collection of works by world-renowned artists, including David Salle, Chillida, Jeff Koons, Louise Bourgeois, and Robert Rauschenberg. The Guggenheim Museum is a must-see for art lovers visiting Bilbao.
Excellent Individualized Tour Company for People who do not want to go on Package Tours. I used Emily to arrange a tour of Southern Spain in January, 2020 for 4 people. It turned out to be great. What I do not like is being shepherded around to cheesy tourist sites and waiting in lines of tourists. Emily arranged for very competent and efficient drivers, fantastic guides, very good hotels and even recommended restaurants for each location. The best thing about using Emily is that when she arranged for (at my request) wine tastings, olive oil tastings, a flamenco show is that all of them were authentic and interesting and none of them were contrived or cheesy. While on the trip, she checked in and made sure everything went smoothly. When we went to the Alhambra or other ticketed sites, we always got to skip the line due to Emily. There was one overall price per person (depends on double/single room) that I felt was very fair for the level of service provided.
Day 9: Barcelona Culinary Tour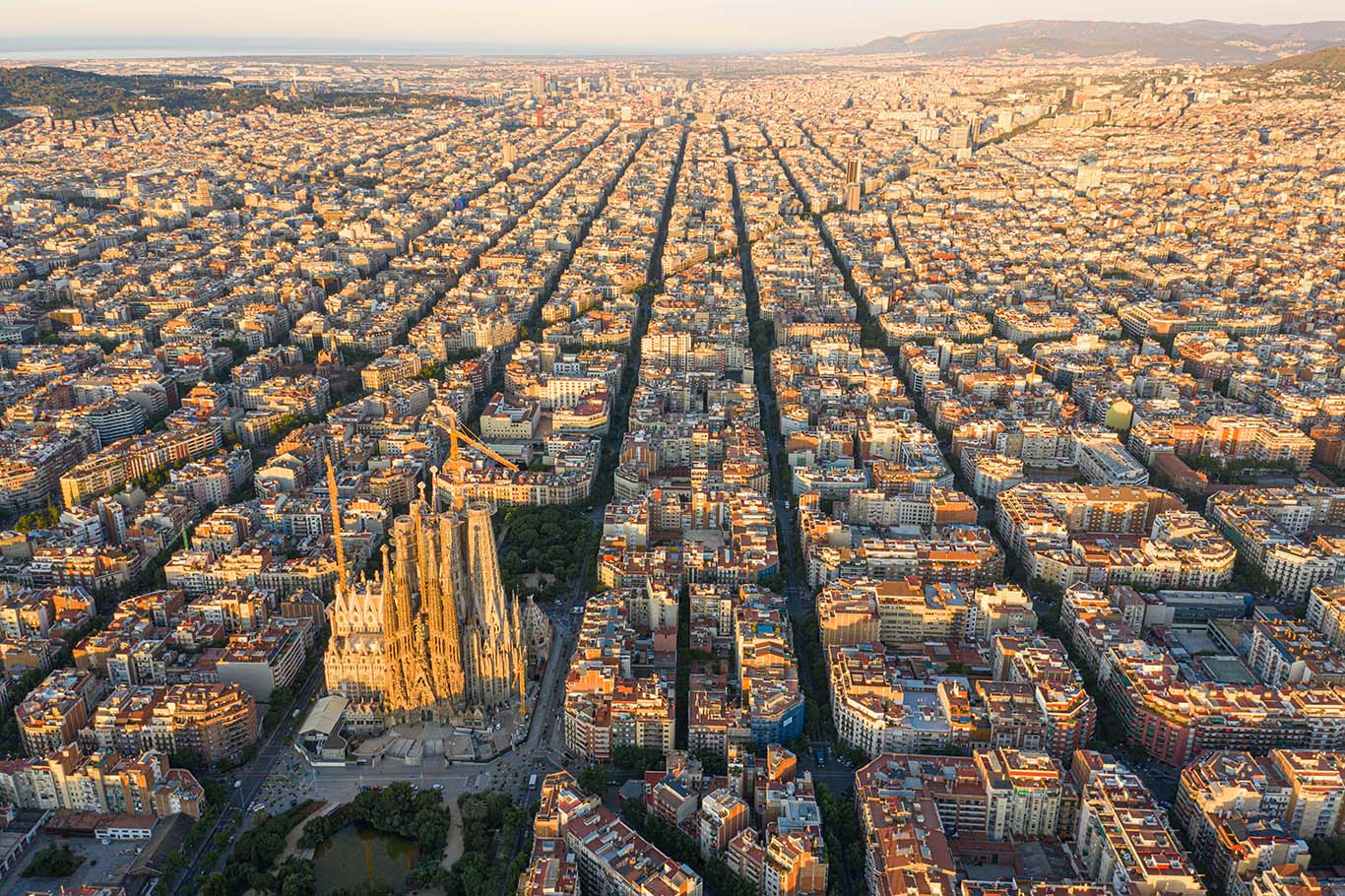 Start the day with a visit to the Boqueria Market, one of the most famous markets in Barcelona.
As you wander through the market, you'll have the opportunity to sample a variety of local cheeses, cured meats, and fresh produce. Be sure to try some of the market's famous cured hams, such as Jamon Iberico or Jamon serrano, and taste some of the locally produced cheeses, such as manchego or cabrales. 
Take the time to chat with the vendors and learn about the different foods they have on offer – they'll be happy to share their knowledge and recommendations with you.
After exploring the Boqueria Market, head to a local bakery to try some traditional Catalan pastries. Catalan cuisine is known for its delicious baked goods, and there are plenty of bakeries throughout the city where you can try some of the region's famous pastries. 
Some popular options to try to include coca de llanda, a type of flatbread made with olives, nuts, and cured meat, and xuixo, a fried pastry filled with cream. You might also want to try some ensaimadas, a spiral-shaped pastry made with flour, eggs, sugar, and butter, or panellets, small almond-flavored balls that are traditionally eaten in the run-up to All Saints' Day. Take your pick of the many different pastries on offer and savor the flavors as you wander through the city.
Now head to a wine shop to taste some of the finest wines that the region has to offer. The Catalonia region is home to a number of world-class wineries, producing a range of red, white, and sparkling wines that are popular both in Spain and abroad.
To end your food and wine tour in Barcelona, stop by a chocolate shop to sample some of the city's famous chocolate. 
There are many artisan chocolate shops in Barcelona where you can indulge in some popular options like churros, long, thin doughnuts that are deep-fried and served with a chocolate dipping sauce, and xocolata amb melindros, thin, light sponge fingers that are served with a thick chocolate sauce. You might also want to try some of the region's famous turrón, a type of nougat made with almonds, honey, and sugar.
After enjoying breakfast, your private driver will be waiting for you in the hotel lobby to take you to the Airport. If you prefer, you can also continue your journey to France, crossing the border to reach Saint-Jean-de-Luz or Biarritz to continue your culinary tour.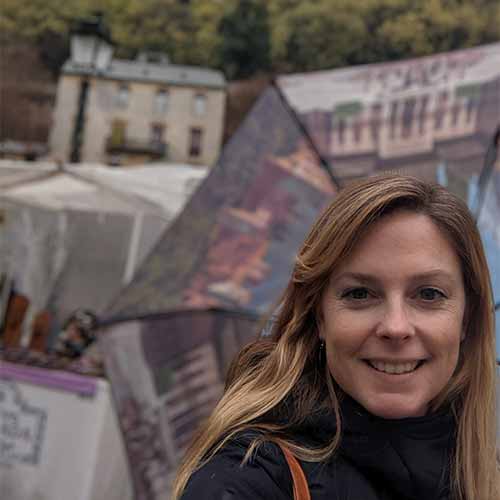 Say Ola to Emily, your personal tour planner at Guided Spain Tours. Get in touch by filling in the form below and requesting your complimentary itinerary!
Contact Our Spanish Food & Wine Specialists
Our Spain food and wine tour itinerary offers a taste of the best that the region has to offer. From the rich culinary traditions of San Sebastián to the art and culture of Bilbao, this itinerary is designed to provide a well-rounded experience for travelers who love food and wine. 
If you are interested in learning more about this tour or would like to discuss the possibility of creating a bespoke version for you that would include other phenomenal gastronomy cities like Barcelona, please don't hesitate to contact us. We would be happy to help you plan the perfect trip to Spain.
Highly recommend Emily! Emily created a personalized itinerary for us in southern Spain. She was very knowledgeable about the region, attentive, and personable. She returned emails properly, and was a pleasure to work with. Emily was flexible and did not make mind making changes in the itinerary-- Her goal is to please her customers!
Emily is GOOD! Emily arranged a 14 day tour for us in Spain at short notice of a week or so. The whole tour was beautifully organized, amazingly flexible and the rare glitches were attended to and addressed, literally instantly. For sure we will be back for further tours with her. Thanks, Emily.
Best Tours from Emily! Words can't express how grateful it was to be able to call on Emily for help with some excursions in Spain. Emily, thanks soo much. You're the BEST!!!
Spain and Portugal trip: Emily did an amazing job Of setting up our trip through Spain and Portugal. All of our tours were outstanding and personalized. We had a wonderful time!
Private Tour: Emily is a pleasure to work with. She arranged hotels, activities, tour guides and transportation in Barcelona, Madrid, Segovia, Toledo, Cordoba, Avila, Seville, Malaga, Gibraltar. She was extremely responsive when we had questions and made sure that everything flowed smoothly.