Your 16-Day Tour of Spain
Spend sixteen glorious days exploring Spain with your private guide with our 16-day itinerary that includes the best of Barcelona, Madrid, Seville, Granada, and more!
When you close your eyes and think of Spain, what images come to your mind? Is it the golden sands of the beaches in the Balearic Islands, the fiery passion of Flamenco dances, the rich cultural tapestry that weaves together Christian, Moorish and Jewish influences throughout the country, or perhaps Traditional Tapas culture and lush vineyards? Our 16-day ultimate Spain tour itinerary provides all this and more for you.
If you would like to discuss any aspect of our itinerary or request a complimentary bespoke version, simply get in touch with our planning specialists.
Highlights of The 16-Day Tour:
Day 1 & 2: Private Tours of Barcelona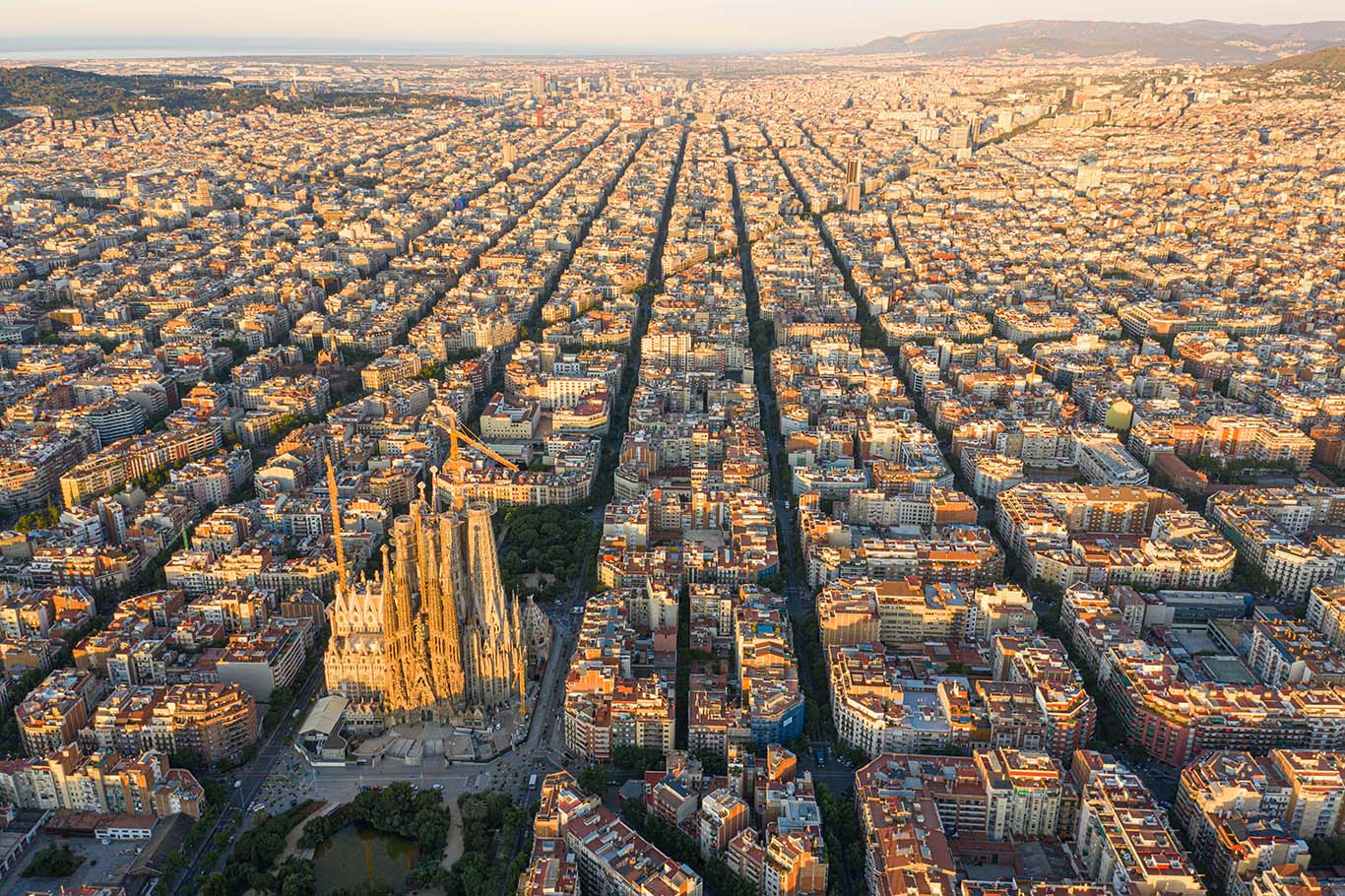 In the heart of Catalonia lies one of Europe's greatest and oldest cities: Barcelona. The 2 days we have planned for you will reveal the stories behind the historic and cultural clashes taken place here over the centuries, the iconic architecture and artistic masterpieces by luminaries such as Gaudi, Picasso, and Dali amongst others, and of course the street markets, bars, museums and galleries that give Barcelona its distinctly Catalan flavor.
Guided Tours of Barcelona:
Explore the one-of-a-kind architecture of Anton Gaudi Sagrada Familia, Casa Mila, Casa Batllo, or Parc Guell
Savor traditional food markets like La Boqueria or the Santa Caterina Market
Tasty tapas, fine wines, and incredible seafood on La Rambla boulevard
Walking tours through cobbled streets of the Gothic quarter
Discover ancient Barcelona's Roman & Medieval heritage
Day 3: Best of Catalan - Girona & Besalu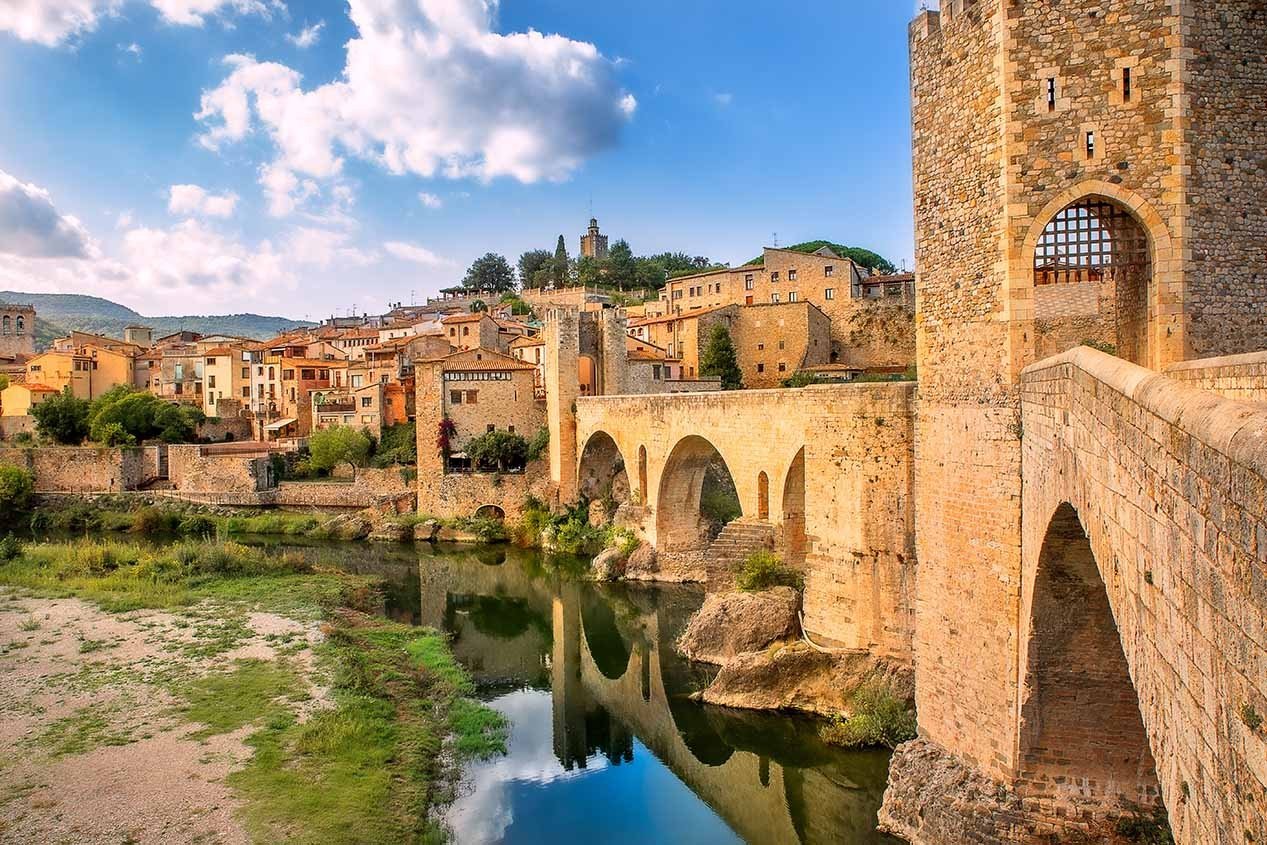 Today on a private chauffeured VIP day trip we'll visit two of the most beautiful and charming towns in Catalonia, Girona, and Besalú.
The medieval city of Girona is just a brief one-hour drive from Barcelona via private transfer and makes for a fascinating day tour finding out why the picturesque town was of such significance during the Roman Empire, exploring ancient walls and architecture, galleries, and Sephardic history away from the crowds of the Catalan Capital.
At the entrance of Girona's 15th-century Cathedral, you will find the huge Gothic Arch that commands a sense of awe even before you enter the structure. Much of the appeal of the city, however, is found in walking its labyrinthic cobbled streets and bridges of Girona's "Barri Vell" or Old Town with your private guide, especially around the charming Jewish quarter. 
Next, your private driver will deliver you to the medieval village called Besalu. You will start your walking tour through the ancient town, admiring its streets lined with medieval-era buildings. Highlights to visit with your guide include the 12th-century Romanesque Medieval Bridge, the 11th-century monastery of Saint Pere, and the Jewish baths, also known as the mikvah, built during the 12th century.
Following a Catalan-style meal that we will reserve in advance for you, it is time to return to Barcelona in the luxury of our private, air-conditioned executive vehicle.
Day 4: Private Sailing Experience Barcelona Boat Tour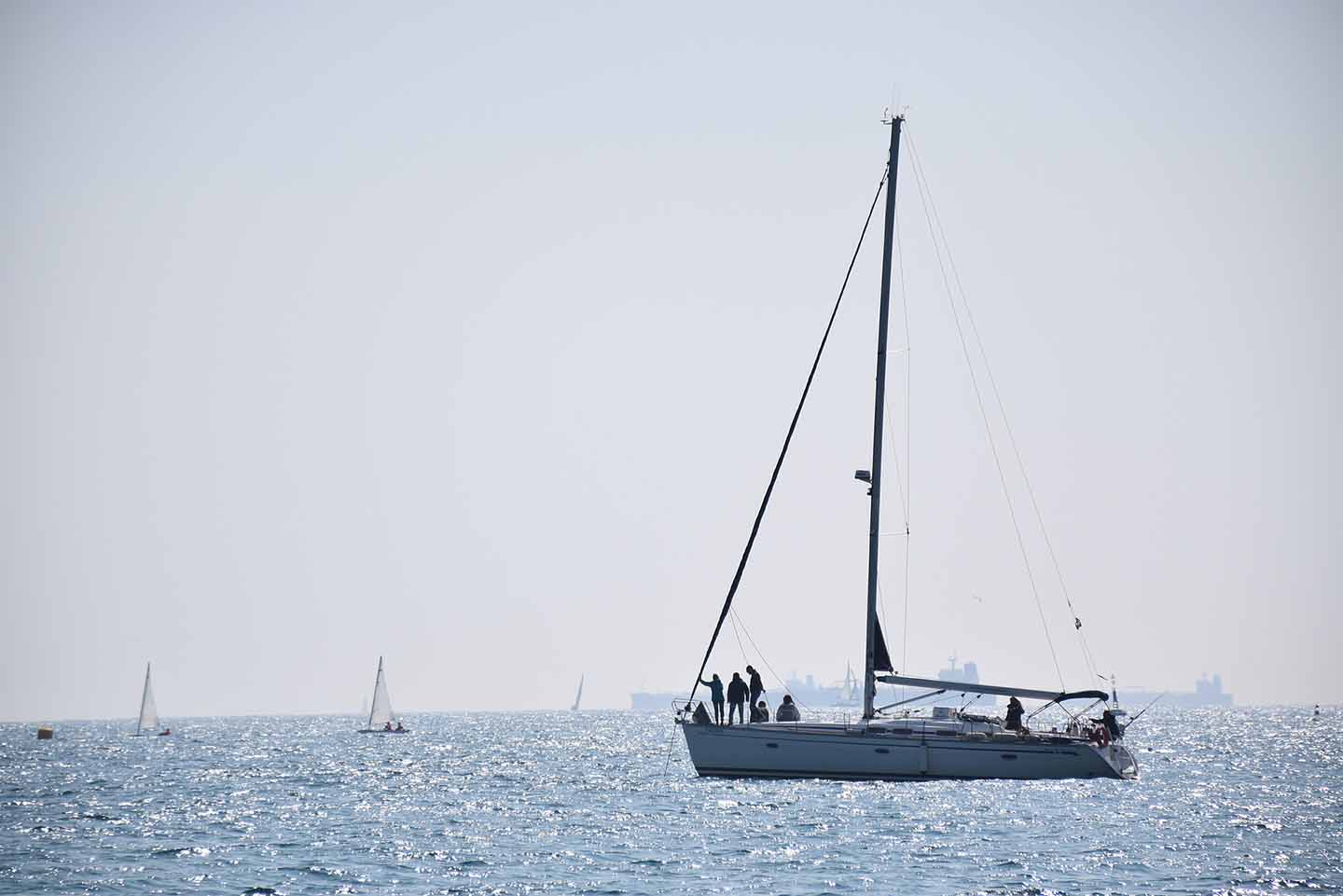 Set sail with your private skipper aboard a luxury yacht or small traditional-style Catalan vessel, gliding on the Mediterranean sea as you enjoy a relaxed boating tour setting off from Port Vell, the Old Harbor in Barcelona.
The sailing route will enable you to relax on deck as you admire the most captivating sights of Barcelona's architecture from the Sea as we sail past La Sagrada Familia, Barcelona Cathedral, Montjuic, Tibidabo, and the Port Olympic. If you dare, we could arrange for the private skipper to allow your group to take control of the ship, while after you return from taking a refreshing dip in the warm waters of the Mediterranean, you can sail back in luxury, perhaps enjoying a Spanish Sangria with your Tapas lunch onboard.
On the evening of day four, we have innumerable options that we will tailor exactly to your tastes. Perhaps join the locals in their finest evening dress in the Liceu Theater – formerly the largest Opera house in Europe, with exclusive VIP tickets. Should you be interested in delving deeper into Catalan cuisine and eating like a local, we can arrange a market and Paella cooking class with a private professional chef, or take a night off and simply enjoy the free Magical Fountain show.
Best Tours from Emily! Words can't express how grateful it was to be able to call on Emily for help with some excursions in Spain. Emily, thanks soo much. You're the BEST!!!
Your chauffeur will collect you from your accommodation in the morning to take you to the airport for the brief 1-hour flight to the Basque country and San Sebastian.
Enjoying a reputation as one of the premier locations for foodies, the stunning coastal town of San Sebastian is often criminally underlooked by tourists on their Spanish vacation. Aside from the majestic castles and coastline on display, your private guide will be able to introduce you to facets of the completely unique and fascinating Basque culture as you enjoy some pintxo – a style of eating where you enjoy small plates bar to bar, standing up.
Private Tours of San Sebastian:
Savor your share of pintxos (Vasque small plates).
Enjoy one of Europe's top beaches, Playa de la Concha.
Stroll beautiful seaside promenades.
Visit a Basque Cooking Club
Get an aerial view of the city from the summit of Monte Igueldo
Surf on Playa de la Zurriola
See the cannons and forts that fought Napoleon
Sip Txakoli, an effervescent light white wine or silky Rioja reds
Day 6: La Rioja Wine Tasting Experience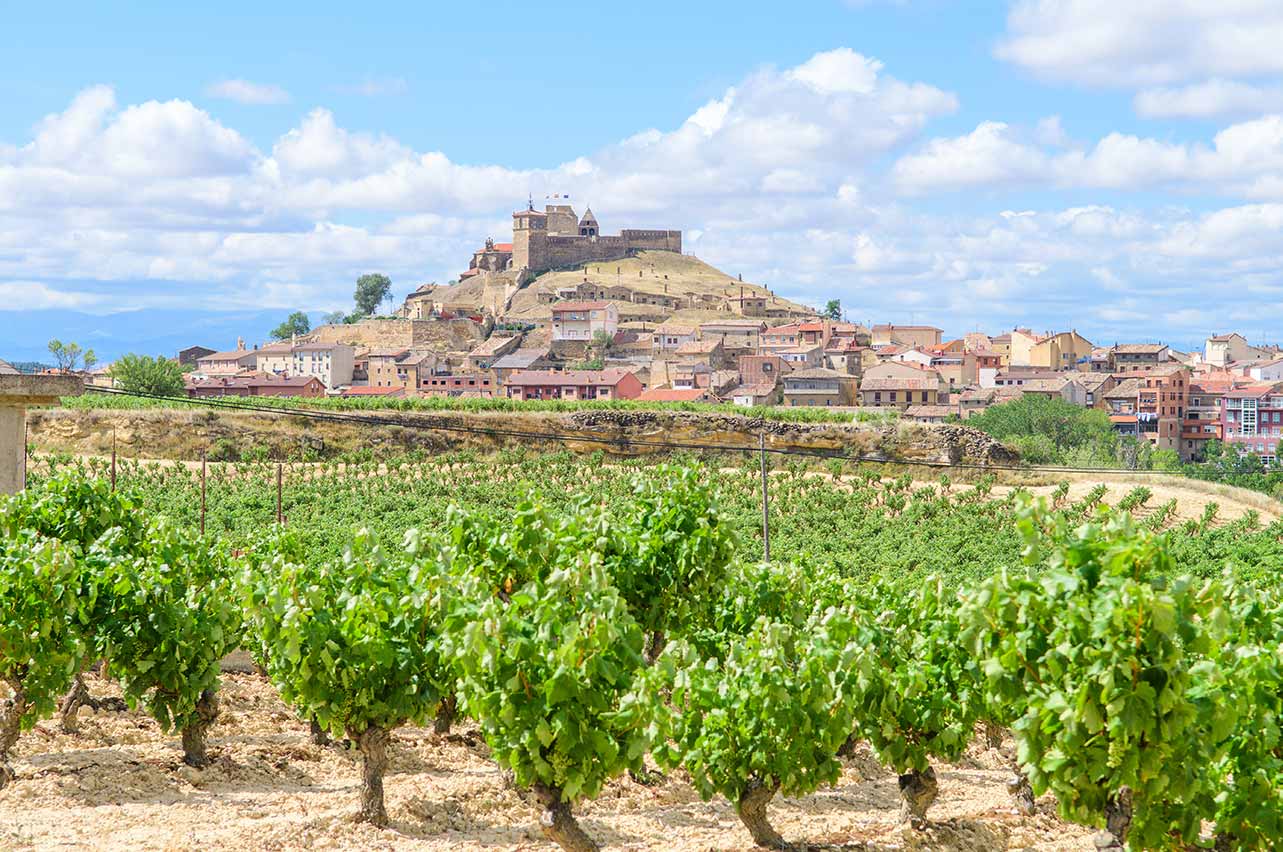 A two-hour chauffeured drive from your base in San Sebastian lies La Rioja – perhaps the finest wine region in Spain.
Boasting over 500 wine estates and known the world over for producing some of the finest wines from all of Spain, Rioja has plenty in store for you whether you are a wine aficionado or just a keen novice!
Moreover, outside of fantastic wine tours, there are a wide variety of sun-kissed villages, cultural attractions, UNESCO World Heritage sites, and natural beauty on display for you to explore with your guide.
Rioja Private Tour Ideas: 
​Wine tasting or making experience with a local specialist
Discover medieval stone villages like Laguardia and the beautiful Rioja mountains
Walk or cycle vineyards, before wine-tasting lunches at Spain's top bodegas/wineries.
Visit amazing winery buildings of celebrity architects like Zaha Hadid or Santiago Calatrava.
Enjoy the tantalizing tapas and wine bars of Haro
After a full day's tour and your fill of fine wine, your chauffeur will guide you back to your San Sebastian accommodation in the evening.
Day 7 & 8: Relaxing in Mallorca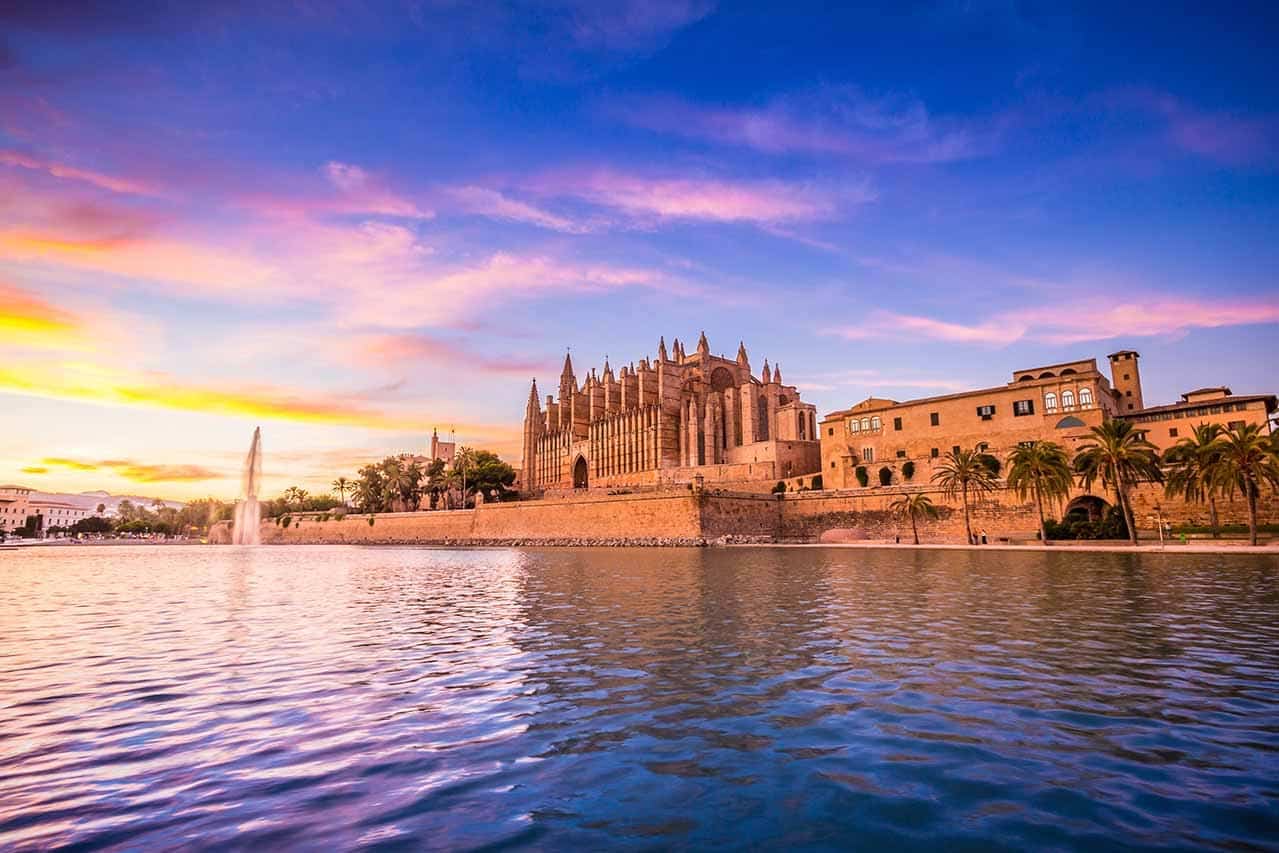 Whilst we all love to be active on our vacations, when visiting the land of the siesta it is only natural that we should want to spend some blissful time on a Mediterranean island with nothing to stress over except luxuriating in the basking sun and listening to the gentle crashing of the waves washing upon the fine white sandy beaches.
After a brief 1 hr 20 minute flight from San Sebastian, you will find yourself on the postcard-perfect Balearic island of Mallorca.
What to do in Mallorca
Relax on Mediterranean beaches with turquoise waters
Savor vineyards, olive groves & almond trees.
Explore beautiful hill towns & medieval monasteries
Tour the beautiful 13th century Le Seu Cathedral
Taste the freshest seafood & tapas at seaside restaurants
Enjoy all forms of watersports
Walk the coastal trails of Formentor and Cap d'es Pinar
This morning you are leaving the sandy beaches of Mallorca for a quick 1.5-hour flight to Andalucia and the popular coastal town of Malaga. 
Gaining a reputation as the Barcelona of Andalucia, exploring the cultural side of Malaga makes for a fascinating time with your private guide. Indeed, Malaga wears its history on its sleeve to the extinct that it wouldn't be unfair to describe the city as an open-air museum, with cultural artifacts on display dating back to the 3rd century and Roman rule, a strong influence from the reign of the Moors and an enduring impression from when the city was re-conquered by the Christians in the 15th century.
As night falls, the atmosphere in Malaga kicks into another gear and its fashionable neighborhoods and stylish bars come to life.
Where To Tour With Your Private Guide in Malaga:
Discover the birthplace of world-famous artist Pablo Picasso 
Enjoy a tour of Malaga's old town and al fresco dining
Explore the Moorish Alcazaba Fortress used by Hollywood
Eat the freshest seafood and tastiest tapas
Savor the historic Picasso museum
Amazing experience! My husband Douglas and I just came back from a 10 days customized guided tour to Morocco organized by Emily from Guided Spain. It was an amazing trip. Our driver Youssef met us at the Casablanca Airport and he quickly became our guide, security guard and guardian angel! When I got sick he got me medicine and he always found the best toilets when we were on the road. Also, ice cream! We feel that we got the authentic Morocco experience with the riads (hotels) that Emily chose for us and the guides in the different cities we visited. The Merzouga Luxury Desert Camp was totally amazing as well as the visit with the Nomads,and the medinas. This is our second trip with Emily and as the first one, it was excellent. Our next one will be Portugal!
Day 10: Granada & The Alhambra Private Tour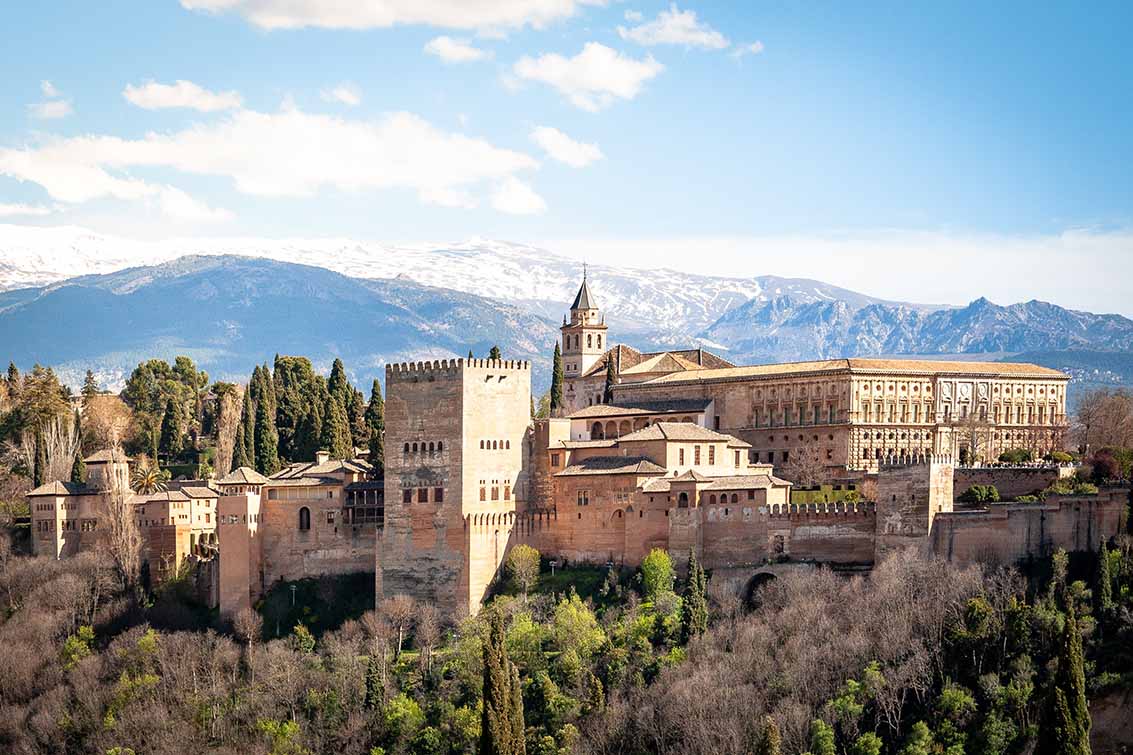 Your private driver-guide for the day will collect you from your central Malga location as we make our way to Granada, and the Alhambra, perhaps the jewel in the crown of Andalucia and a world-renowned UNESCO World Heritage Site.
With your private guide and exclusive skip-the-line access, you will step inside the majestic Alhambra Palace – one of the most historic structures in all of Spain, revered worldwide for its intricate styling and details in both Moorish and Christian style.
Walk with your guide on your exclusive tour as they bring to life centuries of war, romance, and p[olitical intrigue as you explore the hilltop citadel, palace, and gardens through the Alcazaba, Nazarí Palaces, Palace of Charles V, and Generalife Gardens.
Granada, however, has much more to offer than just the Alhambra. Get a taste of the city on guided tour experiences including:
Venturing out to the Alpujarras medieval mountain villages & trails.
Discover the ornate Catedral de Granada
See the final resting place of King Ferdinand and Queen Isabella at the Capilla Real
Get a taste of Morocco at the Alcaiceria Bazaar
Admire the vistas and beauty of the Albayzin medieval district
Visit unique caves in the Sacromonte mountain monastery
Flamenco performances in the Roma gypsy District, built into the Sacromonte caves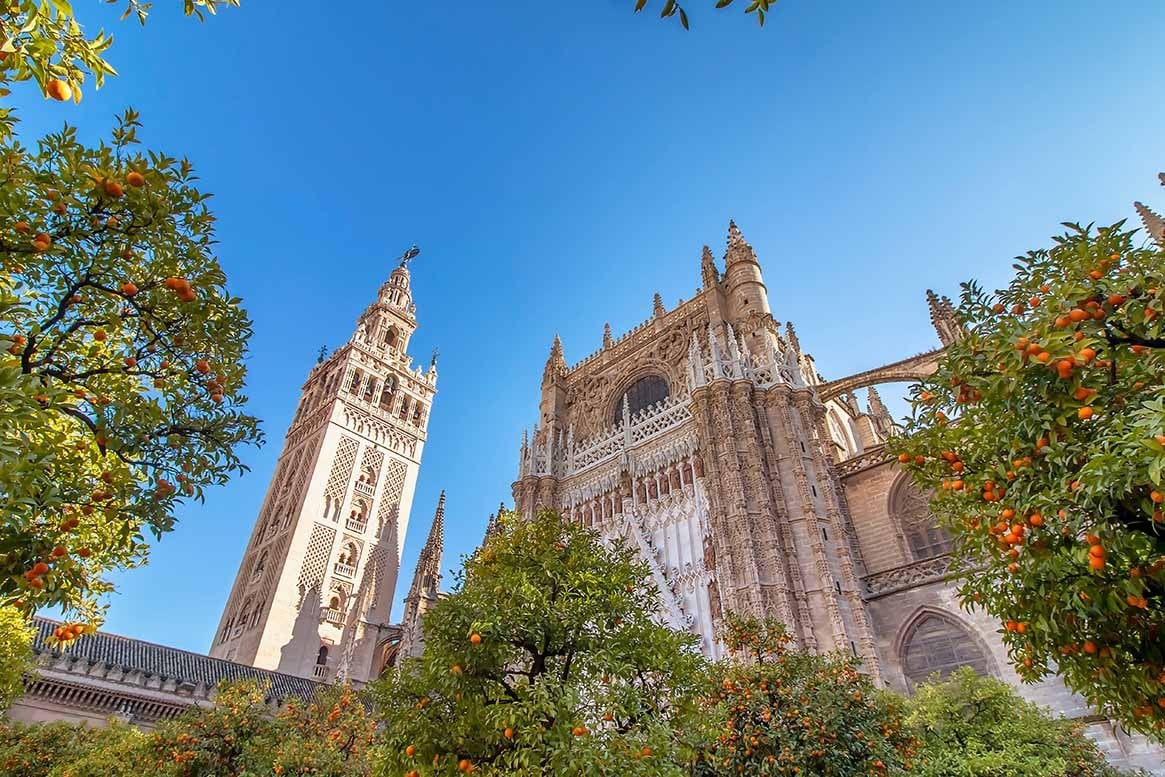 Seville (or Sevilla in Spanish) is a beautiful, historic river city and the capital of Andalucia. Your private guide and chauffeur will collect you in the morning at your Malaga accommodation as you make your way towards Seville, stopping for lunch at Osuna village – famed for its Baroque houses, churches, and palaces.
Enjoy an eclectic mix of Moorish, medieval, renaissance, and gothic architecture and cuisine which is reflective of the cultural influences and history of the city. Highlights of our Seville private tours include the stunning Palacios, Royal Alcazar, Plaza de Espana, and Plaza de Toros
Perhaps the most iconic site in Seville, however, is the huge Seville Cathedral. Conceived on a magnificent scale by the Canons of Seville as far back as 1401, the Cathedral of Seville is still today one of the largest churches in Europe and the largest in Spain.
It doesn't fail to impress and not just by its sheer size – the main nave rises to a dizzying 42 meters. There is a wealth of art contained within, not least the fabulous Main Altar and though principally gothic, there are also some Islamic architectural elements.
Private Guided Tours of Seville
Stroll Seville's orange-tree-lined lanes of the Santa Cruz historic district 
Discover the palatial Moorish Royal Alcazar fortress and gardens, the gigantic Cathedral, and evening bars in Macarena
Marvel at the grandeur of the Plaza Espana, featured in many Holywood productions including Lawrence of Arabia and even Star Wars
Climb La Giralda tower and the Torre del Oro
Day 12: Discover Córdoba on a Guided Day Tour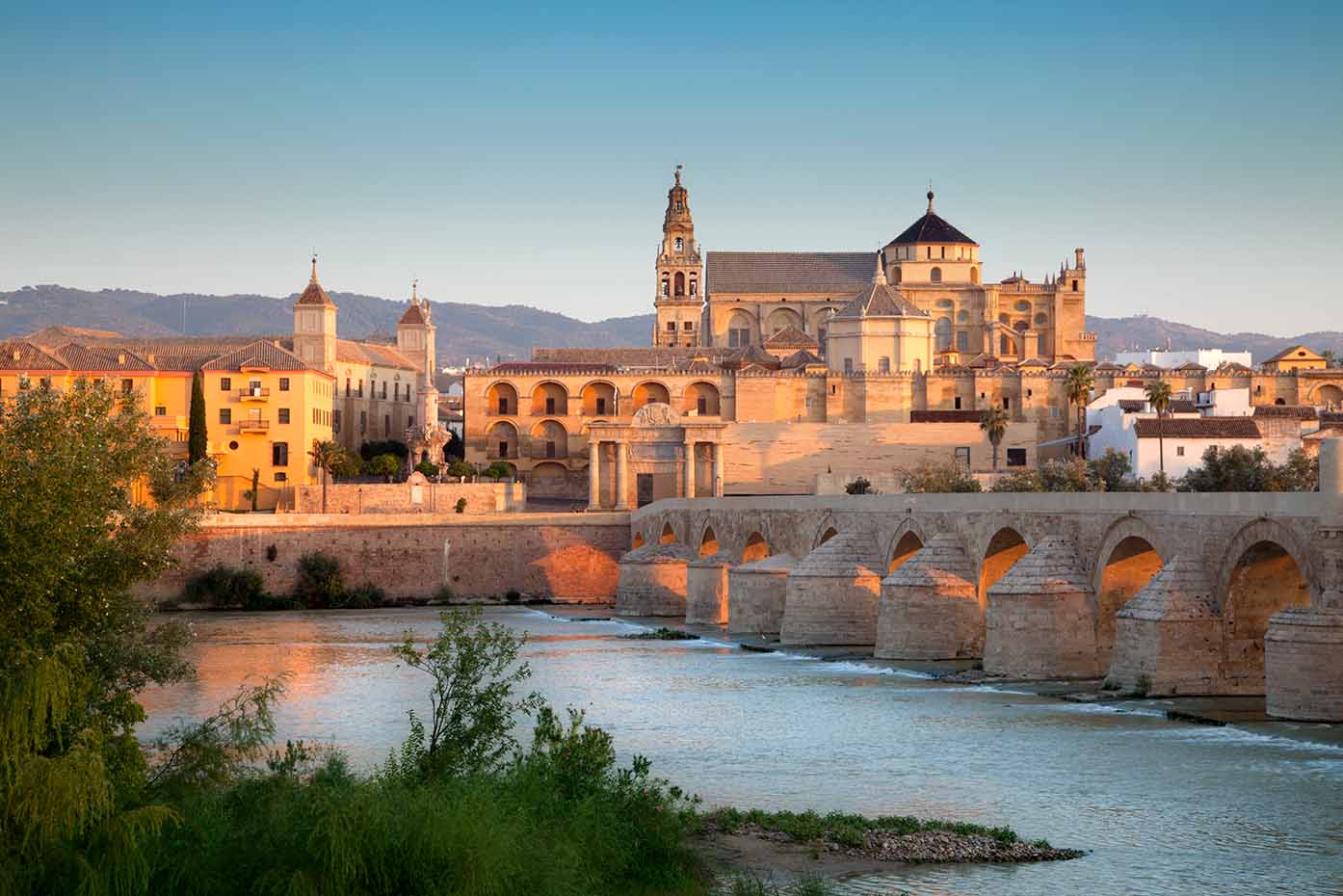 Enjoy the Moorish, Roman & Jewish heritage of Córdoba, once the richest in Europe. On our private guided tour, discover the best of this UNESCO-listed old town including the Roman bridge, once crossed by Julius Caesar, the Mezquita. 
Now a Cathedral, originally the Mezquita was among the largest medieval mosques and still includes over 800 hand-cut columns, some from Roman times. Nearby your guide will help you navigate charming maze-like tiny winding streets of the old town of Córdoba. 
Master artist Julio Romero Torres – said to have influenced Picasso was from Córdoba and there is a fine museum here full of his dramatic regional paintings.
UNESCO World Heritage-listed historic quarter of ancient Córdoba
Private guided visit to the incredible Mezquita, the world's only Cathedral-Mosque
Walk the ancient Roman bridge and the tiny cobblestoned lanes
 Enjoy ancient whitewashed buildings of the former Jewish Quarter
 Savor amazing tapas + some of the world's best extra-virgin olive oil
Your private driver will deliver you back to your Seville accommodation for the night.
Day 13: Flight Transfer to Madrid
On Day 13 of our 16-day best of Spain itinerary, you will make the transfer to Seville airport for the short 1-hour flight to Madrid, the Capital city of Spain, where you will be based for the final 3 nights of our 16-day Spain itinerary.
In the evening we would recommend that you visit the Reina Sofia Museum which houses collections of Spain's most famous 20th Century Masters, Dali and Picasso amongst many other modernist and contemporary works. The museum is free to enter between 7 pm to 9 pm on weekdays.
Join your private driver in our luxury vehicle as you visit the ancient city of Segovia, just a brief one-hour drive away from your Madrid accommodation.
Although a relatively small city, Segovia is a UNESCO World Heritage site rich in history, charm, and stunning ancient Roman architecture and home of the castle whose dreamy spires and blue-grey turrets are said to have been the inspiration behind Cinderella's castle in the animated movie and which has been part of the Walt Disney logo since 1985.
Destinations On Your Full-Day Segovia Tour Include:
Aqueduct of Segovia
Alcázar of Segovia (Disney Castle)
Walking tour of Segovia old city


Upon arrival in Segovia, we will first stop at a local cafe to enjoy a quick breakfast of coffee and Churros before we set off for our first guided tour of the day at the Segovia Aqueduct.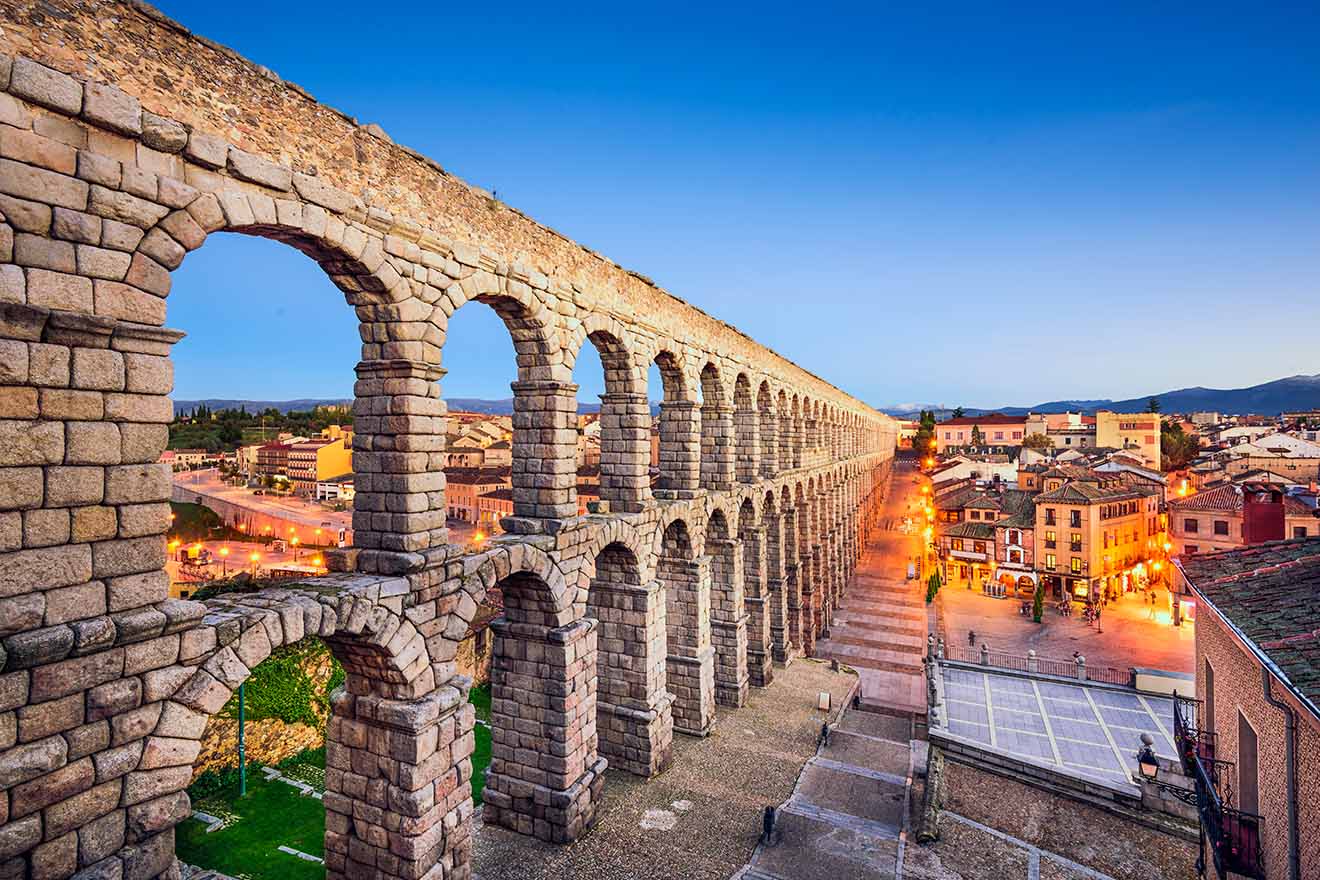 The Roman aqueduct, constructed in the 2nd Century provides the perfect synthesis between utility and beauty. Without the use of mortar or cement, the blocks of stone that make up the 167 arches over 2 levels that rise 30 meters in height were laid on top of each other in perfect harmony and allowed water to flow from the Frio River to the heart of the city simply by utilizing gravity.
Alongside discussing the engineering genius displayed by the Ancient Romans and the historical significance of the aqueduct throughout the 200 years it has remained standing, you can also enjoy a guided tour of the Aqueduct Interpretation center.
Segovia Castle Private Tour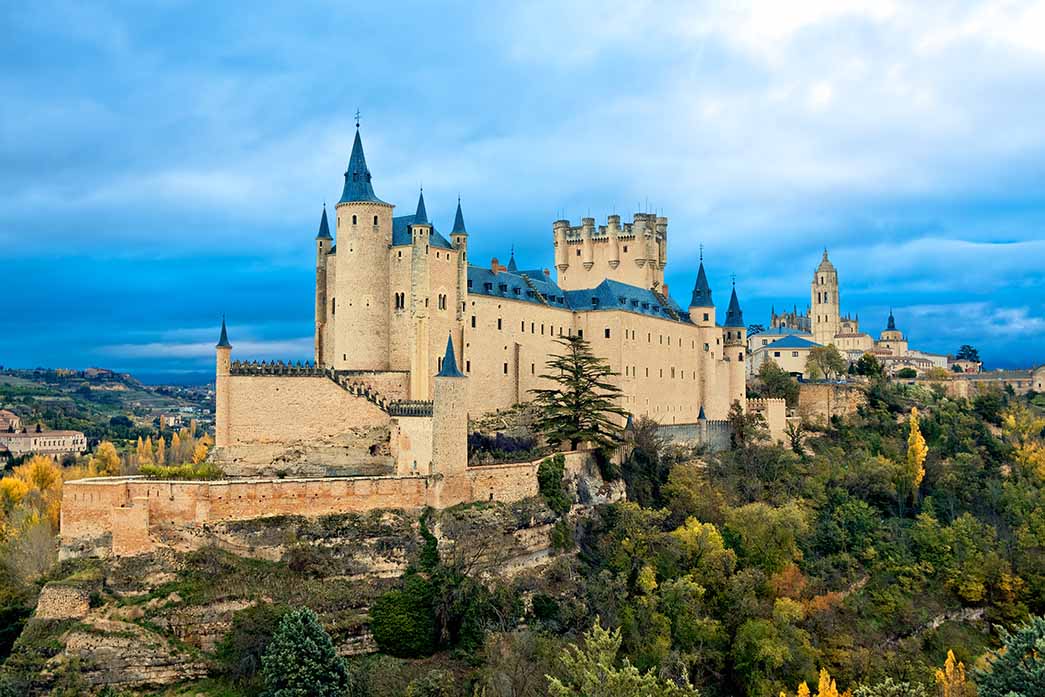 Now your guide will take you across the drawbridge and over the moat as you approach the breathtaking Segovia Castle or Alcazar. Whilst there is disagreement over which castle the Disney logo is based on, the general consensus is that it is a mix of the Segovia Alcazar and the Neuschwanstein Castle in Germany.
After admiring the beauty of the castle from the outside, you will then step inside with your private guide as they recant the history, Royal heritage, and wartime tales that made the Alcazar so prominent in Spanish history with you. 
The stories and tales are brought to life as you walk through the exhibitions on display in 9 the castle's halls, which tell the story of life in the castle while under siege, the significance of the location as Queen Isabella was crowned here (Isabella became known as the first Queen of Spain due to the reconquering of the Moors). There are displays detailing often horrific events from the structures used as a prison through the 16th to 18th century, all the way up to the present day where it serves as a military museum.
Walking The Streets of The Old Town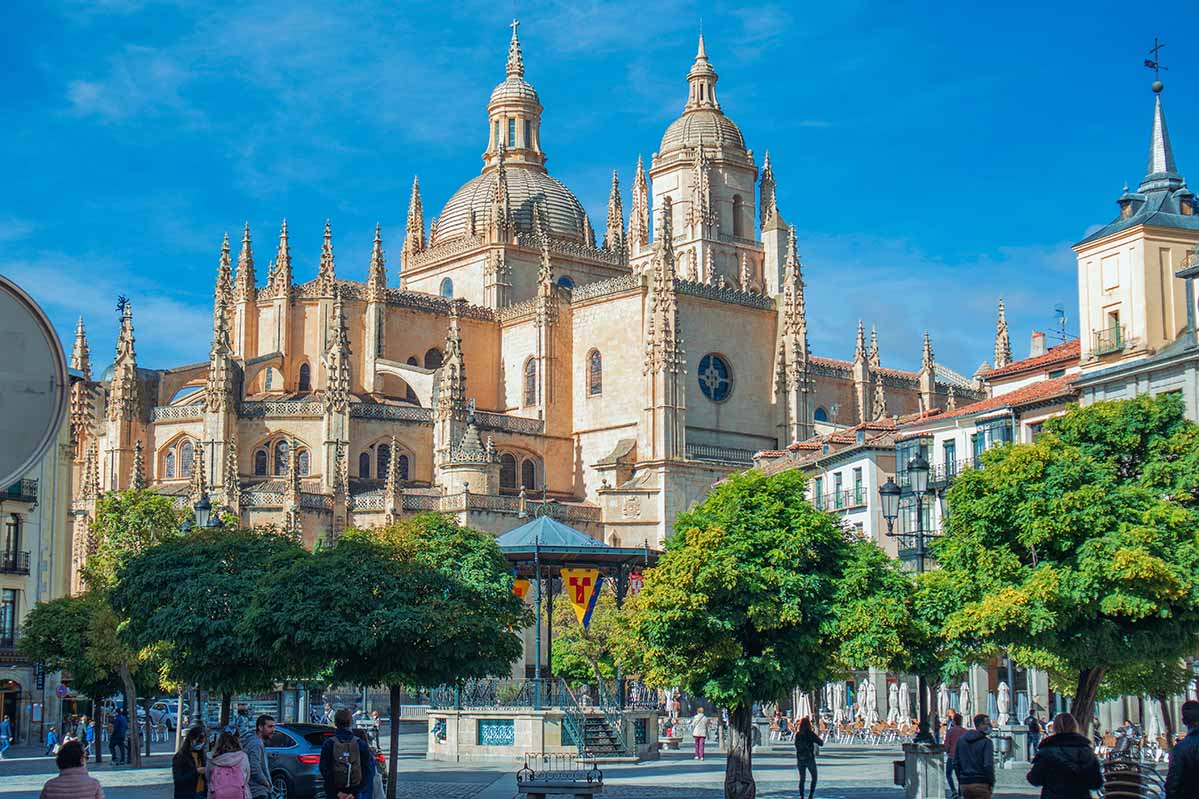 The rest of the afternoon will be spent walking the cobbled streets of the ancient Old Town with your private guide. Some of the highlights from your walking tour include:
Torreón de Lozoya: The is an art exhibition center that contains some of the most famous names in Spanish art such as Dali and Dante.
Plaza Mayor: The vibrant main square of Segovia is bustling with activity and life.
Segovia Cathedral: Step inside the gothic structure with your guide as you admire the gorgeous stained glass windows, and the statues that line the nave alongside the breathtaking hanging tapestries and collections of art treasures.
Puerta de San Andrés: Segovia is a fortified walled city, and this 15th Century gate is the best preserved of any section.
After enjoying a meal in a recommended restaurant in the old town, your driver will collect you for the transfer back to your Madrid accommodation.
Excellent Individualized Tour Company for People who do not want to go on Package Tours. I used Emily to arrange a tour of Southern Spain in January, 2020 for 4 people. It turned out to be great. What I do not like is being shepherded around to cheesy tourist sites and waiting in lines of tourists. Emily arranged for very competent and efficient drivers, fantastic guides, very good hotels and even recommended restaurants for each location. The best thing about using Emily is that when she arranged for (at my request) wine tastings, olive oil tastings, a flamenco show is that all of them were authentic and interesting and none of them were contrived or cheesy. While on the trip, she checked in and made sure everything went smoothly. When we went to the Alhambra or other ticketed sites, we always got to skip the line due to Emily. There was one overall price per person (depends on double/single room) that I felt was very fair for the level of service provided.
Day 15 & 16: Getting to Know Madrid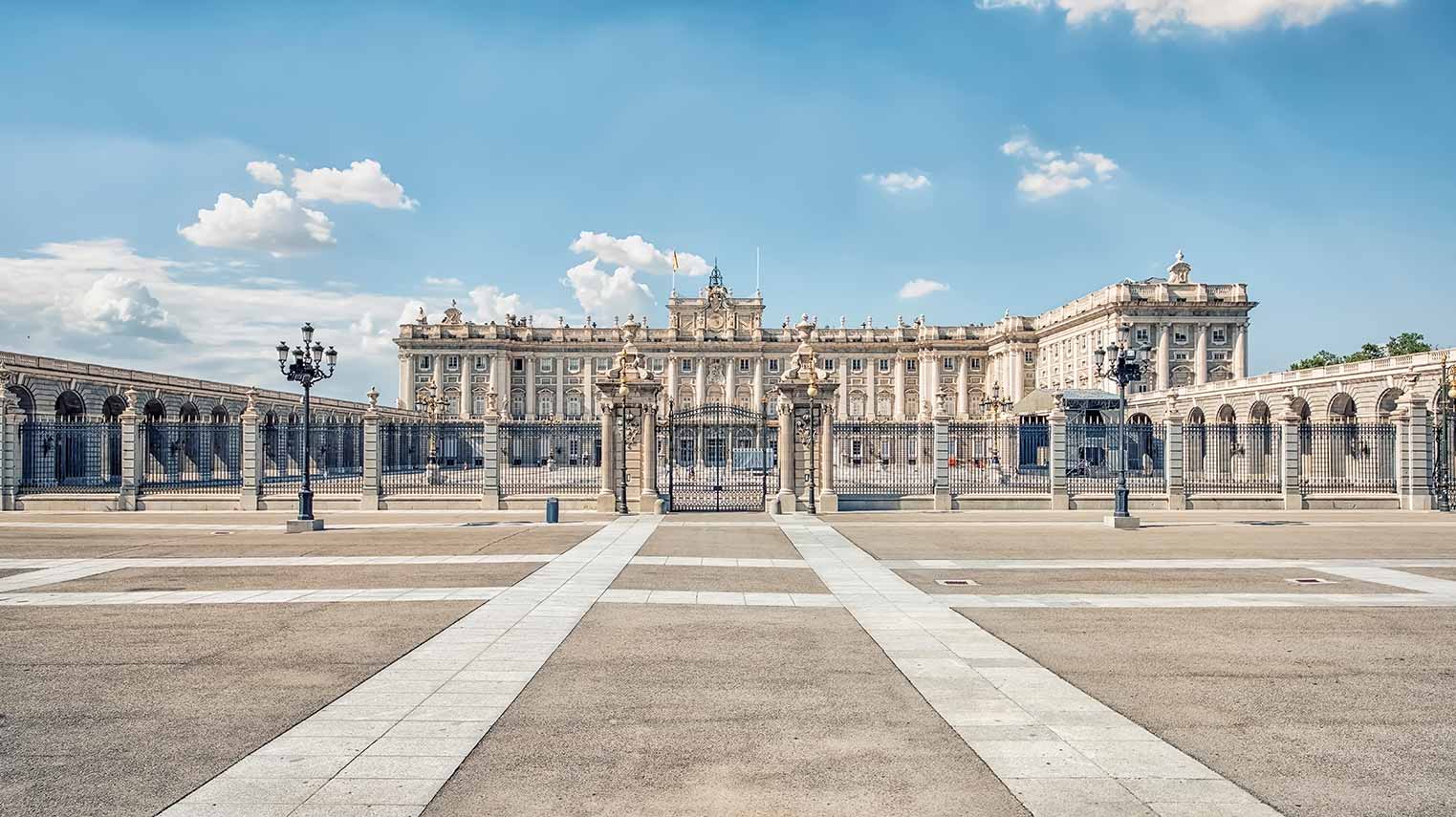 To bring your ultimate 16-day itinerary of Spain to a close you will spend the final 2 days of your vacation in Madrid, the capital of Spain.
From its royal palace to art museums and tapas bars, Madrid offers plenty to discover while wandering its boulevards. Sitting near the geographic center of the Iberian Peninsula, the Spanish capital is the seat of not only the country's government, but also of much of its culture, food, history, and art. 
Madrid is famous for vibrant energy, blue skies, elegant sun-kissed old town plazas, majestic architecture, leafy boulevards, and world-class art museums. 
Visit renowned museums such as the Prado and Thyssen-Bornemisza
Explore the stately Royal Palace
 Discover favorite neighborhoods, beautiful parks, and exclusive residential districts. 
Sip world-class wines and tapas al fresco or do Michelin-starred restaurants.
Experience attractive, traditional food markets & the modern gourmet San Miguel Market.


Once your tour of Madrid draws to a close, your private driver will be there to provide your transfer to the airport and bid you a fond farewell as you return home after 16 action-packed days in Spain!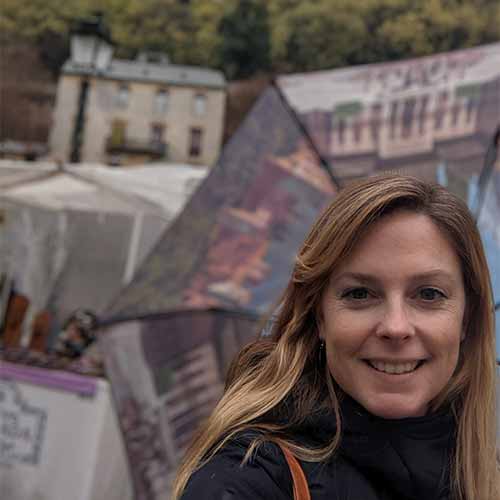 Say Ola to Emily, your personal tour planner at Guided Spain Tours. Get in touch by filling in the form below and requesting your complimentary itinerary!
Contact Our Spanish Tour Planners
The above 16-day tour itinerary was designed as a way to showcase some of the highlights of Spain. However, having been designing bespoke itineraries for high-class clients for over 20 years, we understand better than anyone that each client is different and deserves to have their vacation tailored to their tastes and to spend more time doing things that they enjoy.
We would love to discuss creating a complimentary just for your Spanish vacation. Our specialty is to include exclusive experiences not commonly available to the general public such as meeting Spanish artists, winemakers, nobility, chefs, fashion designers, or famous bullfighters at their estates.
Find out more by sending us an online inquiry today for a chat and a no-obligation bespoke itinerary!
Highly recommend Emily! Emily created a personalized itinerary for us in southern Spain. She was very knowledgeable about the region, attentive, and personable. She returned emails properly, and was a pleasure to work with. Emily was flexible and did not make mind making changes in the itinerary-- Her goal is to please her customers!
Emily is GOOD! Emily arranged a 14 day tour for us in Spain at short notice of a week or so. The whole tour was beautifully organized, amazingly flexible and the rare glitches were attended to and addressed, literally instantly. For sure we will be back for further tours with her. Thanks, Emily.
Best Tours from Emily! Words can't express how grateful it was to be able to call on Emily for help with some excursions in Spain. Emily, thanks soo much. You're the BEST!!!
Spain and Portugal trip: Emily did an amazing job Of setting up our trip through Spain and Portugal. All of our tours were outstanding and personalized. We had a wonderful time!
Private Tour: Emily is a pleasure to work with. She arranged hotels, activities, tour guides and transportation in Barcelona, Madrid, Segovia, Toledo, Cordoba, Avila, Seville, Malaga, Gibraltar. She was extremely responsive when we had questions and made sure that everything flowed smoothly.