10-Day Barcelona & South Spain Tour
Your 10 Day Tour of Barcelona & Andalucia
Immerse yourself in a captivating exploration of Spain's cultural riches with this specially curated 10-day journey. From the vibrant streets of Barcelona, where modernist architecture meets medieval charm, to the heart of Andalusia with its blend of Moorish grandeur and flamboyant Flamenco, every day promises new delights.
Marvel at Valencia's futuristic City of Arts, learn the ancient secrets of wine-making in Freixenet and experience the soulful allure of Granada and Seville. This tour also features an engaging culinary expedition in Jerez de la Frontera, where you'll taste and cook local delicacies, making it a comprehensive blend of culture, history, and cuisine. Dive in and prepare to be enchanted by Spain's multifaceted charm.
Day 1: Unveiling Barcelona: Gaudí's Masterpieces & More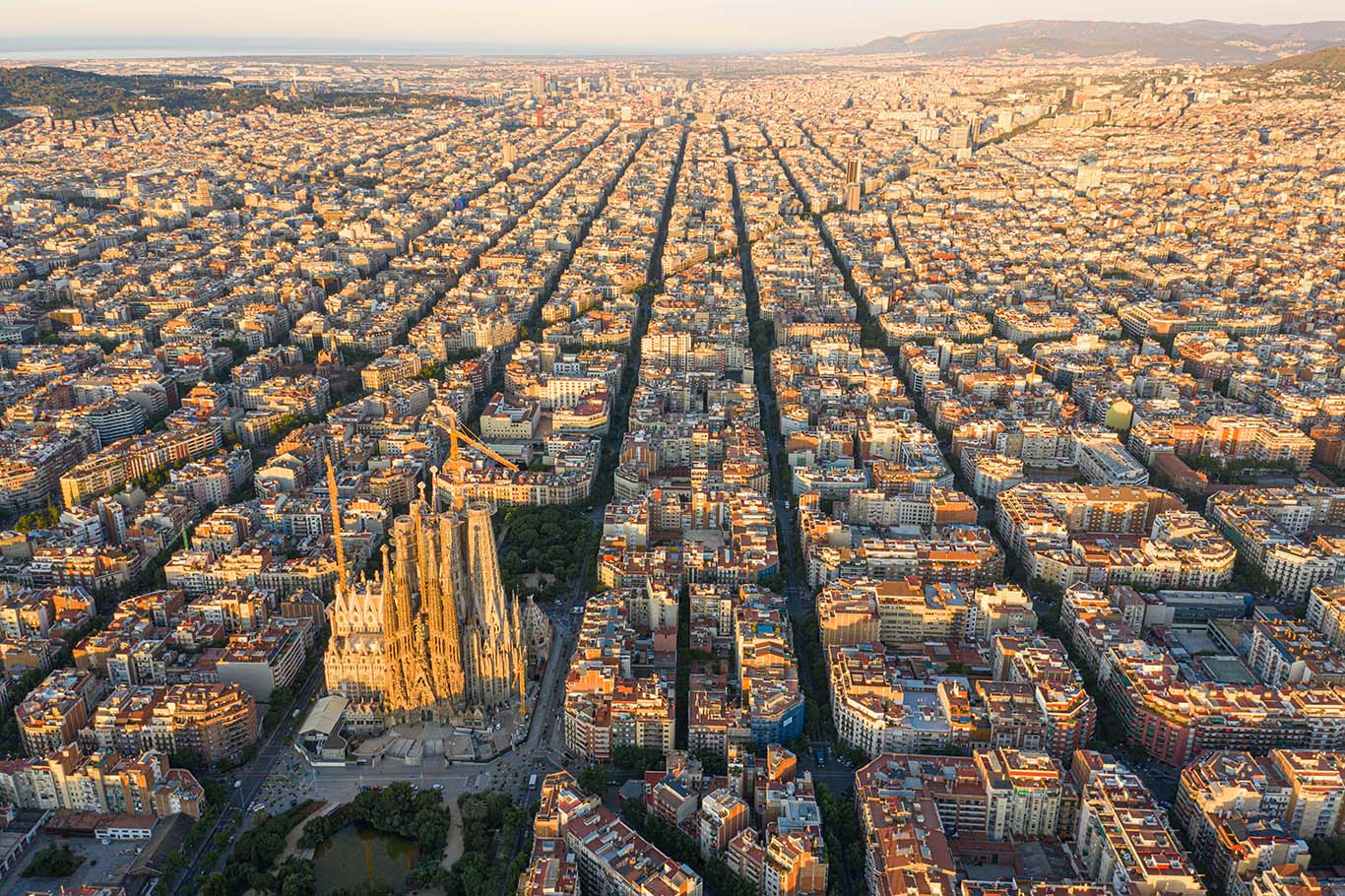 Welcome to Barcelona! After touching down at Barcelona Airport, you'll meet your driver at the customs exit. He'll escort you to your hotel, where you can quickly settle in and freshen up. Your exploration of the Catalonian capital begins with a comprehensive walking tour, where you'll soak up the city's striking sights.
Your day commences with a panoramic overview of the iconic Passeig de Gracia Boulevard. Renowned for its architecture, this is the perfect introduction to Barcelona's creative spirit. The journey continues through Parc Güell, one of the city's verdant oases and home to stunning structures, mosaics, and statues crafted by the famed architect Antoni Gaudí.
From there, proceed to explore the famous Gaudí houses – Casa Batlló and Casa Milà, each showcasing unique architectural styles. Stroll down Las Ramblas, a bustling pedestrian street, before venturing into the Born district, a charming area known for its bohemian atmosphere.
The highlight of the day is the visit to the Sagrada Familia, Gaudí's masterpiece that has been under construction since 1882. Its intricate design, symbolic content, and sheer scale are guaranteed to leave you in awe.
Your day concludes in the atmospheric Gothic Quarters, where you'll have the evening to spend at your leisure. Explore hidden plazas, discover quirky boutiques, or simply soak up the vibrant local culture in this historic district.
Day 2: Delving Deeper into Barcelona: Art, Gastronomy, & Panoramic Views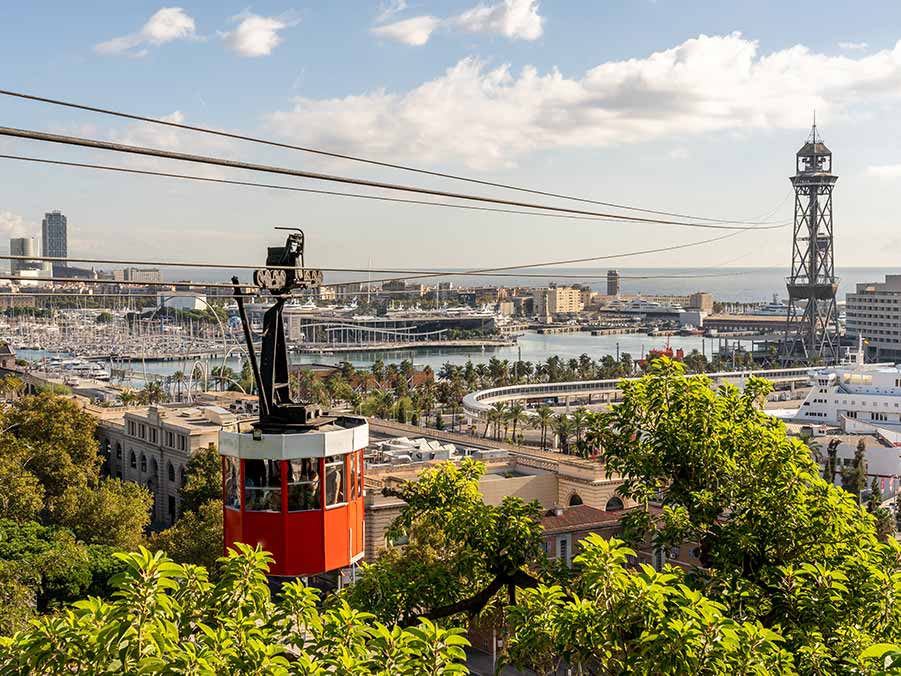 As you embark on your second day in the vibrant city of Barcelona, prepare for a rich tapestry of experiences that delve further into the city's unique charm. This day offers a blend of culture, cuisine, and captivating vistas that are sure to create unforgettable memories.
Start your day with a captivating Port Vell cable car ride, taking you up to Montjuïc Hill. Known for its stunning views, historic sites, and top-notch museums, Montjuïc is a treasure trove of experiences. Enjoy a leisurely exploration of this vast area, taking in the panoramic views of the city that stretch out beneath you. Visit the Joan Miró Foundation and the Museum of Catalan Art, which house extensive collections of art from different periods and styles.
Culinary Exploration in the Gothic Quarter
Before lunch, rendezvous with a local chef in the historic Gothic Quarter for an intimate introduction to Spanish and Catalan cuisine. Engage in a hands-on cooking session where you'll learn to prepare traditional dishes, from succulent tapas to hearty paellas. Savor the fruits of your labor paired with Penedés wines, experiencing the rich flavors and culinary traditions of the region.
End your day on a high note with the mesmerizing light and water show at the Magic Fountain of Montjuïc. Watch as the waters dance in sync with the music, illuminated by a rainbow of lights – a fitting end to a day filled with the magic of Barcelona's culture and charm.
Amazing experience! My husband Douglas and I just came back from a 10 days customized guided tour to Morocco organized by Emily from Guided Spain. It was an amazing trip. Our driver Youssef met us at the Casablanca Airport and he quickly became our guide, security guard and guardian angel! When I got sick he got me medicine and he always found the best toilets when we were on the road. Also, ice cream! We feel that we got the authentic Morocco experience with the riads (hotels) that Emily chose for us and the guides in the different cities we visited. The Merzouga Luxury Desert Camp was totally amazing as well as the visit with the Nomads,and the medinas. This is our second trip with Emily and as the first one, it was excellent. Our next one will be Portugal!
Day 3: A Toast to Catalonian Heritage: Freixenet Cava Wine Cellars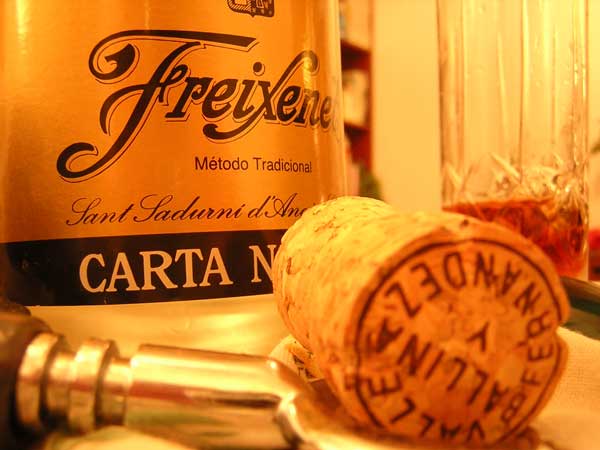 Your third day is dedicated to indulging in the sumptuous world of Spanish viticulture, specifically focusing on Catalonia's famous sparkling wine, cava. This day promises an immersive exploration of Freixenet, one of the region's premier cava producers, blending history, culture, and gastronomy in an unforgettable journey.
Depart from Barcelona's bustling Plaza Catalunya by train, bound for the renowned Freixenet cava wine cellars. This family-run business has a rich history, and your local guide will share captivating stories of the vineyard's heritage during your journey.
Touring the Freixenet Cellars
Upon arrival, descend into the atmospheric old cellars, where you'll learn about the meticulous process of creating cava, from harvesting the grapes to bottling the final product. The cellar's labyrinth of underground tunnels, which span an impressive 12 miles, house thousands of quietly maturing bottles of cava.
A small train will carry you through a section of these tunnels, offering a fascinating glimpse into the scale of this winemaking operation. As you traverse these subterranean passages, the guide will elaborate on the intricacies of the winemaking process and the unique properties that make cava a beloved Spanish classic.
Cava Tasting at Freixenet
The tour culminates in the tasting hall, where the true magic of Freixenet comes to life. Under the expert guidance of your host, you'll sample an array of Freixenet's finest cavas. Learn to discern the nuances of each sip and appreciate the art of cava tasting.
As the afternoon unfolds, return to Barcelona, carrying with you a deeper understanding of Catalonian heritage and a palate enriched by the sparkling allure of cava. This captivating day trip offers a taste of Catalonia's proud winemaking tradition and a chance to savor the effervescent delights of its iconic cava.
Day 4: Independent Exploration: Valencia's Wonders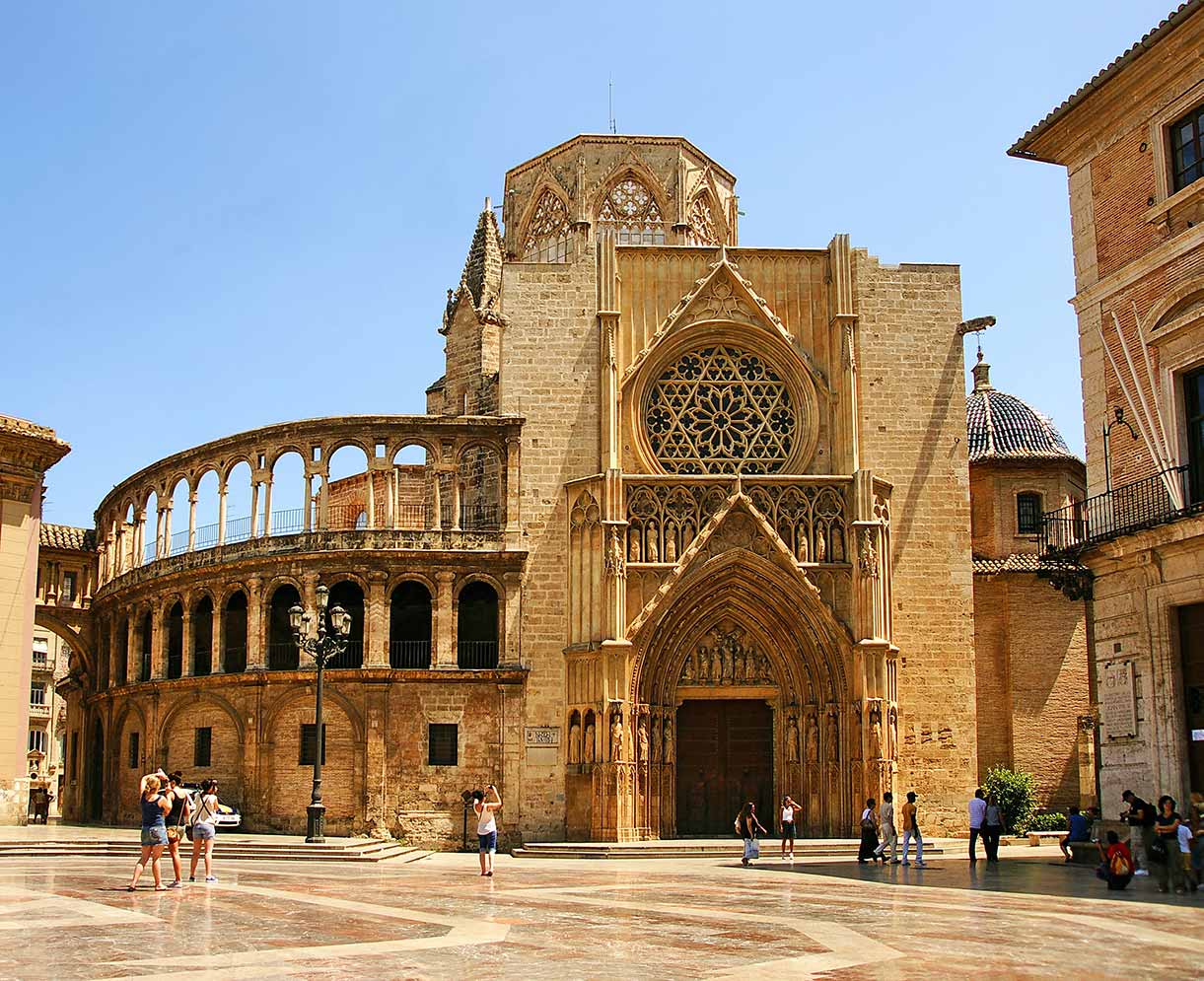 As the afternoon unfolds, it's time to walk through the heart of Valencia's old town, a veritable open-air museum of historic architecture and cultural heritage. Begin your stroll at the vibrant Central Market, a bustling hive of local life where vendors sell an array of fresh produce, meats, and cheeses.
Next, proceed to the La Lonja de la Seda (Merchant's Exchange), a beautiful Gothic-style civil building that stands as a monument to Valencia's golden age.
Your path leads you to the Valencia Cathedral, an imposing structure showcasing a blend of architectural styles from Romanesque to Baroque. Dare to climb the Miguelete Tower to enjoy panoramic views of the city. Finally, take a moment to rest and soak in the local atmosphere at Plaza de la Virgen, a charming square bustling with cafés and street performers.
As you wind down from your self-guided tour, reflect on the blend of historic charm and modern innovation that makes Valencia a unique city.
Best Tours from Emily! Words can't express how grateful it was to be able to call on Emily for help with some excursions in Spain. Emily, thanks soo much. You're the BEST!!!
Day 5: Journey into the Past: Granada & the Alhambra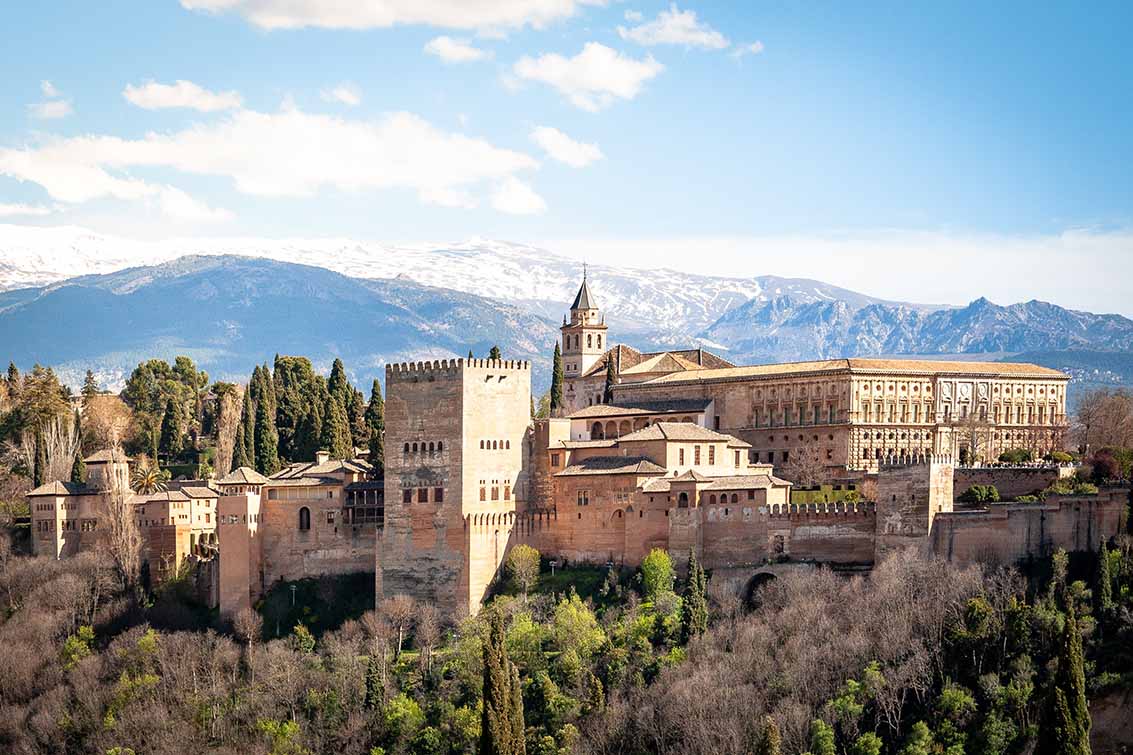 On the fifth day of your tour, experience a mesmerizing fusion of cultures as you journey from Valencia to Granada, the last Arabic Kingdom in Spain until 1492. Renowned for its deep historical roots, Granada provides a captivating blend of Islamic architecture, vibrant street life, and the tantalizing taste of traditional tapas.
Begin the day by meeting your driver, who will transport you to Valencia airport. There, board a short flight that transports you both physically and culturally to the enchanting city of Granada. With the Sierra Nevada mountains as a backdrop and centuries-old stories in its cobblestone streets, Granada is a sensory feast waiting to be discovered.
The Alhambra: A Step Back in Time
Upon your arrival, a guide will greet you at the entrance to the Alhambra, the stunning palace complex that stands as a testament to the city's rich Islamic history. The Alhambra, often regarded as the 11th wonder of the world, is a UNESCO World Heritage Site that encapsulates the artistic grandeur of the Nasrid Dynasty.
Your guided tour will transport you back 900 years as you explore the myriad of stunning structures within the Alhambra. Marvel at the intricately detailed Islamic art and architecture in the Nasrid Palaces, feel the strength of history within the Alcazar Fortress and breathe in the tranquility in the Gardens of Paradise. Each corner of this "Forbidden City" holds a story, a masterpiece of Moorish culture that illuminates the past.
After the historical immersion of the Alhambra, venture into the heart of Granada. Here, you can unwind and sample the local cuisine. Granada is famous for its unique tapas culture, where every drink order is accompanied by a complimentary tapas dish. This culinary tradition offers an opportunity to taste a variety of local flavors, making it the perfect way to conclude your day of exploration. Enjoy an evening of taste exploration as you hop from one vibrant bar to another, each offering its distinctive take on this Spanish culinary tradition.
Day 6: Stepping into History: A Day in Córdoba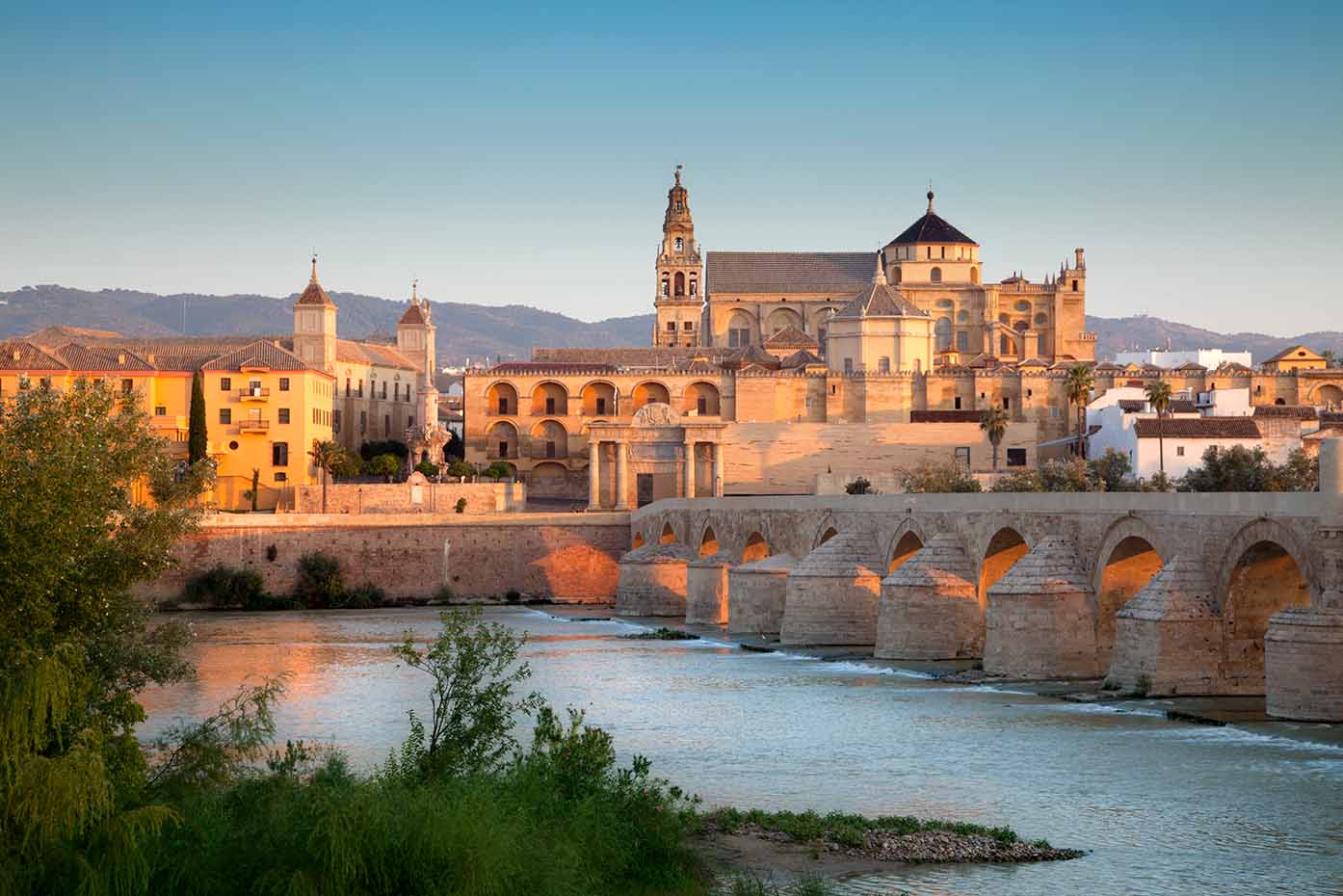 On the sixth day of your journey, you'll embark on an expedition to the historic city of Córdoba, once the beacon of culture and intellectualism in Europe. Today, the city remains a tangible testament to its rich past, where Moorish, Jewish, and Christian influences intertwine to create a truly unique cultural landscape.
Begin your day with a comfortable drive to Córdoba with your private driver and our luxury air-conditioned vehicle, a city known for its striking architectural heritage and the harmonious blend of cultures that marked its golden age. As you traverse the scenic route, contemplate the diverse civilizations that left their indelible prints on this city and made it the cultural epitome of its era.
Your exploration starts with the stunning Mezquita, a former mosque turned Cathedral following the Reconquest in 1236. Your guide will narrate the fascinating tales of sultans and ordinary folk who joined hands to erect this architectural marvel. Walk within the forest of columns and under the horseshoe arches that make the Mezquita one of the world's most impressive Islamic monuments. This exquisite tapestry of Christian and Islamic styles marks a pivotal period in Spain's history.
Post the cathedral visit, meander through the atmospheric Jewish Quarter, known for its quaint, whitewashed houses adorned with vibrant red gardenias.
Once the center of Jewish life in the city, this district was renowned for its skilled jewelers. As you navigate the narrow, winding streets, your guide will enlighten you about the unique lifestyle and customs of the Jewish community that thrived here while shedding light on why they resided in such compact quarters.
A Peek into the Past: The Medieval Jewish Home
Conclude your journey through time with a visit to a traditional medieval Jewish house. This preserved residence provides a unique insight into the daily life of the Jewish community during medieval times. Feel the echoes of the past within the house's walls and gain a deeper understanding of the rich cultural tapestry that makes Córdoba an unmissable destination on your Spanish adventure.
Day 7: Self-Guided Day in Ronda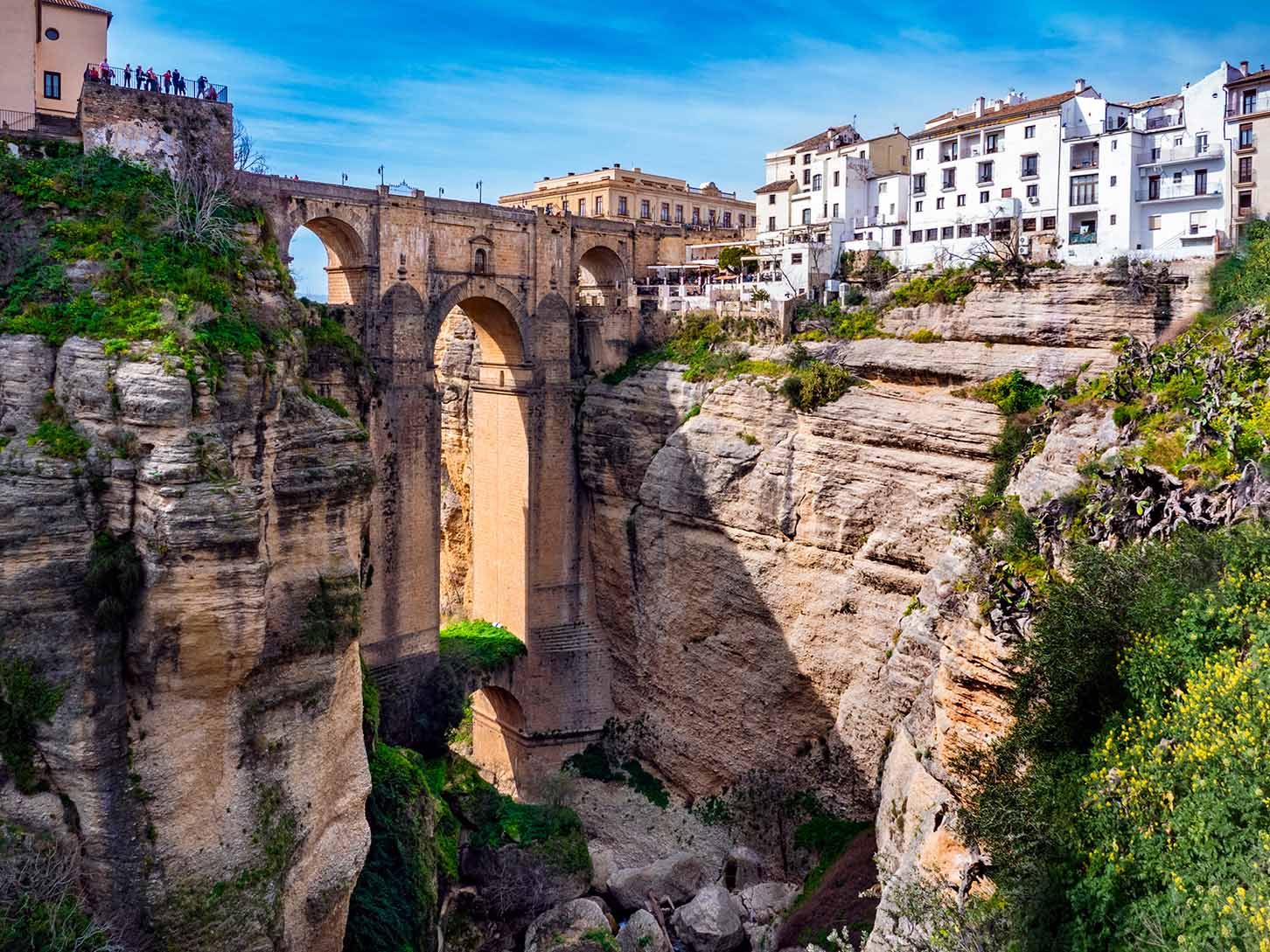 We have scheduled the one-week junction of your tour to allow you to explore the scenic landscapes of sunflower-clad mountains to Ronda at your leisure.
This town retains its old-world charm, with traditional Spanish culture still very much alive. Venture on a self-guided exploration of Ronda, getting a chance to experience authentic local life and breathtaking sights at your own pace. See the following for our suggestions of things to do by yourself in Ronda.
Take a scenic train ride that transports you through stunning landscapes adorned with mountains and vibrant sunflowers. As you soak in the views, you're headed towards a location where time seems to have stood still for thousands of years.
Stepping into Matador's Shoes at the Bullring
Once in Ronda, initiate your journey with a visit to the city's iconic bullring, regarded as one of the oldest and most monumental bullrings in Spain. As you step inside, imagine yourself in the role of a matador, the spotlight of the ring shining on you, bringing the daring and artistry of bullfighting to life.
Crossing the New Bridge & Discovering Old Ronda
Your exploration continues with a stroll across the New Bridge, an engineering marvel of the 18th century, which dramatically spans the deep gorge separating Ronda's Old and New Quarters. Feel the thrill of standing hundreds of feet above the river floor, all while appreciating the panoramic view of the surrounding landscapes.
Once on the other side, descend into the heart of Old Ronda. Wander through charming cobblestone streets, leading you to the Collegiate Church and Don Bosco's medieval palace, two sites brimming with history and architectural beauty.
A Winery Lunch in the Countryside
For lunch, we have made reservations for you at a local countryside winery. A driver will take you on this delightful detour, where you'll indulge in delectable Spanish cuisine paired with exquisite local wines, all in the picturesque setting of sun-dappled vineyards. After this relaxing interlude, you'll be driven back to Ronda to catch your afternoon train back to Córdoba, concluding a day filled with mesmerizing sights and experiences.
Day 8: Journey through Sevilla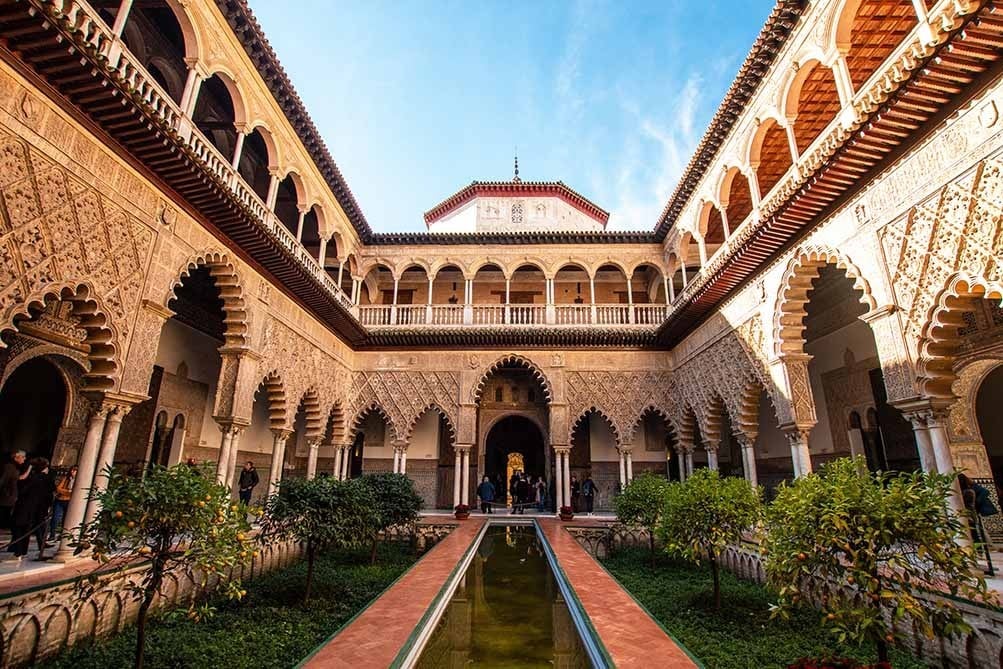 Prepare to dive into the vibrant culture and rich history of Sevilla, once the royal gateway for ships laden with treasures from the Americas, on the eighth day of your immersive Spanish adventure. Our guided tour will take you through the heart of this captivating city, offering you an opportunity to soak in its landmarks and narratives.
Historical Walk around Sevilla
Your day commences with a train journey to Sevilla, a city with centuries of layered history. Upon arrival, you'll meet your local guide, who will lead you on a morning walking tour of the city. The tour begins with the city's grand walls that once fortified Sevilla from invaders.
You'll then take a peaceful stroll through the enchanting Murillo Gardens, a lush oasis blooming with diverse flora and monuments, towards the Barrio Santa Cruz. This picturesque neighborhood, with its narrow, winding lanes and beautiful plazas, sets the backdrop for the famous opera "Carmen."
Alcazar Fortress, Cathedral, & Giralda Tower
Next, you'll be led to the Alcazar fortress, an epitome of Mudejar architecture, showcasing the historical coexistence of Christian and Muslim cultures. From the fortress, you'll proceed to the stunning Cathedral, one of the largest Gothic cathedrals in the world, and marvel at its adjoining Giralda tower, which once served as a minaret and is now a symbolic bell tower of Sevilla.
Cruise on Guadalquivir & Flamenco Evening
After exploring the architectural wonders, the tour will guide you to the Tower of Gold, located on the Guadalquivir River's bank. Here, embark on a leisurely cruise along the river, providing you with a unique perspective on Sevilla's skyline and its historical riverside buildings.
Your exhilarating day in Sevilla concludes with an intimate flamenco show at Casa de la Memoria on Calle Cuna. As the rhythm of the Spanish guitar, the stamping of the dancers' feet, and the passion-filled voices echo through the room, experience the soul-stirring emotion of this traditional Andalusian dance, capping off your day in Sevilla on a high note.
Excellent Individualized Tour Company for People who do not want to go on Package Tours. I used Emily to arrange a tour of Southern Spain in January, 2020 for 4 people. It turned out to be great. What I do not like is being shepherded around to cheesy tourist sites and waiting in lines of tourists. Emily arranged for very competent and efficient drivers, fantastic guides, very good hotels and even recommended restaurants for each location. The best thing about using Emily is that when she arranged for (at my request) wine tastings, olive oil tastings, a flamenco show is that all of them were authentic and interesting and none of them were contrived or cheesy. While on the trip, she checked in and made sure everything went smoothly. When we went to the Alhambra or other ticketed sites, we always got to skip the line due to Emily. There was one overall price per person (depends on double/single room) that I felt was very fair for the level of service provided.
Day 9: Andalusian Cuisine in Jerez de la Frontera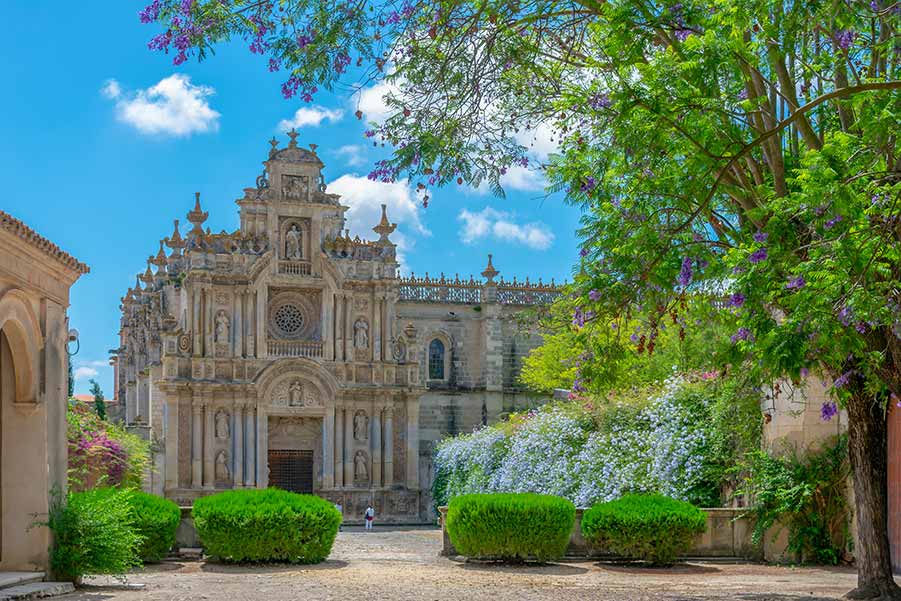 On the penultimate day of your Spanish exploration, prepare for a culinary adventure in Jerez de la Frontera, a charming town renowned for its sherry wines, Flamenco, and equestrian heritage. Here, you will experience a complete journey of Spanish cuisine, from gathering fresh ingredients to enjoying a self-prepared authentic meal.
Local Produce & Heritage Sites
Your day commences with a scenic train ride to Jerez. Upon arrival, you'll meet your guide near the grand Alcázar in the old town, a testament to the town's rich Moorish past. Begin your gastronomic adventure with a visit to the local fresh produce and fish market. Here, you'll immerse yourself in a bustling hub of daily Spanish life and hand-pick the ingredients for your cooking class later in the day.
From the market, your guide will lead you through the Jewish Quarters and the city center, immersing you in the town's historical context and unique architecture. Your walk will take you to Bodegas Díez Mérito, a renowned sherry winery that preserves traditional winemaking methods.
Wine Tasting, Cooking Class, & a Homely Andalusian Meal
At the winery, you'll learn about the meticulous process of creating sherry wine and get a chance to taste and select the perfect vintage to accompany your meal. From there, you will head to a typical Andalusian home in the heart of Jerez.
Under the guidance of a professional chef, you'll learn to create traditional Andalusian dishes, combining fresh ingredients with local culinary techniques. After your cooking session, savor a delicious 3-course meal you prepared, complemented by the sherry wine from Bodegas Díez Mérito.
As the day comes to a close, return to Sevilla in time to catch an afternoon flight back to Barcelona. Upon arrival, a driver will be waiting to escort you to your hotel, ending an enriching day full of culinary adventures and cultural insights.
Day 10: Departure from Barcelona
As the final day of your immersive Spanish journey arrives, you will meet your driver for a comfortable ride to Barcelona airport, where you will board your flight and relive your experiences in your mind as you travel home.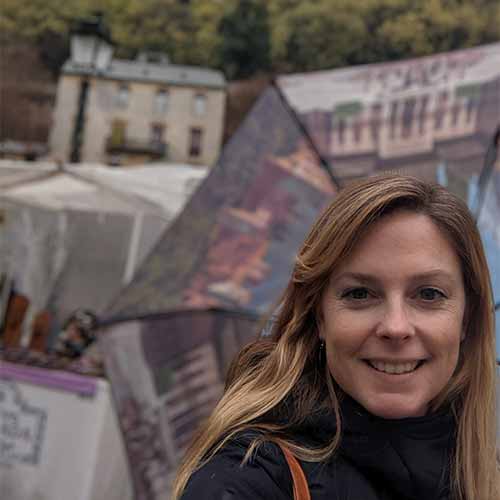 Say Ola to Emily, your personal tour planner at Guided Spain Tours. Get in touch by filling in the form below and requesting your complimentary itinerary!
Contact Us For A Bespoke Barcelona & South Spain Itinerary
This memorable 10-day journey encapsulates the best of the Andalucia region and the Catalan Capital, Barcelona.
From the artistic fervor of Barcelona to the historical treasures of Granada, Cordoba, and Seville, with a delightful detour into the culinary heartland of Jerez de la Frontera.
Should you wish to relive this adventure or create a new bespoke Spanish exploration tailored to your specific interests and preferences, please don't hesitate to contact us. We are ready to craft your perfect Spanish journey.
Highly recommend Emily! Emily created a personalized itinerary for us in southern Spain. She was very knowledgeable about the region, attentive, and personable. She returned emails properly, and was a pleasure to work with. Emily was flexible and did not make mind making changes in the itinerary-- Her goal is to please her customers!
Emily is GOOD! Emily arranged a 14 day tour for us in Spain at short notice of a week or so. The whole tour was beautifully organized, amazingly flexible and the rare glitches were attended to and addressed, literally instantly. For sure we will be back for further tours with her. Thanks, Emily.
Best Tours from Emily! Words can't express how grateful it was to be able to call on Emily for help with some excursions in Spain. Emily, thanks soo much. You're the BEST!!!
Spain and Portugal trip: Emily did an amazing job Of setting up our trip through Spain and Portugal. All of our tours were outstanding and personalized. We had a wonderful time!
Private Tour: Emily is a pleasure to work with. She arranged hotels, activities, tour guides and transportation in Barcelona, Madrid, Segovia, Toledo, Cordoba, Avila, Seville, Malaga, Gibraltar. She was extremely responsive when we had questions and made sure that everything flowed smoothly.