4 Weeks Itinerary of Spain
Your Tour Plan For 28 Days in Spain
Our 28-day driver-guided tour itinerary promises an unforgettable journey through Spain's vibrant and diverse country in four weeks packed with classically Spanish experiences.
This comprehensive itinerary takes you across the enchanting regions of Spain, delving into its rich history, captivating culture, and breathtaking landscapes. From Barcelona and Madrid's world-renowned museums, architectural marvels, and picturesque beaches to Andaulcia's delicious culinary experiences, flamenco shows, local artisans, and beyond, each day brings new wonders and lasting memories.
Let us take the reins as you embark on the Spanish adventure of a lifetime, uncovering the true essence of this beautiful country and creating memories that will last forever.
Destinations On Our Month Long Spain Itinerary
Our expert guides will ensure an authentic and immersive experience as you explore bustling cities, charming towns, and stunning natural wonders. With plenty of time to relax and soak in the local atmosphere, this tour strikes the perfect balance between exploration and leisure:
28-Day Tour Itinerary Description
This itinerary has been designed to deliver the best of the different regions of Spain, from Catalan culture and the Sagrada Familia in Barcelona, the Royal Palace and luxury of the Capital Madrid, and Moorish architecture and history in Andalucia and the Alhambra Palace.
However, we understand all guests are unique, so please feel free to use this itinerary as a guide and general outline and contact our tour planning specialists to customize it to your exact tastes and requirements.
Welcome to Spain: Airport Pickup and Transfer
Upon arrival in Madrid, a representative from our team will greet you at the airport and assist you with your luggage.
Enjoy a comfortable transfer to your hotel as our representative provides an overview of the exciting experiences that await you in Spain's vibrant capital.
Introduction to Madrid: Grand Via & Plaza Mayor Walking Tour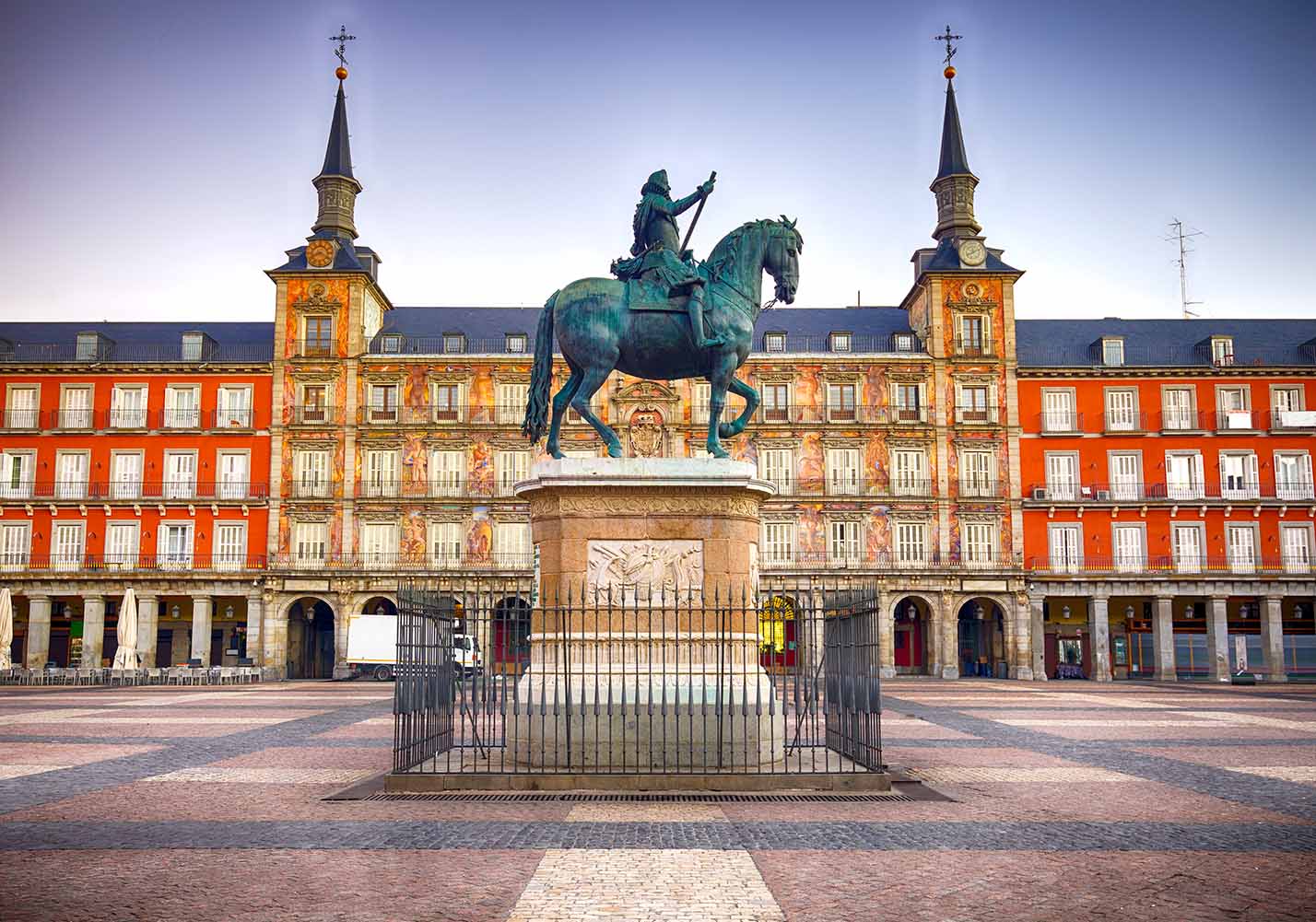 After settling into your hotel, join your guide as you stroll along the bustling Gran Via, lined with historic buildings, theatres, and shops.
Make your way to the Plaza Mayor, a grand square filled with rich history and Spanish charm. Your guide will narrate stories about Madrid's past and present, providing you with a greater understanding of the city's fascinating heritage.
Taste of Spain: Traditional Spanish Dinner
Savor a delicious traditional Spanish dinner at a local restaurant in the evening.
Treat your taste buds to a variety of tapas, paella, and other regional specialties, accompanied by fine Spanish wines. This delightful meal serves as a perfect introduction to Spain's rich culinary culture.
Day 2-3: Best of Madrid Guided Tours
Enjoy two days of curated tours across the majestic city of Madrid.
The Royal Palace of Madrid Guided Tour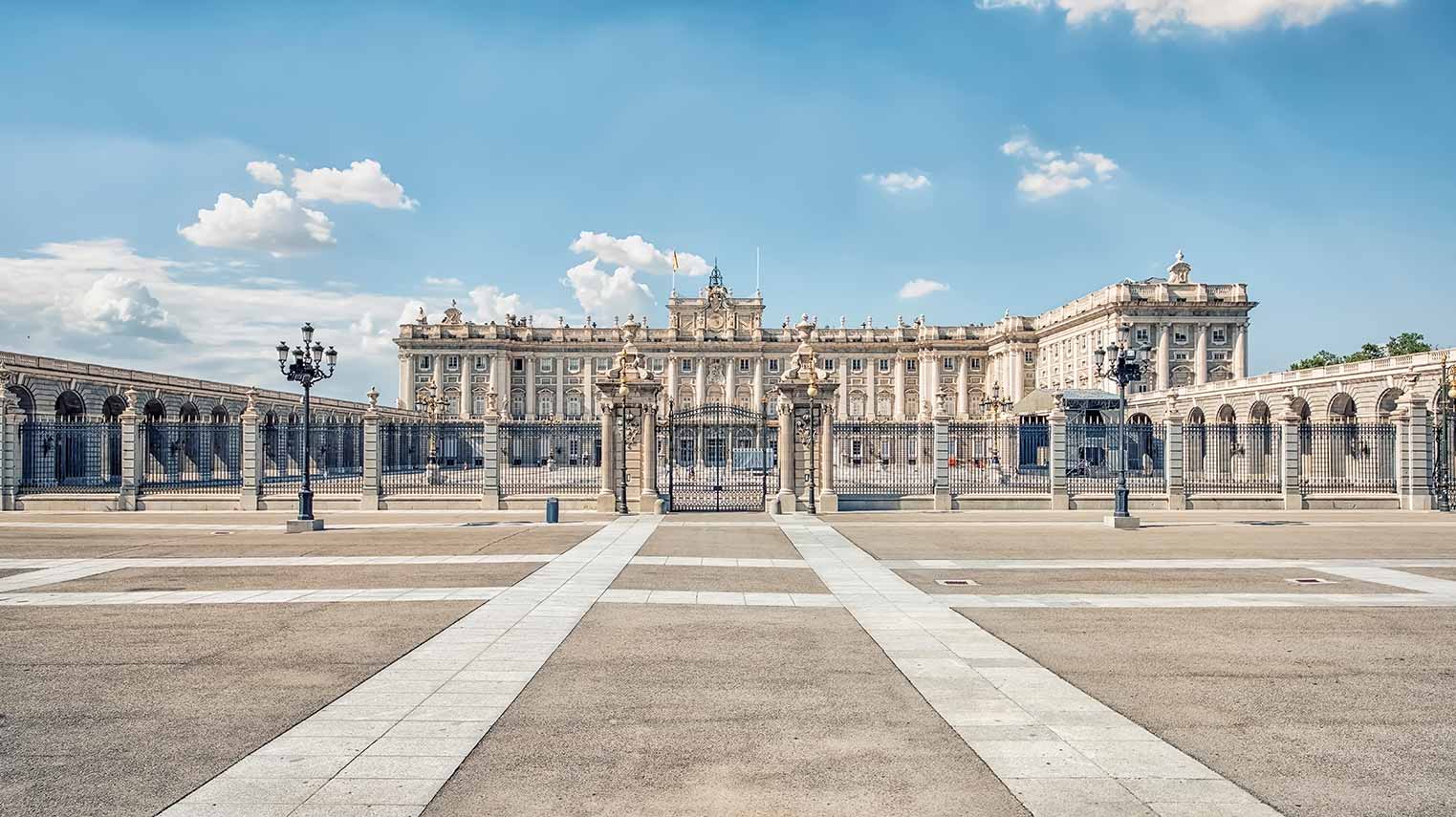 Begin your exploration of Madrid with a private guided tour of the Royal Palace, the official residence of the Spanish royal family.
Admire the palace's stunning architecture and explore its opulent rooms, filled with exquisite artwork, tapestries, and furniture.
Your guide will share captivating stories of the palace's history, providing an insider's perspective on the lives of Spain's monarchs.
Exploring the Prado Museum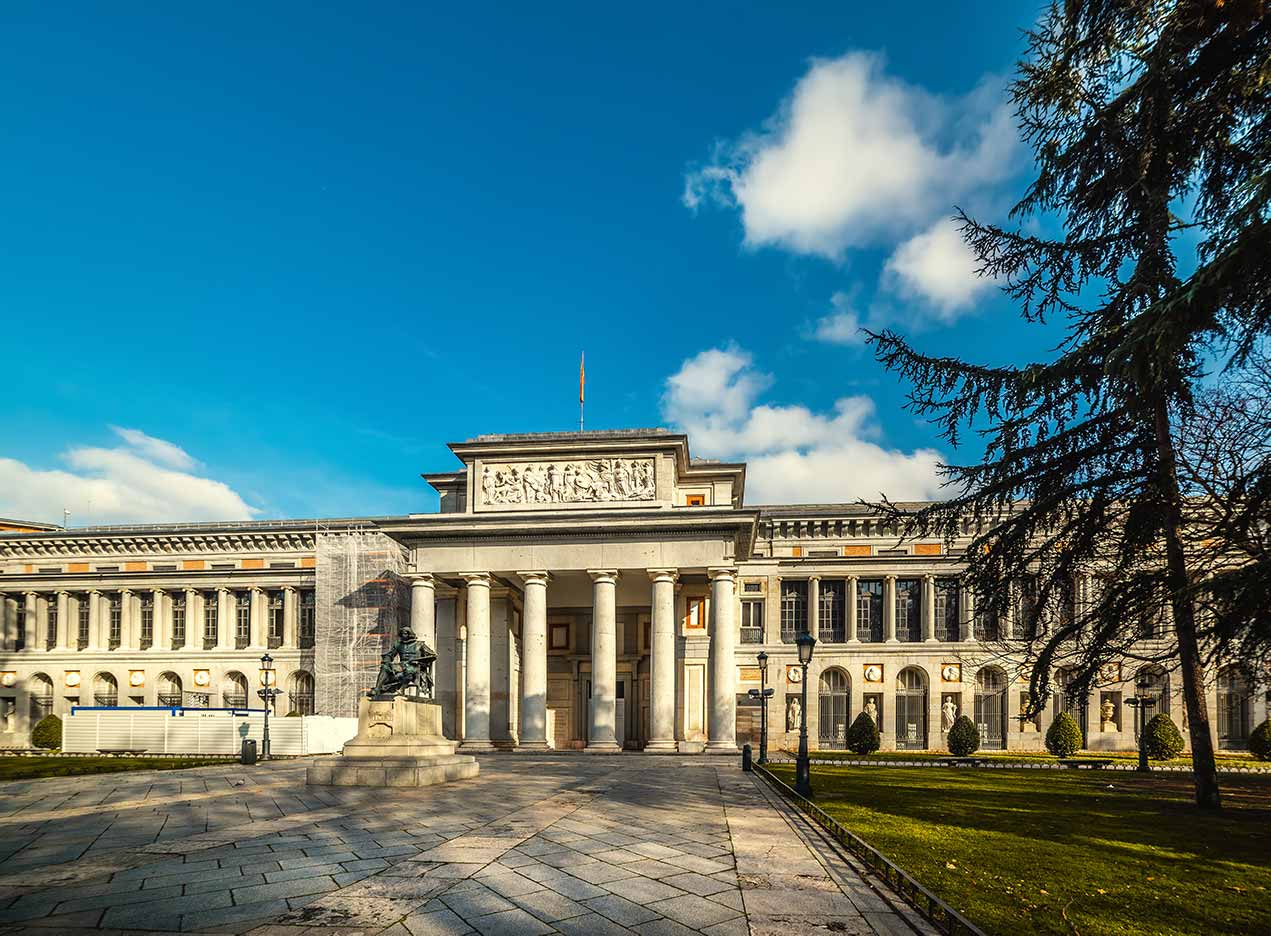 Enjoy skip-the-line access as you delve into Spain's artistic heritage with a guided tour of the renowned Prado Museum.
Home to an extensive collection of European art, the museum boasts masterpieces by Velázquez, Goya, El Greco, and many other iconic artists. Your guide will lead you through the museum's highlights, offering insights into the artists' lives and the historical context of their work.
Tapas Tour: Madrid's Culinary Delights
Experience Madrid's gastronomic scene with a guided tapas tour.
Visit several popular tapas bars and sample a variety of small dishes that showcase the flavors of Spanish cuisine. Your guide will explain the history and traditions behind tapas and recommend local specialties to try.
Retiro Park and Crystal Palace
Spend an afternoon wandering through the lush, green oasis of Retiro Park, a favorite leisure spot for locals and tourists. Your guide will lead you to the enchanting Crystal Palace, a stunning glass and iron structure that hosts contemporary art exhibitions.
Allow our team to reserve VIP seats for you as you sit in the balcony to view the passion and drama of Spain's most iconic dance – flamenco.
Visit a local tablao to watch a mesmerizing performance by talented dancers, singers, and musicians.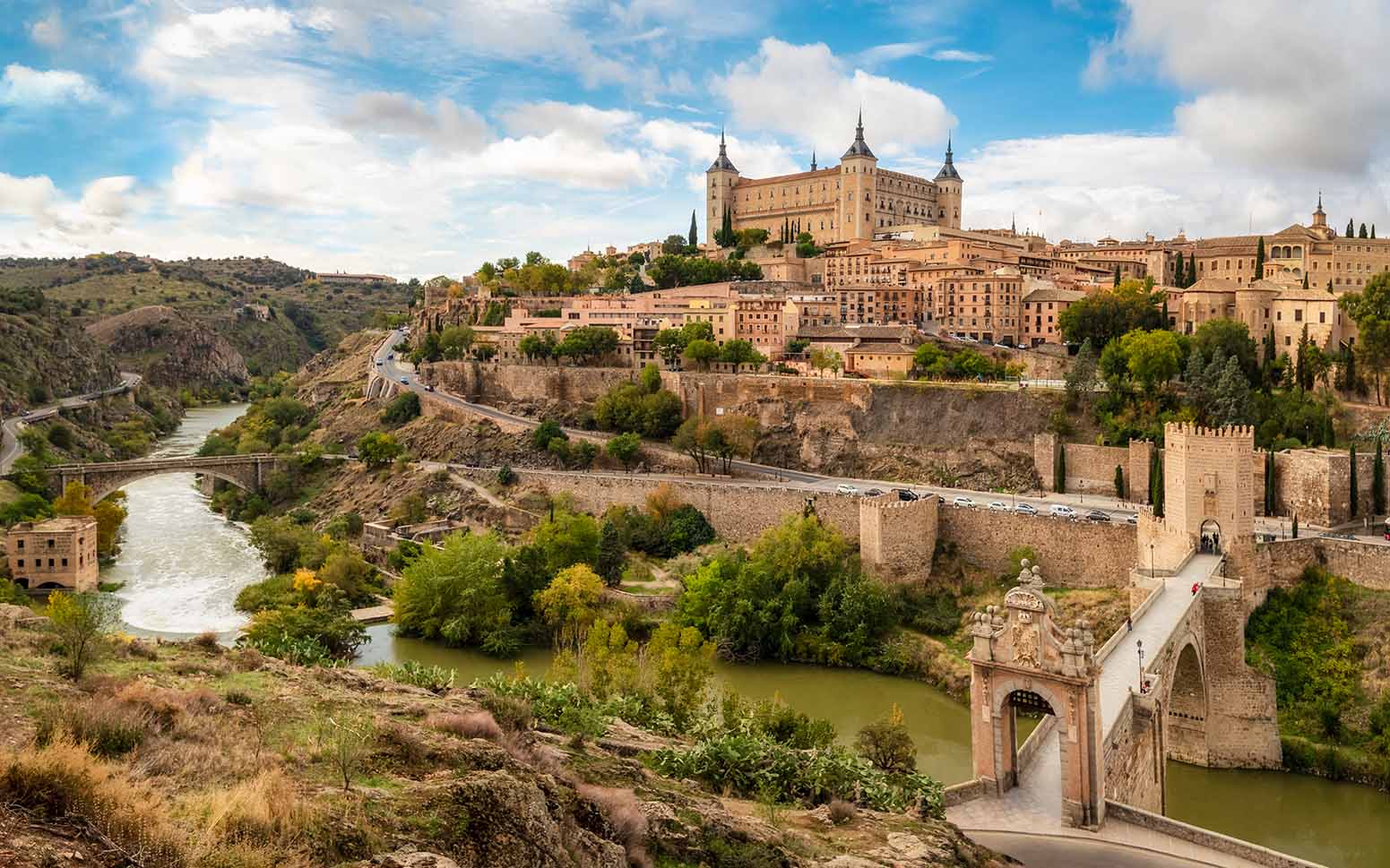 Bid farewell to Madrid as your private driver collects you from your accommodation to set out on a scenic drive to Toledo, known as the "City of Three Cultures," for its blend of Christian, Muslim, and Jewish influences.
The journey offers panoramic views of Spain's diverse landscapes, from rolling hills to olive groves, setting the tone for the enriching cultural experiences to come.
Private Guided Tour of Toledo's Historic City Centre
Upon arrival in Toledo, embark on a private guided tour of its historic city center, a UNESCO World Heritage Site. Meander through narrow, winding streets lined with well-preserved medieval architecture.
Your guide will illuminate the city's complex history, highlighting how the intermingling of cultures shaped its unique character.
Visiting Toledo's Cathedral & Synagogue
Your guide will then deliver you to Toledo's magnificent Cathedral, a masterpiece of Gothic architecture boasting exquisite stained glass windows and an impressive collection of El Greco paintings.
The tour then proceeds to the Santa Maria la Blanca Synagogue, renowned for its beautiful Mudejar (Moorish) design elements. The visit provides a fascinating glimpse into the religious harmony that once prevailed in Toledo.
Best Tours from Emily! Words can't express how grateful it was to be able to call on Emily for help with some excursions in Spain. Emily, thanks soo much. You're the BEST!!!
Day 5: Exploring Toledo with Your Guide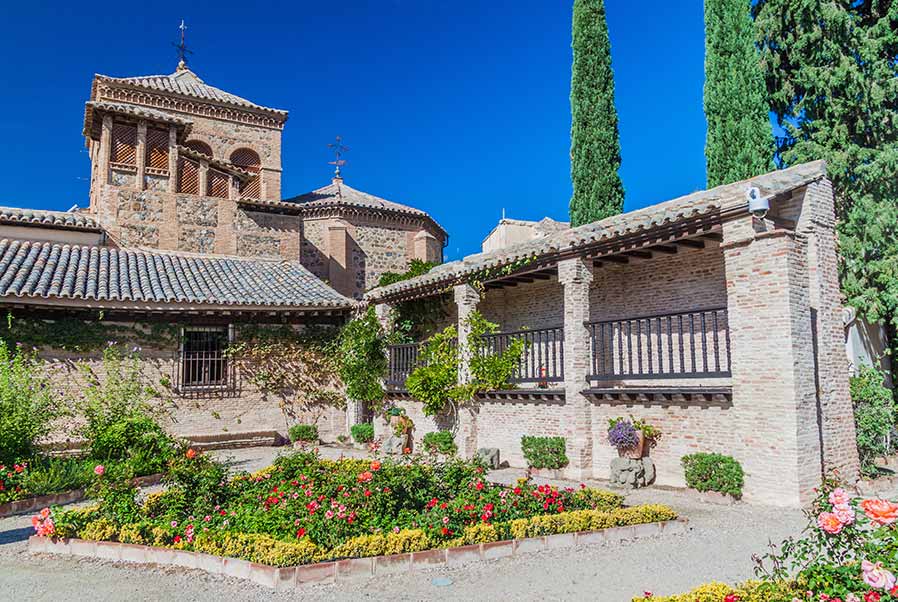 Your exploration of Spain's cultural heritage continues with a day trip to Consuegra. Here, you'll find a row of well-preserved windmills famously depicted in Cervantes' "Don Quixote." After marveling at these iconic structures, visit the imposing Consuegra Castle, offering panoramic views of the surrounding plains. Your guide will share captivating tales of battles and conquests, bringing the medieval fortress to life.
Exploring the El Greco Museum
Back in Toledo, dive into the world of El Greco, a renowned Greek artist who spent much of his life in Spain. The El Greco Museum houses an extensive collection of his works, showcasing his distinctive style characterized by elongated figures and vibrant colors. Your guide will discuss the artist's influence on the Spanish Renaissance and his enduring impact on modern art.
Discovering Toledo's Craftsmanship: Damasquinado Workshop
Finally, discover Toledo's rich craftsmanship traditions with a visit to a Damasquinado (gold and silver inlaying in iron) workshop. Observe skilled artisans at work, painstakingly creating intricate designs that have adorned jewelry, weaponry, and decorative items for centuries. You'll be able to purchase a unique keepsake, a memento of your time in this enchanting city.
Toledo's blend of cultures, rich history, and vibrant arts scene offers a captivating glimpse into Spain's past and present. Whether exploring ancient fortresses or strolling through bustling marketplaces, your time in this charming city promises to be an unforgettable part of your 28-day tour of Spain.
Day 6: Consuegra Day Trip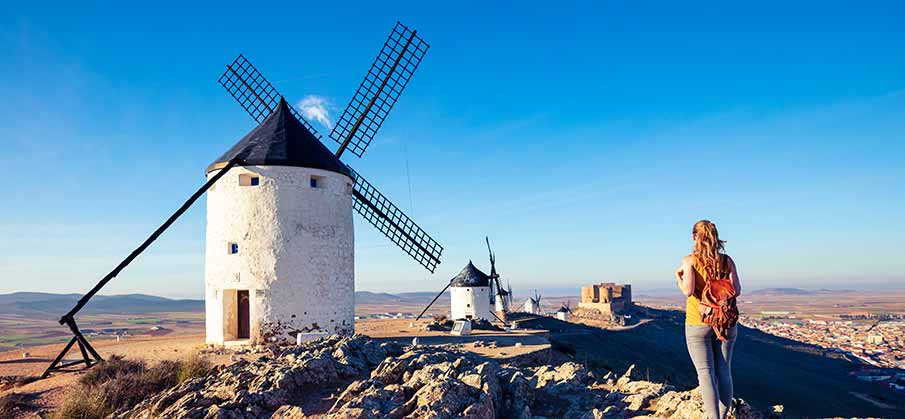 Your exploration of Spain's cultural heritage continues with a day trip to Consuegra, just a short 45-minute drive from Toledo.
You'll find a row of well-preserved windmills famously depicted in Cervantes' "Don Quixote." After marveling at these iconic structures, visit the imposing Consuegra Castle, offering panoramic views of the surrounding plains. Your guide will share captivating tales of battles and conquests, bringing the medieval fortress to life.
Your driver will return you to Toledo to spend the night there.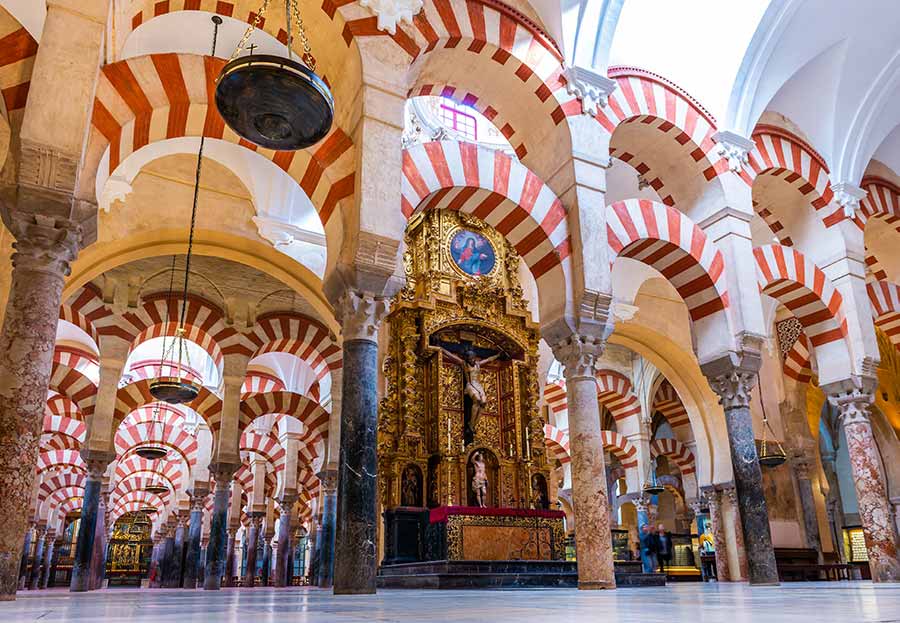 The journey from Toledo to Córdoba. Watch as the vista transitions from the arid plains of La Mancha to the undulating olive groves of Andalusia.
This scenic drive culminates in the arrival of the ancient city of Córdoba, a melting pot of diverse cultures and eras.
Private Guided Tour of the Mezquita
Your first foray into Córdoba's rich history is a private tour of the Mezquita, a unique architectural marvel.
Originally a mosque, the building was converted into a cathedral and today stands as a testament to the city's multicultural past. Marvel at the hypnotic archways and intricate carvings as your guide unfolds the tales of the Mezquita's transformation.
Evening Walk around the Historic Jewish Quarter
As twilight descends, explore the historic Jewish Quarter, a labyrinth of narrow lanes and quaint courtyards that echo with stories of the past.
This atmospheric neighborhood, filled with whitewashed buildings and vibrant blooms, provides a tranquil end to your first day in Córdoba.
Overnight in Cordoba.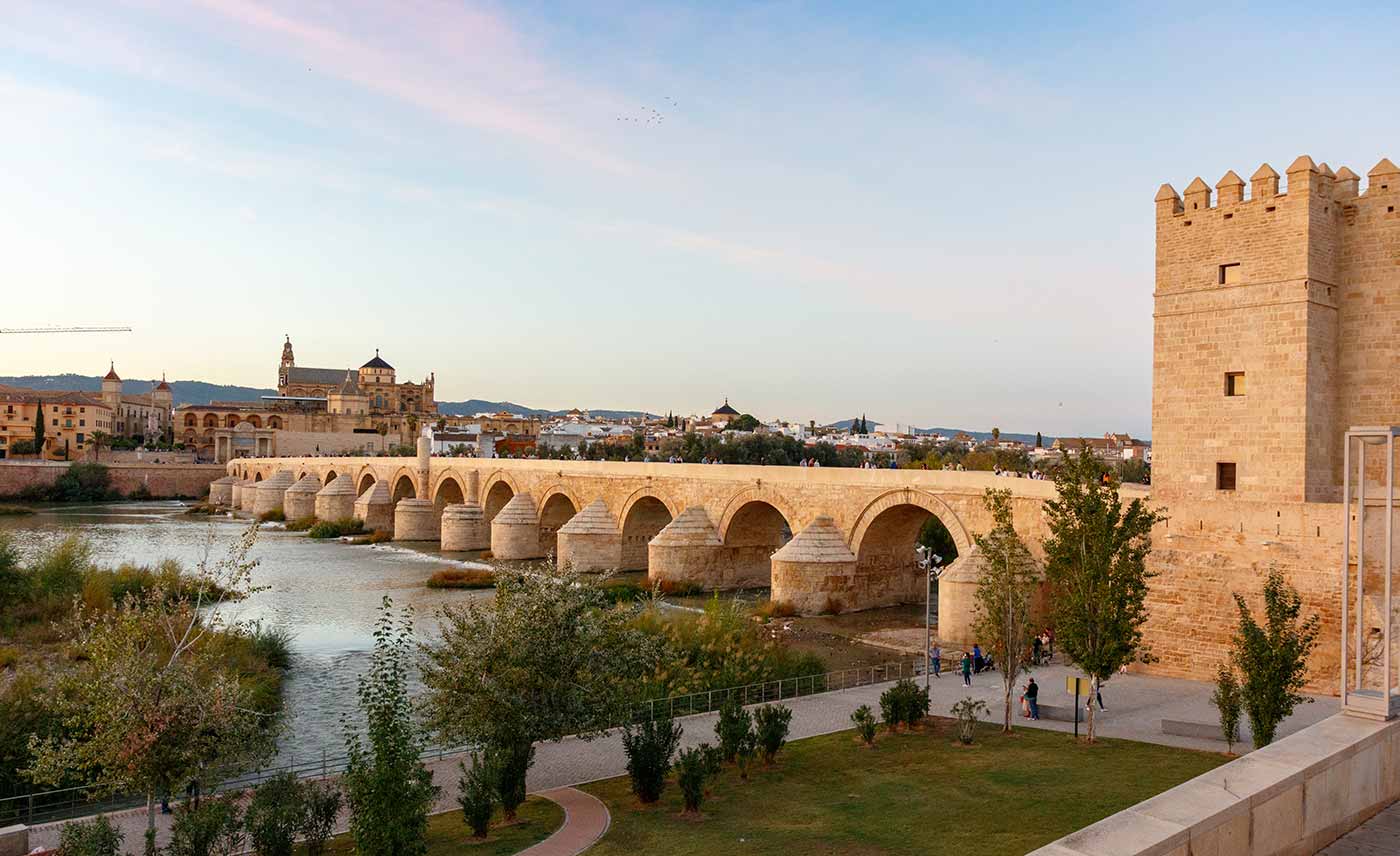 Private Tour of the Alcázar de los Reyes Cristianos
Delve into the Alcázar de los Reyes Cristianos, a fortress-palace that served as the residence of Christian monarchs.
Immerse yourself in the tranquillity of its beautifully manicured gardens adorned with fountains and flowering plants.
Visit to the Palacio de Viana
This 14th-century palace is renowned for its 12 beautiful patios. Wander through these open-air spaces, each a masterpiece of Andalusian garden design, and explore the palace's fascinating collection of art and antiques.
Day 9: Day Trip to Medina Azahara: The Shining City
Enjoy a driver-guided excursion to the ruins of Medina Azahara, a once opulent city now known as "The Shining City."
Unearth the stories of its past glory and eventual fall as you traverse the archaeological site, and let your guide bring to life the civilization that once thrived here.
Return to Cordoba in the evening.
Day 10: Córdoba to Seville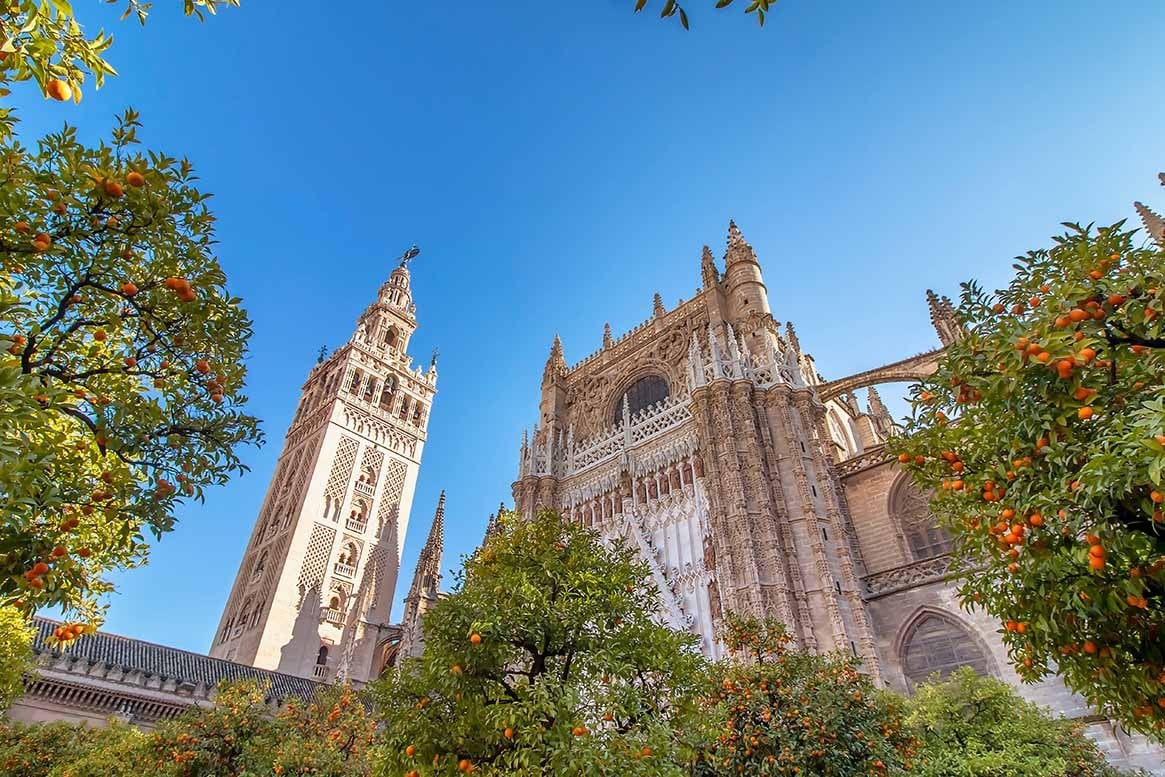 The journey from Córdoba to Seville, with rolling olive groves and sun-baked fields of this iconic Spanish region, gradually giving way to the vibrant city of Seville.
Private Guided Tour of Seville Cathedral and Giralda Tower
Arriving in Seville, you'll be introduced to the city's monumental heart, starting with a private guided tour of Seville Cathedral and the Giralda Tower.
The Cathedral, one of the largest Christian churches in the world, astonishes with its Gothic grandeur, while the Giralda, the former minaret of the mosque that stood here, offers panoramic views over the city.
Begin your evening by visiting the Mercado de la Feria, Seville's oldest market, where you'll find a wide range of fresh local products. This is an excellent opportunity to sample some of the city's culinary delights, from cheeses and cured meats to olives and local wines.
Later in the evening, head to the lively district of Calle Feria, known for its vibrant nightlife. Whether you're interested in a quiet wine bar, a lively pub, or a dance club playing anything from Latin music to electronica, you're sure to find a spot that suits your taste.
Amazing experience! My husband Douglas and I just came back from a 10 days customized guided tour to Morocco organized by Emily from Guided Spain. It was an amazing trip. Our driver Youssef met us at the Casablanca Airport and he quickly became our guide, security guard and guardian angel! When I got sick he got me medicine and he always found the best toilets when we were on the road. Also, ice cream! We feel that we got the authentic Morocco experience with the riads (hotels) that Emily chose for us and the guides in the different cities we visited. The Merzouga Luxury Desert Camp was totally amazing as well as the visit with the Nomads,and the medinas. This is our second trip with Emily and as the first one, it was excellent. Our next one will be Portugal!
Day 11: Day Trip to Doñana National Park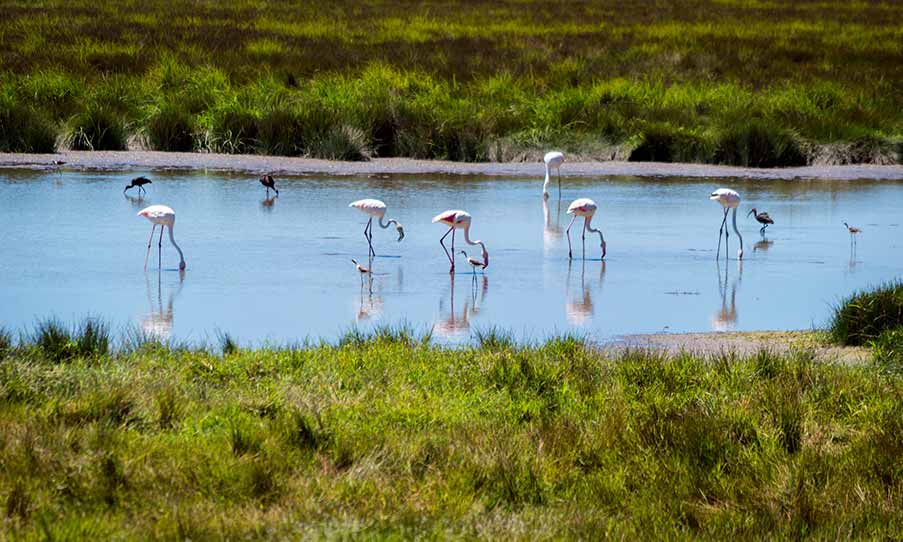 Discover Spain's natural diversity with a day trip to Doñana National Park, a UNESCO World Heritage Site. Here, you'll find marshlands, sand dunes, and forests teeming with a variety of wildlife, including the Iberian lynx and numerous bird species.
Return to Seville to spend the night.
Day 12: Private Tours of Seville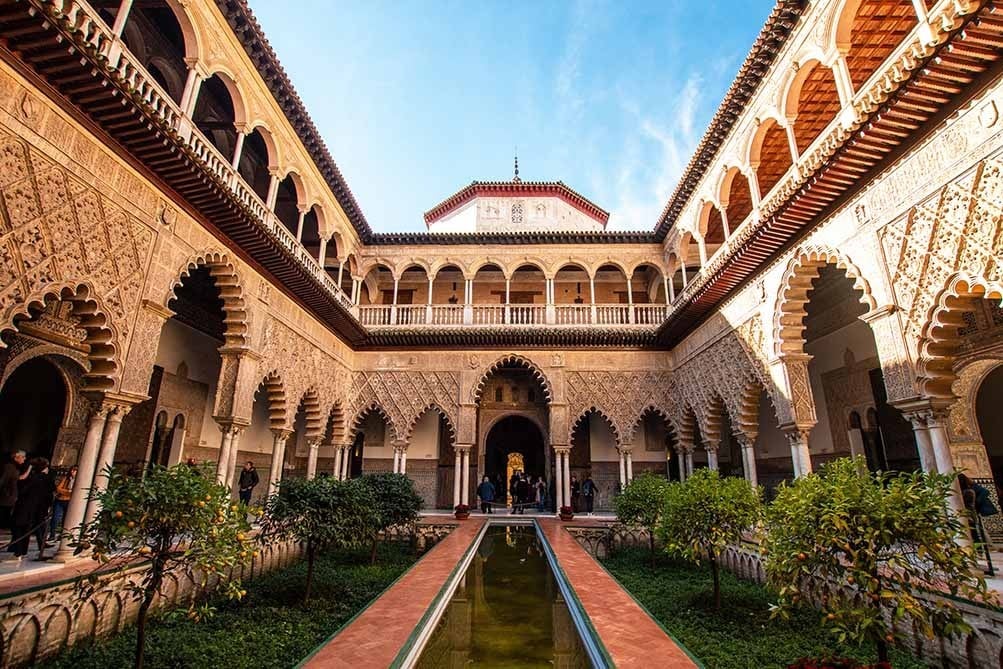 Exploring the Alcázar of Seville
Back in Seville, explore the Alcázar, a royal palace that is a stunning example of Mudejar architecture. Its intricate designs, lush gardens, and tranquil courtyards capture the imagination, while a private tour reveals the rich history of this palace, which is still in use by the Spanish royal family.
Tour of the Metropol Parasol
Add another dimension to your Seville experience with a visit to the Metropol Parasol, one of the city's modern architectural wonders. Known locally as 'Las Setas' (The Mushrooms), this wooden structure provides fantastic views over Seville. Its innovative design starkly contrasts the city's traditional architecture, representing Seville's contemporary spirit.
River Cruise on the Guadalquivir
As you glide along the river, you'll get beautiful views of some of Seville's most famous landmarks lit up in the evening light, including the Torre del Oro, the Maestranza Bullring, and the stunning architecture of the Expo 92 site.
Following the river cruise, take a walking tour of the Triana district, known for its vibrant ceramics industry and historic bullring. Triana is also famous for its gastronomy, with many tapas, bars, and restaurants offering delicious local cuisine. Stroll through the bustling Calle Betis, a famous street known for its lively night scene.
Finish off the evening by visiting a local tapas bar. Tapas is an integral part of Andalusian culture, and there's no better place to experience it than in the birthplace of the tradition. You'll taste the real Seville as you enjoy small dishes of jamón ibérico, gambas al ajillo (garlic shrimp), and other regional specialties.
Remember to pair your food with a glass of local sherry or a refreshing tinto de verano, a popular Spanish cocktail made with red wine and lemon or orange soda. Afterward, take a leisurely walk along the river or through the city's narrow, winding streets to end your night.
Day 13: Seville to Granada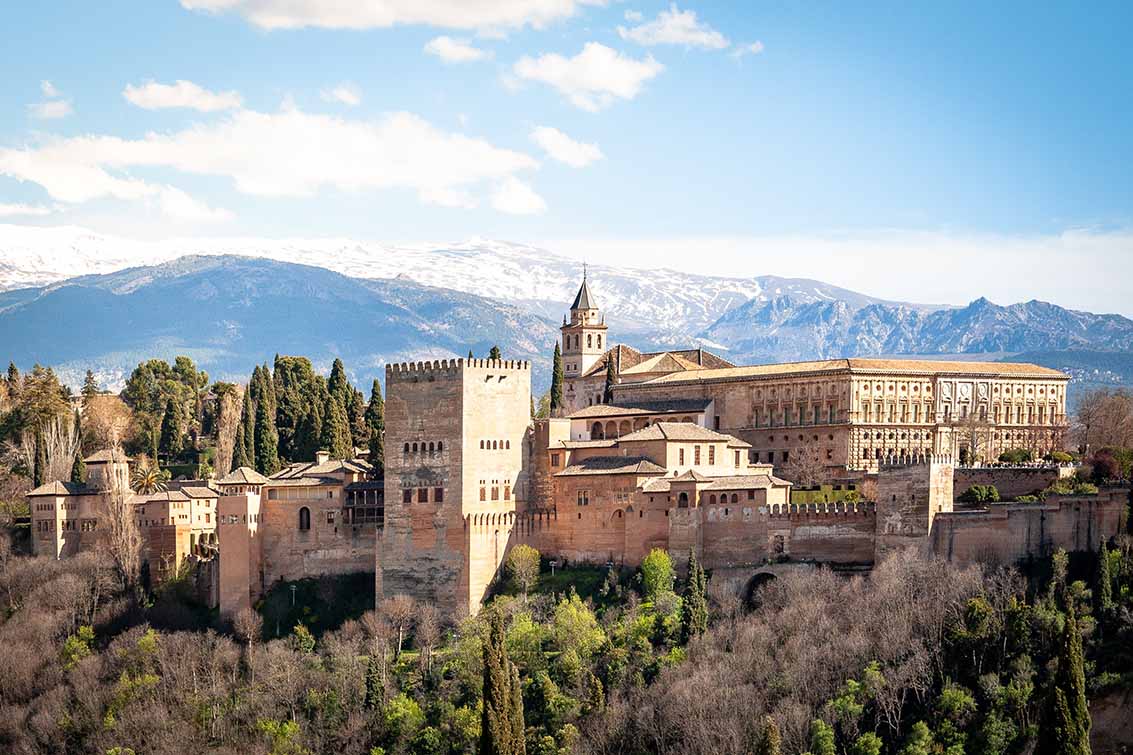 Begin the day with a 2 hours and 45 minutes drive with your private chauffeur on your way to Granda, a gem in the heart of Andalucia.
Private Guided Tour of the Alhambra
Once in Granada, delve into the city's Moorish past with a private guided tour of the Alhambra.
This fortress-palace complex, a UNESCO World Heritage Site, is a testament to the artistic and architectural prowess of the Nasrid Dynasty.
Wander through its lavishly decorated palaces, tranquil courtyards, and verdant gardens, each corner revealing a new facet of its rich history.
In the evening, discover Granada's legendary tapas culture in the Albayzín district.
As you stroll through this historic Quarter's narrow, winding streets, your guide will lead you to the best tapas bars, where you can sample various delicious local dishes accompanied by fine Spanish wines.
Excellent Individualized Tour Company for People who do not want to go on Package Tours. I used Emily to arrange a tour of Southern Spain in January, 2020 for 4 people. It turned out to be great. What I do not like is being shepherded around to cheesy tourist sites and waiting in lines of tourists. Emily arranged for very competent and efficient drivers, fantastic guides, very good hotels and even recommended restaurants for each location. The best thing about using Emily is that when she arranged for (at my request) wine tastings, olive oil tastings, a flamenco show is that all of them were authentic and interesting and none of them were contrived or cheesy. While on the trip, she checked in and made sure everything went smoothly. When we went to the Alhambra or other ticketed sites, we always got to skip the line due to Emily. There was one overall price per person (depends on double/single room) that I felt was very fair for the level of service provided.
Day 14: Excursion to Sierra Nevada National Park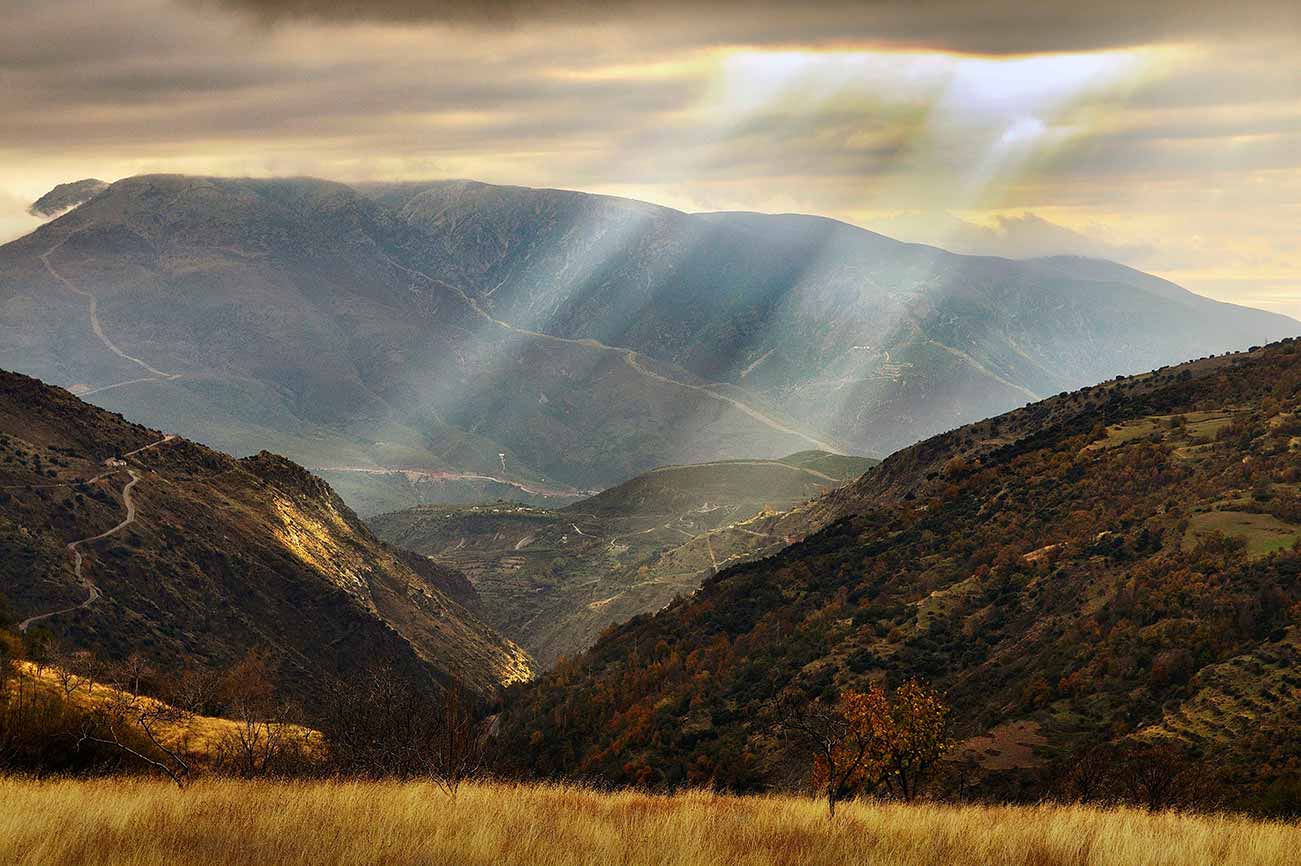 Spend a day amidst the breathtaking beauty of Sierra Nevada National Park.
This diverse landscape of towering mountains, verdant forests, and pristine rivers offers a wealth of outdoor activities, from hiking to birdwatching.
Enjoy the crisp mountain air and stunning views as your guide introduces you to the park's unique flora and fauna.
Return to Granada in the evening.
Day 15: Highlights of Granada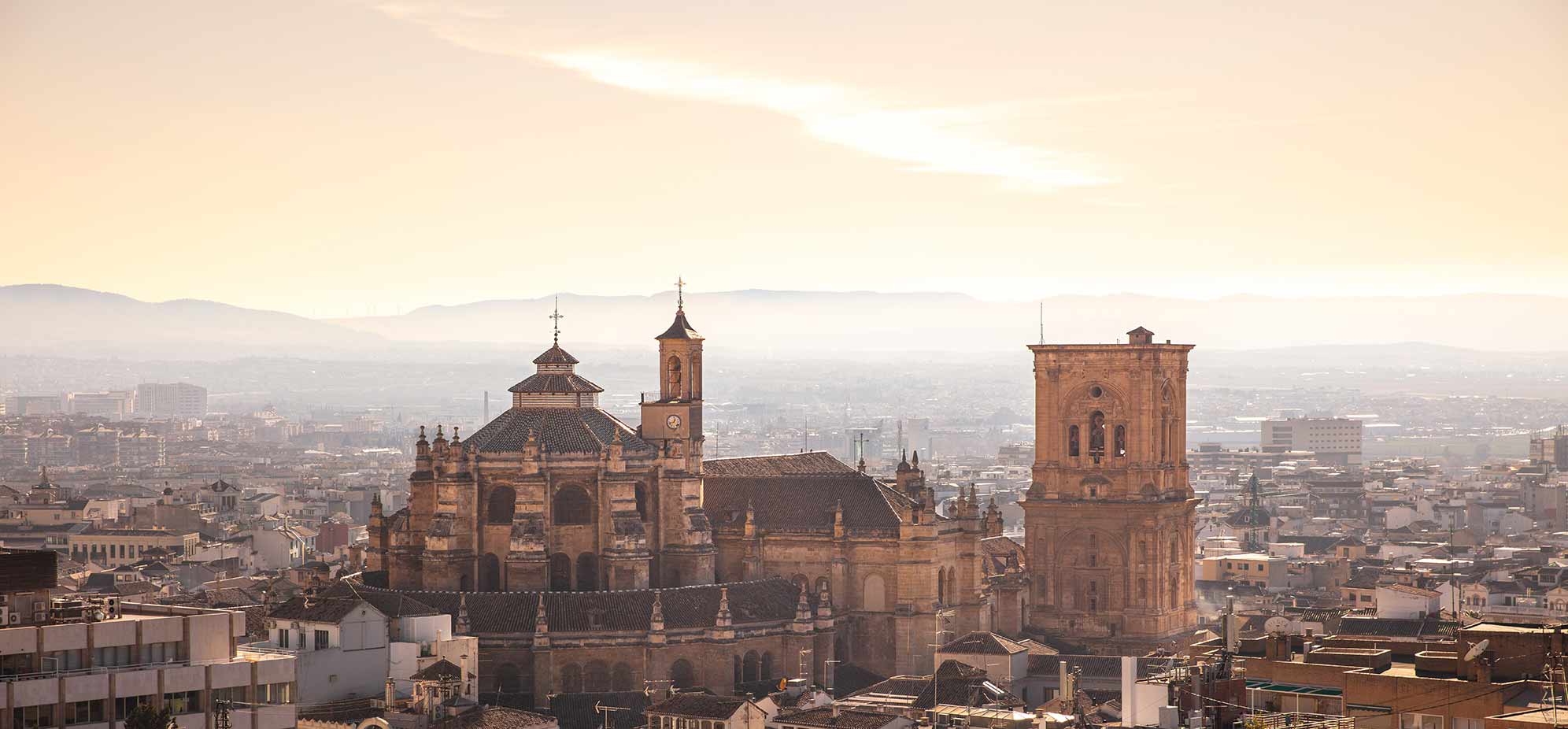 Visiting the Royal Chapel of Granada
In Granada, visit the Royal Chapel, the final resting place of the Catholic Monarchs Ferdinand and Isabella.
Admire the chapel's intricate carvings, beautiful stained glass, and precious artifacts, all the while learning about the monarchs' significant role in Spain's history.
Tour of the Granada Cathedral
Add another cultural experience to your Granada itinerary with a tour of the Granada Cathedral. This grand structure, one of the finest examples of Spanish Renaissance architecture, impresses with its ornate interior, featuring stunning frescoes, elaborate altarpieces, and a remarkable collection of religious art.
Evening in Sacromonte: Cave Houses and Flamenco
Finally, spend an unforgettable evening in Sacromonte, renowned for its unique cave houses and vibrant Flamenco culture.
Witness a spellbinding Flamenco performance in a traditional cave setting, the powerful rhythms echoing through the night. The energy and passion of the dancers, combined with the unique ambiance, make this a fitting finale to your time in Granada.
Day 16: Granada to Málaga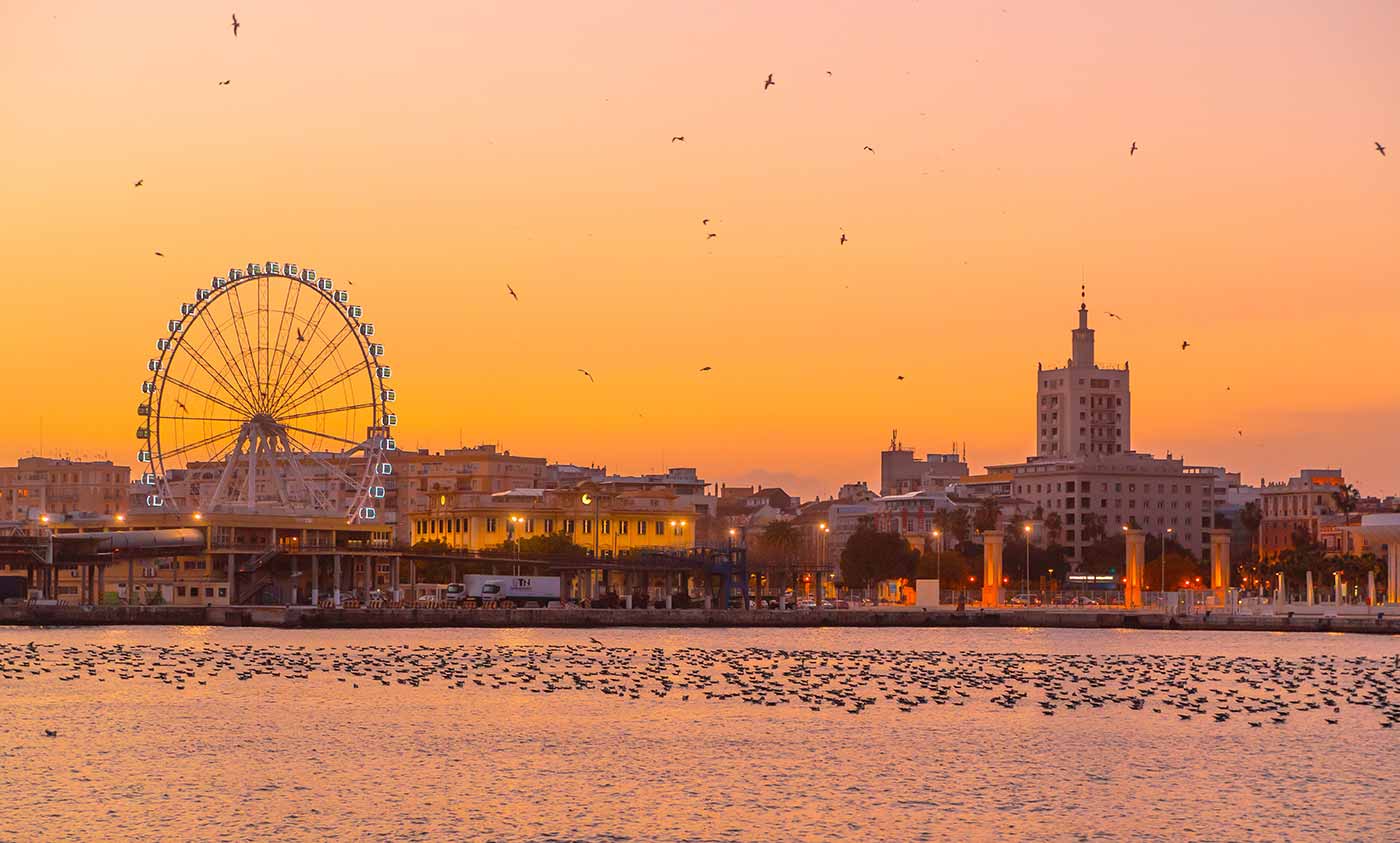 Depart from Granada with your driver and make your way toward the sun-drenched city of Málaga in just one and a half hours.
Private Guided Tour of the Picasso Museum
In Málaga, start your exploration with a private guided tour of the Picasso Museum.
Born in this very city, Pablo Picasso is celebrated in a museum that houses an extensive collection of his groundbreaking works. A private guide will provide insight into Picasso's life and artistic evolution, enhancing your appreciation of his genius.
Evening Walk along Málaga's Beach Promenade
Embrace Málaga's coastal charm with an evening walk along its beach promenade. Feel the cool sea breeze as you stroll past lively restaurants and bars, the setting sun painting the sky in vibrant hues. It's the perfect way to immerse yourself in Málaga's laid-back ambiance.
Day 17: Day Trip to Ronda - Bridges & Bullfighting
Embark on a day trip to Ronda, a town perched atop a deep gorge and famed for its dramatic views and historic bullring.
Explore the town's cobbled streets, visit the iconic Puente Nuevo, and learn about the rich history of bullfighting at the Plaza de Toros.
Highly recommend Emily! Emily created a personalized itinerary for us in southern Spain. She was very knowledgeable about the region, attentive, and personable. She returned emails properly, and was a pleasure to work with. Emily was flexible and did not make mind making changes in the itinerary-- Her goal is to please her customers!
Day 18: Discover Málaga's Historic Centre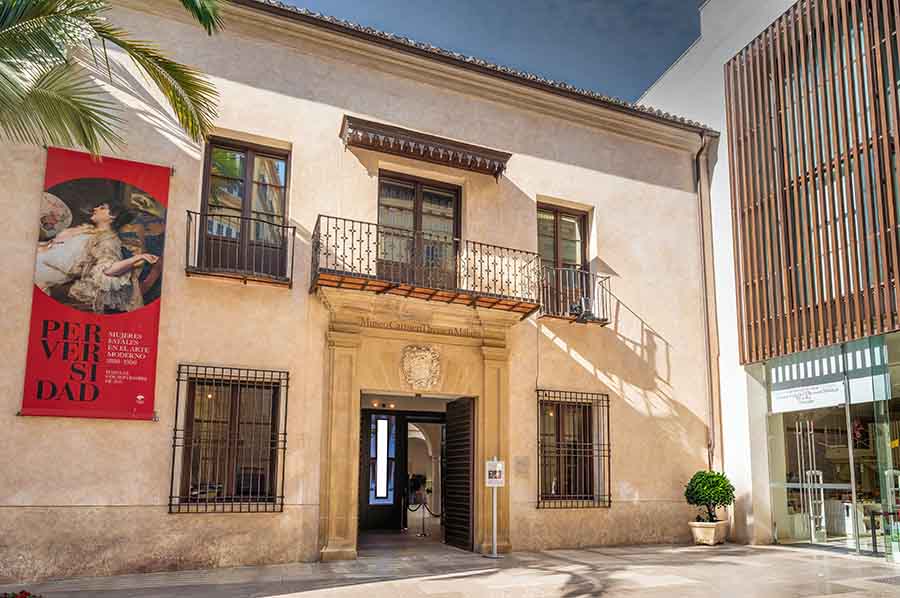 Step back in time with a visit to the city's Roman Theatre and the Alcazaba. The theatre, dating back to the 1st century BC, offers a glimpse into Málaga's ancient past, while the Alcazaba, a Moorish fortification, captivates with its blend of Roman and Islamic architecture.
Visit to the Carmen Thyssen Museum
The Carmen Thyssen Museum, housed in a 16th-century palace, boasts an impressive collection of 19th-century Spanish paintings, focusing particularly on Andalusian artists. The works provide a fascinating insight into the region's culture and traditions.
Wine Tasting in Málaga's Wine Region
Conclude your stay in Málaga with a wine-tasting tour in the city's surrounding wine region.
Known for its sweet Moscatel wines, you'll visit local vineyards, learn about the winemaking process, and sample a selection of fine wines. Paired with delicious tapas, it's a delightful gastronomic experience to round off your time in Málaga.
Day 19: Málaga to Valencia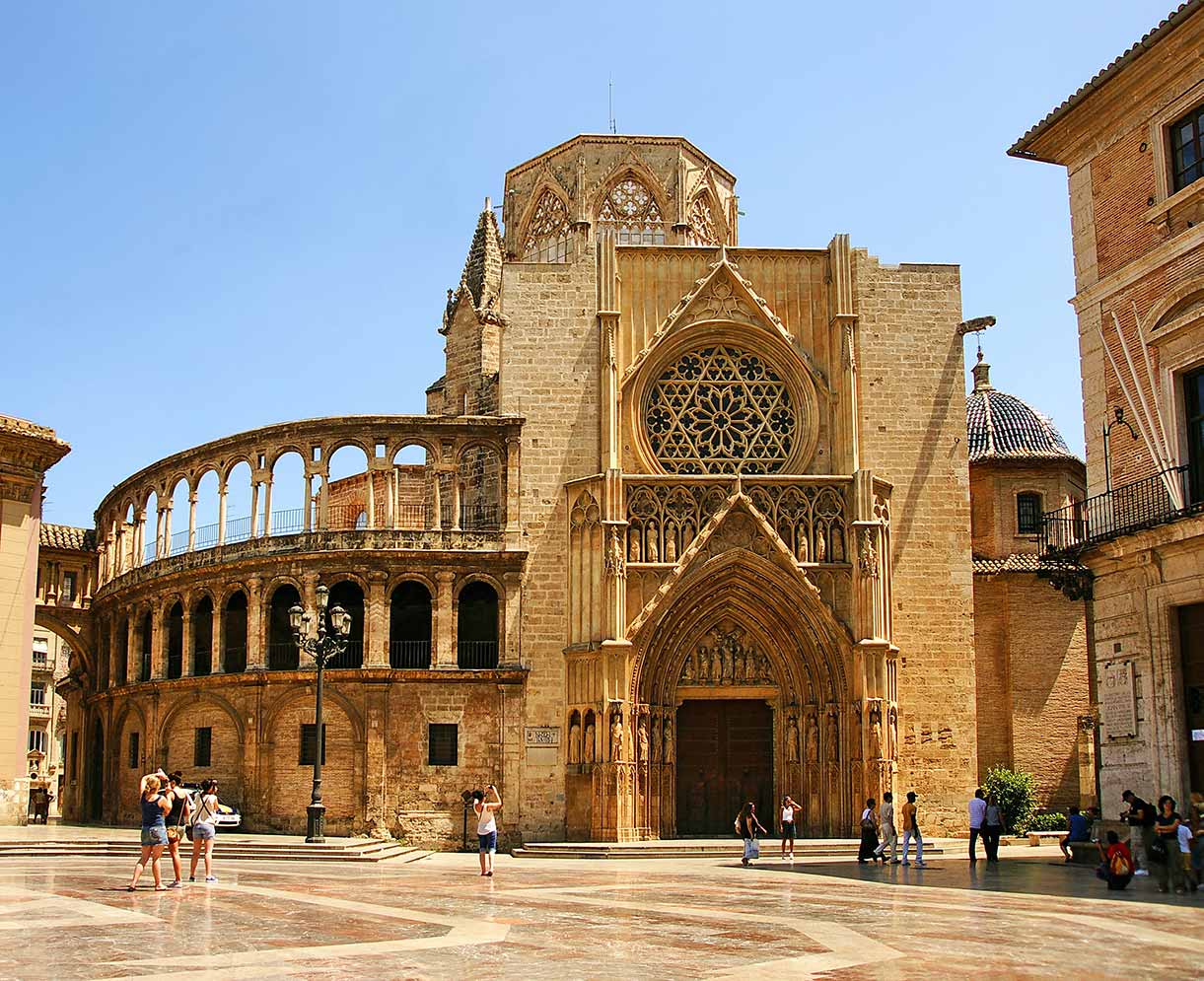 Begin your day with a memorable drive from Málaga to Valencia, journeying along the eastern coast of Spain. The scenic route unveils a picturesque panorama of coastal towns, sparkling blue waters, and verdant hills, finally leading you to the vibrant city of Valencia, renowned for its arts, culture, and culinary scene.
Private Guided Tour of Valencia's City Centre
Traverse the narrow, winding streets of the Old Town, visiting landmarks such as the stunning Valencia Cathedral, the lively Plaza de la Virgen, and the historic Torres de Serranos.
Evening Paella Cooking Class
Under the guidance of a local chef, you'll learn how to prepare this iconic Valencian dish, understanding the nuances that make it so unique.
The evening culminates with a delightful dinner where you can savor the fruits of your labor.
Day 20: Best of Valencia Tours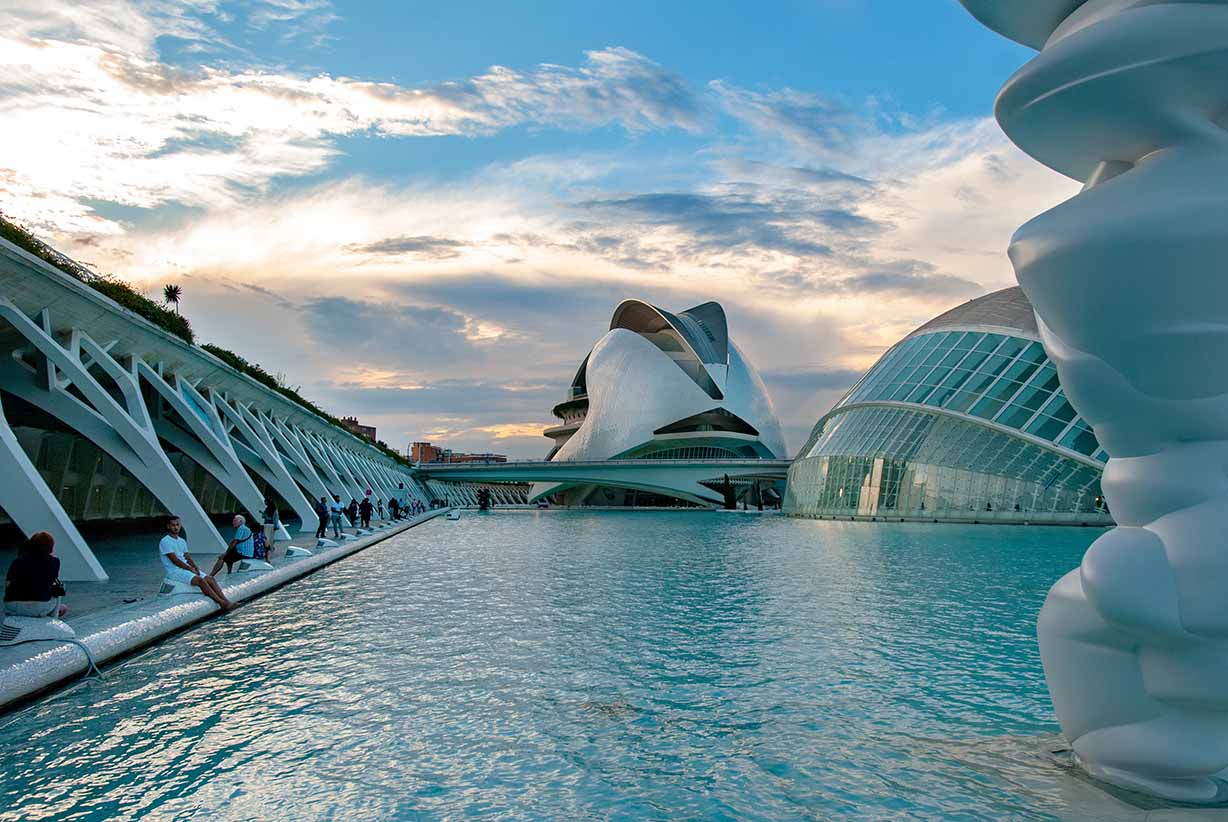 Continue your adventure in Valencia as your guide combines the historic and modern aspects of the city.
Private Tour of the City of Arts and Sciences
This futuristic complex, designed by renowned architect Santiago Calatrava, houses a science museum, opera house, IMAX cinema, and more. Its avant-garde architecture is a sight to behold.
Valencia Silk Exchange: A UNESCO World Heritage Site
The Valencia Silk Exchange (La Lonja de la Seda) is a UNESCO World Heritage site due to the role the late Valencian Gothic-style civil building played as a significant center of the silk trade in the 15th century.
The grandiose Hall of Columns and the intricate detailing of the building are sure to leave you in awe.
Valencia's Culinary Delights: Mercado Central Visit
Conclude your stay in Valencia with a visit to Mercado Central, one of the largest covered markets in Europe.
Wander through the bustling stalls laden with fresh produce, local cheeses, and a vast array of seafood.
Day 21: Day Trip to Albufera Natural Park: Boat Ride and Birdwatching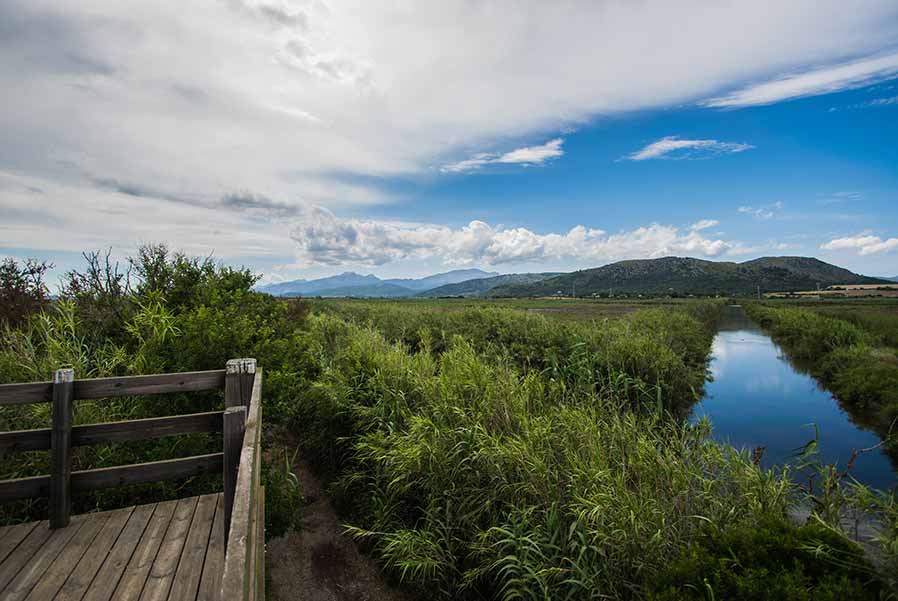 Venture outside the city limits to the Albufera Natural Park, a unique coastal wetland teeming with wildlife.
Enjoy a serene boat ride on the park's namesake lagoon, and keep your binoculars at the ready to spot the diverse bird species that inhabit the area.
Day 22: Valencia to Barcelona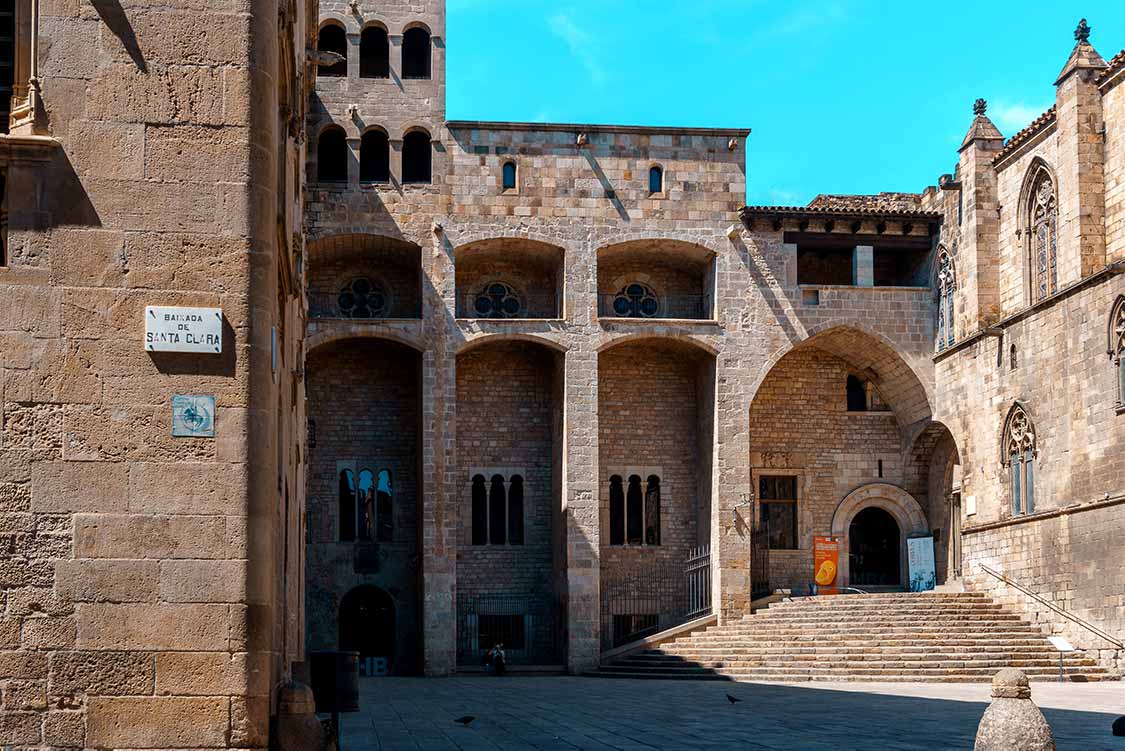 The beautiful coastal route from Valencia offers breathtaking views of Spain's eastern shoreline, with azure Mediterranean waters on one side and lush olive groves on the other, leading you into the heart of Catalonia – Barcelona.
The drive takes a total of 3 hours and 45 minutes, so we will stop en route in the picturesque coastal town of Peniscola in Castellon for a traditional Spanish-style lunch.
Private Guided Tour of the Gothic Quarter
Begin your Barcelona adventure with a private guided tour of the Gothic Quarter (Barri Gòtic).
This ancient district, with its narrow medieval streets full of Gothic architecture, is a step back in time. Discover hidden plazas, centuries-old cathedrals, and historic landmarks like the Barcelona Cathedral and the Plaça del Rei.
Taste of Catalonia: Traditional Catalan Dinner
Round off the day with a traditional Catalan dinner. Indulge in local favorites like Pa amb tomàquet (bread with tomato), Escalivada (roasted vegetables), and Crema Catalana.
Day 23: Montserrat Day Trip: Monastery, Mountain, and Music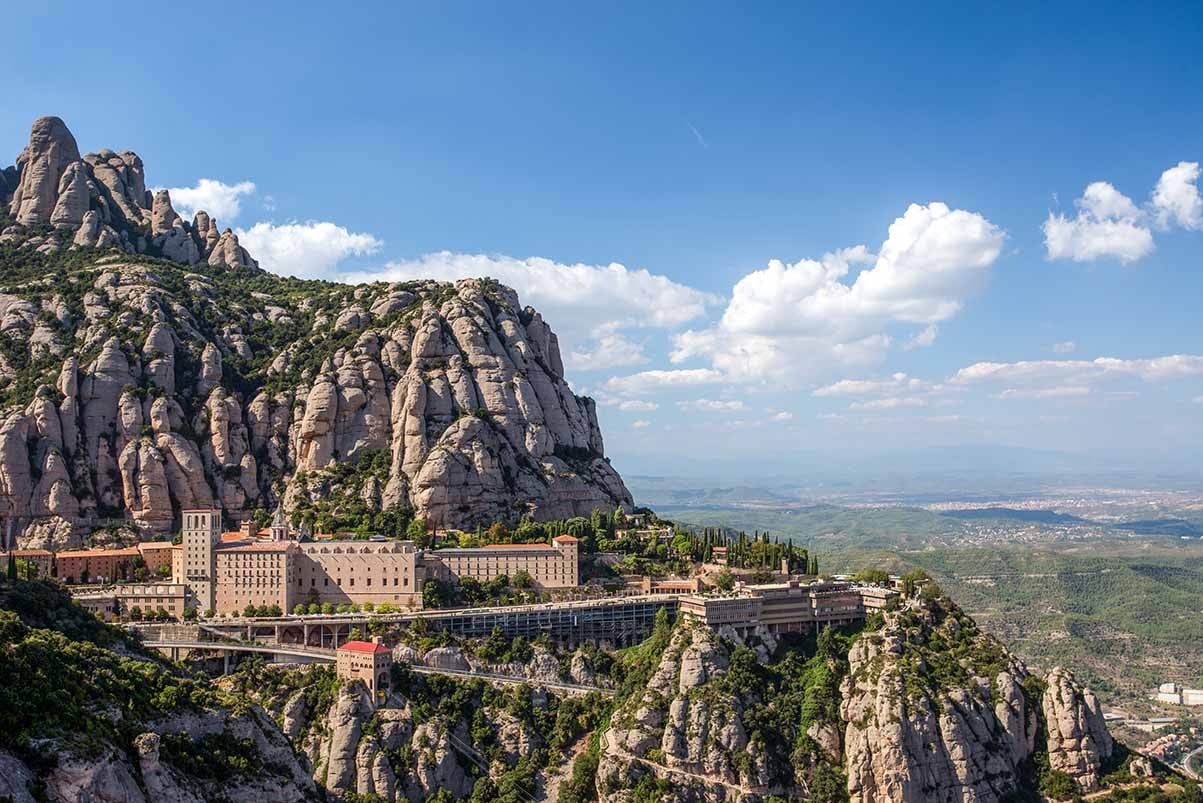 Enjoy a driver-guided day trip to Montserrat, a spectacular mountain range just outside the city.
Visit the Santa Maria de Montserrat Abbey, ride the funicular for breathtaking views, and if you're lucky, catch a performance by the famed Montserrat Boys' Choir.
This memorable trip offers a different perspective on Catalonia's rich cultural and natural landscapes.
Day 24: Art of Barcelona, Guidi & Picasso Tours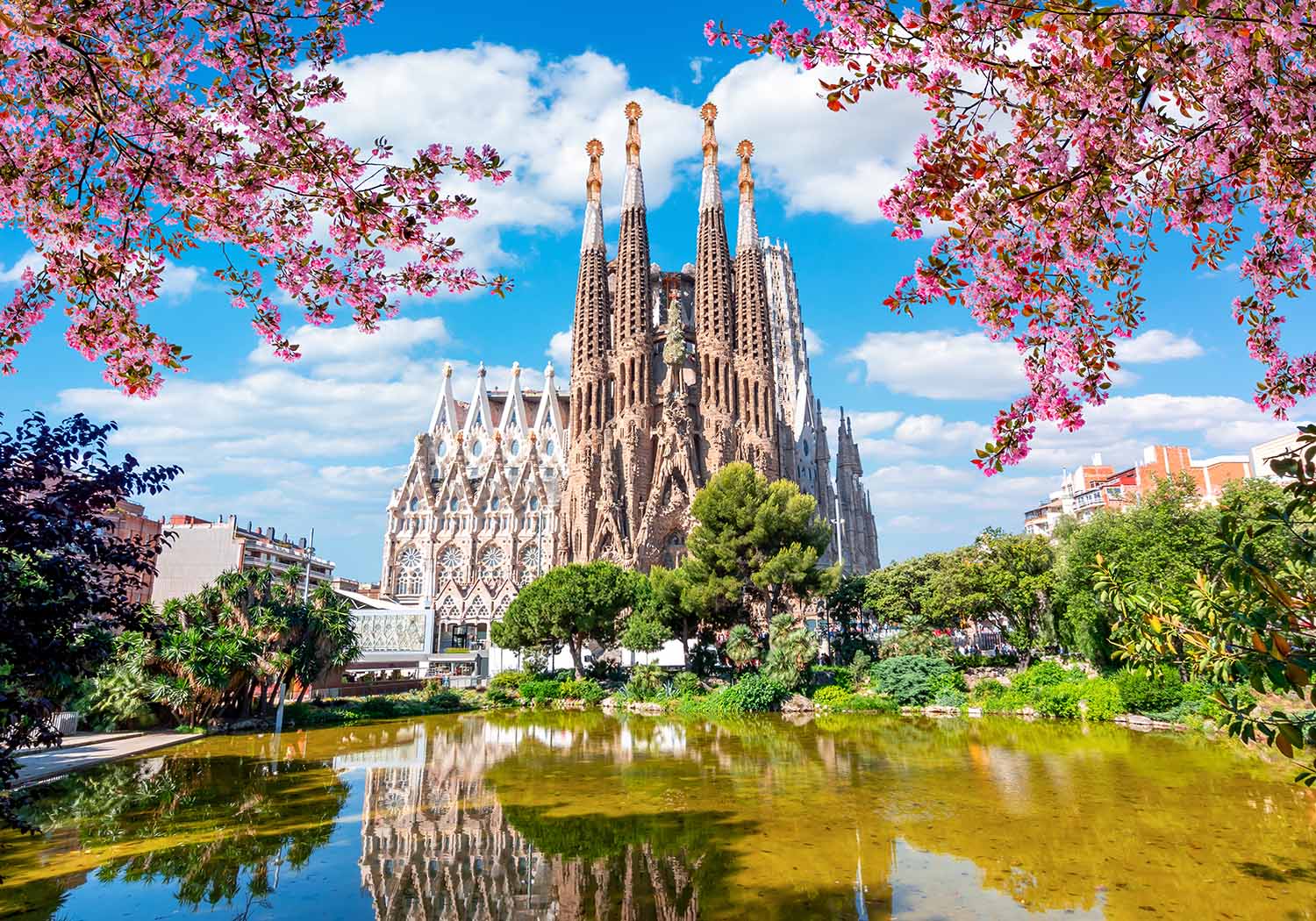 Barcelona has a well-deserved reputation as a hub of European artistic treasures. Today your guide will take you to explore some of the city's most famous and significant sites.
Exploring Gaudí's Masterpieces: Park Güell & Sagrada Familia
Experience the genius of Antoni Gaudí with guided tours of his iconic creations – Park Güell and Sagrada Familia.
Stroll through the colorful mosaic designs in Park Güell, enjoying panoramic views of Barcelona, then marvel at the awe-inspiring architecture of Sagrada Familia, a basilica unlike any other.
Visit to the Picasso Museum
Dive into the world of Pablo Picasso with a visit to the Picasso Museum, home to an extensive collection of the artist's works. From his early sketches to his later masterpieces, you'll gain a unique insight into Picasso's evolution as an artist.
Evening Stroll and Dinner at Barcelona's Beachfront
End your day with an evening stroll along Barcelona's beachfront, absorbing the relaxed seaside ambiance. Then, enjoy a leisurely dinner at a beachside restaurant, sampling fresh seafood as you watch the sunset over the Mediterranean Sea.
Day 25: Barcelona to Zaragoza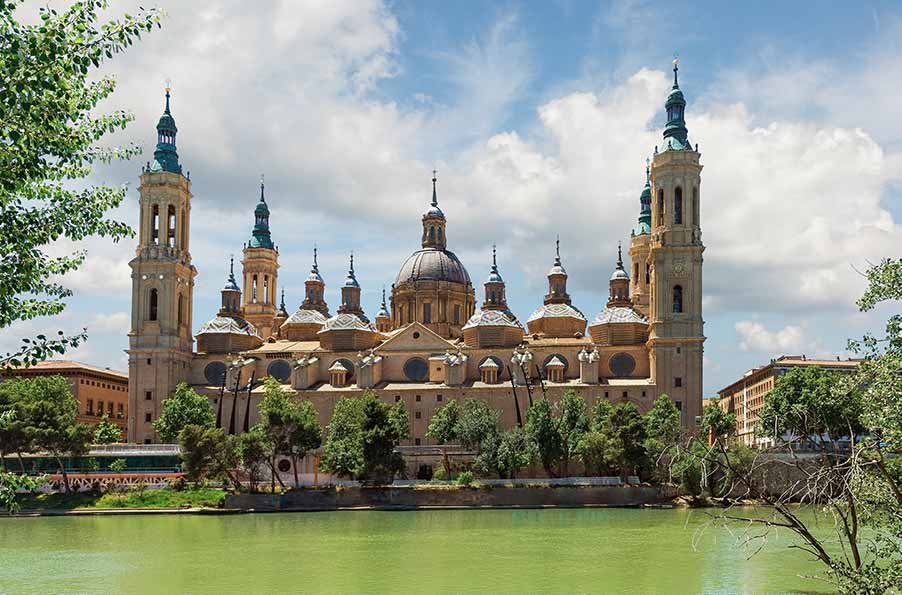 Drive to Zaragoza in the style and comfort of our air-conditioned luxury vehicle.
Private Guided Tour of the Basilica of Our Lady of the Pillar
Delve into the heart of Aragon's capital with a private guided tour of Our Lady of the Pillar Basilica, a significant pilgrimage site.
Marvel at the stunning Baroque architecture, elaborate frescoes, and the sacred image of the Virgin Mary. This is more than a religious site; it's a testament to Spain's intricate history and rich artistic heritage.
Evening Walk along the Ebro River
End your day with a leisurely walk along the banks of the Ebro River, the soul of Zaragoza.
The riverside is adorned with picturesque parks and notable landmarks like the Puente de Piedra and the Expo 2008 site.
As the sun sets, watch as the city lights reflect off the river, making for a serene and enchanting evening.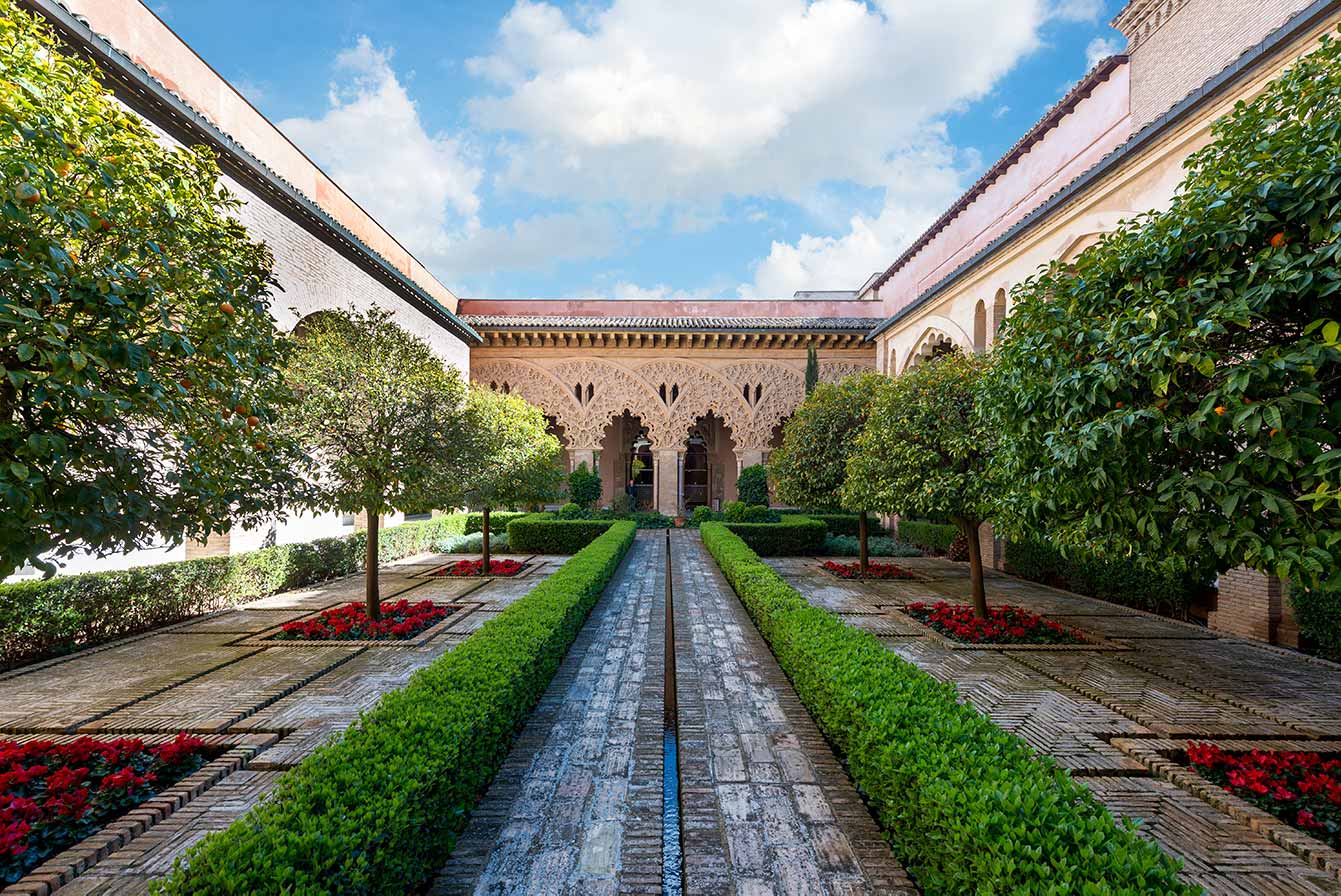 Start your day with a guided tour of the Aljafería Palace, a splendid example of Moorish architecture dating back to the 11th century. Discover the palace's rich history, from its origins as a Muslim fort to its later use as a Christian palace and the Spanish Inquisition's headquarters.
Spend the afternoon at the Goya Museum, which houses a comprehensive collection of the famed Spanish painter Francisco de Goya's works. Your guide will provide fascinating insights into Goya's life and art, helping you appreciate his innovative style and profound influence on modern art.
In the evening, embark on a tapas crawl, tasting Zaragoza's culinary delights. Visit popular local tapas bars, savor a variety of small dishes, and enjoy the vibrant nightlife in this charming Spanish city.
Day 27: Zaragoza - A Day of Leisure and Exploration
Enjoy a day at your leisure, exploring Zaragoza's charm.
Your guide can provide recommendations based on your interests, whether visiting more museums, shopping at local boutiques, or exploring the city's parks and gardens.
Day 28: Zaragoza to Madrid & Departure
On your final day, drive back to Madrid, enjoying the beautiful Spanish countryside's views. Spend the day at your leisure, perhaps shopping for souvenirs or visiting any attractions you might have missed earlier.
Celebrate your last night in Spain in the evening with a special farewell dinner. Enjoy a sumptuous meal at a top-rated restaurant, reminiscing about your memorable journey across Spain.
Finally, our representative will assist you with your luggage and transfer you to the airport for your departure, concluding your unforgettable 28-day driver-guided tour of Spain.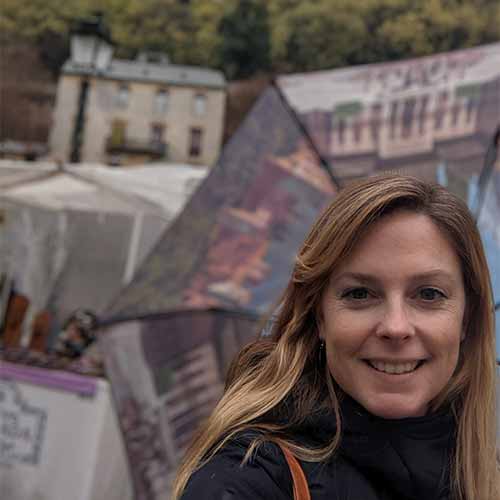 Say Ola to Emily, your personal tour planner at Guided Spain Tours. Get in touch by filling in the form below and requesting your complimentary itinerary!
Contact Our Team About A 28 Tour Tour of Spain
From Madrid's grandeur and Toledo's historic charm to Valencia's coastal allure and Barcelona's artistic brilliance, every destination tells its own story. You've marveled at architectural masterpieces, savored regional delicacies, explored stunning natural parks, and experienced the vibrancy of Spanish life. But the beauty of Spain lies in its depth, and there is always more to uncover.
If you're captivated by this itinerary but desire a more personalized touch, our expert team at Guided Spain Tours is eager to tailor a journey to match your unique interests and preferences.
Contact us for a free custom version of this itinerary, and let us design your dream Spanish adventure. As we say here in Spain, "Hasta pronto" – see you soon!
Highly recommend Emily! Emily created a personalized itinerary for us in southern Spain. She was very knowledgeable about the region, attentive, and personable. She returned emails properly, and was a pleasure to work with. Emily was flexible and did not make mind making changes in the itinerary-- Her goal is to please her customers!
Emily is GOOD! Emily arranged a 14 day tour for us in Spain at short notice of a week or so. The whole tour was beautifully organized, amazingly flexible and the rare glitches were attended to and addressed, literally instantly. For sure we will be back for further tours with her. Thanks, Emily.
Best Tours from Emily! Words can't express how grateful it was to be able to call on Emily for help with some excursions in Spain. Emily, thanks soo much. You're the BEST!!!
Spain and Portugal trip: Emily did an amazing job Of setting up our trip through Spain and Portugal. All of our tours were outstanding and personalized. We had a wonderful time!
Private Tour: Emily is a pleasure to work with. She arranged hotels, activities, tour guides and transportation in Barcelona, Madrid, Segovia, Toledo, Cordoba, Avila, Seville, Malaga, Gibraltar. She was extremely responsive when we had questions and made sure that everything flowed smoothly.