Grand Journey Through Spain, Portugal & Morocco: 13-Day Itinerary
Your 13 Day Tour Through Spain, Portugal & Morocco
Welcome to our 13-day tour that takes you on an extraordinary journey across the alluring landscapes of Spain, Portugal, and Morocco. This carefully curated itinerary has been designed with a focus on cultural immersion, history, culinary delight, and scenic beauty.
This tour is more than just sightseeing—it's about experiencing the essence of these countries' unique cultures and living their traditions. Get ready for an unforgettable adventure as we embark on this grand journey together.
Day 1: Lisbon Walking Tour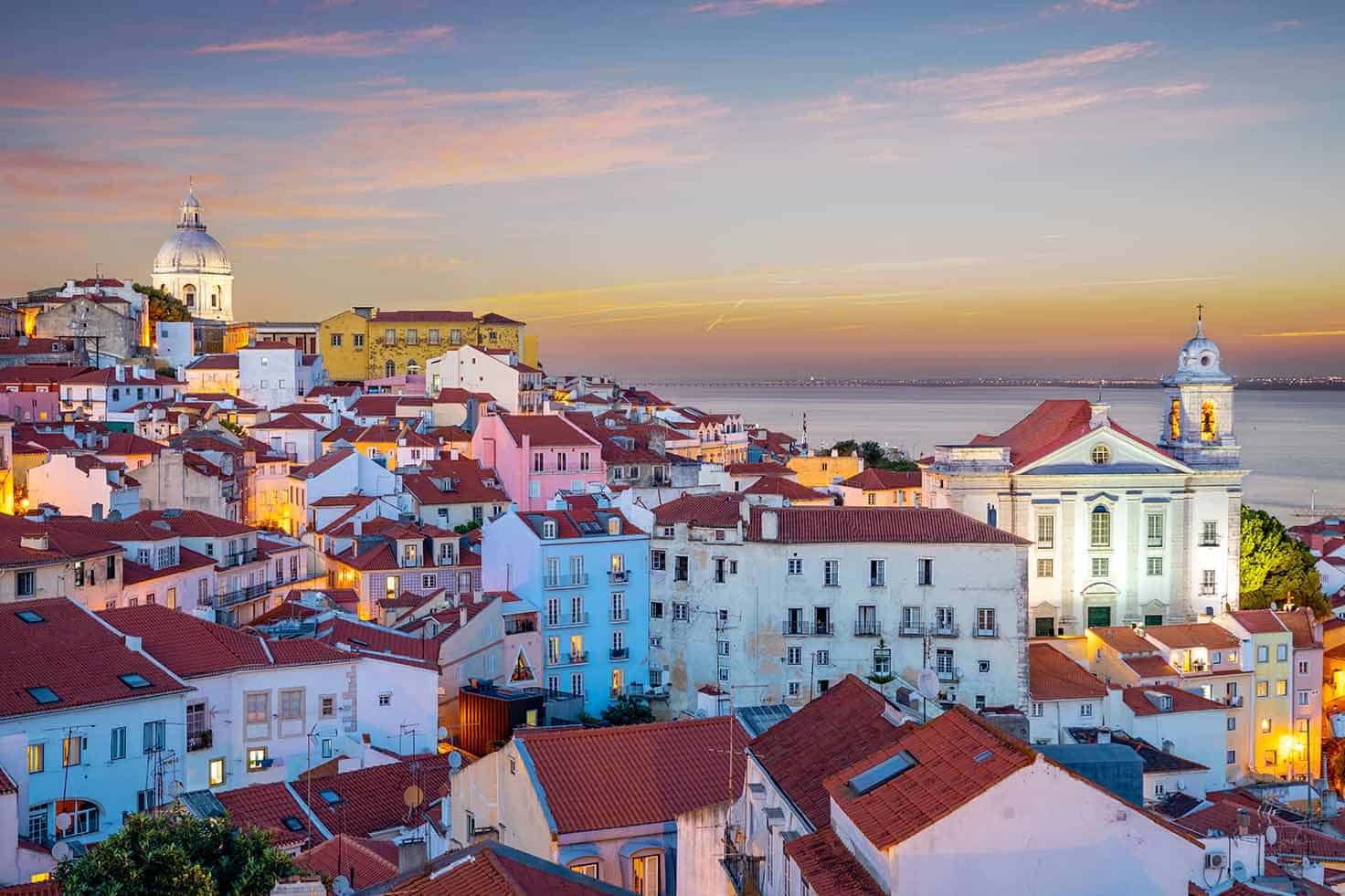 Upon your arrival at Lisbon Airport, a warm welcome awaits you. Our driver will be standing by to whisk you off to your hotel. After a long flight, the remainder of the day is left open for you to settle in, relax, or explore the surrounding areas at your own pace.
As evening falls, your local guide will arrive to lead you on a culinary adventure through Lisbon's thriving food and wine scene. The journey starts near Rossio Plaza, the heart of Lisbon, where you'll immerse yourself in the city's iconic café culture. Here, you'll get your first taste of Portugal with delicious codfish cakes – a beloved staple of the local cuisine.
The tour continues to the vibrant Bairro Alto district, a neighborhood renowned for its bustling nightlife and trendy wine bars. Here, you'll sample the local white wine, appreciating its unique bouquet and flavor profiles.
As the evening progresses, you'll venture towards Castle Hill, a prominent landmark offering panoramic views of the city. Amidst this stunning backdrop, delight in a sampling of Lisbon's finest sausages and cheeses, all perfectly paired with a robust glass of port, Portugal's celebrated fortified wine.
The culinary journey culminates at one of Lisbon's traditional restaurants, where you'll savor a gourmet meal. Here, authentic flavors and innovative culinary techniques create an unforgettable dining experience that beautifully showcases Portugal's gastronomic heritage.
Day 2: Experiencing the Arrabida Wine Trail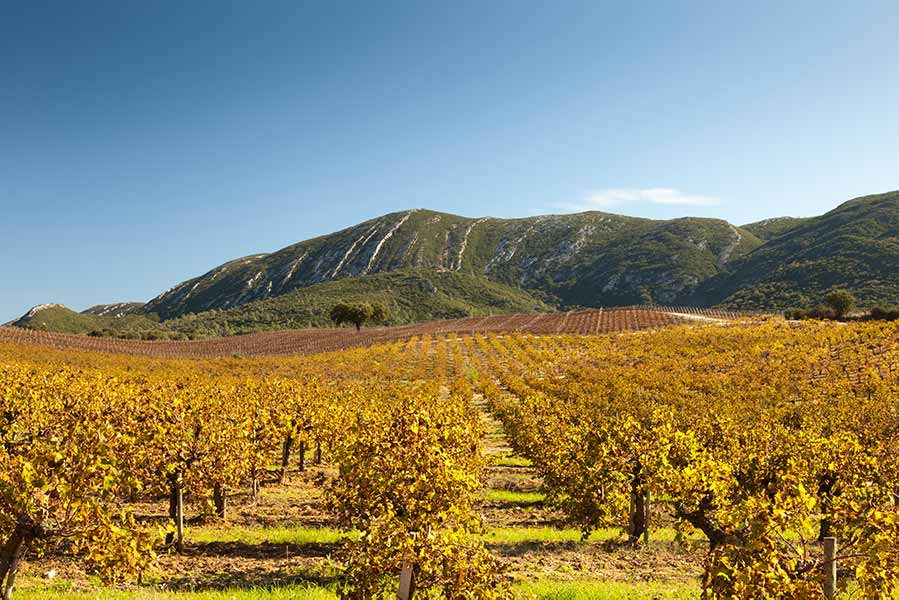 Begin your day meeting your driver in the hotel lobby, prepared to embark on an exciting journey along the Tagus River through the lush and verdant landscapes of the Arrabida wine region.
Marvel at the breathtaking vistas of sprawling vineyards, interspersed with majestic cork and olive trees – the very essence of this region's abundant natural beauty.
Your first destination is an exquisite, family-owned winery in Arrabida Park's heart. Here, the family's passion for winemaking shines through as you taste the local vintages, each bottle telling the story of the land from which it was born.
As you ascend to the park's highest point, prepare for the jaw-dropping panorama of the endless Atlantic Ocean that unfolds before you. Drink in the serenity of the view, feeling the gentle breeze and embracing the tranquility of the surroundings.
Next, the sandy shores of Portinho da Arrabida beach beckon. Here, time will be allocated for a walk along the beach, allowing you to revel in the simple beauty of the crystal-clear waters kissing the sandy shoreline.
Lunch awaits in the picturesque Sesimbra fishing village, where fresh, locally sourced seafood is the star of the show. This dining experience offers an authentic taste of the traditional Portuguese coastal lifestyle.
Your enriching journey through the heart of Arrabida culminates with a visit to a wine cellar in Azeitao. This charming town is famous for its wine production, and the cellar visit offers one last chance to deepen your appreciation for the region's wine heritage before returning to Lisbon.
Day 3: Unveiling the Mysteries of Sevilla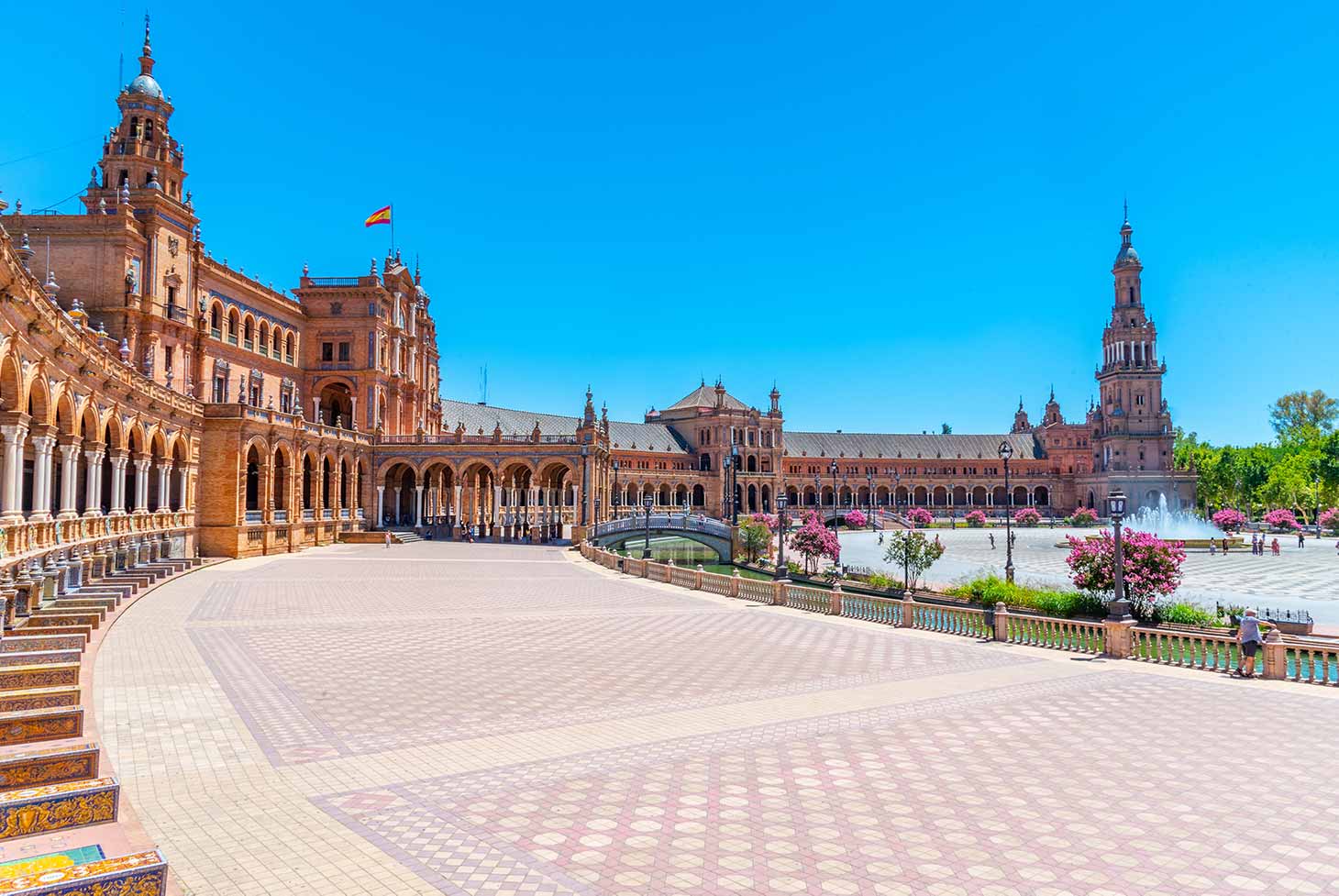 Embark on a new adventure as you meet your driver for a transfer to Lisbon Airport, from where you will catch a short flight to the captivating city of Sevilla. Upon arrival, another driver will be awaiting your arrival to safely transport you to your hotel, where you can settle in and rest for the upcoming exploration.
While the day is yours to spend at leisure, we recommend you soak up the local atmosphere, sample some local cuisine, or discover the charming nooks and crannies of the city at your own pace.
In the afternoon, your guide will introduce you to a unique way of experiencing Sevilla – a bike tour that promises to cover the city's most remarkable sights. The journey commences at the city walls, where the ancient stones echo tales of Sevilla's historical past.
Pedal your way through the serene Murillo Gardens, making several stops in the old Jewish Quarters, Barrio Santa Cruz, which once served as the backdrop to the famous opera "Carmen." Immerse yourself in the captivating tales of the area, rich in culture and history.
As your tour progresses, you'll visit the enchanting Plaza de España and the Alcazar fortress, a remarkable site known worldwide for its appearance in the television series, Game of Thrones. The majesty of the Cathedral and the grandeur of the Giralda prayer tower stand as testaments to Sevilla's architectural brilliance and deep-rooted spirituality.
As your cycling adventure concludes, find yourself at the Tower of Gold, stationed on the river bank. From here, embark on a leisurely cruise along the Guadalquivir River, a perfect way to end the day as you take in the riverside beauty of Sevilla at a tranquil pace.
Day 4: A Journey through Time: White Villages & Ronda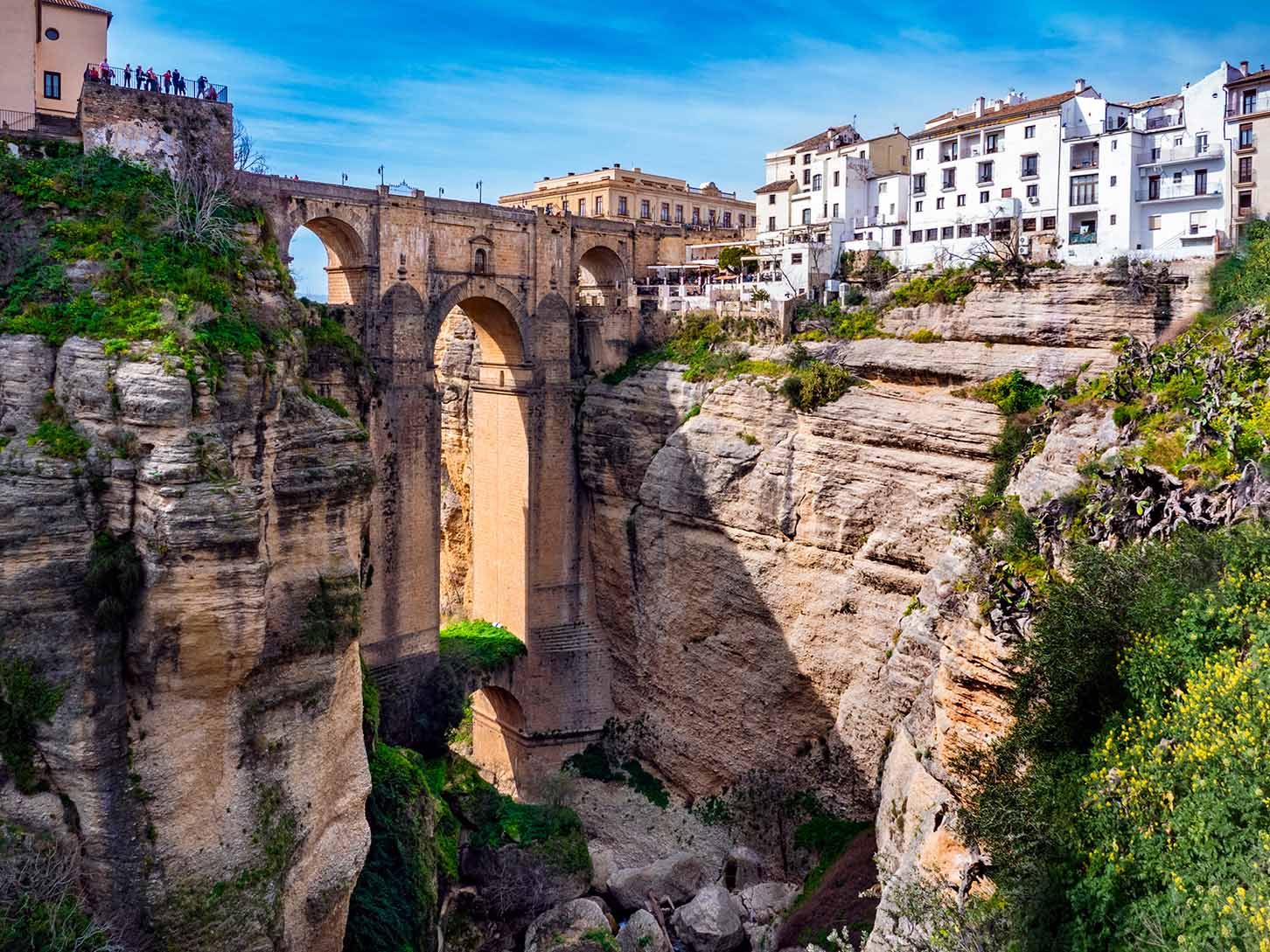 Begin the day with your driver in the hotel lobby, from where you'll be driven south of Sevilla and into the mesmerizing mountainous region. This day's expedition takes you on a journey into Spain's historical heartland, where traditional village life perseveres as it has for thousands of years.
Our first destination is Zahara de la Sierra, steeped in rich history and legendary tales. Known as the birthplace of Arab noblemen, brave conquistadors, and notorious bandits, this village promises to enthrall you with its captivating past. Here, you can immerse yourself in the charming botanical garden and amble through its steep, winding streets, absorbing the atmosphere of times gone by. Your Zahara exploration is capped off with a visit to an olive mill, where you'll witness the age-old process of olive oil production and taste the fresh, unadulterated olive oil.
From Zahara, the journey proceeds to the quaint village of Grazalema. Nestled within a natural park, Grazalema offers a chance for easy hiking along a serene stream that begins in the town itself. This is a perfect opportunity to reconnect with nature and marvel at the surrounding scenic beauty.
Just before lunch, you'll reach a family-owned countryside winery on the outskirts of Ronda, where you can tour the vineyards and sample their fine wines. This culinary detour sets the mood for a hearty lunch, preparing you for the afternoon exploration of Ronda.
Known as the birthplace of bullfighting, Ronda is a city teeming with history and culture. Upon arrival, you'll have the opportunity to go inside the city's bullring and step into the matador's shoes, feeling the thrill of this ancient sport. Your tour continues with a visit to the New Bridge, a majestic structure that spans a deep gorge and separates the New and Old Quarters of Ronda.
Once across the bridge, your guide will lead you through cobblestone streets, taking you into the venerable Collegiate Church and the medieval palace of Don Bosco, where you can appreciate the architectural grandeur of Ronda's past. As the sun sets, return to Sevilla, enriched by the day's journey through the pages of Spain's history.
Best Tours from Emily! Words can't express how grateful it was to be able to call on Emily for help with some excursions in Spain. Emily, thanks soo much. You're the BEST!!!
Day 5: Savoring Sevilla: A Free Day to Explore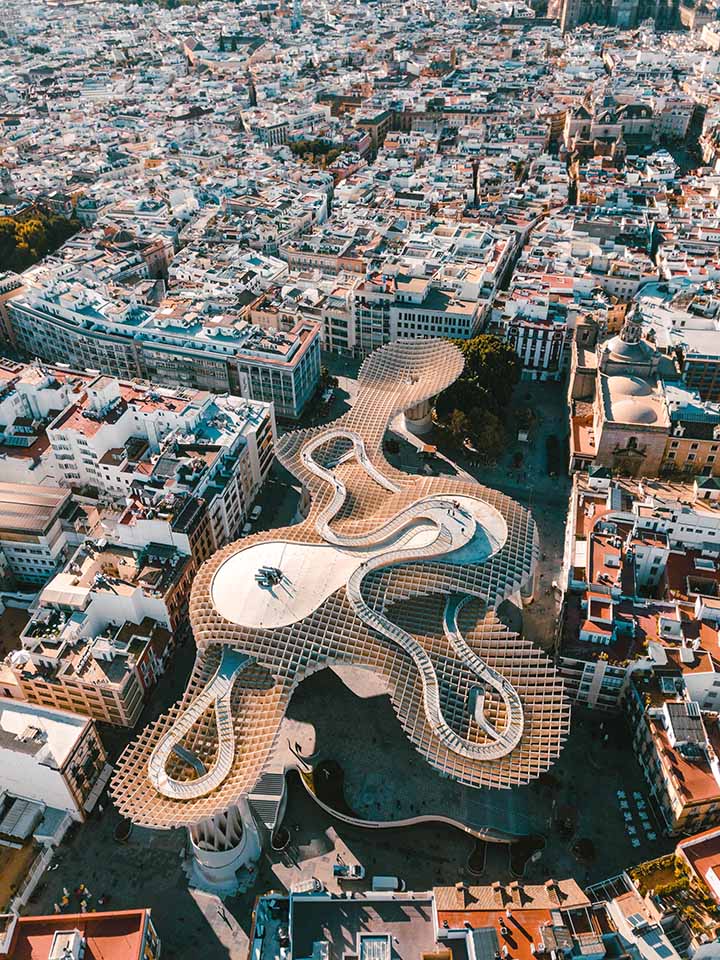 Today is entirely yours to enjoy in beautiful Sevilla. Our carefully planned itinerary offers you a free day to embrace the charm of this enchanting city at your own pace. Whether you wish to delve further into its rich history, sample more local cuisine, or relax, this day in Sevilla provides the flexibility to make the experience uniquely yours.
While you can consult with our team for ideas to do on your free day, for the purposes of our itinerary, we suggest you begin your self-guided exploration at the Metropol Parasol. This contemporary wooden structure, affectionately known as 'The Mushrooms', offers panoramic views of Seville from its walkways. It's a perfect place to get your bearings and snap some photos.
Next, head towards the narrow streets of the Triana neighborhood, known for its vibrant ceramic tilework and flamenco heritage. Visit the Mercado de Triana market to sample local delicacies and explore the colorful ceramics and pottery sold in the surrounding stores.
Later in the afternoon, head to Maria Luisa Park, a haven of lush greenery and grand boulevards. While here, be sure to explore the stunning Plaza de América, home to two intriguing museums, the Archaeological Museum and the Museum of Popular Arts and Traditions.
Conclude your free day at the riverbank with a laid-back evening at the vibrant Muelle de las Delicias. Enjoy local cuisine at one of the riverside restaurants, or sit back and watch the world go by as the sun sets over the city. This leisurely ambiance perfectly captures Seville's laid-back yet spirited character.
Day 6: A Day in Córdoba & Granada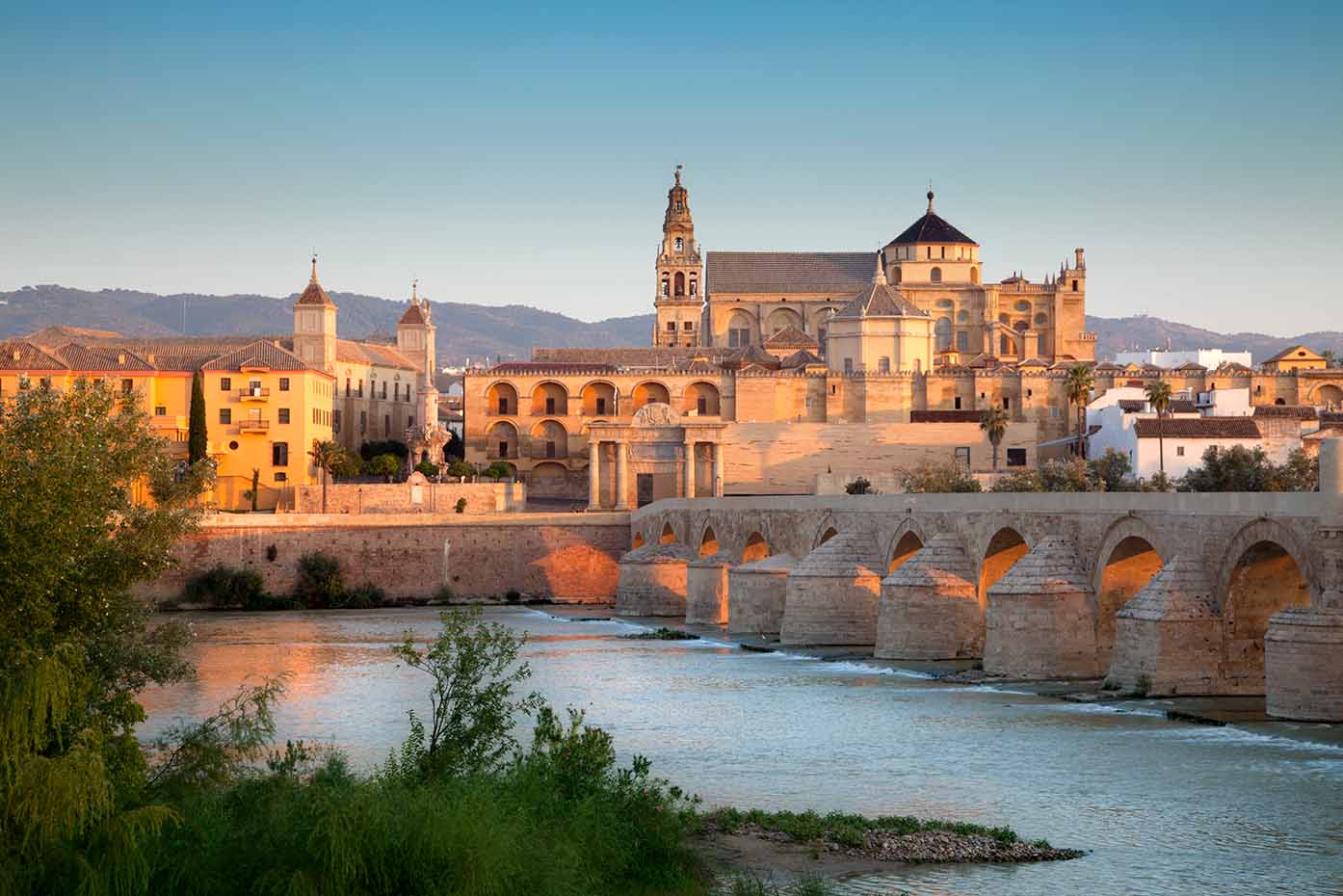 Your day starts with a comfortable drive from Sevilla to the historic city of Córdoba. Known for its rich cultural tapestry, Córdoba was once the beacon of advanced European civilization, a meeting point of different cultures and religions, and a symbol of peaceful coexistence.
Upon arrival in Córdoba, meet your local guide near the city's jewel – the stunning Mosque-Cathedral. As you step into this architectural marvel, you'll be transported back in time, learning about the sultans and commoners who contributed to its creation together. Its grand arches, intricate mosaics, and unique combination of Islamic and Christian influences make it a must-visit site.
After exploring the Mosque-Cathedral, let your guide lead you through the narrow, winding streets of the Jewish Quarters. This area is famous for its traditional jewelers and is characterized by charming whitewashed houses adorned with vibrant red gardenias. Your guide will shed light on the historical significance of this area, explaining why the Jews lived in such close quarters and giving insight into their unique customs and traditions.
End your time in Córdoba with a visit to one of Spain's few remaining synagogues, a testament to the country's Sephardic Jewish history. After the guided tour, you'll have free time to further explore Córdoba at your leisure. You might wish to enjoy some local cuisine, visit more historic sites, or soak in the city's vibrant atmosphere.
Once your exploration of Córdoba is complete, rejoin your driver to continue your journey towards Granada. Nestled at the foot of the Sierra Nevada mountains, Granada is known for its stunning Moorish architecture, deep historical roots, and flavorful cuisine. Upon arrival, check in to your hotel and get ready for the next leg of your Spanish adventure.
Day 7: Granada - Exploring the Timeless Elegance of Alhambra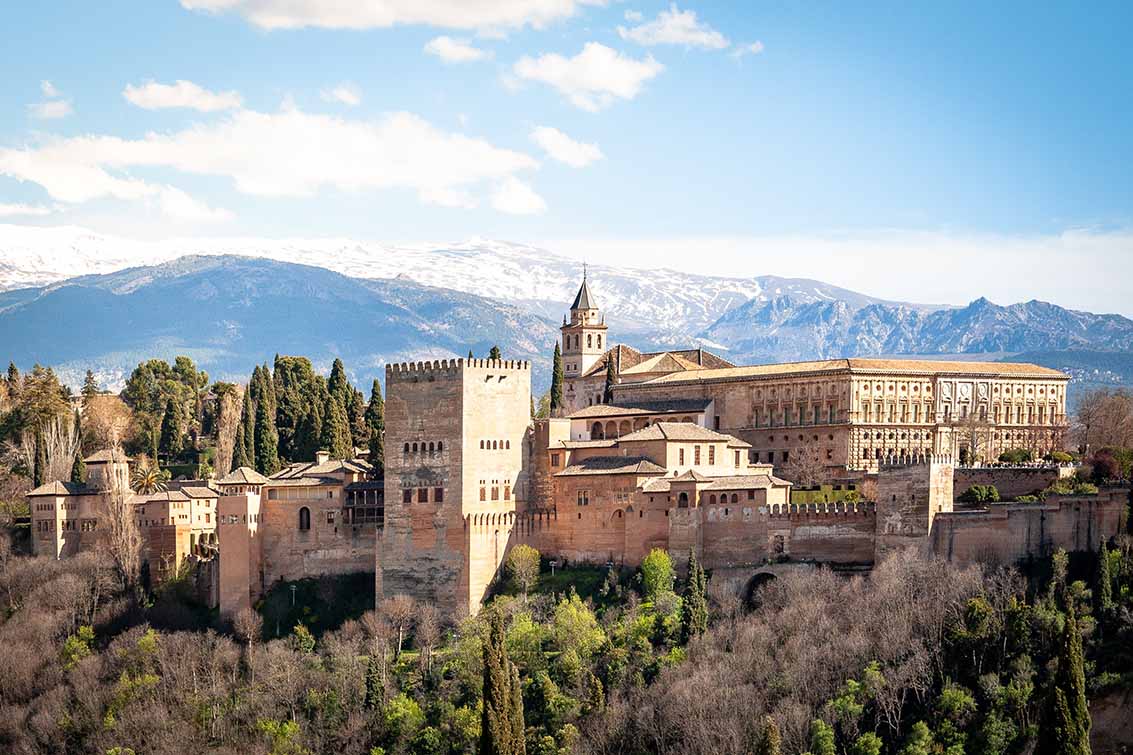 Your day commences at the gates of the Alhambra, the world-renowned gem of Moorish architecture and UNESCO World Heritage Site. Your guide will transport you back to the 13th century as you walk through the sprawling complex that once served as the opulent residence of royalty.
Discover the Gardens of Paradise, designed with meticulous precision and lush greenery that embodies the Islamic concept of heaven. Explore the Alcazar Fortress, a bastion with panoramic views of Granada and beyond. The true highlight, however, will be the Nasrid Palaces, an exquisite tapestry of intricate tilework, graceful arches, and serene courtyards that exhibit the pinnacle of Islamic art and architecture.
After your morning tour, take a break to savor the unique flavors of Granada in the city center. Perhaps try local tapas on the bustling Plaza Nueva, or unwind with a traditional Arab bath experience in Plaza Santa Ana, an authentic slice of Andalusian life.
In the late afternoon, embark on a unique Segway tour, traversing the steep, cobblestoned paths of Albaicin and Sacromonte Quarters. Albaicin, the old Muslim quarter, charms with its narrow, winding streets and whitewashed houses, while Sacromonte is known for its intriguing cave dwellings and vibrant flamenco scene. This Segway tour offers a thrilling way to navigate the city's sloping landscapes and experience Granada from a new perspective.
Day 8: Casablanca: A Fusion of Modernity & Tradition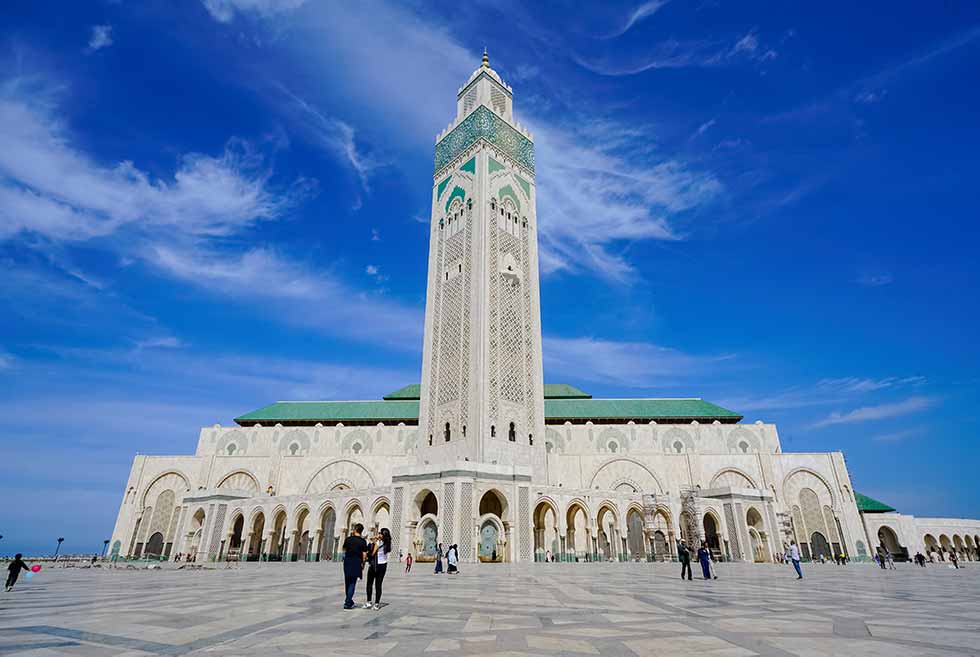 Your journey today starts midday when you meet your driver for a transfer to Málaga Airport. Board a direct flight to Casablanca, the cosmopolitan heart of Morocco, where a different cultural experience awaits.
Upon arrival, you'll be greeted by your driver as you exit customs. Start your Moroccan journey with a tour of the iconic Hassan II Mosque, an architectural masterpiece that is one of the largest mosques in the world. Admire the intricate detailing of the interiors and the grandeur of its towering minaret that dominates Casablanca's skyline.
Afterward, you will drive to Fez, Morocco's cultural and spiritual center. Upon arrival, check into your hotel and rest for the exciting exploration that lies ahead.
Day 9: Fez - A Labyrinth of History & Culture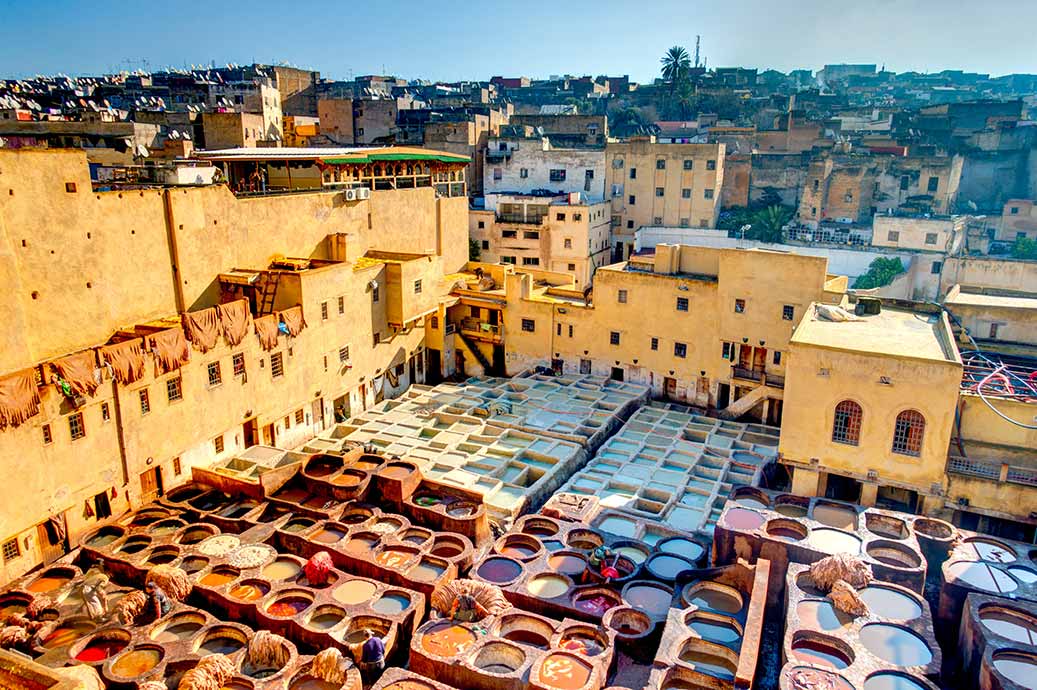 After a hearty breakfast, prepare for an enchanting tour through the labyrinthine streets of Fez's old town, a UNESCO World Heritage site. Thousands of Serbs, narrow alleys full of life, crafts, and history, are ready to be discovered.
Under the guidance of your expert local guide, you'll venture into various Islamic schools, such as Bou Inania and El Attarine Madrasa. Be amazed by their preserved intricate stucco and cedar engravings, a testament to the city's glorious past.
The sensory journey continues with a visit to the famed Fez tanneries. The scent of the dyes will likely reach you before you spot the vibrant spectacle of workers treating and hand-dyeing skins in a rainbow of colors.
Later, find serenity in Nejjarine Square. Here, rest and relish a refreshing mint tea on the roof terrace of Nejjarine Foundouk. This 18th-century caravanserai, now a woodwork museum, required six years of meticulous renovation and is a testament to Fez's rich history.
In Fez, each corner unfurls a new secret and transports you back to the age of explorers like Ibn Battuta and Leo Africanus. While the city may seem like a complex maze at times, these very surprises and enchanting encounters make exploring Fez a captivating adventure.
Amazing experience! My husband Douglas and I just came back from a 10 days customized guided tour to Morocco organized by Emily from Guided Spain. It was an amazing trip. Our driver Youssef met us at the Casablanca Airport and he quickly became our guide, security guard and guardian angel! When I got sick he got me medicine and he always found the best toilets when we were on the road. Also, ice cream! We feel that we got the authentic Morocco experience with the riads (hotels) that Emily chose for us and the guides in the different cities we visited. The Merzouga Luxury Desert Camp was totally amazing as well as the visit with the Nomads,and the medinas. This is our second trip with Emily and as the first one, it was excellent. Our next one will be Portugal!
Day 10: From Fez to Marrakech, via the Historic Rabat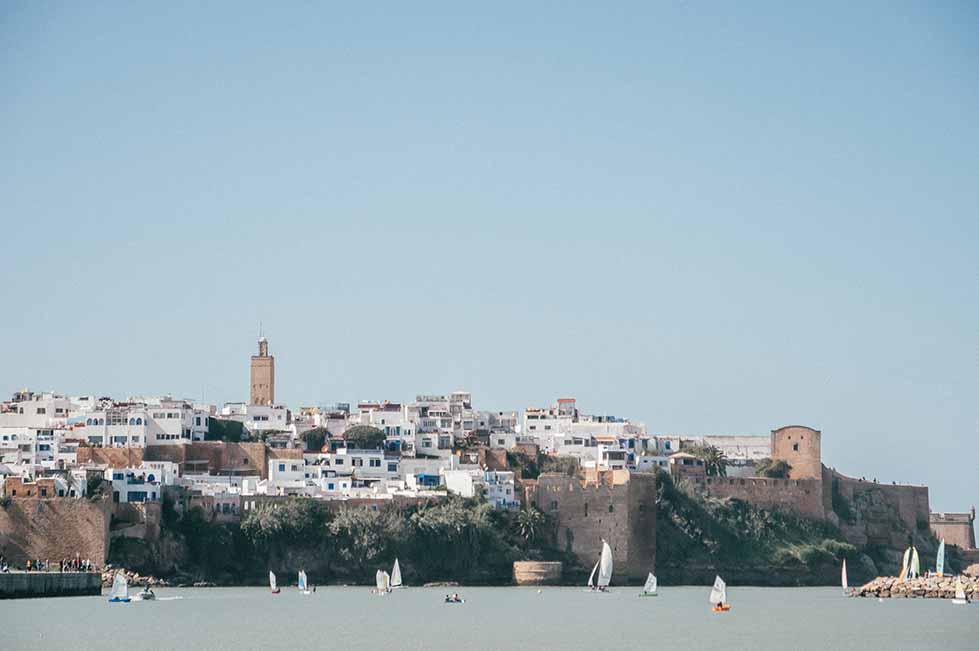 Begin your morning with a picturesque drive south from Fez to Marrakech, stopping en route in the charming capital city of Rabat. Known for its calm yet rich history, Rabat offers a harmonious blend of European and Arab cultures.
While in Rabat, delve into its historical roots with a visit to the 12th-century Kasbah des Oudayas. This ancient fortress, an important landmark of the Almohad dynasty, boasts beautifully preserved architecture and stunning views of the Atlantic Ocean. Its adjacent Andalusian Gardens offer a tranquil, fragrant oasis in the heart of the city.
After your insightful tour of Rabat, continue to the vibrant Marrakech, a city that thrives in its contrasts and colors. Once you've checked into your Riad, take the rest of the evening to relax and prepare for the Marrakech adventure awaiting you the next day.
Day 11: Marrakech - A Blend of History, Culture & Excitement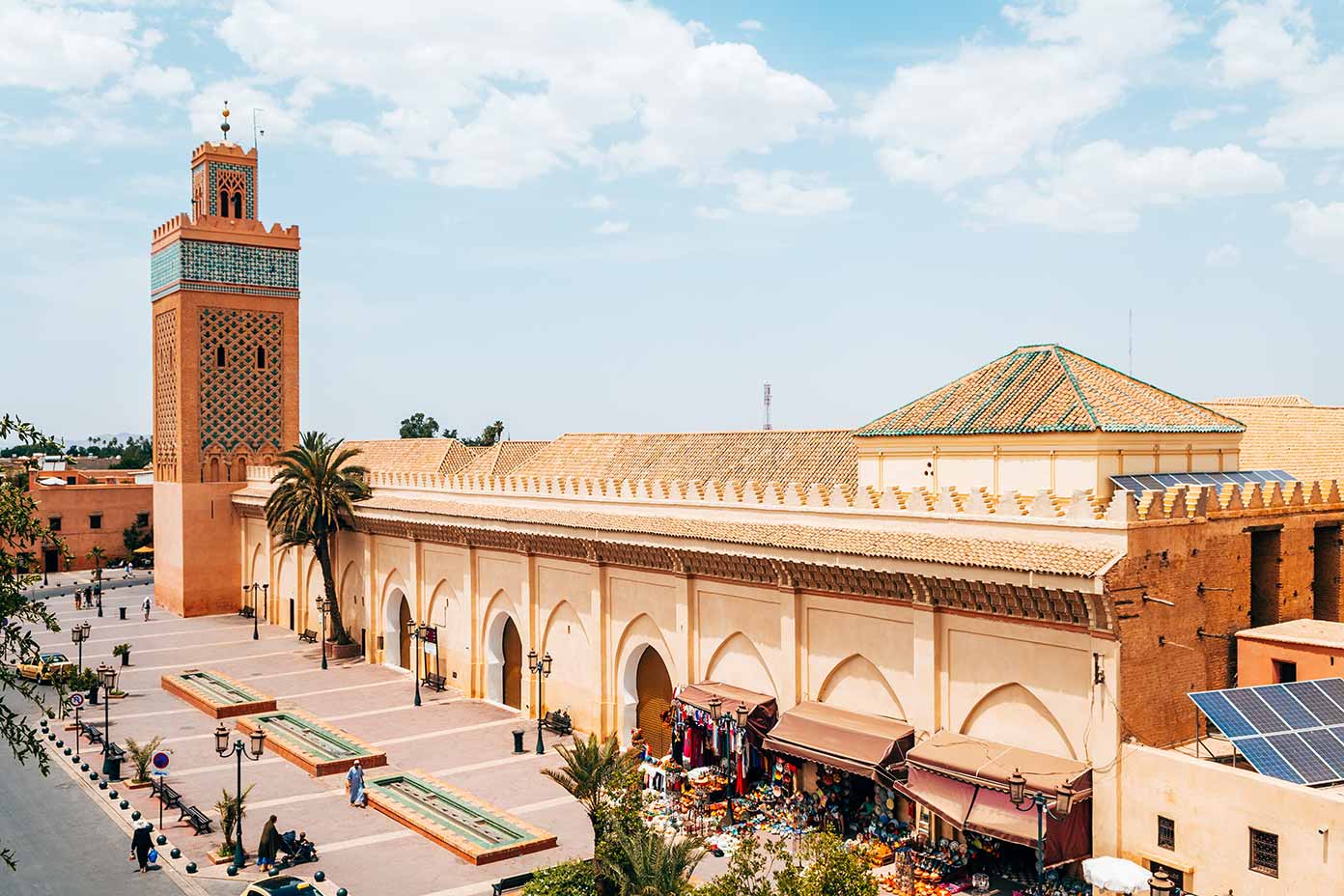 Wake up to the allure of Marrakech and meet your guide at your Riad for a day of exploration. Begin your journey at the Bahia Palace, a beautifully decorated 19th-century palace showcasing the best of Moroccan and Islamic architecture.
Continue your tour to the remnants of the Badi Palace, a grand and historically significant site. Nearby, you'll visit the Saadian Tombs, where the ornate marble columns serve as the final resting place of members of the Saadi Dynasty.
Your morning tour wraps up with a visit to the Douiria, a small yet exquisitely decorated example of 17th-century Moroccan architecture and craftsmanship.
As the afternoon sun softens, make your way to the famed Jemaa El Fna Square. This bustling marketplace comes alive with a variety of street performers. Be entertained by the intriguing snake charmers, enjoy captivating tales from storytellers, marvel at the daring acrobats, and sway with the rhythm of street musicians. Amongst this lively atmosphere, delight in a wide array of street food stalls offering delicious local specialties. As the day turns into night, the square transforms into a vibrant festival of culture and life, encapsulating the spirited essence of Marrakech.
Day 12: Atlas Mountains & Agafay Desert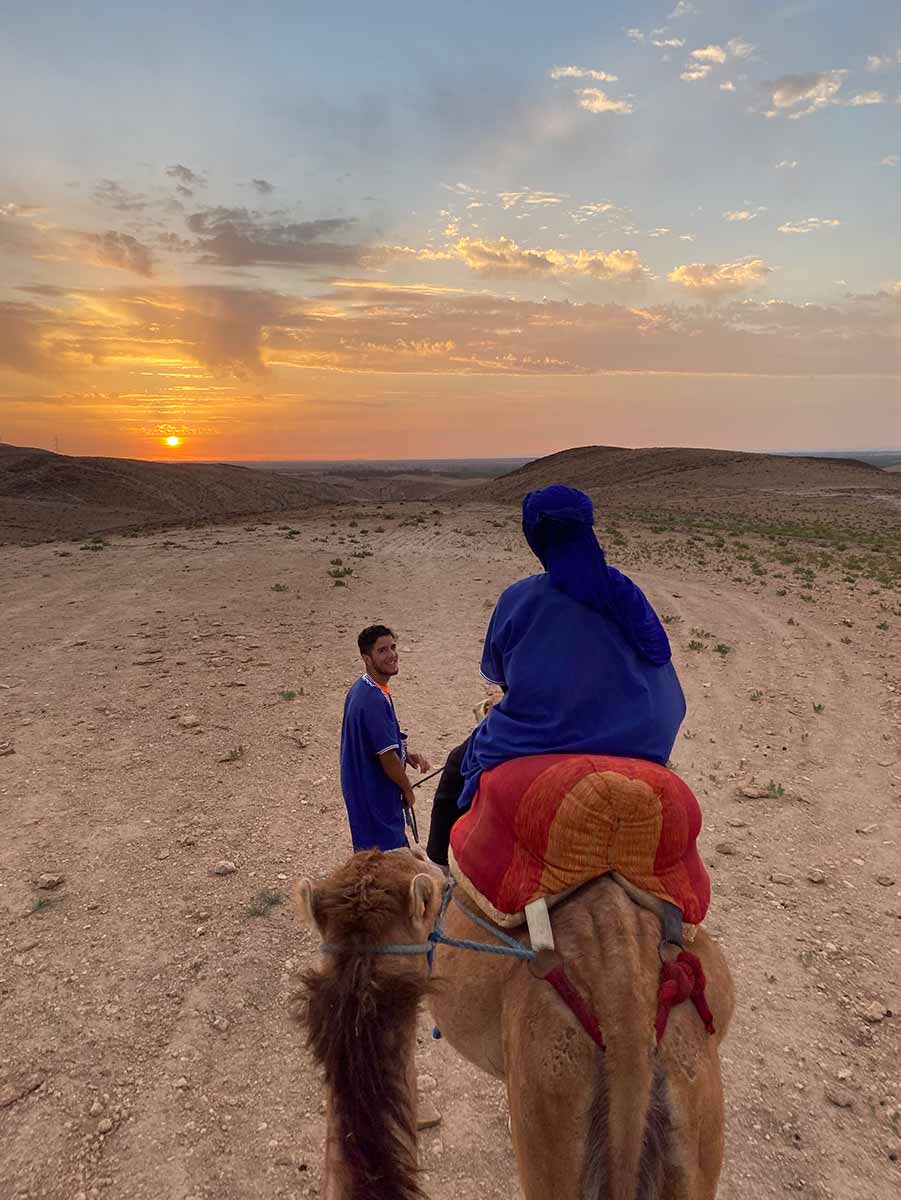 Begin your day with a delightful breakfast before setting off for a day-long excursion to the Atlas Mountains. Just an hour's drive from Marrakech, you'll reach Imlil, located 1700 meters above sea level. Here, you'll embark on a serene 2-3 hour trek guided by a local expert through the rugged terrains and breathtaking landscapes of the High Atlas.
After the invigorating hike, relish a well-deserved lunch in a traditional Berber home. This will give you an exclusive peek into the unique culture and way of life of the indigenous Berber people.
Post-lunch, climb aboard a 4×4 for a thrilling drive across the undulating Kik Plateau, followed by a leisurely descent towards the serene Lalla Takerkoust Lake, where you'll enjoy a calming tea break.
Your adventure continues as you traverse the rocky terrains of the Agafay Desert, arriving at your luxurious camp. Here, as the sun dips below the horizon, hop on a camel for a mesmerizing sunset ride, followed by a delicious dinner served under the twinkling desert stars.
Excellent Individualized Tour Company for People who do not want to go on Package Tours. I used Emily to arrange a tour of Southern Spain in January, 2020 for 4 people. It turned out to be great. What I do not like is being shepherded around to cheesy tourist sites and waiting in lines of tourists. Emily arranged for very competent and efficient drivers, fantastic guides, very good hotels and even recommended restaurants for each location. The best thing about using Emily is that when she arranged for (at my request) wine tastings, olive oil tastings, a flamenco show is that all of them were authentic and interesting and none of them were contrived or cheesy. While on the trip, she checked in and made sure everything went smoothly. When we went to the Alhambra or other ticketed sites, we always got to skip the line due to Emily. There was one overall price per person (depends on double/single room) that I felt was very fair for the level of service provided.
Bid farewell to the fascinating city of Marrakech. Your driver will escort you to Marrakech Airport, as you carry home not only your luggage but also a heart full of cherished memories and perhaps even a taste for Moroccan cuisine.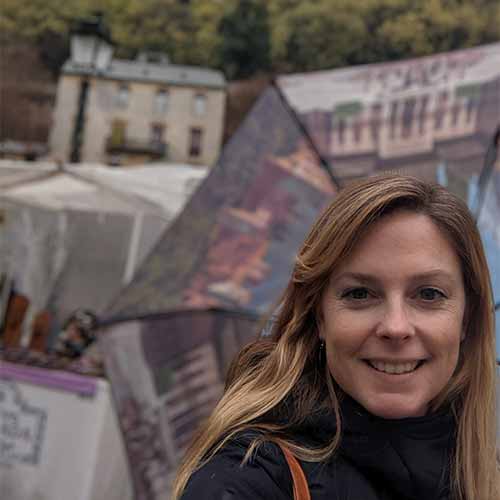 Say Ola to Emily, your personal tour planner at Guided Spain Tours. Get in touch by filling in the form below and requesting your complimentary itinerary!
Spain, Portugal, & Morocco: An Itinerary Of A Lifetime
In conclusion, this 13-day meticulously designed itinerary offers you the unique opportunity to immerse yourself in the rich cultural heritage and stunning natural landscapes of Spain, Portugal, and Morocco. From the buzzing city life of Lisbon and Seville, the serene beauty of the Atlas Mountains, to the vibrant markets of Marrakech and the intriguing history of Cordoba and Fez – every day promises a new adventure that will leave you with unforgettable memories.
Remember, this itinerary is just a starting point. At XYZ Travels, we pride ourselves on creating personalized experiences that cater to your unique tastes and interests. Whether you wish to spend more time exploring the wineries of Arrabida, lose yourself in the bustling medinas of Fez, or simply enjoy a longer siesta on the sun-soaked beaches of the Costa del Sol, we can tailor your itinerary to make your dream vacation a reality.
Contact us today to start planning your bespoke tour of Spain, Portugal, and Morocco. We look forward to crafting an unforgettable journey you will cherish forever.
Highly recommend Emily! Emily created a personalized itinerary for us in southern Spain. She was very knowledgeable about the region, attentive, and personable. She returned emails properly, and was a pleasure to work with. Emily was flexible and did not make mind making changes in the itinerary-- Her goal is to please her customers!
Emily is GOOD! Emily arranged a 14 day tour for us in Spain at short notice of a week or so. The whole tour was beautifully organized, amazingly flexible and the rare glitches were attended to and addressed, literally instantly. For sure we will be back for further tours with her. Thanks, Emily.
Best Tours from Emily! Words can't express how grateful it was to be able to call on Emily for help with some excursions in Spain. Emily, thanks soo much. You're the BEST!!!
Spain and Portugal trip: Emily did an amazing job Of setting up our trip through Spain and Portugal. All of our tours were outstanding and personalized. We had a wonderful time!
Private Tour: Emily is a pleasure to work with. She arranged hotels, activities, tour guides and transportation in Barcelona, Madrid, Segovia, Toledo, Cordoba, Avila, Seville, Malaga, Gibraltar. She was extremely responsive when we had questions and made sure that everything flowed smoothly.