Sintra & Cascais Day Trip From Lisbon
Our Day Tour of Sintra & Cascais
Just beyond the vibrant cityscape of Lisbon, your driver guide delivers you to the captivating towns of Sintra and Cascais for your full day of guided tours.
Sintra, a UNESCO World Heritage site, is renowned for its whimsical architecture and enchanting natural landscapes, creating a fairy-tale atmosphere. Cascais, a former fishing village turned fashionable resort, offers a blend of sandy beaches, lively eateries, and a charming old town.
This day trip provides a fantastic opportunity to escape the bustling city and immerse yourself in these two exceptional Portuguese towns' historical wealth, diverse landscapes, and distinctive charm.
What Is Included in our Sintra & Cascais Day Trip?
Private Transfer from Lisbon to Sintra
Begin your day with a convenient private transfer from your accommodation in Lisbon to the enchanting town of Sintra.
As you approach, admire the colorful villas, royal retreats, estates, and castles scattered across the verdant hills, all contributing to Sintra's undeniable allure.
Guided Tour of Pena Palace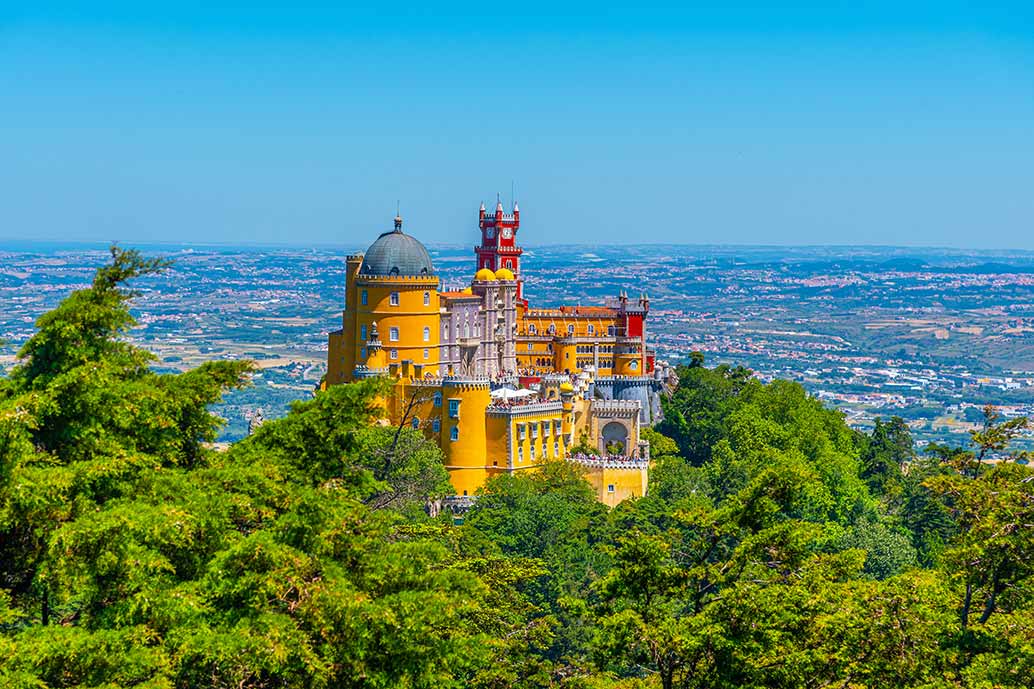 Upon arrival in Sintra, we venture up to the hilltops to visit Pena Palace, a masterpiece of Romanticism and the town's crown jewel.
Widely recognized for its vibrant color palette and an eclectic mix of architectural styles, Pena Palace encapsulates 19th-century Romanticism like no other place in the world. Your private guide will narrate the palace's fascinating history, walking you through the exquisite chambers, hallways, and courtyards adorned with decorative tiles, intricate stucco, and murals.
Unravel the stories of Portugal's royal family, who once used this whimsical palace as their summer retreat. Step out onto the terraces for panoramic vistas of the verdant hills rolling out to the Atlantic Ocean, a view that is sure to leave you breathless.
10 Day Private Tour: It was such a pleasure to work with Emily. Everything went off without a hitch! There were some changes either in drivers or guides but this was communicated in advance via whats app. Drivers were always on time and very professional. Our 2 favorite guides were Daniel Guia in Madrid and Luis Salas in Seville. They gave great recommendations for shopping, restaurants or sights to visit when you were on your own. We had so many wonderful experiences on our trip from the private horse show outside of Cordoba with a live Spanish guitarist to the white villages , tapas bars, walking tours of Seville, Madrid and the Alhambra. Emily was in contact all the time if needed . Sorry Emily it took so long to write this, life gets so busy and that 's why you have Guided Spain plan your trip!
Walking Tour of Sintra's Historical Centre
Descending from the heights of Pena Palace, we continue our journey through the cobbled streets of Sintra's historical center. Here, time seems to have paused, preserving the medieval layout of narrow lanes lined with charming pastel-hued houses, traditional shops, and cozy cafes.
Our exploration leads us to the gothic spires of the Sintra National Palace, distinguished by its striking twin chimneys. As you stroll through these centuries-old streets, your guide will enrich your understanding of Sintra's cultural heritage, pointing out significant landmarks like the ancient town hall, fountains, and churches.
Let yourself be captivated by the unique blend of natural beauty and architectural splendor that defines Sintra.
Tasting Local Sintra Pastries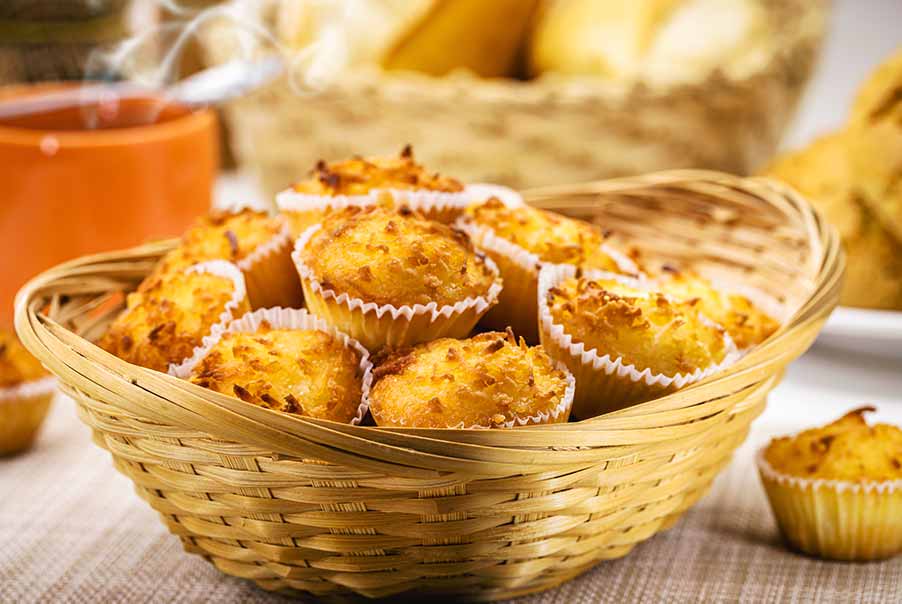 No visit to Sintra is complete without indulging in the town's culinary delights. Among the gastronomic treasures Sintra has to offer, its traditional pastries stand out, most notably the Travesseiros and Queijadas.
As part of your immersive tour, we will visit a historic local bakery, where these delectable treats are lovingly crafted using time-honored recipes passed down through generations.
As you sink your teeth into a Travesseiro, enjoy the flaky puff pastry filled with almond and egg cream, a true delight for the senses. A Queijada, a small, round cheese tart, offers a sweet and slightly tangy taste, a favorite among locals and visitors alike.
Fabulous Spain/Portugal trip through Emily! We booked with Emily solely after reading these reviews for a 2 week trip to Portugal and southern Spain. Never met her prior. She and her team exceeded our expectations. Every detail of the trip went smoothly and her planning was perfect for our group. Lots of guided tours intermingled with just the right amount of free time. We challenged Emily and her team with 3 generations of travelers from 18 months to upper 60's and she handled our group perfectly, such as baby seats in cars and cribs in hotel rooms. Our trip included Lisbon, Porto, Sevilla, and Madrid with day trips to Cordoba, Rhonda and and a small "white city." All in, we would highly recommend Guided Spain Tours, Emily and her team for any travel in Spain and Portugal. She also does Morocco but we didn't have time for that.
Private Transfer to Cascais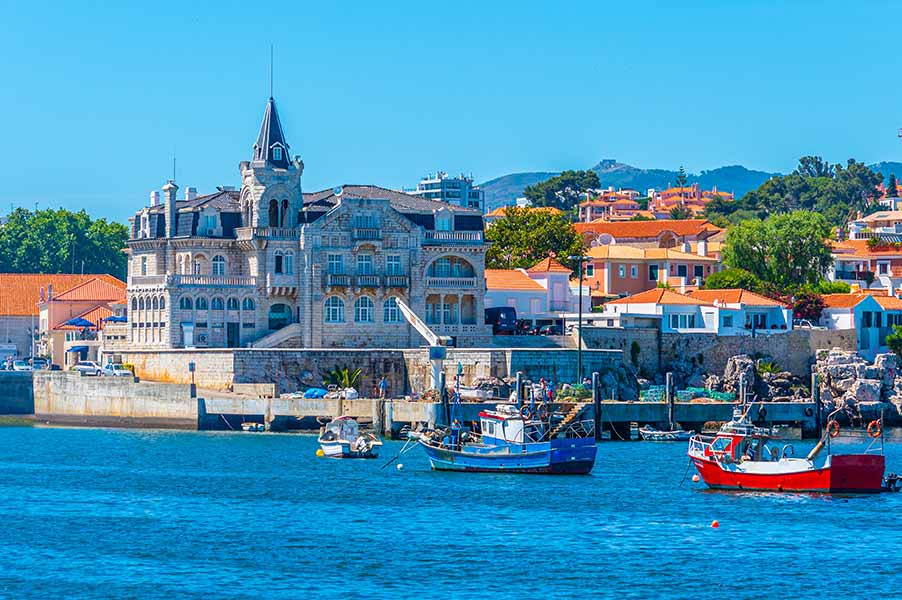 As we bid farewell to the enchanting Sintra, we embark on a scenic drive along the beautiful Estoril Coast, journeying toward the charming seaside town of Cascais.
Marvel at the stunning coastal views, where the azure waters of the Atlantic meet golden sandy beaches and rugged cliffs.
Cascais Old Town Walking Tour
Our arrival in Cascais reveals an exquisite panorama of a quintessential Portuguese seaside town. Our expert guide will accompany you through the narrow, cobbled lanes of the town's old center, charmingly adorned with traditional Portuguese pavement. Each turn and corner unveil a fine blend of quaint houses, luxury villas, and exquisitely adorned churches.
As we stroll through Cascais, the town's history as a fishing village and a favored royal retreat comes to life. Hear tales of how Cascais evolved from a humble seafaring hub into an elegant sanctuary for European nobility and artists during the 19th and 20th centuries. While walking, take in the ambiance of the bustling town square, Praça 5 de Outubro, a perfect spot to people-watch and appreciate the local lifestyle.
Our exploration leads us to the impressive Seixas Palace and the scenic Cascais Marina, where luxurious yachts provide a stark contrast to traditional fishing boats. The marina area, brimming with lively bars and restaurants, radiates a distinct cosmopolitan vibe. Further along, the local fish market, Mercado da Vila, gives a fascinating insight into the town's maritime traditions and the locals' daily life.
Spectacular Views: Visit Boca do Inferno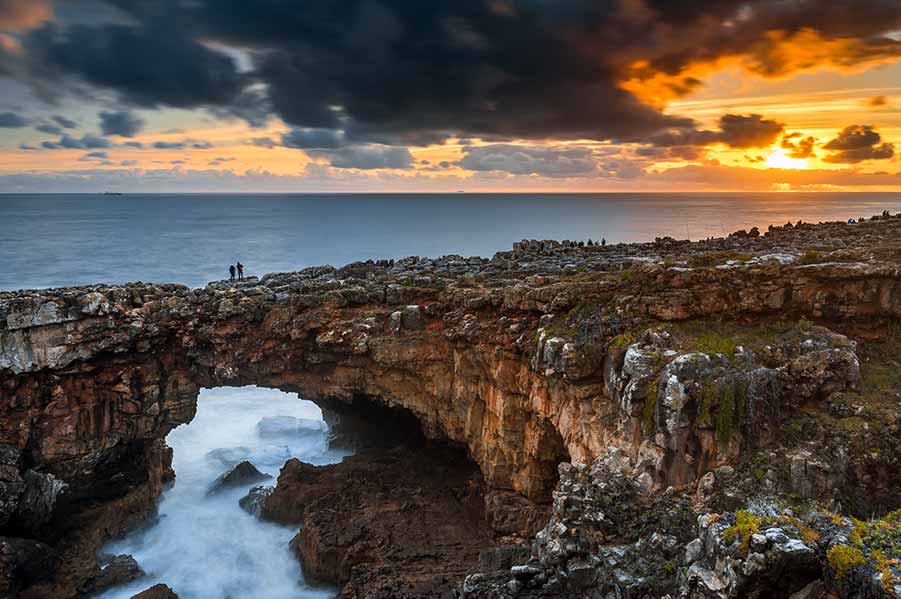 Leaving the charm of Cascais behind, we venture towards the dramatic natural wonder known as Boca do Inferno, or the "Hell's Mouth."
This unique geological formation on the rugged coastline stands as a testament to the relentless power of the Atlantic Ocean. The chasm, carved out by centuries of crashing waves, creates an awe-inspiring spectacle, especially when the waves are high, plunging into the mouth of the cave and spraying foam high into the air.
Our guide provides captivating insights into the formation of this unique natural spectacle and the local folklore surrounding it. The site's name is derived from the thunderous noise and the visual spectacle created by waves crashing into the caves, reminiscent of some infernal imagery. The dramatic views here offer excellent photo opportunities, so make sure you have your camera ready!
As the day draws to a close, we commence our return drive to Lisbon, graced by a magical spectacle of the sun setting over the Atlantic.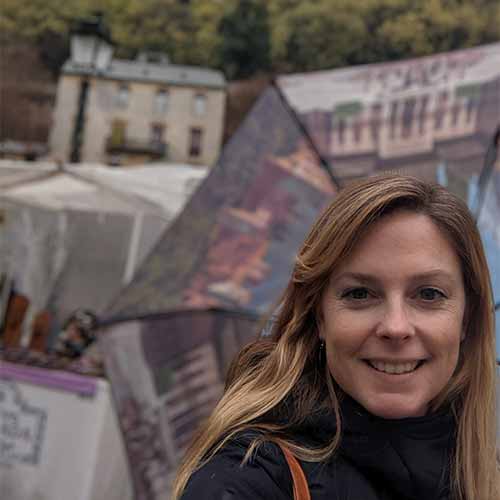 Say Ola to Emily, your personal tour planner at Guided Spain Tours. Get in touch by filling in the form below and requesting your complimentary itinerary!
Get Your Bespoke Sintra & Cascais Itinerary
Your full-day exploration of Sintra and Cascais promises to be a day full of enriching cultural experiences, mesmerizing sights, and delightful gastronomic delights.
For those desiring a more personalized experience or a deeper exploration of Sintra, Cascais, or the broader Lisbon region, we encourage you to get in touch. Our expert team is on hand to tailor your itinerary, ensuring a truly bespoke adventure that caters to your specific interests and travel aspirations. We're excited to help you craft the perfect Portuguese journey, filled with memories to last a lifetime.
Highly recommend Emily! Emily created a personalized itinerary for us in southern Spain. She was very knowledgeable about the region, attentive, and personable. She returned emails properly, and was a pleasure to work with. Emily was flexible and did not make mind making changes in the itinerary-- Her goal is to please her customers!
Emily is GOOD! Emily arranged a 14 day tour for us in Spain at short notice of a week or so. The whole tour was beautifully organized, amazingly flexible and the rare glitches were attended to and addressed, literally instantly. For sure we will be back for further tours with her. Thanks, Emily.
Best Tours from Emily! Words can't express how grateful it was to be able to call on Emily for help with some excursions in Spain. Emily, thanks soo much. You're the BEST!!!
Spain and Portugal trip: Emily did an amazing job Of setting up our trip through Spain and Portugal. All of our tours were outstanding and personalized. We had a wonderful time!
Private Tour: Emily is a pleasure to work with. She arranged hotels, activities, tour guides and transportation in Barcelona, Madrid, Segovia, Toledo, Cordoba, Avila, Seville, Malaga, Gibraltar. She was extremely responsive when we had questions and made sure that everything flowed smoothly.
Other Day Trips in Portugal