People in Spain sure know how to throw a fiesta! Think massive food fights, and animals rampaging down city streets, add a dash of religious ceremony, and of course, the evergreen classic of dumping liters of wine on your friend's head. Our blog today looks at 5 of the most famous festivals in Spain.
1. La Tomatina – Tomato Festival
When: Last Wednesday of August
Where: Buñol in Valencia
Wear: Nothing you aren't prepared to have soaked in Tomato!
Why: Supposedly originated in 1945 after a performer in the Fallas (another festival in Valencia) flew into a rage, but let's be real… it's a big, mad, food-fight, and do we really require any further explanation?
Every year the streets in the tiny little town of Buñol run red with pulpy ripe tomatoes at the world's biggest food fight. Don't go if you anticipate watching safely from the sidelines, this is tomato warfare on a grand scale, with authorities claiming 145,000 kg (320,000 lb) of tomatoes were thrown at the last event.
Played strictly for fun, there are no winners or teams involved, but since 2015 this has been a ticketed event, so we do suggest contacting our team early if you would like to take part in the madness.
Thankfully there are at least a few rules to make sure the Tomato-Mania is done in the best possible taste. You have to squash the weapon in your hand before you throw it, less some poor unexpecting soul takes a direct hit and no throwing of anything but Tomatoes. There are other rules, but essentially, if you follow those 2 you'll be fine.
2. Semana Santa – Holy Week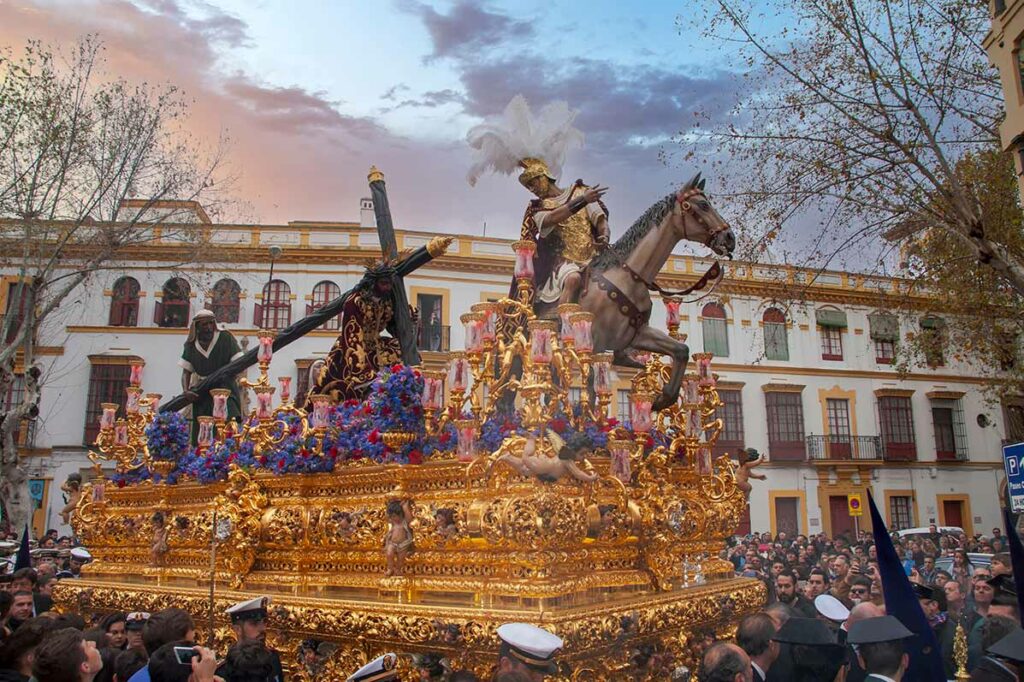 When: The week leading up to Easter
Where: Across Spain but particularly in Seville & Malaga
Wear: There's no requirement but many people like to dress in Nazareno robes, including sandals and Capirote (headdress)
Why: Represent the Crucifixion and resurrection of Jesus Christ
You may have seen Holy Week processions before, but unlikely to the same scale as they are celebrated in Spain, specifically in Seville and Malaga in Andalucia.
Throughout the whole week, there are parades and processions where religious iconography and floats are paraded around the city streets. The final celebration on Good Friday will attract thousands to line the streets to see the statues of Jesus and Mary, the ornate decorative floats, and accompanying bands led by priests and religious orders from throughout the region.
3. Pamplona Running of the Bulls
When: Early July
Where: Pamplona
Wear: Your fastest sneakers
Why: The bull run grew out of farmers simply transporting their cattle across the city. Quite why or how rushing in front of the often furious animals became a tradition is actually lost to time. Some ideas are just undeniable I suppose.
The ultimate test of bravado and machismo! The festival starts by firing a huge firework called the "Chupinazo" from the town hall roof.
The event is the cornerstone of the San Fermin festival, with the bull run beginning at the Plaza San Francisco, and should all go well for you, ending at the bull ring.
This is one of the biggest and most dangerous events in Spain attracting thousands of tourists every year.
Interesting in all things Bulls? Check out our 7 Day Bullrun Tour here!
4. La Merce Festival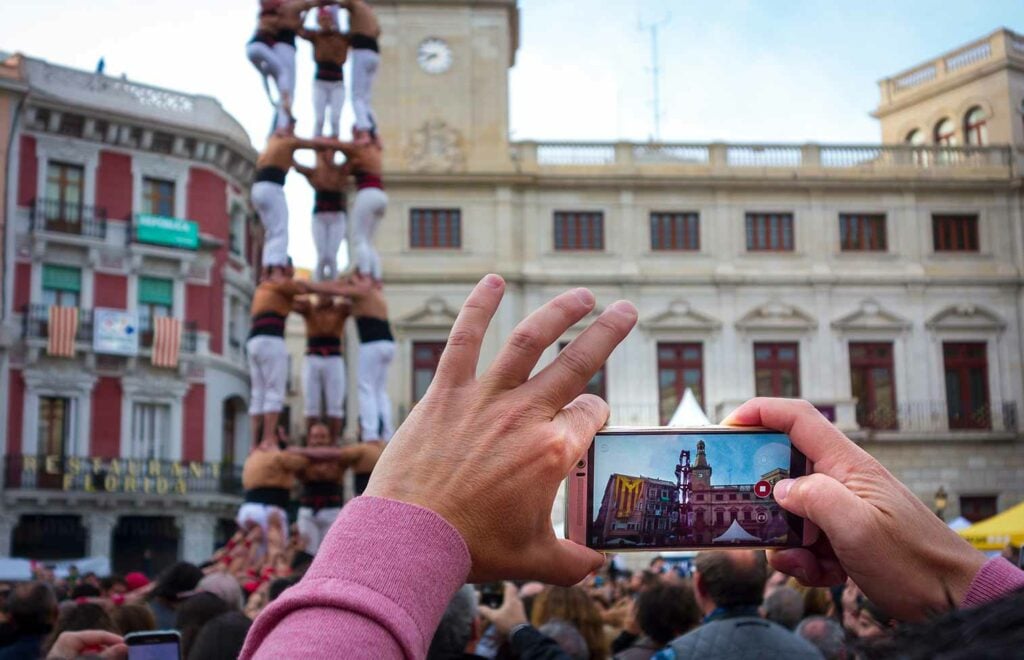 When: September 24th – although festivities can begin 4 days in advance
Where: Barcelona
Wear: No dress code for this one
Why: To celebrate Our Lady of Mercy – The Patron Saint of Barcelona
During the week-long celebrations, close to 2 million people will attend the various cultural and artistic performances which are typically based on Catalan culture.
There are about 600 events spread through the plazas, streets, museums, and parks, all of them free. La Merce is probably the most opportune time to visit the city if you would like to see one of the amazing Castell performances, where the acrobatic Castellers form large human pyramids.
5. The Great Wine Fight – La Batalla de Vino de Haro
When: 29th of June
Where: Haro Village in the Rioja wine region
Wear: It's a wine fight, so nothing fancy, but you are supposed to wear white.
Why: Origins date back to the 13th century when residents of Haro and neighboring Miranda de Ebro got into a dispute over property boundaries.
La Rioja region is famous for its stellar wineries and the quality of the wine produced here, but this is Spain, and residents like to live a little, so will spend one day a year pouring it over each other's heads instead!
It is said that over 50,000 liters of the stuff will be showered across participants during the festival (some might say "battle"). Everything and anything is used to hurl el vino on admittedly expectant friends and strangers alike, buckets, super-soaker pistols, plastic cups, basically anything you can use to port wine (get it?) that isn't dangerous.
After midday festival goers will continue the festivities in the local bullring where dancing, eating, competitions, and celebrations continue into the evening.
Do you want to attend a Spanish festival?
If you would like to attend one of these festival experiences on a trip to Spain, simply contact our team of experienced tour planners and we will draft up a custom itinerary telling you all you need to know about the celebration, when to attend, best areas to stay, and supply you with a private guide so you can make the best of your vacation.