Our Guided Trips in Bilbao
Delve into the enchanting spirit of Bilbao with our private day tour itinerary, masterfully designed to showcase the unique Basque character radiating from this vibrant city.
Bilbao seamlessly blends traditional Basque culture with a modern cosmopolitan vibe; it's a must-visit for its unique architectural marvels, such as the Guggenheim Museum, vibrant food scene, charm of the old town Casco Viejo, breathtaking landscapes, and the warm hospitality of its people.
Our private tours of Bilbao are more than sightseeing excursions; they're a passport to the heart and soul of this captivating Basque city.
The Best Bilbao Experiences:
With our guided city tour, we promise seamless access to each landmark with our privileged skip-the-line tickets, as our expert guides skillfully blend the tales, legends, and historical figures into your personalized tour experience.
Highlights of the Private Tour of Bilbao:
Full-Day Bilbao Private Tour Itinerary
Your exclusive Bilbao journey commences as your guide greets you at your accommodation in the morning, from where we set off to discover the vibrant "artistic heart" of Bilbao. We start our exploration with the iconic Guggenheim Museum.
Private Tour of Guggenheim Museum With Skip-The-Line Access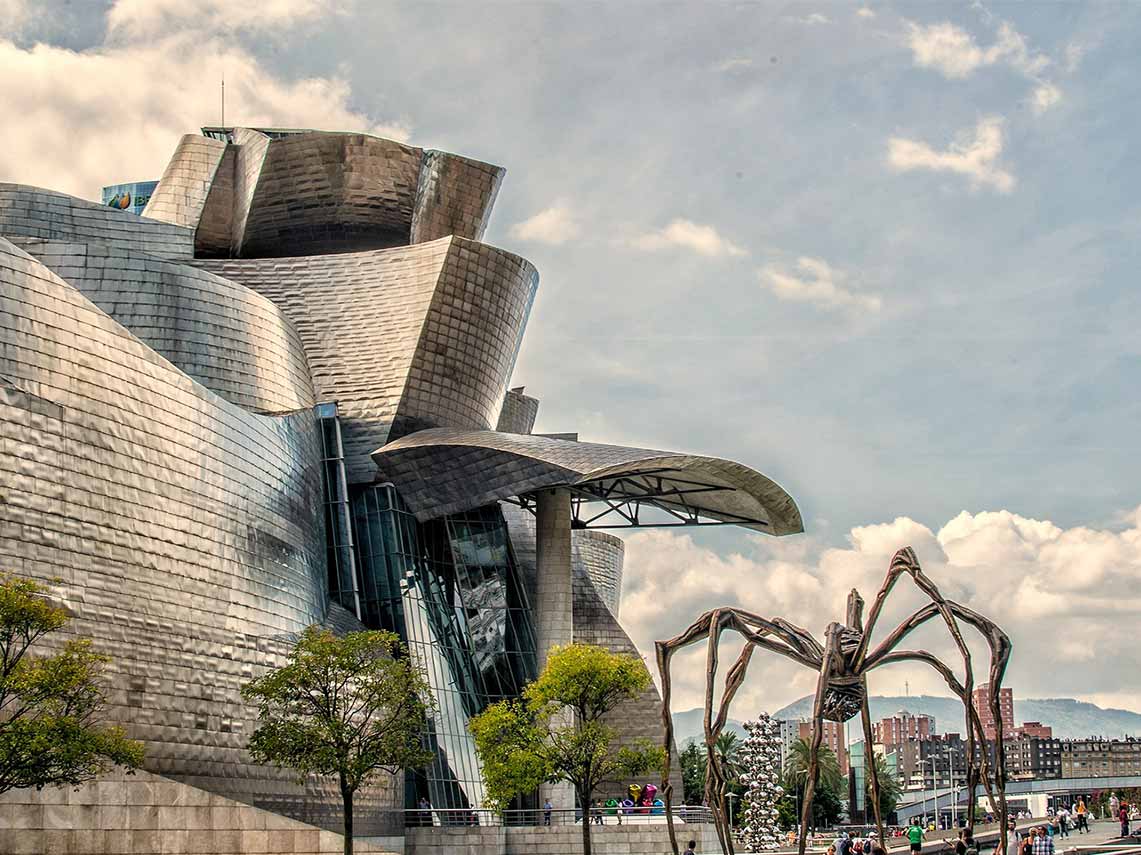 The Guggenheim Museum is not just a building housing art but a masterpiece in itself, setting the pulse of Bilbao's artistic scene.
This titanium-clad marvel, designed by the world-renowned architect Frank Gehry, commands attention with its whimsical curves and abstract design, symbolizing Bilbao's transformation and embrace of modernity.
Our private tour is a privileged voyage into this temple of contemporary art. With a knowledgeable guide at your side, you'll have the chance to decipher the complexities of avant-garde pieces and uncover the meanings behind mind-bending installations.
The tour encompasses globally significant works from the 20th century to the present, showcasing a stunning array of paintings, sculptures, and multimedia creations from both renowned and emerging artists.
This bespoke Guggenheim Museum tour is designed to enlighten you, challenge your perceptions, and instigate a deeper appreciation for contemporary art in an iconic architectural setting.
Best Tours from Emily! Words can't express how grateful it was to be able to call on Emily for help with some excursions in Spain. Emily, thanks soo much. You're the BEST!!!
Cathedral of Santiago Tour
Immerse yourself in the majesty of Bilbao's religious heritage with a private guided tour of the Catedral de Santiago, an emblem of the city's history and faith.
As you approach the cathedral, its beautiful Gothic facade, adorned with intricate stone carvings, sets the tone for your spiritual journey.
Your expert guide will lead you through the hallowed spaces where time seems to stand still. Marvel at the stunning nave and its soaring vaults, showcasing the best of Gothic architecture. The beauty of the numerous chapels, each with their unique art and artifacts, is a sight to behold.
But the cathedral is not just about aesthetics; it's a place rich in history and legends. As you navigate its aisles, your guide will weave a tapestry of stories from the past, bringing to life centuries-old traditions and tales of faith that shaped the cathedral and the city around it.
Discover why Catedral de Santiago holds such significance on the Camino de Santiago, the revered pilgrim's route, and understand the symbolism behind the cathedral's remarkable stained glass windows and altarpieces.
Emily put together an incredible trip! Emily put together an amazing trip for me through the Andalusia area of Spain. From the minute I touched down in Malaga, Emily and her team made sure I met up with all of my drivers and private tour guides in each city. Every tour was incredible and each guide was extremely knowledgable on the city's history, culture, food scene and architecture. I highly recommend Emily Matthews and her team and would use her again the next time I go to Spain, Portugal or Morocco.
Guided Walking Tour of Casco Viejo (Bilbao Old Town)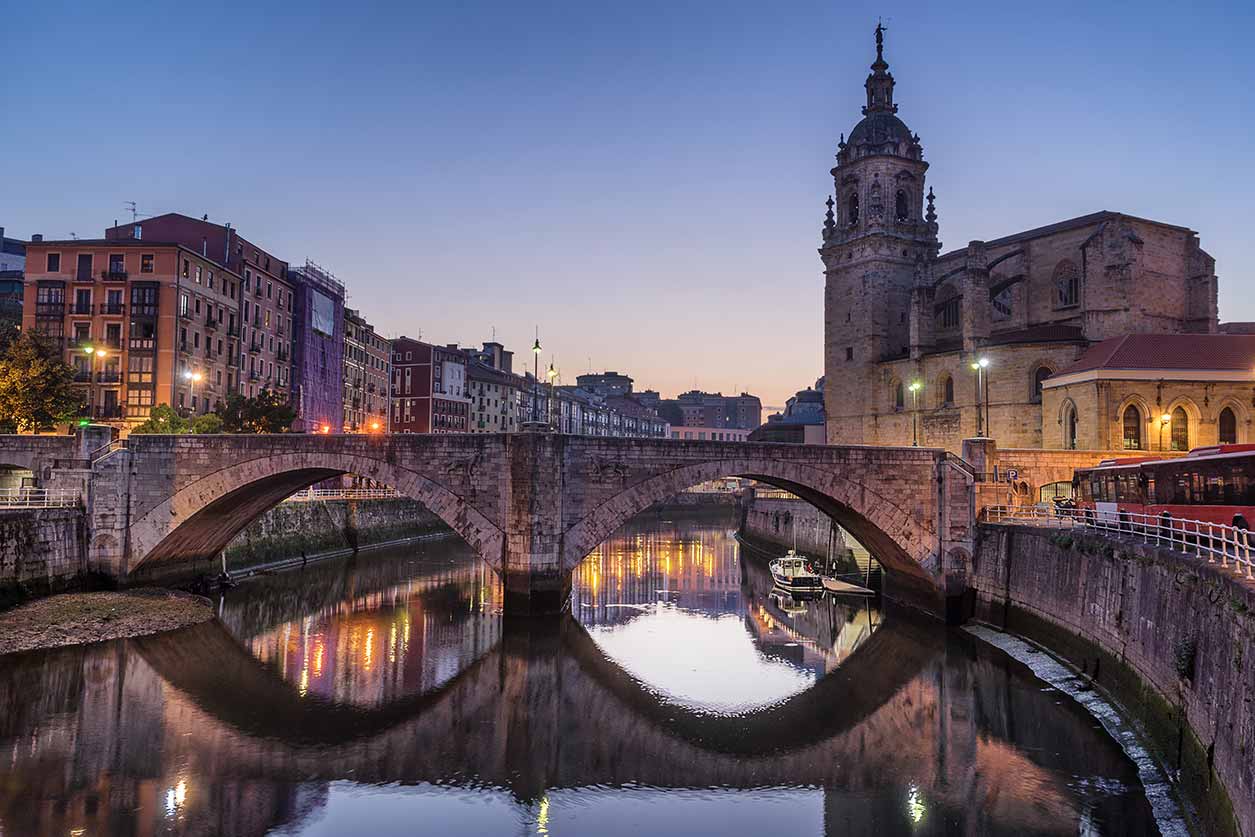 Venture with us into the beating heart of Bilbao – Casco Viejo, also known as the Old Town. This intricate labyrinth of narrow streets and charming squares hides a treasure trove of stories, culture, and delectable cuisine.
Let our expert guide lead you through the web of cobblestone alleyways, each turn revealing a new scene: quaint shops brimming with traditional Basque crafts, bustling plazas where locals gather to share stories and laughter, ancient churches standing as silent witnesses to centuries of history.
Discover the grandeur of the Santiago Cathedral, the lively La Ribera market pulsating with authentic Basque flavors, and the teeming terraces of Plaza Nueva, where pintxos and txakoli wine take center stage.
Each corner in Casco Viejo breathes history, tradition, and life. With our private tour, you'll delve beyond the surface to unearth the true spirit of Bilbao.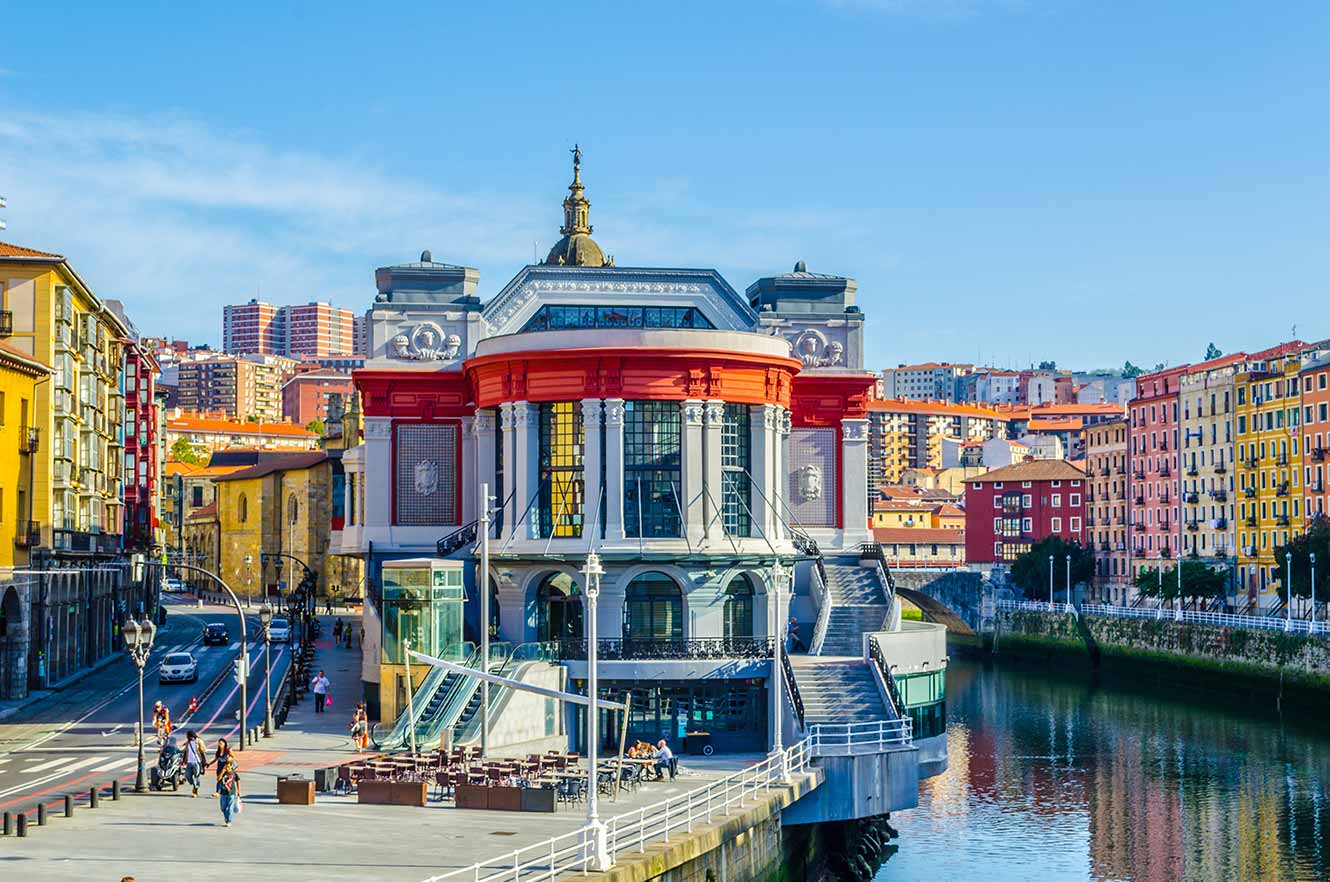 La Ribera Market, a culinary gem in the heart of Bilbao, welcomes you with a medley of tantalizing aromas and vibrant colors.
On our guided tour, navigate the buzzing stalls brimming with the freshest local produce, artisanal cheeses, and an array of regional delicacies. Your expert guide will share fascinating insights into Basque gastronomy while you interact with friendly vendors, learning about their products.
Sample exquisite bites and experience the bustling atmosphere that makes La Ribera Market a favorite among locals. It's not just a market visit; it's an immersion into the soul of Basque cuisine.
Professional and expert service before, during and after our visit to Alhambra Two hours from the town of Marbella, a collection of stunning Arabic ruins called Alhambra provided a day of wandering through thousands of years of Spanish history. Emily, from Guided Spain Tours, coordinated our trip – she was very responsive and flexible with our plans. We were picked-up from our hotel by driver, Fran, and met-up in Granada with our amazing tour guide, Miriam. She spoke excellent English and was able to make the tour interesting for two teenagers and their parents. Throughout the tour, we learned many facts about the Nasrid dynasty, including details about Islamic architecture with the facades and arches, the red walls (al-Hamra in Arabic, means red), green pools and the intricate interior designs using multi-colored tiles. There were three different palaces that the tour guide named public, political, and private. Each of them brought a different style of design which went with these names. From the top of the tower, we could see for miles which was a huge highlight of the day. The Alhambra is a must see on your visit to Spain. Guided Spain Tours, especially Emily, Fran and Miriam, enhanced our experience with professional and expert service before, during and after our visit to Alhambra.
Bilbao Evening Cooking Class with Private Chef
Embark on a delightful culinary journey with a private cooking class in Bilbao. Learn the secrets of Basque cuisine from a passionate local chef keen to share their culinary heritage.
Roll up your sleeves and get hands-on, preparing a selection of traditional dishes, from pintxos – the Basque country's version of tapas – to a sumptuous seafood stew. Alongside the cooking, enjoy the chance to learn about Basque culinary traditions, local ingredients, and cooking techniques.
At the end of your class, gather around the table to enjoy the fruits of your labor, paired perfectly with regional wines for a complete gastronomic experience.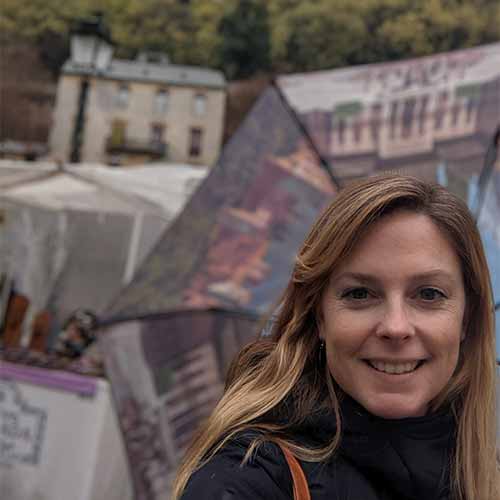 Say Ola to Emily, your personal tour planner at Guided Spain Tours. Get in touch by filling in the form below and requesting your complimentary itinerary!
Contact Our Bilbao Private Tour Experts
There's no better method to discover Bilbao than alongside your personal guide for the day.
Our tours are exclusively designed for small private groups to deliver the optimum experience for our guests. Thus, we can fine-tune our itineraries to accommodate your interests, needs, and preferences.
To discuss this tour or any modifications you'd like to make, simply complete the form below. Let us take you on a memorable exploration of Bilbao, the city of unforgettable cultural encounters and gastronomic delights.
Highly recommend Emily! Emily created a personalized itinerary for us in southern Spain. She was very knowledgeable about the region, attentive, and personable. She returned emails properly, and was a pleasure to work with. Emily was flexible and did not make mind making changes in the itinerary-- Her goal is to please her customers!
Emily is GOOD! Emily arranged a 14 day tour for us in Spain at short notice of a week or so. The whole tour was beautifully organized, amazingly flexible and the rare glitches were attended to and addressed, literally instantly. For sure we will be back for further tours with her. Thanks, Emily.
Best Tours from Emily! Words can't express how grateful it was to be able to call on Emily for help with some excursions in Spain. Emily, thanks soo much. You're the BEST!!!
Spain and Portugal trip: Emily did an amazing job Of setting up our trip through Spain and Portugal. All of our tours were outstanding and personalized. We had a wonderful time!
Private Tour: Emily is a pleasure to work with. She arranged hotels, activities, tour guides and transportation in Barcelona, Madrid, Segovia, Toledo, Cordoba, Avila, Seville, Malaga, Gibraltar. She was extremely responsive when we had questions and made sure that everything flowed smoothly.
Other Day Trips in Northern Spain