Full-Day Guided 4x4 Tour of Ordesa National Park
Our Driven Tour of Ordesa National Park
Prepare yourself for a thrilling journey as we delve into the heart of Ordesa National Park on our full-day guided 4×4 tour.
This unforgettable adventure is tailor-made for nature enthusiasts and thrill-seekers alike. From the comfort of your off-road vehicle, experience the wild beauty of the park's diverse landscapes, the stunning flora and fauna, and the dramatic vistas that unfold at every turn.
As we traverse through winding trails and rugged terrain, our expert guide will provide insightful commentary, enriching your understanding of this magnificent natural wonder.
What's Included in Our Ordesa National Park Itinerary?
Setting Off From Your Hotel: The beginning of your expedition
Your extraordinary expedition commences right from your hotel doorstep with a private transfer to the gates of the park, where our professional guide, well-versed in the secrets of Ordesa National Park, will greet you.
Step into your comfortable 4×4 vehicle, sit back and relish the excitement of the journey ahead. We're setting off to explore the breathtaking wilderness of Ordesa. Let the adventure begin!
Exploring Majestic Landscapes

Our 4×4 adventure takes us on a captivating journey through the multifaceted landscapes of Ordesa National Park.
As we traverse through this terrain, each twist and turn of the trail reveals fresh vistas, each more stunning than the last. We'll ascend rugged mountain roads, affording panoramic views of the valley's lush greenery and vivid wildflowers flanked by jagged peaks that scratch the sky. Descending into shadowy canyons, we'll cross ancient stone bridges spanning crystal clear, babbling rivers.
Throughout this exciting ride, you'll get to witness the park's astonishing geological diversity. It's an awe-inspiring blend of stunning topography and rich biodiversity, offering glimpses of elusive wildlife. Your guide's expert narration will further enrich your understanding of this incredible ecosystem.
Best Tours from Emily! Words can't express how grateful it was to be able to call on Emily for help with some excursions in Spain. Emily, thanks soo much. You're the BEST!!!
Discovering Flora and Fauna: The Living Tapestry of Ordesa National Park
Ordesa National Park is a vibrant tapestry of life, where the unique geology and climate have given rise to an incredible diversity of flora and fauna.
As our 4×4 journey weaves through the park's varied landscapes, your guide will spotlight its rich biodiversity. From the beech and pine forests that house owls and wild boars to the alpine meadows teeming with rare wildflowers, the park is a naturalist's paradise.
High above, golden eagles and vultures soar, while chamois and Pyrenean newts inhabit the rugged cliffs and sparkling streams. This living tapestry of Ordesa presents an enchanting lesson in nature's grand design.
Emily put together an incredible trip! Emily put together an amazing trip for me through the Andalusia area of Spain. From the minute I touched down in Malaga, Emily and her team made sure I met up with all of my drivers and private tour guides in each city. Every tour was incredible and each guide was extremely knowledgable on the city's history, culture, food scene and architecture. I highly recommend Emily Matthews and her team and would use her again the next time I go to Spain, Portugal or Morocco.
A Scenic Lunch Break: Dining Amidst the Splendor of the Park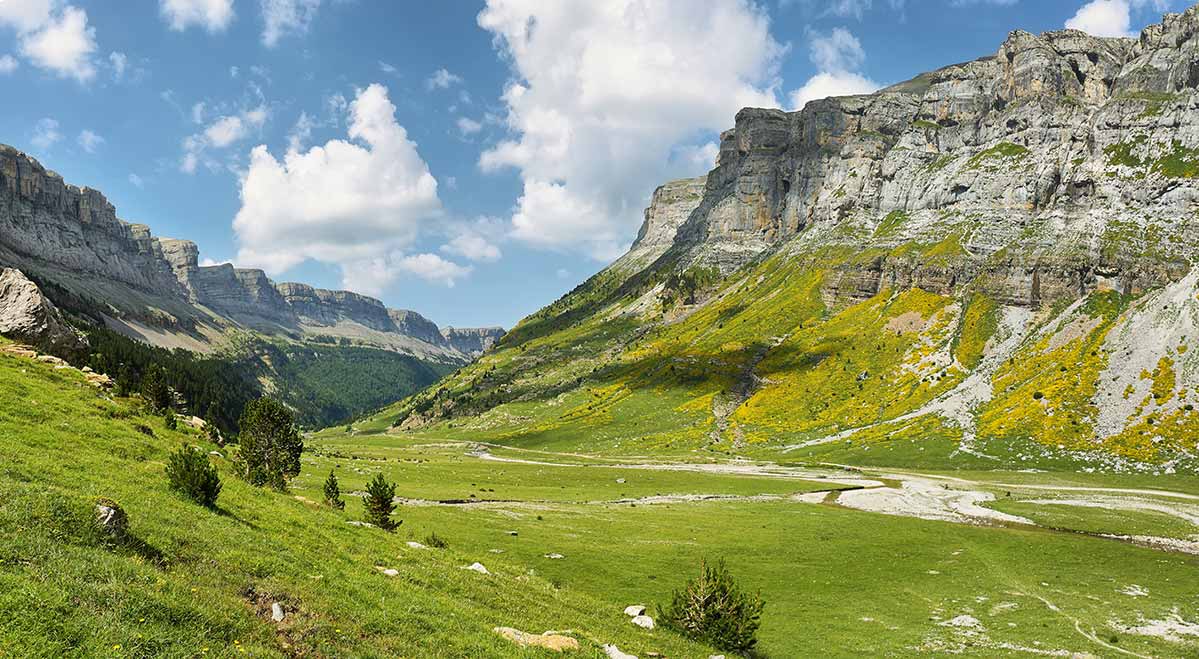 As our 4×4 tour reaches its mid-point, we break for lunch in one of the park's most stunning locations.
Imagine feasting on locally-sourced Spanish delicacies while surrounded by the natural splendor of Ordesa. As you savor your meal, take in the panoramic views of towering peaks, vibrant meadows, and pristine rivers.
Venturing into the Unseen: Unveiling Hidden Gems of the Park
Ordesa National Park, like a treasure chest, brims with hidden gems awaiting discovery. As our 4×4 vehicle ventures off the beaten track, your guide will unveil secluded sites known only to the locals.
We'll navigate through serpentine forest paths, reach lookout points offering breathtaking views, and perhaps even encounter a secluded waterfall tucked away amidst the verdant greenery.
With every turn, the park unfurls a new aspect of its astonishing beauty. It's not just about the destination, but the journey itself, as you marvel at these hidden corners of Ordesa that enrich your experience with a sense of intimate connection with nature.
Professional and expert service before, during and after our visit to Alhambra Two hours from the town of Marbella, a collection of stunning Arabic ruins called Alhambra provided a day of wandering through thousands of years of Spanish history. Emily, from Guided Spain Tours, coordinated our trip – she was very responsive and flexible with our plans. We were picked-up from our hotel by driver, Fran, and met-up in Granada with our amazing tour guide, Miriam. She spoke excellent English and was able to make the tour interesting for two teenagers and their parents. Throughout the tour, we learned many facts about the Nasrid dynasty, including details about Islamic architecture with the facades and arches, the red walls (al-Hamra in Arabic, means red), green pools and the intricate interior designs using multi-colored tiles. There were three different palaces that the tour guide named public, political, and private. Each of them brought a different style of design which went with these names. From the top of the tower, we could see for miles which was a huge highlight of the day. The Alhambra is a must see on your visit to Spain. Guided Spain Tours, especially Emily, Fran and Miriam, enhanced our experience with professional and expert service before, during and after our visit to Alhambra.
Dusk at Ordesa: The Changing Hues of the Park
As the day ebbs away, the spectacle of dusk at Ordesa is nothing short of magical. The setting sun bathes the park in a warm, golden glow, painting the landscape with a myriad of colors that shift with every passing minute.
Peaks that were verdant green turn to a dusky purple, while the azure sky gradually morphs into a canvas of flaming orange and vivid pink. There's a sense of tranquillity that descends with the evening as the park's daily hustle gradually recedes and the nocturnal creatures begin their symphony.
This captivating spectacle of changing hues is an experience that stays etched in memory long after the tour concludes.
Return To Your Accommodation
As we wind down the journey, we'll head back to your hotel under the starlit sky.
As we bid farewell to the park, we're not merely concluding a tour but rounding off a day of immersion into nature's grand spectacle that Ordesa so beautifully represents.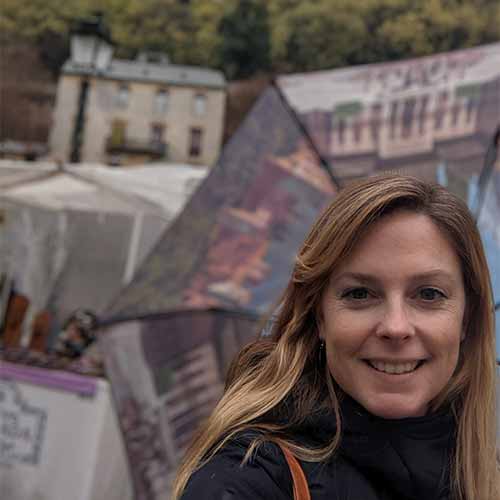 Say Ola to Emily, your personal tour planner at Guided Spain Tours. Get in touch by filling in the form below and requesting your complimentary itinerary!
Get a Custom Ordessa Park Tour Itinerary
This immersive tour will leave you with more than just photographs—it provides memories that linger, a deeper appreciation for nature's wonders, and a yearning to continue exploring.
For a custom tour itinerary of Ordesa National Park beginning from anywhere in North Spain, simply contact our team of expert tour planners today.
Highly recommend Emily! Emily created a personalized itinerary for us in southern Spain. She was very knowledgeable about the region, attentive, and personable. She returned emails properly, and was a pleasure to work with. Emily was flexible and did not make mind making changes in the itinerary-- Her goal is to please her customers!
Emily is GOOD! Emily arranged a 14 day tour for us in Spain at short notice of a week or so. The whole tour was beautifully organized, amazingly flexible and the rare glitches were attended to and addressed, literally instantly. For sure we will be back for further tours with her. Thanks, Emily.
Best Tours from Emily! Words can't express how grateful it was to be able to call on Emily for help with some excursions in Spain. Emily, thanks soo much. You're the BEST!!!
Spain and Portugal trip: Emily did an amazing job Of setting up our trip through Spain and Portugal. All of our tours were outstanding and personalized. We had a wonderful time!
Private Tour: Emily is a pleasure to work with. She arranged hotels, activities, tour guides and transportation in Barcelona, Madrid, Segovia, Toledo, Cordoba, Avila, Seville, Malaga, Gibraltar. She was extremely responsive when we had questions and made sure that everything flowed smoothly.
Other Day Trips in Northern Spain