Dali Museum, Girona & Besalù Day Trip
Our Dali, Girona & Besalù Day Trip from Barcelona
Set off with your private driver on a captivating full-day tour from Barcelona, journeying to the mind-bending world of Salvador Dalí in Figueres, progressing through the timeless charm of Girona and the medieval allure of Besalù before returning to Barcelona for the evening.
Our private day trip provides a unique perspective on Catalonia's rich history and art, promising to leave lasting memories for fans of art, history, and culture alike!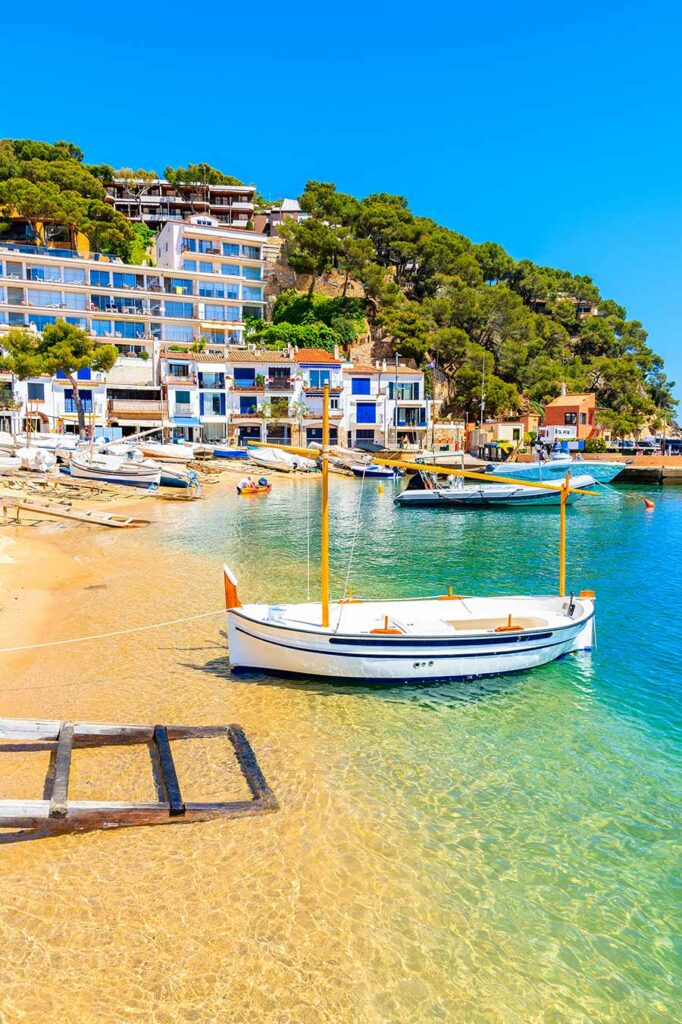 What's included on our Dali, Girona & Besalù Trip from Barcelona
Guided Tour of Dali Museum in Figueres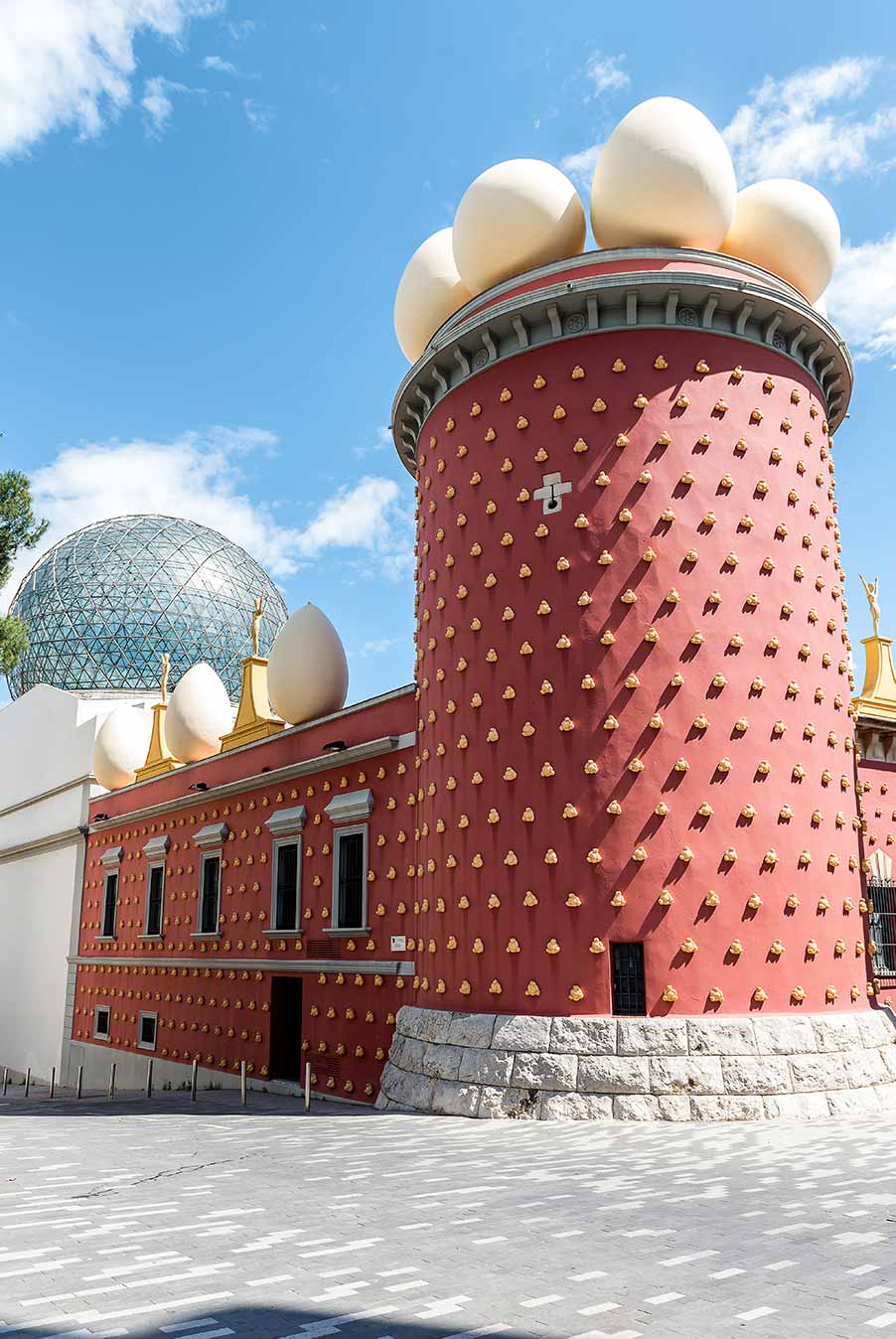 Approximately 1.5 hours via one of our luxury air-conditioned vehicles, you will arrive in Figueres, where the surreal becomes tangible, and the mundane transcends into the extraordinary – the world-renowned Dalí Theatre Museum.
Once in Figueres, prepare to step into the surreal universe of Salvador Dalí on a private guided tour of the largest surrealistic object in the world.
As soon as you lay eyes on the museum's striking façade, adorned with giant egg sculptures and mannequins, you'll know you're in for an unprecedented artistic experience. The museum, designed by Dalí, is a testament to his unique vision and creative genius. Its labyrinthine interior, featuring a mix of Dalí's art, personal items, and peculiar installations, offers an intimate and immersive exploration of his life, ideas, and work.
The tour commences with Dalí's early artistic explorations and gradually progresses to his surrealist and nuclear-mystic periods, offering a comprehensive overview of his creative evolution. Marvel at the mastery of pieces like 'Port Alguer,' 'The Spectre of Sex-appeal,' and the monumental painting 'Gala Nude Looking at the Sea, Which at 18 Metres Appears President Lincoln'. Then, get a glimpse into Dalí's peculiar imagination with the Mae West Room, an installation that uses furniture to create a face when viewed from a certain angle. Walk through the Palace of the Wind Room, showcasing a ceiling fresco of Dalí and Gala caught in a swirling vortex of particles.
This private guided tour at the Dalí Theatre-Museum is more than just a visual spectacle; it's a journey through Salvador Dalí's mind, showcasing his incomparable artistic trajectory and offering a deeper understanding of his surreal world. Join us and experience the allure of the surreal that continues to captivate art lovers from around the globe.
Best Tours from Emily! Words can't express how grateful it was to be able to call on Emily for help with some excursions in Spain. Emily, thanks soo much. You're the BEST!!!
Girona Old Town Walking Tour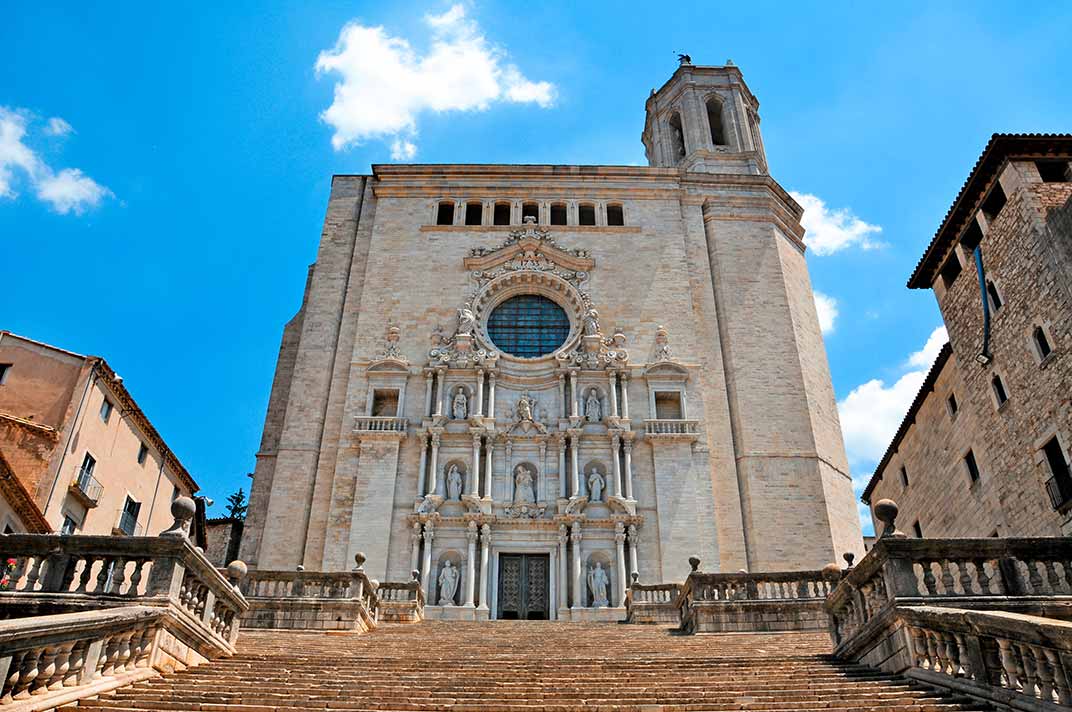 Following your immersive experience at the Dalí Theatre-Museum, a picturesque 40-minute drive with your personal chauffeur leads you to the captivating city of Girona. Renowned for its historic charm, Girona is an assemblage of architectural treasures, each echoing a different era of its rich past.
Commence your guided walking tour along the serene Onyar River, famous for its colorful riverfront houses that reflect brilliantly on the water, creating an iconic postcard view of Girona. As you stroll, you'll observe a blend of architectural styles, from Gothic to Art Nouveau, illustrating the city's diverse cultural influences over centuries.
Next, ascend the ancient Roman walls, or "Passeig de la Muralla," that once served as the city's defensive ramparts. From atop these stone guardians, you'll enjoy panoramic views of the city's spires, rooftops, and beyond to the rolling green hills. Feel the aura of bygone eras as you tread along these ancient paths, preserved and intertwined with the city's modern rhythms.
Venturing further into the heart of the Old Town, or Barri Vell, step back in time within its narrow, winding, cobblestone streets. A striking highlight here is the majestic Girona Cathedral, an architectural marvel that boasts the world's widest Gothic nave. This 11th-century edifice, crowning a grand staircase, stands as a testament to Girona's religious and architectural heritage.
The tour would be incomplete without visiting the Jewish Quarter, one of the best-preserved in Europe. Here, you'll wander through a labyrinth of narrow streets and courtyards that echo tales of the thriving Jewish community that once resided here.
This guided tour through Girona's Old Town is not just about visiting a city; it's about experiencing the layers of history, culture, and architectural splendor that Girona effortlessly weaves together.
Graduation Present for Teenager: I can't be more excited to write this review. I promised my niece and nephew a trip up graduation. While I travel quite a bit, traveling with teenagers who have never been out of the country or on a plane is another experience, especially when you don't have children of your own. Guided Spain, specifically Emily, was a blessing in making this trip possible. It far exceeded any expectations. The hotels, guides, transportation, and hotels were far better than expected. The experiences planned were diverse enough to satisfy my needs and my nephews. My nephew (17 years old) fulfilled a wish list item - scuba diving certification, and I got to dive along site. The dive company was amazing. Unlike some foreign diving experiences, safety and his education were the of the upmost importance. Because we visited at the right time, we were able to attend the 'Running of the Bulls'. The balcony and experience were fantastic.The guides in both Rupit and Barcelona were some of the best I have ever experience. I cannot thank Teresa Dell and Gerad Guia enough; they were magnificent.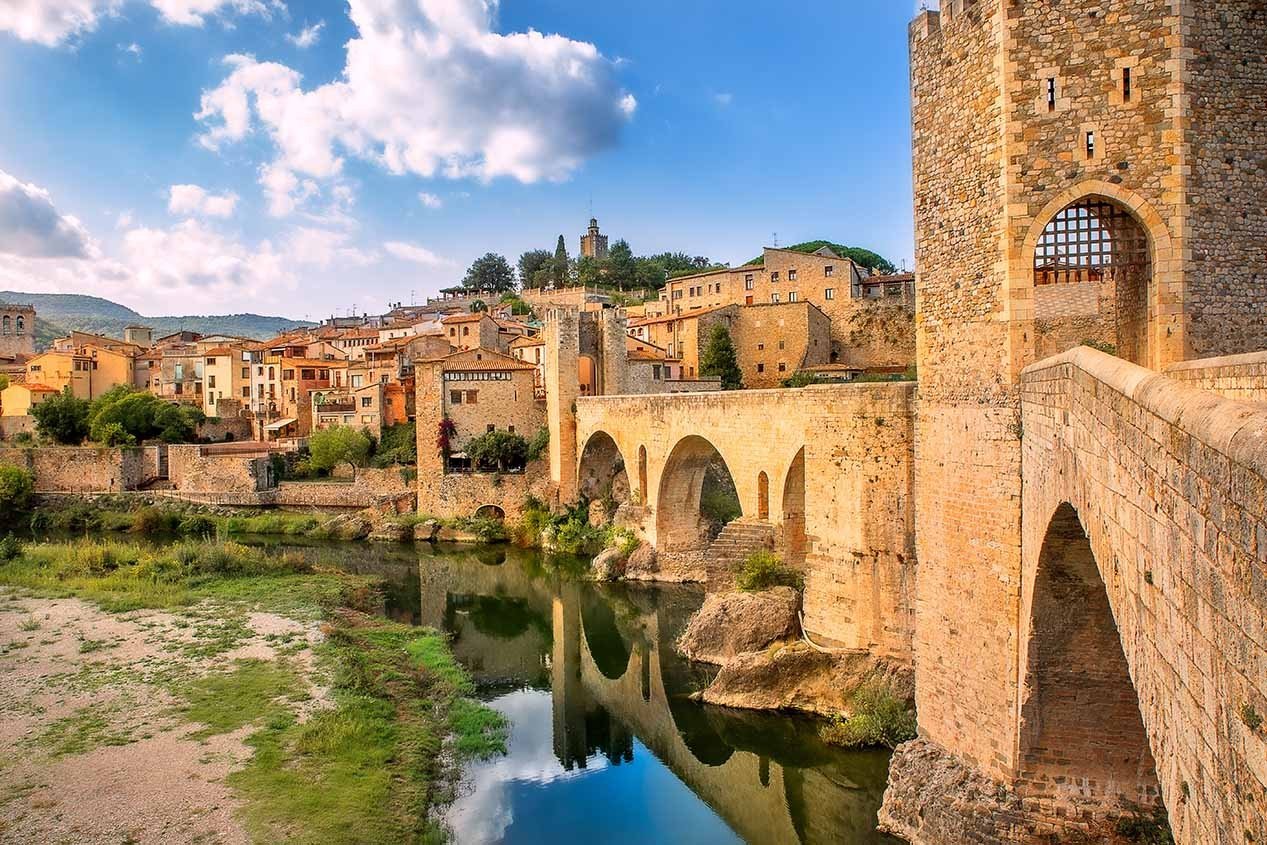 From Girona, your journey continues to the medieval gem of Besalù, a quaint village that takes you back to the Middle Ages. Upon arrival, your first encounter is with the iconic drawbridge entrance. As you traverse this bridge, under the imposing portcullis, you leave the modern world behind and step into a beautifully preserved vestige of history.
This private tour allows you to navigate the village's arch-lined streets and take in the rustic charm of its stone houses, Gothic windows, and historic churches. Each corner of Besalù tells a story, a testament to the rich tapestry of cultures that have left their imprint on this place.
One of the tour's key highlights is the 12th-century Jewish bath, or 'Mikveh,' a unique architectural relic from the Jewish community that once thrived here. Delve deeper into the local history by visiting the remnants of a medieval synagogue, a rare survivor bearing silent witness to centuries of change.
Your guide will enlighten you on the historical and cultural significance of these sites, helping you fully appreciate the depth and complexity of Besalù's heritage. Every stone and structure here holds a story; every street echoes with tales of the past.
After a day steeped in exploration and discovery, your private chauffeur awaits to provide a comfortable and relaxing transfer back to Barcelona.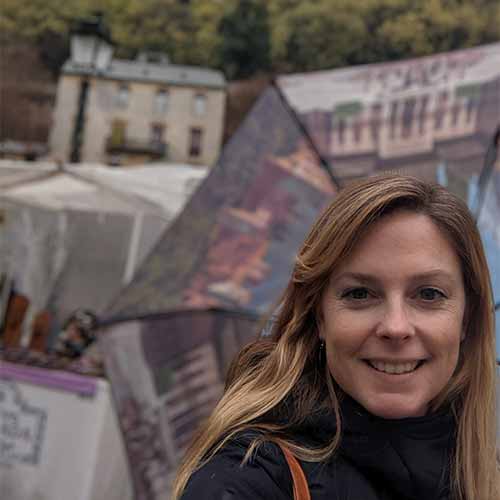 Say Ola to Emily, your personal tour planner at Guided Spain Tours. Get in touch by filling in the form below and requesting your complimentary itinerary!
Contact Us About Our Dali Museum, Girona, & Besalù Day Trip
This full-day excursion from Barcelona offers a wonderful amalgamation of art, history, and architecture, where every destination unfolds a new chapter of Catalunya's rich tapestry.
However, remember that each journey can be as unique as you are. Our tour planning specialists are always ready to personalize your adventure, catering to your specific interests and preferences. Whether you wish to delve deeper into the world of surrealism, spend more time exploring medieval history, or even add a gastronomic twist to your journey, we are here to make it happen. Reach out to us today, and let's start planning your bespoke tour, crafting an unforgettable Catalonian experience just for you.
Highly recommend Emily! Emily created a personalized itinerary for us in southern Spain. She was very knowledgeable about the region, attentive, and personable. She returned emails properly, and was a pleasure to work with. Emily was flexible and did not make mind making changes in the itinerary-- Her goal is to please her customers!
Emily is GOOD! Emily arranged a 14 day tour for us in Spain at short notice of a week or so. The whole tour was beautifully organized, amazingly flexible and the rare glitches were attended to and addressed, literally instantly. For sure we will be back for further tours with her. Thanks, Emily.
Best Tours from Emily! Words can't express how grateful it was to be able to call on Emily for help with some excursions in Spain. Emily, thanks soo much. You're the BEST!!!
Spain and Portugal trip: Emily did an amazing job Of setting up our trip through Spain and Portugal. All of our tours were outstanding and personalized. We had a wonderful time!
Private Tour: Emily is a pleasure to work with. She arranged hotels, activities, tour guides and transportation in Barcelona, Madrid, Segovia, Toledo, Cordoba, Avila, Seville, Malaga, Gibraltar. She was extremely responsive when we had questions and made sure that everything flowed smoothly.
Other Day Trips from Barcelona