Day Tour of Ait Ben Haddou From Marrakech
Our Day Tour of Ait Ben Haddou
Join your private driver and guide for an enchanting day tour from Marrakech to Ait Ben Haddou, an adobe citadel that's a testament to Morocco's rich history and the backdrop for many famous films.
This guided journey takes you along the path of ancient caravans through sweeping desert landscapes, echoing canyons, and vibrant rivers, culminating in a UNESCO World Heritage Site. We'll end the day exploring Ouarzazate, the gateway to the Sahara Desert, housing cinematic gems and architectural wonders. A day trip not to be missed, it promises a sensory journey into Morocco's timeless landscapes, age-old traditions, and captivating culture.
What Is Included In Our Ait Ben Haddou Day Trip?
Marrakesh to Ait Ben Haddou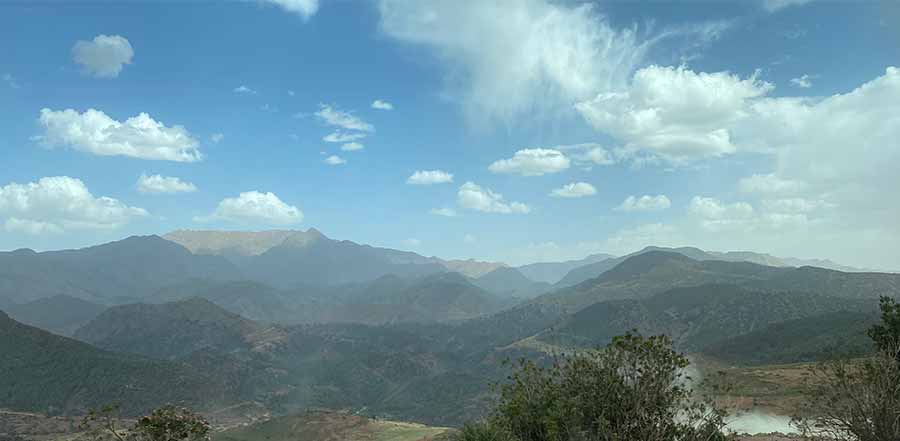 Your adventure begins as you meet your driver and guide in Marrakech, ready to embark on a journey into the heart of Morocco's ancient trade routes.
We follow the trail once trodden by caravans bringing treasures from distant lands to the Sultan's courts. As we traverse the desert, an ever-changing tableau of landscapes unfolds – from the arid plains to the lush canyons, captivating your senses.
Spain-Morocco-Portugal: Our family just returned from a memorable trip to Spain, Morocco and Portugal - organized by Emily at Guided Spain Tours. I must say that I asked Emily to fill our days with enough activities to keep my active husband, daughter and her boyfriend busy but I wanted no stress or family fighting in traveling from place to place. Emily totally delivered! She arranged drivers to and from airports, trains and even a ferry plus had daily activities or day trips for us from cooking classes, wine tastings, food tours, sailing excursions, Fado concert, Flamenco show to full day tours visiting castles, cathedrals, and beautiful cities. She even coordinated an extended trip to Morocco for us. Everything went smoothly, we had wonderful drivers and guides, and we all had a great time! I appreciated that Emily stayed in daily contact to ensure everything was going smoothly. I highly recommend Emily and Guided Spain Tours!
Guided Walking Tour of Ait Ben Haddou

Your journey begins as you embark on a guided walking tour through the twisting labyrinth of narrow passages and steep staircases of Ait Ben Haddou.
This well-preserved ksar, a UNESCO World Heritage site, is celebrated for its distinctive red adobe structures, a tribute to traditional Moroccan architecture. As you navigate the enchanting alleyways, your expert guide will recount fascinating tales of the citadel's past, tracing its evolution from a crucial caravan stop to a modern cultural symbol.
Witness first-hand the intricate designs etched into the sun-baked earth buildings, each telling its unique story of the people who once thrived in this bustling hub. Marvel at the quiet charm of the local homes, granaries, and ornate public areas, as your guide highlights the intricate elements of the ksar's architectural prowess. From the humble, hard-packed earth floors to the richly decorated facades, each corner of Ait Ben Haddou reveals layers of history and tradition.
This immersive walk offers more than just sightseeing; it's a step back in time, a chance to live, even if for a few hours, the authentic Moroccan culture and lifestyle. Walk in the footsteps of traders of old, surrounded by the atmospheric ruins, and engage in a true historic experience.
Panoramic View on Ait Ben Haddou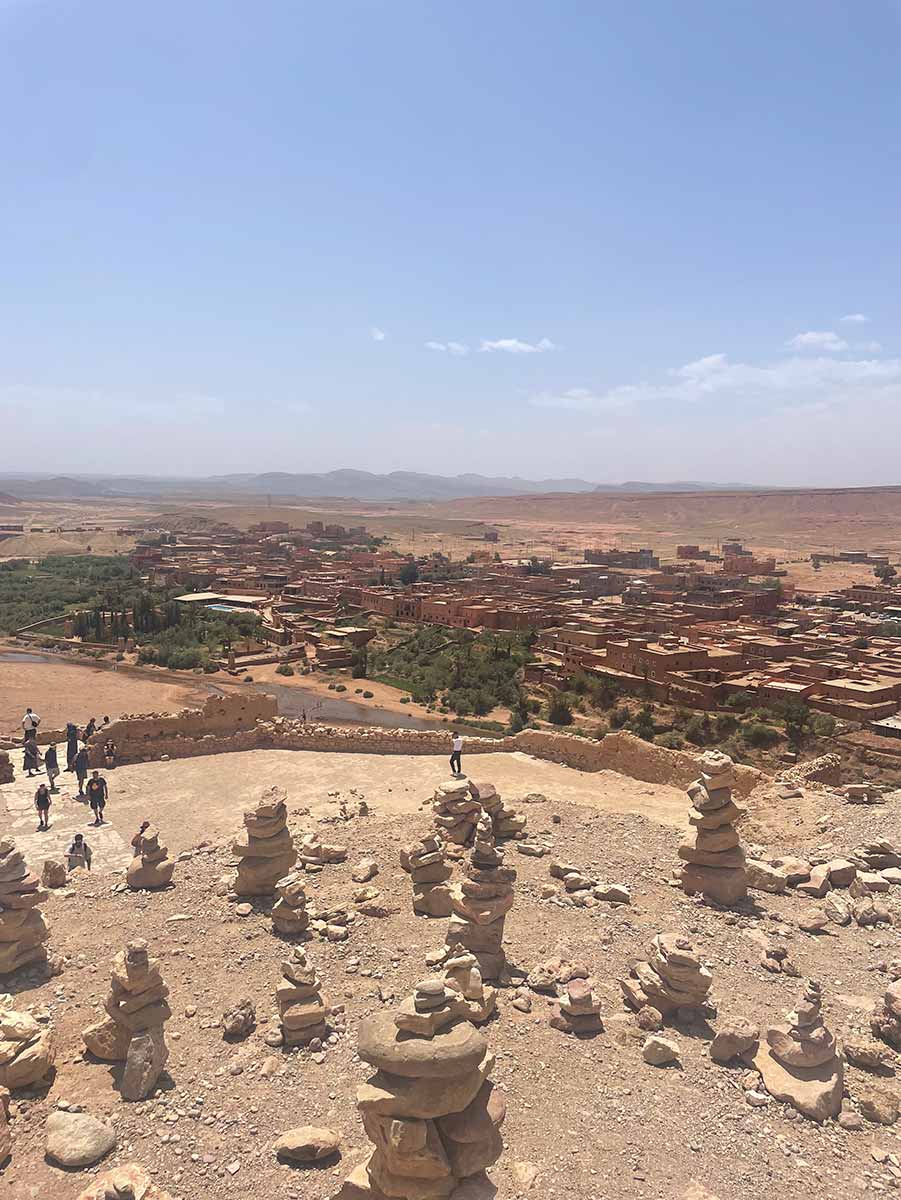 As the walking tour culminates, your guide will lead you on a slight ascent to the apex of the citadel.
Atop the highest point of Ait Ben Haddou, a panoramic view of the expansive desert landscape and the majestic, snow-capped Atlas Mountains in the distance awaits you. A sense of tranquility pervades this vantage point as you stand amidst the sky, looking over the vast stretches of wilderness bordered by rugged mountain ranges.
This spectacular viewpoint provides a treasure trove for photography enthusiasts, who will undoubtedly be inspired by the stunning play of light and shadow on the rugged landscape. The sun casts a warm, golden hue over the historic town, its red earthen structures standing resolute amidst the ever-changing desert, creating an unforgettable tableau.
But more than just a visual spectacle, this is a space for quiet contemplation, a place to pause and appreciate the grandeur of nature and human innovation. The majestic citadel against the backdrop of the endless desert and the distant Atlas Mountains is a testament to mankind's resilience and ingenuity. Standing there as the gentle desert wind whistles past, one can't help but feel a deep connection with this land and its rich history. This experience, steeped in serenity and awe, truly encapsulates the essence of Ait Ben Haddou.
Our 15-day Southern Spain tour - Amazing! It's so hard to come back to reality after experiencing a Guided Spain Tour! Emily arranged a tour for my husband and myself for cities in Southern Spain (Madrid, Toledo, Cordoba, Seville, Jerez de la Frontera, the White Villages and Ronda, Malaga, hiking the Caminito del Rey, and Granada). In addition, we traveled one day to Tangiers, Morocco and Gibraltar, then spending our last 4 days in Barcelona and visiting surrounding cities. It was an amazing trip, which provided professional, private drivers and fantastic, well-informed guides for all of the cities and activities. In addition, Emily was constantly in touch with us during the entire trip to make sure everything was going well. We could go on and on about all of the very special experiences we had, and will definitely use Guided Spain Tours for other trips in Spain, Portugal and Morocco. Our only wish is that Emily would also do tours worldwide!
Ouarzazate: Gateway to the Sahara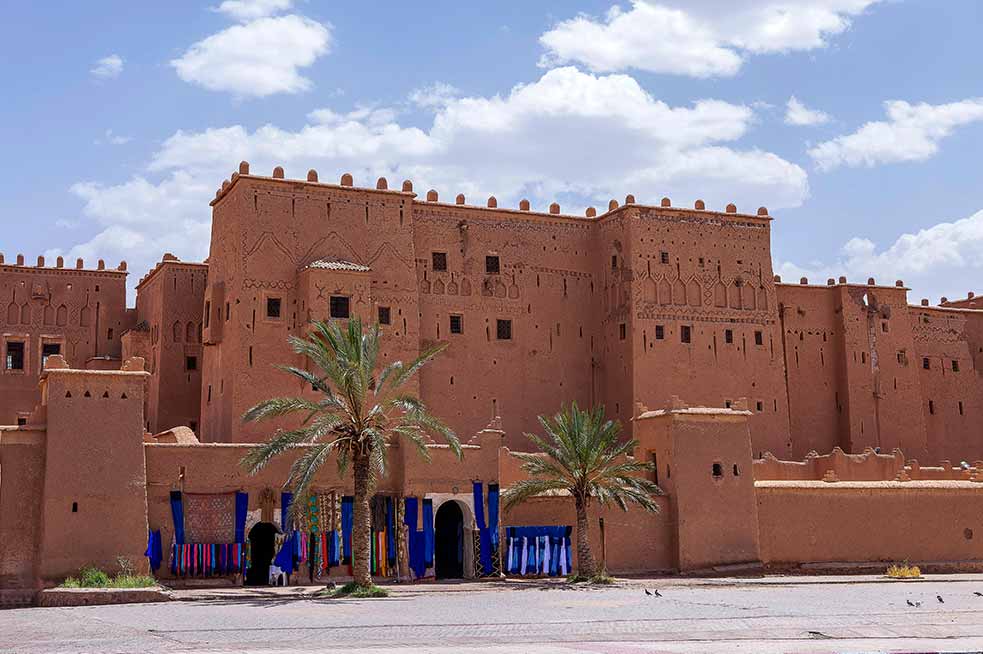 Our journey continues as we head to Ouarzazate, the 'doorway to the Sahara.' This bustling city is known for its connection to the film industry, with several famous films and TV shows filmed here.
We'll visit the Taourirt Kasbah, an opulent palace that's now a museum showcasing local art and culture. As we wander through its corridors, the guide will tell you about the Kasbah's rich history and its connection to the Glaoui dynasty.
Stroll along the city's streets, where the blend of modernity and tradition paints a vivid picture of Morocco's diverse culture.
Cinematic Experience at Atlas Film Studios
Step into the magical world of cinema with a guided tour of the renowned Atlas Film Studios. Known as the 'Hollywood of Morocco,' this sprawling film studio has been the filming location for countless iconic movies and TV series, such as 'Game of Thrones' and 'Gladiator.'
Your guide will take you on a journey through the vast sets, revealing fascinating behind-the-scenes stories of the various productions filmed here. From Egyptian temples to Tibetan monasteries, the studio's sets will transport you to different times and places.
This tour is a must for film enthusiasts, offering an exclusive peek into the cinematic magic that puts Morocco on the global film map.
Return Drive to Marrakesh
As we drop you off at your accommodation in Marrakech, you're left with a heart full of memories and a deeper appreciation of Morocco's rich heritage and breathtaking landscapes.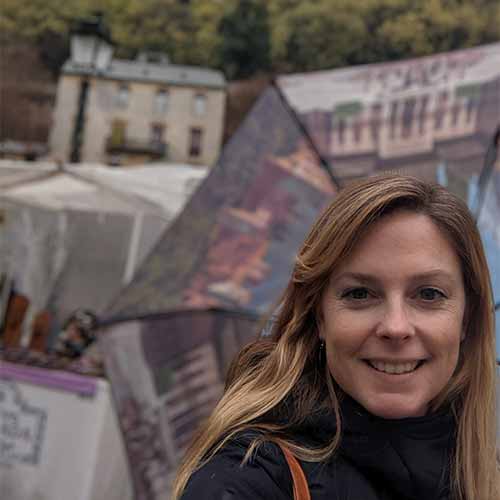 Say Ola to Emily, your personal tour planner at Guided Spain Tours. Get in touch by filling in the form below and requesting your complimentary itinerary!
Get A Custom Ait Ben Haddou Day Trip
This full-day tour from Marrakech to Ait Ben Haddou and Ouarzazate offers an immersive experience of Morocco's intriguing history, captivating landscapes, and vibrant culture. It's a journey that strikes a perfect balance between adventure, relaxation, and cultural discovery.
Join us to experience this magical journey and enjoy an unforgettable Moroccan trip.
Highly recommend Emily! Emily created a personalized itinerary for us in southern Spain. She was very knowledgeable about the region, attentive, and personable. She returned emails properly, and was a pleasure to work with. Emily was flexible and did not make mind making changes in the itinerary-- Her goal is to please her customers!
Emily is GOOD! Emily arranged a 14 day tour for us in Spain at short notice of a week or so. The whole tour was beautifully organized, amazingly flexible and the rare glitches were attended to and addressed, literally instantly. For sure we will be back for further tours with her. Thanks, Emily.
Best Tours from Emily! Words can't express how grateful it was to be able to call on Emily for help with some excursions in Spain. Emily, thanks soo much. You're the BEST!!!
Spain and Portugal trip: Emily did an amazing job Of setting up our trip through Spain and Portugal. All of our tours were outstanding and personalized. We had a wonderful time!
Private Tour: Emily is a pleasure to work with. She arranged hotels, activities, tour guides and transportation in Barcelona, Madrid, Segovia, Toledo, Cordoba, Avila, Seville, Malaga, Gibraltar. She was extremely responsive when we had questions and made sure that everything flowed smoothly.
Other Day Trips in Morocco