Day Trip To Tangiers From Spain
Our guided day trip includes a short 45-minute ferry from Mainland Spain to Tangier, a city where cultures intertwine and history comes alive in every corner.
Start your adventure with a private transfer from your accommodation in Southern Spain to Tarifa Port, followed by a quick ferry journey across the iconic Strait of Gibraltar. From the timeless allure of the Hercules Caves to the exhilarating experience of a beach camel ride, every moment in Tangier promises to be captivating.
This full-day guided tour is your gateway to discovering the enchanting beauty, vibrant markets, and rich culinary traditions of this Moroccan gem.
What Is Included In Our Tangier Day Trip?
Your day trip to Tangier begins in the comfort of your own accommodation, where a private vehicle awaits to transport you to Tarifa Port.
Upon reaching the port, you'll embark on a short but scenic ferry journey across the iconic Strait of Gibraltar. The 45-minute crossing presents an opportunity to witness the captivating interplay of the Mediterranean and Atlantic waters, framed by two continents.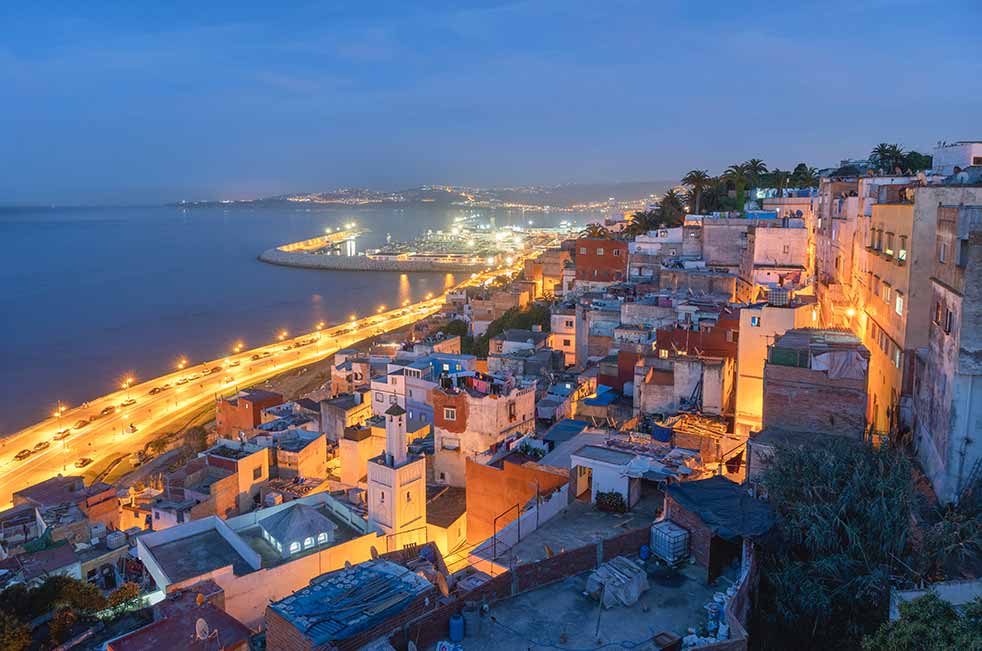 Upon setting foot on Tangier's soil, you'll be welcomed by a city brimming with a unique blend of cultural influences manifested in its architecture, cuisine, and lifestyle.
Known as the gateway to Africa, Tangier carries a fusion of Arabic, Berber, and European traits that create an atmosphere unlike any other. Your guide will introduce you to the city's rich history, tracing its journey from a strategic Berber town to a bustling cosmopolitan hub under the Romans, through periods of Portuguese, English, and French colonial rule, and finally to its current status as a vibrant Moroccan city.
As you navigate through the labyrinthine streets, absorb the intoxicating mix of sounds, sights, and scents that hint at the city's layered past and lively present.
10 Day Private Tour: It was such a pleasure to work with Emily. Everything went off without a hitch! There were some changes either in drivers or guides but this was communicated in advance via whats app. Drivers were always on time and very professional. Our 2 favorite guides were Daniel Guia in Madrid and Luis Salas in Seville. They gave great recommendations for shopping, restaurants or sights to visit when you were on your own. We had so many wonderful experiences on our trip from the private horse show outside of Cordoba with a live Spanish guitarist to the white villages , tapas bars, walking tours of Seville, Madrid and the Alhambra. Emily was in contact all the time if needed . Sorry Emily it took so long to write this, life gets so busy and that 's why you have Guided Spain plan your trip!
Guided Visit to the Hercules Caves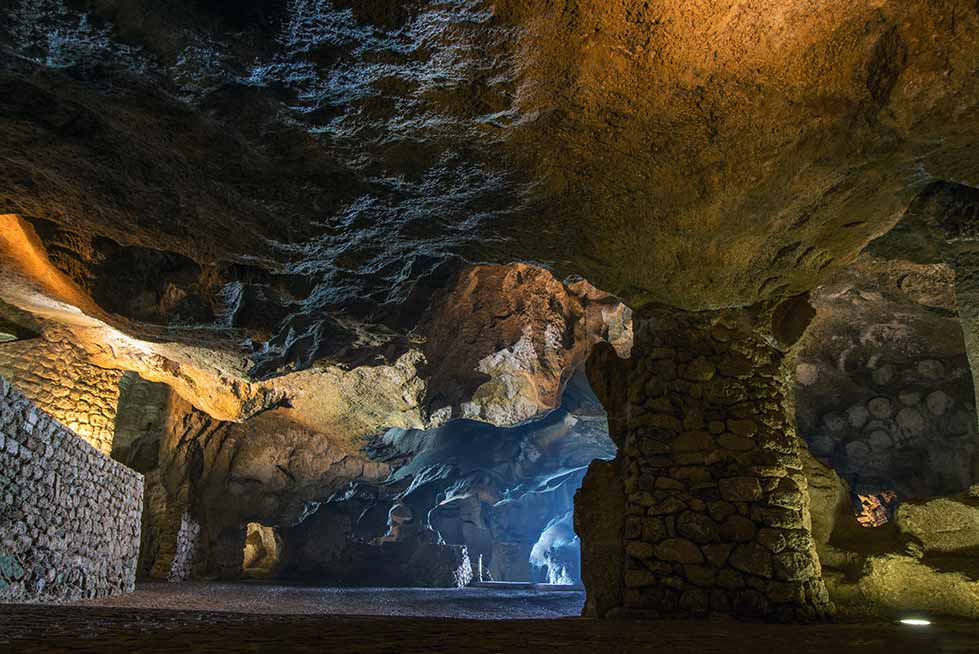 Venture beyond the city's bustling streets to the edge of the Atlantic Ocean, where the legendary Hercules Caves await.
As the fabled resting place of the Greek demigod Hercules, these natural caves offer not only a fascinating dip into mythology but also a chance to marvel at nature's artwork. You'll traverse the cave's cool interiors with your guide, appreciating the spectacular stalactite and stalagmite formations.
Discover the cave's unique aperture, resembling the shape of the African continent, and listen as your guide recounts tales of Hercules' labors. The view from the cave entrance, overlooking the churning Atlantic Ocean, is breathtaking and provides an excellent photo opportunity.
Traditional Moroccan Tea Experience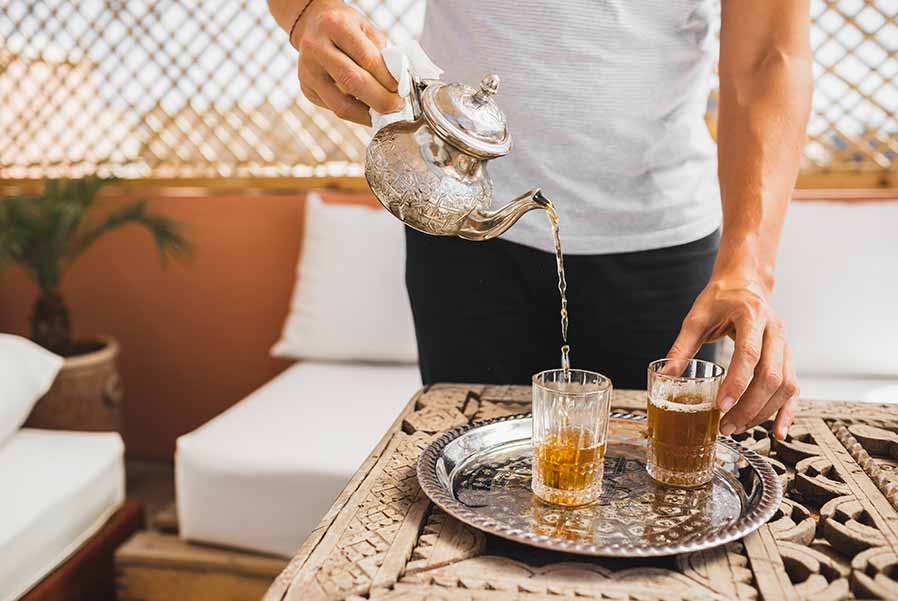 Enjoy a quintessential Moroccan tradition with our guided Moroccan tea experience. Renowned for its welcoming hospitality, Morocco is a place where tea is not just a beverage but a symbol of friendship, generosity, and warmth.
Nestled in a cozy tea house, under the guidance of our expert host, you'll learn about the art of Moroccan tea preparation, from boiling the water to the intricate process of brewing the tea leaves and herbs. As the scent of fresh mint and green tea fills the air, watch as the host demonstrates the art of pouring tea from a height to create a frothy top – a hallmark of a well-made pot of Moroccan tea.
Finally, relish the delicate balance of sweet and bitter in your glass of Moroccan mint tea, understanding why this simple pleasure is an integral part of everyday Moroccan life.
Camel Ride Along the Beach
Let's add an element of adventure to our Tangier day trip with a thrilling camel ride along the beach. This experience isn't just about the ride; it's about stepping back in time to experience a mode of transport that has carried nomadic travelers across deserts for centuries. As you comfortably perch atop these gentle creatures, under the careful guidance of our experienced camel handlers, you'll traverse the serene shores of Tangier's stunning coastline.
Fabulous Spain/Portugal trip through Emily! We booked with Emily solely after reading these reviews for a 2 week trip to Portugal and southern Spain. Never met her prior. She and her team exceeded our expectations. Every detail of the trip went smoothly and her planning was perfect for our group. Lots of guided tours intermingled with just the right amount of free time. We challenged Emily and her team with 3 generations of travelers from 18 months to upper 60's and she handled our group perfectly, such as baby seats in cars and cribs in hotel rooms. Our trip included Lisbon, Porto, Sevilla, and Madrid with day trips to Cordoba, Rhonda and and a small "white city." All in, we would highly recommend Guided Spain Tours, Emily and her team for any travel in Spain and Portugal. She also does Morocco but we didn't have time for that.
A Taste of Tangier: Local Market Visit and Culinary Exploration
There's no better way to understand a culture than through its food, and with our guided tour of a local market followed by a culinary exploration, you'll get an authentic taste of Tangier.
Stroll through the bustling market, where stalls are laden with a vibrant array of fresh produce, aromatic spices, and artisanal goods. Our expert guide will introduce you to regional specialties, share stories of Moroccan food culture, and help you decipher the myriad of exotic items on offer.
Following the market visit, we delve deeper into Moroccan cuisine by exploring local eateries and tasting traditional dishes. From succulent lamb tagine and hearty couscous to sweet pastries and mint tea, you'll savor an array of flavors that paint a delicious picture of Tangier's rich culinary heritage.
Venturing into the Kasbah: Guided Walk through the Old City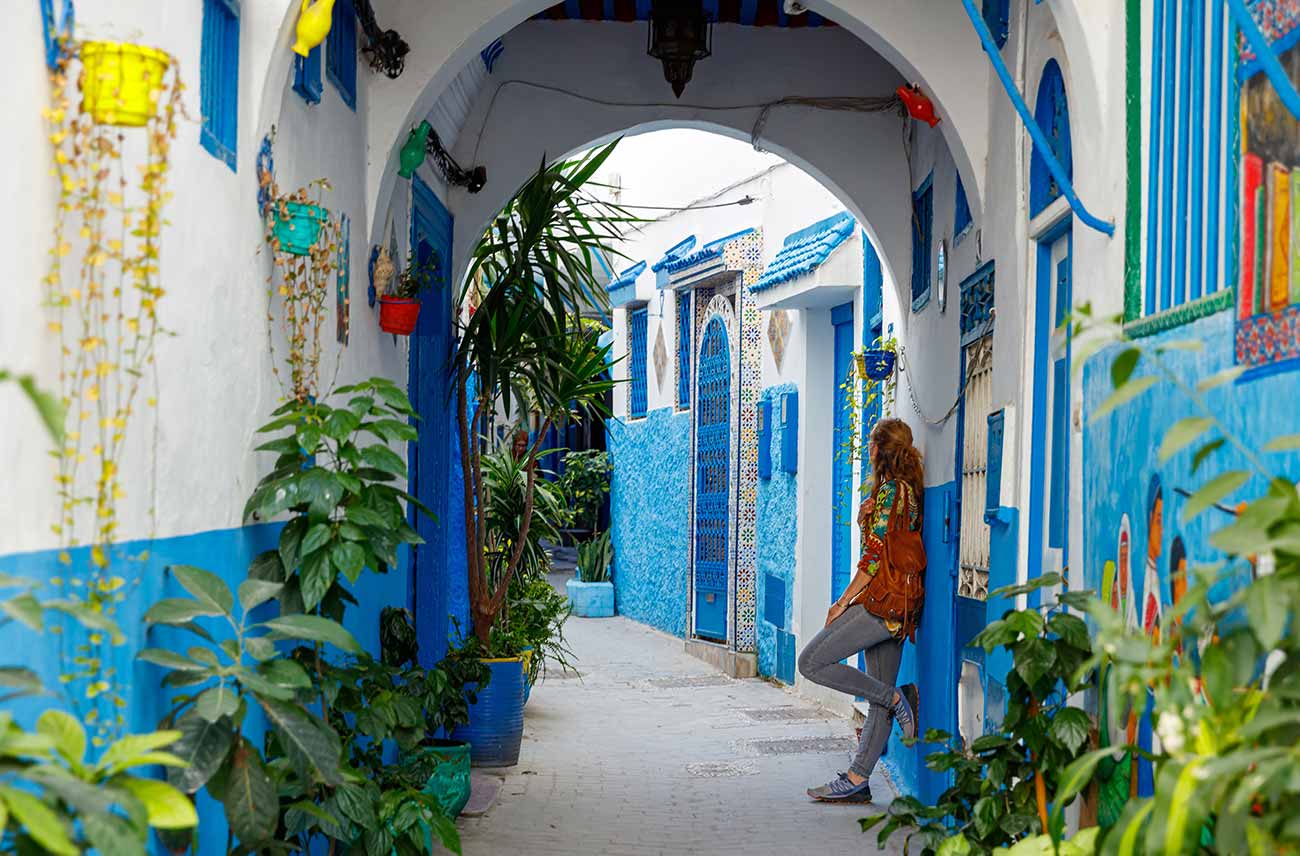 Step into the labyrinth of history with a guided tour of Tangier's Old City, the Kasbah. Perched on the highest point in the city, the Kasbah is a beautiful maze of narrow, winding alleyways opening onto bustling squares and quiet courtyards.
Our expert guide will lead you through this captivating maze, unveiling the rich history and culture etched into its ancient walls. Explore stunning palaces adorned with intricate mosaics, historical landmarks, and hidden residential quarters where time seems to have stood still.
Marvel at the charming blend of Andalusian, Moorish, and Moroccan architectural styles, the vibrant souks, and stunning views over the city and the Mediterranean Sea. This exploration of the Kasbah is not just a walk through the city's historic heart; it's a journey through time itself.
Return Ferry and Transfer back to Your Accommodation
As the day draws to a close, we depart Tangier, bearing memories of a culture rich in history and diversity. A swift 45-minute ferry ride takes us back across the Strait of Gibraltar to Tarifa Port. From here, a private transfer awaits you to return to the comfort of your accommodation.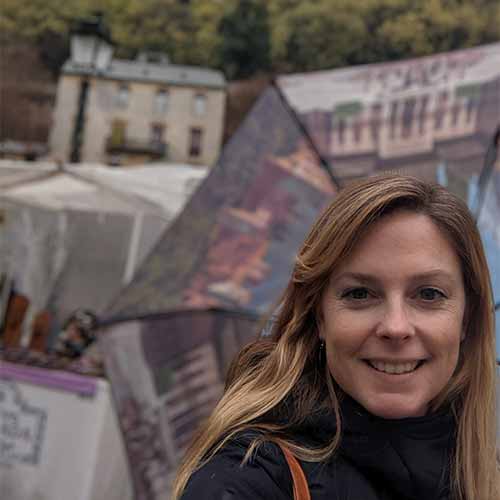 Say Ola to Emily, your personal tour planner at Guided Spain Tours. Get in touch by filling in the form below and requesting your complimentary itinerary!
Contact Us For a Custom Tangiers Itinerary
This itinerary represents just a taste of what Tangier has to offer, and there's so much more waiting to be discovered.
If you wish to explore deeper into the cultural richness and hidden gems of Tangier, our team of expert tour planners are more than ready to craft a bespoke itinerary tailored to your preferences.
Contact us to get started creating your dream Moroccan adventure.
Highly recommend Emily! Emily created a personalized itinerary for us in southern Spain. She was very knowledgeable about the region, attentive, and personable. She returned emails properly, and was a pleasure to work with. Emily was flexible and did not make mind making changes in the itinerary-- Her goal is to please her customers!
Emily is GOOD! Emily arranged a 14 day tour for us in Spain at short notice of a week or so. The whole tour was beautifully organized, amazingly flexible and the rare glitches were attended to and addressed, literally instantly. For sure we will be back for further tours with her. Thanks, Emily.
Best Tours from Emily! Words can't express how grateful it was to be able to call on Emily for help with some excursions in Spain. Emily, thanks soo much. You're the BEST!!!
Spain and Portugal trip: Emily did an amazing job Of setting up our trip through Spain and Portugal. All of our tours were outstanding and personalized. We had a wonderful time!
Private Tour: Emily is a pleasure to work with. She arranged hotels, activities, tour guides and transportation in Barcelona, Madrid, Segovia, Toledo, Cordoba, Avila, Seville, Malaga, Gibraltar. She was extremely responsive when we had questions and made sure that everything flowed smoothly.
Other Day Trips in Southern Spain