Discover the captivating allure of Nerja, a gem nestled along Spain's sun-drenched Costa del Sol, with our day-trip itinerary departing from anywhere in Southern Spain.
This charming seaside town effortlessly blends coastal splendor, historical intrigue, and traditional Andalusian charm, making it a must-visit destination.
From exploring ancient caves and meandering through whitewashed streets to basking in panoramic sea views, Nerja offers an enchanting escape for all who visit.
What Included in Our Nerja Day Trip?
Your tour begins by joining your private driver for the scenic drive to Nerja.
As we drive along the Mediterranean coastline, marvel at the azure sea blending with the sky and the panoramic vistas of white villages perched on hillsides.
10 Day Private Tour: It was such a pleasure to work with Emily. Everything went off without a hitch! There were some changes either in drivers or guides but this was communicated in advance via whats app. Drivers were always on time and very professional. Our 2 favorite guides were Daniel Guia in Madrid and Luis Salas in Seville. They gave great recommendations for shopping, restaurants or sights to visit when you were on your own. We had so many wonderful experiences on our trip from the private horse show outside of Cordoba with a live Spanish guitarist to the white villages , tapas bars, walking tours of Seville, Madrid and the Alhambra. Emily was in contact all the time if needed . Sorry Emily it took so long to write this, life gets so busy and that 's why you have Guided Spain plan your trip!
Guided Walk through Nerja's Old Town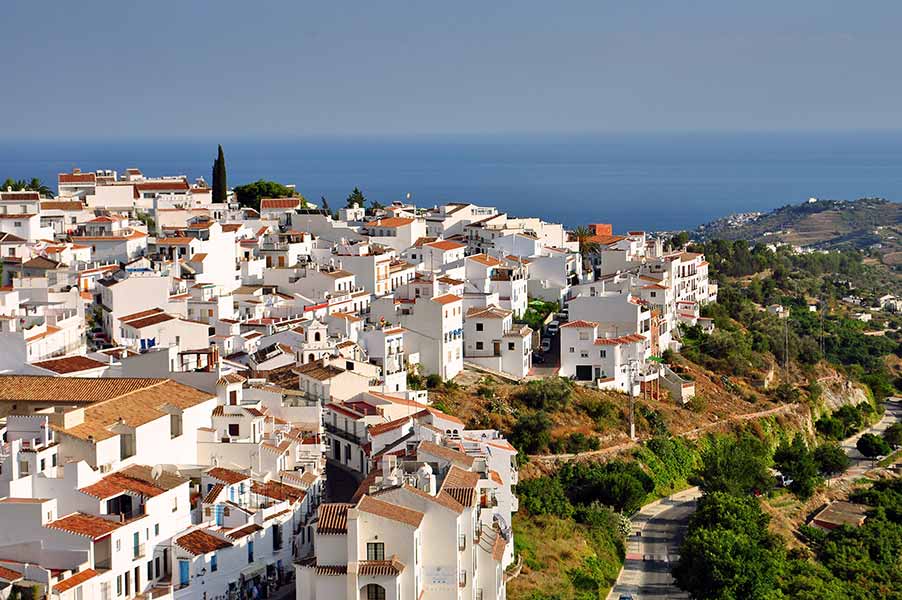 Step into the heart of Nerja with a guided walk through its enchanting old town, an epitome of Andalusian charm.
Our expert guide will lead you along narrow cobblestone streets flanked by whitewashed houses adorned with blooming bougainvillea, evoking an age-old sense of tranquility. As we stroll, delve into the town's rich history and cultural heritage, each tale adding depth to your understanding of this captivating town.
Discover quaint plazas bustling with local life and brimming with outdoor cafés where residents gather to share stories under the warm Andalusian sun. Visit the 17th-century El Salvador Church, a fascinating blend of Baroque and Moorish architecture reflecting Nerja's diverse historical influences.
Your exploration will also lead you to small, unique shops offering local handicrafts, where traditional Andalusian artistry is alive and thriving. Here, you'll have the opportunity to appreciate the skillful craftsmanship that goes into creating ceramic art, embroidery, and more.
Dive deeper into Nerja's vibrant past with a visit to the Nerja Museum. Our guide will lead you through this modern museum that beautifully illustrates the town's historical journey from prehistoric times to the present day.
Marvel at archaeological treasures excavated from the nearby Nerja caves, including ancient cave paintings and Paleolithic artifacts. The museum's interactive displays and engaging exhibits bring Nerja's history to life, offering insight into the people and cultures that shaped this coastal town over millennia.
Discover how Nerja evolved from a small fishing village to the charming tourist destination it is today through informative exhibits showcasing its fishing and agricultural traditions, as well as its development as a hub for international tourism.
Into the Depths: Guided Tour of the Nerja Caves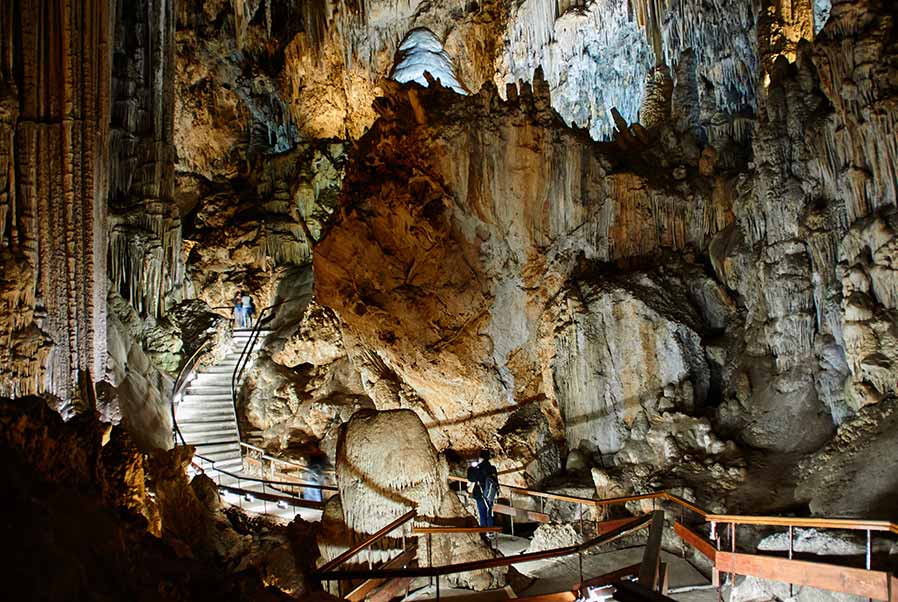 Immerse yourself in a world of subterranean wonder as we venture into the Nerja Caves, one of southern Spain's most breathtaking natural wonders.
With our expert guide leading the way, this tour takes you on a journey through time within a network of caverns stretching nearly five kilometers.
Gaze upon stalactite and stalagmite formations sculpted by nature over millions of years, creating an underground landscape of otherworldly beauty. As we delve deeper, uncover the cave's rich prehistoric past, made evident by ancient cave paintings dating back over 20,000 years, believed to be among the oldest in the world.
Our guide will illuminate the cave's geological features and historical significance, adding depth to your understanding of this unique environment. Marvel at the impressive stalactite column in the Cataclysm Hall, the tallest in the world, reaching a staggering height of 32 meters.
The Nerja Caves, discovered accidentally by local boys in 1959, have since become a symbol of Nerja's natural beauty and historical richness. The sensation of walking in these caverns, under towering formations and amidst echoes of a distant past, makes the guided tour of the Nerja Caves an experience you won't soon forget.
Fabulous Spain/Portugal trip through Emily! We booked with Emily solely after reading these reviews for a 2 week trip to Portugal and southern Spain. Never met her prior. She and her team exceeded our expectations. Every detail of the trip went smoothly and her planning was perfect for our group. Lots of guided tours intermingled with just the right amount of free time. We challenged Emily and her team with 3 generations of travelers from 18 months to upper 60's and she handled our group perfectly, such as baby seats in cars and cribs in hotel rooms. Our trip included Lisbon, Porto, Sevilla, and Madrid with day trips to Cordoba, Rhonda and and a small "white city." All in, we would highly recommend Guided Spain Tours, Emily and her team for any travel in Spain and Portugal. She also does Morocco but we didn't have time for that.
Panoramic Views from the Balcony of Europe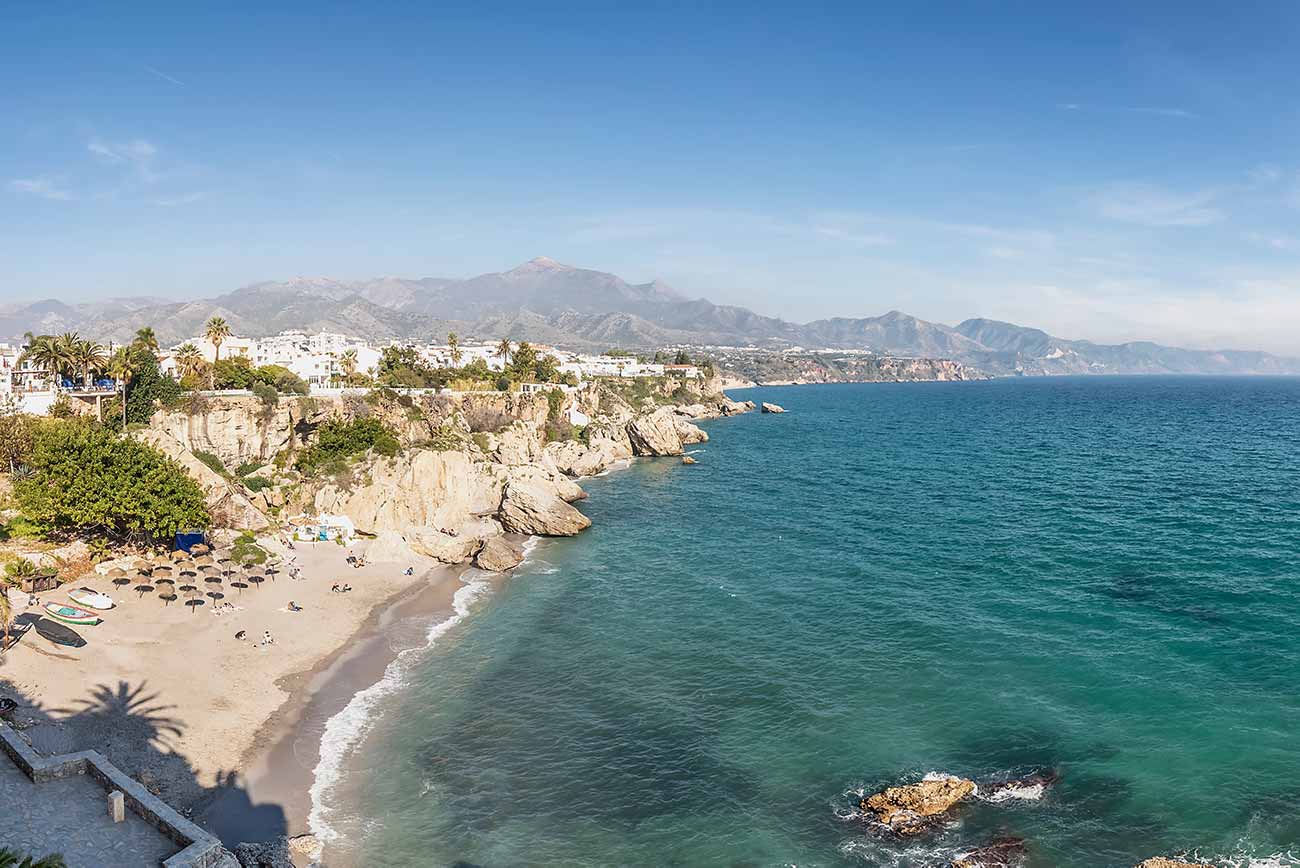 Finish your day at Nerja's crowning glory, the Balcony of Europe. Perched on a rugged cliff, this spectacular viewpoint offers panoramic views of the Mediterranean's azure expanse, the jagged coastline, and the idyllic beaches below.
As our guide shares tales of its intriguing past, revel in the breathtaking vistas, feel the gentle sea breeze, and capture unforgettable photos. This is the perfect place to reflect on your day of discovery in Nerja.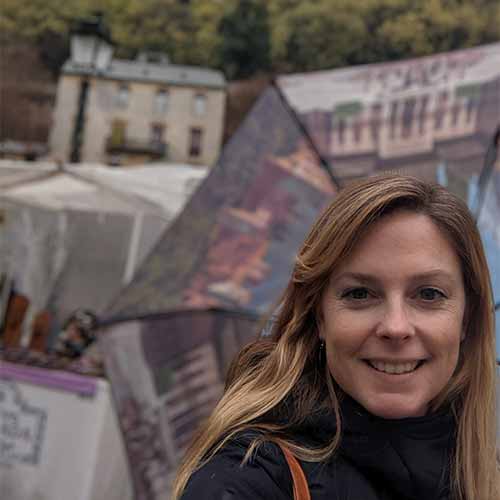 Say Ola to Emily, your personal tour planner at Guided Spain Tours. Get in touch by filling in the form below and requesting your complimentary itinerary!
Contact Our Tour Planners For A Tailored Nerja Experience
As your day of discovery concludes, we ensure a smooth transition back to your accommodation with our reliable and comfortable transport services. With your mind full of incredible memories from the whitewashed charm of the Old Town to the fascinating depths of the Nerja Caves and the mesmerizing views from the Balcony of Europe, you'll find comfort knowing that our dedicated team is here to assist you every step of the way.
Remember, today's adventure is just one example of the unique experiences we can craft. We invite you to contact our experienced travel planners to create a bespoke itinerary tailored to your interests and desires. Let us guide you through the endless beauty, culture, and history of Spain. We look forward to transforming your travel dreams into unforgettable realities.
Highly recommend Emily! Emily created a personalized itinerary for us in southern Spain. She was very knowledgeable about the region, attentive, and personable. She returned emails properly, and was a pleasure to work with. Emily was flexible and did not make mind making changes in the itinerary-- Her goal is to please her customers!
Emily is GOOD! Emily arranged a 14 day tour for us in Spain at short notice of a week or so. The whole tour was beautifully organized, amazingly flexible and the rare glitches were attended to and addressed, literally instantly. For sure we will be back for further tours with her. Thanks, Emily.
Best Tours from Emily! Words can't express how grateful it was to be able to call on Emily for help with some excursions in Spain. Emily, thanks soo much. You're the BEST!!!
Spain and Portugal trip: Emily did an amazing job Of setting up our trip through Spain and Portugal. All of our tours were outstanding and personalized. We had a wonderful time!
Private Tour: Emily is a pleasure to work with. She arranged hotels, activities, tour guides and transportation in Barcelona, Madrid, Segovia, Toledo, Cordoba, Avila, Seville, Malaga, Gibraltar. She was extremely responsive when we had questions and made sure that everything flowed smoothly.
Other Day Trips in Southern Spain