Welcome to the ancient city of Ronda, perched on a hilltop, offering a blend of rich history, charming culture, and breathtaking views. Known for its iconic bridge, vibrant bullfighting tradition, and a tantalizing wine culture, Ronda is a hidden gem in southern Spain that leaves every visitor spellbound.
Our full-day guided tour offers a curated journey through this captivating town, revealing its age-old secrets, architectural marvels, and awe-inspiring landscapes. Prepare to be whisked away on an unforgettable adventure, unraveling the diverse tapestry of experiences that Ronda has to offer.
What Is Included in our Ronda Day Trip?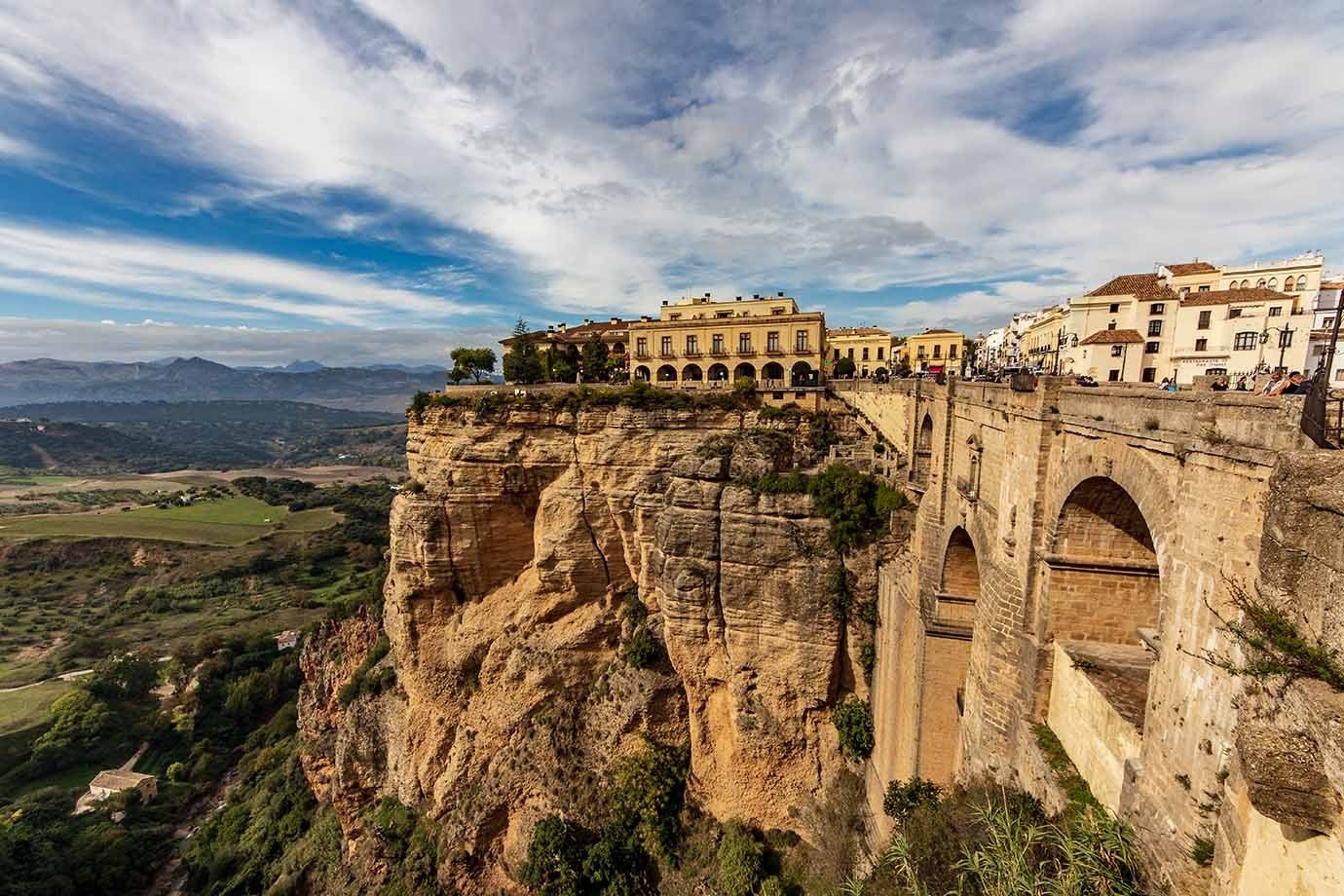 Begin your day of exploration from any location in Southern Spain. Whether you're starting from the cosmopolitan hub of Malaga or the vibrant coastal town of Marbella, our private drivers ensure a comfortable and scenic journey to Ronda, the breathtaking hilltop town.
Alternatively, experience Spain's efficient rail network with a high-speed train ride that whisks you through diverse landscapes. Regardless of your choice, the journey to Ronda promises a feast for the eyes before the tour even begins.
10 Day Private Tour: It was such a pleasure to work with Emily. Everything went off without a hitch! There were some changes either in drivers or guides but this was communicated in advance via whats app. Drivers were always on time and very professional. Our 2 favorite guides were Daniel Guia in Madrid and Luis Salas in Seville. They gave great recommendations for shopping, restaurants or sights to visit when you were on your own. We had so many wonderful experiences on our trip from the private horse show outside of Cordoba with a live Spanish guitarist to the white villages , tapas bars, walking tours of Seville, Madrid and the Alhambra. Emily was in contact all the time if needed . Sorry Emily it took so long to write this, life gets so busy and that 's why you have Guided Spain plan your trip!
Guided Tour of the Palacio de Mondragon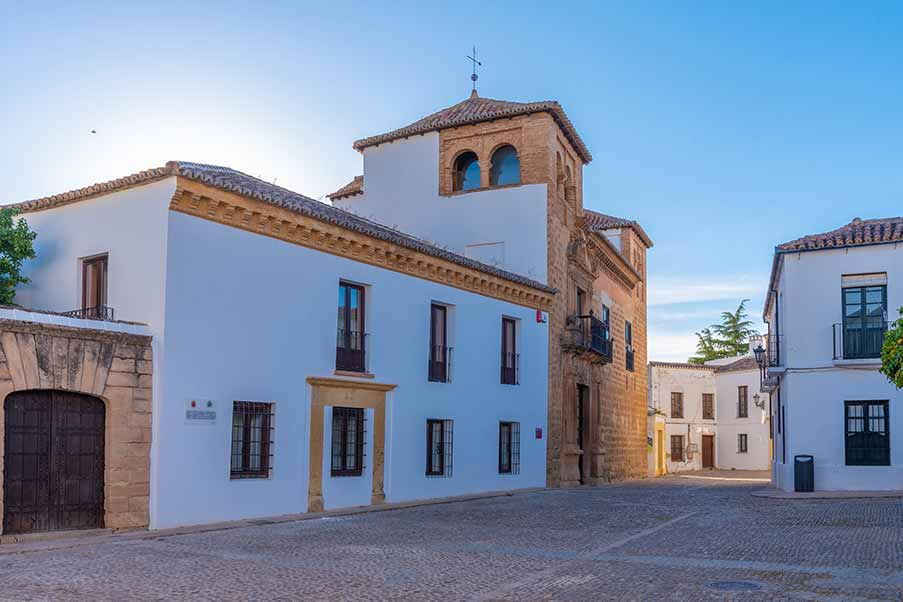 Step back in time with a guided tour of the Palacio de Mondragon, a remarkable testament to Ronda's rich and layered history.
Once the residence of King Abbel Malik, son of the Sultan of Morocco, this palace brims with captivating architectural details, from the Mudejar-style courtyards to the intricately designed water gardens.
Our knowledgeable guide will lead you through the palace, revealing hidden gems and intriguing stories that underscore Ronda's cultural crossroads. Each room of the Palacio de Mondragon houses captivating exhibits, portraying Ronda's progression through the ages, from the Neolithic era to modern times.
Visit to the Puente Nuevo Bridge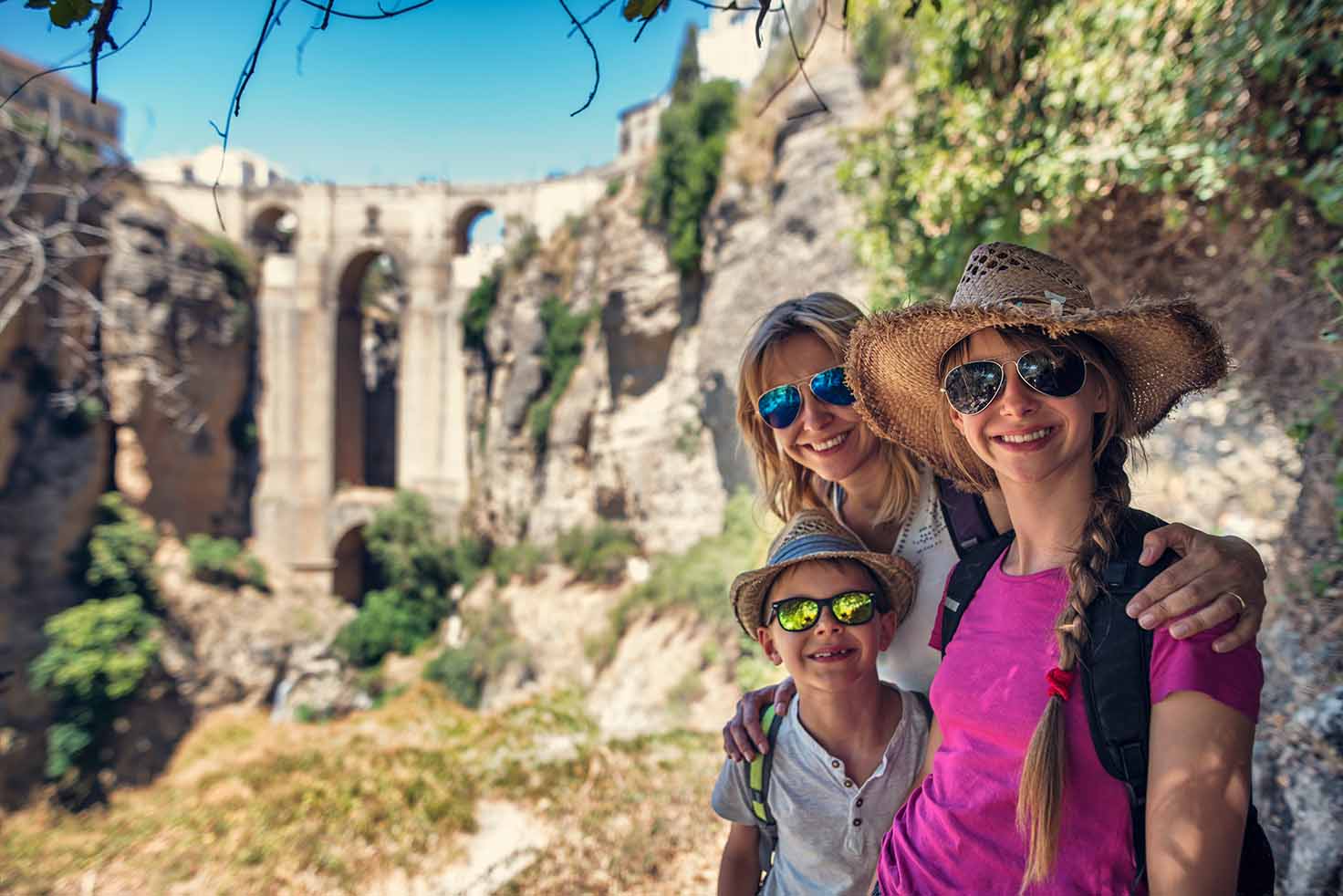 Stand in awe as you visit the Puente Nuevo Bridge, an iconic symbol of Ronda and an engineering marvel. Spanning the Tajo Gorge's dramatic chasm, this towering structure presents one of the most breathtaking views in Spain.
Our guide will recount the fascinating history of this 18th-century masterpiece, from the hardships faced during its 42-year construction to the pivotal role it played in connecting Ronda's old and new towns.
The bridge soars 120 meters above the rushing Guadalevin River, offering unparalleled views of the surrounding countryside's rugged beauty. You'll also discover the bridge's lesser-known aspects, like the chamber above the central arch that has served various functions over the years, from a prison to a small museum.
Exploring the Bullfighting Legacy: Tour of the Plaza de Toros
Immerse yourself in Spain's rich cultural tradition with a tour of Ronda's Plaza de Toros, one of the oldest and most respected bullfighting rings in the country.
Our expert guide will lead you on a journey tracing the evolution of this contentious but deeply rooted Spanish spectacle. The neoclassical ring, built in 1785, encapsulates the grandeur associated with bullfighting and has witnessed some of the sport's most legendary duels.
While there, explore the attached museum, home to a fascinating collection of bullfighting memorabilia, including vintage costumes, weapons, and portraits of famous matadors. You'll gain a deeper understanding of the historical significance and cultural complexity surrounding bullfighting, which goes beyond the spectacle and taps into the very heart of Spanish identity.
Whether or not you are a bullfighting enthusiast, this tour promises an insight into a unique facet of Spanish culture that continues to influence contemporary society.
Fabulous Spain/Portugal trip through Emily! We booked with Emily solely after reading these reviews for a 2 week trip to Portugal and southern Spain. Never met her prior. She and her team exceeded our expectations. Every detail of the trip went smoothly and her planning was perfect for our group. Lots of guided tours intermingled with just the right amount of free time. We challenged Emily and her team with 3 generations of travelers from 18 months to upper 60's and she handled our group perfectly, such as baby seats in cars and cribs in hotel rooms. Our trip included Lisbon, Porto, Sevilla, and Madrid with day trips to Cordoba, Rhonda and and a small "white city." All in, we would highly recommend Guided Spain Tours, Emily and her team for any travel in Spain and Portugal. She also does Morocco but we didn't have time for that.
Spectacular Vistas: Panoramic View from Mirador de Aldehuela
Delight in the magnificent views from the Mirador de Aldehuela, named after the architect who designed this viewing platform. Located on the edge of Ronda's steep gorge, this spot offers breathtaking panoramas of the sprawling Andalusian landscape, the town's distinctive architecture, and the famous Puente Nuevo Bridge.
As your guide paints a vivid picture of the region's rich history, allow the captivating beauty of the endless vista to inspire and rejuvenate you. There's no better way to fully appreciate the allure of Ronda than by taking in its stunning views from this unrivaled vantage point.
Wine Enthusiast's Delight: Visit a Local Ronda Winery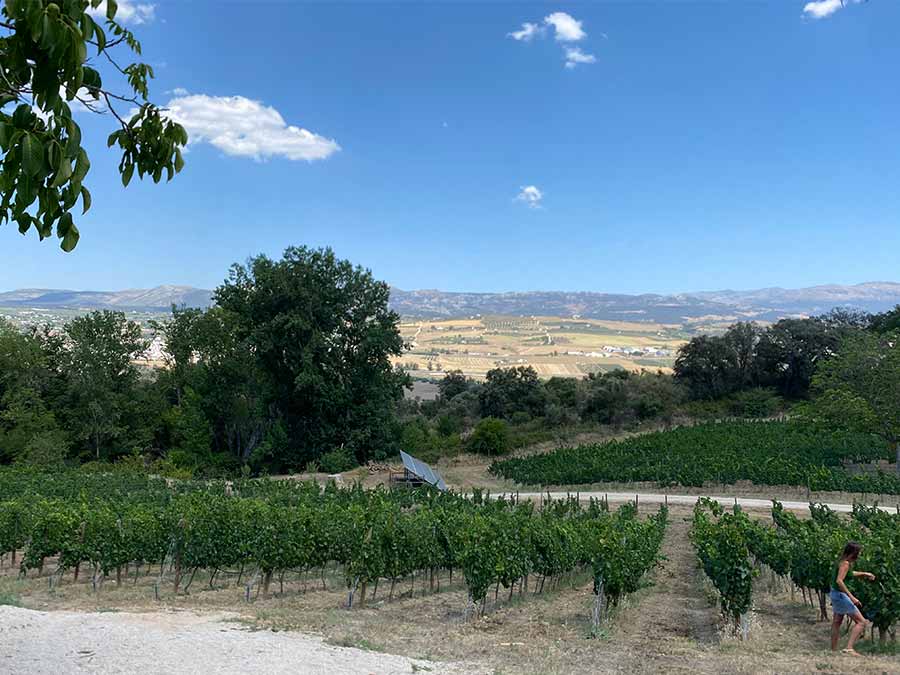 Ronda's favorable climate and fertile soil have made it a thriving region for winemaking, a tradition dating back to Roman times. This section of your tour indulges the wine enthusiast within you, taking you to one of the town's respected local wineries nestled amidst rolling vineyards.
With our guide leading the way, you'll get an intimate look at the intricate process of wine production, from the careful tending of the vineyards to the meticulous aging in oak barrels. Witness firsthand the artistry and passion that goes into every bottle, and gain an appreciation for the hard work and dedication of the winemakers.
The highlight of the visit is undoubtedly a tasting session, where you get the chance to sample a variety of the winery's offerings. As you savor each sip, our guide will help you identify the nuanced flavors and aromas, enhancing your understanding and enjoyment of Ronda's wines.
This visit to a local Ronda winery promises not just a treat for the palate, but an insightful journey into the region's winemaking heritage, making it an essential experience for any wine lover.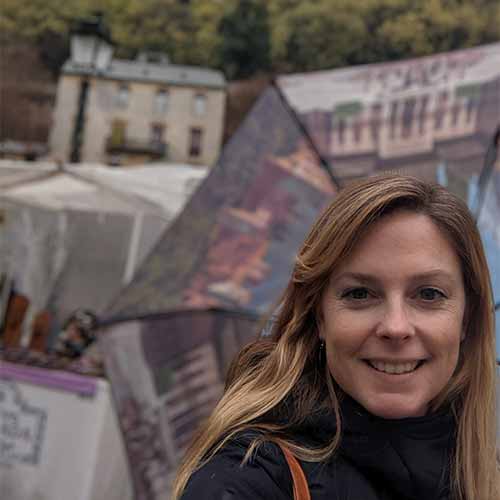 Say Ola to Emily, your personal tour planner at Guided Spain Tours. Get in touch by filling in the form below and requesting your complimentary itinerary!
Inspired By Our Ronda Full-Day Itinerary?
As we conclude our remarkable journey through the scenic and historic Ronda, you'll be returned to your accommodation, carrying with you a myriad of unforgettable memories.
However, remember that our tour merely scratches the surface of what Ronda and the wider Andalusian region have to offer. Our experienced team at Guided Spain Tours is always on hand to create a bespoke itinerary that aligns perfectly with your interests and preferences. Whether you wish to delve deeper into the local culture, gastronomy, history, or natural landscapes, simply contact us. We're excited to help you further explore the wonders of southern Spain.
Highly recommend Emily! Emily created a personalized itinerary for us in southern Spain. She was very knowledgeable about the region, attentive, and personable. She returned emails properly, and was a pleasure to work with. Emily was flexible and did not make mind making changes in the itinerary-- Her goal is to please her customers!
Emily is GOOD! Emily arranged a 14 day tour for us in Spain at short notice of a week or so. The whole tour was beautifully organized, amazingly flexible and the rare glitches were attended to and addressed, literally instantly. For sure we will be back for further tours with her. Thanks, Emily.
Best Tours from Emily! Words can't express how grateful it was to be able to call on Emily for help with some excursions in Spain. Emily, thanks soo much. You're the BEST!!!
Spain and Portugal trip: Emily did an amazing job Of setting up our trip through Spain and Portugal. All of our tours were outstanding and personalized. We had a wonderful time!
Private Tour: Emily is a pleasure to work with. She arranged hotels, activities, tour guides and transportation in Barcelona, Madrid, Segovia, Toledo, Cordoba, Avila, Seville, Malaga, Gibraltar. She was extremely responsive when we had questions and made sure that everything flowed smoothly.
Other Day Trips in Southern Spain