Regal Charm of Rabat: A Full-Day Private Tour
Join us on our full-day guided tour itinerary of Rabat, the capital city of Morocco, which seamlessly blends historic grandeur and modern charm, offering visitors an authentic taste of the country's rich heritage.
It boasts numerous UNESCO World Heritage Sites, including the Kasbah of the Udayas and the Hassan Tower, which stand as testimonies of its historical significance. Furthermore, the city's vibrant medina, contemporary art scene, delicious local cuisine, and scenic marina make Rabat a diverse and culturally enriching destination for any traveler.
Highlights of our Rabat Full-Day Tour
Exploring the Medina & Kasbah of the Udayas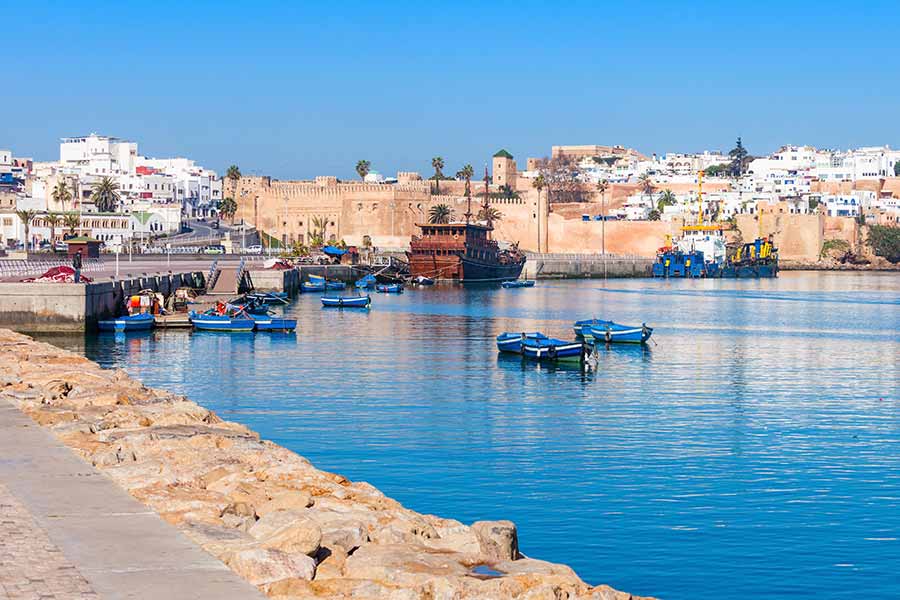 On this private tour, you will step into the vibrant soul of Morocco as we traverse the bustling lanes of Rabat's Medina, a labyrinth of traditional shops, bustling souks, and historic landmarks. With your guide, you will navigate this pulsating heart of the city, where every corner brings you face to face with colorful handicrafts, aromatic spices, and the rhythm of daily Moroccan life.
The tour further elevates your journey into the past with a visit to the Kasbah of the Udayas. This 12th-century fortress, a UNESCO World Heritage site, symbolizes Rabat's historic grandeur and Moorish architectural style. Walking through the kasbah's iconic blue and white painted lanes, you will witness stunning panoramic views of the Atlantic Ocean and the Bou Regreg River.
Your guide will enrich the experience by sharing tales of the kasbah's history, its strategic significance, and its impact on the city's culture. This private tour, far beyond a simple sightseeing excursion, offers an intimate understanding of Rabat's heritage and the vibrant life that flourishes within its historic walls.
Spain-Morocco-Portugal: Our family just returned from a memorable trip to Spain, Morocco and Portugal - organized by Emily at Guided Spain Tours. I must say that I asked Emily to fill our days with enough activities to keep my active husband, daughter and her boyfriend busy but I wanted no stress or family fighting in traveling from place to place. Emily totally delivered! She arranged drivers to and from airports, trains and even a ferry plus had daily activities or day trips for us from cooking classes, wine tastings, food tours, sailing excursions, Fado concert, Flamenco show to full day tours visiting castles, cathedrals, and beautiful cities. She even coordinated an extended trip to Morocco for us. Everything went smoothly, we had wonderful drivers and guides, and we all had a great time! I appreciated that Emily stayed in daily contact to ensure everything was going smoothly. I highly recommend Emily and Guided Spain Tours!
Tour of the Hassan Tower & Mausoleum of Mohammed V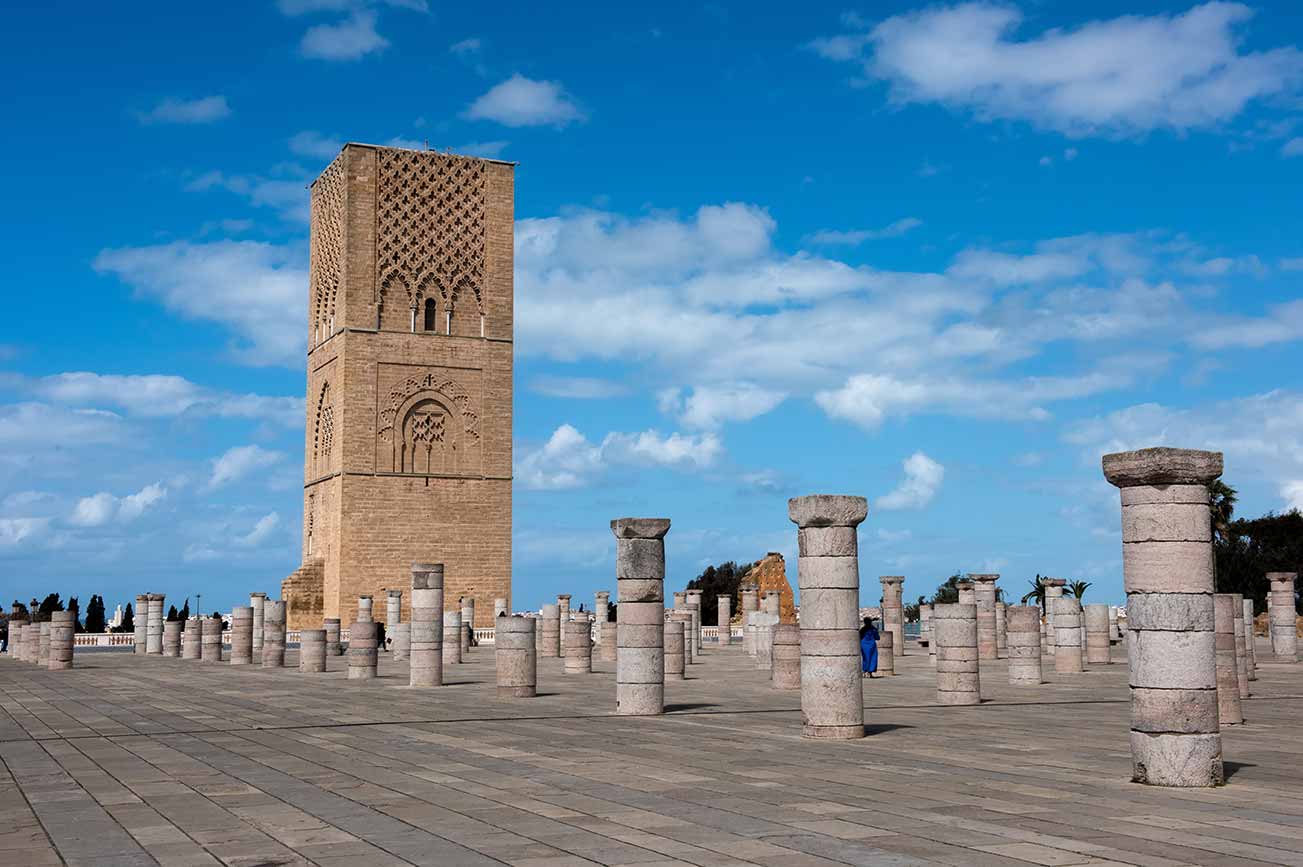 Embark on a guided tour of two of Rabat's most iconic landmarks – the Hassan Tower and the Mausoleum of Mohammed V. The unfinished Hassan Tower, a mammoth testament to the city's historic aspirations, stands tall amidst a field of columns, a striking vision against Rabat's skyline.
Your expert guide will delve into the history behind this 12th-century minaret, offering fascinating insights into its architectural significance and the mystery surrounding its incomplete status.
A stone's throw away, the Mausoleum of Mohammed V provides a stark contrast with its pristine white walls and emerald-green tiled roof. As you explore this opulent resting place of the beloved Moroccan king and his sons, your guide will discuss its history and Mohammed V's role in Moroccan independence. The intricacies of the beautiful traditional Moroccan craftsmanship, seen in the fine zellige tilework and carved cedar wood, will leave you in awe.
From the architectural marvels to the captivating stories they house, this guided tour offers a rich immersion into Rabat's royal history and its unique blend of Andalusian and Moorish aesthetics. Get ready to be swept away by the timeless allure of these historic landmarks.
Mohammed VI Museum of Modern and Contemporary Art
Our next destination is the Mohammed VI Museum of Modern and Contemporary Art, the first large-scale museum built in Morocco since independence. Its fascinating collection spans multiple eras and genres, showcasing the diversity and evolution of Moroccan art.
Our 15-day Southern Spain tour - Amazing! It's so hard to come back to reality after experiencing a Guided Spain Tour! Emily arranged a tour for my husband and myself for cities in Southern Spain (Madrid, Toledo, Cordoba, Seville, Jerez de la Frontera, the White Villages and Ronda, Malaga, hiking the Caminito del Rey, and Granada). In addition, we traveled one day to Tangiers, Morocco and Gibraltar, then spending our last 4 days in Barcelona and visiting surrounding cities. It was an amazing trip, which provided professional, private drivers and fantastic, well-informed guides for all of the cities and activities. In addition, Emily was constantly in touch with us during the entire trip to make sure everything was going well. We could go on and on about all of the very special experiences we had, and will definitely use Guided Spain Tours for other trips in Spain, Portugal and Morocco. Our only wish is that Emily would also do tours worldwide!
Leisurely Stroll along the Marina
Before we conclude, we'll stroll along Rabat's marina, a perfect spot to unwind and soak up the atmosphere. Admire the yachts, enjoy river and ocean views, and spot locals fishing along the banks.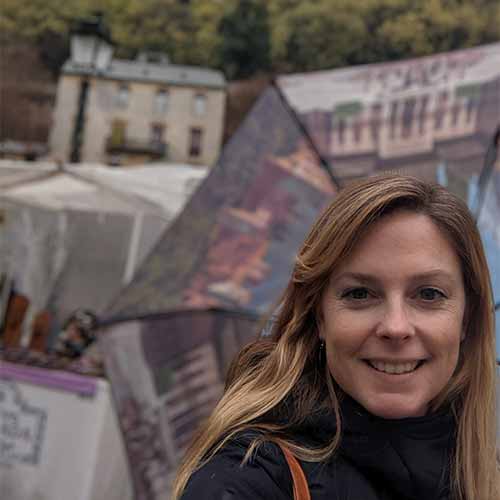 Say Ola to Emily, your personal tour planner at Guided Spain Tours. Get in touch by filling in the form below and requesting your complimentary itinerary!
Customize Your Rabat Tour Experience
This Rabat tour itinerary is fully customizable and our expert planning team is at your service, eager to tailor the itinerary to your unique interests and preferences.
If you wish to delve deeper into certain aspects of Rabat or explore other hidden gems of the city, do not hesitate to contact us. Let us curate your perfect journey through this mesmerizing city, delivering a bespoke Rabat experience that resonates with your travel desires.
Highly recommend Emily! Emily created a personalized itinerary for us in southern Spain. She was very knowledgeable about the region, attentive, and personable. She returned emails properly, and was a pleasure to work with. Emily was flexible and did not make mind making changes in the itinerary-- Her goal is to please her customers!
Emily is GOOD! Emily arranged a 14 day tour for us in Spain at short notice of a week or so. The whole tour was beautifully organized, amazingly flexible and the rare glitches were attended to and addressed, literally instantly. For sure we will be back for further tours with her. Thanks, Emily.
Best Tours from Emily! Words can't express how grateful it was to be able to call on Emily for help with some excursions in Spain. Emily, thanks soo much. You're the BEST!!!
Spain and Portugal trip: Emily did an amazing job Of setting up our trip through Spain and Portugal. All of our tours were outstanding and personalized. We had a wonderful time!
Private Tour: Emily is a pleasure to work with. She arranged hotels, activities, tour guides and transportation in Barcelona, Madrid, Segovia, Toledo, Cordoba, Avila, Seville, Malaga, Gibraltar. She was extremely responsive when we had questions and made sure that everything flowed smoothly.
Other Day Trips in Morocco