Our 1-Day Tour of Marrakesh
Our Day Tour of Marrakesh
Discover why Marrakesh is Morocco's most popular destination with our full-day best of Marrakesh private tour.
Picture yourself navigating the vibrant souks of the Medina with your private guide, gaining insight into the city's centuries-old crafts and trades. Experience the grandeur of historical landmarks such as the Koutoubia Mosque, Bahia Palace, and the Saadian Tombs. Engage your senses in the Jardin Majorelle, a stunning garden filled with exotic plants and vibrant blue architecture. Finally, savor Marrakesh's famed food and tea specialties in Jemaa el-Fnaa, the city's bustling square.
There is no better way to acquaint yourself with Marrakesh's iconic sites and hidden history than our full-day tour with your private guide.
Highlights of our Full-Day Marrakesh Tour
Marrakesh One Day Itinerary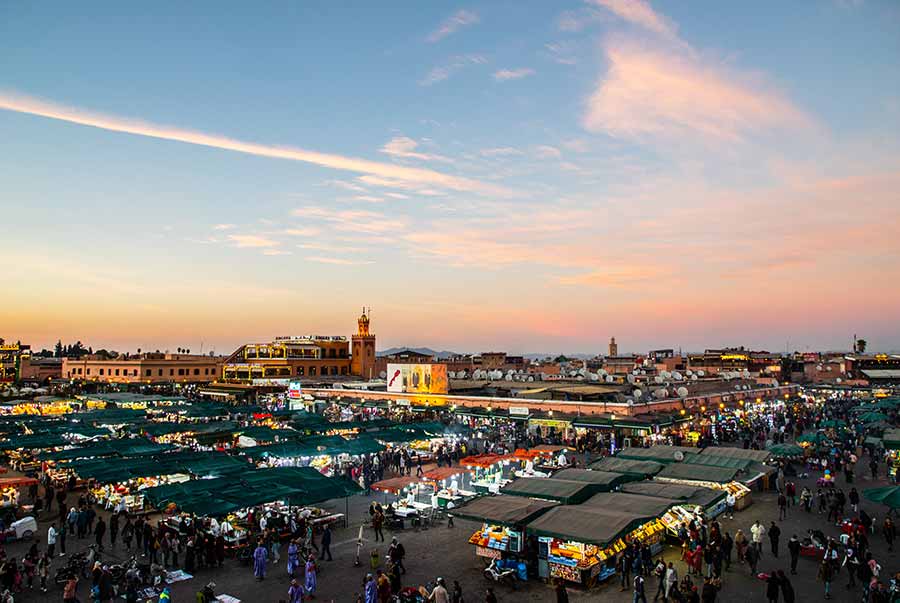 Immerse yourself in the captivating charm of Marrakesh, the enchanting Moroccan city that exudes a sense of history, culture, and artistry. This city, steeped in history and color, bursts with bustling souks, majestic palaces, tranquil gardens, and architectural wonders that speak volumes of its rich past.
Spain-Morocco-Portugal: Our family just returned from a memorable trip to Spain, Morocco and Portugal - organized by Emily at Guided Spain Tours. I must say that I asked Emily to fill our days with enough activities to keep my active husband, daughter and her boyfriend busy but I wanted no stress or family fighting in traveling from place to place. Emily totally delivered! She arranged drivers to and from airports, trains and even a ferry plus had daily activities or day trips for us from cooking classes, wine tastings, food tours, sailing excursions, Fado concert, Flamenco show to full day tours visiting castles, cathedrals, and beautiful cities. She even coordinated an extended trip to Morocco for us. Everything went smoothly, we had wonderful drivers and guides, and we all had a great time! I appreciated that Emily stayed in daily contact to ensure everything was going smoothly. I highly recommend Emily and Guided Spain Tours!
Discovering the Marrakesh Medina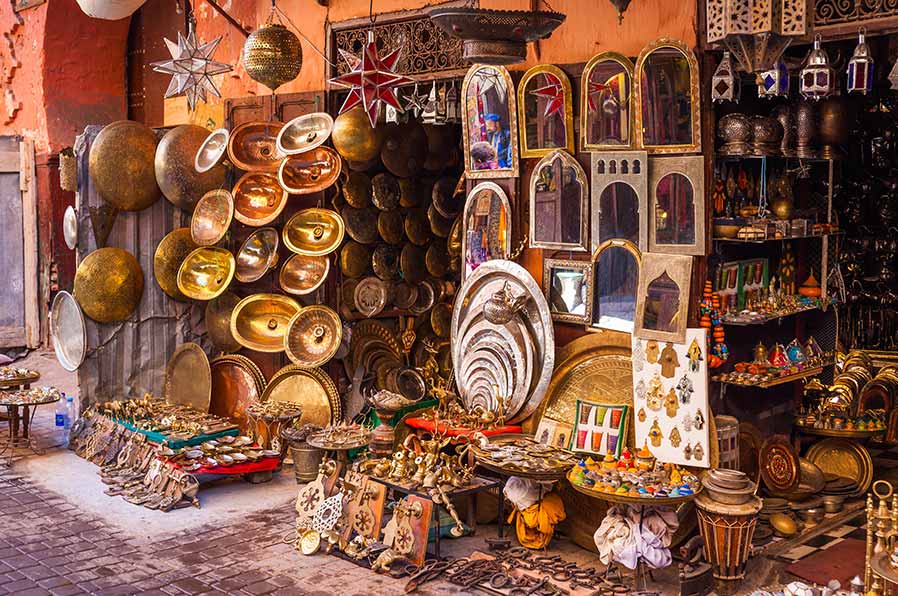 The tour begins as your private guide escorts you into the heart of the Medina, the city's old town and a UNESCO World Heritage site.
The Medina is a vibrant labyrinth of narrow alleys teeming with life and color. As you navigate the bustling souks, your guide will share stories about the city's centuries-old crafts and trades.
Marvel at the intricate woodwork, vivid ceramics, beautiful textiles, and delightful spices that fill every corner. It's a sensory overload of sights, sounds, and scents, presenting the perfect opportunity to purchase some unique Moroccan souvenirs.
Koutoubia Mosque and Bahia Palace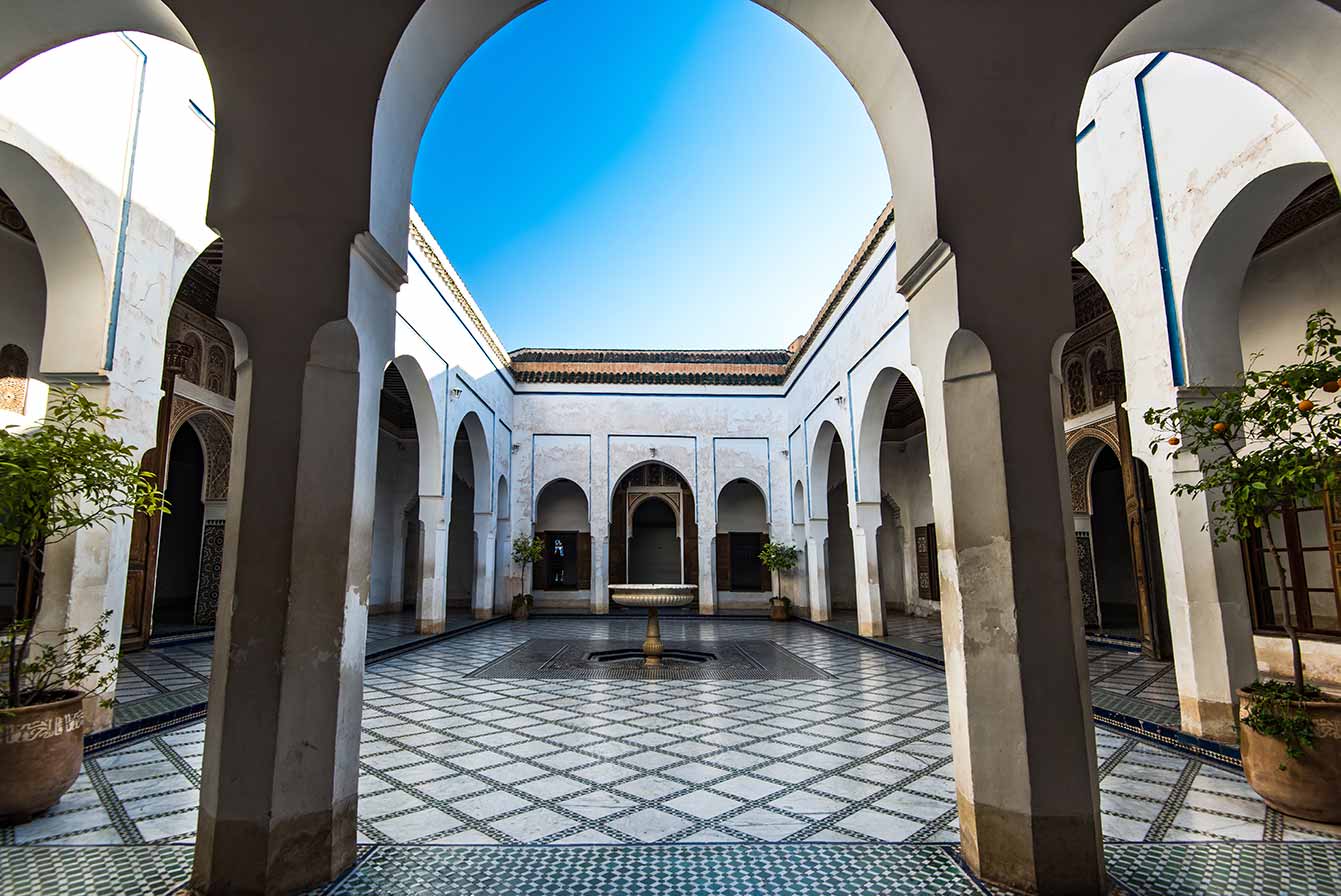 Next, we head to the Koutoubia Mosque, the largest in Marrakesh and a notable symbol of the city.
While non-Muslims are not allowed inside, the stunning exterior offers a glimpse into Moroccan architecture, with its salmon-colored walls and towering minaret. Your guide will shed light on its history and the importance of Islam in Moroccan culture.
From there, we journey to the Bahia Palace, a masterpiece of Moroccan architecture. As you traverse its stunning courtyards and elegant gardens, your guide will explain the palace's history and significance.
The elaborate tile work carved wooden ceilings, and lush gardens are a testament to the zenith of Moroccan craftsmanship.
Our 15-day Southern Spain tour - Amazing! It's so hard to come back to reality after experiencing a Guided Spain Tour! Emily arranged a tour for my husband and myself for cities in Southern Spain (Madrid, Toledo, Cordoba, Seville, Jerez de la Frontera, the White Villages and Ronda, Malaga, hiking the Caminito del Rey, and Granada). In addition, we traveled one day to Tangiers, Morocco and Gibraltar, then spending our last 4 days in Barcelona and visiting surrounding cities. It was an amazing trip, which provided professional, private drivers and fantastic, well-informed guides for all of the cities and activities. In addition, Emily was constantly in touch with us during the entire trip to make sure everything was going well. We could go on and on about all of the very special experiences we had, and will definitely use Guided Spain Tours for other trips in Spain, Portugal and Morocco. Our only wish is that Emily would also do tours worldwide!
Saadian Tombs and Jardin Majorelle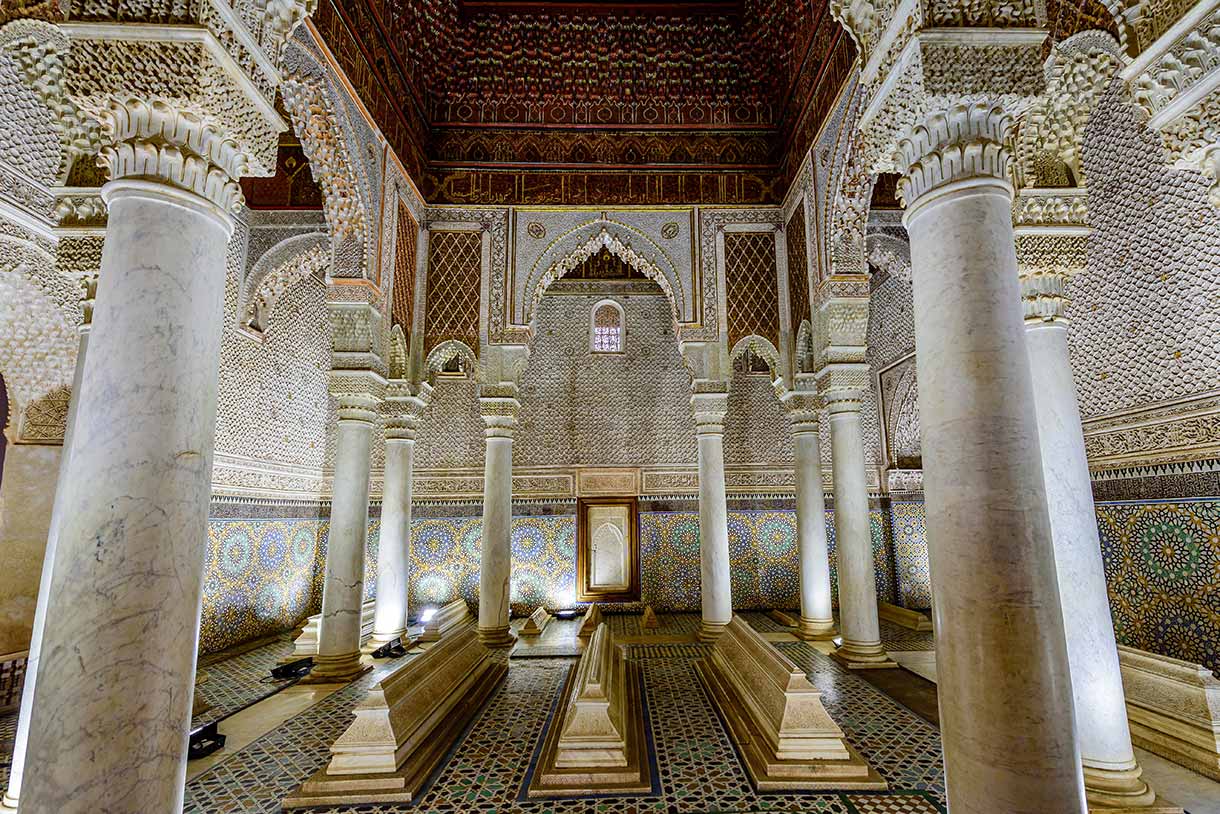 We then visit the Saadian Tombs, hidden for centuries until their rediscovery in 1917. These tombs hold the remains of Saadian Sultan Ahmed al-Mansour ed-Dahbi and his family. Marvel at the intricate decorations and grand mausoleums as your guide tells the fascinating history of the Saadian dynasty.
Afterward, we seek tranquility in the Jardin Majorelle, a beautiful oasis in the city's heart. Explore this stunning garden filled with exotic plants, water features, and vibrant blue architecture – a vision realized by French painter Jacques Majorelle and maintained by fashion designer Yves Saint Laurent.
Experiencing Local Cuisine
No tour of Marrakesh would be complete without tasting its culinary delights. We'll guide you to the bustling Jemaa el-Fnaa, the city's main square, where your senses will be bombarded by the tantalizing smells of Moroccan food.
Sample traditional Moroccan dishes, such as tagine, couscous, and pastilla. End the meal with a glass of sweet Moroccan mint tea, a fitting conclusion to your gastronomic adventure.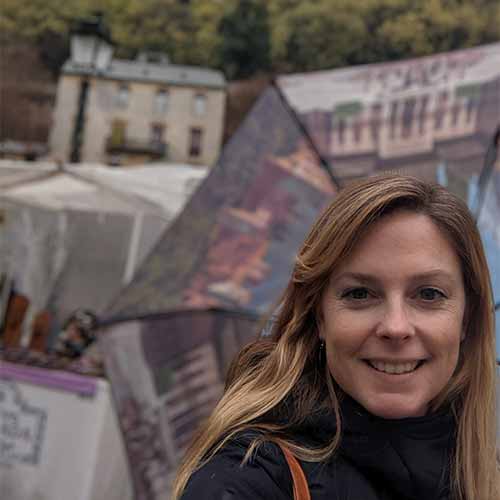 Say Ola to Emily, your personal tour planner at Guided Spain Tours. Get in touch by filling in the form below and requesting your complimentary itinerary!
Contact Us For A Custom Marrakesh Tour
This private full-day tour of Marrakesh, which covers some of the city's most iconic sites and hidden treasures, will give you an immersive experience into the heart of Moroccan culture and history. With every step, you'll feel the city's rhythm and gain an appreciation for its vibrant colors, fascinating history, and warm hospitality.
Whether you're an adventure seeker, a history buff, or a culture enthusiast, Marrakesh has something to offer everyone.
Highly recommend Emily! Emily created a personalized itinerary for us in southern Spain. She was very knowledgeable about the region, attentive, and personable. She returned emails properly, and was a pleasure to work with. Emily was flexible and did not make mind making changes in the itinerary-- Her goal is to please her customers!
Emily is GOOD! Emily arranged a 14 day tour for us in Spain at short notice of a week or so. The whole tour was beautifully organized, amazingly flexible and the rare glitches were attended to and addressed, literally instantly. For sure we will be back for further tours with her. Thanks, Emily.
Best Tours from Emily! Words can't express how grateful it was to be able to call on Emily for help with some excursions in Spain. Emily, thanks soo much. You're the BEST!!!
Spain and Portugal trip: Emily did an amazing job Of setting up our trip through Spain and Portugal. All of our tours were outstanding and personalized. We had a wonderful time!
Private Tour: Emily is a pleasure to work with. She arranged hotels, activities, tour guides and transportation in Barcelona, Madrid, Segovia, Toledo, Cordoba, Avila, Seville, Malaga, Gibraltar. She was extremely responsive when we had questions and made sure that everything flowed smoothly.
Other Day Trips in Morocco