The Atlas Mountains & Beyond: A 1.5-Day Adventure from Marrakesh
Our Tour Of The Atlas Mountains
Embark on a 1.5-day expedition from Marrakesh into the heart of the majestic Atlas Mountains and the serene Agafay Desert.
This tour combines breathtaking landscapes, cultural immersion, and adventure, taking you on a journey through the timeless beauty of Morocco. You'll discover the charm of Berber villages, feast on traditional Moroccan meals, and experience a desert sunset like no other.
Arrival at Imlil and High Atlas Trek
We'll begin the tour with a scenic drive from Marrakesh to Imlil, a small mountain village sitting at an elevation of 1700 meters. Here, you'll meet your local guide, who will lead you on a 2-3 hour trek (set tour your capabilities, from first-timers to more advanced trekkers) through the captivating landscapes of the High Atlas Mountains.
Immerse yourself in the panoramic vistas of jagged peaks, lush valleys, and terraced fields while your guide provides insightful stories about the region's geography, flora, and fauna.
Berber Homestay and Lunch
After your morning trek, we'll visit a traditional Berber home where you'll be welcomed with warm Moroccan hospitality.
Experience a unique cultural exchange as you learn about Berber traditions and lifestyles while sharing a hearty lunch of local delicacies. This immersive encounter will offer a glimpse into the resilient spirit and rich heritage of Morocco's Berber communities.
Spain-Morocco-Portugal: Our family just returned from a memorable trip to Spain, Morocco and Portugal - organized by Emily at Guided Spain Tours. I must say that I asked Emily to fill our days with enough activities to keep my active husband, daughter and her boyfriend busy but I wanted no stress or family fighting in traveling from place to place. Emily totally delivered! She arranged drivers to and from airports, trains and even a ferry plus had daily activities or day trips for us from cooking classes, wine tastings, food tours, sailing excursions, Fado concert, Flamenco show to full day tours visiting castles, cathedrals, and beautiful cities. She even coordinated an extended trip to Morocco for us. Everything went smoothly, we had wonderful drivers and guides, and we all had a great time! I appreciated that Emily stayed in daily contact to ensure everything was going smoothly. I highly recommend Emily and Guided Spain Tours!
Journey to Kik Plateau and Lalla Takerkoust Lake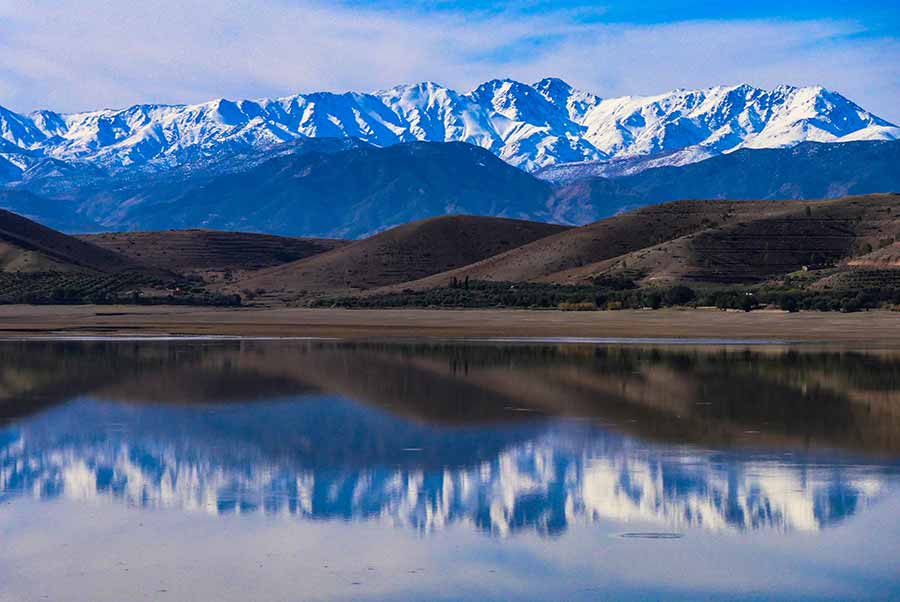 Post-lunch, we'll hop back into the 4×4 and ascend the vast Kik Plateau. This elevated plain is renowned for its unparalleled views of the surrounding mountains and the verdant valleys below. As we descend, we'll make a stop by the tranquil Lalla Takerkoust Lake for a soothing tea break. Enjoy the serenity of the waterside and relish in the soothing Moroccan tea, a traditional blend of green tea and fresh mint.
Venturing into the Agafay Desert
Next, we enter the stony expanses of the Agafay Desert. As we navigate through this seemingly lunar landscape, the contrast between the lush Atlas Mountains and the stark desert provides a unique spectacle. Eventually, we'll arrive at our luxury desert camp, perfectly nestled amidst the desert's tranquility.
Our 15-day Southern Spain tour - Amazing! It's so hard to come back to reality after experiencing a Guided Spain Tour! Emily arranged a tour for my husband and myself for cities in Southern Spain (Madrid, Toledo, Cordoba, Seville, Jerez de la Frontera, the White Villages and Ronda, Malaga, hiking the Caminito del Rey, and Granada). In addition, we traveled one day to Tangiers, Morocco and Gibraltar, then spending our last 4 days in Barcelona and visiting surrounding cities. It was an amazing trip, which provided professional, private drivers and fantastic, well-informed guides for all of the cities and activities. In addition, Emily was constantly in touch with us during the entire trip to make sure everything was going well. We could go on and on about all of the very special experiences we had, and will definitely use Guided Spain Tours for other trips in Spain, Portugal and Morocco. Our only wish is that Emily would also do tours worldwide!
Camel Ride at Sunset and Dinner at Camp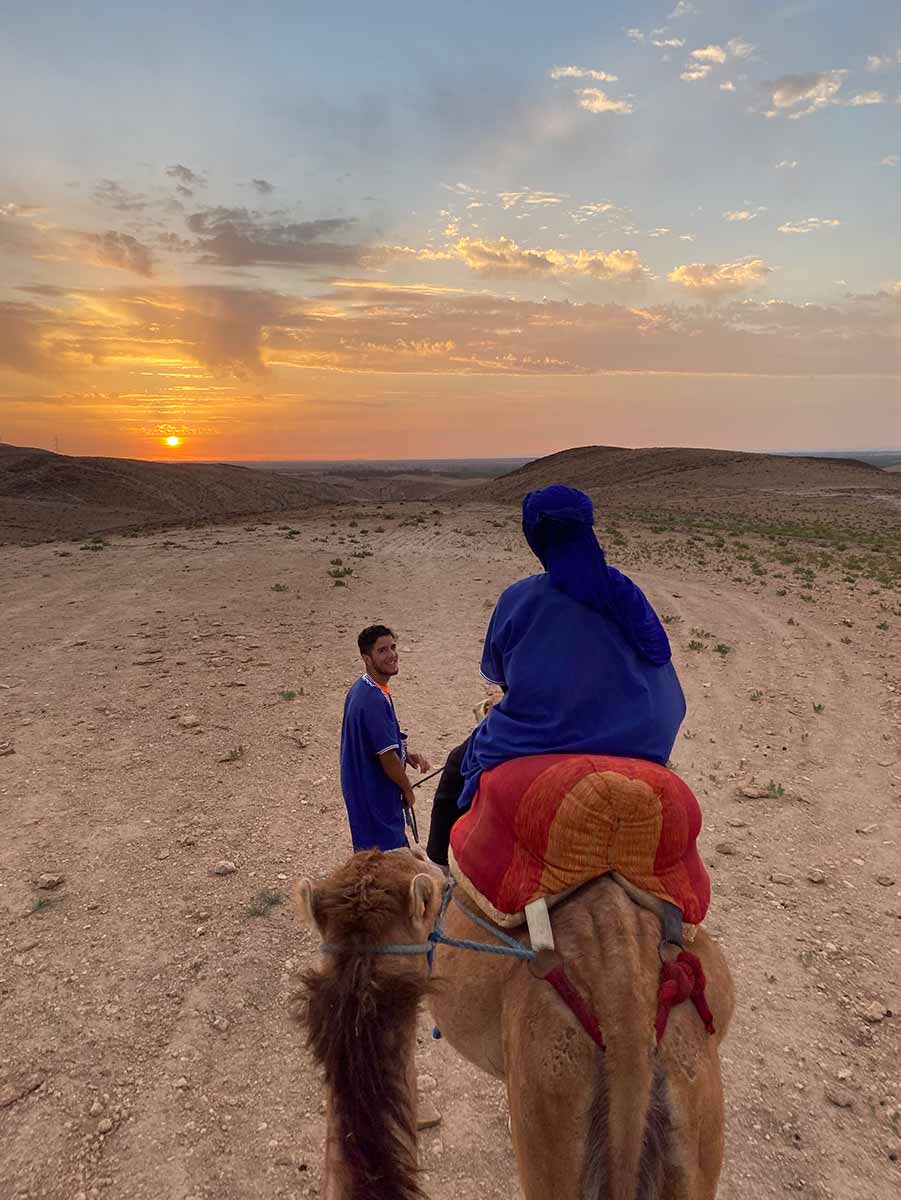 Once you've settled into the camp, a desert adventure awaits! Mount a camel for a peaceful ride across the desert, timed perfectly to witness a mesmerizing sunset. Watch as the sky transforms into a kaleidoscope of colors, creating an enchanting backdrop against the silhouette of the desert.
Post sunset, we'll return to the camp for a traditional Moroccan dinner. Relish the flavors of Morocco under the star-studded desert sky, rounding off an unforgettable day.
After a refreshing night's sleep and breakfast at the camp, we'll return to Marrakesh. As you travel back, reflect on your amazing experiences of the past 1.5 days, having ventured from the high mountains to the desert plains.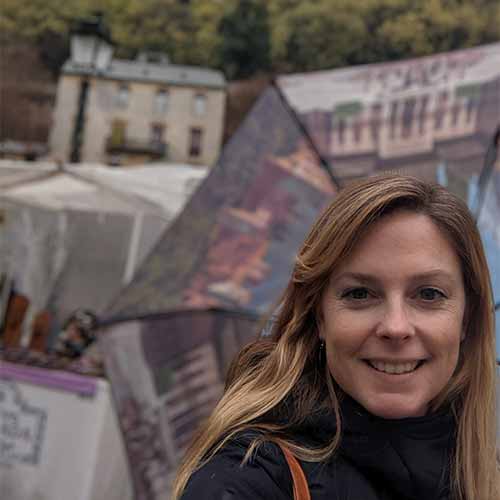 Say Ola to Emily, your personal tour planner at Guided Spain Tours. Get in touch by filling in the form below and requesting your complimentary itinerary!
Contact Us For A Bespoke Atlas Mountains Journey
This tour delivers a rich tapestry of Moroccan landscapes, culture, and cuisine – a memorable journey that captures the essence of Morocco's diverse beauty. Whether you're a nature lover, a culture enthusiast, or an adventure seeker, this tour promises to leave you with lifelong memories and stories to tell.
For a complementary version of this tour or to include the Atlas Mountains on a longer tour of Morocco or Southern Spain, simply contact our local tour planners today.
Highly recommend Emily! Emily created a personalized itinerary for us in southern Spain. She was very knowledgeable about the region, attentive, and personable. She returned emails properly, and was a pleasure to work with. Emily was flexible and did not make mind making changes in the itinerary-- Her goal is to please her customers!
Emily is GOOD! Emily arranged a 14 day tour for us in Spain at short notice of a week or so. The whole tour was beautifully organized, amazingly flexible and the rare glitches were attended to and addressed, literally instantly. For sure we will be back for further tours with her. Thanks, Emily.
Best Tours from Emily! Words can't express how grateful it was to be able to call on Emily for help with some excursions in Spain. Emily, thanks soo much. You're the BEST!!!
Spain and Portugal trip: Emily did an amazing job Of setting up our trip through Spain and Portugal. All of our tours were outstanding and personalized. We had a wonderful time!
Private Tour: Emily is a pleasure to work with. She arranged hotels, activities, tour guides and transportation in Barcelona, Madrid, Segovia, Toledo, Cordoba, Avila, Seville, Malaga, Gibraltar. She was extremely responsive when we had questions and made sure that everything flowed smoothly.
Other Day Trips in Morocco