Sahara Desert 2-Day Experience
2 Day Tour of The Sahara Desert From Morocco
Welcome to our magical two day journey to the vast stretches of the Sahara. Our tour typically kicks off with a short one-hour flight from Casablanca, however, if you are travelling from other Moroccan cities like Marrakesh or Tangier, fret not; we've got you covered. We can seamlessly arrange a private transfer, ensuring you reach Mohamed V International Airport in Casablanca in style, luxury and comfort.
Our Morocco and Sahara Desert tour planning specialists will ensure a completely streamlined experience. Whether you're starting from Casblanca itself, the vibrant alleyways of Marrakesh or the coastal charms of Tangier, we're here to guide you every step of the way.
Highlights of our 2-Day Sahara Desert Tour
Our 15-day Southern Spain tour - Amazing! It's so hard to come back to reality after experiencing a Guided Spain Tour! Emily arranged a tour for my husband and myself for cities in Southern Spain (Madrid, Toledo, Cordoba, Seville, Jerez de la Frontera, the White Villages and Ronda, Malaga, hiking the Caminito del Rey, and Granada). In addition, we traveled one day to Tangiers, Morocco and Gibraltar, then spending our last 4 days in Barcelona and visiting surrounding cities. It was an amazing trip, which provided professional, private drivers and fantastic, well-informed guides for all of the cities and activities. In addition, Emily was constantly in touch with us during the entire trip to make sure everything was going well. We could go on and on about all of the very special experiences we had, and will definitely use Guided Spain Tours for other trips in Spain, Portugal and Morocco. Our only wish is that Emily would also do tours worldwide!
Day 1: Arrival and Private Transfer to Luxury Desert Camp
Immediately upon your arrival, a bespoke private transfer awaits to whisk you away to our Sahara Desert Luxury Camp. Nestled in the very heart of the vast and mesmerizing Erg Chebbi dunes in Merzouga, this camp stands as a beacon of opulence amid the raw, untamed beauty of the desert.
These dunes, celebrated as the largest in Morocco, create a breathtaking backdrop, making your stay unforgettable. The undulating golden sands stretch as far as the eye can see, painting a picture of serenity and majesty.
Every detail of our luxury camp has been curated to offer a blend of traditional Moroccan aesthetics and modern comforts, ensuring a stay that's both authentic and luxurious. With unparalleled service and ambiance, this is the perfect introduction to the enchanting world of the Sahara.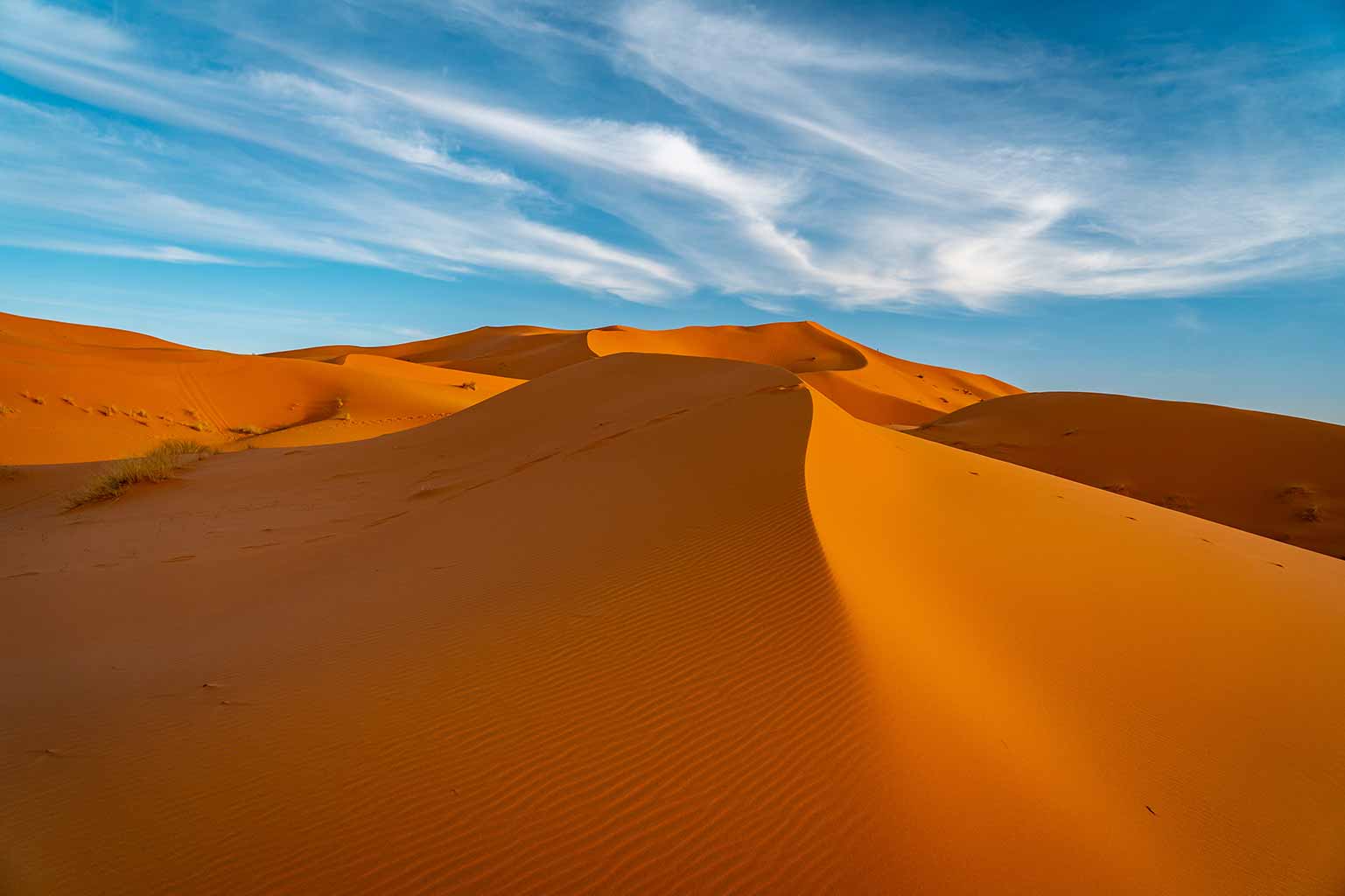 There's no better way to truly feel the pulse of the Erg Chebbi dunes than by conquering them aboard a 4×4 vehicle, in a thrilling activity commonly known as 'dune bashing'.
Strapped in safely, you'll be driven by expert drivers who have mastered the art of navigating these shifting terrains. The experience is akin to a rollercoaster, as you're taken over steep dunes, descending rapidly on the other side, with sand billowing around, offering a mix of exhilaration and awe. The roar of the engines, combined with the vast silence of the Sahara, is a juxtaposition that visitors rarely forget.
Sunset Photography Expedition: Capturing the Desert's Magic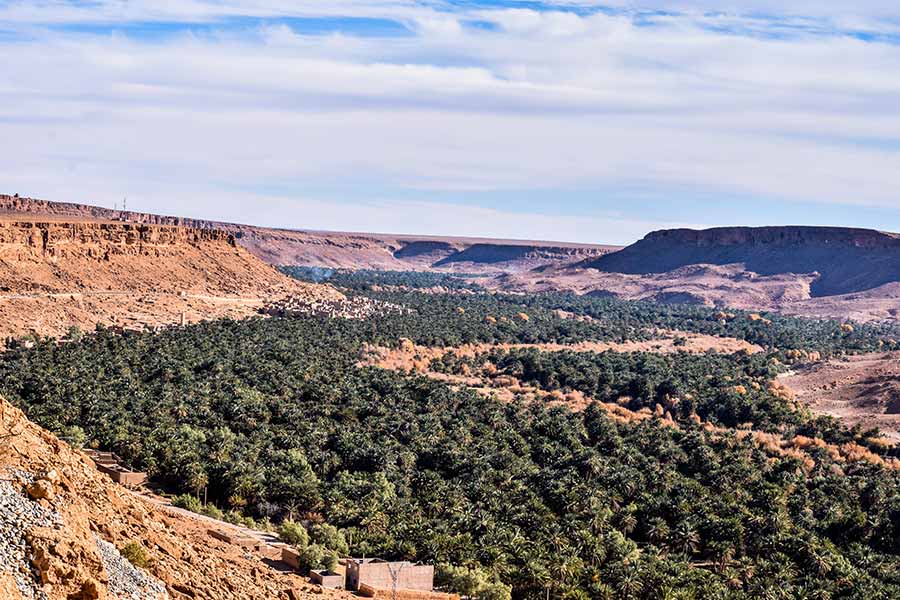 The golden hour in Erg Chebbi is unlike anywhere else. As the sun starts its descent, the dunes are bathed in a warm, golden hue, offering photographers a dream canvas.
This expedition is tailored for both photography enthusiasts and those who simply want to experience the desert's evening beauty. Guided by a local expert who knows just the right spots, you'll be led to vantage points where the sun casts long shadows, accentuating the curves of the dunes, making for dramatic compositions.
Whether you're using a professional DSLR, a smartphone, or simply your eyes, the vistas will leave you entranced. And as the sun dips below the horizon, the desert sky transforms into a mesmerizing blanket of colors – from fiery oranges to moody purples, offering ample opportunities for the perfect shot.
Traditional Moroccan Dinner
After a day filled with adventure, there's no better way to unwind than by indulging in the authentic flavors of the Sahara.
Set under a canopy of stars, you'll be served a traditional Moroccan dinner, featuring local delicacies such as tagine (a slow-cooked savory stew), couscous, and more, all seasoned with a rich blend of spices that tell tales of ancient trade routes. The aroma of freshly baked Moroccan bread and grilled meats fills the air, promising a feast that delights all senses.
Regardless of whether you land in Zagora or Errachidia, a luxury desert camp nestled in the dunes of either Erg Chigaga or Erg Chebbi awaits.
Experience a camel ride across the dunes in the timeless traditional ritual. Experience the desert's tranquility as the day ends, and savor a delectable Moroccan dinner under the starlit sky.
Spain-Morocco-Portugal: Our family just returned from a memorable trip to Spain, Morocco and Portugal - organized by Emily at Guided Spain Tours. I must say that I asked Emily to fill our days with enough activities to keep my active husband, daughter and her boyfriend busy but I wanted no stress or family fighting in traveling from place to place. Emily totally delivered! She arranged drivers to and from airports, trains and even a ferry plus had daily activities or day trips for us from cooking classes, wine tastings, food tours, sailing excursions, Fado concert, Flamenco show to full day tours visiting castles, cathedrals, and beautiful cities. She even coordinated an extended trip to Morocco for us. Everything went smoothly, we had wonderful drivers and guides, and we all had a great time! I appreciated that Emily stayed in daily contact to ensure everything was going smoothly. I highly recommend Emily and Guided Spain Tours!
Day 2: Dunes & Delights of Erg Chebbi
The magic of the Erg Chebbi dunes is best experienced when one fully immerses in the myriad activities and cultural gems it offers. Day 2 promises just that, drawing you closer to the heart and soul of the Sahara.
Sunrise Camel Trek: Begin the Day Amongst the Golden Sands
Unleash your adventurous spirit with a sandboarding experience in the Sahara.
After a brief instruction session, you'll be ready to glide down the sun-soaked dunes, carving your way through the soft sand. It's an exhilarating way to appreciate the desert's majesty and a fun, unique memory to take home with you. Whether you're a seasoned boarder or a total beginner, this experience caters to all skill levels.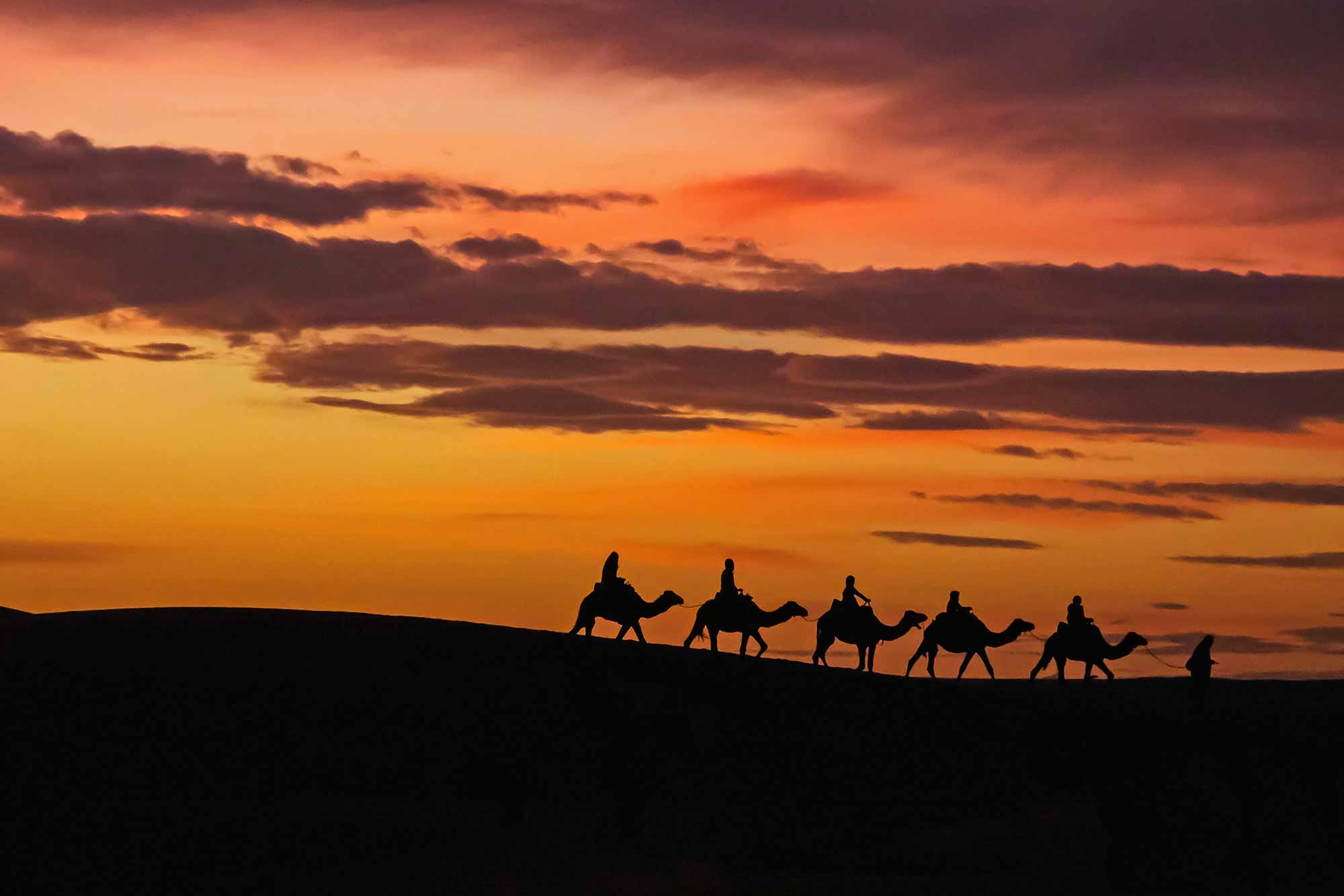 Unleash your adventurous spirit with a sandboarding experience in the Sahara.
After a brief instruction session, you'll be ready to glide down the sun-soaked dunes, carving your way through the soft sand. It's an exhilarating way to appreciate the desert's majesty and a fun, unique memory to take home with you. Whether you're a seasoned boarder or a total beginner, this experience caters to all skill levels.
After the rush of sandboarding, we'll venture to a nearby traditional Berber village. Explore the adobe houses, learn about the local way of life, and engage with the hospitable inhabitants.
It's a rich cultural immersion that highlights the resilience and vibrancy of Berber communities, living in harmony with the harsh desert environment.
Oasis Exploration: Discovering Hidden Desert Springs
In the vast expanse of the Sahara, oases stand as verdant miracles. Embark on a journey to discover these hidden desert springs in Erg Chebbi. Guided by locals who know every dune and crevice, you'll uncover pockets of greenery amidst the golden sands. These oases, vital to both wildlife and nomads, are a testament to nature's resilience. As you wander, you'll witness the contrasting beauty of palm trees against the sun-baked landscape and understand the oasis's pivotal role in desert life. It's an exploration that unveils the Sahara's softer, nurturing side amidst its rugged grandeur.
Looking For A Private Plane For Your Sahara Tour?
For those seeking an elevated, hassle-free journey to the mesmerizing Sahara, we're here to elevate your travel experience. Recognizing that every moment of your holiday is precious, we've established connections with top-tier private flight services across Morocco, ensuring that your voyage to the desert is both swift and luxurious.
Whether you're soaking in the ambiance of Marrakech's ancient medinas, exploring the blue streets of Chefchaouen, or unwinding by the coast in Essaouira, our dedicated team can swiftly arrange a private flight tailored to your schedule.
So, let your Saharan dreams take flight without the constraints of standard travel. Reach out to us, and we'll make sure your descent into the desert is as magical as the destination itself.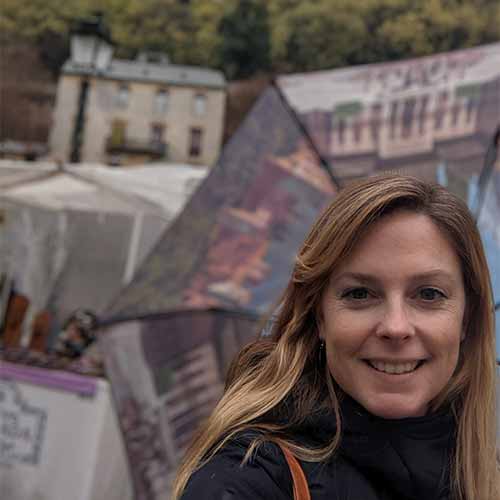 Say Ola to Emily, your personal tour planner at Guided Spain Tours. Get in touch by filling in the form below and requesting your complimentary itinerary!
Get A Customized Sahara Desert Tour Itinerary
This 2-day journey serves as a captivating initiation into the mystique of the Sahara.
If you're inclined towards a more personalized version that caters to your unique preferences, our proficient team of tour planners is at your disposal. We're thrilled to offer a completely complimentary customization of this itinerary just for you.
Connect with our team today to transform this adventure into one that is undeniably 'you.'
Highly recommend Emily! Emily created a personalized itinerary for us in southern Spain. She was very knowledgeable about the region, attentive, and personable. She returned emails properly, and was a pleasure to work with. Emily was flexible and did not make mind making changes in the itinerary-- Her goal is to please her customers!
Emily is GOOD! Emily arranged a 14 day tour for us in Spain at short notice of a week or so. The whole tour was beautifully organized, amazingly flexible and the rare glitches were attended to and addressed, literally instantly. For sure we will be back for further tours with her. Thanks, Emily.
Best Tours from Emily! Words can't express how grateful it was to be able to call on Emily for help with some excursions in Spain. Emily, thanks soo much. You're the BEST!!!
Spain and Portugal trip: Emily did an amazing job Of setting up our trip through Spain and Portugal. All of our tours were outstanding and personalized. We had a wonderful time!
Private Tour: Emily is a pleasure to work with. She arranged hotels, activities, tour guides and transportation in Barcelona, Madrid, Segovia, Toledo, Cordoba, Avila, Seville, Malaga, Gibraltar. She was extremely responsive when we had questions and made sure that everything flowed smoothly.
Other Day Trips in Morocco