Chinchón & Aranjuez Day Trip From Madrid
Our Day Trip to Chinchón & Aranjuez From Madrid
Welcome to our full-day guided tour from the bustling city of Madrid to the tranquil heart of Castile through the picturesque towns of Chinchón and Aranjuez.
Experience the joy of a scenic private drive, the thrill of wandering through medieval squares, the tranquility of royal gardens, and the pleasure of tasting local delicacies.
So, step away from the city's hustle and bustle and immerse yourself in the timeless allure of Spain's enchanting countryside!
What's Included in our Chinchón and Aranjuez Day Tour?
Madrid to Chinchón: A Scenic Drive with Your Private Driver
Begin your adventure with a leisurely drive from Madrid to Chinchón, courtesy of your private driver.
This one-hour journey presents an opportunity to appreciate the changing landscapes as you leave the bustling city behind and move into the tranquil countryside. Your route will be studded with olive groves, vineyards, and rolling hills, offering a glimpse of the serene Spanish countryside.
Discovering Chinchón: A Guided Walking Tour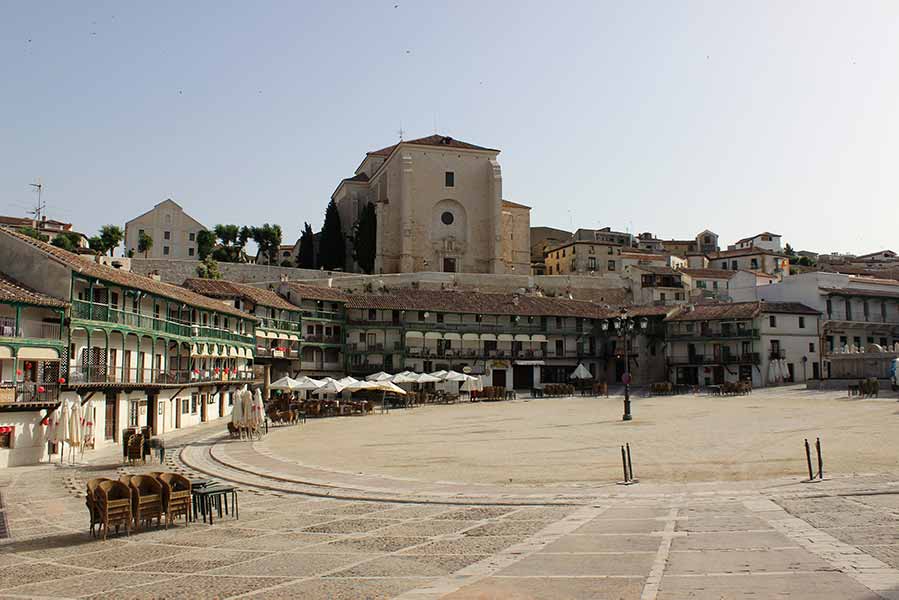 Embrace the charm of Chinchón on a guided walking tour led by our knowledgeable guide. This enchanting village, famed for its well-preserved medieval square and unique architecture, will unfold before you as your guide shares tales of its fascinating history and culture.
Your tour begins in the heart of Chinchón, the Plaza Mayor. This emblematic square, framed by three-story old houses with wooden balconies, has witnessed centuries of history and is a living theatre of life in the town. Here, your guide will explain the plaza's multifunctional role over the centuries as a market, bullfighting ring, and even a film set.
Next, you'll meander through the narrow, winding streets that radiate from the plaza. Feel the village's history under your feet as you pass by whitewashed houses adorned with colorful shutters, small boutiques selling local crafts, and traditional cafes offering delectable local delicacies.
Your guide will then lead you to the Clock Tower, an ancient fortress turned into a church whose tower looms over the town. Discover the intriguing history behind this notable monument, including tales of noble families and revolutions.
The walking tour also takes you to the Convent of the Clarisas, where you'll learn about Chinchón's monastic traditions and the convent's role in the town's spiritual life.
In Chinchón, every corner has a story to tell, and your guide will make its rich tapestry of history, culture, and tradition come alive during this immersive walking tour.
10 Day Private Tour: It was such a pleasure to work with Emily. Everything went off without a hitch! There were some changes either in drivers or guides but this was communicated in advance via whats app. Drivers were always on time and very professional. Our 2 favorite guides were Daniel Guia in Madrid and Luis Salas in Seville. They gave great recommendations for shopping, restaurants or sights to visit when you were on your own. We had so many wonderful experiences on our trip from the private horse show outside of Cordoba with a live Spanish guitarist to the white villages , tapas bars, walking tours of Seville, Madrid and the Alhambra. Emily was in contact all the time if needed . Sorry Emily it took so long to write this, life gets so busy and that 's why you have Guided Spain plan your trip!
Sampling Local Delights: A Taste of Chinchón's Famous Anise Liqueur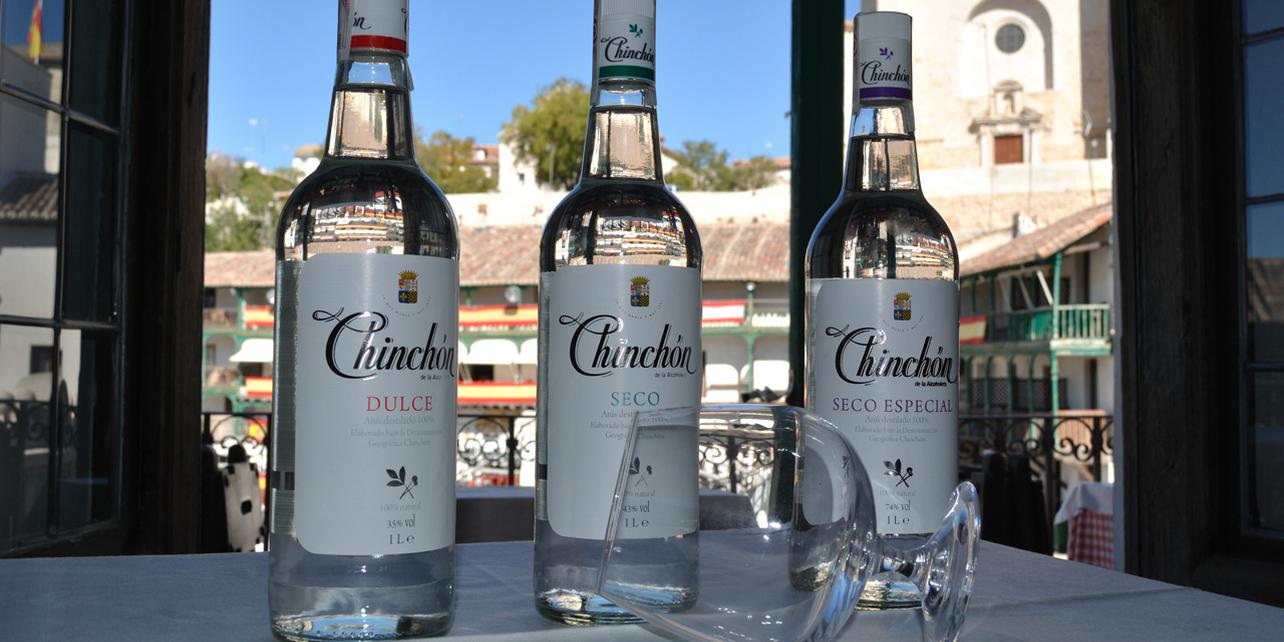 Delve into Chinchón's culinary heritage by tasting the town's renowned Anise liqueur.
This aromatic spirit, distilled locally for centuries, is integral to Chinchón's identity. As you visit a traditional distillery, you'll gain insights into the age-old production process and the importance of this liquor to the local economy and culture.
Your experience culminates in a tasting session where you'll sample this beloved spirit's sweet and dry versions. Savor the unique flavors that set Chinchón's Anise liqueur apart, and understand why it's been cherished by generations of locals and visitors alike.
Our 15-day Southern Spain tour - Amazing! It's so hard to come back to reality after experiencing a Guided Spain Tour! Emily arranged a tour for my husband and myself for cities in Southern Spain (Madrid, Toledo, Cordoba, Seville, Jerez de la Frontera, the White Villages and Ronda, Malaga, hiking the Caminito del Rey, and Granada). In addition, we traveled one day to Tangiers, Morocco and Gibraltar, then spending our last 4 days in Barcelona and visiting surrounding cities. It was an amazing trip, which provided professional, private drivers and fantastic, well-informed guides for all of the cities and activities. In addition, Emily was constantly in touch with us during the entire trip to make sure everything was going well. We could go on and on about all of the very special experiences we had, and will definitely use Guided Spain Tours for other trips in Spain, Portugal and Morocco. Our only wish is that Emily would also do tours worldwide!
From Chinchón to Aranjuez: Journey through Picturesque Landscapes
Rejoin your driver for a 30-minute drive from Chinchón to Aranjuez. As you traverse the charming Spanish countryside, soak in the panoramic views of verdant vineyards and olive groves.
This scenic journey offers a splendid transition between two of Spain's most captivating towns.
Royal Gardens of Aranjuez: A Guided Exploration
Set foot in the Royal Gardens of Aranjuez, a stunning example of landscape design, on a guided tour that brings the garden's history and beauty to life.
Your guide will lead you through the lush gardens designed to please Spanish monarchs in the past. As you stroll among exotic trees, beautiful flowerbeds, and ornamental fountains, learn about the garden's evolution over the centuries and its significance to the royal court.
Don't miss the "Prince's Garden," with its combination of natural and architectural elements creating a harmonious sanctuary. Gaze at the classic statues, historical monuments, and the tranquil waters of the River Tagus flowing nearby. Discover the 'Island Garden,' designed as a royal retreat, surrounded by the river and adorned with beautiful pavilions and fountains.
A Visit to the Palatial Wonders of Aranjuez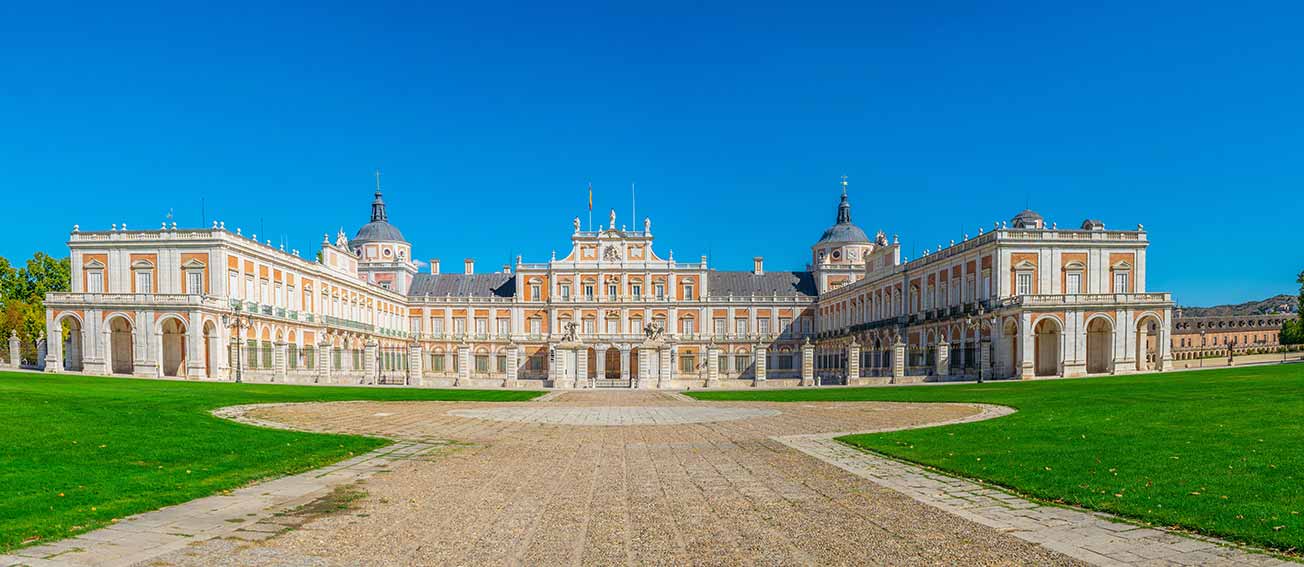 Step back in time on a guided tour of the Royal Palace of Aranjuez, a magnificent architectural masterpiece that served as the spring residence for Spanish monarchs. 
Marvel at the impressive façade, a blend of Renaissance and French style, which stands testament to the splendor of the Spanish monarchy.
With your expert guide, explore the palace's lavish interiors, from the Porcelain Room adorned with exquisite Chinese ceramics to the Throne Room, resplendent in crimson and gold. You'll be captivated by the tales of royal intrigues, opulent festivities, and the artistic and historical significance of the palace's stunning frescoes, intricate woodwork, and invaluable art collection.
Stroll through the palace's picturesque courtyards, each offering a unique vista of the verdant royal gardens and tranquil water features. 
Private Tour: Emily is a pleasure to work with. She arranged hotels, activities, tour guides and transportation in Barcelona, Madrid, Segovia, Toledo, Cordoba, Avila, Seville, Malaga, Gibraltar. She was extremely responsive when we had questions and made sure that everything flowed smoothly.
Aranjuez to Madrid: A Comfortable Drive Back to the Capital with Your Private Driver
End your day with a comfortable, hour-long drive back to Madrid in your private vehicle, reminiscing about the day's unforgettable adventures in the Castilian heartland.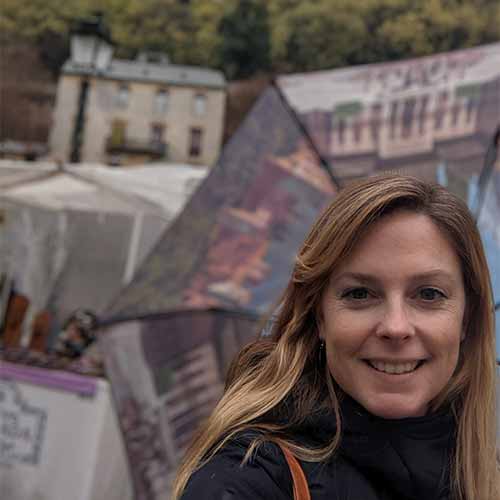 Say Ola to Emily, your personal tour planner at Guided Spain Tours. Get in touch by filling in the form below and requesting your complimentary itinerary!
Get A Tailored Chinchón & Aranjuez Itinerary
This day trip, a blend of scenic drives, charming villages, royal splendors, and local delights, is only a snapshot of what Castile has to offer. You've discovered hidden gems, sampled local flavors, and walked through centuries of Spanish history. Yet, there's always more to explore.
Every journey is unique, and our expert tour planners are on hand to tailor your day trip to your specific interests and tastes. We are here to create your perfect itinerary if you want to explore more of Chinchón's culinary scene or delve deeper into Aranjuez's royal heritage. Contact our tour planners today for a bespoke version of this unforgettable Castilian adventure.
Highly recommend Emily! Emily created a personalized itinerary for us in southern Spain. She was very knowledgeable about the region, attentive, and personable. She returned emails properly, and was a pleasure to work with. Emily was flexible and did not make mind making changes in the itinerary-- Her goal is to please her customers!
Emily is GOOD! Emily arranged a 14 day tour for us in Spain at short notice of a week or so. The whole tour was beautifully organized, amazingly flexible and the rare glitches were attended to and addressed, literally instantly. For sure we will be back for further tours with her. Thanks, Emily.
Best Tours from Emily! Words can't express how grateful it was to be able to call on Emily for help with some excursions in Spain. Emily, thanks soo much. You're the BEST!!!
Spain and Portugal trip: Emily did an amazing job Of setting up our trip through Spain and Portugal. All of our tours were outstanding and personalized. We had a wonderful time!
Private Tour: Emily is a pleasure to work with. She arranged hotels, activities, tour guides and transportation in Barcelona, Madrid, Segovia, Toledo, Cordoba, Avila, Seville, Malaga, Gibraltar. She was extremely responsive when we had questions and made sure that everything flowed smoothly.
Other Day Trips from Madrid