Guided Day Tour of El Escorial
A Journey into Spanish Royalty From Madrid
Take a Royal adventure from the bustling streets of Madrid to the serene grandeur of El Escorial on this private guided day tour.
As you traverse the picturesque Spanish landscapes, prepare to step back in time into a world of royal magnificence, religious significance, and historical richness. El Escorial, a UNESCO World Heritage site, is the final resting place of most of Spain's kings and queens and a monument that reflects the country's religious, cultural, and political past.
Join us on this majestic journey into Spanish Royalty!
What's Included In Our El Escorial Day Trip?
Madrid to El Escorial: Private Transfer
Your day trip begins with a private transfer from Madrid to El Escorial. This scenic journey sets the stage for the historical and architectural delights that await in the royal complex of El Escorial.
Unlocking the Grandeur of the El Escorial Monastery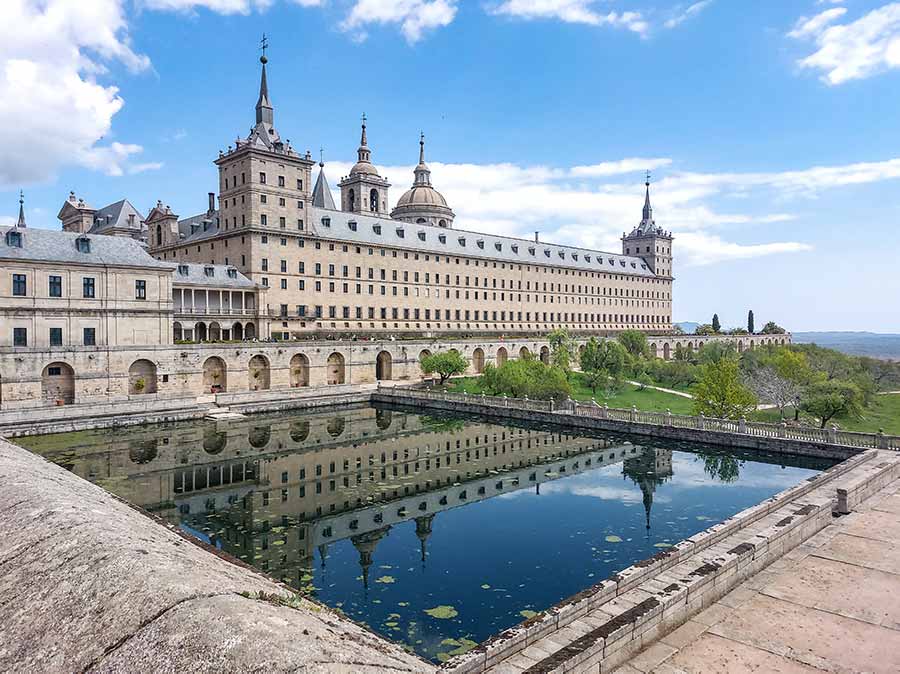 Your exploration starts at the heart of El Escorial: the Monastery. The austere façade belies the treasures within – a fusion of a royal palace, basilica, pantheon, library, school, and Monastery.
Your expert guide will illuminate this monument's fascinating history, art, and architecture.
As you enter the basilica, be prepared for an awe-inspiring sight. The grand altarpiece, adorned with marble and bronze, towers above, reaching towards the frescoed ceiling. Around you, marvel at the collection of masterpieces from artists like El Greco, Velázquez, and Titian.
The Royal Library is another highlight. Housing ancient manuscripts and rare books, its frescoed ceiling and Renaissance architecture is a testament to the love of knowledge and art of King Philip II.
10 Day Private Tour: It was such a pleasure to work with Emily. Everything went off without a hitch! There were some changes either in drivers or guides but this was communicated in advance via whats app. Drivers were always on time and very professional. Our 2 favorite guides were Daniel Guia in Madrid and Luis Salas in Seville. They gave great recommendations for shopping, restaurants or sights to visit when you were on your own. We had so many wonderful experiences on our trip from the private horse show outside of Cordoba with a live Spanish guitarist to the white villages , tapas bars, walking tours of Seville, Madrid and the Alhambra. Emily was in contact all the time if needed . Sorry Emily it took so long to write this, life gets so busy and that 's why you have Guided Spain plan your trip!
The Royal Pantheon at El Escorial
Descend into the Royal Pantheon, the final resting place of most Spanish kings and queens from the 16th century onwards.
This solemn and beautiful place, adorned with gold and marble, provides an intimate look into the Spanish monarchy. As you traverse the hallowed crypt, your guide will share anecdotes of the royals interred here, adding a personal dimension to your understanding of Spanish history.
Revealing the Intricacies of the Palace of El Escorial

Next, visit the Palace of El Escorial, once the residence of King Philip II. Stroll through the Habsburg Palace, appreciating the restrained aesthetics reflecting the king's austere lifestyle and pious nature. On the other hand, the Bourbon Suites display a more ornate style introduced by later occupants.
Each room in the Palace holds stories – of royal affairs, political maneuvers, and courtly life – and your guide will skillfully weave these tales, bringing the past vividly to life. Take advantage of the stunning views of the surrounding countryside from the Palace windows.
Our 15-day Southern Spain tour - Amazing! It's so hard to come back to reality after experiencing a Guided Spain Tour! Emily arranged a tour for my husband and myself for cities in Southern Spain (Madrid, Toledo, Cordoba, Seville, Jerez de la Frontera, the White Villages and Ronda, Malaga, hiking the Caminito del Rey, and Granada). In addition, we traveled one day to Tangiers, Morocco and Gibraltar, then spending our last 4 days in Barcelona and visiting surrounding cities. It was an amazing trip, which provided professional, private drivers and fantastic, well-informed guides for all of the cities and activities. In addition, Emily was constantly in touch with us during the entire trip to make sure everything was going well. We could go on and on about all of the very special experiences we had, and will definitely use Guided Spain Tours for other trips in Spain, Portugal and Morocco. Our only wish is that Emily would also do tours worldwide!
Absorbing the Serenity of The Garden of the Friars
It's now time for a soothing stroll in the Garden of the Friars. Originally designed for meditation, these tranquil gardens offer a peaceful respite.
Wander the manicured paths, enjoy the symmetry of the Renaissance design, and let the beauty of nature complete your El Escorial experience.
In the early evening, rejoin your private driver and return to Madrid in style, luxury, and comfort with our executive class vehicle.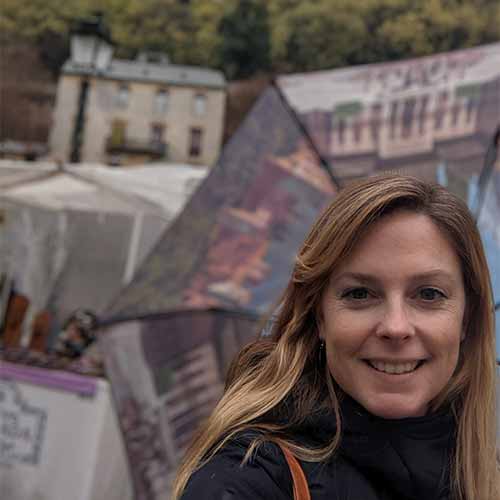 Say Ola to Emily, your personal tour planner at Guided Spain Tours. Get in touch by filling in the form below and requesting your complimentary itinerary!
Contact Us About A Bespoke El Escorial Trip
Our private guided tour of El Escorial offers an immersive encounter with Spain's royal history and architectural grandeur.
To make this journey truly your own, contact us for a customized itinerary, allowing you to delve even deeper into the aspects of El Escorial that intrigue you most.
Highly recommend Emily! Emily created a personalized itinerary for us in southern Spain. She was very knowledgeable about the region, attentive, and personable. She returned emails properly, and was a pleasure to work with. Emily was flexible and did not make mind making changes in the itinerary-- Her goal is to please her customers!
Emily is GOOD! Emily arranged a 14 day tour for us in Spain at short notice of a week or so. The whole tour was beautifully organized, amazingly flexible and the rare glitches were attended to and addressed, literally instantly. For sure we will be back for further tours with her. Thanks, Emily.
Best Tours from Emily! Words can't express how grateful it was to be able to call on Emily for help with some excursions in Spain. Emily, thanks soo much. You're the BEST!!!
Spain and Portugal trip: Emily did an amazing job Of setting up our trip through Spain and Portugal. All of our tours were outstanding and personalized. We had a wonderful time!
Private Tour: Emily is a pleasure to work with. She arranged hotels, activities, tour guides and transportation in Barcelona, Madrid, Segovia, Toledo, Cordoba, Avila, Seville, Malaga, Gibraltar. She was extremely responsive when we had questions and made sure that everything flowed smoothly.
Other Day Trips from Madrid