Cervantes Day Trip Leaving from Madrid
Immerse yourself in the captivating world of Miguel de Cervantes, the acclaimed author of 'Don Quixote,' on this enriching day trip from Madrid to his birthplace, Alcalá de Henares.
This journey takes you deep into the charming avenues of a UNESCO World Heritage Site. Here, history, literature, and architecture converge to narrate the life of one of Spain's most illustrious literary figures. From exploring the prestigious University of Alcalá de Henares to wandering the streets that fostered Cervantes' imagination, this trip offers an evocative experience for any lover of history, literature, or Spanish culture.
What's Included In Our Cervantes Day Tour From Madrid?
Madrid to Alcalá de Henares: A Private Transfer into the Land of Cervantes
Kickstart your Cervantes day trip with a comfortable private transfer from Madrid to Alcalá de Henares, the birthplace of the celebrated author.
This roughly 45-minute journey takes you away from the bustling capital into the tranquillity of the Spanish countryside, setting the tone for your literary adventure.
Unraveling the Story of Cervantes: A Journey into the Past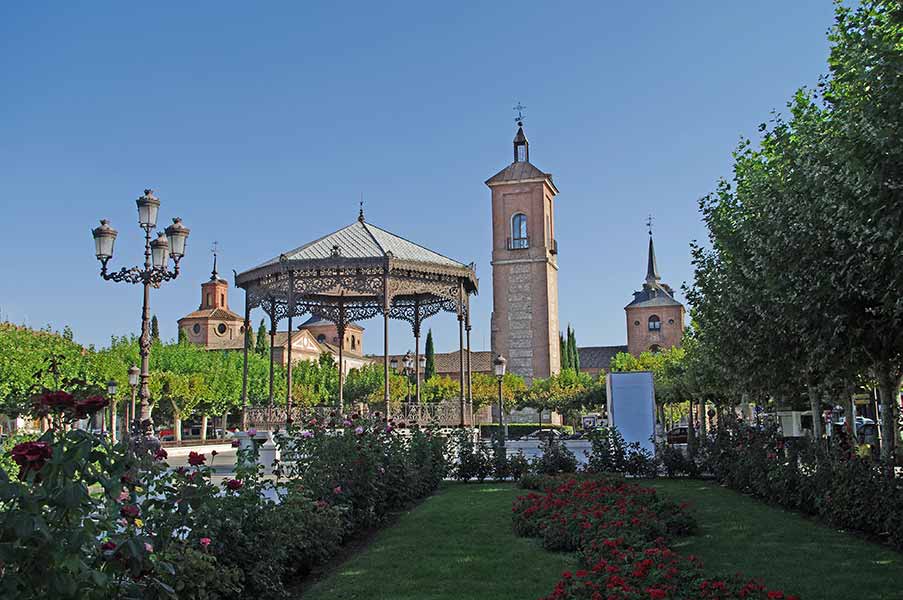 Your guide will narrate tales of Cervantes' childhood in Alcalá de Henares, his formative years, and how this city influenced his literary work. As you traverse the charming streets that Cervantes once roamed, you'll gain a deeper appreciation for the man behind the celebrated author. This part of the tour provides a unique perspective, connecting you to the human side of the literary genius and offering insights into his life, work, and legacy.
10 Day Private Tour: It was such a pleasure to work with Emily. Everything went off without a hitch! There were some changes either in drivers or guides but this was communicated in advance via whats app. Drivers were always on time and very professional. Our 2 favorite guides were Daniel Guia in Madrid and Luis Salas in Seville. They gave great recommendations for shopping, restaurants or sights to visit when you were on your own. We had so many wonderful experiences on our trip from the private horse show outside of Cordoba with a live Spanish guitarist to the white villages , tapas bars, walking tours of Seville, Madrid and the Alhambra. Emily was in contact all the time if needed . Sorry Emily it took so long to write this, life gets so busy and that 's why you have Guided Spain plan your trip!
A Guided Tour of the University of Alcalá de Henares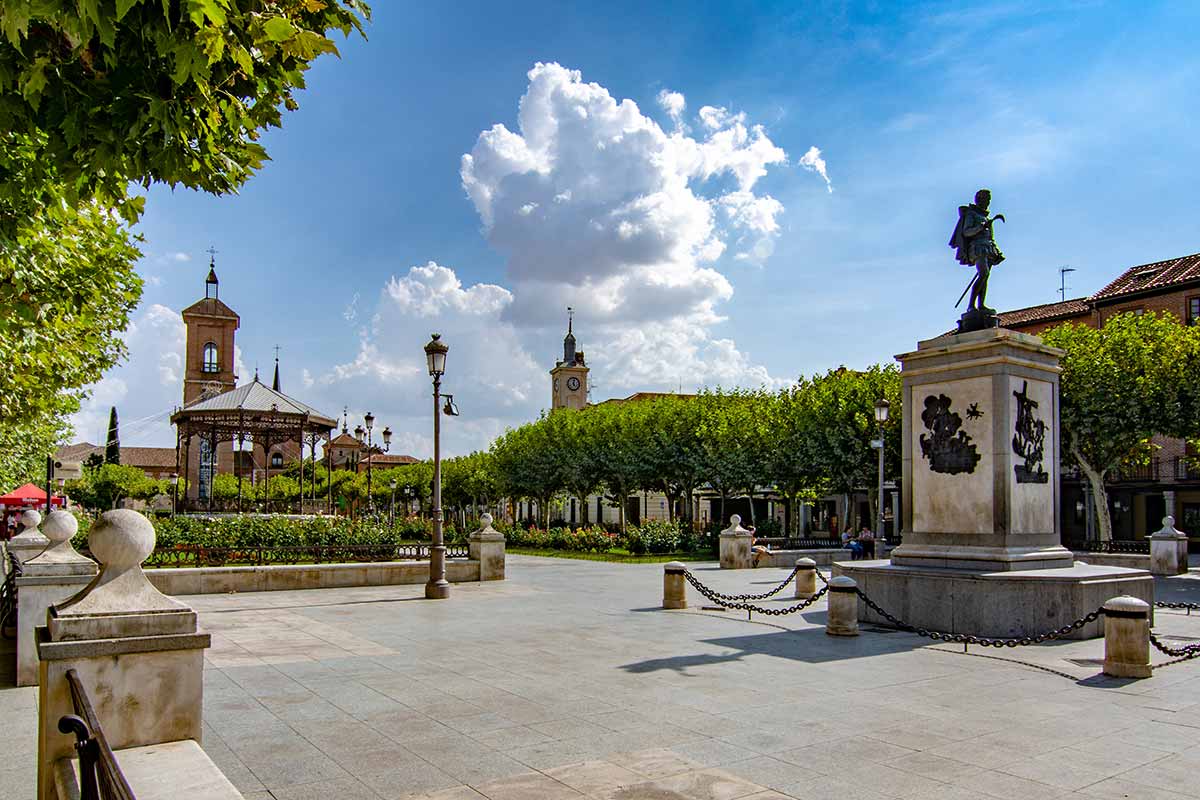 Begin your exploration of Alcalá de Henares with a guided tour of its prestigious University, a revered institution since the Renaissance and a place teeming with academic heritage and architectural splendor.
As you navigate the University's historic buildings, your expert guide will share stories of the scholars who have walked these halls, their intellectual contributions, and the University's impact on education and society.
Marvel at the beautiful plateresque facade, a masterpiece of Spanish Renaissance architecture that is a testament to the University's grandeur. The intricate carvings, detailed masonry, and the iconic cardinal's hat that tops the façade are sure to leave you in awe.
Our 15-day Southern Spain tour - Amazing! It's so hard to come back to reality after experiencing a Guided Spain Tour! Emily arranged a tour for my husband and myself for cities in Southern Spain (Madrid, Toledo, Cordoba, Seville, Jerez de la Frontera, the White Villages and Ronda, Malaga, hiking the Caminito del Rey, and Granada). In addition, we traveled one day to Tangiers, Morocco and Gibraltar, then spending our last 4 days in Barcelona and visiting surrounding cities. It was an amazing trip, which provided professional, private drivers and fantastic, well-informed guides for all of the cities and activities. In addition, Emily was constantly in touch with us during the entire trip to make sure everything was going well. We could go on and on about all of the very special experiences we had, and will definitely use Guided Spain Tours for other trips in Spain, Portugal and Morocco. Our only wish is that Emily would also do tours worldwide!
Cervantes' Childhood Streets: Exploring the Lanes of Memory
Stroll along the same streets Miguel de Cervantes once did during his formative years in Alcalá de Henares.
As you navigate the narrow, winding lanes, your guide will conjure vivid images of the town as it was during the Spanish Golden Age, painting a picture of the environment that molded the mind of one of literature's greatest.
Admire the ancient buildings, each with its own stories etched into its stone facades. Walk the Calle Mayor, one of the longest arcaded streets in Spain, its character-filled balconies and cobblestones whispering tales of the past.
Discover the charming plazas and hidden corners where young Cervantes will have played, dreamed, and begun forming the ideas that would one day become the legendary 'Don Quixote.' This tour offers a unique blend of personal history and urban exploration, making the childhood world of Cervantes come alive right before your eyes.
A Visit to the Paraninfo and the Chapel of San Ildefonso
Continue your tour with a visit to two of Alcalá de Henares' most significant landmarks, the Paraninfo and the Chapel of San Ildefonso, both situated within the University complex.
The Paraninfo, an iconic lecture hall, is a testament to the University's academic stature. With your guide, explore this ornately decorated space, known worldwide as the venue for the prestigious Cervantes Prize ceremony. Feel this hall's intellectual gravitas, and imagine the generations of scholars who have debated, learned, and grown within its walls.
Just a short walk away is the Chapel of San Ildefonso, a jewel of Renaissance architecture. Here, admire the beautifully preserved murals, intricate carvings, and the serene atmosphere that invites reflection. Listen as your guide tells tales of the chapel's rich history, religious significance, and role in the University's traditions.
In the Footsteps of Cervantes: A Visit to the Birthplace of the Literary Genius
Follow in the footsteps of Cervantes as you visit his birthplace, a well-preserved 16th-century house that now serves as a museum.
Inside, you'll step back in time, experiencing a vivid portrayal of life during Cervantes' time. Wander through the rooms filled with period furniture, household items, and displays dedicated to the author's life and work.
As your guide illuminates the nuances of the exhibits, feel a profound connection to the humble beginnings of the man who would grow to become one of literature's most influential figures.
Private Tour: Emily is a pleasure to work with. She arranged hotels, activities, tour guides and transportation in Barcelona, Madrid, Segovia, Toledo, Cordoba, Avila, Seville, Malaga, Gibraltar. She was extremely responsive when we had questions and made sure that everything flowed smoothly.
Ending the Day at Lezama Hospital
Conclude your Cervantes day trip with a visit to Lezama Hospital, an iconic landmark in the heart of Alcalá de Henares.
Now housing the Cervantes Institute, this historic building reflects the city's commitment to preserving its literary heritage. As you explore the impressive architecture and the serene courtyards, your guide will share the rich history of this former hospital, adding another layer to your understanding of Alcalá's past.
Private Transfer Back to the Capital
Conclude your day trip with a leisurely private transfer back to Madrid. Relax and reminisce about your Alcalá de Henares adventure as you return to the capital's vibrant energy.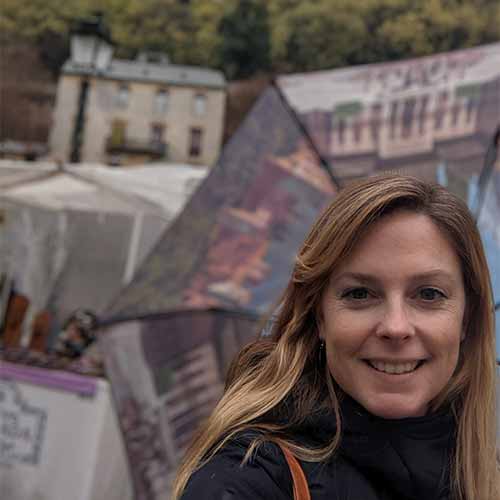 Say Ola to Emily, your personal tour planner at Guided Spain Tours. Get in touch by filling in the form below and requesting your complimentary itinerary!
Contact Us For A Bespoke Cervantes Trip
This unforgettable journey through Cervantes' birthplace is merely a glimpse of what Alcalá de Henares has to offer.
Contact us to curate a bespoke version of this day trip, designed to cater to your specific interests and deepen your appreciation for Spain's rich literary history.
Highly recommend Emily! Emily created a personalized itinerary for us in southern Spain. She was very knowledgeable about the region, attentive, and personable. She returned emails properly, and was a pleasure to work with. Emily was flexible and did not make mind making changes in the itinerary-- Her goal is to please her customers!
Emily is GOOD! Emily arranged a 14 day tour for us in Spain at short notice of a week or so. The whole tour was beautifully organized, amazingly flexible and the rare glitches were attended to and addressed, literally instantly. For sure we will be back for further tours with her. Thanks, Emily.
Best Tours from Emily! Words can't express how grateful it was to be able to call on Emily for help with some excursions in Spain. Emily, thanks soo much. You're the BEST!!!
Spain and Portugal trip: Emily did an amazing job Of setting up our trip through Spain and Portugal. All of our tours were outstanding and personalized. We had a wonderful time!
Private Tour: Emily is a pleasure to work with. She arranged hotels, activities, tour guides and transportation in Barcelona, Madrid, Segovia, Toledo, Cordoba, Avila, Seville, Malaga, Gibraltar. She was extremely responsive when we had questions and made sure that everything flowed smoothly.
Other Day Trips from Madrid